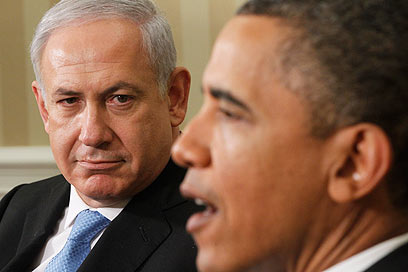 A chorus of Israeli politicians urge Netanyahu to cancel US Congress Iran speech


By JPOST.COM STAFF/ 02/07/2015
Israeli politicians urged Prime Minister Benjamin Netanyahu on Saturday to cancel his upcoming speech to the US Congress, repeating a message that they have delivered in the past few weeks on a number of occasions: the speech will negatively impact on US-Israeli relations.   Netanyahu was invited by Speaker of the House John Boehner (R-Ohio) to address a special joint session of Congress and is expected to advocate for a different policy on Iran that US President Barack Obama has pursued.
The prime minister has been criticized for accepting the invitation to speak and breaching the protocol of the White House extending invitations to foreign leaders. Netanyahu has also been accused of using the appearance to influence the Israeli electorate because the speech is scheduled just two weeks before the Israeli elections on March 17. US Vice President Joe Biden said he would not attend  Netanyahu's speech on March 3 because he would be traveling abroad.
Zionist Union leader Isaac Herzog, who was at the Munich Security Conference on Saturday, said many European and American leaders were angry that Netanyahu was "inciting the debate" on the Iranian nuclear issue for political reasons, turning the issue into a point of friction with Obama. "The time has come when Bibi [Netanyahu] must announce that he is canceling his speech before Congress," Herzog said.
"This speech which was born in sin, as part of an election campaign endangers the security of the citizens of Israel and the special relations it has with the US."  "With all due respect to his campaign, Bibi must lead as a patriot of Israel and not throw Israel's security under the bus of the election," he added.  Strategic Affairs Minister Minister Yuval Steinitz slammed Herzog for bringing the Israeli election campaign into the Munich Security Conference.
Steinitz said what Herzog crossed a red line and harmed the accepted practice of not criticizing the government outside of Israel.
Steinitz, who was also in Munich as the head of Israel's delegation to the conference, said Netanyahu was obligated to do everything he could to prevent the world powers from reaching a bad deal with Iran.  Other political leaders also criticized Netanyahu's decision to accept Boehner's invitation.
Zionist Union candidate and former justice minister Tzipi Livni said in Tel Aviv on Saturday, that Biden's absence at Netanyahu's upcoming speech shows the extent to which the prime minister thinks the speech will benefit him personally instead of thinking of the good of the state. At the same event where Livni spoke, Labor MK Shelly Yacimovich said Netanyahu was "sticking his finger" in US President Barack Obama's eye in deciding to speak before Congress.
"I call on Netanyahu to cancel the speech. . . If he is worried that he will be mocked for doing so, I undertake that if he does the right thing, we will not take part in such a reaction in our political campaign." Meretz chief Zehava Gal-On also also called on Netanyahu to cancel his planned Washington visit. Speaking at a cultural event in Kfar Saba on Saturday, Gal-On said that Netanyahu's speech not only harms US-Israeli relations, it also hinders Israel's ability to influence the Iranian nuclear issue.
"The prime minister who speaks from morning until night about the Iranian threat, is prepared to sacrifice Israel's position in exchange for an election campaign photo-op," she said.   Following Biden's decision not to attend Netanyahu's speech, Gal-On said she spoke with senior US officials who said that if the prime minister chose to defer his speech until after the Israeli election, the winning candidate would be invited to speak to Congress in a respectful manner without the accompanying diplomatic storm and boycotts.
Yesh Atid leader and former finance minister Yair Lapid, who was speaking in Kiryat Bialik, also said Netanyahu's visit was causing serious damage to Israel's strategic relations with the US and all in the name of a political act meant to garner a few votes in the election.