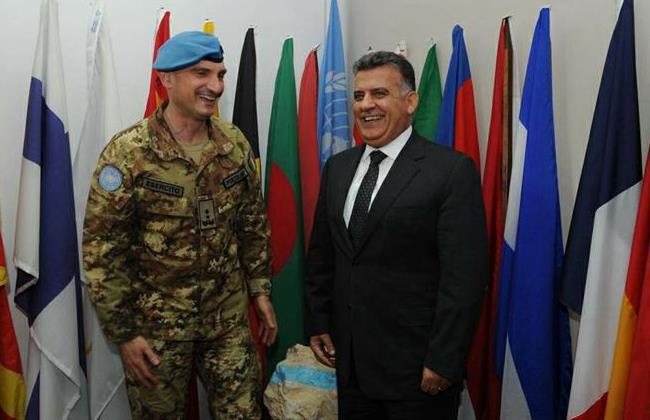 General Security chief Maj. Gen. Abbas Ibrahim: Lebanon will respect 1701


Mohammed Zaatari| The Daily Star
NAQOURA, Lebanon: Lebanon will continue to adhere to U.N Resolution 1701, General Security chief Maj. Gen. Abbas Ibrahim said Friday during a visit to the U.N. peacekeeping force's headquarters in the southern border town of Naqoura.
"I represent the Lebanese government, which is committed to Resolution 1701," Ibrahim told U.N. force commander Maj. Gen. Luciano Portolano, offering his condolences over the killing of a Spanish peacekeeper in the latest round of border violence between Israel and Hezbollah. Ibrahim, who hailed UNIFIL's peacekeeping role in Lebanon, stressed the need to continue ongoing coordination between the Lebanese Army and UNIFIL, Andrea Tenenti, the spokesperson for the peacekeeping force, told reporters.
Ibrahim also emphasized the importance of maintaining stability in UNIFIL areas of operation. U.N. Security Council Resolution 1701 ended Israel's summer 2006 war against Lebanon and permitted UNIFIL peacekeepers to expand their presence along Lebanon's southern border.
Ibrahim also visited his officers stationed at the southern Ras Naqoura border crossing post. The Ras Naqoura crossing was established to control the movement of U.N. peacekeepers between Lebanon and Israel and members of the International Committee of the Red Cross who are responsible for the repatriation of Lebanese civilians and deceased Lebanese from Israel.
Ibrahim's visit came after the recent flare-up of violence last week between Hezbollah and Israel in the occupied Shebaa Farms on Lebanon's southeastern border that killed two Israeli soldiers. The Hezbollah attack on an Israeli convoy came in retaliation for an Israeli airstrike against a Hezbollah convoy in Syria's Golan Heights town of Qunaitra 10 days earlier. The airstrike killed an Iranian general and six Hezbollah fighters, including Jihad Mughniyeh, son of the party's late top commander Imad Mughniyeh. A Spanish peacekeeper was also killed by Israeli shelling in the exchange of fire.
The Security Council Wednesday condemned "in the strongest terms" the killing of the peacekeeper. Spain's U.N. ambassador blamed Israel for the death of 36-year-old Cpl. Francisco Javier Soria Toledo. A U.N. diplomat has said Israel apologized for the incident through several channels, including its ambassador in Madrid who formally extended his condolences to Spain's foreign minister. The Lebanese government condemned the Jan. 18 Israeli airstrike and Primer Minister Tammam Salam underlined that Lebanon would continue to respect Security Council Resolution 1701.