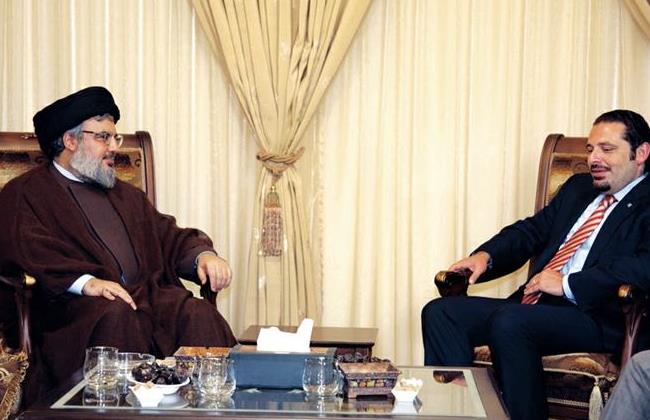 Nasrallah's fiery speech casts gloom over dialogue


Hussein Dakroub| The Daily Star/Feb. 03, 2015
BEIRUT: Hezbollah leader Sayyed Hasan Nasrallah's fiery speech on new rules of engagement with Israel is likely to cast a pall of gloom over a fresh round of talks between the Future Movement and the resistance party set for Tuesday, Future officials said Monday. Meanwhile, France envoy Jean-Francois Girault arrived in Beirut as part of a French initiative aimed at breaking the 8-month-old presidential deadlock.
"Sayyed Nasrallah's speech will not help the dialogue," Future MP Ammar Houri told The Daily Star. "Instead of easing tensions in the country, Nasrallah opted to take Lebanon to the regional arena, that is, Iran, by imposing new rules of engagement with Israel."
In addition to Nasrallah's speech, Houri said the issue of celebratory gunfire, that "terrorized" the people in Beirut and its southern suburbs, fired by Hezbollah supporters before, during and after Friday's speech, would definitely be brought up for discussion by the Future delegation.
Interior Minister Nouhad Machnouk, one of three Future officials representing the movement in the dialogue with Hezbollah, said Tuesday's meeting, the fifth round of talks between the two rival and influential parties, would be difficult following Nasrallah's speech. "The Future delegation will frankly express its opinion in this speech. But what matters is that dialogue will continue despite its difficulty," Machnouk said in remarks published by As-Safir newspaper Monday.
Former Prime Minister Fouad Siniora, head of the parliamentary Future bloc, and a number of Future and March 14 politicians have slammed Nasrallah's defiant speech in which he announced that his group from now on would not recognize the rules of engagement with Israel, raising fears over the fate of U.N. Resolution 1701 that ended the 34-day Israel-Hezbollah war in 2006.
In his speech, which came two days after Hezbollah fighters ambushed an Israeli military convoy in the occupied Shebaa Farms, killing two soldiers in retaliation for the Israeli airstrike that killed six party fighters and a top Iranian general in Syria's Golan Heights on Jan. 18, Nasrallah warned that his group would respond to any Israeli attack at any time and in any place.
However, Speaker Nabih Berri, who has been hosting the Future-Hezbollah talks at his Ain al-Tineh residence since they began Dec. 27, said the dialogue would not be affected by the diatribe against Nasrallah's speech.
During their session last week, the Future Movement and Hezbollah agreed to take "practical steps" aimed at bolstering stability. These included the removal of political slogans, portraits, signage and banners for Hezbollah, the Future Movement and Berri's Amal Movement from the streets of Beirut, as a means to defuse sectarian and political tensions fueled by the war in Syria.
Machnouk chaired a security meeting at his office Monday devoted to discussing the elimination of political slogans along the coastal highway from the southern city of Sidon to Tripoli in the north starting Thursday, the National News Agency reported. It said Machnouk issued instructions to security chiefs and governors on the need to remove all political and religious slogans, in addition to illegal billboards, along the road in a move heralding the beginning of a campaign to eliminate slogans, banners and pictures from all areas.
According to March 8 sources, Tuesday's session will pursue discussions on defusing Sunni-Shiite tensions – the main item on the dialogue agenda, which also includes finding a mechanism to allow the election of a president, boosting efforts to combat terrorism, promoting a new electoral law and energizing stagnant state institutions.
The dialogue between Hezbollah and the Future Movement, whose strained ties have heightened sectarian and political tensions, and sometimes put the country on edge, has won support from rival politicians, as well as from Saudi Arabia, Iran, Egypt, the U.S. and the European Union.
Meanwhile, Girault did not speak to reporters upon his arrival to Beirut Monday night. His visit is part of a French initiative aimed at ending the political impasse that has left Lebanon without a president for over eight months.
This is Girault's second visit to Lebanon in less than two months as part of a regional tour. He had also visited Saudi Arabia and Iran, two regional powers that exert great influence in Lebanon, and the Vatican, for talks on the presidential deadlock.
It was not immediately known whether Girault, head of the French Foreign Ministry's Middle East and North Africa Department, was carrying new proposals to end the vacuum in the country's top Christian post.
Asked if Girault's visit would bring anything new concerning the presidential election, Houri told Ash-Asharq radio station: "We will again listen to what he will say. But it is no secret that the presidential issue has been confiscated by Iran at the hands of Hezbollah."
Rival Lebanese leaders have repeatedly said that a Saudi-Iranian rapprochement is essential to facilitate the election of a president.