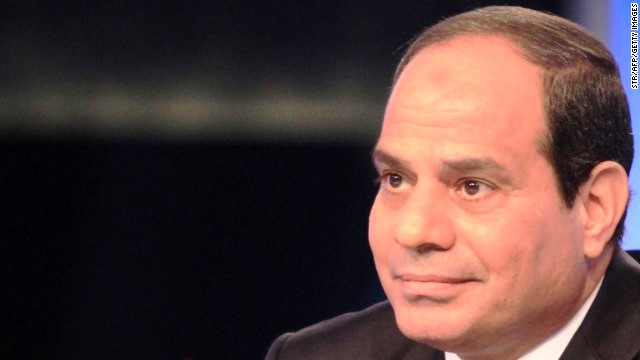 Sisi: "Egypt faces long, tough battle against militants" 


By REUTERS/02/01/2015
President Abdel Fattah al-Sisi said on Saturday that Egypt faces a long, hard battle against militancy, days after one of the bloodiest attacks on security forces in years.
"This battle will be difficult, strong, evil and will take a long time," he said in comments broadcast on state television after meeting Egypt's top military officers.
On Thursday night, four separate attacks on security forces in North Sinai were among the worst in the country in years. Islamic State's Egyptian wing, Sinai Province, claimed the killing of at least 30 soldiers and police officers.
Sisi said Egypt was confronting the "strongest secret organisation in the world", a reference to the Islamist Muslim Brotherhood.
Then army chief, Sisi removed Brotherhood leader Mohamed Morsi from the presidency in July of 2013 after mass protests against Morsi's rule. The military takeover was followed by a fierce crackdown on the movement, which says it is committed to peaceful activism.
Egyptian officials make no distinction between the Brotherhood, Islamic State, al-Qaida and Sinai Province, previously called Ansar Bayt al-Maqdis, arguing the groups pose a major threat because they share the same ideology.
The Brotherhood, which accuses Sisi of staging a coup and robbing Morsi of power, said in a statement from its office in Britain that it was appalled by the killings in Sinai.
It accused the army of displacing people in Sinai and burning and destroying cities. "There is no solution to this situation, except by returning the army to its barracks," it said.
Islamist militants based in Egypt's Sinai region, which has a border with Gaza, have killed hundreds of police and soldiers since Morsi's political demise. The insurgency has spread to other parts of Egypt, the most populous Arab country
Hours before Sisi's comments, an Egyptian court banned the armed wing of the Palestinian group Hamas – an offshoot of Egypt's Muslim Brotherhood – and listed it as a terrorist organization.