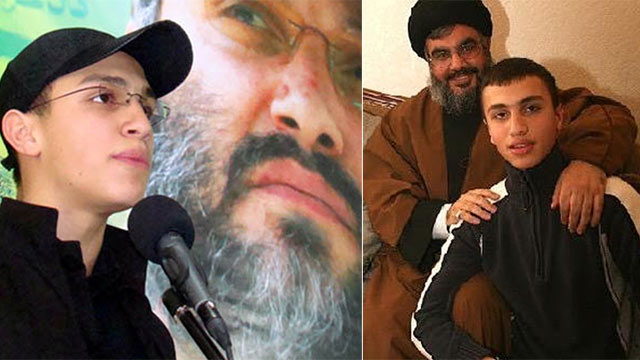 Nasrallah to Israel: 'Don't try us again'


Hashem Osseiran/The Daily Star/Jan. 30, 2015
BEIRUT: Hezbollah is ready to respond to Israel at any time and in any place, party chief Hasan Nasrallah underlined in a fiery speech Friday, two days after its troops ambushed an Israeli military convoy, killing two soldiers. "Don't try us again," Nasrallah warned in a televised speech during a Hezbollah ceremony commemorating the deaths of six party fighters and an Iranian commander killed in a Jan. 18 Israeli airstrike on the Golan Heights town of Qunaitra. "We don't want war but we don't fear it," he declared. "The resistance in Lebanon is not concerned with rules of engagement. It is our legitimate and legal right to fight aggression, wherever and whenever it may occur."
Addressing the Israeli people, Nasrallah said: "If the Israeli thinks that the resistance fears war, I tell them today in the commemoration of the Qunaitra martyrs and after the Shebaa revenge attack, that we don't fear war and we are not reluctant to engage in it if it is imposed on us."Automatic weapons could be heard blazing in parts of Beirut before and after the roughly 90-minute speech, during which Nasrallah revealed that the Wednesday ambush against an Israeli military convoy was planned to resemble Israel's attack on a Hezbollah convoy 10 days earlier. "They killed us in broad daylight, we killed them in broad daylight… They hit two of our vehicles, we hit two of their vehicles," he noted.
"As for the casualties, we'll have to wait and see," he added. Six Hezbollah members and an Iranian commander were killed in the Israeli strike. Israel has acknowledged that at least two of its soldiers were killed in Hezbollah's retaliation, but many speculate the casualty toll to be higher. The main difference between the two attacks was that Israel did not immediately acknowledge that its soldiers were targeted, while Hezbollah announced Israel's attack in Qunaitra moments after the strike, he said.
Nasrallah said that threats by Israeli Prime Minister Benjamin Netanyahu against the individuals who carried out the attack in the Shebaa Farms indicates that he is evading military confrontation and is seeking to track them down to assassinate them. But if any of Hezbollah's cadre or youth are killed, Hezbollah will respond at any place and during any time it sees fit, he added. Israelis have discovered over the past few days that their political and military leaders are amateurs, Nasrallah added, pointing to Israel's upcoming elections. The "foolishness" of this leadership has risked great dangers for Israel, he added.
He began his speech by noting that the attack on the Hezbollah convoy revealed the unity between Beirut, Damascus and Tehran. Nasrallah said that the martyrs of the attack reflect a "fusion of Lebanese-Iranian blood on Syrian territory, and reflects the unity of the cause and the unity of the fate of these countries." "When blood unites Palestine, Lebanon, Syria and Iran, then we will move towards an era of victory," he added.
The death of Revolutionary Guard Brig. Gen. Mohammad Ali Allahdadi and Hezbollah field commander Mohammad Issa shows how ommanders are present on the ground along with the fighters, he added. And the death of Jihad Mughniyeh, son of late-Hezbollah commander Imad Mughniyeh, shows how entire families have given themselves to the resistance, he added. Nasrallah extended his condolences to the families of the victims and blessed the fallen fighters for their martyrdom. The party leader also expressed his respect to the eight Lebanese soldiers killed during fierce clashes with militants near Ras Baalbek last week, likening the jihadi threat to the Israeli one.
He was referring to the day-long battle between the Lebanese Army and ISIS sparked after the jihadis attacked a military post in the area of Tallet al-Hamra. The assembly hall that hosted the commemoration ceremony was packed with supporters waving Hezbollah flags and frequently interrupting the speech with cheers and applause. The wall behind the podium was decorated with pictures of the six party fighters and Iranian general killed in the Israeli raid. Nasrallah described the Israeli raid, saying helicopters in broad daylight targeted two vehicles, carrying seven people, all of whom were killed during the attack.
The motive behind the attack was clear, Nasrallah said. Israel had "planned, calculated and took a premeditated decision to assassinate" the men, he added, denying claims that they were planning an attack on Israel. Nasrallah also denounced the Arab League for its lack of support to Palestine during periods of conflict, saying it has benefited Israel more than the Palestinians. The 22-member league "is not absent," Nasrallah contended, "but does not exist at all." The 50-day Israeli assault on Gaza during July and August proves that, he added, pointing to the failure of Arab states to react to the assault which killed around 2,200 Palestinians, including more than 400 children.
Nasrallah: Hezbollah does not fear war with Israel


Roi Kais/Ynetnews/Published: 01.30.15, / Israel News
In first speech since Hezbollah killed two IDF soldiers in retribution for what it calls 'Israeli assassination' of its fighters and Iranian general, Hezbollah leader says proud of 'martyrs', admits Iran supporting operations in Syria.
Hezbollah chief Hassan Nasrallah responded Friday for the first time since his group killed two Israeli soldiers in response to an end of January attack in Syria attributed to Israel which saw a number of the group's fighters killed alongside an Iranian general. "Our biggest victory is that Israel feared Hezbollah's response," he said in a televised address Friday after a salvo of Hezbollah guided missiles killed Major Yochai Kalangel and Staff-Sgt. Dor Nini as they rode in unarmored vehicles along the Israeli-Lebanese border on Wednesday. Israel then launched an artillery and air barrage, and a Spanish peacekeeper was killed.
"If Israel thinks the resistance is detered and is scared of a conflict, I tell you now after the attack in Qunetra, we are not afraid of war. We will not think twice about confronting the enemy and we will do so if he forces us. "We dont want war but we dont fear it," he said, "the resistance in Lebanon is not concerned with rules of engagement. It is our legitimate and legal right to fight aggression, wherever and whenever it may occur."According to him, the Israeli attack in Qunetra – a Syrian city straddling its war-torn border with Lebanon – shows the "fusion of Lebanese-Iranian blood on Syrian territory, and reflects the unity of the cause and the unity of the fate of these countries," Nassrallah said, admitting Iran was supporting his terror groups operations in Syria.
When blood unites Palestine, Lebanon, Syria and Iran, then we will move towards an era of victory, Nasrallah added. "It is possible Israel thought Hezbollah would contain this event and will not admit it was hit – but (our activities in Syria) are not something we hide. We are proud of it and our shahids… and I think this was Israel's first surprise, that Hezbollah admitted the event." Israel has not officially taken responsibility for the attack.
Hezbollah is fighting alongside forces loyal to Syrian President Bashar Assad against rebels trying to oust him. The Syrian rebels fighting Hezbollah in the Golan area are predominantly affiliated with the Al Nusra Front – the Syrian offshoot of al Qaeda – which Nasrallah claimed Israel supports. Nasrallah praised those killed in alleged Israeli attack as 'martyrs' and fired back at Israel for "supporting" Syrian rebels in the area. "There are thousands of (Syrian al Qaeda) militia forces along the Golan border, they have tanks, arms, rockets, fortifications and more.
"Netanyahu and Ya'alon are not concerned by their presence, because they support them, they supply them with air coverage and open the border for their wounded. Israel is not concerned by them, but is of two civilian cars which did not have any arms on them," the Hezbollah chief asked rhetorically, referencing the January 18st attack that killed several Hezbollah members, including a senior operative, along with an Iranian general.
Israel said it had received a message from UNIFIL, the UN peacekeeping force in Lebanon, that Hezbollah was not interested in further escalation Thursday. In Beirut, a Lebanese source briefed on the situation told Reuters that Israel informed Hezbollah via UNIFIL "that it will make do with what happened yesterday and it does not want the battle to expand".
Asked on Israel's Army Radio whether Hezbollah had sought to de-escalate, Defense Minister Moshe Yaalon said: "There are lines of coordination between us and Lebanon via UNIFIL and such a message was indeed received from Lebanon."Israel has not formally acknowledged carrying out the air strike, but Yaalon said it had set back Hezbollah and Iranian efforts to "open a new front" against Israel from the Syrian Golan Heights. UNIFIL officials did not confirm or deny passing messages between Israel and Hezbollah. UNIFIL says it has no contacts with Hezbollah but its head of mission was in close contact with Israel and the Lebanese government throughout the day. The channel of communication "is still open now and it is always open in order to ask the parties to exercise maximum restraint", spokesman Andrea Tenenti said.
Reuters contributed to this repo
Nasrallah confirms Hezbollah, Iran bolstering presence along Golan border


By JPOST.COM STAFF, REUTERS/01/30/2015/
Hezbollah on Friday confirmed Israeli suspicions that it was establishing a greater military presence near the Syrian-Israeli frontier on the Golan Heights. The Shi'ite group's leader, Hassan Nasrallah, gave a televised address in Lebanon in which he extolled the "fusion of Lebanese-Iranian blood on Syrian territory." The speech commemorated the deaths of six Hezbollah fighters and an Iranian general killed by an Israeli air strike in Syria on Jan. 18. The Iranian-backed Hezbollah retaliated on Wednesday with a rocket attack that killed two Israeli soldiers on the frontier with Lebanon. Nasrallah's remarks reaffirmed the Hezbollah-Iranian effort to solidify another front in the struggle against its nemesis, Israel. The Hezbollah secretary-general's remarks were reported by the Beirut-based English language newspaper The Daily Star.
The Israel-Lebanon frontier, where two Israeli soldiers and a Spanish peacekeeper were killed in an exchange of fire between Hezbollah and Israel, appeared quiet on Friday. The Israeli soldiers were killed when Hezbollah fired five missiles at a convoy of Israeli military vehicles. The attack appeared to be in retaliation for a January 18 Israeli air strike in southern Syria that killed several Hezbollah members and an Iranian general. The peacekeeper in southern Lebanon was killed as Israel responded with air strikes and artillery fire, a UN spokesman and Spanish officials said.
Nasrallah said that the Hezbollah attack on Mt. Dov was a tit-for-tat response to the attack on the convoy earlier this month. "They killed us in broad daylight, we kill them in broad daylight," he said. "They hit two of our vehicles, we hit two of their vehicles." The Hezbollah chief lambasted what he called the Israeli leadership's "foolishness" for putting their country at risk with the attack on the Hezbollah-Iranian convoy. Israel had "planned, calculated and took a premeditated decision to assassinate" the Hezbollah and Iranian officers, though he denied Israeli claims that those targeted, among them Jihad Mughniyeh, were planning an attack on Israel.
The leader of Hezbollah said his group did not want war with Israel but was ready for one and had the right to respond to Israeli "aggression" in any time and place. "We do not want a war but we are not afraid of it and we must distinguish between the two and the Israelis must also understand this very well," he said. He said the group had been ready for all possibilities ahead of the retaliatory attack, one of the most serious clashes since the two sides fought a war in 2006. They have appeared to back away from further escalation since the incident. Addressing a hall full of supporters via video link, Nasrallah said his group no longer had rules of engagement in the conflict with Israel and would hold it responsible for the assassination of any Hezbollah leaders or fighters.
"We have the right to respond in any place and at any time and in the way we see as appropriate," Nasrallah said in the speech, which was broadcast live on Arabic news channels and greeted by heavy celebratory gunfire in Beirut. Attendees included visiting Iranian official Alaeddin Boroujerdi, head of the Iranian parliament's national security and foreign policy committee. He was shown with tears in his eyes as Nasrallah spoke about the men killed in the Jan. 18 Israeli helicopter attack in the Syrian Golan Heights.
Nasrallah called the attack "an assassination crime". The Iranian general killed, Mohammad Allahdadi, had been a senior figure in Tehran's military effort to support the Syrian government in its battle against insurgents trying to topple President Bashar Assad. One of the top figures in the Iranian Revolutionary Guards, Qassem Soleimani, visited the grave of Jihad Mughniyeh this month, a Lebanese source said. A picture of Soleimani, head of the Quds Force, praying at Mughniyeh's grave was broadcast by Lebanese television channel Al-Mayadeen. Soleimani had become a father-figure to Jihad Mughniyeh after his father's death, the source said. Soleimani also met Nasrallah during his short visit to Beirut.