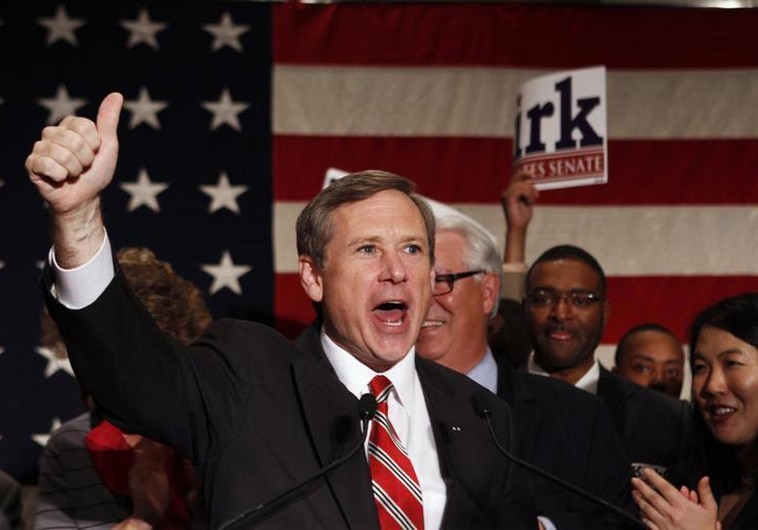 Iran vote delayed to avoid influencing Israel's election, senator says


By MICHAEL WILNER/J.Post/  01/29/2015
WASHINGTON – The Republican author of new sanctions legislation on Iran is criticizing his Democratic colleagues for delaying a full floor vote on his bill. Senator Mark Kirk (R-Illinois), co-author of the Nuclear Weapon Free Iran Act of 2015 alongside Senator Bob Menendez (D-New Jersey), praised the Senate Banking Committee for adopting the bill by a vote of 18 to 4 on Thursday with "overwhelming bipartisan support."
But in a phone call after the vote with The Jerusalem Post, Kirk also questioned why his Democratic colleagues seek to delay moving forward with a bill which, he says, adds pressure on Iran at a key moment in negotiations over its nuclear program, without violating any terms of the talks.
The delay is "a failed attempt to try and not influence the Israeli election," Kirk asserted. Ten Democratic senators told the president they would withhold full support for the bill until March 24, granting the president's team two months to negotiate; Israelis go to the polls on March 17. "My preference is to take the time necessary with my Democratic partners, and to insist that a permanent delay is not viable," he said, adding: "Democratic plans to delay this indefinitely are woefully out of date." Indeed, Kirk and Menendez's bill was originally written in 2013. It has been repeatedly delayed at the insistence of the White House, as the administration has sought to end the nuclear crisis through diplomatic means.
A confluence of major developments in recent days has politicized the debate. As the bill proceeded through the Senate, and President Barack Obama threatened to veto the measure, House Speaker John Boehner (R-Ohio) invited Prime Minister Benjamin Netanyahu to address Congress on the matter – without informing the White House. Netanyahu has expressed support for the bill. Netanyahu's address is scheduled for March 3.
While Democrats in the White House and Congress have called the timing of Netanyahu's speech "inappropriate," the prime minister's team points to yet another deadline: March 31, when diplomats seek to clinch a political framework agreement and secure the core tenets of a nuclear deal. Netanyahu hopes to speak out on that framework agreement while there is "still time," according to his ambassador to the US, Ron Dermer – himself under fire for orchestrating the speech.
"Its totally appropriate for the prime minister of America's best ally to come and speak on the Middle East," Kirk said. Obama, UK Prime Minister David Cameron and their colleagues in the European Union warn that the bill will derail the nuclear talks— and place the onus of their failure on the United States. Asked about such concerns, Kirk said the American people are opposed to the sort of nuclear deal that appears to be emerging from the negotiations. And the likelihood of a deal coming to pass, he continued, is "not a likely scenario."
"For Barack Obama to be saying its less than fifty-fifty, he's saying its not likely to happen," the senator said. Senate Foreign Relations Committee Chairman Bob Corker (R-Tennessee) seeks different legislation that would require Congress to approve of any final nuclear accord. Kirk said that he and Corker will be working together "in the coming days," before a floor vote on the Menendez-Kirk legislation, to explore whether they should combine their efforts. Despite Democrats promising to hold support until late March, Kirk said he thought it was possible to hold a vote before that date on the legislation. But "if that happens," one senior Democratic aide noted, "then we've moved from bipartisan to partisan."