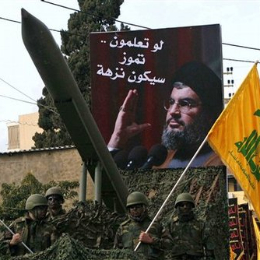 Israel-Hezbollah engagements since 2006


The Daily Star/Jan. 29, 2015
BEIRUT: Both Hezbollah and Israel have assumed a position of mutual deterrence since the 2006 war, avoiding large clashes and maintaining relative quiet along Lebanon's southern border. Over the past eight years, however, both Israel and Hezbollah have engaged in quiet tit-for-tat acts of violence and sabotage. Feb. 12, 2008: Senior Hezbollah commander Imad Mughniyeh is assassinated in Damascus. Mughniyeh was Hezbollah's top security commander and was on a number of Most Wanted lists in Israel and the United States for his suspected involvement in several high profile Hezbollah operations.
July 16, 2008: Hezbollah returns the bodies of two Israeli soldiers, Ehud Goldwasser and Eldad Regev, in exchange for the release of five Lebanese prisoners and 199 bodies of Lebanese citizens. Among the prisoners is Samir Kuntar, a Lebanese Druze man who was detained in Israel for more than 30 years.
July 18, 2012: A suicide bomber targets a bus carrying Israeli tourists in Bulgaria. Bulgarian officials accuse Hezbollah of committing the attack that killed seven people. Hezbollah has not commented.
Oct. 6, 2012: A Hezbollah drone successfully flies 55 kilometers into Israeli airspace before being shot down by the Israeli army. In a public address, Nasrallah says the drone was designed in Iran and assembled in Lebanon.
Jan. 31, 2013: Israeli jets struck a convoy of trucks in Syria near the Lebanese border. Israel said the trucks were carrying Hezbollah weapons.
May 3-4, 2013: Israeli jets strike targets near Damascus. Hezbollah missiles were believed to be the target of the attack.
Dec. 4, 2013: Hezbollah commander Hasan Lakkis is assassinated in Beirut. Lakkis was a childhood friend and confidante of Hezbollah chief Sayyed Hasan Nasrallah and played a key role in the party's drone program. Hezbollah publically blames Israel for the assassination.
Feb. 24, 2014: Israel bombs an abandoned Hezbollah position in east Lebanon.
March 18, 2014: A blast at an Israeli army post in the Shebaa Farms wounds four Israeli soldiers. Nasrallah later claims in an interview with As-Safir newspaper that Hezbollah had executed the attack intending to "send a message that the resistance is still capable of fighting Israel," despite its intervention in Syria, marking the first time Hezbollah claimed responsibility for attacking Israeli soldiers since the 2006 war.
Sept. 4, 2014: Hezbollah explosives expert Hussein Ali Haidar is killed while dissembling an "Israeli spy device" in south Lebanon.
Oct. 7, 2014: Hezbollah detonates an explosive device in the occupied Shebaa Farms, wounding two Israeli soldiers. Hezbollah immediately claims responsibility for the attack, which party officials said was intended to avenge the death of Haidar.
Jan. 15, 2015: Nasrallah admits in an interview with Al-Mayadeen TV that a Mossad spy infiltrated the party and was providing sensitive information to Israeli authorities.
Jan. 18, 2015: An Israeli strike in Qunaitra, Syria, kills an Iranian Revolutionary Guard commander and six Hezbollah fighters including field commander Mohammad Issa and Jihad Mughniyeh, son of the late Imad Mughniyeh.
Jan. 28, 2015: At least two Israeli soldiers are killed after Hezbollah launches six anti-tank missiles at an Israeli convoy in the occupied Shebaa Farms. Israel responds to the attack by firing more than 50 shells into Lebanon.