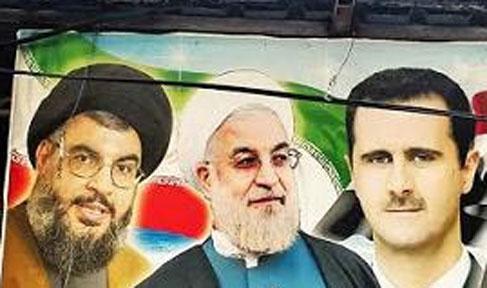 Iran relays warning to Israel through Washington, backing it with four-rocket volley from Syrian Golan


DEBKAfile Exclusive Analysis January 27, 2015
Tehran Tuesday, Jan. 27 adopted two synchronous courses for getting back at Israel for the Jan. 18 air strike near Quneitra which killed an Iranian general and six Hizballah officers: Iraqi Shiite militiamen posted on the Syrian Golan along with Hizballah fighters sent four rockets winging towards Mt. Hermon while some 1,600 people were skiing on its slopes: Two landed and exploded on the Israel side of the demarcation line – one near the skiers and the other outside Kibbutz Merom Hagolan. None caused casualties or damage.  Israeli forces stationed along the Syrian and Lebanese borders went on top readiness, a level still in force. Overhead, Israeli planes and other aerial vehicles are on 24-hour patrol.
 In Tehran, two high Iranian officials Tuesday warned Israel to await retaliation. Dep. Foreign Minister Hossein Amirabdollahian said: "We told the Americans that the leaders of the Zionist regime should await the consequences of their act," adding, "Israel crossed our red lines."
He spoke at a commemoration ceremony for the Iranian general Mohammad Ali Allah Dadi who was slain on the Syrian Golan a week ago. In this warning, the Iranian official introduced two new features: Tehran has never before set red lines for Israeli military action; neither have the Iranians ever admitted to relaying a warning to Israel through Washington – at least not in public.
The Islamic Republic was saying in effect that it is not only acting in concert with the Obama administration over a nuclear accord, but the two powers will also be aligned against any potential Israel military action against Iran that is intended to upset the nuclear accord unfolding between Washington and Tehran.
In Washington, State Department spokeswoman Jen Psaki declined to comment on "private diplomatic contacts with Iran" beyond saying that no threat was delivered to Israel in the latest round of nuclear talks.
 "We absolutely condemn any such threats that come in any form," Psaki told reporters.  Then, Tuesday night, The Revolutionary Guards' acting commander, Gen. Hossein Salami, vowed that Iran would "retaliate soon."  debkafile's military sources do not rule out Iranian and Iraqi Shiite militias posted to Syria, together with Hizballah, possibly escalating attacks on Israel from the Syrian Golan in the days to come. Such attacks are unlikely at this stage to form a continuous campaign but would rather be sporadic, their purpose being to maintain a high level of military tension and keep Israel on constant alert and on edge.  On the diplomatic front, Tehran will continue the effort disclosed Tuesday to drag the US and the Obama administration into involvement in the ongoing crisis, to make sure Israel's hands are tied against major responses to its harassments.  So Jen Psaki had every reason to express great concern about the future of the ceasefire along Israel's borders with Syria.
Iran sends warning to Israel via US officials
 Associated Press/Jan. 27, 2015/TEHRAN: Iran said Tuesday it has sent a warning to Israel through the United States over the recent killing of an Iranian general in an alleged Israeli airstrike, the official IRNA news agency reported. The report quoted Deputy Foreign Minister Hossein Amir Abdollahian as saying, "We told the Americans that the leaders of the Zionist regime should await the consequences of their act." He added, "The Zionist regime has crossed our red lines." Iranian Gen. Mohammad Ali Allahdadi, a senior commander in the Revolutionary Guard, was killed along with six Hezbollah fighters in a Jan. 18 airstrike in the Syrian-controlled part of the disputed Golan Heights.
Both Iran and Hezbollah blamed Israel for the strike; the Israeli government refused to comment. Amir Abdollahian says Iran delivered the message to U.S. officials via diplomatic channels. He did not elaborate. Iran and the U.S. cut diplomatic ties after militant Iranian students stormed the U.S. embassy in Tehran during the 1979 revolution and held a group of American diplomats for 444 days. The two nations normally exchange diplomatic messages through the Swiss embassy, which looks after U.S. interests in Iran. But diplomats from both countries also meet directly on other occasions – such as the current negotiations to limit the scope of the Iranian nuclear program in exchange for easing harsh international sanctions against Tehran. Amir Abdollahian's remarks came during a commemoration ceremony in Tehran for the slain general and the Hezbollah fighters. In the same ceremony, Gen. Hossein Salami, acting commander of the Guard, said Iran will retaliate soon. "We tell [Israel] to await retaliation, but we will decide about its timing, place and the strength," he said, according to the IRNA report. Allahdadi is one of the highest ranking Iranian officers known to have been killed abroad in decades. Another senior Guard commander, Brig. Gen. Hamid Taqavi, was killed during a battle against ISIS in Samarra, Iraq last month. Majority Shiite Iran acknowledges it has sent military advisers to both Iraq and to Syria, where they are aiding embattled President Bashar Assad. But Tehran denies the presence of Iranian combat forces.