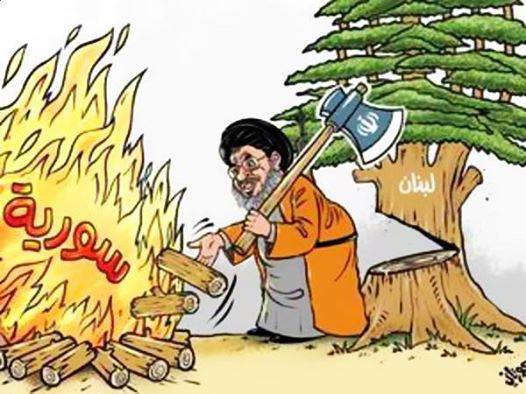 Nasrallah, a secretary-general in distress


Ronen Bergman/ Ynetnews/Published:01.26.15/ Israel Opinion
Analysis: Golan strike caught Hezbollah's leader at a really bad time. If it were up to him, he would rather not face the dilemma of whether to retaliate against Israel or keep quiet.
The Israeli public's state of mind on security issues changes at once: From a sort of joy and satisfaction, maybe pride, over the strike against Hezbollah's command group in the Golan, to deep anxiety about a war that is about to take place with Hezbollah, and perhaps even a wider conflict, with Iran too, after a Revolutionary Guards general was killed in the assassination.
But on the other side, if we look at things from the eyes of Hezbollah Secretary-General Hassan Nasrallah, the situation isn't great, and the strike caught him at a really bad time. If it were up to him, he would rather not face the dilemma of whether to retaliate against Israel or to keep quiet. This is the most difficult period for the talented secretary-general since being appointed to lead Hezbollah after his predecessor, Abbas Musawi, was killed in an Israeli assassination.
First of all, because of Israel. Since February 2008, when Imad Mughniyeh was killed, Hezbollah has suffered a series of repeated blows which have all been attributed to Israel: The assassination of several other activists, led by Hassan Lakkis, the head of the organization's weapons development wing; mysterious explosions in Hezbollah's arms and ammunition depots, including those located south of the Litani River, which proved that the organization was violating the United Nations' resolutions; the bombings of arms convoys from Syria to Lebanon; and now, the killing of Jihad Mughniyeh, who Nasrallah wanted to turn into a symbol in order to prove that the Mughniyeh legend is alive and kicking the Zionist enemy.
Second, because of Israel. Nearly all of the dozens of operations planned by Hezbollah to avenge the actions detailed in the previous paragraph were thwarted by the Mossad. They succeeded in carrying out a terror attack in Burgas and wounding the wife of an Israeli diplomat in India, but these actions are nothing compared to what Hezbollah had tried to do, and are not seen by the organization as something which even comes close to revenge.
Moreover, in the bombing of the Israeli Embassy in Argentina in 1992 following Musawi's assassination, the goal of the revenge was to reformulate the rules of the game against Israel. But this time, Israel is persisting and not stopping.
Third, because of Israel. Hezbollah recently uncovered, according to its spokespeople, an Israeli spy in the organization's top ranks, who helped thwart the aforementioned operations and kill Mughniyeh Sr. Then came the assassination of Mughniyeh Jr. and proved that the organization can still be infiltrated.
The existence of an Israeli spy, if the story is indeed true, disproves something which Hezbollah was certain of – that its people are so loyal and filled with religious and national and Shiite faith, that they would never agree to work for "the Zionist enemy." This exposure contains serious damage to the organization's morale.
Fourth, because of Syria. In the past three years, Hezbollah has sent hundreds, maybe even thousands of fighters to help Syrian President Bashar Assad with the civil war. In fact, if there is one main reason Assad has yet to be defeated, it's because of Hezbollah and Iran's support.
But this support carries a heavy price tag: The battle in Syria has yet to be decided, far from that, and in the meantime Hezbollah has failed to prove that it can win it despite its great effort. Hezbollah has suffered many casualties in the battles in Syria, and by joining a regular army it has exposed its forces, which are used to secret activities, to the infiltration of hostile intelligence forces. We must not rule out the possibility that whoever hit Jihad Mughniyeh took advantage of this exposure.
Fifth, because of Lebanon. Hezbollah's participation in the war in Syria has been met with very strong criticism in Lebanon. Why – the Sunnis, the Druze and the Christians are asking – does Hezbollah claim to be a militia whose goal is to fight Israel, but is in fact helping massacre Syria's citizens?
The support for Assad has also led to attacks by the Sunni Syrian organizations, some of which are affiliated with global jihad, against Hezbollah and Iran's representatives. Nasrallah, therefore, has opened another front against him.
Sixth, because of The Hague. Nasrallah also has a serious problem with the International Criminal Court. A special tribunal has been dealing since early 2014 with an unusual procedure in which five activists, one of whom belongs to the Mughniyeh family, are on trial for the murder of Lebanese Prime Minister Rafik Hariri in 2005. If they are convicted, Nasrallah's claims that he is a politician who cares for all Lebanese citizens will look like a rude lie.
Seventh, because of the money. Hezbollah is first and foremost a social, religious and political organization for the Shiites in Lebanon. In order to sustain this mechanism, it needs money. Hezbollah has been hit by a series of corruption affairs in recent years, only some of which have been exposed to the public. That is one of the reasons why Iran has reduced its funding to the organization, which is suffering from serious budget problems today.
All this is only the essence of Nasrallah's troubles, which will likely stop him from rushing into a general state of war against Israel or taking the risk of a limited response which could lead to such a war.