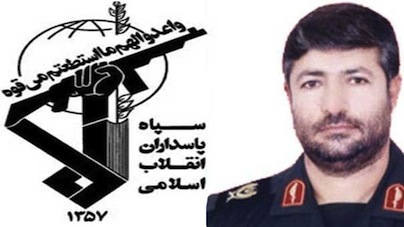 Thousands in Tehran mourn Iranian general killed by Israel


Agence France Presse/Jan. 21, 2015
TEHRAN: Thousands gathered Wednesday in Tehran at a funeral procession for a Revolutionary Guards general killed by Israel, after his commander warned the Jewish state it should "await destructive thunderbolts."General Mohammad Ali Allahdadi died alongside six fighters from Hezbollah in the attack Sunday near Qunaitra on the Syrian-controled side of the Golan Heights. Allahdadi's coffin was draped in an Iranian flag as it was carried into a Guards base in southeast Tehran. He is to be buried Thursday in Pariz, a town in the southern province of Kerman."The path of martyr Allahdadi is unstoppable and will be continued until the liberation of the Holy Quds (Jerusalem) and obliteration of the Zionist regime," Guards commander Major General Ali Jafari said at a ceremony at the base, according to the official IRNA news agency. The mourners chanted "Death to Israel" and burned two Israeli flags. Allahdadi died alongside Jihad Mughniyeh, the son of an assassinated Hezbollah commander, and Mohammed Issa, a fighter responsible for the group's operations in Syria and Iraq. An Israeli security source told AFP that one of its helicopters carried out the strike but a United Nations' observer force in the Golan Sunday raised the possibility that drones may have been used. On Tuesday, Jafari took aim at Israel, saying "the Zionists should await destructive thunderbolts."
"They have in the past seen our wrath," he said, adding that the Guards "will continue its support for Muslim fighters and combatants in the region." Once solely focused on fighting Israel, Hezbollah is now deeply involved in the war in neighboring Syria, where it backs President Bashar Assad. Shiite Iran is Assad's main regional ally in his war against the mainly Sunni rebels seeking to overthrow him. Hezbollah's Al-Manar television said the group's six fighters were killed as they carried out reconnaissance. But an Israeli security source said it had carried out a strike on "terrorists" who were preparing an attack on the Jewish state. The incident came days after Hezbollah chief Hassan Nasrallah threatened to retaliate against Israel for its repeated strikes on targets in Syria and boasted the movement was stronger than ever. He touted its sophisticated arsenal, including Fateh-110 missiles, which have a range of 200 kilometers or more and are capable of hitting much of Israel. In 2006, Israel fought a bloody war against Hezbollah that killed more than 1,200 people in Lebanon, mostly civilians, and 160 Israelis, mostly soldiers.
Israeli tanks take up positions along Lebanon border


Mohammed Zaatari/The Daily Star/Jan. 21, 2015
KFAR KILA, Lebanon: Israeli tanks were witnessed taking up new positions along Lebanon's southeastern border Wednesday, as UNIFIL and Lebanese Army troops boost their patrols in the area amid tensions following a deadly weekend Israeli strike on a Hezbollah convoy in the Golan Heights. "Five Israeli tanks repositioned from the Riaq [military outpost] to the highlands southeast of the Metula settlement," a security source told The Daily Star. UNIFIL helicopters were observed carrying out their routine reconnaissance flights over the Blue Line as a number of shepherds reported seeing Israeli military vehicles and flashing lights across the border. Residents of the southeast village of Kfar Kila also reported hearing rumbles of Israeli vehicles positioning in the valleys south of the Metula settlement.
"We have spotted the movements in addition to the high overflights of Israeli military aircraft in most of the Lebanese southern airspace," a UNIFIL officer told The Daily Star.  Meanwhile, a Lebanese Army statement said Israeli warplanes flew over southern Lebanese border villages as well as territorial waters opposite Ras Naqoura, Qassmieh and Abu Aswad between 6:50 p.m. – 8:10 p.m. Tuesday. The statement said an Israeli reconnaissance jet also hovered over areas in southern and eastern Lebanon as well as over Beirut and its suburbs between 1:40 p.m. – 7:30 p.m. Tuesday. Israeli media have reported that the Jewish state is bolstering its forces along the border in anticipation of a retaliatory attack after a missile strike killed six Hezbollah fighters and an Iranian commander in Syria's Golan Heights Sunday.
A Lebanese security source told The Daily Star that two Syrian fighters affiliated with Hezbollah were also killed in the Israeli strike.