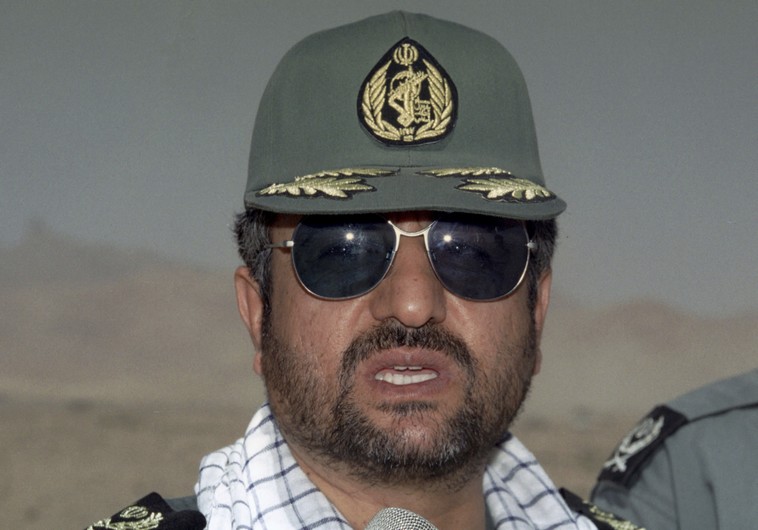 Iranian Revolutionary Guard chief: Israel should expect destructive thunderbolts
By JPOST.COM STAFF/ 01/20/2015/The Revolutionary Guard is committed to the annihilation of the Zionist regime," Iranian media quoted the general as saying. Major General Mohammad Ali Jafari, the commander of Iran's elite Revolutionary Guard Corp (IRGC) warned on Tuesday that Israel could expect a "destructive" response for its alleged role in firing at a military convoy in Syria's Quneitra on Sunday. A member of the elite unit was among those killed in an air strike attributed by the foreign press to an Israel Air Force attack on Hezbollah and Iranian operatives on the Syrian Golan Heights on Sunday. The official website of the IRGC confirmed on Monday that Gen. Muhammad Ali Allahdadi was killed in the strike, while Hezbollah's satellite television station and news website al-Manar also carried news of his demise. "The Revolutionary Guard is committed to the annihilation of the Zionist regime," Iranian media quoted Jafari as saying. "Zionists," the general warned, "should expect destructive thunderbolts."Earlier, Iranian Parliament Speaker Ali Larijani said Israel was not only behind Sunday's air strike in Syria, but was also responsible for "all acts of terror" in the Middle East. Israel has not confirmed that it carried out the strike, however Prime Minister Benjamin Netanyahu has said Israel would not give up its right to defend itself against all those who wish to propagate terror and other attacks against its citizens or its territory. UN peacekeepers stationed in the Golan Heights along the Syrian-Israeli border observed drones coming from the Israeli side before and after the air strike, the United Nations said on Monday.

IDF closes road near Lebanon, fearing reprisal by Hezbollah
By JPOST.COM STAFF/YAAKOV LAPPIN/ 01/20/2015
ions of a road in northern Israel near the border with Lebanon on Tuesday night, due to a building up of tension following an airstrike in Syria on Sunday that killed a senior Hezbollah member and an Iranian general allegedly carried out by Israel, though their has been no official statement by Jerusalem.  Local residents were still permitted to use the road, which was closed off between the villages of Avivim and Dovev, according to a military source. However, farmers have been asked by the IDF not to work plots adjacent to the Lebanese border for the present time due to security sensitivities. An Iranian general killed in an Israeli air strike in Syria was not its intended target, and Israel believed it was attacking only low-ranking guerrillas, a senior security source told Reuters on Tuesday.
Iranian Revolutionary Guard General Mohammed Allahdadi was killed with a Hezbollah commander and the son of the group's late military leader, Imad Moughniyeh, in Sunday's attack on a Hezbollah convoy near the Israeli-occupied Golan Heights.
Hezbollah, which is backed by Iran and fought a 34-day war with Israel in 2006, said six of its members died in the strike. Following the Reuters report, an official security source said, "The state of Israel is not relating to the incident in Syria and not to reports about it, reports that do not come from authorized sources. Israeli policy has been and remains aimed at thwarting every attempted terror attack against it."
Analysis: Hezbollah will respond, the question is how forcefully
By YAAKOV LAPPIN / 01/20/2015/J.Post/There can be little doubt that Hezbollah's leadership, acting in conjunction with its masters in Tehran, will order a response to the air strike that killed senior members of the Lebanese terrorist organization and Iran's Revolutionary Guards Corps. As is well known, Hezbollah has in recent years moved into Syria with Iran's help, but what is less known is that Hezbollah exploited its new Syrian presence to begin creating a second front against Israel, alongside its traditional home base of southern Lebanon.
Sunday's air strike, attributed by international media to Israel, should be seen as a preemptive act of self-defense aimed at thwarting an Iranian- sponsored Hezbollah terrorist network that was plotting a series of deadly attacks, including rockets, anti-tank fire, and cross-border infiltrations. Despite the inherently defensive nature of the strike, Hezbollah can be expected to feel obligated to retaliate, following the barrage of warnings by its chief, Hassan Nasrallah, and its more brazen activities on the Lebanese border, aimed at signaling to Israel that deterrence from the 2006 Second Lebanon War is wearing thin. The question that now remains is the extent of Hezbollah's future attack. A relatively minor assault may result in a proportionate Israeli reply, which could in turn produce an end to the sequence of attacks, and a containment of the incident. Hezbollah has nothing to gain from opening a second front against Israel, at a time when it remains deeply embroiled in its costly intervention in Syria and the war against Sunni rebels. A large-scale Hezbollah attack would, however, open the door to a rapid deterioration of the northern front. The same is true of a mass casualty terrorist attack by Hezbollah targeting Israelis overseas, which could result in direct Israeli reprisals in Lebanon. These days, the northern front includes Lebanon and Syria, as intertwined arenas that are no longer distinct. As a result, the situation is more explosive than in the past. Tensions are running high, and the stakes are even higher.