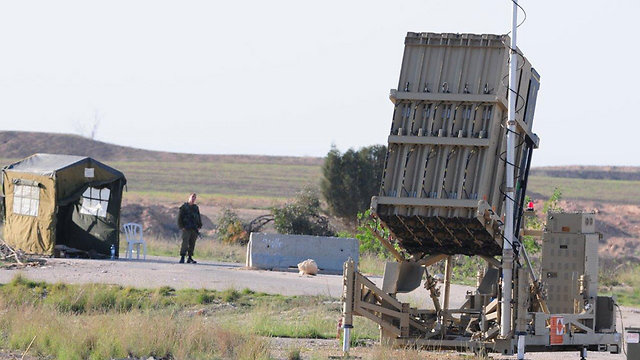 Report: IDF deploys Iron Dome batteries in northern front


Yoav Zitun/ Ynetnews/Published:  01.19.15/Israel News
Foreign media says Israel moves missile interceptors to border with Syria, Lebanon and raises alert level in northern posts.
The IDF raised its alert level on the northern front on Monday, in positions along the border with Syrian and Lebanon, as foreign media outlets reported that Iron Dome batteries were being deployed in the north, less than a day after a strike attributed to Israel killed senior Hezbollah officers and Iranian soldiers.
Apart from the deployment of the missile interceptor batteries on the northern front – reported by Sky News in Arabic – there has not been a significant reinforcement of the forces on the border.
Yet, there are concerns in the security establishment that Hezbollah will attempt a retaliatory terror attack against Israeli forces which operate along the border. Thus, the soldiers were ordered to increase their level of alert and preparedness.
A Lebanese newspaper unofficially affiliated with Hezbollah published new details on Monday of a strike attributed to Israel, in which a senior Iranian general and the son of Imad Mughniyeh were killed, among others.
According to the Al-Akhbar report, the Iranian general and Jihad Mughniyeh, as well as other Hezbollah members and Iranian soldiers, were travelling in two vehicles on the northern section of the Quneitra district, some seven kilometers from the border with Israel.
Al-Akhbr reported that after the two SUVs, a Jeep Cherokee and a Kia Sorento, had moved 400 meters away from a UNDOF base – but before they arrived at a headquarters for the Syrian regime's paramilitary militia – an Israeli chopper fired two missiles, hitting its targets.
A Hezbollah statement on Sunday named the six killed in the attack as Jihad Mughniyeh, 25; Mohammed Issa, 43 (the only one ranked as commander); Abbas Ibrahim Hijazi, 36; Mohammed Ali Hassan Abu Al-Hassan, 30; Razi Ali Dawi, 27; and Ali Hassan Ibrahim, 22.