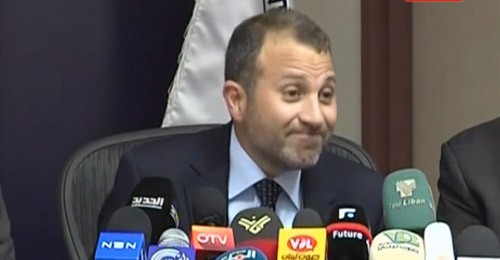 LCCC Site manager:Gebran Bassil Is Hezbollah's Ministate FM, and Not Lebanon
Bassil: Bahrain Issue Should Have Been Addressed in Government


Naharnet /Foreign Minister Jebarn Bassil emphasized that the latest statements of Hizbullah chief Sayyed Hassan Nasrallah concerning the state of Bahrain does not reflect the Lebanese government's stance or its policy. "The remarks against Bahrain do not represent the stance of the Lebanese government or its policy. It also does not reflect the political side that I represent," said Bassil in an interview to An Nahar daily on Saturday. He emphasized that Lebanon's stance does not differ from that of the Arab countries, which stressed the necessity not to meddle in the affairs of Gulf country.
However, Bassil denounced the reaction to the statement saying, "Out of national unity, I object to the statement issued by the Arab League which was interpreted as a statement against Lebanon and against part of the Lebanese. "We do not want to meddle in the affairs of Bahrain, and we do not object to its request for that. We totally understand its demand that no one intervenes in its affairs but we believe that any issue concerning it or any other Arab country could have been discussed with the Lebanese government without the need for a statement by the Arab League," said Bassil.
The minister reiterated that "Lebanon's policy stresses the need not to meddle in the affairs of other countries." Arab foreign ministers on Thursday discussed a draft resolution proposed by Manama to condemn perceived "interference" by Hizbullah in the domestic affairs of Bahrain. The draft includes a "clear condemnation" of Nasrallah's latest remarks, which were described as "an incitement to violence" by Manama. On Friday, Nasrallah alleged the presence of a "Zionist-like naturalization scheme" in Bahrain.
He also noted that top Bahraini dissident Sheikh Ali Salman, who was recently jailed by authorities, "has never called for toppling the regime and he did not incite to violence."
"The authorities in Bahrain will realize that they are acting in a foolish way. They can imprison most of the Bahraini people but that will only stop the protests on the streets and they will not be able to stop the protests in prisons," said Nasrallah.
His statement was met by broad Arab dismay, with the Gulf Cooperation Council announcing the remarks contained "an incitement to violence and discord."Bahrain for its part summoned Lebanon's charge d'affaires, urging a "clear condemnation" of Nasrallah's stances. The UAE's foreign ministry also summoned the Lebanese ambassador on Monday, handing him a protest letter over what it described as "hostile statements."
Biting the benefactor


The Daily Star/Jan. 17, 2015
Lebanon's foreign minister has been busy blazing a new trail in diplomacy and policymaking after declaring that his country's national unity was more important than solidarity with other Arab countries.
Gebran Bassil made the comments while expressing his rejection of an Arab League resolution that criticized statements by Hezbollah's leader, who had accused the kingdom of Bahrain of acting oppressively and compared its policies to those of Israel.
Bassil's performance evoked little surprise, and thankfully it prompted the interior minister to quickly point out that the stance did not reflect the Cabinet's official policy.
If Bassil requires a crash course in recent history, here it is.
Arab solidarity has never been in conflict with Lebanon's national unity; in fact, it has produced, time and time again, political and financial support for the Lebanese authorities and their ailing economy.
Moreover, hundreds of thousands of Lebanese work in Arab countries, primarily in the Gulf, and help keep their homeland afloat.
Thus, Lebanese are fully aware that Gulf countries have supported them with both words and deeds.
The obvious explanation for Bassil's actions is that he represents a political party keen to stand firmly with an ally instead of adhering to the official policy of nonintervention in Arab countries.
If Bassil is keen on impressing his allies, he should remember people inside Lebanon who have benefited from the Gulf's repeated financial support, as well as those in the Gulf who might suffer from a deterioration in Lebanese-Gulf ties.
The saddest part of the affair is that the foreign minister appears to give these people – for whom he works – hardly any consideration, but works overtime to please those who want to ignore both government policy and decades of history.