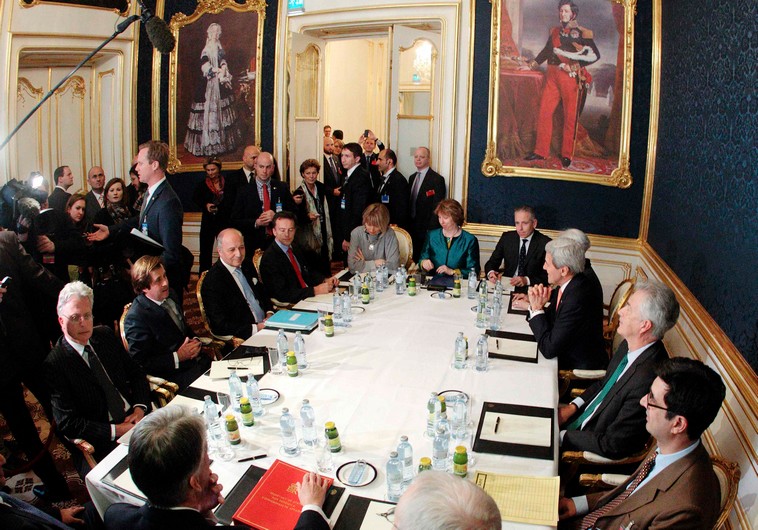 Iran nuclear talks with six powers to resume Jan. 18 in Geneva


By REUTERS \  01/07/2015
DUBAI- The next round of nuclear talks between Iran and six world powers will begin on January 18 in Geneva, Tehran's chief negotiator was quoted by the official news agency IRNA on Tuesday as saying. Deputy Foreign Minister Abbas Araghchi said the talks would be held at the deputy foreign ministerial level and that the Iranian negotiating team would hold bilateral discussions with the US and Russian delegations on Jan. 15. Earlier on Tuesday Iranian Foreign Minister Javad Zarif briefed parliament, which is dominated by hardliners, in order to defend his progress during the nuclear talks. Despite tough questions by the hardliners opposed to talks, the majority of lawmakers backed the negotiating team's approach to date.
"Today nobody questions the (uranium) enrichment itself in Iran. The discussion now is on the amount of enrichment," Zarif told parliament, according to state media. The United States, France, Germany, Britain, Russia and China reached a preliminary agreement with Iran in November 2013 for it to suspend its most sensitive nuclear activity. Western countries in turn eased some economic sanctions imposed during the more-than-decade-long nuclear dispute.Iran says it is enriching uranium to generate energy solely for civilian purposes. The West suspects Tehran may be trying to develop a nuclear weapon capability.
The two sides failed for a second time last month to meet a self-imposed deadline for ending the stand-off. Talks over  the nuclear program have been extended twice since beginning in 2013, and now face two deadlines: one for a political agreement by March and a second for a comprehensive accord by June. Intent on influencing the process – and angered by a lack of visibility into it – new leadership in the Senate banking and foreign relations committees are already drafting legislation that will trigger new sanctions should Iran be found in violation of a preliminary agreement, or should talks break down.
An interim agreement reached last fall between world powers and Iran, formally known as the Joint Plan of Action, prohibits the enforcement of new "nuclear-related" sanctions during the negotiations process. Republicans say their new bill would not implement any new measures, but instead prepares for their immediate implementation should they become necessary. In the past, senior Iranian officials have said the US would be in violation of the JPOA if such a law were to pass.
Furthermore, any deal reached in Vienna over the program is now guaranteed to trigger Senate hearings under the supervision of Sen. Bob Corker (R-Tennessee) of the Foreign Relations Committee. Corker drafted legislation last year that, if passed, would have required an up or down vote in Congress approving of any deal with Iran. Such a vote would not have legal binding. A deal with Iran over its nuclear program will not be classified as a treaty, which is the only form of foreign policy agreement requiring congressional approval.
International agreements are otherwise at the discretion of the executive. Ultimately, Congress will have to vote to lift sanctions on Iran as part of any comprehensive deal ending concerns with its nuclear work. Republicans in Congress are so far unimpressed by what they have seen from the negotiating table, and are unlikely to change should a deal be reached. Iranian officials expressed optimism last month that the third round of talks might be the charm.
**Michael Wilner contributed to this report.