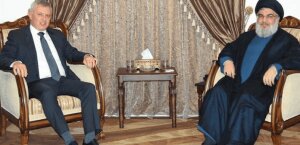 مايكل يونغ/ذا ناشيونال: ترشيح حزب الله فرنجية لموقع الرئاسة جعل منه ورقة مساومة
Hezbollah's vote for Franjieh as Lebanon's president has made him a bargaining chip
Michael Young/The National/March 15/2023
Without official backing in parliament, his political viability was beginning to erode.
The decision last week of Hezbollah's secretary general, Hassan Nasrallah, to formally endorse Suleiman Franjieh as Lebanon's president may not soon lead to an election. If anything, it marks a new phase in the standoff over the presidency.
For months, the party had made it implicitly clear that it backed Mr. Franjieh, but whenever elections sessions were held in parliament (it is parliament that elects the president in Lebanon), members did not put his name on the ballot. Partly, this was to avoid creating a target for Hezbollah's and Mr. Franjieh's adversaries.
This ambiguous position, however, left Mr. Franjieh hanging. Without official backing in parliament, his political viability was beginning to erode, which is perhaps why the two Shiite-majority parties, Hezbollah and the Amal Movement, decided to change their tactic. Nasrallah's announcement was preceded by that of the parliament speaker and Amal leader, Nabih Berri, who also supported Mr. Franjieh publicly.
There seemed to be another rationale as well. Hezbollah is fully aware that for now Mr. Franjieh does not have the votes to be elected. Under the constitution, a candidate needs a two-thirds majority to win in a first round of voting, after which he or she can be elected by an absolute majority of 65 votes. Under the most optimistic of estimates, Mr Franjieh appears to have 57 votes, well short of what is required.
The situation may actually be worse for him. The reason is that on the day after Nasrallah's endorsement, the Saudi ambassador to Lebanon, Walid Bukhari, visited the Maronite patriarch, Bechara Al Rai, and by all accounts expressed Saudi opposition to Mr. Franjieh. The venue was not coincidental. Presidents in Lebanon come from the Maronite Christian community, so it made sense for the ambassador to inform the patriarch.
Yet even if Mr Bukhari did not make any statement to that effect, multiple diplomatic sources in recent weeks have confirmed the Saudi view, and for now it remains unclear whether the Saudi-Iranian rapprochement will alter this. If there were any doubts, on the day after Nasrallah's decision, the Saudi newspaper Okaz published a cartoon showing Mr. Franjieh's face juxtaposed over that of Nasrallah. For Riyadh, Mr. Franjieh is too close to Hezbollah to be someone the kingdom would embrace as president.
In February, five nations – France, the US, Saudi Arabia, Egypt and Qatar – held a meeting in Paris to lay out a road map for the presidency. The portrait of the president they favoured was the opposite of what Mr. Franjieh represents. Sensing that the five were imposing their preferences on Lebanon, Hezbollah struck back against whom they see as the preferred candidate of those meeting in Paris: army commander Joseph Aoun.
In several articles, the daily Al Akhbar, which often serves as an unofficial media outlet for Hezbollah, attacked Mr Aoun. It was a way of saying that if the five shot down Mr. Franjieh's candidacy, Hezbollah would do the same to Mr Aoun's candidacy.
We may be nearing a situation where the two broad alignments on the presidency – Hezbollah and its allies, with Iran in the background, on the one side; and the party's domestic foes, supported to different extents by members of the Paris five, on the other – will move towards negotiations over a compromise candidate. Yet this process may take time, for several reasons.
The first is that Hezbollah wants to show Mr. Franjieh that it will fight for him, and is not simply using him to reach an agreement on someone else. He has long been a close ally of the party, and Hezbollah is still looking for ways to garner the 65 votes that he would need to win an election. Until that option is ruled out, the party is unlikely to give up on him.
Second, an agreement on a president appears to be only one of the issues in play. It seems the parties will also have to agree on a prime minister in conjunction with an agreement over a president. There has been speculation that Saudi Arabia is not enthusiastic about Najib Mikati, Lebanon's caretaker prime minister, so we could be heading towards a package deal where bargaining over the president affects bargaining over the prospective prime minister.
Third, the attitude of many of the participants in negotiations over a president will be tied to regional matters. If the different actors view the outcome in Lebanon as affecting their regional power and interests, it will add a new level of complication to the Lebanese imbroglio. Iran and Saudi Arabia have been divided over the situation in Lebanon, making an agreement between them difficult. However, it is possible that this will change in the coming weeks after their reconciliation. Many Lebanese are hoping so.
There are also major domestic deadlines that may accelerate matters. The most important is the end of Riad Salameh's term as central bank governor at the end of July. Barring a consensus on extending his term, which is unlikely, it will be necessary to have a president before Mr. Salameh leaves, otherwise there will be a vacuum in the presidency and at the central bank, which would be disastrous at such a delicate time for the economy.
So, negotiations over a new president are complicated, but may not be open-ended. That said, Lebanon has never shied away from choosing the most precarious path possible, therefore nothing is guaranteed for as long as the present leadership is in power.