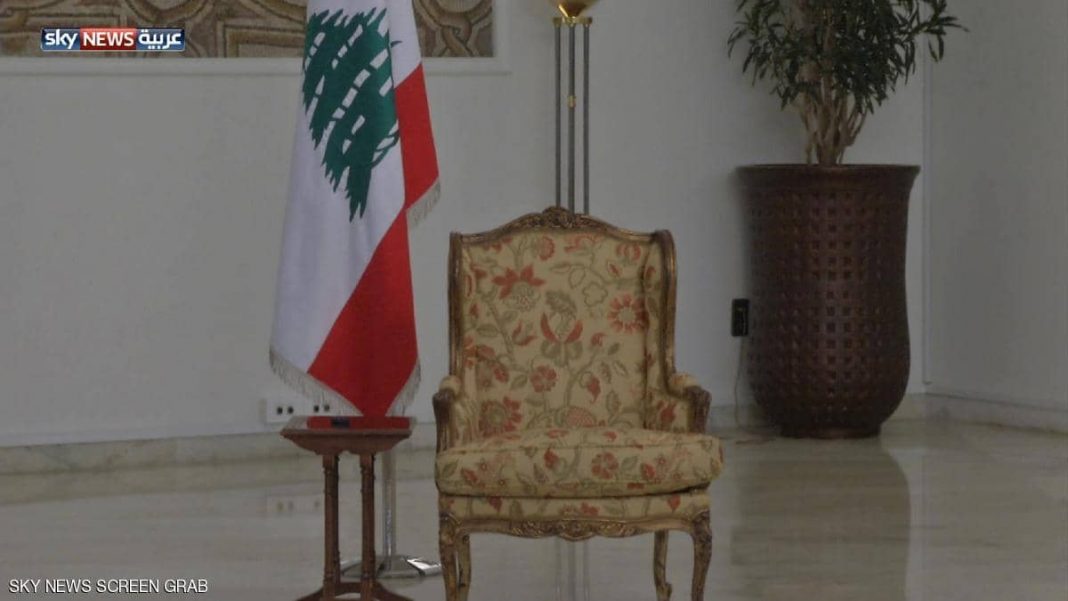 مايكل يانغ/ذي ناشيونال: لماذا من الصعب انتخاب رئيس جمهورية في لبنان
Why is it so difficult for Lebanon to elect its next president?
Michael Young/The National/March 02/2023
Finding Michel Aoun's successor requires consensus at the national, regional and international levels
When Michel Aoun left the Lebanese presidency last October, several observers assumed that finding a successor would be relatively easy, not least because none of the major political parties had an interest in blocking the election of a new president. Four months later, however, no compromise solution has been found, and many are wondering when, or if, there will be an agreement anytime soon.
The contours of a broader arrangement are in place, but for now seem to be at a standstill. They involve a consensus among regional and international powers and local political actors. It is increasingly clear that, given the severe economic crisis in Lebanon and the regional role of Hezbollah, a new president will have to satisfy a number of conditions. He (or she) has to be acceptable to regional states such as Saudi Arabia and Iran, and must have the confidence of the US and France.
Iran and Hezbollah seek a president who will not threaten the party's status in Lebanon, while at the same time any new head of state must be able to show regional and international actors that he or she will not undermine their expectations. For Saudi Arabia and the western states, that means a president who will preserve good relations with Lebanon's Arab partners while also implementing much-delayed economic reform.
A few weeks ago, five countries – the US, France, Saudi Arabia, Qatar and Egypt – held a meeting in Paris to outline the profile of the candidate they sought. They have underlined time and again the need for a consensual president who would implement reform, without ties to the corrupt patronage networks in the country. However, what does the road map the five have laid out mean in practical terms?
The first thing it apparently means is that Saudi Arabia will not invest itself on the Lebanese front for as long as Hezbollah is active in Yemen. Lebanese Prime Minister Najib Mikati confirmed this in an interview with Al-Jadeed TV last week when he described what Saudi Crown Prince Mohammed bin Salman had told him: "There is a party from Lebanon that is planning and plotting against Saudi Arabia in Yemen … If there is any aid to Lebanon, [the Crown Prince said he was] afraid this party could benefit."
If Saudi Arabia holds back in Lebanon, this will put a brake on other Arab states, not least Qatar, which has played an axial role in trying to find a solution, given the fact that it can speak to all sides in the deadlock and act as a mediator. After having taken a more proactive line on the presidential election weeks ago, as confirmed by Arab diplomats, the Qataris reportedly stepped back.
What is interesting, however, is that Hezbollah and its allies have indicated a willingness to engage with the Gulf states. In an article last November, they floated a trial balloon through a media outlet affiliated with them, Al-Akhbar newspaper. In it, the editor, Ibrahim Amin, suggested a quid pro quo, whereby Hezbollah and its allies would choose a president and Saudi Arabia and its local allies would select a prime minister. Mr Amin even named names: Suleiman Franjieh as president and Nawaf Salam, a former Lebanese ambassador to the UN, as prime minister.
While Saudi Arabia had no reason to react to a newspaper story, the message was clear. After years of trying to block the Gulf states out of Lebanon, Hezbollah was suggesting a compromise. If there were doubts, a meeting was held in Beirut in early February between a representative of Lebanese Speaker Nabih Berri, who is also leader of the Amal Movement, and Walid Bukhari, the Saudi ambassador. Mr Berri's representative reportedly stated that Hezbollah and Amal "sought a calming of relations with Saudi Arabia".
In an interview published on February 23, Naim Qassem, Hezbollah's deputy secretary general, also affirmed that the president the party sought was someone who, among other things, could "establish relations with the Arab countries".
The shift in Hezbollah's position may be tied to the party's realisation that the situation in Lebanon is so dire that the country cannot advance without a measure of Arab backing. Yet adding Mr Mikati's remarks to the mix, it is clear that Riyadh will not reconsider its position on Lebanon until Iran and Hezbollah cede something in Yemen.
This suggests that the election of a president will remain blocked. Nor are the local dimensions preventing an election any less intricate. Hezbollah would like to see Mr Franjieh elected, but for now he faces major obstacles. Notably, the two major Christian parties, the Free Patriotic Movement (FPM) and the Lebanese Forces, oppose him. The FPM, until recently, was a Hezbollah ally, while the Lebanese Forces is close to Riyadh.
Without Christian backing, Mr Franjieh (who is also a Maronite Christian, as are all presidents) would not have communal legitimacy, handicapping his presidency. Hezbollah and Amal would like to secure the votes needed in parliament to bring him in, but it is unlikely they can do so. Moreover, the FPM and Hezbollah have unofficially declared dead the agreement that bound them, signed in 2006, as FPM leader Gebran Bassil had expected the party to support his candidacy.
The only way out of the impasse is for local and regional actors to reach an agreement that takes all their preferences into consideration. It is conceivable that a package deal can be worked out eventually. But for now, even if talks are taking place behind the scenes, a positive outcome remains elusive, until one side makes a serious concession.