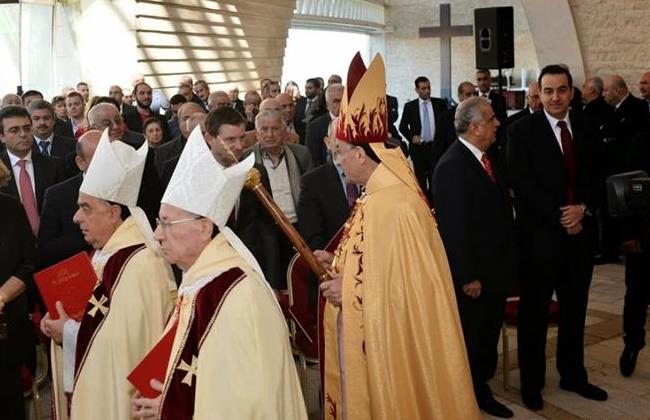 Rai: Aoun-Geagea meeting important step to end vacuum


Jan. 03, 2015
Hussein Dakroub/The Daily Star
BEIRUT: Maronite Patriarch Beshara Rai has lent support for the planned dialogue between the country's two rival Christian leaders, describing it as an "important step" toward ending the deadlock that has left Lebanon without a president for more than seven months, Bkirki officials said Friday.
"Patriarch Rai has given his blessing to the [upcoming] meeting between Lebanese Forces chief Samir Geagea and MP Michel Aoun and considers it to be an important step toward breaking the presidential impasse," Hares Chehab, secretary-general of the Islamic-Christian National Dialogue Committee, told The Daily Star.
Chehab, who represents the Maronite patriarch on the Dialogue Committee, said talks between Aoun, the head of the Free Patriotic Movement, and Geagea was "also important because it involves two major factions who represent the biggest segment in the Maronite community, which is essentially concerned with the presidential election."
"Filling the vacant presidency post represents the Christian party's participation in running the country's public affairs. Unless this post is filled, there can be no real participation [in power-sharing between Muslims and Christians] and no coexistence," he added.
The influential Catholic Maronite Church, which had played a key role in the past in supporting candidates to the country's top post customarily held by a Maronite, has voiced concerns over Parliament's repeated failures since April due to a lack of quorum to choose a successor to former President Michel Sleiman, whose six-year mandate ended on May 25.
Speaker Nabih Berri has called for a new Parliament session to elect a president on Jan. 7 amid signs that the session was doomed to fail like the previous 17 abortive attempts as the rival March 8 and March 14 parties remain split over a consensus candidate to break the deadlock.
Earlier Friday, MP Ibrahim Kanaan from Aoun's bloc said a meeting between the FPM and LF leaders was imminent.
"No final date has been set yet for the meeting, but it is not far off," Kanaan told the Voice of Lebanon radio station. "Agreement has been reached on the broad lines of the [dialogue] agenda and fine tuning is being done to some issues."
Kanaan stressed the need to organize relations between rival Christian parties in order to adopt "a unified vision regarding state institutions and the political system."
"We hope this move [dialogue] would bring the Christians closer to adopting a common ground that would make them stronger and more effective in politics," he said. "The presidential election is a gateway to all solutions."
In a move seen as facilitating the launch of dialogue between Aoun and Geagea, both of whom are vying for the presidency seat, the FPM and LF have announced that all lawsuits over libel and slander filed against each other's media outlets and journalists would be dropped.
Rai said the Maronite Church encouraged all dialogue initiatives that aim to search for solutions to the country's myriad political and security woes.
"We bless and encourage all dialogue initiatives among various political parties in Lebanon to end the stagnation and defuse tensions and begin mutual steps to find solutions for our political, economic and security problems," Rai said during a New Year's Day sermon Thursday.