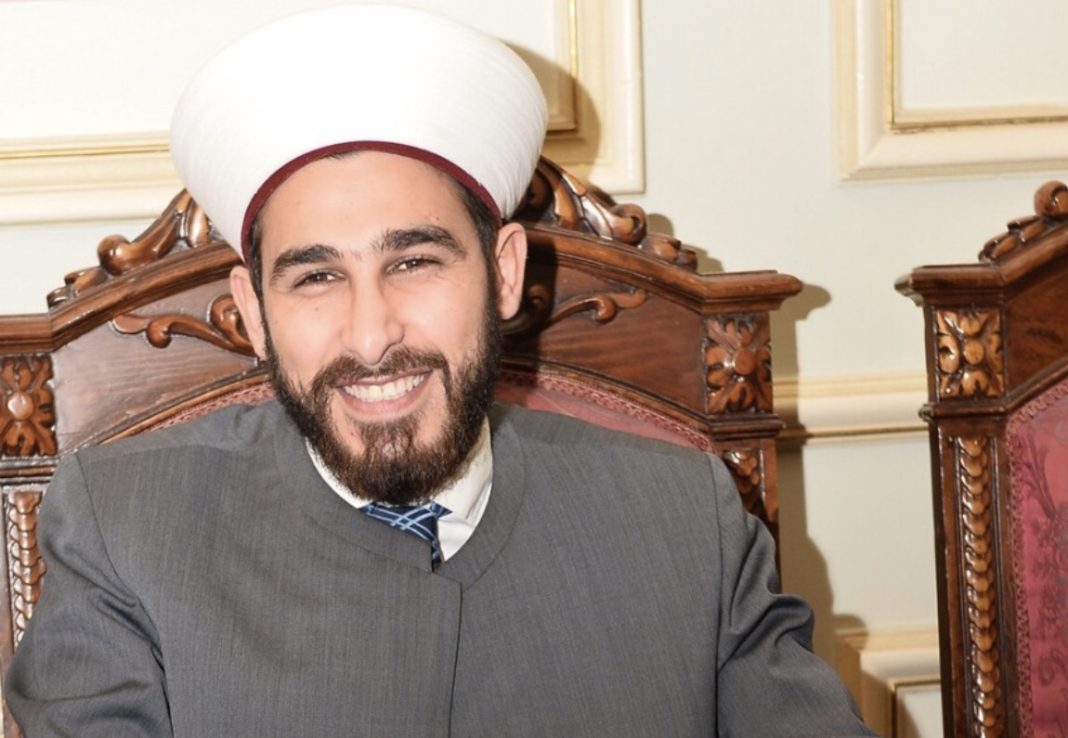 Lebanon's national and sovereign image was embodied in the courageous stances adopted by Jbeil Emam Ahmed Laqees's, in advocating with faith and love for William Noun's case.




 Elias Bejjani/January 15/2023
Click Here To Read & Watch (Video) The Arabic Version Of This Piece 
The heresy of arresting William Noun, unequivocally demonstrated the resounding failure of the enemies of Lebanon, the message of love, history, identity, peace, sanctity and coexistence.
Failure, disappointment, and brokenness were the harvest of all the mercenaries, the occupation forces, the haters, the Trojans, the temple merchants, the scribes, the Pharisees, the stone ages' officials, and the thugs of the fake hypocritical resistance and liberation merchants.
The scandal of the arbitrary and illegal detention of William Noun, confirmed and proved to Lebanon's internal and foreign enemies, that they can never ever hold on to subjugating the Lebanese people, or maintain their bloody and evil occupation.
Noun's case must be a lesson to Lebanon's enemies and occupiers, that all their criminality, terrorism, theft and arrogance will not achieve their satanic plans.
In this patriotic, courageous, and faith-context, comes the role of f the city of Jbeil's, Emam, Ahmed Al-Laqees.
Laqees's  sympathy and support for Noun's cause, was patriotic, remarkable, encouraging and extremely positive, in the scene of the popular crowds that rose up to defend William Noun's rights and freedom.
Emam Al-Laqees was sincerely at the side of Noun's mother, father, family and beloved ones.
Emam Al Laqees bravely and with a spirit of patriotism, emerged as a religious role model in defending freedom of opinion, and in the adherence obligation to law, justice and human rights.
There is no doubt, that with the devotion of honorable, patriotic and courageous Lebanese, of the caliber, education and devotion of Imam Laqees, with efforts of many other free people, with God's blessings, the determination, faith perseverance of the Lebanese from all denominations and walks of life, Lebanon will be victorious and shall definitely very soon return to its historical bright status, which is an oasis of freedom, love, democracy, coexistence, and common living.
Heartily felt Greetings of respect and appreciation to the honorable, Imam Ahmed Laqees.
Background
William Noun released after detention
Dana Hourany/Now Lebanon/January 14/2023
William Noun, the brother of Joe Noun, a firefighter who perished in the Beirut Port explosion, was released after being detained by authorities after a demonstration organized by the victims' families. From day one following the explosion at Beirut Port where over 200 people perished, William Noun, one of the most prominent figures of the families of the victims, has been a vocal advocate for an honest, effective and thorough investigation. Still, over two years later, justice has not been served. Noun, who had lost his brother Joe Noun, a firefighter, is requesting that the blast investigation be conducted internationally and that prompt conclusions be reached. As a result of his alleged comments that the Palace of Justice would blow up if justice was not served, Noun was detained by the authorities and his family's home has been searched. He was released the following day after immense pressure from protesters who held a demonstration outside of the State Security office in Ramlet al–Bayda.
Why this matters
In response to the court's summons, Noun headed to the Dekwaneh State Security Center with his attorney. There, the Public Prosecutor of Cassation, Judge Ghassan Oweidat, gave him notice that he would be arrested for breaking windows at Beirut's Palace of Justice. Having been handed over to the Beirut Directorate, he was placed under the control of Judge Oweidat. An altercation occurred on Friday between State Security and the families of the Beirut port explosion victims, who gathered in front of the General Directorate building in Ramlet Al-Bayda demanding Noun's release. "They should fear god! Why don't they let him out? What has he done?" William's mother cried as she protested for his release, saying she would not leave without him. In videos circulating online, Lebanese soldiers are shown beating protestors along with a priest. The videos have caused public outcry among the public and MPs.
Noun was reportedly planning to turn himself in on Monday. People allegedly tried to stop him, but Noun persisted in his intentions. According to some sources, the detention served only as a show of force and a warning to those who dared to challenge the judicial system. Yes, but Noun's arrest sends a chilling message to the Lebanese citizens and the families of the victims whose wounds have yet to heal. Having to stand alone in the summer heat and winter cold without a semblance of justice rips into the pain of those whose lives have changed forever.
Adding to the pain is the fact that the judicial system appears to be abusing its powers to shield dishonest politicians rather than unraveling the truth of one of the world's largest non-nuclear explosions.
What happened next, the police completed their investigation into Noun and informed Judge Zaher Hamadeh of their findings, only for the judge to keep Noun and order the arrest of Peter bou Saab, the brother of another victim. Hamadeh, has been accused by the public of trying to bully the families of the victims by breaking their morale and trying to bring them in line. Over 12 hours had passed since Noun was arrested. It's been reported that 11 members of the families of the victims were asked to come in for interrogation on Monday.
In conclusion, Noun was ultimately released but only after Byblos, Batroun, and Beirut protesters blocked roads and threatened escalation if Noun is not released. On top of this, opposition MPs as well as some Lebanese Forces and Free Patriotic Movement MPs have been vocal supporters of Noun. Despite street pressure and social media campaigning to secure Noun's release, his future remains uncertain, as the judiciary is choosing to side with politicians over the people it is meant to protect.
*Dana Hourany is a multimedia journalist with @NOW_leb. She is on Instagram @danahourany and Twitter @danahourany.
Lebanon blast victim's brother freed after outcry
Najia Houssari/Arab News/January 14, 2023
Protesting families join chorus of condemnation over 'idiotic' detention
BEIRUT: Families of victims of the Beirut port explosion blocked roads in Beirut and Jbeil on Saturday in protest at the arrest of their spokesman, William Noun, by Lebanon's national security agency.
Pressure by protesters, politicians and activists led to his release after 24 hours in detention.
Noun was arrested after a televised statement last Thursday in which he expressed indignation at the obstruction of the investigation into the port explosion in 2020 that claimed the life of his brother Joe, a fireman.
The massive blast, triggered when a large amount of ammonium nitrate stored in a warehouse exploded, caused at least 218 deaths and up to $15 billion in property damage.
In his statement, Noun criticized an attempt to appoint a substitute judge for investigator Tarek Bitar, who was removed from the case a year ago, and threatened to "blow up the Justice Palace."
His arrest was based on a judicial notice issued by Beirut Attorney General, Judge Zaher Hamadeh.
Noun's house was also raided by state security personnel searching for explosive material.
A political observer told Arab News that Hamadeh has boasted of his ties with Hezbollah and the Amal Movement.
Hamadeh was a judicial investigator in the case of Imam Moussa Al-Sadr's disappearance and has been touted as a possible replacement for Bitar in the port explosion probe, the observer said.
Neither the President of the Higher Judicial Council Souheil Abboud nor the General Prosecutor Ghassan Ouweidat attended a council meeting on Saturday.
In a statement, those present defended Hamadeh's decision to arrest Noun, and condemned what they described as "an attack on the judge's work and dignity."
Families of the victims gathered in front of the state security headquarters, vowing to remain until Noun was released.
MP Melhem Khalaf, former president of the Bar Association, joined the protesters, saying that Noun's comments "were the result of grief and that he didn't actually mean it."
Noun's mother, who visited her son while he was in detention, said: "William is doing fine and is strong."
She added tearfully: "Is this how they treat the parents who lost their children? I buried my first son and now my second son is detained. Why? Are we the ones responsible for the explosion? Are we the criminals? If the judges had lost their children, how would they have dealt with the case?"
Inhabitants of Jbeil, Noun's birthplace, took to the streets on Friday to protest his detention.
Scuffles broke out between protesters and security forces personnel, who stepped in to open the roads.
Families of victims of the port explosion claimed Noun was "lured into a trap set by the corrupt and failing judiciary."
His detention was an attempt to "scare and subjugate the martyrs' families, in order to discourage them and undermine their determination to find out the truth," they added.
Former prime minister Fouad Siniora described Noun's detention as "an idiotic and shameful act."
He called for the completion of investigation and the arrest of the "real criminals responsible for the port deaths."
Elias Bou Saab, deputy speaker of parliament, described Noun's detention "in this scandalous way as a questionable idiocy done for malicious purposes," while former Labor minister Camille Abousleiman said the arrest was "a joke and an insolence."
MP Bilal Abdallah said that "the state has turned into a police state in the case of the port explosion and the way the families of the victims are being treated."
Samy Gemayel, head of the Kataeb party, said: "The fact that they are switching roles and turning the victims' families into criminals means that we have reached the final chapters of the law of the jungle."
The investigating judge in the Beirut port explosion case faced demands for his removal after he issued a series of subpoenas against politicians and security personnel.
Subpoenaed suspects, including deputies affiliated with the Amal Movement, refused to be questioned.
Hezbollah and the Amal Movement took to the street to protest Bitar's decisions, which resulted in a bloody clash over a year ago that obstructed the investigation.
William Noon released after protests, outrage




Agence France Presse/January 14, 2023


A key figure among the families of Beirut's 2020 port explosion victims was released Saturday after his arrest a day earlier sparked protests in the Lebanese capital and other Lebanese areas.
William Noon — whose brother, a fireman, was killed in the devastating August 4, 2020 port blast — was arrested Friday over remarks made during a television program, a judiciary source told AFP.
Noon is among those who have been urging the continuation of a probe — on hold for more than a year due to political pressure — into the explosion, which killed more than 215 people, injured thousands and decimated vast areas of the capital.
"We just want the full truth, and that justice be served," Noon told journalists upon his release on Saturday afternoon.
Known for his outspokenness, Noun had threatened during televised remarks Thursday to "blow up the palace of justice" to protest moves to replace the judge investigating the blast.
His arrest had sparked demonstrations on Friday night, while activists gathered earlier Saturday outside the Beirut police station where he was being held. Embattled judge Tarek Bitar has faced a series of complaints against him, part of a campaign led by Hezbollah and its allies seeking to block his probe into the blast.
'Political move' –
The 2020 disaster, one of history's biggest non-nuclear explosions, came after a stockpile of haphazardly stored ammonium nitrate caught fire. On Tuesday, victims' relatives including Noon had thrown stones at the palace of justice in Beirut, where they gathered again on Thursday in protest over Bitar's possible replacement. Noon's lawyer, Ralph Tannous, told journalists on Saturday his client had agreed never to throw stones at the building again or insult judges. Noon's mother had spent the night at the headquarters of one of the State Security agency along with lawyers including Melhem Khalaf, who is also a member of parliament. "What did William do? Ask that whoever killed his brother face justice?" his mother Zeina said at Saturday's rally outside the State Security HQ. Lawmakers, lawyers and Christian clerics had joined the protest, denouncing what they called an arbitrary arrest. "This is an attempt to intimidate but it won't work," lawyer Tannous had told local television before Noon's release. "This is a political move, not a judicial one."Lawmaker Khalaf told AFP: "I wish they would implement with the same enthusiasm all the warrants issued by the judicial investigator" over the port blast.
– 'Not independent' –
Bitar has attempted to question a former premier and four ex-ministers over the tragedy, but his probe was repeatedly obstructed before being suspended. Khalaf described the replacement of the investigator as a "distraction from all the abnormalities that are happening in the country."Aya Majzoub from rights group Amnesty International said Noon's arrest "clearly shows that Lebanon's judiciary is more interested in protecting those in power and those responsible for the Beirut blast than protecting the public interest.""Our judiciary is not independent," she added on Twitter. "It's a tool of the political class."
Relatives of victims as well as human rights groups have called for an international inquiry, which Lebanese authorities have rejected.
France is also investigating the blast, which killed some of its nationals. A French judge is due to arrive in Lebanon on January 23 to collect information. Relatives of the victims intend to "escalate" their protest, said Paul Naggear, whose three-year-old daughter died in the blast.
"Our cause is not moving forward," he told AFP.
Rita Hitti, who lost her son and two other relatives in the explosion, said the Lebanese judiciary "faces a decisive test."
"Either it speaks out and ignores all political pressure, or this is its end."
Arrest of prominent port case activist sparks protests, outrage




Naharnet/January 14, 2023


The arrest of a prominent activist in the port blast case, William Noon, has sparked protests across the country and political condemnation.
Noon, the brother of port blast victim Joe Noon, has been arrested by the State Security agency at the request of Beirut Attorney General Judge Zaher Hamadeh.
According to media reports, Noon is accused of threatening to "blow up the Justice Palace with dynamite" during a protest.
As news of his arrest broke overnight, a large number of relatives of port blast victims staged a sit-in outside the State Security dept. in Beirut's Ramlet el-Bayda area where the young activist was being held. MPs Melhem Khalaf, Razi al-Hajj and Jihad Pakradouni also joined the sit-in along with a number of lawyers before entering the dept. to follow up on the case. Scuffles later ensued between protesters and security forces in Ramlet el-Bayda as demonstrators blocked a road there as well as the Saifi road in Beirut, the Jbeil highway and the eastern lane of the Kfar Abida highway. The Jbeil highway eventually witnessed scuffles the army in which a protester was injured. MP Ziad Hawat of the Lebanese Forces bloc also joined the demonstrators there.
According to media reports, more protests are scheduled for Saturday.
Families of Beirut port blast victims had on Tuesday stormed the Justice Palace in Beirut in protest at perceived political and judicial obstruction of the investigation, a few days after the judiciary ended a lengthy judicial strike.
The investigation into the blast, which killed over 230 people, injured thousands and caused billions of dollars in damage has been blocked for months now by Lebanon's political powers. That came after three former ministers filed legal challenges against investigative Judge Tarek Bitar effectively suspending his investigations.
Many blame the tragedy on the Lebanese government's longtime corruption, but the elite's decades-old lock on power has ensured they are untouchable. The Aug. 4, 2020 explosion occurred when hundreds of tons of highly explosive ammonium nitrate, a material used in fertilizers, detonated at the port. It later emerged that the ammonium nitrate had been shipped to Lebanon in 2013 and stored improperly at a port warehouse ever since. Senior political and security officials knew of its presence but did nothing. Lead investigative judge Tarek Bitar has charged four former senior government officials with intentional killing and negligence. He also charged several top security officials in the case.
*Elias Bejjani
Canadian-Lebanese Human Rights activist, journalist and political commentator
Email phoenicia@hotmail.com & media.lccc@gmail.com
Web Sites http://www.eliasbejjaninews.com & http://www.10452lccc.com & http://www.clhrf.com
Twitter https://twitter.com/phoeniciaelias
Face Book https://www.facebook.com/groups/128479277182033
Face Book https://www.facebook.com/elie.y.bejjani/
Instagram https://www.instagram.com/eliasyoussefbejjani/
Linkedin https://www.linkedin.com/in/elias-bejjani-7b737713b/
Youtube https://www.youtube.com/channel/UCAOOSioLh1GE3C1hp63Camw