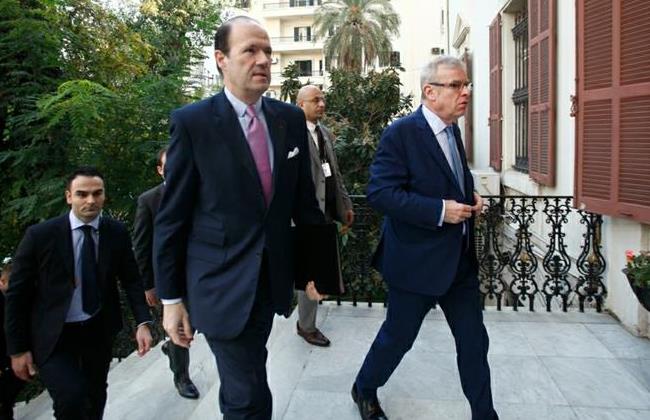 French envoy takes wait-and-see stance on Saudi, Iran trips


Antoine Ghattas Saab/The Daily Star
Dec. 30, 2014
French presidential envoy Jean-Francois Girault, who held talks with rival Lebanese leaders in Beirut earlier this month on the seven-month-old presidential crisis, is taking a wait-and-see attitude before visiting Saudi Arabia and Iran early next year for similar talks, according to Western diplomatic sources.
The reason for the delay in Girault's expected trips is that some issues still need to be addressed in order to eliminate obstacles standing in the way of electing a new president, while the French envoy waits for Iran to be ready to discuss the presidential deadlock, the sources told The Daily Star.
Signals issued by the Iranian side and its key ally in Lebanon, Hezbollah, do not indicate that circumstances are conducive to holding the presidential vote.
The most important of these signals came from Iranian Parliament Speaker Ali Larijani, who, when asked during his visit to Beirut earlier this month about Iran's stance on the election, said it was up to the major Lebanese parties to decide on a president.
After meeting Maronite Patriarch Beshara Rai in Bkirki last Friday, Sayyed Ibrahim Amin al-Sayyed, the head of Hezbollah's Political Council, told reporters that Free Patriotic Movement leader MP Michel Aoun remained the party's sole candidate for president.
His statement ruled out a possible agreement by the rival factions on a consensus president. This was followed by a statement Sunday by Hezbollah's deputy head Sheikh Naim Qassem, who said there was no political solution for Lebanon as long as crises in the region dragged on.
Therefore, Girault, chief of the French Foreign Ministry's Middle East and North Africa Department, will not risk visiting Iran and Saudi Arabia without more positive indications in hand. In Lebanon, people hold two conflicting views on the presidential vote. Some say that the U.S., Saudi Arabia and Gulf states are working on a solution to the presidential crisis that should be ready by mid-March.
Others say that the Russians and Iranians are not yet ready to "sell" the presidential issue to the United States without a price in return. A Western diplomatic source said that in the absence of a Saudi-Iranian agreement, there was no chance for the election of a consensus president. Iran can ask Hezbollah to persuade Aoun to withdraw from the presidency race, but it will not do that because the presidential vacuum will not affect its interests, the source said.
On the contrary, the absence of a head of state is a relief to Hezbollah, as an elected president would pledge in his swearing-in speech commitment to state sovereignty and laws and U.N. resolutions, the source said. He added that an elected president would also call on Hezbollah to withdraw from fighting in Syria and engage in an internal dialogue process.
Although a Saudi-Iranian dialogue is moving slowly, some sources close to the Iranian political circles in Lebanon said that relations between the two regional heavyweights are beset by several differences, but they do not want the explosive conditions in the region to deteriorate further because this would affect their national interests.
According to the sources, the Saudi rulers seem to be in disagreement over the extent of their country's openness toward Iran. While Saudi King Abdullah bin Abdel-Aziz's wing supports a rapprochement with Iran, the wing of Saudi Foreign Minister Saud al-Faisal and Prince Bandar bin Sultan is being cautious toward this step, the sources said. On Girault's initiative to break the presidential impasse, the sources said they did not see any hope for it for the time being. Therefore, Iran is not in a rush for any compromise over the presidential election in Lebanon.