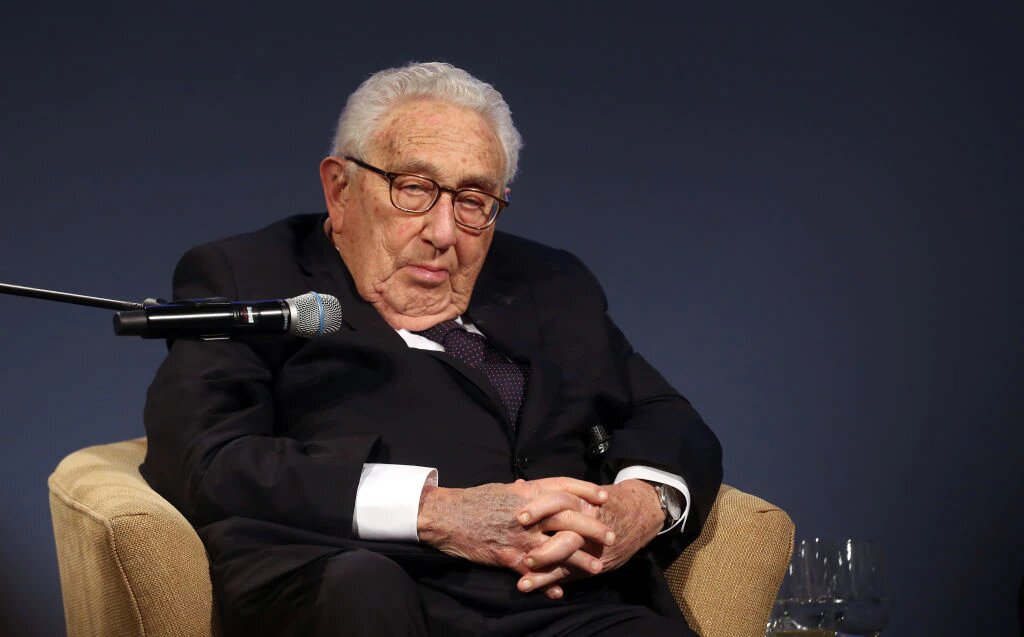 هنري كيسنجر: لا سلام في الشرق الأوسط مع سلاح نووي إيراني


Henry Kissinger: 'No peace in the Middle East with nuclear weapons in Iran'
Ben Bloch/The JC Chronical/June 30/2022
The former U.S. Secretary of State said that deterrence won't work because Israel would strike first
Former US Secretary of State Henry Kissinger has said that the only way to have peace in the Middle East is for Iran to have no nuclear weapons at all.
In an interview with the Spectator, the 99-year-old Jewish American strongly criticised the 2015 Iran Deal, negotiated by President Barack Obama's administration, calling it "inadequate", adding that it would be "dangerous" to return to it.
He also discussed the danger of autonomous weapons that are being developed around the world, saying that there needs to be discussions between nations to prevent "disaster". Speaking with historian and journalist Andrew Roberts for the Spectator, Mr Kissinger covered a wide range of topics, notably the ongoing negotiations between the United States (U.S.) and Iran on returning to the 2015 Joint Comprehensive Plan of Action (JCPOA) after President Donald Trump unilaterally withdrew from the agreement in 2018, effectively collapsing the deal. Mr Kissinger said that he was "extremely doubtful" about the agreement when it was signed: "I thought Iran's promises would be very difficult to verify, and that the talks really created a pattern in which the nuclear build-up might have been slowed down a little but made more inevitable."
He feared that this 'inevitability' of Iran building up nuclear weapons might make the situation more "explosive" due to the potential reactions from Egypt, Saudi Arabia, and particularly Israel.
He said: "Now, the trouble with the existing nuclear talks is that it is very dangerous to go back to an agreement that was inadequate to begin with – to modify it in a direction that makes it apparently more tolerable to the adversary.
"So, all the concerns I had with the original agreement, I'm going to have now. I haven't seen the terms yet, but there is really no alternative to the elimination of an Iranian nuclear force.
"There is no way you can have peace in the Middle East with nuclear weapons in Iran, because before that happens, there is a high danger of pre-emption by Israel, because Israel cannot wait for deterrents. It can afford only one blow on itself. That is the inherent problem of the crisis."
The Israeli government was strongly opposed to the JCPOA throughout the negotiation process and when it was signed, with former Prime Minister Benjamin Netanyahu saying: "Iran will get a jackpot, a cash bonanza of hundreds of billions of dollars, which will enable it to continue to pursue its aggression and terror in the region and in the world. This is a bad mistake of historic proportions.
"Yesterday, the latest round of indirect negotiations between the U.S. and Iran on returning to the deal ended without any breakthroughs, with the U.S. State Department claiming that Iran "raised issues wholly unrelated to the JCPOA and apparently is not ready to make a fundamental decision on whether it wants to revive the deal or bury it."In the interview, Mr Kissinger also voiced fears about the development of autonomous weapons around the world, saying: "The combination of their destructiveness, and the autonomy of these weapons that have a capacity to choose their own target and a capacity to determine their own danger, imposes a necessity to limit their scope."
He added: "But this is not taking place at this moment: there are no discussions between the hi-tech countries. "The only question is, will it happen after some disaster or before it?"

https://www.thejc.com/news/world/henry-kissinger-no-peace-in-the-middle-east-with-nuclear-weapons-in-iran-71ktfu8hvdW2jRKHv3WvGt