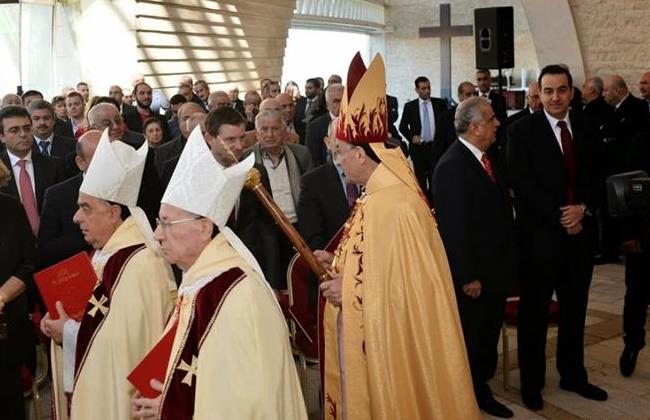 Lebanon Maronite patriarch prays for end to presidential election crisis


The Daily Star/Dec. 25, 2014
 BEIRUT: Maronite Patriarch Beshara Rai asked God during a Christmas Day mass attended by the country's key Christian rivals to guide politicians towards electing a new president. "How much we would like the light of God to guide officials to see the dangers and dire consequences of the lack of election of a president on the entity and constitutional institutions," Rai said in his homily. "Who else, but the president, guarantees the protection of the Constitution? Who else calls for people's rights other than the president? And who sympathizes with the people other than the president? And who else besides the president considers the aspirations of our young people and their jobs?," Rai asked. "The president is the father of the nation."
Officials from Lebanon's rival Christian political groups, including the heads of the Free Patriotic Movement and Kataeb Party, came together for the Christmas Day mass. Kataeb leader and former president Amine Gemayel was accompanied by his deputy, Labor Minister Sejaan Azzi, and Economy Minister Alain Hakim for the Bkirki Church mass. FPM MPs Ibrahim Kanaan, Simon Abi Ramia, and Alain Aoun joined their party chief Michel Aoun at the gathering. Before the mass, Aoun and Rai held a brief meeting where they exchanged greetings and discussed the country's situation, according to a statement. After the mass ended, Progressive Socialist Party leader Walid Jumblatt arrived in Bkirki to meet with the patriarch. Jumblatt was accompained by his two sons Taymur and Aslan, and his daughter Dalia.
Al-Rahi during Christmas Mass: Who Else Besides President Seeks Lebanon's Interests?


Naharnet/25.12.14/Maronite Patriarch Beshara al-Rahi lamented on Thursday the ongoing vacuum in the presidency, hoping for the election of a new president. He wondered: "Who else besides the president seeks the interests of Lebanon?"He made his remarks during Christmas mass that was held at Bkirki and attended by a number of officials, including Free Patriotic Movement leader MP Michel Aoun, Kataeb Party chief Amin Gemayel, and U.S. Ambassador to Lebanon David Hale.
"We wonder at claims that Lebanon is working fine without a president," al-Rahi said. "Who else can ease tensions and cater to the people's needs besides the president?" he asked. "Who else besides the president seeks the interests of our youth?" he continued. "We hope that officials would realize the dangers of failing to elect a new head of state," remarked the patriarch. "The absence of a president will create chaos and spread corruption," he stressed. Prior to holding the mass, al-Rahi had separate talks with Aoun and Progressive Socialist Party leader MP Walid Jumblat. Lebanon has been without a head of state since May when the term of Michel Suleiman ended. Ongoing disputes between the rival March 8 and 14 camps have thwarted the election of his successor.