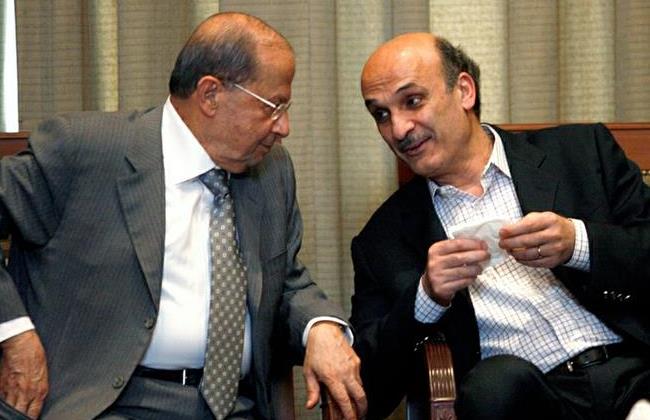 Aoun, Geagea to meet in effort to break presidency impasse


Wassim Mroueh/The Daily Star
Dec. 19, 2014
BEIRUT: The Lebanese Forces and the Free Patriotic Movement, Lebanon's largest Christian parties, are working on holding a meeting between their two leaders in a bid to end the presidential impasse, officials from both groups said Thursday. "The two parties are positive and are working on ensuring that the dialogue will be successful," LF MP Fadi Karam told The Daily Star.
"The initiative was first made by [Lebanese Forces leader] Dr. [Samir] Geagea, when he said that a meeting was necessary in order to resolve the presidential deadlock and other disputed issues," Karam explained.
Last week, Geagea said he was ready to meet FPM leader Michel Aoun at his Rabieh residence if he had a serious proposal to end the presidential impasse, now in its seventh month.
Aoun said in remarks published by a local newspaper Thursday that he would meet Geagea soon in the hope of ending the presidential dispute.
He said talks with Geagea would take place when the LF leader returns from his visit to Saudi Arabia.
Asked about the possibility of agreement on a third presidential candidate, other than himself or Geagea, Aoun stressed that "Geagea does not come here to agree on a third person. No one can come to me to tell me I don't want you."
"We believe we have the strongest representation and no one can overstep us … Also, the majority of Christians support us," he stressed. "I am a candidate and I'm not willing to give up my vote or withdraw in favor of anyone."
Karam said that while the presidential deadlock would be the main topic on the agenda of their future talks, "this meeting between the two most powerful Christian leaders will be an opportunity to discuss other issues as well."
MP Alain Aoun, from Aoun's FPM, said the meeting would be an attempt to end inter-Christian divisions over the presidency which has kept the country's top Christian post vacant for over six months.
"All parties are saying that they support a Christian-Christian agreement [on the presidency]. This meeting will be an attempt to reach such an agreement," Aoun said.
Karam said no date has been set yet for the meeting, while Alain Aoun said it would remain a secret.
Separately, Speaker Nabih Berri told visitors he would highlight during a meeting with UNIFIL commander Maj. Gen. Luciano Portolano Friday the role the U.N. and peacekeepers should play to help Lebanon preserve its rights to its exclusive economic zone which was being "pirated" by Israel.
Lebanon and Israel are at loggerheads over 870 kilometers in the southern territorial waters.
Lebanon insists this disputed zone is part of the Lebanese territorial waters and is not willing to concede a single kilometer to Israel.
Berri said earlier this month he had evidence Israel has begun stealing from Lebanon's offshore gas wealth.
Meanwhile, Interior Minister Nouhad Machnouk, who is part of a Future Movement delegation visiting Saudi Arabia for talks with former Prime Minister Saad Hariri, told The Daily Star that the outcome of the ongoing talks would appear within 48 hours.