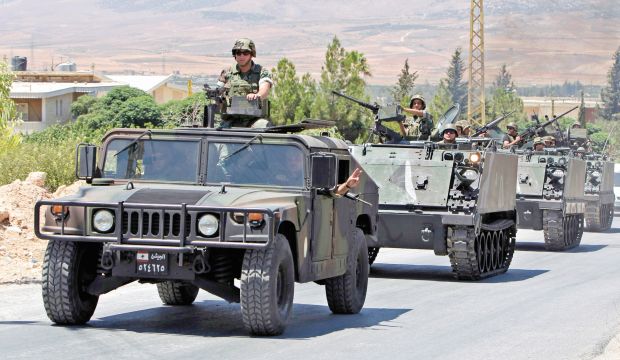 Lebanon braces for attacks from ISIS and Al-Nusra Front
Lebanese army bolsters presence on border as hostage crisis drags on
Beirut, Asharq Al-Awsat—18.12.14/The Lebanese Army has boosted its presence along the Syrian border after receiving intelligence that Islamist militants were planning to launch attacks on Lebanese villages in the run up to the end of the year, a security source told Asharq Al-Awsat on Tuesday.
Speaking to Asharq Al-Awsat, a Lebanese security source said militants from the Islamic State of Iraq and Syria (ISIS) and the Al-Nusra Front are preparing to launch a series of "coordinated attacks on Qalamoun and Qusayr as well as other areas along the border [with Syria]." According to the official, Nusra will attack Arsal while ISIS will push into Qusayr.
In the most violent incident of the fallout from Syria to date, militants from ISIS and Al-Nusra crossed the border and entered the Lebanese town of Arsal in August, killing and wounding dozens of Lebanese soldiers and kidnapping 29 more.
A number of the captives have since been killed by their kidnappers, who are demand the release of Islamists detained in Lebanese prisons in exchange for releasing the hostages.
In a bid to counter Islamist attacks, the Lebanese army has set up new checkpoints along the border where military vehicles and weapons have been positioned, the source added.
With tensions on the Syrian border high, Lebanese forces remain on alert following the latest intelligence and a number of other incidents, including the shoot-down of an aircraft believed to be conducting reconnaissance for militants along the border with Syria, Lebanon's An-Nahar newspaper reported earlier this week.
"The army managed to monitor the aircraft and fire in its direction," an official was quoted as saying by the newspaper.
Meanwhile, with negotiations over the abducted Lebanese soldiers deadlocked, the Lebanese government is scheduled to hold what may be decisive cabinet meeting on the issue on Thursday.
A spokesman for the families of the abducted Lebanese soldiers, Hussein Youssef, told Asharq Al-Awsat that Al-Nusra and ISIS were waiting for the outcome of Thursday's session, and that they had threatened to kill another hostage if the government fails to meet their demands.
Youssef called on the government to clearly state its position on the crisis and assign a new mediator to negotiate with the soldier's captors.
Families of the kidnapped soldiers have been campaigning heavily to put pressure on the Lebanese authorities to exchange Islamist militants held in Lebanese jails for the kidnapped soldiers.
Meanwhile, clashes continued between Syrian government forces and rebel fighters on the Syrian-Lebanese border. Syrian jets carried out three airstrikes on militants near the Al-Zamrani crossing in the Qalamoun area stretching between Syria and Lebanon, the state-owned National News Agency reported on Wednesday.
Activists also told Asharq Al-Awsat that heavy fighting had taken place in the Qalamoun area between the Free Syrian Army and Islamist militants.