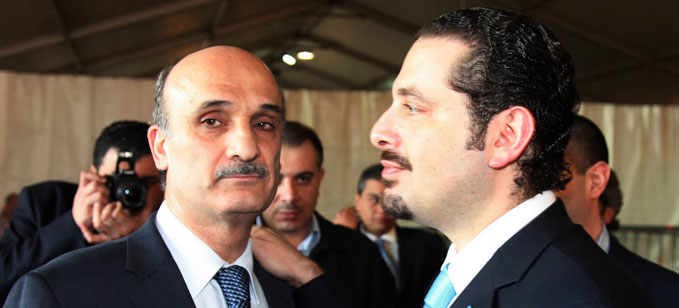 Papal Ambassador Says New President May be Elected 'Soon'
Naharnet 16.12.14/Gabriele Caccia, the papal ambassador to Lebanon, announced Monday that the election of a new Lebanese president might be imminent, noting that the circumstances are ripe for ending the protracted presidential void. "The local, regional and international circumstances are ripe for the election of a new president soon," Caccia said during a meeting with Maronite League chief Samir Abi al-Lamaa at the embassy's headquarters in Harissa. The presidential seat — the country's top Christian post — has been vacant since May 25 when the term of president Michel Suleiman ended. Political differences and electoral wrangling led to a lack of quorum during 16 electoral sessions in parliament. Several media outlets have recently reported that the Vatican might be playing a role to facilitate the election of a new president in Lebanon, with some reports saying Lebanese Ambassador to the Vatican George Khoury could be the Holy See's favorite candidate. "The Vatican is exerting efforts with Lebanese politicians in order to carry out the presidential vote as soon as possible," Caccia said. He also noted that the Holy See's top priority is "the stabilization of the security and economic situations in Lebanon."
Geagea Kicks Off Saudi Visit with Talks with Deputy Crown Prince 
 Naharnet  16.12.1/Lebanese Forces leader Samir Geagea kicked off on Monday a visit to Saudi Arabia by meeting with deputy Crown Prince Muqrin bin Abdul Aziz. The two officials discussed in Riyadh the political developments in the region, including the need for the election of a new president in Lebanon. The Saudi Prince stressed that the kingdom "always stand by Lebanon." "It will continue to back it in all steps that seek to bolster the stability, sovereignty, and security of its people," said a statement issued by the LF. For his part, Geagea thanked the deputy crown prince and Saudi Arabia for the grants to the Lebanese army, which will help enable it confront the threat of terrorism and all other dangers facing the country. Geagea and Prince Muqrin also addressed regional developments in Iraq, Syria, and Palestine. The LF chief traveled to Saudi Arabia on Sunday. Geagea had made a similar visit to the Gulf kingdom on November 20. He met with al-Mustaqbal Movement leader MP Saad Hariri and Saudi officials during that trip.
Geagea Expresses Pessimism over Presidential Crisis, Holds Onto Candidacy
Naharnet 16.12.1/Lebanese Forces leader Samir Geagea held onto his candidacy for the presidential run, considering that the Baabda Palace post is "decaying" due to the ongoing vacuum. "I will not withdraw my candidacy until we are offered an alternative to end the presidential deadlock," Geagea said in an interview published in the Jordanian newspaper Ad Dustour on Monday. The Christian leader expressed pessimism over the presidency crisis as Free Patriotic Movement chief MP Michel Aoun "is insisting on reaching the Baabda Palace."
The LF chief has recently called on Aoun to engage in talks with him over a possible compromise candidate. Geagea warned that the presidential vacuum compromises Lebanon's future, reiterating calls on Aoun to reach a breakthrough on the political standstill. "We have two options only, we either attend the upcoming parliamentary session to elect a new head of state or we launch dialogue with the FPM to bridge the gap, without putting any preconditions," he told his interviewer. He revealed the communication channels are open with the FPM, saying that the rival parties "should agree on a compromise candidate, who is acceptable by all parties.""The presidential post is slowly decaying and no matter what the circumstances and backgrounds are we can not go on like that," Geagea added. He strongly criticized the parties responsible for impeding the presidential elections, saying: "Their endeavors are dragging the country to the bottom."Aoun is still the candidate of the March 8 camp in the face of Geagea, the nominee of the March 14 forces. The rivalry between the two men has led to a lack of quorum in 16 electoral sessions in parliament, amid a boycott by the MPs of Aoun and Hizbullah. The presidential seat has been vacant since President Michel Suleiman's term ended on May 25.