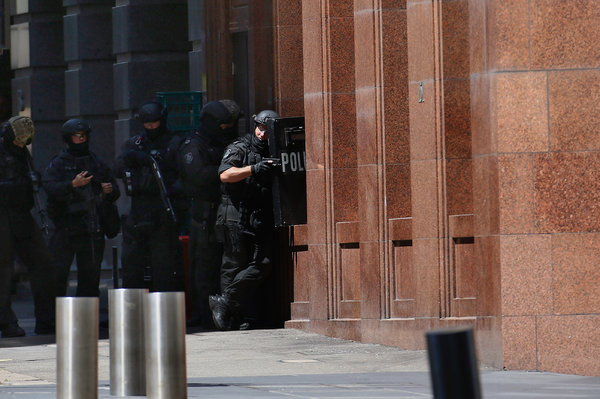 Hostage situation unfolds in Sydney
By Dana Ford, CNN
Sun December 14, 2014
CNN) — A major police operation was under way Monday in Sydney in response to a hostage situation.
Members of the New South Wales Police Force's Public Order and Riot Squad are seen outside Lindt Chocolate Cafe in Martin Place in the central business district of Sydney on Monday, December 15. A major police operation was under way Monday morning in Sydney. CNN affiliate Seven Network reported that officers were responding to a hostage situation at the cafe.
Police stand at the ready near the cafe. Seven Network reported that at least 13 hostages were being held.
We don't know whether this is politically motivated, although obviously there are some indications that it could be," he said.
The Prime Minister added: "The whole point of politically motivated violence is to scare people out of being themselves. Australia is a peaceful, open and generous society. Nothing should ever change that."
He said more information would be released as it becomes available.
Two U.S. officials briefed on the incident said that it was unclear exactly how many hostages are being held. There is at least one armed suspect involved, and so far, no known motive, they said.
The cafe is at Martin Place in Sydney's CBD (Central Business District).
Video from the scene showed police and emergency workers at the scene, where a number of nearby streets have been closed.
The Martin Place train station was shut, and some offices were evacuated as a precaution, according to police. They urged people to stay away.
Hostages Are Held Inside Cafe in Australia, Police Say
By MICHELLE INNISDEC. 14, 2014/The New York Times
SYDNEY, Australia — Armed police surrounded a café in Sydney's central business district Monday morning after one or more gunmen took hostages and displayed a black flag with Arabic script in white in the cafe window.
A police spokesman confirmed officers were called to the Lindt Chocolate Café, in Martin Place, a major shopping and pedestrian thoroughfare, at around 10 a.m.
A commercial television network, Channel Seven, which has a studio near the cafe, showed footage of people, wearing the Lindt uniforms, pressed against the cafe windows, displaying the flag.
The police have shut down parts of the city's transport system, and closed off the mall area. They would not confirm how many people were being held hostage inside the cafe, nor whether those inside are armed.
Local media reports said that the airspace over Sydney had been closed and the famed Sydney Opera House evacuated. Television images showed heavily armed officers with their weapons trained on the cafe.
"A police operation is underway," a police spokeswoman said. "It involves both local police and tactical or specialist police commands." Fire crew and other emergency services have been sent to the central business district and helicopters could be seen and heard flying over the city.
Police would not provide further details as the siege unfolded. But live television footage showed shoppers and office workers gathered some distance from the cafe, behind shelters, and television news showed heavily armed police officers in the area.
A cafe worker told the Australian Broadcasting Corportation that he tried to enter the cafe at around 9:45 a.m., but found the doors locked and he saw people inside sitting down. The police arrived shortly after, he said.
Major offices within the vicinity have been evacuated or placed in shut down, including the country's Reserve Bank, in Martin Place. Three of Australia's biggest banks have offices in Martin Place, or within walking distance of the pedestrian mall, and the state's Parliament, and some law courts are close by.