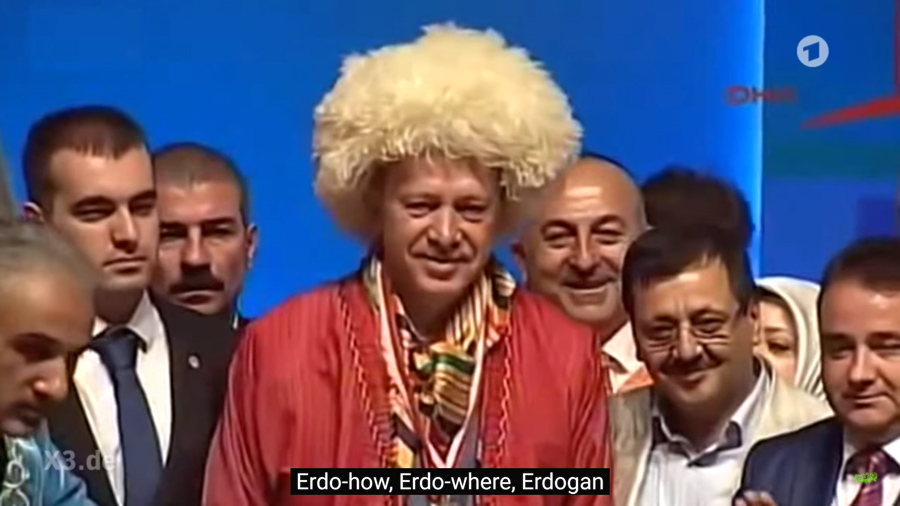 For insulting Erdogan, over 3,800 sentenced to prison in Turkey in 2019: Report
Emily Judd, Al Arabiya English/Wednesday 16 September 2020
الدكتاتور والإخونجي والإرهابي أردوغان سجن 3800 مواطن تركي خلال سنة 2019 بتهمة شتمه
*Turkey's arrest of lawyers slammed as 'intimidation'/The Arab Weekly/September 16/2020
اعتقال المحامين في تركيا هو عمل ارهابي
*EU describes Turkish row with Cyprus as 'grave situation, backs Nicosia
The Arab Weekly/September 16/2020
الإتحاد الأوروبي يعتبر التعديات التركية على قبرص عمل خطير ويقف إلى جانبها
*******
For insulting Erdogan, over 3,800 sentenced to prison in Turkey in 2019: Report
Emily Judd, Al Arabiya English/Wednesday 16 September 2020
الدكتاتور والإخونجي والإرهابي أردوغان سجن 3800 مواطن تركي خلال سنة 2019 بتهمة شتمه
Over 3,800 people in Turkey received prison sentences for insulting President Recep Tayyip Erdogan last year, according to a new report. The Turkish judicial system handed out over 3,831 prison sentences for the charge, up 87 percent from 2018 when 2,046 people were sentenced, according to the Turkish news outlet BirGun on Tuesday. Turkey's penal code criminalizes insulting the president, with an offender typically facing a prison term of up to four years. The sentence can be increased if the insult is expressed in the public sphere. As arrests have continued to increase over the past four years, human rights organizations have called on Turkey to end prosecutions for acts of "insulting the president," and accused the government of using the law to silence dissenting voices. The Turkish judicial system is "under tremendous pressure to prosecute any criticism of Erdogan," according to Henri Barkey, a fellow for Middle East studies at the Council on Foreign Relations."The most important problem is that the judicial system is no longer independent in Turkey – it basically follows directives from the presidential palace," Barkey said in an interview with Al Arabiya English.
Criticism or insult?
The Turkish government under Erdogan has drawn a thin line between a critical comment and an insult, according to exiled Turkish journalist Bulent Kenes. Kenes was indicted and given three life sentences plus 15 years in prison in Turkey after writing a column critical of Erdogan in July 2016. He escaped the punishment and now lives in Europe. "I received a number of prison sentences since 2015 for allegedly insulting Erdogan just because of my ordinary criticism against him," said Kenes in an interview with Al Arabiya English."I can promptly underline the fact that the overwhelming majority of the so-called 'insult' cases have nothing to do with a real insult," he added.
'Chilling effect on society'
The Council of Europe, of which Turkey is a member, issued an opinion on Turkey's Article 299 – which criminalizes insulting the head of the government – arguing that "a clear distinction should be made between criticism and insult."The large number of investigations on the premise of insulting the president "are very likely to create a chilling effect on society as a whole," the 2016 opinion said. The council also voiced concern for the large number of convictions of journalists, like Kenes, and the widespread practice of self-censorship. Kenes said the so-called insult cases are unsurprising given that "the current regime in Turkey is neither liberal nor democratic.""It would be extremely unusual and abnormal to see 3,831 people given prison sentences in a year in a democratic country just because they criticized their president," said Kenes. "But it is the norm of the Erdogan regime to persecute any dissent through sham trials in his kangaroo courts," he added. A total of 36,066 people faced criminal investigation in 2019 for allegedly insulting Erdogan, who was first elected in 2014 to the position of president. One of the thousands sentenced was Turkish politician Figen Yuksekdag, a member of the opposition pro-Kurdish People's Democratic Party (HDP), who received a sentence of one year and six months in prison. "These investigations and sentences are just a method of persecution and intimidation of those in opposition," said Kenes.
Turkey's arrest of lawyers slammed as 'intimidation'/The Arab Weekly/September 16/2020
اعتقال المحامين في تركيا هو عمل ارهابي
The Ankara state prosecutor's office ordered the detention of 60 people on Friday, including 48 lawyers.
ISTANBUL- Turkish and international lawyers' groups have voiced concern over the arrest of dozens of lawyers, saying they had been doing their job when representing clients accused of links to the network Turkey blames for an attempted coup in 2016.
The Ankara state prosecutor's office ordered the detention of 60 people on Friday, including 48 lawyers and others in the legal sector, suspected of operating in support of the network of US-based Muslim cleric Fethullah Gulen.
The suspects were part of a structure within the Gulenist network which sought to "steer investigations in favour of the group under the guise of attorney activities," the prosecutor's office said.
The Istanbul Bar Association described the arrests as intimidation. In a statement released on Monday, it said the allegations related to the execution of their duties as lawyers, representing clients accused of Gulen links.
"A lawyer cannot be identified with their client," the association said. "Intimidation which hopes to restrict the lawyers' duty … will impact the public as much as lawyers and gradually destroy confidence in justice."
The International Commission of Jurists (ICJ) also expressed concern, saying the arrests breached Turkey's obligations under international law.
"Lawyers should never be arrested or sanctioned for representing their clients, or identified with their clients causes," said Roisin Pillay, director of the ICJ Europe and Central Asia Programme. In a crackdown since the failed coup, in which 250 people were killed, tens of thousands of people have been arrested. Gulen, a former ally of Turkish President Recep Tayyip Erdogan, has denied involvement in the putsch.
On Tuesday, prosecutors in the western province of Izmir ordered the arrest of 66 suspects, including 48 serving military personnel, in an investigation of the armed forces, state-owned Anadolu news agency reported.
In the post-coup crackdown, more than 20,000 people had been expelled from the Turkish military.
EU describes Turkish row with Cyprus as 'grave situation, backs Nicosia
The Arab Weekly/September 16/2020
الإتحاد الأوروبي يعتبر التعديات التركية على قبرص عمل خطير ويقف إلى جانبها
"I believe we must be very firm when it comes to defending the rights of all member states, including Cyprus", said European Council chief Charles Michel
Michel's visit to the island comes a day after Turkey said its Yavuz drillship would continue its search for oil and gas off Cyprus until October 12, despite international calls to withdraw. The top EU official is in Cyprus ahead of an emergency meeting of EU leaders next week that will address Turkish actions in the Eastern Mediterranean with sanctions a distinct possibility.
"The European Union stands in solidarity with Cyprus as it faces a grave situation. That is why we have decided to call a summit on relations with Turkey," Michel told reporters after meeting Cypriot President Nicos Anastasiades.
"I believe we must be very firm when it comes to defending the rights of all member states, including Cyprus."Turkey, Greece and Cyprus have been locked in a dispute over offshore energy rights and maritime borders in the region, with Ankara infuriating the EU allies by sending research ships with naval escorts to work in contested waters. Although Cyprus has been an EU member since 2004, its jurisdiction is not recognised by Turkey, which dismisses the island's internationally recognised government as an exclusively Greek Cypriot administration.
There have been fears of conflict erupting and Cyprus is pressing the rest of the EU to impose fresh sanctions on Ankara over the drilling.
Michel said Brussels did not want to send the message that this was a dispute involving only Greece and Cyprus with Turkey as it affected the "rights of the EU."
Cyprus's president said Michel's visit comes at an "extremely worrisome" time as "Turkey continues to violate our maritime zones" with "illegal" drilling.
He said the bloc should show its readiness to take action to protect its members' rights. "Respect for the sovereignty of all member states should remain a rule that no one can ignore or show contempt for," Anastasiades said.
"As long as there are illegal actions against member states, the EU's response should be immediate."Turkey said the Yavuz will be accompanied by three other Turkish ships, according to a maritime notice that added "all vessels are strongly advised not to enter" the area. Nicosia said such maritime notices within its jurisdiction were illegal. Cyprus has been divided since 1974, when Turkey occupied its northern third in response to an Athens-inspired coup in Nicosia seeking to unite the whole island with Greece. A breakaway Turkish Cypriot state in the north of the island is recognised only by Ankara. Turkey insists that the minority community's interests must be protected and has called for the exploitation of offshore oil and gas reserves to be put off until an agreement on reunifying the island has been reached in UN-backed talks.
Also on Wednesday, the European Commission's president said the EU's distance with Turkey "is growing."
Ursula von der Leyen, who took over as EU chief last year promising to make the bloc more "geopolitical," said the EU needed to take "clear and swift" foreign policy decisions instead of getting bogged down in internal horse-trading.
She used her annual State of the EU speech to warn Turkey not to bully Greece and Cyprus over energy resources in the Eastern Mediterranean.
"Turkey is and will always be an important neighbour, but while we are close together on the map, the distance between us appears to be growing," von der Leyen told the European Parliament.
"Yes, Turkey is in a troubled neighbourhood. And yes, it is hosting millions of refugees, for which we support them with considerable funding. But none of this is justification for attempts to intimidate its neighbours".