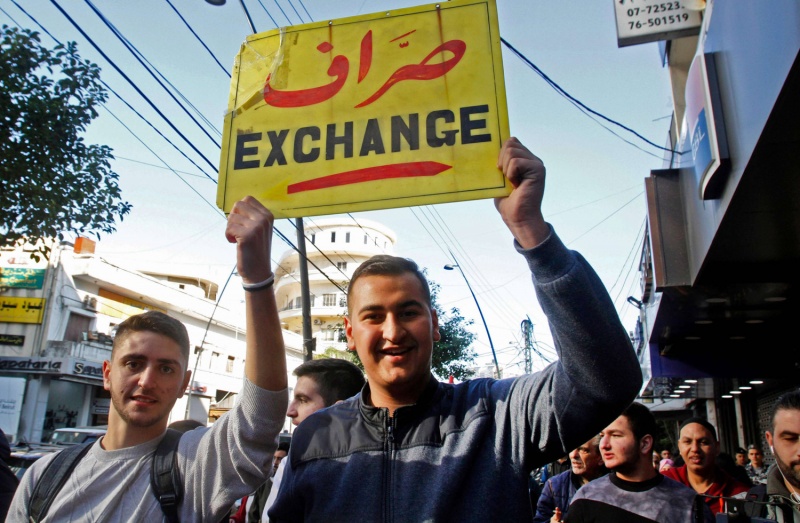 A Bundle Of English Reports, News and Editorials For March 06-07/2020 Addressing the On Going Mass Demonstrations & Sit In-ins In Iranian Occupied Lebanon in its 142th Day
Compiled By: Elias Bejjani
March 07/2020
Titles For The Latest English LCCC Lebanese & Lebanese Related News & Editorials published on March 06-07/202
Hasan Says Coronavirus No Longer Contained in Lebanon as Cases Rise to 22
Lebanon's Virus Panel Recommends Closure of Schools, Universities, Nightclubs, Sport Clubs
Lebanese Army Denies Coronavirus Cases
Bekaa Residents Fear 'Chaos' over Travelers Coming From Iran By Land/Sanaa el-Jack/Asharq Al-Awsat/March 06/2020
Lebanon Tribunal to Issue Verdicts in Hariri Case in Mid-May
BDL Issues Circular to 'Regulate' Money Exchange Operations
Speaker Affirms 'Noninterference' in Judiciary's Work
Diab to Declare Saturday Lebanon's Stance on Eurobond Debt
Lebanon moves to control spiraling unofficial exchange rate
Lebanon State Prosecutor Blocks Order to Freeze Bank Assets
Lebanese Insurance Market Faces Mounting Uncertainty
U.S contractor accused of leaking classified information to Lebanon's Hezbollah/Georgi Azar/Annahar/March 06/2020
Foreign Domestic Workers: The neglected victims of the dollar crisis/Nessryn Khalaf/Annahar/March 06/2020
Hezbollah and the killing fields of Idlib/Makram Rabah/Al Arabiya/March 06/2020
Memoirs of Abdulaziz Khoja: I Had Warm Relations With Nasrallah That Ended After 3 Assassination Attempts – Part 2/Asharq Al-Awsat/Friday, 6 March, 2020
Kelly: Ghosn's Second-in-Charge Now First in Firing Line/Agence France Presse/Naharnet/March 06/2020
The Latest English LCCC Lebanese & Lebanese Related News & Editorials published on March 06-07/2020
Hasan Says Coronavirus No Longer Contained in Lebanon as Cases Rise to 22
Naharnet/March 06/2020
Health Minister Hamad Hasan on Friday warned that the COVID-19 coronavirus is no longer in the containment phase in Lebanon after "four cases of unknown source" were recorded. The Rafik Hariri University Hospital later confirmed six new infections, which raises Lebanon's overall tally to 22. Hasan clarified that the four cases he spoke of included a Lebanese man who had arrived from Egypt and a Lebanese woman who had arrived from Britain in recent days. Hasan voiced his remarks at a press conference he held at the Bouar state-run hospital after inspecting several government hospitals. "All state-run hospitals have proven that they are the second line of defense – the first is the family," Hasan said. Noting that "an uncalculated development occurred over the past 48 hours," the minister announced that cases from countries not listed as hotbeds of the virus have "leaked into our Lebanese society," referring to a Lebanese man who visited Egypt and a Lebanese woman who was in the UK. MTV reported that the cases confirmed in Lebanon on Friday include a nurse and a patient at the Notre Dame des Secours hospital in Jbeil who had come in contact with the Lebanese man coming from Egypt.
The Lebanese woman coming from the UK had been admitted into the American University of Beirut Medical Center before being transferred to the country's quarantine center at the Rafik Hariri University Hospital. The man coming from Egypt was also transferred to the Hariri hospital.
LBCI TV said five of the six cases confirmed on Friday had contracted the virus through contact with other patients and that the sixth case is being investigated. The Rafik Hariri University Hospital said 87 individuals had been admitted into its coronavirus emergency section over the past 24 hours and that only 20 were kept in the hospital's quarantined ward, as a precaution, based on the evaluation of the overseeing doctor. The others were asked to observe home isolation. "Lab tests were conducted for 127 cases of which 121 tested negative and six positive," it added.
Twenty people meanwhile were discharged from the hospital's quarantined ward after testing negative while 19 remain in preventative quarantine. Adding that 21 infected patients are now in the hospital's isolation unit, RHUH noted that a patient is being quarantined at another hospital.
"The Iranian patient and the one transferred from the Notre Dame des Secours hospital are still in critical condition while the other 19 patients are in a stable condition," the hospital added. Coronavirus has infected more than 100,000 people across 91 countries globally, according to an AFP tally published Friday evening. The death toll reached 3,406, while the total number of infections hit 100,002, after a surge in cases worldwide since Thursday at 1700 GMT, notably in virus hotspot Iran.
The figures were compiled from data collected by AFP offices from the competent national authorities and information from the World Health Organization (WHO).
Lebanon's Virus Panel Recommends Closure of Schools, Universities, Nightclubs, Sport Clubs
Naharnet/March 06/2020
Lebanon's government-linked anti-coronavirus committee on Friday recommended extending the closure of educational institutions and nurseries until March 14 and called for shutting down sport clubs, nightclubs, cinemas, fairs, theaters and other venues that witness gatherings. The panel also recommended calling on all citizens to "avoid gatherings and abide by the Health Ministry's health instructions, especially as to safe distance between individuals, direct contact with others and the rest of the directions."Religious authorities will meanwhile be contacted to "address the issue of crowdedness in places of worship" and the measures related to the entry and exit of passengers through Lebanon's aerial, land and maritime ports of entry will be re-circulated. The Directorate General of Civil Aviation will also be asked to communicate with the International Air Transport Association (IATA) to "clarify the adopted measures related to the COVID-19 coronavirus at the Rafik Hariri International Airport."The Rafik Hariri University Hospital on Friday confirmed six new coronavirus cases, which raises Lebanon's overall tally to 22. Health Minister Hamad Hasan earlier in the day warned that Lebanon is no longer in the "containment phase" regarding the virus, citing the arrival of infected Lebanese citizens from countries not categorized as hotbeds of the virus, such as Egypt and the UK.
Lebanese Army Denies Coronavirus Cases
Naharnet/March 06/2020
The Lebanese Army assured on Friday that its troops are in good health denying rumors of coronavirus cases among its ranks. In an official statement, the army said that precautionary measures are taken to prevent infections with the COVID-19 disease, noting that no cases were reported among its troops. The army urged media outlets to be accurate when reporting about the military institution.
Lebanon's coronavirus cases rose to 16 on Thursday.
Bekaa Residents Fear 'Chaos' over Travelers Coming From Iran By Land
Sanaa el-Jack/Asharq Al-Awsat/March 06/2020
Lebanese Health Minister Hamad Hasan said every Lebanese has the right to return home. His comments came in reply to measures taken to allow 400 Lebanese students who are supposed to return from Iran through the Damascus airport reaching the Masnaa border crossing between Lebanon and Syria.
"Every Lebanese citizen has the right to return to his country, no matter in which state he resides around the world," he said, citing Lebanon's constitution. Residents of nearby areas say they are afraid of the info blackout over the matter. They criticized the lack of procedures, especially not demanding the arrivals to were masks and gloves. Residents also did not hide their lack of confidence in the measures taken by the Ministry of Health, and their fear of the virus' spread, while others mocked statements claiming that the travelers coming to the country from Iran were all students.
They noted that only a few of them were young and that most of them were above the age of 40, in addition to elderlies. Others who were at the border crossing said that some of them were not even Lebanese.
Nasser Abou Zeid, the mayor of the town of Majdal Anjar which is adjacent to Masnaa said to Asharq Al-Awsat: "The Lebanese government does not allow those returning from Iran to enter Lebanon through the airport, only to facilitate their entry through the Syrian border. This issue is stirring controversy; they should not be allowed to come in from anywhere".
Regarding claims that there were none-Lebanese among the arrivals, the mayor said: "Of course, we saw many Iranians and Pakistanis and others carrying various passports who are sent by Iran to Syria. He said they have always entered through the Masnaa crossing under protection, long before the outbreak. They usually entered after midnight and in large numbers. They used to come in buses whose passengers are unknown. Approaching them is forbidden, and no one reviews the regulations that are prepared for their entry. It is said that most of the passengers on these buses enter Lebanon to take part in Hezbollah's training camps. Abou Zeid demands that "these people be quarantined for the necessary and well-established period as they are subjected to laboratory tests, otherwise the disaster will take place soon". Joseph Ayoub, a public health doctor based in west Bekaa, agrees that the measures being taken by the ministry of health are inadequate. "The thermometer used to measure the body temperature of those arriving in Lebanon is not precise in the first place, and this measure is not sufficient to confirm whether or not the person is infected. What is most dangerous is the confirming of the absence of the virus. Even the clinical examination is not enough. The only effective technique is available at Beirut Hospital, which conducts laboratory tests that look for the composition of the Coronavirus." Ayoub warns that "the state is unable to prevent the spread of the virus. The number of beds in West Bekaa and Rachaya hospitals, for example, ranging between 150 to 200 beds is not enough. However, people's awareness is encouraging. The majority are avoiding gatherings which bring large numbers of people together. They are also taking the necessary precautions and paying attention to their hygiene. One of the residents told us that "people avoid visiting those returning from Iran and avoid attending funerals, satisfying themselves with expressing their condolences over the phone.

Lebanon Tribunal to Issue Verdicts in Hariri Case in Mid-May
Beirut – Asharq Al-Awsat/Friday, 6 March, 2020
The Special Tribunal for Lebanon announced Thursday that it will deliver its verdicts in the case of the 2005 assassination of ex-PM Rafik Hariri and his companions in a public session in May 2020. "The Trial Chamber of the Special Tribunal for Lebanon has given notice that it will deliver its Judgment in the Ayyash et al. case (STL-11-01) in public session in mid-May 2020," the court said in an official statement. Last February, the court issued a decision to proceed with a trial in absentia against Salim Jamil Ayyash who is accused of terrorism and intentional homicide.
He is one of four Hezbollah members tried in absentia by the tribunal for masterminding the truck bombing that killed Hariri and 21 others and wounded more than 220 passers-by on February 14, 2005.
BDL Issues Circular to 'Regulate' Money Exchange Operations
Naharnet/March 06/2020
Lebanon's central bank issued a circular on Friday with the purpose of "regulating" the operations of money exchange houses in light of uncontrolled prices of the U.S. dollar to the Lebanese pound. The circular asked money exchange houses to "exceptionally abide by the maximum purchase price of foreign currencies against the Lebanese pound without exceeding 30% of the price determined by Banque Du Liban (BDL) in its dealings with banks."It also said the exchange process must take into account the percentage announced in the circular. This decision shall be enforced for a period of six months from the date of its issuance. On Thursday, the price of U.S. dollar to the Lebanese pound recorded a new increase at the parallel market reaching LBP 2,680 for buying and LBP 2,600 for selling. Earlier, Money changers were selling the dollar for more than LBP 2,550 and buying it for around 2,540. Money changers in protests-hit Lebanon did not abide by a decision they agreed on in January to cap the dollar exchange rate at 2,000 pounds as part of efforts to curb the local currency's devaluation on the parallel market.The Lebanese pound is officially pegged to the greenback at a rate of 1,500 to the dollar but the country's sharp economic downturn has sent the currency into a tailspin in foreign exchange offices.
Speaker Affirms 'Noninterference' in Judiciary's Work
Naharnet/March 06/2020
Speaker Nabih Berri said no interference was made on his part into a judicial decision–suspended later– that froze the assets of twenty Lebanese banks, al-Joumhouria daily reported on Friday. The Speaker has reportedly told the daily that he had no prior knowledge of Financial Prosecutor Judge Ali Ibrahim's decision, and that it was brought to his attention after it was issued. Slamming claims circulated by some that he personally stands behind Ibrahim's decision, he said: "We have nothing to do with it whatsoever. "Let it be known that since I assumed the ministry of justice in the past until now, I have never interfered in the work of the judiciary and I am keen to respect its privacy. I will not change my behaviour," stressed Berri. On Thursday, Ibrahim put a "prevention of disposal" signal on the assets of twenty Lebanese banks and imposed a freeze on the assets of the heads and members of boards of directors of these banks. But later, Lebanon's attorney general Ghassan Oueidat suspended the order over concerns about its impact on the country's fragile economy.
Diab to Declare Saturday Lebanon's Stance on Eurobond Debt
Naharnet/March 06/2020
Prime Minister Hassan Diab will on Saturday announce Lebanon's official stance on whether or not to pay a $1.2 billion Eurobond debt that matures on March 9, TV networks said. Diab will declare the position in an address to the nation at 6:30 pm, the networks said.
"So far, no decisive choice has been reached. Each choice is being separately assessed with its legal and financial repercussions," LBCI TV reported. "These choice will be discussed in Cabinet on Saturday in the presence of Lebanese and foreign experts," the TV network added, noting that "the choice of paying the debt has become highly unlikely." "The options of orderly and unorderly default are also being studied with their repercussions and there is a third option, which is partial payment and negotiating on the remaining part," LBCI added. It said that President Michel Aoun, Speaker Nabih Berri and Diab will hold a meeting prior to the Cabinet session, noting that they might be joined by other officials. Economists have warned that paying the March 9 Eurobend debt on time would eat away at Lebanon's plummeting foreign currency reserves, while bankers say a default would damage the country's reputation with lenders. Bank of America Merill Lynch in a November report estimated that around 50 percent of Eurobonds were held by local banks, while the central bank had around 11 percent. Foreign investors owned the remainder, or around 39 percent, it said. But these figures may have changed, with local media reporting that local banks have recently sold a chunk of their Eurobonds to foreign lenders.
Lebanon moves to control spiraling unofficial exchange rate
AFP, Beirut/Friday, 6 March 2020
Lebanon's central bank on Friday sought to rein in exchange rates and enforce a cap on the local currency in the parallel market to contain its unofficial devaluation. Central bank chief Riad Salameh asked "all exchange offices, under pain of legal or administrative sanctions, to commit exceptionally to a maximum buying price for foreign currency in Lebanese pounds of no more than 30 percent above the exchange rate set by the central bank to deal with lenders."The official exchange rate has stood at 1,507 Lebanese pounds to the dollar for decades, but the value of the local currency has plummeted to more than 2,600 on the black market. Money changers in protest-hit Lebanon had agreed in January to cap the dollar exchange at 2,000 pounds, but the move has failed to stem spiraling rates. How Lebanon's dollar shortage sparked an economic crisis. Friday's central bank order, which reinforces the January agreement, is to apply for the next six months, according to the statement carried by state-run National News Agency. Debt-ridden Lebanon is facing its most serious economic crisis since the end of its 1975-1990 civil war. Banks have increasingly limited dollar withdrawals and transfers abroad to stem a severe liquidity crisis, even as the tanking economy has caused businesses to slash salaries, fire staff, or close. The country has been rocked by unprecedented, nationwide protests in recent months, led by young people who blame government corruption and incompetence for the lack of jobs and basic services.

Lebanon State Prosecutor Blocks Order to Freeze Bank Assets
Beirut – Asharq Al-Awsat/Friday, 6 March, 2020
Lebanese State Prosecutor Ghassan Oueidat has suspended an order to freeze the assets of 20 local banks, warning it would plunge the country and its financial sector into chaos. Financial Prosecutor Ali Ibrahim questioned bank chairmen this week over transfers abroad and recent sales of Eurobonds to foreign funds. Ibrahim issued an order on Thursday to freeze the assets of the banks, their top bosses and boards as part of a probe, state media and judicial sources. But Oueidat, who suspended the assets freeze, said: "Such a move would send the country, as well as its monetary, financial and economic sectors into chaos." Local lenders are at the heart of a financial crisis crippling Lebanon as the clock runs down on its looming debt maturities, including a $1.2 billion Eurobond due on March 9. The government will meet on Saturday to take a decision, after Speaker Nabih Berri said a majority of lawmakers oppose paying, even if that leads to default. "The country is passing through very difficult times and we are doing all we can to ease the hardship," Information Minister Manal Abdul-Samad quoted Prime Minister Hassan Diab as saying during a Cabinet meeting on Thursday. "We are studying all alternatives, possibilities and scenarios. What is important for us is to rescue the country." The banks, which for years funneled deposits to the state, hold the bulk of the sovereign debt and have been in discord with political powers over the March repayment.
Lebanese Insurance Market Faces Mounting Uncertainty
Associated Press/Naharnet/March 06/2020
Lebanon has a long history of economic and political instability. In the past, local insurers have been successful at navigating this challenging environment. However, recent civil unrest and a ballooning public debt have increased the level of economic uncertainty, which is negatively impacting the credit quality of Lebanon's insurance market.In a new Best's Special Report, "Lebanese Insurance Market Faces Mounting Uncertainty", AM Best notes that in contrast with the wider Middle East and North Africa region, the Lebanese insurance market overall has an asset allocation that favors high levels of cash and fixed income instruments over higher risk investments. Nonetheless, the vast majority of Lebanese insurers' investments are exposed to domestic issuers, and consequently to the socio-economic and political turmoil the country is experiencing. Specifically, uncertainties regarding the credit quality of Lebanese government debt pose the most imminent threat to domestic insurers' balance sheets. AM Best maintains close contact with the companies it rates in Lebanon and notes that they have been able to maintain robust, albeit reduced, levels of risk-adjusted capitalization (as measured by Best's Capital Adequacy Ratio [BCAR]), underpinned by a generally low level of underwriting leverage. That said, the increased social, political and economic instability in the country since October 2019 has exacerbated structural market issues that, in AM Best's opinion, could further weaken insurers' balance sheet strength.
Since the onset of the popular protests, AM Best-rated insurers have been proactive in implementing appropriate risk management actions. Measures have included triggering partial contingency plans, shifting investment exposure where possible and closely monitoring cash flows to limit the impact of a potential devaluation of the Lebanese pound. Despite these actions, the mounting level of uncertainty in Lebanon implies that operating conditions could deteriorate further, AM Best said.
U.S contractor accused of leaking classified information to Lebanon's Hezbollah
Georgi Azar/Annahar/March 06/2020
U.S Federal prosecutors accuse Mariam Taha Thompson, 61, of leaking the names of U.S. intelligence sources and compromising their identities while on active duty.
BEIRUT: A U.S Defense Department linguist was charged with espionage Wednesday for allegedly supplying classified information to a Lebanese national with links to the Iranian-backed militant group Hezbollah. U.S Federal prosecutors accuse Mariam Taha Thompson, 61, of leaking the names of U.S. intelligence sources and compromising their identities while on active duty. "If true, this conduct is a disgrace, especially for someone serving as a contractor with the United States military," Assistant Attorney General John Demers said. "This betrayal of country and colleagues will be punished," he added.
Thompson was arrested by FBI agents at a U.S. military facility in Erbil, Iraq, where she held a top-secret government security clearance. "While in a war zone, the defendant allegedly gave sensitive national defense information, including the names of individuals helping the United States, to a Lebanese national located overseas," he said.
On the day protesters stormed the U.S. embassy in Iraq in response to U.S. airstrikes against Iranian-backed forces in Iraq, Thompson allegedly sought access to classified information that was unconnected to her duties. This raised suspicion which then led to a court-authorized search of Thompson's living quarters on February 19, 2020 and the discovery of a handwritten note in Arabic concealed under her mattress. "Specifically, during a six-week period…Thompson accessed dozens of files concerning human intelligence sources, including true names, personal identification data, background information and the photographs of the human assets," prosecutors claimed. The U.S accuse Thompson of transmitting the classified information in a handwritten note to her Lebanese co-conspirator, with whom she had "a romantic interest.""The FBI's investigation revealed that Thompson knew the co-conspirator was a foreign national whose relative worked for the Lebanese government," Demers said. "The investigation also revealed that the co-conspirator has apparent connections to Hezballah. Further investigation revealed that, in a separate communication, Thompson also provided information to her co-conspirator identifying another human asset and the information the asset had provided to the United States, as well as providing information regarding the techniques the human assets were using to gather information on behalf of the United States."
Thompson was charged with "Delivering Defense Information to Aid a Foreign Government in violation of 18 U.S.C. § 794(a) and conspiring to do so in violation of 18 U.S.C. § 794(c)." If convicted, Thompson faces a maximum punishment of life in prison.
Hezbollah is designated as a terrorist organization by both the U.S and U.K.
Foreign Domestic Workers: The neglected victims of the dollar crisis
Nessryn Khalaf/Annahar/March 06/2020
Annahar also asked the owner of a domestic worker recruitment agency in Beirut how the current economic plight has affected his business.
BEIRUT: The dollar crisis in Lebanon has generated a precarious monetary reality that is harming people on different scales, from Lebanese with limited options to secure liquidity, to importers whose jobs are on the line. However, a neglected segment of victims comprises of the foreign domestic workers residing in Lebanon whose remittances to their home countries have not only been affected, but also reduced. Annahar asked a few of them how the fluctuating exchange rate of the Lebanese pound is affecting their salaries, and Adrika Sarkar from Bangladesh expressed nothing but dismay.
"The last time I received my salary in dollars was in September; after that, my employers insisted on paying me the same amount of $200 but at the official exchange rate of 1,500 L.L.," Sarkar noted. She added that since she has to transfer the money to her family in dollars, the value of her remittances has decreased drastically and her family keeps calling to ask for more money.
Dilipa Jayakody from Sri Lanka is another victim of the crisis, as she has been working in Lebanon for the past 6 years and only now has begun contemplating the necessity to seek work in a different Arab country. "My employers are like second parents to me, and the only reason I have agreed to stay with them until my contract is terminated in June is that they promised to provide me with dollars by then," Jayakody told Annahar.
As for Nyala Deresse from Ethiopia, not only are her employers refusing to pay her in dollars as stated in her contract, but they are also refusing to secure her salary in Lebanese pounds. "The last time they paid me was in December, and even though I received my salary in Lebanese pounds at the exchange rate of 1,800 L.L., I was content because I needed to send money to my mother and daughter," she said. Annahar also asked the owner of a domestic worker recruitment agency in Beirut how the current economic plight has affected his business. "Every week, the agency receives several calls from disturbed domestic workers who are either not being paid or are receiving their salaries in Lebanese pounds at the official exchange rate, and while we cannot force their employers to pay them in dollars, we are doing our best to resolve their disputes," he explained.
He also added that many agencies in Lebanon are enduring losses right now because no foreign worker wants to come work in a household to earn in Lebanese pounds and employers cannot afford to pay in dollars either, and he may even shut down his agency in the next few months if this situation persists.
"Affording to pay for help at home from a foreign worker has become a luxury not only to the middle classes but also to the upper classes, for they too are struggling with the rigorous banking restrictions on the withdrawal of dollars," he added.

Hezbollah and the killing fields of Idlib
Makram Rabah/Al Arabiya/March 06/2020
In November 2016, Hezbollah celebrated its occupation of the Syrian city of al-Qusayr by throwing a military parade that showcased the Iranian militia's hardware as well as its elite troops that have fought in Syria since the start of the revolution that set out to topple the Syrian regime and dictator Bashar al-Assad. Despite local and international outrage at the time, Hezbollah maintained that its involvement in the conflict on Assad's side was a defensive tactic to protect the Shia religious sanctuaries in Syria and the Lebanese border towns from attacks of Sunni extremist groups, such as the al-Nusra Front and later ISIS. Hezbollah's recent involvement in the battle for northern Syria and its subsequent losses against Turkey has debunked Hezbollah's stated reasons for its involvement, and has exposed it as merely a tool for Iran's regional pursuits, far removed from the safety or strategic interest of Lebanon or the Shia community that it claims to protect. Since the start of the Syrian war in 2011, Hezbollah has lost more than 1,500 fighters estimates say, which is fairly high considering the entire Lebanese population is around 6 million, including 1-1.5 million refugees, and that these elite fighters are not easily replaced as some of them have over three decades of operational and field experience. But the recent casualties that Hezbollah has suffered in Idlib – with 14 confirmed deaths so far – are somewhat different, as it places further pressure on them within their own Shia constituency in Lebanon that has historically agreed to send their children to fight in Syria, as long as it is justifiable.
Fighting and dying to protect the shrine of Sit Zeinab, the granddaughter of Prophet Mohamad and the daughter of Imam Ali, or other religious shrines near the Lebanese-Syrian border is a great honor for Hezbollah supporters. Yet losing one's life hundreds of miles away from any shrine in Idlib while trying to lead the forces of the defunct Assad regime is neither honorable nor noble.
Furthermore, these casualties are hard to justify, even for someone like Hezbollah Secretary General Hassan Nasrallah who spins his party's spearheading of Iran's expansionist projects as one that aims to empower and protect the Shia and the broader Lebanese population.
The video recording of one of Hezbollah's fighters, belonging to the elite Ridwan commando unit, believed to have been recorded minutes before he died, reveals the tragedy that Hezbollah members are subjected to through their continued involvement in the Syrian war. This smiling young man in his twenties reminds everyone, including Nasrallah, that Hezbollah fighters are willing to die for the sake of Fatima al-Zahara the daughter of prophet Mohamad, yet the fighter laments he is in fact dying for nothing, despite his unit's gallant fighting. Leaked voice notes and videos of other Hezbollah militants in Idlib have confirmed that Russia has consciously failed to provide Hezbollah with much-needed aerial support and has equally allowed the Turkish air force to pick Hezbollah and Assad troops out with surgical accuracy.
In an ironic twist of fate, at least for Hezbollah, some of these ISIS fighters in Idlib are the same ones that Hezbollah helped escape in the summer of 2017 when it brokered a deal that allowed thousands of fighters to evacuate aboard air-conditioned buses.
Moreover, the involvement of Iran's top militia in the fighting across the region reveals how spread out and overwhelmed Iran is, and how the fate of its militias rests in a decrepit Assad regime that cannot survive on its own. Fighting to keep the Assad regime in place has become a liability rather than an asset. Hezbollah and Iran might have won many battles in Syria, but they are far away from winning any war, as wars are won by large armies with strong economies and allies and not by parading their vehicles and their martyrs to the public.
While Nasrallah will undoubtedly use the death of his men to mobilize his support base, as he has done before, he is more likely to clash with many who see the fighting in Idlib as counterproductive, not to say suicidal for the Shia who are facing economic hardship locally as well as being forced into a conventional military confrontation between Russia and Turkey they are not equipped nor ready for.
The battle for Idlib is an additional reminder to the Lebanese and to the rest of the world that Iran's continued influence rests in its ability to cause trouble. By turning a blind eye and hoping that Iran and Hezbollah will do the right thing and stop their regional games, the world is mistaken. These hopes of a rational and compromising Hezbollah have been killed and buried in the killing fields of Idlib.
*Makram Rabah is a lecturer at the American University of Beirut, Department of History.

Memoirs of Abdulaziz Khoja: I Had Warm Relations With Nasrallah That Ended After 3 Assassination Attempts – Part 2
Asharq Al-Awsat/Friday, 6 March, 2020
In the second part of an article dedicated to the memoirs of Former Saudi minister, Ambassador Abdulaziz Khoja, Asharq Al-Awsat has chosen excerpts of his book, in which he shed light on an important stage of his diplomatic career, when he assumed the position of Saudi Arabia's ambassador to Beirut – a period that saw the assassination of Lebanese Prime Minister Rafik Hariri in 2005.
The book, published by Jadawel publishing, translation, and distribution house in Beirut, unveils secrets of Ambassador Khoja's diplomatic work and his description of some of the most prominent political leaders whom he met throughout his journey.
The Saudi Embassy in Beirut
Khoja reveals episodes of the many meetings he had held at the time with Hezbollah Secretary-General Hassan Nasrallah in the southern suburbs of Beirut.
Before touching on the assassination and its repercussions, Khoja depicts the rise of Rafik Hariri in the aftermath of the Lebanese war, and says that the latter "had a special and intimate relationship with the leaders of Saudi Arabia."
"On the other hand, he did not have a good relationship with Syria during the era of Bashar al-Assad, despite his efforts to bridge the rift and to reform Syria's relations with France and America under Hafez al-Assad. At the time, Rafik Hariri was considered Syria's foreign minister," the book recounts, as unofficially translated into English by Asharq Al-Awsat.
He notes that the Syrian regime was trying to impose its full hegemony over Lebanon. "The [regime's] representative, Ghazi Kanaan, and after him Rustom Ghazaleh, resembled the High Commissioner in colonial times, giving orders, threatening and executing…"
Lebanon was going through a very transformative period in the 1990s, Khoja says, adding that the influence of Hezbollah was increasing, as Nasrallah began to "startlingly gain attention in his fiery Arabism speeches, which had an attractive effect on the listeners."
"People were mesmerized by him, especially after the success of the resistance in ousting the Israelis from southern Lebanon in 2000, except for the Shebaa Farms," according to the book.
The Saudi ambassador points to Hezbollah's "obvious alliance" with Syria, "the main passage for money and arms coming from its ally and first sponsor, Iran."
He also says that Nasrallah clearly embraced the doctrine of Wilayat al-Faqih: He was completely subservient to the rule in Tehran, and thus deviated from the doctrine of the rest of the Lebanese Shiites, and from Mr. Muhammad Hussein Fadlallah, one of the most prominent Shiite scholars.
Nasrallah also disagreed with his friend and foe – head of Amal Movement Nabih Berri, who had preceded him in the leadership of the Shiites.
According to the book, Amal and Hezbollah clashed in bloody military conflicts over political and sectarian interests, but they agreed on the alliance with Syria.
Khoja quoted in his book Nasrallah as saying about Berri: "I cannot do without him, but I cannot forget that during the Civil War he sent me a truck packed with the bodies of my men."
The Saudi ambassador also talks about Rafik Hariri's effort to revive Lebanon after the devastating war, pointing out that the dispute between the Sunni leader and Hezbollah began "at the behest of the Syrian leadership, which sought to support a parliamentary bloc led by (Hezbollah) that opposed Hariri's Arab and international relations and obstructed reconstruction plans."
Khoja stresses that he sought to establish good ties with all the Lebanese parties during his work as an ambassador, from 2004 until 2009.
"My relationship was warm with Nasrallah, and I felt at the beginning that he was a charismatic person with an attractive personality, who enjoyed a broad knowledge of the course of things, and a sense of humor. My meetings with him were frequent, and they continued for long periods," he recounts.
"But after the assassination of Prime Minister Hariri, the July war and the events of May [2008] in particular, we discovered that the party was not an ally of Iran in Lebanon, but rather Iran itself, and perhaps the worst thing about Iran, because it was entrusted with controlling Lebanon and controlling its will and its people," he underlines.
The former ambassador speaks of three assassination attempts targeting him in Lebanon, "which was the end of the direct relationship with Nasrallah."
Khoja describes Berri as "an intelligent and skilled diplomat," highlighting a theory that the Saudi-Syrian rapprochement was the only gateway to stability in the region.
He refers to the events that accompanied the renewal of Emile Lahoud's presidential term with direct Syrian pressure, something that Rafik Hariri was categorically against until his last meeting with Bashar al-Assad.
About this meeting, Khoja says: "It did not last more than 15 minutes…" during which Assad informed Hariri "very clearly about his desire to extend Lahoud's term."
"If you refuse, I will burn Lebanon," the Syrian president said, adding that this has prompted Rafik Hariri to declare his approval of the extension in the Lebanese parliament, but Walid Jumblatt stuck to his refusal.
The ambassador says that Lahoud sought to "oppress" Hariri after the latter left the government in 2004 (when Omar Karami took over).
"The atmosphere was disturbing, so we advised him not to stay in the country, but he did not imagine that Syria would kill him, nor that Hassan Nasrallah would participate in that," Khoja recounts.
He continues: "We received information from multiple sources – from the US, France, Britain, and Saudi Arabia, regarding the existence of plans for the assassination of Rafik Hariri. But he did not listen to our advice. Instead, he said his famous quote: 'the nation is not a hotel,' and he remained within Parliament's opposition.
"Our kings used to fully trust him. Prince Khalid bin Saud, the assistant foreign minister, visited us, and we went together to visit Hariri… We found him worried, sad, and frustrated.
"After we left, the prince asked me if I noticed that, and I said yes… A week later, on February 14, Valentine's Day, Rafik Hariri was assassinated at the entrance of Saint George, near the Phoenicia Hotel, by a massive car bomb, in which a ton of explosives was used…," Khoja remembers.
The Saudi ambassador also talks about the repercussions of the 2006 war between Hezbollah and Israel, and the efforts made by Saudi Arabia to reconstruct what was destroyed by the Israeli bombing.
He points to the Kingdom's position on the behavior of Hezbollah that led to the outbreak of war (the kidnapping of soldiers on the borders), which raised the party's displeasure.
He refers to the "difference" between Hafez al-Assad and his son Bashar, saying that the first stayed in the Arab camp, and benefited from his relationship with Iran, while the son "got involved with Iran, lost Syria's Arab allies, and angered the West."
As for his meetings with Michel Aoun, before the latter became president, Khoja recounts: "He was either tense or absent-minded during the meetings… as he thought that I was an obstacle to his presidency and he did not understand that I represent a semi-Arab and international consensus."
On Saad Hariri, the Saudi ambassador says: "My best friend… he is pure and loyal."
The Saudi Ministry of Culture and Information
On February 14, 2009, the late King Abdullah bin Abdulaziz appointed Khoja as Minister of Culture and Information, and he was concluding his mission at the embassy in Beirut.
In this chapter, he talks about his efforts to improve the performance of the Saudi media, assist the sector's professionals and address challenges that social media represented.
On King Salman, Khoja says: "He is a firm and wise manager, who believes that the shortest path between two points is the straight line, and achievement is his most important administrative standard. He does not like dodgy politics, nor dishonest or weak characters."
"He always surrounded me with care, advice, and guidance at all stages of my career," he underlines.
*Khoja also notes that Prince Mohammad bin Salman is a "very practical man, who has the faculties of leadership, and has taken many of the qualities of his great father."
Kelly: Ghosn's Second-in-Charge Now First in Firing Line
Agence France Presse/Naharnet/March 06/2020
Greg Kelly, a former close colleague of Carlos Ghosn, said he was "shocked" at the flight from Japan of the ex-Nissan boss and worries it could hamper his own battle against financial misconduct charges. The softly-spoken American, 63, gave a rare interview to AFP as he awaits trial in Tokyo, confiding his surprise at Ghosn's sudden escape to Lebanon and his fears that he will not receive a fair hearing. "I was completely surprised. I had no idea that would happen," Kelly said. "I was shocked." Like Ghosn, Kelly stands accused of conspiring to conceal from shareholders tens of millions of dollars in pay the former chief executive was promised after his retirement. Kelly faces up to 10 years in jail if convicted. "And now he's not here. So, it really makes it to me seem quite difficult to really have a trial now that's going to be fair," he said. "If the leading witness isn't there, how do you really try this case in a logical way?" Often presented as a "right-hand man" or close adviser to Ghosn, Kelly said the two men were not personally close. "I didn't even know he got married," he said of Ghosn's lavish wedding at the Palace of Versailles in 2016 that later attracted criticism."I met with Carlos Ghosn only twice a month. In terms of a personal relationship, that didn't occur. It was business issues," stressed Kelly, whose discreet style contrasts somewhat with his more brash former boss.
– 'Very, very painful' –
Kelly and Ghosn both arrived in Tokyo on the same fateful day in November 2018 and were arrested by Japanese authorities. They say Nissan lured them to the country on the pretext of an important board meeting. Kelly was released on bail on Christmas Day after more than a month isolated in a detention centre — especially uncomfortable as he was due to return to the United States for treatment on his back. "Really, it was painful. Very, very painful," Kelly said, adding that he had tried to explain to wardens that he could not sit on the floor as required. "I'm not the type of person that's going to bang on the door and yell and scream or anything like that." Since his release, he has undergone surgery in Japan that seems to have worked, although he said he still suffers from numbness in his feet, arms and legs. To keep fit and relieve stress, he has taken to jogging a popular five-kilometre (three-mile) route around the Imperial Palace in Tokyo, near the modest apartment he shares with his wife Donna.
– 'Lonely existence' –
Like Ghosn, Kelly strenuously denies any wrongdoing.
"I didn't do anything criminally wrong in Japan," he stresses, adding that the departure of Ghosn — who faces more charges than Kelly — might open a door to a resolution within the firm. "For me, this could be resolved within Nissan. If it's an error about reporting something that was never agreed and never paid…," he said, tailing off and adding: "But you know, I'm caught in the system right now so…"He still does not know when his trial will begin, despite another pre-trial session on Friday. Kelly defers questions about the details of his planned defence to his lawyers. He spends most of his day going through mountains of electronic documents furnished by the Japanese prosecutors. The couple say they miss their children and grandchildren in the United States but also their own friends at Nissan, whom they are banned from contacting while the case is ongoing. It is, says Kelly, a "lonely existence."Photos of their loved ones adorn the walls of their Tokyo apartment but they have not set down roots there. "This is not called home. This is called the apartment. You never say you're 'going home'. You say you're 'going back to the apartment'," said Donna Kelly. She spends her days learning Japanese to sustain the student visa that allows her to stay with her husband. "You can't miss school and you have to get the grades," she said. Despite his predicament Kelly refuses to hold a grudge against Nissan, the company for which he worked "seven days a week" for nearly 30 years. The Ghosn saga has battered trust in the firm and its most recent results showed a more than 87-percent plunge in net profit for the nine months to December. "This thing that I'm caught up in, that doesn't make me want Nissan to do badly," Kelly said.
"I want Nissan to do well."