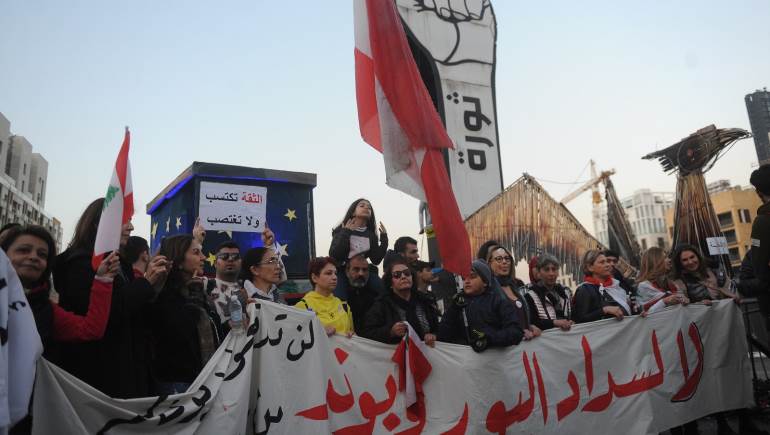 A Bundle Of English Reports, News and Editorials For 24-25/2020 Addressing the On Going Mass Demonstrations & Sit In-ins In Iranian Occupied Lebanon in its 131th Day
Compiled By: Elias Bejjani
February 25/2020
Titles For The Latest English LCCC Lebanese & Lebanese Related News & Editorials published on February 24-25/20
What is The Ash Monday/Elias Bejjani/February 24/2020
Cana Wedding Miracle/The  Forgiveness (Marfaa) Sunday/Elias Bejjani/February 23/2020
IMF extends visit to crisis-hit Lebanon: sources
Lebanon's 1st Coronavirus Case Part of Social Media Jokes, Sectarian Tension
U.S. Sanctions Bill Aimed at Lebanon over Amer Fakhoury
Rafik Hariri Hospital: 3 Out of 34 Isolated despite Showing No Virus Signs
Hasan: Lebanon, WHO Coordinated Measures over Virus Threat
Coronavirus Measures Taken on Lebanon's Northern Border with Syria
Hasan Cancels Airport Tour Linked to Italian Plane Arrival
Some Brital, Hermel Schools Close over Coronavirus Fears
Iranian, Italian Planes Land in Beirut amid Coronavirus Fears
Renault Files Civil Claim against Ghosn
Parliament General Secretariat Hits Back at U.N. Coordinator
President Aoun receives Public Health Minister, Former MP Soukarieh
Ministerial Crisis Cell tasks municipalities to supervise self-isolation, prevent travel to affected areas
Diab meets Ambassador of Syria
Diab tackles situation with Ambassador of Qatar
Diab meets Hitti, Army's Tripartite Committee teamBerri to Lebanese Industrialists: Needed funds for industrial sector will be secured
Minister of Information follows up on situation of media sector, meets TL delegation
Italian plane arrives at Beirut airport, medical team performs necessary checkups
Hariri Hospital: 5 cases quarantined, 4 of which tested negative
Foucher visits Shatila camp, confirms France's support for UNRWA
Kattar meets Swiss Ambassador, Lebanese Industrialists Association delegation, LF delegatiuon
Mortada chairs Locust Control Operations meeting: Agriculture Ministry teams fully mobilized
Najm discusses judicial cooperation with Ambassadors of Australia, Mexico
Yammine discusses joint projects with World Bank delegation
Minister of Energy welcomes Ambassador of Germany
Kanaan, Kubis discuss financial reforms, anti-corruption laws
Lebanese Journalist Assaulted at Airport, Kubis Defends Free Speech
Report: SA, France Affirm Willingness to 'Back' Lebanon
Lebanese activists and critics of Hezbollah face attacks, arrest and threats/Najia Houssari/Arab News/February 25/2020
Lebanon's dangerous descent into Iran's sphere of influence/Rami Rayess/The Arab Weekly/February 24/2020
Hezbollah wants the dollar-hungry Lebanese to boycott American goods. The catch? Lebanon could hurt more/Emma Scolding/The New Arab/February 24/2020
Lebanon can save its economy, just not with the help of the IMF/Karim Safieddine/The New Arab/February 24/2020
Lebanese Mock Nasrallah's Call To Boycott American Products/MEMRI/February 24/2020
The Latest English LCCC Lebanese & Lebanese Related News & Editorials published on February 24-25/2020
What is The Ash Monday
Elias Bejjani/February 24/2020
مفاهيم اثنين الرماد الإيمانية
Ash Monday is the first day of Lent and It is a moveable feast, falling on a different date each year because it is dependent on the date of Easter. It derives its name from the practice of placing ashes on the foreheads of adherents as a sign of mourning and repentance to God.
On The Ash Monday the priest ceremonially marks with wet ashes on the worshippers' foreheads a visible cross while saying "Remember that you are dust, and to dust you shall return (genesis03/19)".
Worshippers are reminded of their sinfulness and mortality and thus, implicitly, of their need to repent in time.
Ash Monday (Greek: Καθαρά Δευτέρα), is also known as Clean and Pure Monday.
The common term for this day, refers to the leaving behind of sinful attitudes and non-fasting foods.
Our Maronite Catholic Church is notable amongst the Eastern rites employing the use of ashes on this day.
(In the Western Catholic Churches this day falls on Wednesday and accordingly it is called the "Ash Wednesday")
Ash Monday is a Christian holy day of prayer, fasting, contemplating of transgressions and repentance.
Ash Monday is a reminder that we should begin Lent with good intentions and a desire to clean our spiritual house. It is a day of strict fasting including abstinence not only from meat but from eggs and dairy products as well.
Liturgically, Ash Monday—and thus Lent itself—begins on the preceding (Sunday) night, at a special service called Forgiveness Vespers, which culminates with the Ceremony of Mutual Forgiveness, at which all present will bow down before one another and ask forgiveness. In this way, the faithful begin Lent with a clean conscience, with forgiveness, and with renewed Christian love.
The entire first week of Great Lent is often referred to as "Clean Week", and it is customary to go to Confession during this week, and to clean the house thoroughly.
The Holy Bible stresses the conduct of humility and not bragging for not only during the fasting period, but evry day and around the clock.
It is worth mentioning that Ashes were used in ancient times to express grief. When Tamar was raped by her half-brother, "she sprinkled ashes on her head, tore her robe, and with her face buried in her hands went away crying" (2 Samuel 13:19). Examples of the Ash practices among Jews are found in several other books of the Bible, including Numbers 19:9, 19:17, Jonah 3:6, Book of Esther 4:1, and Hebrews 9:13.
Jesus is quoted as speaking of the Ash practice in Matthew 11:21 and Luke 10:13: "If the mighty works done in you had been done in Tyre and Sidon, they would have repented long ago in sackcloth and ashes."

Cana Wedding Miracle/The  Forgiveness (Marfaa) Sunday
Elias Bejjani/February 23/2020
Lent period starts with the Cana Holy Wedding Miracle and ends with the Holy Easter Day.
Lent in the Maronite Church rite starts this year on the ASH Monday, February 25/2020.
The Sunday that comes before the beginning of the lent period is called the raising (أحد المرفع) or forgiveness Sunday (أحد الغفران)
Fasting is a battle of spiritual engagement through which we seek to imitate Jesus Christ who fought Satan's temptations while fasting in the wilderness.
He triumphed over Satan, and we faithfully endeavour during the Lent period to tame and defeat our earthly instincts and make our hearts, conscience and thinking pure, immaculate and pious
The lent period is a spiritual battle that we chose to fight our own selves and all its bodily and earthly instinctual pleasures in a bid to abstain from all acts and thoughts of sin
Lent in principle is a Holy period that is ought to be utilized with God in genuine contemplation, self humility, repentance, penances, forgiveness, praying and conciliation with self and others.
Lent is a privileged time of interior pilgrimage towards Jesus Who is the fountain of all love, forgiveness and mercy.
Lent is a pilgrimage in which Jesus Himself accompanies us through the desert of our poverty while sustaining us on our way towards the intense joy of Easter.
We fastand trust that the Lord is our loving Shepherd.
"Psalm 23:04: Though I walk through the valley of the shadow of death, I will fear no evil: for you are with me; your rod and staff comfort me."
Lent is ought to strengthen our hope and faith in a bid to fight Satan and to keep away from his ways of sin and despair.
Praying and contemplation teaches us that Almighty God is there to guard us and to lead our steps during the entire Lenten period.
Readind the Holy Bible and praying offers us God's Word with particular abundance and empowers our souls and minds with His Word.
Mark 13:31: "Heaven and earth will pass away, but my words will never pass away"
By meditating and internalizing the Word Of God we learn precious and irreplaceable forms of prayer.
By attentively listening to God, who continues to speak to our hearts, we nourish the itinerary of faith initiated on the day of our Baptism.
Prayers and fasting allow us to gain a new concept of time and directs our steps towards horizons of hope and joy that have no limits
When we fast and pray, we find time for God, to understand that his words will not pass away.
Through fasting and praying we can enter into that intimate communion with Jesus so that no one shall take from us the faith and hope that does not disappoint.
IMF extends visit to crisis-hit Lebanon: sources
Arab News/February 25/2020
The IMF began meetings with Lebanese authorities on February 20 to provide broad technical advice
Lebanon is grappling with an acute liquidity crunch that has prompted banks fearing capital flight to impose strict controls
BEIRUT: The International Monetary Fund (IMF) will continue meetings with Lebanese authorities on Monday, sources familiar with the process said, extending a visit to provide technical advice that was expected to end on Sunday. The IMF began meetings with Lebanese authorities on Feb. 20 to provide broad technical advice on how to tackle the country's crippling financial and economic crisis. The fund had said its team would stay until Feb. 23. Lebanon has not requested financial assistance from the IMF as it draws up a rescue plan to tackle a long-brewing financial crisis that spiraled last year as capital inflows slowed and protests erupted against the ruling elite.

Lebanon's 1st Coronavirus Case Part of Social Media Jokes, Sectarian Tension
Beirut – Sanaa el-JackAsharq Al-Awsat/Monday, 24 February, 2020
Only a few hours had passed since the announcement of the first case of coronavirus in Lebanon until masks disappeared from pharmacies and appeared on the black market, with some information indicating that they were exported to China. This led to the Minister of Economy issuing a decision prohibiting the export of medical equipment, tools and personal protection items against contagious diseases, including gloves, face masks and ventilators. One pharmacist reported that he sold more than 300 face masks within an hour of the first case being announced. He also claimed that "an atmosphere of insanity took over. People rushed to buy masks with most of them not even needing them". He indicated that "a face mask did not cost more than 250 Lebanese Pounds (a few US cents) the morning the first case was announced, reaching four dollars in the evening, other than advertising special face masks the price of which jumped from 3 to 30 dollars". The virus made its way to Lebanon's political and sectarian tension through social media after the COVID-19 virus was found in a 45-year-old Lebanese woman who had traveled from Qom in Iran. Lebanon's political rivals started construing the story to their favor. The party rejecting the domination of the "resistance axis" started criticizing Iran and condemned it for exporting the virus, as if they were already waiting for the first case to come specifically from Iran so that they build on it. On the other hand, some activists in the Free Patriotic Movement linked the coronavirus with Syrian refugees, with one of them saying on TV that "President Michel Aoun and Gebran Bassil's warnings were on spot, how can we face the virus with the presence of Syrian refugees?" Hezbollah supporters stood sharply against the tone of condemnation against Iran. They accused those promoting this condemnation with having racial hatred and conspiracy theories. The first instance was a voice recording allegedly by the woman who had the virus, lying at her hospital bed affirming that she was safe and that accusing her of having the virus was nothing but a conspiracy against Iran because she stayed six months in Qom. She also added that the news had spread before the results of the tests came back even though, she claimed, nothing was wrong with her. This led some people to tweet a photo of her passport with a phrase expressing that she represents them, asking political officials to visit her so that they catch the infection.
The conspiracy theory was not limited to the camp of Iran supporters. The other side also spread a voice recording of someone claiming that "promoting the coronavirus reaching Lebanon is aimed at ending the popular uprising and continuing the repression practiced by the regime against the protesters and recruiting banks to steal the money of the Lebanese".  The Lebanese government's decision to ban travels to Iran, a couple of days ago, remained ambiguous despite mentioning that "flights to the quarantined areas in Iran are banned due to the spread of the coronavirus in China, Iran, South Korea and several other countries except those that are necessary for medical, educational or occupational purposes."
U.S. Sanctions Bill Aimed at Lebanon over Amer Fakhoury
Associated Press/Naharnet/February 24/2020
A New Hampshire senator is sponsoring a bill to ban visas and freeze assets of Lebanese officials involved in the detention of a Lebanese-American citizen since September. U.S. Sen. Jeanne Shaheen, a Democrat, is expected to introduce the bill Monday, along with Republican Sen. Ted Cruz of Texas. It would sanction current or former Lebanese government officials, including members of the judiciary system, involved in the "unlawful detainment, arrest or abuse of any United States citizen in Lebanon." Sanctions also could apply to family members and associates of the officials. Amer Fakhoury, 57, a restaurant owner in Dover, New Hampshire, who became a U.S. citizen last year, has been jailed since Sept. 12 in his native country. He went on vacation to visit family he hadn't seen in nearly two decades. Fakhoury was once a member of the former Israeli-backed South Lebanon Army and worked at a former prison described by human rights groups as a center for torture. His lawyer and family say he fled Lebanon in 2001 through Israel and eventually to the United States, because of death threats he and many other South Lebanon Army members received after Israel ended its occupation of Lebanon in 2000. Earlier this month, Fakhoury, who has been hospitalized with stage 4 lymphoma, was charged by a military investigative judge with the murder and torture of inmates at the former Khiam Prison. Lebanon's intelligence services said he confessed during questioning to being a warden there. But Fakhoury's family and lawyer say that he had no direct contact with inmates and was never involved in any interrogation or torture. A news release from Shaheen's office said Fakhoury's cancer symptoms are "exacerbated by the beating he received at the hands of Lebanese security officials looking to extract a false confession" from him.
"The U.S. government has provided ample opportunity for Lebanese officials to free Amer Fakhoury," Shaheen said. "However, Amer is fighting for his life and time is running out. … There must be consequences for this flagrant disregard of international norms and human rights."
The bill does not specifically name Fakhoury, although Shaheen's staff said they are not aware of any other U.S. citizens being held in Lebanon. "What's happening right now with Amer Fakhoury is truly a criminal act," said Naz Durakoglu, Shaheen's senior foreign policy adviser. "To just take someone, and then to make up allegations and then just hold them while they're gravely ill is not something that we want to encourage around the world, especially with U.S. citizens."Durakoglu said it is their understanding that Fakhoury's detention has been led by Hizbullah. The news release said Fakhoury's case has been exploited by Hizbullah "in order to exacerbate ethnic and political tensions in Lebanon during this critical time in the country's history." Lebanon has been in the middle of an unprecedented economic and political crisis amid nationwide protests since October, leading to the prime minister's resignation. A new government has been formed. It was unclear who could address Fakhoury's case. "Understanding the urgency of the situation, we hope this bill moves quickly through Congress before it's too late," Fakhoury's family said in a statement.

Rafik Hariri Hospital: 3 Out of 34 Isolated despite Showing No Virus Signs
Naharnet/February 24/2020
The Rafik Hariri University Hospital announced Monday that three out of 34 people examined for the coronavirus over the past 24 hours have been quarantined although they tested negative. Accordingly, the hospital said the number of those quarantined has risen to five – four who have "tested negative" and a 45-year-old woman who tested positive and was declared Friday as the country's first coronavirus case. The woman "is in a stable condition and is receiving the necessary treatment," the state-run hospital added in a daily statement. "Lab tests were conducted for 29 cases and they all tested negative as three patients were discharged from hospital after being asked to isolate themselves in their homes for 14 days," the hospital said. "They were provided with all the necessary instructions and prevention means, according to the directions of the World Health Organization," the hospital added, noting that the three individuals had tested negative twice.Two Iranian planes and an Italian plane landed Monday at Beirut's airport where they were inspected by Health Ministry teams. Iran and Italy have emerged as two of the virus' main hotspots in the world along with South Korea and the epicenter China. Iran's confirmed death toll rose to 12 on Monday, with the government promising transparency and dismissing a lawmaker's claim the toll could be as high as 50. The World Health Organization said Monday that COVID-19 had "peaked" in China but warned the surge in cases elsewhere was "deeply concerning" and all countries should prepare for a "potential pandemic."
Hasan: Lebanon, WHO Coordinated Measures over Virus Threat
Naharnet/February 24/2020
Health Minister Hamad Hasan assured on Monday that precautionary measures taken by Lebanese authorities to prevent the deadly Coronavirus infection have been taken in Lebanon in collaboration with the World Health Organization. "We have taken responsible precautionary measures at Beirut's airport and we have coordinated the steps with the WHO organization," said Hasan in remarks to reporters after holding talks with President Michel Aoun in Baabda. Hassan said Lebanon has taken extra precautionary measures mainly for planes arriving from Italy and Iran, where the virus has killed 50 individuals since its outbreak in the Islamic republic.To contain the COVID-19 outbreak, "Lebanon has taken measures that prevent the virus from spreading in case any was found," added Hassan. The Lebanese must "trust" the efficacy of measures taken at the terminal, said Hasan urging them not to panic. "Special dynamics were taken to evacuate the passengers from Beirut airport," he said.

Coronavirus Measures Taken on Lebanon's Northern Border with Syria
Naharnet/February 24/2020
Medical and health crews belonging to the Health Ministry are examining all those arriving from Syria via Lebanon's northern border crossings as a precaution against the spread of the novel coronavirus, Lebanon's National News Agency reported on Monday. NNA said the measures are being taken in coordination with UNICEF and the World Health Organization. "Travelers of all ages are being examined and the health symptoms of each of them are being assessed in addition to fever measurements," the agency added. "A daily report about those entering Lebanon and their health conditions is being submitted to the Health Ministry," NNA said, adding that no suspected coronavirus cases have been recorded until the moment.

Hasan Cancels Airport Tour Linked to Italian Plane Arrival
Naharnet/February 24/2020
Health Minister Hamad Hasan on Monday canceled a planned visit to the Rafik Hariri International Airport that had been scheduled for 4:50 pm, his office said. The office did not elaborate on the reason. The National News Agency had earlier reported that Hasan would head to the airport to follow up on the arrival of an Italian plane and the measures that will be taken to examine passengers for coronavirus symptoms. A plane coming from Iran had landed at the airport in the morning.

Some Brital, Hermel Schools Close over Coronavirus Fears
Naharnet/February 24/2020
A large number of residents in the Baalbek town of Brital refrained from sending their children to schools on Monday as a precautionary measure, state-run National News Agency reported. The residents took the precautionary move "because 10 of the town's residents were on an Iranian plane" that landed in Beirut, NNA said. "They were on pilgrimage trips to the cities of Qom and Mashhad," the agency added. The parents' move "prompted some schools to inform students that classes will be suspended for the next three days," NNA said. The administration of the Hermel state-run intermediate school meanwhile announced that classes were suspended on Monday as a precautionary measure "after it was confirmed that relatives of some students were on the plane that arrived from Iran on February 20." "The school will resume classes on Tuesday after following up on the situations of the aforementioned students," it added.

Iranian, Italian Planes Land in Beirut amid Coronavirus Fears
Naharnet/February 24/2020
Another plane coming from Iran landed Monday at Beirut's Rafik Hariri International Airport despite the outbreak of coronavirus in the Islamic Republic prompting neighboring countries to close their borders. The National News Agency said that precautions were put in place for the evacuation mission and that passengers and crew were subject to examination to manage coronavirus transmission risk. MTV station's reporter at the airport said another plane will arrive in Beirut in the afternoon. He added that planes coming from infected countries will land on distant runways and passengers will be allowed to leave the airport through special gates dedicated for that purpose. Noting precautionary measures taken at the terminal, MTV said two equipped security men will board the Iranian plane to check the passengers and passports. MTV initially reported that passengers who show no signs of illness would be allowed to leave on a bus dedicated for travelers coming from infected countries. The TV network later reported that "all passengers of the Iranian plane left the airport from its main gate, wearing masks and gloves." A man claiming to be one of the passengers, Hassan Shahien, meanwhile announced on Facebook that the passengers left on a bus belonging to the pilgrimage agency and not "special buses." "They took our names and phone numbers and checked if we had fever. They asked us whether anyone was feeling any symptoms and allowed us to leave," he added. Later in the day, an Italian plane landed at the airport and a specialized team from the Health Ministry carried out the necessary medical check-ups for those on board. "None of the Italian plane passengers was quarantined after no one showed any coronavirus symptoms," MTV said.

Renault Files Civil Claim against Ghosn
Agence France Presse/Naharnet/February 24/2020
French car giant Renault said Monday it was filing a civil claim for damages against former CEO Carlos Ghosn over alleged financial misconduct. "Renault has filed a legal action to assert its rights," the company said in a statement, adding that it reserved the right "to solicit damages with interest" from an investigation into numerous claims of financial misconduct in France. Renault added it would cooperate fully with judicial authorities. Lawyers for Brazilian-born Ghosn, who jumped Japanese bail in December and is now in his native Lebanon, on Friday delayed a lawsuit seeking a hefty retirement payout for their client from Renault, saying the company had not given them enough time to prepare arguments. Ghosn is seeking a 250,000 ($270,000) retirement payout, which Renault refuses to pay because it says he was forced to quit after his shock November 2018 arrest in Japan on multiple charges of financial wrongdoing. The former industry titan claims he retired in due form of his own accord. He faces a French inquiry into two parties he threw at the Palace of Versailles, including his opulent 2016 wedding, allegedly financed in part by Renault funds. A party for his 60th birthday two years earlier, replete with musicians, a top chef, period costumes for attendees and a firework display ostensibly to mark 15 years of the Reault-Nissan alliance allegedly cost 530,000 euros. Ghosn is also under investigation by France's tax fraud office over suspicious financial transactions between Renault and its distributor in the Gulf state of Oman, and over contracts signed by Renault and Nissan's Dutch subsidiary RNBV, the public prosecutor said last week. In Japan, he still faces multiple charges including a claim he under-reported millions of dollars in salary as chairman of Nissan. He has denied all the charges, but fled while on bail before he could face trial.

Parliament General Secretariat Hits Back at U.N. Coordinator
Agence France Presse/Naharnet/February 24/2020
Parliament's General Secretariat on Monday responded to remarks voiced by U.N. Special Coordinator for Lebanon Jan Kubis. "We do not need lessons in legislation and we have never legislated behind closed doors," the General Secretariat said in a statement. Kubis had earlier tweeted that "anti-corruption laws need to be discussed by the Parliament in full transparency, not behind closed doors.""Draft laws need to be accessible to public for comments in a truly inclusive way, not only to few selected ones," he added.
President Aoun receives Public Health Minister, Former MP Soukarieh
NNA/February 24/2020
President of the Republic, Michel Aoun, on Monday received Public Health Minister, Dr. Hamad Hassan, at Baabda Palace.
Hassan briefed Aoun on the latest information concerning the Coronavirus, and the measures taken for treatment and prevention, in land and air crossings. Public Health Minister, Dr. Hamad Hassan, said that there is response from President Aoun to support the health sector in facing the challenges which the country is going through, revealing that this sector is a redline for everyone.
Hassan called on the Lebanese to trust the measures taken in coordination with the World Health Organization, to prevent Corona Virus spread, and on the civil society to cooperate to refute rumors and fake news circulating around it. The Public Health Minister also stressed that additional measures have been taken with Iranian and Italian planes, to ensure that the epidemic does not spread. Hassan revealed that medical supplies are available in the Lebanese market, "But there are those who monopolize these supplies, which is immoral and illegal and entails legal prosecution".
Statement of Health Minister:
"I had the honor to visit the President of the Republic, today, and I discussed with him several topics related to the Health Ministry's work, and the new methodology, and how to draw up a health insurance guarantee plan in a transparent and fair manner. At the same time, we were able to be up to the challenges of the stage, especially as there is a pressing economic situation. Therefore, the issue of fighting corruption is one of the priorities of the adopted strategy, to develop the health sector and health policies in Lebanon.
The methodology is different and there is a re-examination of the Ministry's structure, and we, with support from the President and Prime Minister, are thinking of some solutions because we know that the law of stopping official employment and contracting, negatively affects the health sector, its productivity and effectiveness. Therefore, there is a response from His Excellency to support this sector in facing the challenges which Lebanon is going through, including the Corona epidemic, which concerns the whole world.
I want to reassure that today, after my meeting with his Excellency, the measures were taken at Rafic Hariri International Airport earlier, now and later, are responsible measures and were taken in direct coordination with the WHO. The measures we take today, with the Iranian and Italian airplanes are additional, ensuring that the virus does not spread, if any were present. The plane landed in the airport, after Iranian authorities conducted a health test for all travelers. We have subjected the travelers to a second medical examination, and those who suffer from symptoms will be directly isolated to Rafic Hariri University Hospital, and those who do not suffer from any symptoms will be taken to resorts or scout centers, in regions. The way travelers move from the airport is carried out with the least possible risk to the possibility of infection for travelers and their families, waiting in the airport hall. So, the plane has landed, passengers are checked and transported on special buses, and they will go to summer scout centers, in hospital institutions, or to isolation if necessary.
Hence, the taken measures are coordinated at Presidential and Governmental levels, in addition to ministerial crisis cells and the national committee to combat the spread of the virus. We call on the Lebanese people to trust these measures and support the civil society to cooperate and interact to refute rumors and fake news on social media which causes hysteria. I reiterate that anxiety and fear are legitimate, but hysterical panic is unacceptable, especially if it results from irresponsible news".
Questions and Answers:
In response to a question about the scout centers, Minister Hassan said, "We are in the last period and since the plane landed on the 20th of this month to date, we are following all passengers. Today we added a new phone application which we download on phones according to the ability of the traveler, of course, and we monitor the temperature of travelers every day morning and evening, in daily contact with the epidemiological surveillance committee. All those who cooperated with us to secure resorts for observation are thankful for their facilitation of our work. We hope security forces and local municipal and federal authorities keep abreast of the plan prepared in the National Committee to combat Corona, and bear responsibility for monitoring mandatory self-quarantine in homes for some travelers who wish to remain in their homes in isolation from the outside perimeter".
Regarding the fear for schoolchildren, Hassan said: "Since the 20th of this month, out of 33 or 34 samples, it has been proven that one sample is positive, and she is the same patient, and no other sample has been registered until now. That is, 33 samples, including 18 who were on the Iranian plane, on February 20, showed that they were not HIV-positive, and therefore did not pose a threat to their families or those around them".
Asked about not continuing to support imported medicines, Minister Hassan made it clear that His Excellency the President and Prime Minister, while insisting on the Governor of the Central Bank, consider that the issue of medicine and medical supplies is a redline and there is no default towards imported pharmaceutical institutions or the Association of Drug Importers and importers of medical supplies. There is a bureaucratic defect, but there is no defect in this sector. And the health sector is a redline for all".
Regarding muzzles in the local market, the Public Health Minister replied: "If we drowned in the classification of their quality and effectiveness, we will be distracted in commercial details. Prevention is the basis for dealing with these requirements, and personal protection is essential. The supplies are available in the Lebanese market, and there are those who monopolize it, which is immoral and unlawful, resulting in legal prosecutions. We are cooperating with the Minister of Economy and the Consumer Protection Authority, who was with us yesterday in the factory which I personally went to, where we raided and got acquainted with some of the institutions which inform us about the possession of these supplies and invest them in an illegitimate way. We are following this issue, and I know, and confirm, that there is a sufficient quantity in the market, but unfortunately there is an investment, and here I return to repeat and do not bear responsibility for these traders. This period is a test for all of us, because the issue is a national issue with distinction, which we should not approach, not in political, factional, or commercial terms".
Asked about stopping flights to countries with Corona Virus cases, he replied: "Every day there is an information update regarding the issue of stopping flights, and the World Health Organization states that there are no recommendations, to this date, to stop flights, neither with Iran nor with Italy or with any Arab country or European. There is only a recommendation to stop trips to and from endemic areas. As for other regions, they are under the control and procedures taken by the states and the Lebanese Republic is one of the countries which adhere to these standards and apply them in a transparent and accurate manner. Therefore, when there is a recommendation, the issue is submitted to the Ministerial Committee and to the Government to take such a decision".
Former MP Soukarieh:
President Aoun met with Former MP, Ismail Soukarieh, and deliberated with him the local and regional situation.

Ministerial Crisis Cell tasks municipalities to supervise self-isolation, prevent travel to affected areas
NNA/February 24/2020
The Ministerial Crisis Cell, headed by Prime Minister Dr. Hassan Diab, based on the recommendations of the "Follow-up Committee on Coronavirus Preventive Measures and Procedures" on Monday made the following decisions in light of the most recent developments involving the virus:
1- Isolate persons showing symptoms of the Coronavirus and those arriving from affected areas at Rafic Hariri Governmental Hospital.
2- Task municipalities to supervise the implementation of self-isolation procedures.
3- Prevent Lebanese citizens and other residents from traveling to affected areas.
4- Stop trips to the affected areas in the following countries: China, South Korea, Iran, Milan in Italy and other countries, with the exception of necessary travel cases (for education, work, etc..), and task the Secretary-General of the Supreme Council of Defense to supervise the implementation of these procedures in coordination with the Civil Aviation General Directorate, the General Security General Directorate, and the commander of the airport security apparatus.
5- Task the Ministry of Foreign Affairs, in coordination with the ministries of tourism and health, as well as the General Directorate of Public Security, to contact the Lebanese in the affected areas, monitor their health conditions, coordinate with the local authorities to secure the required treatments, and provide them with the necessary guidance.
6- Task the ministries of economy and health to prevent the export of medical protective supplies (PPE), follow up on the remaining stock, and secure the import of the necessary quantities.
7- Raise awareness among sports clubs, schools, nurseries, universities, airports, airplanes, and other places where citizens gather to commit to the application of health protection measures and frequent sterilization in accordance with the Ministry of Health guidelines.
8- Instruct the Ministry of Health to locate a government hospital in each governorate to be an exclusive center for receiving Coronavirus patients and equipping it with the required specifications and equipment.
9- Task the Ministry of Information, in coordination with the Disaster Risk Management Unit at the Council of Ministers and the Ministry of Health, to inform the Lebanese public opinion in a transparent and periodic manner, about all the procedures, decisions, and developments, in cooperation with the audio-visual and written media, as well as the social media.
10- Restricting the transfer of Coronavirus patients to the Lebanese Red Cross only.

Diab meets Ambassador of Syria
NNA/February 24/2020
Prime Minister, Hassan Diab, on Monday welcomed Syria's Ambassador to Lebanon, Ali Abdel Karim Ali, who said in the wake of the meeting that his visit had been an occasion to congratulate his host on the formation of the government. During the visit, the Syrian diplomat also briefed Diab on the situation in Syria, which is gradually emerging from its crisis.
Touching on the regional situation and the sanctions which have been affecting Syria and Lebanon, the Syrian Ambassador said that the Lebanese government must exert pressure in order to lift said sanctions, especially "by countries who claim to be seeking a solution" to the situation in both Syrian and Lebanon. The Prime Minister later met with a delegation of owners of private hospitals, chaired by Sleiman Haroune, who briefed the Premiere on the situation of the sector.

Diab tackles situation with Ambassador of Qatar
NNA/February 24/2020
Prime Minister, Dr. Hassan Diab, on Monday welcomed at the Grand Serail Qatari Ambassador to Lebanon, Mohammad Hassan Jaber Al-Jaber, with whom he discussed the situation in Lebanon and the region, as well as the best means to boost relations between countries.

Diab meets Hitti, Army's Tripartite Committee team
NNA/February 24/2020
Prime Minister, Dr. Hassan Diab, on Monday met at the Grand Serail with Minister of Foreign Affairs and Emigrants, Nassif Hitti, with whom he discussed an array of matters involving the Ministry of Foreign Affairs.
Diab also received the Army's Tripartite Committee team, with whom he discussed the role and task of the committee, and its relationship with the international forces operating in south Lebanon "UNIFIL".

Berri to Lebanese Industrialists: Needed funds for industrial sector will be secured
NNA/February 24/2020
House Speaker, Nabih Berri, welcomed this Monday at his Ain El Tineh residence a delegation of the Association of Lebanese Industrialists (ALI), led by Dr. Fady Gemayel. Speaker Berri assured the delegation that the needed funds for the industrial sector to overcome the current crisis will be secured, adding that the government and the concerned Ministry are in the process of finding solutions in this regard. He said that all of Lebanon's productive sectors are likely to be restructured in accordance with the challenges and requirements of the current stage, with the exception of the industrial and agricultural sectors. "These are the only two sectors that must be protected while ensuring all means of survival and development for them since they are the main piers to rebuild a productive national economy," Berri said, adding "this can also create job opportunities for young Lebanese and reduce unemployment and immigration."Berri also underlined that "the Lebanese industrialists are capable through their expertise and capacities, to significantly contribute to offering solutions to the electricity crisis in Lebanon."

Minister of Information follows up on situation of media sector, meets TL delegation
NNA/February 24/2020
Minister of Information, Dr. Manal Abdel Samad Najd, on Monday held at her ministerial office a series of meetings during which she followed up on the general situation, especially in the media sector. In this context, the Minister met with a delegation from Tele Liban, which she tasked to prepare a modern and visionary plan to help modernize the state-run television and enable it to produce media material that meets the requirements of both content and form.

Italian plane arrives at Beirut airport, medical team performs necessary checkups
NNA /February 24/2020
An Italian airliner on Monday arrived at Rafic Hariri International Airport in Beirut. Consequently, a specialized medical team from the Ministry of Health and the competent medical apparatuses at the airport are performing the necessary medical checkups and examinations for the plane's passengers and crew.

Hariri Hospital: 5 cases quarantined, 4 of which tested negative
NNA/February 24/2020
Rafic Hariri University Hospital on Monday issued a statement with the latest updates on Coronavirus in Lebanon. The statement made clear that during the past 24 hours the hospital has received 34 cases in the emergency unit, which has been designated to test cases suspected of being infected with Coronavirus. All the aforementioned patients were subjected to the necessary medical tests, and 5 cases had been quarantined so far; 4 of them tested negative while only one coronavirus case remains in the isolation unit. The statement also highlighted the fact that the sole Cornavirus patient was in a stable condition.

Foucher visits Shatila camp, confirms France's support for UNRWA
NNA/February 24/2020
French Ambassador to Lebanon, Bruno Foucher, on Monday visited Shatila camp in Beirut, along with the Ambassador of the State of Palestine to Lebanon, Ashraf Dabour, and the director of UNRWA, Claudio Cordone. In the wake of the meeting, Foucher confirmed France's support for UNRWA. "The visit aimed to renew France's support for Palestinian refugees in Lebanon, especially amid the economic crisis that has hit the camp residents, who are already in a crucial state," a statement by the French embassy indicated. The French diplomat reiterated France's commitment to respecting international laws and agreements for resolving the Palestinian issue. "We regret that the Palestinian issue is no longer a priority in recent times due to other political issues that concern the region," the statement added as quoting Foucher. The statement also pointed out France's boosted support to UNRWA, with a contribution of 20 million euros to the Agency's global budget in 2019, not to mention the projects funded by the French Development Agency in Lebanon in the fields of education and water treatment, which amount to a total of 21 million euros.

Kattar meets Swiss Ambassador, Lebanese Industrialists Association delegation, LF delegatiuon
NNA/February 24/2020
Environment and Administrative Development Affairs Minister, Damianos Kattar, received Monday the Swiss Ambassador to Lebanon, Monica Schmutz Kirgoz, with whom he discussed the general situation in Lebanon and the importance of following up on programs on climate change in view of their strategic priority. Ambassador Kirgoz expressed her country's readiness to cooperate with the Lebanese government. Minister Kattar also met with a delegation from the Association of Lebanese Industrialists, led by its President, Fadi Gemayel, who raised with him the demands of industrialists and the cooperation between several factories and the Pollution Control project "Lepap" within the Ministry of the Environment. Kattar then received a delegation from the Lebanese Forces party, including MP Fadi Saad, with whom he reviewed environmental files and issues related to administrative development.

Mortada chairs Locust Control Operations meeting: Agriculture Ministry teams fully mobilized
NNA/February 24/2020
Agriculture Minister, Abbas Mortada, on Monday assured the "preparedness of the concerned teams in the Ministry to implement the preventive control strategy, in anticipation of any Desert Locust wave.
Minister Mortada chaired the meeting of the Operations Room to Control Desert Locust, in the context of reviewing the reports of the central region.
The Minister stressed during the meeting the need to maintain high state of preparedness to deal with any possible damage. The meeting also decided to conduct an urgent tender to purchase additional quantities of pesticides for locust control, and to increase the quantities of pesticides to fight wheat bugs and sandalwood bugs. The Minister also affirmed cooperation with all governmental and non-governmental departments with transparency and flexibility to protect the food security of the Lebanese people, in light of the continued communication with the Premiership and close follow up on this dossier.

Najm discusses judicial cooperation with Ambassadors of Australia, Mexico
NNA/February 24/2020
Minister of Justice, Marie Claude Najem, on Monday welcomed at her ministerial office Australian Ambassador to Lebanon, Rebekah Grindlay.
Talks between the pair reportedly touched on the best means to develop bilateral relations between Lebanon and Australia, especially in the field of judicial cooperation. Najm also had an audience with Mexican Ambassador to Lebanon, Jose Madrazo, with whom she discussed the activation of a number of agreements signed between the two countries in the legal and judicial fields, in addition to the means to bolster Lebanese-Mexican bilateral relations.

Yammine discusses joint projects with World Bank delegation
NNA/February 24/2020
Labour Minister Lamia Yammine on Monday reviewed with a delegation from the World Bank, headed by Social Protection, Labour and Gender Affairs in the Middle East, Haneen Sayed, the means of cooperation between the Ministry and the Bank over projects related to social security, youth and women. On emerging, Sayed said that talks touched on means of supporting the Ministry over projects related to unemployment in light of the difficult financial and economic conditions.
Minister Yammine later received a delegation from the Air Transport Union, chaired by Ali Mohsen.

Minister of Energy welcomes Ambassador of Germany
NNA/February 24/2020
Energy and Water Minister, Raymond Ghajar, on Monday received German Ambassador to Lebanon, Georg Bergelen, who paid him a protocol visit. The meeting had been an occasion for both men to discuss the electricity and water plan. For his part, the German diplomat expressed his country's readiness to invest in this sector.

Kanaan, Kubis discuss financial reforms, anti-corruption laws
NNA /February 24/2020
Head of the Finance and Budget Committee, MP Ibrahim Kanaan, on Monday welcomed United Nations Special Coordinator in Lebanon, Jan Kubis, in a meeting that lasted more than an hour.
During the meeting, the pair discussed the prevailing situation; especially the anti-corruption laws, the recovery of looted funds, and lifting immunity off officials, based on Kanaan's sub-committee's decisions.
Talks also touched on United Nations agreements and cooperation prospects to attain all the aspired goals for the benefit of Lebanon.
Both men discussed as well the financial situation, and the plans put forward by the government and parliament seeking the best solutions for Lebanon in terms of restructuring debt and other financial matters.

Lebanese Journalist Assaulted at Airport, Kubis Defends Free Speech
Naharnet/February 24/2020
UN Special Coordinator for Lebanon Jan Kubis on Monday defended the rights of journalists for free speech, shortly after a journalist got assaulted at Beirut airport while reporting about flights from Iran amid cornoavirus threats. "Intimidation and persecution of journalists for expressing their opinion is often a sign that they touch upon something important," said Kubis in a tweet. He added: "Efforts to silence free speech by administrative measures and harassment will never succeed and usually backfire, notably in times of crisis."A video recording at the terminal of Annahar reporter, Asrar Shbaro, showed a man taking her mobile by force while she was filming passengers of an Iranian plane making their way out of the airport. Shbaro had also filmed some interviews with passengers of the plane but those were deleted by the attacker, who also claimed to be a member of a political party that was not disclosed. The Iranian plane had arrived from Iran's city of Qom where an outbreak of the coronavirus raised concerns. Lebanese were up in arms demanding the suspension of flights from countries with growing coronavirus disease cases including Iran, Italy and China. Fears of a global coronavirus pandemic deepened on Monday with a growing number of deaths in Iran and the worsening of other outbreaks across Asia, the Middle East and Europe. The first case of coronavirus in Lebanon was confirmed Saturday in a 45-year-old Lebanese woman who had traveled from Qom in Iran.

Report: SA, France Affirm Willingness to 'Back' Lebanon
Naharnet/February 24/2020
At a two-day meeting of G20 finance ministers and central bank governors in Riyadh, Saudi Arabia and France have expressed willingness to support crisis-hit Lebanon, the Saudi newspaper Asharq al-Awsat reported on Monday. Saudi Finance Minister Mohammed el-Jadaan said in remarks to reporters after the G20 meeting that Saudi Arabia is in contact with other states to coordinate any support for Lebanon on the basis of economic reform. "Saudi Arabia was and still supports Lebanon and the Lebanese people," he told reporters. For his part, Bruno Le Maire, the French finance minister said his country is ready to provide financial help for Lebanon. "France is always ready to help Lebanon. It has always been the case in the past, and this will be the case in the future," he emphasized. Lebanon's debt burden had been among the largest in the world for some time but a liquidity crunch has brought the crisis home and banks have imposed tough restrictions on dollar withdrawals. The government in Beirut faces a $1.2 billion debt payment on Eurobonds that reach maturity on March 9. The closing statement of the G20 meeting stressed that despite estimates of global economy growth for this year, it is still proceeding at a slow pace with risks to economic prospects, including geopolitical tensions and persistent trade amid global alarm over rising Coronavirus case.
Lebanese activists and critics of Hezbollah face attacks, arrest and threats
Najia Houssari/Arab News/February 25/2020
ناجيا حصري/الناشطين والمعارضين لإحتلال وهيمنة وإرهاب حزب الله يواجهون التهديدات والإعتداءات والملاحقات القضائية الكيدية
http://eliasbejjaninews.com/archives/83495/%d9%86%d8%a7%d8%ac%d9%8a%d8%a7-%d8%ad%d8%b5%d8%b1%d9%8a-%d8%a7%d9%84%d9%86%d8%a7%d8%b4%d8%b7%d9%8a%d9%86-%d9%88%d8%a7%d9%84%d9%85%d8%b9%d8%a7%d8%b1%d8%b6%d9%8a%d9%86-%d9%84%d8%a5%d8%ad%d8%aa%d9%84/
Journalist covering arrival of flight from Iran as part of coronavirus story assaulted at airport
Activist arrested and interrogated over opinions posted on social media
BEIRUT: Activists in Lebanon, in particular those who speak out against Hezbollah, continue to face physical attacks, arrest, psychological pressure and threats to their families. The individuals being targeted include lawyers, journalists, media personalities and writers.
On Monday, Asrar Shebaro, a correspondent for An-Nahar newspaper, was attacked in a public place. It happened while she was working at Rafic Hariri International Airport in Beirut covering the arrival of a flight from Iran as part of a story about the response of Lebanese authorities to the coronavirus threat.
A video she filmed showed an unidentified young man attacking her and taking her phone by force. He told her she was not allowed to film in the airport because these were "families" there, which is a term Hezbollah uses to describe its supporters. The man deleted a number of videos Shebaro had filmed of passengers arriving from Iran. When she asked him under whose authority he was acting and who he represented, he said that he belonged to a political party.
In a message posted on the An-Nahar website, the newspaper said: "The bullying of the media and the truth will not dissuade this newspaper from completing its message by accurately conveying information and holding those responsible for their fragile measures taken to combat the Coronavirus."
Activists in Lebanon, especially Shiites, have faced threats as the protests against corruption, the financial crisis in the country, high levels of unemployment and the lack of basic services escalated. Some told Arab News they have been prevented from visiting their families in the southern suburbs of Beirut, and that pressure has been put on their relatives. In some cases, protesters have been forced to sleep in tents at protest sites or other locations.
"The pressure and attacks have diminished after a decision was taken to prevent the supporters of the Amal Movement and Hezbollah from confronting activists in the protest squares, but this does not stop moral pressure," said activist Mohamed Kassem, who is a secondary school teacher.
Protester Mahmoud Fakih, who lives in Beirut, said he avoids neighborhoods dominated by the Amal Movement and Hezbollah.
"At the beginning of the revolution, the pressure on us was great but it decreased with the decline of the movement," he said. "Yet, we are still cautious. For example, I do not go to my village in the south. There is real social hostility to us there. We were previously attacked in the Zuqaq Al-Blat area but nobody documents these attacks."
Ali Al-Amin, another activist, said: "At the beginning of the protests, a number of Shiite clerics strongly participated but suddenly they disappeared from the protest sites. It was found that, in cooperation with security services that have good relations with Hezbollah, false charges were filed against one of them related to unpaid taxes, so he was arrested and held in custody for a few days. Another cleric…is still detained on another charge, and a third was severely beaten."
The pressure exerted on activists is not limited to one particular social group. According to Al-Amin, the situation is "more complicated and linked to a range of internal and external issues … Everyone who disagrees with Hezbollah is subject to repression and threats."
Some protesters have faced arrest and detention as a result of opinions posted on social media. In the most recent case, activist Charbel Khoury was interrogated on Monday by the authorities about messages he had posted. His arrest was ordered by a judge alleged to be a supporter of the Free Patriotic Movement, while lawyers protested outside the Palace of Justice in Beirut to demand the independence of the judiciary from political influence.
One of Khoury's lawyers described his arrest as a "judicial scandal. We have had enough of the suppression of the revolutionaries and the violation of freedom of opinion and expression. The Lebanese judiciary is today facing a major test."
Al-Amin said: "The way in which Hezbollah suppresses militants differs from that of other parties. Hezbollah is a security party and it does not initiate a direct reaction; it refers the matter to the 'family' environment to exert pressure. And this (the family) of course does not operate on its own, but there is an apparatus that manages it and incites it."
He added: "Despite the iron grip other parties have on their supporters, many of them came out from under the cloak of those parties and joined the protests and turned against their parties. But the Shiite community is still governed by a security apparatus that even controls the security institutions of the state."
A passenger on a flight from Qom in Iran tested positive for the coronavirus last Thursday. It was the first case discovered in Lebanon. Hezbollah MP Hassan Fadlallah said that focusing on the issue of people traveling from Iran to Lebanon and calling for flights to be grounded "is a politicization of the issue."
Lebanon's dangerous descent into Iran's sphere of influence
Rami Rayess/The Arab Weekly/February 24/2020
Except for Kuwait, Lebanese Prime Minister Hassan Diab has not received any congratulatory letters from Gulf countries.
Sunday 23/02/2020
A Hezbollah supporter uses her mobile phone to take a picture of photo of slain Islamic Revolutionary Guard Corps' Major-General Qassem Soleimani during a ceremony in the southern suburb of Beirut, February 16. (AP)
Backyard for tensions. A Hezbollah supporter uses her mobile phone to take a picture of photo of slain Islamic Revolutionary Guard Corps' Major-General Qassem Soleimani during a ceremony in the southern suburb of Beirut, February 16. (AP)
Lebanon's new cabinet, which only passed a parliamentary vote of confidence by a slight majority, has yet to introduce its economic reform plan and has not received signals from the West or Arab countries regarding much-needed financial support to confront the country's rising challenges.
Except for Kuwait, Lebanese Prime Minister Hassan Diab has not received any congratulatory letters from Gulf countries and, very noticeably, not from Saudi Arabia or the United Arab Emirates.
Lebanon's relations with the Arab world have severely deteriorated. Traditionally, this small country relied on Arab tourists and funds from Arab governments to finance public projects and support its financial situation, which is on the verge of collapse. Hundreds of thousands of Lebanese citizens work in the Gulf and support their families in Lebanon through regular money transfers.
Much of this can be attributed to Hezbollah's grip on power in Lebanon, along with its strongest ally, the Free Patriotic Movement (FPM), which culminated with the election of the FPM leader, Michel Aoun, as president in October 2016. The current cabinet has been opposed by four major parties and supported by Hezbollah and a few other allies.
The first foreign guest Diab received was Iranian parliament Speaker Ali Larijani. Lebanese Foreign Minister Nassif Hitti, though hosting ambassadors daily, has not received any requests for meetings from the ambassadors of Saudi Arabia or the United Arab Emirates, reports in Beirut stated. However, the Syrian ambassador to Lebanon has been to visit Hitti.
In the face of Arab seclusion from Lebanon, Larijani expressed Iran's willingness to extend aid to Lebanon in various economic spheres, although people in Iran are protesting the deteriorating local economy and international sanctions on Tehran are on the rise. This was an offer that was not dearly welcomed in Beirut, especially from opposition parties that failed to offer any official response.
The first impression a visitor to Lebanon receives is that he is in a country that is highly affected by Tehran. The highway from the airport to Beirut is called Imam Khomeini Boulevard and it is adjacent to the Southern Suburbs, an area that hosts Hezbollah's headquarters, its TV station and its various social institutions.
On February 16, Hezbollah proudly inaugurated a grand statue of the late Iranian Major-General Qassem Soleimani in the southern town of Maroun al-Ras, directly facing the occupied Palestinian territories. The statue depicts Soleimani pointing a finger towards those lands.
Although the president of Hezbollah's parliamentary bloc, Mohammad Raad, has bluntly said the Diab government does not resemble his party, Hezbollah Secretary-General Hassan Nasrallah publicly called for an all-encompassing collaboration with the new cabinet, including from opposition parties, to save Lebanon's economy.
Just a few months ago, after the eruption of mass anti-corruption protests in Lebanon and calls for drastic changes to the country's political class, Nasrallah boasted that Hezbollah could hold on regardless of the expected financial collapse.
Nasrallah was making insinuations regarding the millions of dollars Hezbollah receives each month from Tehran to support its fighters in Lebanon and Syria and to fund its social institutions. Numerous reports in Beirut attributed Lebanon's dollar crisis and the lack of liquidity to Hezbollah, given its capacity to control the proportionally small Lebanese currency market in light of the issue of supply and demand.
Therefore, politically, culturally and economically, Lebanon is transcending slowly into the Iranian sphere of influence. It has not officially joined the so-called axis of resistance but its isolation is contributing to this proposition. If the new cabinet does not distance itself from this axis it will suffer economically and financially because many international and regional donors might abstain from extending aid to Lebanon.
Lebanese foreign policy has traditionally attempted to balance between the contending regional powers to avoid turning Lebanon, once again, into a battlefield of proxy wars or the backyard for regional tensions. This famous disassociation policy has temporarily preserved the country's fragile stability.
The Bashar Assad regime is regaining power in Syria after years of turmoil and war while Hezbollah is preserving its strength in the local Lebanese scene because of Iranian support. At the same time, Arabs are steering away from their historical presence in Lebanon.
Given this, Lebanon is on its way to finding itself in a position like Iran's: sanctions on Hezbollah, limited international relations, confiscated foreign policy and an economy on the verge of collapse.
Where do we go from here?
*Rami Rayess is a Lebanese writer and journalist. You can follow him on Twitter: @RamiRayess
Hezbollah wants the dollar-hungry Lebanese to boycott American goods. The catch? Lebanon could hurt more
Emma Scolding/The New Arab/February 24/2020
Many in Lebanon have responded with derision to Hezbollah leader Hassan Nasrallah's call last week for a campaign to boycott products manufactured in the United States.
With the economic situation in Lebanon spiralling out of control, critics condemned the campaign for being out of touch.
They say ordinary Lebanese have different priorities, especially as the call was made in the context of avenging the US assassination of Iranian General Qasem Soleimani in January.
Speaking on February 17 to mark the passage of 40 days since Soleimani's death, Iran-backed Hezbollah leader Hassan Nasrallah had called for a boycott of American products suggesting it was "part of the battle" with Washington.
The speech proved immediately divisive.
Among supporters, photos of alleged US-manufactured goods, including food, electronics and cleaning products, made their way around pro-Hezbollah pages on social media, with a caption suggesting that "boycotting American goods" is part of "awareness and the struggle."
Hezbollah supporters even staged a bizarre video stunt in Beirut's southern suburbs, dressing up as Orthodox Jews while calling for the boycott of US products, drawing accusations of anti-Semitism.
Yet as the pressure of economic meltdown bears down on Lebanon's citizens, many Lebanese decried the campaign as "delusional".
Lebanese journalist Sahar Mandour was critical of the call. "You have produced a country that doesn't produce anything," she wrote, referring to Hezbollah's role in enabling Lebanon's bad governance since the end of the civil war in the 1990s.
In a column for the activist media platform Megaphone, she wrote that the "throw-away" campaign was merely a "distraction" from the poor record of the Hezbollah-backed government currently in place in the country.
On social media, some mocked Hezbollah and shared a photo of Nasrallah's son Jawad wearing a Timberland USA.73 sweatshirt with a caption reading: "Before suggesting to your audience boycotting the US, please remove your son's sweatshirt and dress him in Iranian [clothing]".
Who would hurt more?
According to US official trade figures, trade between the two countries was worth $1.19 billion last year. Lebanon's main imports from the US are oil products, heavy machinery, medical supplies, and aviation parts, with limited imports of retail goods that ordinary Lebanese can readily boycott.
Supporters of Hezbollah dressed up as Orthodox Jews during a Beirut…
In fact, pro-boycott infographics circulated online by Hezbollah supporters misidentified the origin of many trade marks. One list contains the logos for products made by Nestle, a Swiss company, but labelled them as 'American'.
For its part, Lebanon exports $150 million per year to the US, mostly jewelry and foodstuffs produced by small businesses, which would stand to lose if a boycott campaign gained traction.
Different priorities
Since the October outbreak of an unprecedented wave of popular protests in Lebanon, protestors and supporters of Hezbollah have repeatedly been at odds. Even so, many of the party's supporters are skeptical about the boycott call.
Amid a snowballing economic crisis, shopkeepers and consumers who spoke to The New Arab said their priority is to keep prices low despite a de-facto currency devaluation.
Fatima, who manages a branch of the Rammal supermarket in southern Beirut, said that her store hadn't changed its stocks since Nasrallah's speech, and denied noticing many customers asking for alternatives.
"If someone's used to Nestle they're not going to commit to a boycott" said Fatima, giving the example of the popular instant coffee powder, despite its origin being non-American. "Half our products are Nestle anyway," she added.
Both traders and consumers in Lebanon are increasingly feeling the squeeze, as the country struggles to cope with the worst economic crisis since the end of the 1975-1990 civil war.
While the central bank maintains a currency peg to fix the Lebanese Lira at L.L.1,507.5 to the dollar, the exchange rate has diverged heavily in parallel markets. The dollar has been selling steadily at prices around 1.5 times the official rate in exchange houses across the country this week, driving up the cost of imported goods and raw materials.
Product prices change from store to store as a result, as consumers pay the price for the unstable exchange rate.
On Thursday, protestors gathered outside Lebanon's Economy Ministry to call for better government oversight. The ministry responded that it was attempting to monitor shops and distributors, with 61 files "involving raised prices and non-compliance with official pricing" sent to the judiciary.
The conditions have pushed many traders to cut their losses. According to a recent study by InfoPro, 220,000 people have lost their jobs since October, while half of the companies surveyed had slashed wages by 40 percent. Another announcement this week noted that 785 companies in the food and beverages industry have shut their doors since September.
Having opened just a month and a half ago, the market Rachid* runs in south Beirut's Ghobeiry neighbourhood represents a rare success story. Despite an unassuming location near Beirut's Airport Road, the shop was busy with customers.
While a sign outside denotes support for the "sayyed," a term of respect used to refer to Hassan Nasrallah, Rachid said the shop wasn't aiming to facilitate the boycott.
Rachid said his priority is to find cheaper products, wherever they came from. Now, he is looking to supply his shop with products from lots of sources, including Egypt, Tunis, Jordan, Turkey, Syria and Iran, in order to offer people cheaper alternatives.
"I don't have a problem with anyone," said Rachid, when asked about the boycott, and said he did not watch Nasrallah's speech.
But Rachid admitted "some people ask for alternatives," as one customer approached the counter to check the manufacturer of a large tin of luncheon meat, which turned out to be Lebanese.
In Khandaq al-Ghamiq, a low-income Beirut neighbourhood considered a bastion of support for the Hezbollah-allied Shia Amal movement, two shopkeepers told The New Arab they wouldn't be changing their stock after Nasrallah's speech either.
"What speech? If they really want us to boycott they should provide an alternative."
*Emma Scolding is a freelance journalist working from the Middle East and North Africa
Lebanon can save its economy, just not with the help of the IMF
Karim Safieddine/The New Arab/February 24/2020
Since 2019, Lebanon has been grappling with a severe financial crisis made worse by the explosion of mass protests in late 2019, but contrary to what officials in the heavily indebted country have claimed, the uprising was the consequence not the cause of the crisis.
Now, Lebanon has few options left, but most experts agree on one thing: Resorting again to the IMF and international financial institutions is a non-starter.
This, they say, would only prolong the same vicious cycle of austerity coupled with neoliberal policies of privatisation, regressive taxation and increase in tariffs on utilities, all policies that stifle growth and punish ordinary people disproportionately.
In truth, many symptoms of Lebanon's malaise began to surface throughout the past three years, climaxing in the autumn of 2019 as the fiscal deficit, public sector strikes in the summer, and a currency crisis coming to a head on 17 October.
Motivated by a lack of funds and drop in telecom revenues, a proposal was set to enforce a tax on Whatsapp calls, triggering the protests that evolved into an uprising, which then forced the government to resign towards the end of October.
Prior to and after the formation of a self-proclaimed technocratic cabinet headed by PM Hassan Diab on 21 January, the country has witnessed attacks and riots targeting commercial banks amidst a liquidity crisis and strict capital control procedures imposed on small depositors in the aftermath of the crisis.
In face of these recurrent challenges, the government announced in mid-February the need for the technical assistance from the International Monetary Fund, as Lebanon struggles to decide what to do about its massive dollar-denominated debt obligations this year, but Beirut has stopped short of asking for a bail out despite its dangerously low foreign currency reserves.
Bring in the IMF!
Three weeks earlier, the Institute of International Finance had claimed Lebanon would require a $8.5 billion IMF bailout package contingent on reducing interest rates, instituting privatisation to accommodate fiscal space, and creating a social fund.
However, Lebanese officials, led by Parliament Speaker Nabih Berri, stressed Lebanon's inability to handle certain IMF conditions, restricting the role of the fund to that of advising for now.
In 2019, the IMF's consultation on Lebanon had expressed support for raising the VAT tax rate, eliminating electricity subsidies, and increasing fuel excises.
The consultation further made references to past conferences such as CEDRE and commended Banque du Liban for its role in ensuring financial stability, despite rising local anger towards the central bank and the government's recycled remedies on which they blame the crisis.
With the IMF recurrently encouraging austerity and privatisation as a panacea for Lebanon's crises, protesters have grown frustrated with the ruling class's lack of vision. Over the years, such policies have only impoverished lower- and middle-income earners and reduced the public sector to a shell.
Initially, the government of Hassan Diab insisted that Lebanon pay off a controversial $1.2 billion Eurobond maturity to maintain international trust, but this has since become a major headache for the government.
Pressures on dollar reserves, and mounting popular anger calling for prioritising imports of basic commodities over handing over precious dollars to bond holders accused of long-profiteering from the country's debt, have obliged the government to reconsider.
With the government gradually leaning towards defaulting and restructuring the public debt, local banks have been in panic, as evident from statements by the Chairman of Association of Banks in Lebanon Salim Sfeir, calling on President Michel Aoun not to listen to "pressures from the street".
Alternatives to the IMF
For many in the country, any long-term resolution is rooted in a dilemma revolving around who ought to pay the price of Lebanon's liquidity crisis: commercial banks and large depositors who made billions from the government's dubious Ponzi-like financial engineering schemes, or poorer segments of society via an IMF-sponsored bail out conditioned on austerity and indirect taxation?
"This IMF expedition may be used as an excuse to…legitimise the desire of Lebanon's oligarchy to implement austerity procedures, devalue the currency, cut wages, eliminate subsidies, and enforce privatisation," writes economist and journalist Mohamad Zbeeb.
Local experts have insisted that the reliance on the IMF and similar international bodies represents a continuity in Lebanon's economic broken model, in which the interests of beneficiaries in the banking sector and the top 1% have been prioritized at the expense of the rest of the Lebanese people for decades.
And there are altenatives to Lebanon's history with neoliberal policy. Dr. Jad Chaaban, a local economist and university professor who has been supplying the uprising with invaluable economic literacy, suggests on his blog that any plan ought to incorporate a national job creation task force, progressive taxation, national funds targeting startups, and the importation of strategic reserves of major commodities.
"Proposed IMF procedures or bailout can buy time if one is not interested in structural change, but a genuine solution requires a meaningful and radical transformation to a productive economy under a completely reorganised financial system," Beirut-based economics writer Ali Nour told the New Arab.
"Such a project must commence with reconstructing the financial sector not to be centered around incentivising inflated deposits via high interest rates. This should be accompanied by a fiscal policy encompassing high taxes on rentier investments, ranging from interest payments to real estate speculation," he continued.
A history of neoliberal adjustments
According to the World Inequality Database, Lebanon suffers from a very high level of income inequality – the top 1% earn approximately 25% of the country's GDP.
In the Lebanese context, neoliberal policy has taken a particular crony-capitalist shape. As a consociational system, sectarian leaders and politicians have historically accommodated their cronies with corporate monopolies and interests in unproductive sectors.
According to a World Bank report released in 2016, monopolies connected to politicians in Lebanon have slowed down competition and hindered diversity in an economy predominantly fixated on real estate and tourism. The report also emphasized the country's relatively high import and export costs, poor infrastructure, and cumbersome procedures.
On the other hand, in the past two decades, the role of international bodies in locating solutions to Lebanon's crisis-prone economic system has been heavily contested, as evident by proposals forwarded in the meetings of Paris I, II, and III.
In response to the extensive accumulation of debt during the 1990s, Lebanon's first Paris meeting in early 2001 concluded not only with fiscal reforms relevant to issues of governance and institutions, but also major privatization initiatives.
In the process, hundreds of public servants were subsequently laid off and their bargaining contracts cancelled, while major tax breaks were instituted and the real estate sector bubble further exacerbated.
In late 2002, Paris II proceeded in a similar direction, stipulating the privatization of the water sector and ports, alongside what was formally labelled the "corporatization of telecommunication and power companies".
These initiatives have been promoted following the rationale that "the privatization of basic public services will improve the quality of services" – a dubious claim that never materialised in Lebanon.
Four years later in Paris III, in exchange for a 'generous package' of grants and soft loans from 40 international donors, the country's leaders proclaimed to commit to extreme measures centered on increasing VAT from 10 to 12%, reducing fuel subsidies, and completely privatizing electricity and mobile phone sectors.
Since the early 2000s, Lebanon's experience with these international bodies and donor conferences has been rather unchanging, with the aforementioned proposals recycled every few years.
Taking into account recent packages such as CEDRE contingent on similar conditions, and the latest consultations of the IMF in October, many questions have been raised on whether the vision set by PM Hassan Diab and the current cabinet can ever bring about a breakthrough relative to Lebanon's history with the international bodies and conferences.
"Technical assistance, which is what the government has asked for so far, is not binding. And we don't get any money in return. It's literally just advice," economist Dr. Nisreen Salti told the New Arab.
"My own estimation is that the government's constant delays in taking a public position on anything related to the economy indicate that its position will be one borne more out of practical or political considerations than out of principle, firm belief, or sound policy," she continued.
In the meantime, Lebanon's protests continue, their newest slogans vowing to give the government no confidence, and to continue pushing to build a different Lebanon that breaks away with the past, completely.
*Karim Safieddine is a political writer and student living in Lebanon
Lebanese Mock Nasrallah's Call To Boycott American Products
MEMRI/February 24/2020
https://www.memri.org/reports/lebanese-mock-nasrallah%E2%80%99s-call-boycott-american-products
In a February 16, 2020 speech, Hizbullah Secretary-General Hassan Nasrallah stated that the U.S. economy and the dollar are America'' Achilles heel, and therefore called to boycott American products as part of the struggle against the U.S.
Nasrallah's call drew mocking responses from Lebanese media figures and social media users. Taking to Twitter, they accused Hizbullah of hypocrisy, because its members and leaders openly use the dollar, American social media platforms and various American products. They posted many photos showing prominent Hizbullah members using such products, and similar photos of officials from Iran, which is Hizbullah's patron. For example, photos were posted of Nasrallah's son Jawad and of the late Iranian commander Qassem Soleimani wearing the Timberland brand, as well as a photo showing the car that carried Soleimani's coffin during his funeral: a U.S.-manufactured Chevrolet.
The following is a sampling of the reactions in Lebanon to Nasrallah's call for a boycott on American products.
One of the pictures that went viral as part of the mocking response to Nasrallah's call was a photo of his son, Jawad, wearing a shirt bearing the logo of the American Timberland brand. Twitter activist Fatima Eid posted it with the comment: "Nasrallah: Boycott American Goods. [His son] Jawad Nasrallah: No way."[1]
User Abu Awadi tweeted two versions of this photo, one titled "before the boycott" and showing Jawad wearing the shirt, and another titled "after the boycott," showing him without it.
It should be mentioned that Jawad Nasrallah replied to these tweets with a sarcastic tweet of his own, saying: "They are responding to the logo on my shirt. I can't reply, because I am boycotting American products, and I'm about to sell my iPhone," followed by kiss and wink emojis.[3]
Another picture circulated widely in response to Nasrallah's call showed Qassem Soleimani, the former commander of Iran's Qods Force, who was recently killed in a U.S. airstrike and is greatly revered by Nasrallah, wearing a Timberland jacket. Shi'ite Lebanese media figure Dima Sadek tweeted the photo with the word "Timberland".[4]
Soleimani's Coffin Was Carried In A Chevy; Hizbullah Uses Envoy Vans And Other GMC Vehicles
Twitter user Charlotte Halby wrote, "Nasrallah [says], 'why not boycott American goods? It's part of the struggle." Below this she posted a picture of Nasrallah giving the speech, along with a picture of the car that carried Soleimani's coffin during his funeral: a Chevrolet.[5]
User Fadi Nasrallah tweeted: "I swear I can't see the boys from Hizbullah trading in their [American] Envoy [vans] for [French] Renault Meganes…"[7]
User Gino Raidy from Lebanon tweeted a photo of Nasrallah giving his February 16, 2020 speech, along with a picture of the chair he was sitting on, manufactured by the American Herman Miller company, and commented in English: "Teb [ok] if the Sayyed [Nasrallah] sits on an American-made chair worth 1,300-1,500USD while he is demanding we boycott US products, shu mna3mel [what are we supposed to do]?"[8]
Many users noted that Hizbullah uses American websites and technology. User Hussein Nasrallah wrote: "The three Hizbullah MPs and the Hizbullah minister [all] use Twitter, an American website. They also use that icon of American technology, the iPhone, and a long list [of other products]…"[10]
In another tweet, he alluded to the fact that Hizbullah conducts transactions in U.S. dollars, commenting: "First boycott the dollars you receive via Latin America. Lebanon will not boycott any American goods, and whoever has a problem with that can emigrate. Bless Donald Trump." Below this he posted an image of imported products sold in Lebanon, many of which are American.[11]
Another user tweeted: "Boycott American goods – sure thing, Nasrallah. Yeah, you genius. Yeah, [you are really] scaring [the Americans]. Yeah, it took you years to come up with this big idea. Yeah, you conqueror of American social media. Yeah, you bury your dead with American Envoy [vans]. Yeah, you import American dollars [provided by] the Iranians. Yeah, you idiot."[12]
Lebanese journalist Nasrin 'Ajab reacted to Nasrallah's call to boycott American goods in an article on the Elaph news website titled "Hizbullah and the U.S. – The Devil and the Compass". She accused Hizbullah of hypocrisy because it curses the U.S., while some figures close to it "rush into America's arms." She added that the American dollar is not responsible for the dire situation in Lebanon, and neither is Lebanon itself; rather, the ones responsible are the politicians, including Nasrallah's allies, who are robbing the country.
She wrote: "'Why not boycott American goods,' wondered Hizbullah Secretary-General Hassan Nasrallah, in his [February 16] speech, in which he brutally attacked the U.S. Yes, that is a legitimate question… But wait a minute, is it the dollar that turned [Lebanon] into a plundered state? No, it is the politicians, including Sayyed Nasrallah's closest allies, who have been diligently looting the country for 30 years and concoct [shady] deals instead of taking care of its electricity, water and even garbage[-collection infrastructures]. So before flooding us with declarations against the U.S. and its economy, let him stop backing his corrupt allies, and then maybe this small country will regain some of its stolen funds, start paying some of its mounting debt and find a way out of its economic hell…
"Yes, [the call to boycott American goods] would have been legitimate coming from someone who has severed all his ties with the one he calls 'the Great Satan.' But the problem with Hizbullah's handling of this issue is its double standard: On the one hand, [it treats] America as the Great Satan, who must be fought, but at the same time, figures close to Hizbullah rush into America's arms and brag about it…"
The Lebanese Al-Jumhouriya daily, known for its opposition to Hizbullah, published a cartoon captioned "Nasrallah calls to boycott American goods," in which a Hizbullah supporter shouts "No, no, no [to American goods], except dollars, Cherokees and Jeans!!"[13]
[1] Twitter.com/Fatima_Eid9, February 16, 2020.
[2] Twitter.com/Firasg72, February 17, 2020.
[3] Twitter.com/mohammadjdns, February 16, 2020.
[4] Twitter.com/DimaSadek, February 17, 2020.
[5] Twitter.com/HalbyCharlotte, February 17, 2020.
[6] Twitter.com/HAKIMEXX, February 16, 2020.
[7] Twitter.com/Fidodido901, February 16, 2020.
[8] Twitter.com/GinoRaidy, February 17, 2020.
[9] Twitter.com/GrFr39267907, February 17, 2020.
[10] Twitter.com/Hussein_nasrlah, February 17, 2020.
[11] Twitter.com/Hussein_nasrlah, February 16, 2020.
[12] Twitter.com/icomefromrivia, February 16, 2020.
[13] Al-Jumhouriya (Lebanon), February 17, 2020.