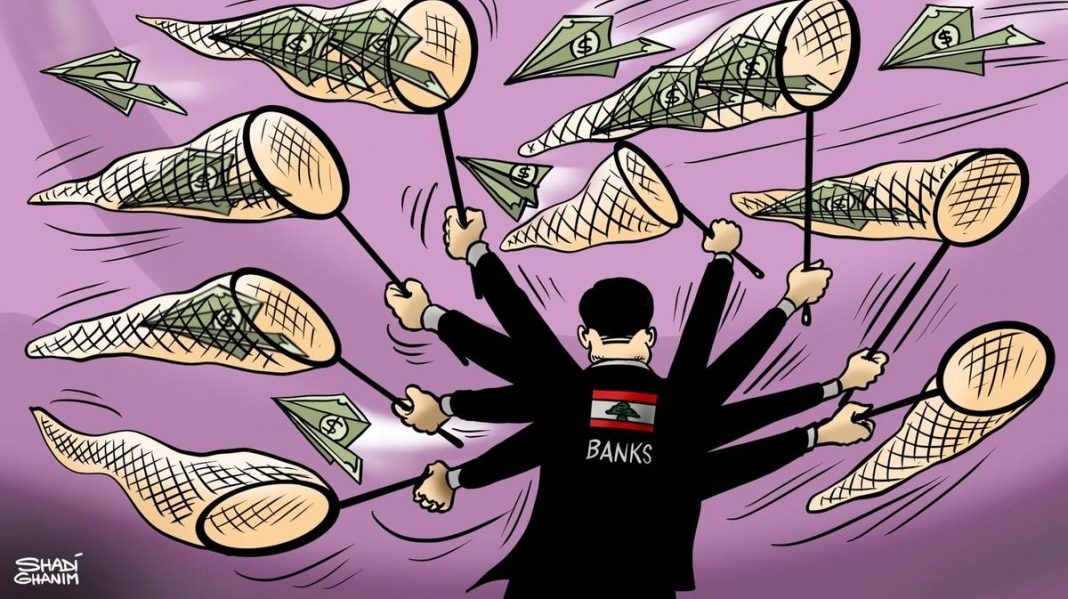 A Bundle Of English Reports, News and Editorials For 21-22/2020 Addressing the On Going Mass Demonstrations & Sit In-ins In Iranian Occupied Lebanon in its 128th Day
Compiled By: Elias Bejjani
February 22/2020
Titles For The Latest English LCCC Lebanese & Lebanese Related News & Editorials published on February 21-22/20
First Coronavirus Case Confirmed in Lebanon
Lebanon Confirms First Coronavirus Case in Plane from Iran
Lebanon Begins Drilling for Oil Next Week
Aoun Meets Kubis in Baabda
President Aoun to UN Special Coordinator: The most important battles is fighting corruption
Aoun contacts Hassan over first Coronavirus case in Lebanon
Nasri Khoury visits Diab: We hope to revitalize bilateral relations
Berri meets Ministers of Economy, Interior, and Industry
Moody's downgrades Lebanon's rating amid financial crisis
Wazni Meets IMF Delegation on Economic Crisis
Lebanon, IMF discuss all possible options for overcoming crisis: finance minister
Israel Threatens to Strike Beirut, Southern Villages
Elie Ferzli: Ghazi Kenaan Was Once Lebanon's Most Powerful Authority
Ghosn Postpones Suit Seeking Retirement Pay from Renault
Kattar tackles general situation with UN's Kubis
Hitti meets Richard, Zasypkin
Interior Minister meets World Bank delegation
Ghajar tackles electricity issue with Norwegian, Swiss ambassadors
Education Minister denies closure of schools due to coronavirus
Bakeries' Union announces open strike as of Monday if demands not met
Protesters rally outside Central Bank in Sidon
Akar tackles overall situation with Diplomats
Minister of Justice receives petition on prisoners' rights for humane treatment
Othman tackles overall situation with US Ambassador
Does Hezbollah pay electricity bills?/Khaled Abou Zahr/Arab News/February 21/2020
Iran makes empty promises to Lebanon/Hanin Ghaddar/Al Arabiya/February 21/2020
German gunman who killed 9 called for 'complete extermination' of Israel, Lebanon, Jordan, Egypt/Associated Press/Ynetnews|/February 21/2020
The Inevitable Middle East War/Robert G. Rabil/Eurasiareview/February 22/2020
The Latest English LCCC Lebanese & Lebanese Related News & Editorials published on February 21-22/2020
First Coronavirus Case Confirmed in Lebanon
Asharq Al-Awsat/Friday, 21 February, 2020
The first case of coronavirus was confirmed in Lebanon on Friday after a woman arrived from Iran was found to be positive. The 45-year-old woman had arrived from Iran's Qom and was being quarantined, a source at a Beirut hospital said. Lebanon's Health Minister Hamad Hassan held a news conference on Friday to address the case. Two other suspected cases were being followed and authorities were taking all necessary precautions in line with recommendations of the World Health Organization, he confirmed.
Lebanon Confirms First Coronavirus Case in Plane from Iran
Naharnet/February 21/2020
Lebanon confirmed its first case of new coronavirus on Friday, in a citizen who flew home from Iran. One of the passengers who returned home from Iran tested positive in a checkup by the health ministry's central laboratory, reports said. The passenger was quarantined at Rafik Hariri University Hospital.
Lebanon's health minister is expected to announce the country's first case in a press conference. Earlier on Friday, the Directorate General of Civil Aviation at Beirut's Rafik Hariri International Airport said that no coronavirus cases were caught on board the plane that flew to Beirut earlier coming from Iran.
The authority issued a statement saying that "Iranian Mahen-Air flight number W5115 flying from Iran to Beirut was subject to thorough examination and no cases of coronavirus were caught by airport temperature checks." The Authority added: "According to the health ministry, no cases of coronavirus were caught in Lebanon. A single flu case was transported to hospital as a precautionary measure. The ministry is following up closely on that."
Lebanon Begins Drilling for Oil Next Week
Naharnet/February 21/2020
Lebanon is expected to start drilling offshore for oil and gas on February 27, Culture and Agriculture Minister Abbas Mortada told VDL (93.3) radio station on Friday. During its meeting yesterday, "not only did the Cabinet approve the Kuwaiti housing loan bill, but it also discussed and gave the green light for drilling for oil at sea in bloc 4 starting Thursday," said Mortada. The minister pointed to a technical problem that could have delayed the decision to launch drilling. "To start work, we realized that a license from the environment ministry is required to define environmental standards to prevent pollution, which takes between one month to 90 days to finalize," said the Minister. "But, the drilling ship is ready and can not be delayed because if it leaves Lebanon's waters it may not return before a year. So in order not to waste time, the Cabinet took the responsibility and gave permission to start drilling on Thursday," added Mortada. But he pointed out that "efforts are underway to prepare the license as soon as possible." Last year, Lebanon signed its first contract to drill for oil and gas in its waters. A consortium comprising energy giants Total, ENI and Novatek took the first two of its 10 blocks, including one disputed by neighbouring Israel with which Lebanon has fought several wars.

Aoun Meets Kubis in Baabda
Naharnet/February 21/2020
President Michel Aoun held talks at Baabda Palace with UN Special Coordinator for Lebanon Jan Kubis and discussed the latest regional developments, the National News Agency reported Friday. NNA said the meeting was held in the presence of former minister Salim Jreissati and other figures. Kubis affirmed that "the United Nations supports implementation of reforms intended by the Lebanese government." For his part, Aoun stressed "the most important government battle is its battle against corruption," noting that several "measures will be taken to protect the monetary situation and rights of Lebanese."The meeting comes as Lebanon awaits advice from international lenders on dealing with the country's crippling economic and financial crisis. The UN envoy to Lebanon had earlier openly criticized Lebanese officials urging strict steps to mitigate the economic crisis before any outside help. He said Lebanon will not benefit from any outside help if it's government fails to implement "reforms and come with a clear action plan with deadlines."
President Aoun to UN Special Coordinator: The most important battles is fighting corruption
NNA/February 21/2020
President of the Republic, General Michel Aoun, on Friday told UN Special Coordinator, Jan Kubic, that "Addressing the economic and financial conditions in the country will be one of the Government's priorities, after gaining confidence from the Parliament", especially since the Government, which makes up one solidarity working group, is determined to achieve what is required in these delicate conditions, that Lebanon is going through.
President Aoun met Kubic, who was accompanied by a delegation, in the presence on Former Minister, Salim Jreisatti, today at Baabda Palace.
The President stressed that "One of the most important battles, which the Government will fight, is that against corruption", noting that this will coincide with the formations in institutions and agencies concerned, which contributes to achieving the desired reform.
Moreover, the President assured the UN coordinator that treatments are in place for the current financial and economic conditions, in cooperation with the International Monetary Fund delegation, to take the appropriate measures, pointing out that measures to be taken are aiming to protect the monetary conditions, and preserving the rights and interests of Lebanese citizens.
President Aoun also expressed hope that the Syrian refugee issue, will be among the files that will be mentioned in the Quarterly report, on the implementation of Resolution 1701, at the Security Council's next session, next March. The President stressed that stability in the South is continuous, despite recent developments in Syria and Iraq.
From his side, Mr. Kubic congratulated President Aoun on forming the new Government, and its gaining confidence. Kubic also affirmed UN support for the reforms which the Government intends to take, indicating that he would report the reality of Resolution 1701, to the Security Council. Kubic also said that he would visit numerous countries concerned with the Lebanese situation.
President Michel Aoun met MP, Elias Abou Saab, and deliberated with him recent political developments.
The meeting also tackled latest economic and financial developments, in the country.—Presidency Press Office
Aoun contacts Hassan over first Coronavirus case in Lebanon
NNA/February 21/2020
President of the Republic, General Michel Aoun, on Friday contacted by phone the Minister of Public Health, Dr. Hamad Hasan, who briefed him on the latest regarding the Coronavirus case in Lebanon.
President Aoun inquired about the measures taken to treat the diagnosed case, stressing the need to take the appropriate measures at Beirut Rafic Hariri International Airport in order to ensure the wellbeing of passengers arriving in Lebanon. Minister Hasan assured the President that the novel coronavirus case is currently under treatment in accordance with the adopted health standards.
Nasri Khoury visits Diab: We hope to revitalize bilateral relations
NNA/February 21/2020
Prime Minister Hassan Diab welcomed this Friday at the Grand Serail the Secretary-General of the Lebanese-Syrian Supreme Council, Nasri Khoury, who congratulated the Lebanese government on gaining confidence, and presented his host with a detailed report on pending matters touching on the Lebanese-Syrian relations, based on treaties and agreements signed between the two countries.
"We have discussed urgent matters, and we will be holding follow-up contacts in a bid to find appropriate solutions to certain issues. We hope we can reactivate relations between the two countries," Khoury said in the wake of the meeting.
PM Diab also met with the British Ambassador to Lebanon, Chris Rampling, and an accompanying delegation, with talks touching on the economic situation in Lebanon.
Also visiting the Premier was the Minister of Displaced, Ghada Shraim, who reportedly reviewed the funds allocated to the Central Fund for the Displaced, and reiterated the intention to finally close this file.
Berri meets Ministers of Economy, Interior, and Industry
NNA/February 21/2020
Speaker of the House, Nabih Berri, held talks Friday at his Ain-el-Tineh residence, with Minister of Economy, Raoul Nehme.
During the meeting, Berri upped calls upon the monitoring apparatuses inside the Ministry of Economy for strict law enforcement against those tampering with the exchange rates and product prices. Berri later met with Minister of Interior and Municipalities, Mohammad Fahmi, over the current security situation on the local scene.
He also received Minister Imad Hoballah (Industry) and Hamad Hassan (Public Health).
Moody's downgrades Lebanon's rating amid financial crisis
Associated Press/February 21/2020
Moody's said that at the end of December, bank deposits had declined by $15.7 billion, or 30% of the GDP from a year before.
BEIRUT: Credit rating agency Moody's downgraded Lebanon's government issuer ratings Friday to Ca from Caa2 and changed the outlook to stable amid concerns the tiny Arab country might be forced to restructure its massive debt. Lebanon is experiencing its worst economic and financial crisis since the end of the 1975-90 civil war. The situation deteriorated after nationwide protests broke out in mid-October against the ruling elite blamed for decades of corruption and mismanagement. In recent months, the local currency that had been pegged to the dollar since 1997 lost some 60% of its value on the black market. An International Monetary Fund delegation began meetings Thursday in Lebanon to provide advice on dealing with the crippling economic and financial crisis amid concerns the country might default on its Eurobond debt payment for the first time. The agency said the Ca rating reflects Moody's expectation that domestic and external private creditors will likely incur substantial losses in "what seems to be an all but inevitable near-term government debt restructuring in light of rapidly deteriorating economic and financial conditions." It added that the situation "increasingly threatens the sustainability of the government's debt and currency peg." Moody's said Lebanon's long-term foreign currency bond and deposit ceilings have both been lowered to Ca from Caa1 and Caa3, respectively. The long-term local-currency bond and deposit ceilings have been lowered to Caa1 from B2, while the short-term foreign currency bond and deposit ceilings remain Not Prime. Lebanon massive debt, standing at $87 billion — 150% more than the country's GDP. Amid a severe liquidity crunch, banks have imposed informal capital controls, limiting withdrawals to a few hundred dollars a month. The country's economy has depended heavily on the U.S. dollars since the country's 15-year civil war ended in 1990. A new government headed by former American University of Beirut professor Hassan Diab won a vote of confidence earlier this month and has vowed to work on getting Lebanon out of its economic and financial crisis.
Moody's said that at the end of December, bank deposits had declined by $15.7 billion, or 30% of the GDP from a year before.
Wazni Meets IMF Delegation on Economic Crisis
Naharnet/February 21/2020
Finance Minister Ghazi Wazni held talks on Friday with an IMF delegation, led by Martin Cerisola, where discussions focused on the technical advice the fund can provide Lebanon with in order to finalize an emergency plan, media reports said. The International Monetary Fund delegation began meetings Thursday in Lebanon to provide advice on dealing with the country's crippling economic and financial crisis amid concerns the country might default on its Eurobond debt payment for the first time. The IMF experts met on Thursday with Prime Minister Hassan Diab. Lebanon is going through its worst economic crisis since the 1975-90 civil war. Since then, the country has been marred by widespread corruption and mismanagement in which billions of dollars were spent on infrastructure, which remains mostly dysfunctional. The meetings come amid concerns that Lebanon might default for the first time on paying back Eurobonds due next month.
Lebanon, IMF discuss all possible options for overcoming crisis: finance minister
NNA/Reuters/February 21/2020
An International Monetary Fund (IMF) team discussed on Friday all possible options with Lebanese officials seeking technical advice for the country's crippling financial crisis, a finance ministry statement said. An IMF team is meeting with officials from heavily indebted Lebanon until Feb. 23 to offer broad advice on tackling the crisis as Beirut mulls a plan for dealing with fast-approaching debt payments, including a ê1.2 billion Eurobond on March 9. "All available data and possible options were discussed based on the delegation's vision and its assessment of the situation in the country…to build a vision for how to overcome the current situation," Finance Minister Ghazi Wazni said in a statement. Since protests erupted in October, Lebanon's currency has slumped by roughly 60% on a parallel market, dollars have become scarce, prices have been hiked and thousands of jobs have been shed. The government is expected on Friday to review proposals from companies bidding to provide financial and legal advice on options for a potential debt restructuring, a source familiar with the matter said on Thursday. Lebanon has not requested financial assistance from the IMF and Western and Sunni-led Gulf Arab states that helped in the past insist that Beirut must first implement long-delayed reforms on core issues such as state corruption and bad governance.
Israel Threatens to Strike Beirut, Southern Villages
Tel Aviv – Asharq Al-Awsat/Friday, 21 February, 2020
The head of the Israeli army's Northern Command, Maj. Gen. Amir Baram, has warned Hezbollah that it would pay a heavy price for its provocations against Israel. Speaking at a conference hosted by the Tel-Hai Academic College in northern Israel, Baram threatened to hit Iran, the Lebanese capital, Beirut, and villages in southern Lebanon, which is a Hezbollah stronghold. His threats came after Hezbollah was accused of violating UN Security Council Resolution 1701 that set out the ceasefire terms between Israel and Lebanon following the 2006 war. The general said Hezbollah continues to violate UN resolutions through its actions along the border with Israel in a manner that puts the lives of Lebanese civilians in danger. He called on Lebanon and its leaders to act and prevent the party from violating Resolution 1701. "Despite Lebanon's immense economic challenges, Hezbollah is persisting with its efforts to procure and arm itself with precision weapons with which to hit the Israeli home front, and it continues to prepare south of the Litani River to attack communities and roads in our territory," Baram said. The Israeli Commander lashed out at Lebanese President Michel Aoun and the new government, in which, he said, the Shiite group is deeply embedded to protect its interests by presenting a "false impression" of reforms. Baram said that although Aoun told the French press that Hezbollah is not involved in the decision-making process of the new Lebanese government and that he personally guarantees that the party will honor Resolution 1701, "what they say in French isn't what is happening on the ground in Arabic.""If we are bound to fight, we will exact a heavy price from this organization [Hezbollah] and from those who afford it protection," he warned.
Elie Ferzli: Ghazi Kenaan Was Once Lebanon's Most Powerful Authority
Beirut – Nazeer Rida/Asharq Al-Awsat/Friday, 21 February, 2020
Parliament Deputy Speaker Elie Ferzli highlighted the Syrian era in Lebanon, pointing to the role of former Syrian Security and Reconnaissance Commander Ghazi Kenaan in the country. "Kenaan understood the Lebanese, but failed to understand Lebanon," Ferzli said, stressing that the man could not resist the temptations that Beirut had offered him, which led many Lebanese politicians and influential figures to resort to him to achieve their ambitions. According to Ferzli, former President Emile Lahoud criticized Kenaan's role at that time saying: "The situation cannot be fixed with two presidents in Lebanon; one of them must go."Ferzli highlighted the Syrian hegemony over Lebanon in his new book, "Ajmal al-Tarikh Kana Ghadan" (The best of history was tomorrow). He presents details about Kenaan's slipping into the Lebanese temptations that changed him from an officer, who sought to impose the prestige of Damascus on the Bekaa region following the Zahle war in 1981, to "the strongest center of power in the country" at that time. Ferzli even says that Kenaan "was hiding an extremely complex and multifaceted personality." "Ghazi Kenaan had an uncommon maneuvering method; he could act as if he had never knew you at any point, whatever that emotion he had for you or the interest that brought you together," he recounts. According to the recently published book, the Syrian official, who was known for achieving Christian reconciliation in Homs and protecting the Christians in the governorate during the Syrian war against the Muslim Brotherhood in Hama, was striving to use force in many events in Zahle, which was then under the control of the Kataeb and Lebanese Forces parties. Kenaan soon became a very influential person in the Lebanese political life and decision-making, Ferzli says. He could nominate presidents of the Republic, and veto others. He did so with MP Jean Obeid, before extending the term of Lahoud in 2004. Ferzli also talks about his relationship with Syrian officials, including differences over election laws and electoral coalitions in the Bekaa, the formation of governments, and the nomination of presidents of the Republic, and emphasizes in this regard Lahoud's accession to the presidency. After President Bashar al-Assad came to power, Abdel-Halim Khaddam's influence diminished, and General Hikmat al-Shihabi was sent to retirement. This is when, according to the book, the Lebanese file became in the sole hands of Ghazi Kenaan. *Ferzli notes that his relation with Kenaan deteriorated since the election of Lahoud. He says that he was a staunch supporter of the latter as he was working against the Syrian hegemony."The Syrian forces are present in Lebanon… that's ok, but Ghazi Kenaan's presence is not… The country does not bear two presidents," Lahoud said to Hafez al-Assad in 1999, as the book reports.
Ghosn Postpones Suit Seeking Retirement Pay from Renault
Agence France Presse/Naharnet/February 21/2020
Lawyers for Carlos Ghosn on Friday delayed a lawsuit seeking a hefty retirement payout from his former employer Renault, saying the French carmaker had not given them enough time to prepare arguments. The court in Boulogne-Billancourt, near Renault's headquarters outside Paris, granted the request for more time, setting a new hearing date for April 17. "We received Renault's arguments only on Monday, and having just four days to respond to 20 pages of arguments is clearly not enough," Ghosn's lawyer Laetitia Ternisien told reporters after the hearing. Ghosn is seeking a 250,000 ($270,000) retirement payout, which Renault refuses to pay because it says the former CEO was forced to quit after his shock November 2018 arrest in Japan on charges of financial misconduct. The former industry titan claims he retired in due form on his own accord. He also seeks a much bigger prize — a supplementary pension of 774,774 euros per year for the rest of his life, as well as 380,000 shares granted for reaching performance targets. At current prices, that stock grant would be worth over 12 million euros. Meanwhile, Ghosn also faces a French inquiry over two parties he threw at the Palace of Versailles, including his opulent 2016 wedding, allegedly financed in part by Renault funds. He is also being investigated by France's tax fraud office over suspicious financial transactions between Renault and its distributor in the Gulf state of Oman, and over contracts signed by Renault and Nissan's Dutch subsidiary RNBV. In Japan, he still faces multiple charges claiming he under-reported millions of dollars in salary as chairman of Renault's alliance partner Nissan. He has denied all the charges, but fled to his native Lebanon late last year before he could face trial.
Kattar tackles general situation with UN's Kubis
NNA/February 21/2020
State Minister for Administrative Development Affairs, Damianos Kattar, met Friday in his office at the Ministry with UN Special Coordinator for Lebanon, Jan Kubis, with whom he discussed the Country's general situation amid the current crisis and the challenges ahead. Kubis expressed UN's support for the efforts undertaken to address these challenges that Lebanon is currently passing through.
Hitti meets Richard, Zasypkin
NNA/February 21/2020
Minister of Foreign Affairs and Emigrants, Nassif Hitti, welcomed Friday respectively US Ambassador to Lebanon, Elizabeth Richard, and Russian Amabssador to Lebanon, Alexander Zasypkin. Discussions reportedly touched on means of assisting Lebanon economically and issues of common concern, especially regarding internal affairs and international dossiers.

Interior Minister meets World Bank delegation
NNA/February 21/2020
Minister of Interior and Municipalities, Mohammed Fahmi, welcomed in his office at the Ministry a delegation of the World Bank, chaired by Sateh Arnaout. Discussions reportedly touched on the joint projects between the Ministry and the World Bank particularly on municipalities.
Ghajar tackles electricity issue with Norwegian, Swiss ambassadors
NNA/February 21/2020
Water and Energy Minister, Raymond Ghajar, met Friday respectively with Norwegian Ambassador to Lebanon, Leni Stenseth, and Swiss Ambassador to Lebanon, Monica Schutzz Kergoz.
Discussions reportedly touched on the issue of electricity, especially in terms of needed reforms and the implementation of the electricity plan in the foreseeable future. The Norwegian Ambassador expressed her Country's readiness to continue to assist Lebanon in the oil sector. The Swiss Ambassador highlighted the importance of the water sector, expressing her Country's ongoing assistance in this domain, especially in the Bekaa region.
Education Minister denies closure of schools due to coronavirus
NNA/February 21/2020
Minister of Education and Higher Learning, Tarek Majzoub, on Friday denied that his ministry had issued a statement announcing the closure of schools due to coronavirus. "There is nothing to panic about," Majzoub said.
Bakeries' Union announces open strike as of Monday if demands not met
NNA/February 21/2020
The general assembly of the Bakeries Union in Lebanon on Friday announced an open-ended strike as of next Monday, if the demands of Bakery owners are not met

Protesters rally outside Central Bank in Sidon
NNA/February 21/2020
Demonstrators have staged a sit-in outside the Central Bank in the City of Sidon, in protest against the banking monetary policies and the high cost of living. Protesters chanted slogans deploring the measures adopted by the banks against depositors.
Akar tackles overall situation with Diplomats
NNA/February 21/2020
Vice Prime Minister, National Defense Minister Zeina Akar Adra, on Friday welcomed in her office at the Ministry Japan's Ambassador to Lebanon, Takeshi Okubo, accompanied by the Embassy's Military Atatche.
Talks reportedly touched on the general situation in Lebanon and the broad region, as well as cooperation programs between the two sides.
Minister Akar also met with Russian Ambassador to Lebanon, Alexander Zasypkin, accompanied by a delegation, with whom she discussed the latest developments on the local and regional arena.
The Minister also welcomed in her office Qatar's Ambassador to Lebanon, Mohammed Hasan Jaber Al Jaber, with the bilateral relations between the two countries featuring high on their talks. Ambassador Al Jaber affirmed his Country's ongoing support to Lebanon. Cooperation relations between Lebanon and China and most recent developments also topped discussions today between Minister Akar and Chinese Ambassador to Lebanon Wang Kejian, who came in the company of the Embassy's Military Attaché and his Aide.
Minister of Justice receives petition on prisoners' rights for humane treatment
NNA/February 21/2020
Justice Minister, Marie Claude Najm, on Friday received a petition entitled, "So that he who does know his rights to humane treatment does not remain prisoner" from lawyer Rafik Hajj, the organizer of this initiative, in cooperation with the Prison Committee of Beirut Bar Association.
The initiative includes the following list of rights:
-The right to life and integrity of individuals.
-The right not to be subjected to torture or ill-treatment.
-The right to health.
-The right to respect human dignity.
-The right to fair implementation of laws.
-The right to be free from discrimination.
-The right to be free from slavery.
-The right to freedom of opinion and thought.
-The right to freedom of religion.
-The right to respect for family life.
-The right to self-development.
Othman tackles overall situation with US Ambassador
NNA/February 21/2020
Internal Security Forces (ISF) Chief Imad Othman, met Friday in his office with US Ambassador to Lebanon, Elizabeth Richard, with whom he discussed the general situation in the country.
Does Hezbollah pay electricity bills?
Khaled Abou Zahr/Arab News/February 21/2020
خالد ابو ظهر: ترى هل يدفع حزب الله فواتيره الكهربائية أو أية ضرائب على اعماله واستيراداته من إيران وتجارته ومعاشات افراد ميليشياته؟
I often wonder, does Hezbollah pay electricity bills?
Does it pay social security contributions on the salaries it pays in cash?
Does it pay customs duty on the weapons it imports from Tehran?
Does it pay the required fees for its construction works?
Did it get authorization from the government and pay the appropriate fees to build a statue of Qassem Soleimani last week?
Finally, to whom do government utilities representatives complain when Hezbollah does not pay its bills?
To be fair, this applies to most of the political formations and centers of power in Lebanon, not only Hezbollah. The country's administration has been built to reflect the narrow political representation and the way the factions negotiate with each other. The same focus one notices in negotiations for the formation of a coalition government applies to the rest of the administration of the country.
This means that politicians control hiring and spending but are not focused on proper governance and serving their constituents; instead their focus is on ensuring they grab a share of the pie for themselves and their allies. One could easily imagine that a random discussion along the lines of "If you name one person to be appointed, or get this from that state institution, then my share is this" is common during political deals in Lebanon.
As the country begins discussions with the International Monetary Fund (IMF) to secure a rescue plan, given that more than $7 billion in debt and interest payments is due to be repaid this year, not much can be expected. Not only are the banks in negative equity, the entire country is. The banking sector, which was a depicted as a key factor in the success of the economy, will have to pay a hefty price.The question is who will bear the cost? Will it be the banks, which are mostly owned by politically affiliated businessmen, or will it be the small depositors who have not been able to access their accounts, have seen their life savings disappear and are going bankrupt? I think we all know the answer to that and therefore understand why the Lebanese protests are not about to end but are about to get worse.
This will, unfortunately, not be enough. Lebanon might manage to pay back some of the debts that are due this year, or negotiate a temporary moratorium, but it will not be able to honor its commitments without a bailout or financial support. However, after getting the proper advice from the IMF about the reforms that are needed, in the current political situation nothing will really change because the root cause of the nation's crisis will remain. Therefore, Lebanon will not be able to convince any international financial institution that it will implement the strong program of reforms necessary to get a bailout. Regionally, given the situations in Syria and Iraq, Lebanon has lost its strategic relevance and Gulf countries have already sunk billions into the country at a loss.
In trying to predict what happens next and what will trigger a deterioration of the situation in the country, therefore, one can compare Lebanon with other countries that went through similar situations. Comparisons with Greece do not really apply as it benefited from the support of the EU, but it is worth noting that the country still experienced pensions losses and a rise in unemployment, which led to social instability. Political and sectarian groups that have acted as parasites, feeding on national institutions, will do what parasites do when one host dies: Move on to another.
The closest benchmark comparison to Lebanon seems to be a combination of the Latin American debt crisis of the 1980s and the current situation in Venezuela, which has a weak centralized government located in a highly volatile region. In short, we can say that it seems likely that the situation is about to get extremely difficult and dangerous, on all levels, for the people of Lebanon.
The protests will continue and might become more socially and financially motivated when pensioners do not get their checks, depositors lose all or part of their savings and employees go unpaid. This will put the country's security and sovereign institutions under extreme pressure; one might say enough to create divisions and splits from within. As the security situation deteriorates, government services will cease functioning, medicine will be hard to find, and food will become scarce. The government will break down and so sectarian political leaders will once again become the last resort for people in a territory — not a country — ruled by chaos and non-state actors.
Political and sectarian groups that have acted as parasites, feeding on national institutions, will do what parasites do when one host dies: Move on to another. Therefore, the only solution is for the army to step in and force change by supporting the protesters and establishing a new committee, which excludes all existing political formations, to govern the country and create a new constitution. The future of all in the country will be much bleaker if they persist in their inaction.
*Khaled Abou Zahr is CEO of Eurabia, a media and tech company. He is also the editor of Al-Watan Al-Arabi.
Iran makes empty promises to Lebanon
Hanin Ghaddar/Al Arabiya/February 21/2020
حنين غدار/وعود فارغة من إيران للبنان
While Lebanon was preparing itself for the International Monetary Fund's visit – Iranian parliament speaker Ali Larijani flew to Lebanon to meet with Hezbollah's Chief Hassan Nasrallah. In addition, he held talks with President Michel Aoun in Baabda Palace and relayed to him a message from Iranian President Hassan Rouhani. According to media reports, the message included means to enhance Lebanese-Iranian relations and involved an invitation to President Aoun to visit Tehran. Larijani also expressed Iran's willingness to help improve the economic situation in Lebanon.
Between Larijani's visit and the IMF meeting, Lebanon seems to be at a crossroads where its leadership has to choose between opening up again to the international community, and getting the help it needs to revive its crumbling economy, or move further under Iran's umbrella and turn into a failed state that would be the Middle Eastern version of Venezuela. This crossroads is clearly visible by the wide gap between the Lebanese people who have been expressing their frustration in the streets for four months, and the Lebanese political class that still hopes its allegiance to Iran won't be too costly. It is this same gap that draws the difference between the people who have realized that Iran only brought instability and isolation to Lebanon, and a political class that has not yet realized the repercussions of Hezbollah's control over Lebanon's state institutions.
Between Iran and the West, Lebanon cannot chose Iran at this point, for two main reasons. First, Iran has its own financial crisis, and Larijani's promises are empty promises that will never be translated into a real program that could save Lebanon from collapse. Iran has already cut its funding to Hezbollah by half, and now relies on Iraq's resources and economy to fund Hezbollah and its other operations in the region.
Hezbollah was forced to fund its own alternative funding resources and has been relying more heavily on smuggling and illegitimate business deals to survive its own crisis. Hezbollah has cut salaries, fired contractual and unnecessary employees, and has also shrunk its social services network to cater to a much smaller circle of beneficiaries. If Iran can't help Hezbollah, then Iran can never help Lebanon. Second, Iran has always benefited, and will continue to benefit from Lebanon's resources, not vice versa. Iran used Lebanon's resources to fund the corruption networks of its allies, mainly the Amal Movement and the Free Patriotic Movement. Iran isolated Lebanon from its Arab depth and the international community when it decided that Hezbollah should go to Syria and have a larger role in the region. Iran wants Lebanon to be the core of its regional operations, and when it had the financial means – before the US sanctions – only Hezbollah benefited, never Lebanon. Iran wants Lebanon to pay the price for its regional hegemony but will not help Lebanon, economically or diplomatically. Yet, Larijani expects the Lebanese to believe that this time around – and in the midst of the Iranian financial crisis – things will be different.
Of course, the IMF plan to salvage Lebanon is not going to be easy or painless. But at least it will push Lebanon to implement much needed reforms and anti-corruption measures. Western and Gulf Arab states that helped Lebanon in the past have made clear that any future financial assistance depends on Lebanon implementing serious reforms to address root causes of the crisis such as state corruption and bad governance.Interestingly, Hezbollah hasn't commented on the IMF visit, and its milieu still insists that it is only an advisory mission that will not involve practical steps. But while the Lebanese people – including Hezbollah's constituency are feeling the hardship and the increased unemployment due to the failing economy – Hezbollah launched a widespread campaign to boycott American products, in response to the US policy against Iran and the assassination of the Quds Force Commander Qassem Soleimani. As this campaign takes to the social media and a few local shops and consumers, Hezbollah will eventually realize that all its efforts to salvage its image as the protector of Lebanon and the father-figure of the Shia community will eventually backfire. The Lebanese – including the Shia – have finally realized that Iran's resistance economy and policies did not put more food on the table. Instead, it pushed the Shia to regional wars, isolated Lebanon, and led to the collapse of Lebanon's fragile economy. Lebanon's protests have been about the aspiration to citizenship, not sectarian identities, and ultimately, everyone in Lebanon – including Hezbollah's own constituency – are very much aware only the West and the Gulf States – not Iran – can help Lebanon.
*Hanin Ghaddar is the inaugural Friedmann Visiting Fellow at The Washington Institute's Geduld Program on Arab Politics, where she focuses on Shia politics throughout the Levant. She tweets @haningdr.
German gunman who killed 9 called for 'complete extermination' of Israel, Lebanon, Jordan, Egypt
Associated Press/Ynetnews|/February 21/2020
Rambling manifesto now taken down decries 'ethnic groups, races or cultures in our midst that are destructive in every respect'; Merkel says shootings exposed 'poison' of racism in Germany, pledges to stand up against those who seek to divide the country
The 43-year-old German gunman who killed nine people late Wednesday had posted a manifesto calling for the "complete extermination" of many "races or cultures in our midst," including Israel, Egypt, Syria, Jordan and Lebanon and other countries across Asia.
Among the documents posted to the man's website, which has since been taken down, was a 24-page, rambling manifesto in German detailing, among other things, fears that he has been under government surveillance for years.
He blamed the surveillance for his inability to have a relationship with a woman. He also called for genocide.
"We now have ethnic groups, races or cultures in our midst that are destructive in every respect," he wrote. He said he envisioned first a "rough cleaning" and then a "fine cleaning" that could halve the world's population.
He wrote: "The following people must be completely exterminated: Morocco, Algeria, Tunisia, Libya, Egypt, Israel, Syria, Jordan, Lebanon, the complete Arabian Peninsula, Turkey, Iraq, Iran, Kazakhstan, Turkmenistan, Uzbekistan, India, Pakistan, Afghanistan, Bangladesh, Vietnam, Laos, Cambodia and the Philippines."
The attack was quickly condemned by many organizations, including the Central Council of Muslims, the Confederation of Kurdish Associations in Germany, and the Central Council of Jews.
The victims were nine people of foreign background, most of them Turkish, who were shot dead in an attack on a hookah bar and other sites in a Frankfurt suburb, authorities said.
The gunman was later found dead at his home along with his mother, and authorities said they were treating the rampage as an act of domestic terrorism.
The gunman first attacked the hookah bar and a neighboring cafe in Hanau at about 10 p.m. Wednesday, killing several people, then traveled about 2.5 kilometers (1.5 miles) and opened fire again, first on a car and then a sports bar, claiming more victims.
The bloodshed came amid growing concerns about far-right violence in Germany and stepped-up efforts from authorities to crack down on it, including last week's detention of a dozen men on suspicion they were planning attacks against politicians and minorities.
Chancellor Angela Merkel said the shootings exposed the "poison" of racism in Germany, and she pledged to stand up against those who seek to divide the country.
"There is much to indicate that the perpetrator acted out of far-right extremist, racist motives," she said. "Out of hatred for people with other origins, other faiths or a different appearance."
Hookah lounges are places where people gather to smoke flavored tobacco from Middle Eastern water pipes, and Metin Kan, who knew many of the victims, said it was obvious why the gunman chose the neighborhood.
"Look, a hookah bar there, a gaming parlor there, a doner kebab place there — it's a place frequented by immigrants," he said. "Why this hatred of foreigners? We all get along here."
People of Turkish background make up Germany's single largest minority, and Turkey's ambassador said five of the people killed in the attack were Turkish citizens.
Germany's federal prosecutor, Peter Frank, said that all nine people killed were of foreign backgrounds and that six others were injured, one seriously.
Investigators said it appeared the gunman acted alone, but Frank said the "goal of the investigation is to find out whether there were, or are, people who knew of, or supported" the attacks. He added that his office was looking into any contacts the killer may have had inside Germany and abroad.
Kadir Kose, who ran over from a cafe he runs nearby after hearing the first shots, said he was shocked at the extent of the violence. While fights or stabbings aren't unheard of, he said, "this is a whole other level, something we hear about from America."
Witnesses and surveillance videos of the getaway car led authorities quickly to the gunman's home, said Peter Beuth, interior minister for the state of Hesse. Both the attacker and his 72-year-old mother had gunshot wounds, and the weapon was found on him, Beuth said.
Frank identified the gunman only as Tobias R., in line with German privacy laws, and confirmed he had posted extremist videos and a manifesto with "confused ideas and far-fetched conspiracy theories" on his website.
The man identified himself as Tobias Rathjen on the website, which has now been taken down, with a mailing address matching that where the bodies of the killer and his mother were found.
In the manifesto, Rathjen claimed to have approached police several times with conspiracy theories, but Beuth said it does not appear the gunman had a criminal record or was on the radar of Germany's domestic intelligence agency.
"Everything will be done to investigate the circumstances of these terrible murders," Merkel pledged, declaring: "Racism is a poison. Hatred is a poison."
"This poison exists in our society and its is responsible for far too many crimes," she added, citing the killings committed by a far-right gang known as the NSU, the fatal shooting last year of a regional politician from her party, and the attack on a synagogue in Halle on Yom Kippur last year, in which two people were killed. Turkish President Recep Tayyip Erdogan called it a "heinous attack" and expressed confidence that German authorities "will exert all kinds of effort to shed light on all aspects of this attack."
German police were examining a video the gunman may have posted online several days before the attack in which he detailed a conspiracy theory about child abuse in the United States, Germany's dpa reported. The authenticity of the video couldn't immediately be verified, but the YouTube account was under the same name as the website containing the gunman's manifesto.
In the video, the speaker said he was delivering a "personal message to all Americans" that "your country is under control of invisible secret societies." In a slow and deliberate voice in accented English, he said there are "deep underground military bases" in which "they abuse, torture and kill little children."
He made no reference to the far-right fringe QAnon movement in the U.S., but the message was similar to the movement's central, baseless belief that U.S. President Donald Trump is waging a secret campaign against enemies in the "deep state" and a child sex trafficking ring run by satanists and cannibals.
In his manifesto, he made one reference to Trump, writing: "I doubt that Donald Trump knowingly implements my recommendations." He suggested that "mind control" might be at work.
On the website, Rathjen wrote that he was born in Hanau in 1977 and grew up in the city, later training with a bank and earning a business degree in 2007.
The Inevitable Middle East War
Robert G. Rabil/Eurasiareview/February 22/2020
روبرت رابيل: الحرب في الشرق الأوسط حتمية
http://eliasbejjaninews.com/archives/83394/%d8%b1%d9%88%d8%a8%d8%b1%d8%aa-%d8%b1%d8%a7%d8%a8%d9%8a%d9%84-%d8%a7%d9%84%d8%ad%d8%b1%d8%a8-%d9%81%d9%8a-%d8%a7%d9%84%d8%b4%d8%b1%d9%82-%d8%a7%d9%84%d8%a3%d9%88%d8%b3%d8%b7-%d8%ad%d8%aa%d9%85%d9%8a/
The assassination of Iranian General Qassem Suleimani, unlike what the Trump administration and the media expounded, is a logical extension to the heightening asymmetrical warfare between the US and Israel, on one side, and Iran and Hezbollah, on the other. Arguably, it is also the outcome of American and Israeli intelligence cooperation, whereupon the two countries deemed the assassination of Suleimani critical to their national security. Whereas some hailed the murder of Suleimani, along with his colleague a leader of the Iraqi Mobilization Forces Abu Mahdi al-Muhandis, as a successful operation that thwarted potential terror attacks against U.S. national interests, some criticized the murder as hastening the march to war with Iran. To be sure, there is already a war and the prospects of terror attacks have increased. The killing of Suleimani has changed the dynamics of this ongoing asymmetrical war by expanding the theater of operations and substituting overt and covert operations for proxy warfare. This has increased the prospect of regional war, regardless of the attitude of concerned countries to rule out a war.
The asymmetrical warfare between Tehran and Washington began when Iranian revolutionaries held American hostages in the American Embassy in Tehran from November 1979 until January 1981. Ayatollah Ruhollah Khomeini, the founder of the theocracy in Iran, who split the world between oppressors and oppressed, depicted the U.S. as the great Satan for being the great oppressor in the world. Before long, the tension between the two countries intensified. Whereas Washington supported Iraq in its war against Iran (1980-1988), Tehran called on its revolutionary proxies to kidnap Western hostages in Beirut. The botched Carter administration's attempt to rescue the hostages led the incoming Reagan administration to pursue a multi-pronged policy vis-à-vis Iran. The administration pursued a covert deal with Iran, the Iran-Contra affair, according to which Israel, at the behest of the U.S., would supply Iran with missiles. In turn, Iran would release the hostages and pay cash for the missiles, which would be transferred to the Contras fighting the socialist Nicaraguan government. At the same time, the administration engaged President Hafiz al-Asad of Syria to help free the hostages since his troops controlled Lebanese territories, while maintaining its support of Iraq's war efforts against Iran.
Meanwhile, Tehran sent its Islamist revolutionaries to Lebanon to indoctrinate the Shi'a community there and help wage a militant campaign against both Israel, which invaded Lebanon in 1982, and against American and Western troops, which were sent to Beirut as an international force to supervise the withdrawal of PLO fighters from the country. Iranian Islamist proxies, which later on amalgamated into Hezbollah, bombed the American Embassy (twice) and the U.S. Marines barracks in Beirut in which 241 marines were killed. No less significant, in November 1982, a young Shi'a Ahmad Qassir drove his explosive-laden Peugeot into Israel Defense Forces's headquarters in Tyre. These terror attacks were devastating. Hundreds of American and Israeli soldiers and innocent civilians were killed.
Apparently, American and Israeli intelligence had failed to notice the emerging signs of militant Shi'ism whereby the cult of suicide bombing, historicized by Khomeini as a battle against injustice, spread to the Levant. Consequently, the U.S. and Israel's intelligence agencies, the CIA and Mossad respectively, cooperated in Lebanon and established that Islamic Jihad, a precursor faction of Hezbollah was responsible and that Imad Mughniyah was behind the terror bombings.
Reportedly, this cooperation led to couple of retaliatory attempts. Ali Akbar Mohtashamipour, an Iranian considered a founder of Hezbollah, was targeted by a mailed booby-trapped Koran, whereupon he lost his right eye. And, in 1985, a car bomb attempt on the life of Hezbollah spiritual leader Ayatollah Muhammad Hussein Fadlallah resulted in 80 killed and scores injured in Beirut, including the brother of Mughniyah, Jihad. Reportedly, Lebanese Christian militia members and army officers and Saudi intelligence coordinated the attack.
Similarly, as Hezbollah increased its attacks on Israel Defense Forces (IDF) occupying southern Lebanon, Israel targeted two of the Islamist party's leaders, Ragheb Harb and Abbas Moussawi. Apparently, Hezbollah retaliated by bombing both Israel's Embassy in Buenos Aires, Argentina on March 17, 1992, murdering 29 people; and the AMIA Jewish Cultural Center in Buenos Aires on July 18, 1994, murdering 87 people.
Following Hezbollah's constant attacks on the IDF in southern Lebanon, Israel withdrew from Lebanon in May 2000. From late 1990s to 2006, Israel maintained espionage cells in Lebanon whose contributions were at best mixed. The inconclusive 2006 Summer War between Israel and Hezbollah betrayed the failure of United States and Israel's intelligence to gauge the power of Hezbollah. General Qassem Suleimani, head of al-Quds Force in the Iranian Revolutionary Guards Corps (IRGC), supported by Mughniyah, oversaw Hezbollah's military operations against Israel's offensive in Lebanon.
Consequently, Washington and Jerusalem harnessed their collaborative efforts to curb the power of Hezbollah. After so many years on the run, in February 2008, the head of Hezbollah's jihad apparatus Mughniyah was killed in Damascus. As it turned out, the assassination operation was the product of close cooperation between the CIA and the Mossad. In response, Hezbollah's leader Hassan Nasrallah declared an Open War against Israel, focusing on enhancing the global militant reach of Hezbollah. This marked a new stage in the asymmetrical warfare.
Unflustered by Hezbollah's threat, and committed to curb the power of Hezbollah and its patron Iran, including disrupting Tehran's nuclear program, on August 1, 2008, a daring team of Israel's commandos swam the Mediterranean waters towards the vicinity of Tartus and killed Syrian Brigadier General Muhammad Suleiman, a top aide of Syrian president Bashar al-Asad and the liaison officer in charge of the military Syria-Hezbollah-Iran relationship. Concurrently, couples of IRGC Generals were murdered under hazy circumstances in various locations.
At this juncture, cyberwarfare entered the fray of proxy war between Iran and its proxy allies, on one side, and United States and Israel, on the other. In 2009, Stuxnet, a malicious computer program considered then as the most sophisticated cyber weapon ever deployed, sent Iran's nuclear centrifuges wildly out of control. Reportedly, it wiped out roughly a fifth of Iran's nuclear centrifuges.
Concurrently, the Mossad reportedly pursued a wide-ranging operational policy to eliminate Iranian nuclear scientists, physicists, computer and cyber scientists involved in the country's nuclear program, cyber program, and missile development.
In January 2010, a prominent nuclear physicist Masoud Ali Mohammadi was killed by a remotely detonated bomb fitted on a motorcycle next to his car. In November 2010, Majid Shahriari, a professor of nuclear physics, who specialized in the relevant bomb making neutron transport, was assassinated while driving his car. Two motorcyclists attached to his car a bomb and sped away. On the same day on November 29, professor of nuclear physics and reportedly a member of the IRGC Fereidoun Abbasi narrowly survived an assassination attempt in Tehran by jumping out of his car when he noticed a speeding motorcyclist affixing a bomb to his car. He was subsequently appointed as the head of the Atomic Energy Organization of Iran (2011-2013). In July 2011, scientist Darioush Rezaei was shot in the throat in front of his daughter's kindergarten in east Tehran by gunmen on motorcycles.
Similarly, on November 17, 2011, bombs exploded at the Iranian Revolutionary Guards Shahab-missile base in Bidganeh, about 25 miles from Tehran. General Hassan Tehrani Moghaddam, a leading figure in Iran's efforts to construct long-range missiles, along with 16 fellow members of the IRGC, was killed in the explosions.
In October 2013, the head of Iran's cyber warfare program, Mojtaba Ahmadi, was found in a wooded area north-west of the capital shot dead. In January 2014, Mostafa Ahmadi Roshan, a chemist who worked in the uranium enrichment plant at Natanz, was killed when his car exploded. By the end of 2014, five Iranian nuclear scientists, the head of the country's ballistic missile program, and the head of Iran's cyber warfare program had been killed. The Iranian regime accused the Mossad of carrying out these assassinations, with support from American intelligence.
In the meantime, Hezbollah worked hard to reconstruct Shiite areas damaged by Israel in the 2006 war. Most importantly, Hezbollah put a great and systematic effort to rebuild and enhance its military capabilities, especially its missile arsenal. By February 2010, thanks to General Suleimani's military support, Nasrallah redrew the parameters of its conflict with Israel. In a speech commemorating Hezbollah's "martyrs" on February 16, 2010, Nasrallah drew the qualifying framework for any future confrontation with Israel. He introduced the deterrent-by terror equation where Hezbollah would retaliate proportionally to any Israeli aggression: "Tel Aviv for Beirut, and Ben Gurion international airport for Beirut international airport". This marked another advanced stage of the asymmetrical warfare whereby Hezbollah sought to achieve a strategic terror parity with Israel. It's noteworthy that a similar strategic parity policy, heavily reliant on missiles, had been pursued by late President Hafiz al-Asad of Syria to contain Israel.
Simultaneously, Hezbollah, acting on its Open War threat against Israel, tried to attack Israeli national interests overseas, while at the same time continuing to enhance its military capabilities. In February 2012, a bomb was found and defused at Israel's Embassy in Tbilisi, Georgia. In the same month also an Israeli diplomat's car was bombed in the vicinity of the Israeli Embassy in New Delhi, India. In late March 2012, Azerbaijan arrested two dozen terrorists trained in Iran, who had been planning attacks on Israeli and U.S. Embassies in Baku. In July 2012, a Hezbollah suicide bomber carried out a terror attack on a bus in Burgas, Bulgaria, carrying Israeli tourists. Five Israelis and the bus driver were killed. This marked a significant escalation in the ongoing Hezbollah (and Iran)-Israel warfare. In October 2012, Israel shot down a Hezbollah drone near the country's Dimona nuclear plant in the Negev. In 2013, Thai and Cypriot authorities pursued and arrested Hezbollah operatives charged with tracking Israeli tourists.
Clearly, both Israel and Hezbollah expanded their overseas operations, which were comparatively better executed by the Mossad. In fact, Hezbollah's operations, excluding those anonymously foiled by Israel, would have been devastating had it not been for Jerusalem's intelligence. The Mossad has been able not only to improve their human intelligence gathering (HUMINT) but also to penetrate Hezbollah's inner Jihadi circle, which analysts thought as impregnable. By 2012, notwithstanding Israel flooding Lebanon with technical intelligence gathering capabilities (SIGINT, IMINT, MASINT), approximately 100 Lebanese spying for Israel had been arrested by Hezbollah and central authorities. Some of those arrested included senior army and intelligence officials such as a) Haitham al-Sahmarani, a Shi'a Internal Security officer who provided the IDF with coordinates of Hezbollah leaders' houses, places of meetings, and addresses of social and religious gatherings; b) General Mansour Habib Diab, a Christian and Director of School of Special Operations, who delivered to the IDF highly sensitive information on the army and Hezbollah-Army relations; and c) Colonel Gouzwan Eid Chahine, who the Mossad gave him sophisticated equipment to photograph and eavesdrop on army officers close to Hezbollah leaders. Colonel Chahine's arrest led to a number of arrests in the Ministry of Communications and private communications companies.
In the meantime, Hezbollah became militarily involved in the Syrian civil war on the side of the Asad regime, which heightened Israeli concerns about the Islamist party acquiring both military experience and sophisticated weapons. Before long, on December 4, 2013, the Mossad reportedly assassinated Hezbollah's senior commander Hassan al-Laqis in Beirut, who had played a key role in enhancing the group's extensive telecommunications network. In February 2014, Israel carried out air attacks on Hezbollah's positions along Lebanon-Syria border, reportedly destroying a drone base and killing senior party members.
Clearly, Israel had an intelligence advantage over Hezbollah's plans and plots in the ongoing tug-of-war. As it turned out, the Mossad had scored big with the recruitment of the head of Hezbollah's Jihad External Operations unit 910, Muhammad Shawraba , charged with overseas operations against Jerusalem. This constituted a serious breach of Hezbollah's security that almost brought the Mossad to the deadly reach of Secretary General Nasrallah, let alone feeding the Mossad important information that foiled a number of assassination attempts abroad.
Reports circulated that it was none other than General Suleimani who scurried to Lebanon upon the discovery of Israel's mole within the higher echelons of Hezbollah's military leadership. Suleimani handled the dismantling of unit 910 and the organizing of a new secret unit in its stead.
It goes without saying that Israel's intelligence edge over that of Hezbollah did not parry the party's attempts at developing its military capabilities and extending its militant reach. Following a meeting in December 2014 with Russian Deputy Foreign Minister Mikhail Bogdadov, who handled the Syrian file, Hezbollah leader Sayyed Hassan Nasrallah asserted that in a "future war with Israel, Hezbollah will fight in Galilee and Israel will be surprised by the party's missiles." Before long, on January 18, 2015, Israel attacked an Iranian-Hezbollah military convoy apparently reconnoitering the Syrian Golan Heights. Six senior Hezbollah members and six senior IRGC members were killed, including the son of slain jihadi commander Imad Mughniyah and IRGC General Mohammad Ali Allah Dadi. This marked a new phase in the asymmetrical warfare reflected by Hezbollah's plan to build a military infrastructure in Syria, thereby extending its front with Israel along the Lebanon-Syria border.
In response to Israel's attack, Hezbollah leader Nasrallah delivered a speech entitled "En Route to Jerusalem" in which he asserted: "We will no longer observe the rules of engagement and will strike anywhere and at any time." Soon enough, on January 28, Hezbollah launched six anti-tank missiles towards an Israeli convoy en route to Ghajar, a village saddling the Lebanon-Israel border, instantly killing Captain Yohai Kalangel, 25, and Sergeant Dor Nini, 20.
Undaunted by Israel, Hezbollah continued its attempt to expand its activities to the Golan Heights and southern Syria, including the enlistment of Druze fighters into a joint Hezbollah-Syrian regime force. Samir Kuntar and Wiam Wahab led the enlistment efforts. Whereas Wahab, a Druze and former Lebanese cabinet member, focused his efforts on persuading Druze leaders to support Asad and cooperate with Hezbollah, Kuntar, also a Druze, was charged with organizing Hezbollah's military and intelligence operations in Southern Syria. It's noteworthy that Israel had captured Kuntar in 1979 following the brutal murder of four Israelis in Nahariya. He was subsequently released in a prisoner exchange with Hezbollah in 2008.
Consequently, in December 2015, Israel assassinated Kuntar in an air raid on his residence in Jaramana, southeast of Damascus. At the same time, Israel increased its intelligence activities in Syria, and pursued a systematic policy of air raiding Iranian and Hezbollah members and bases to prevent smuggling game-changing sophisticated missiles to Lebanon and pre-positioning of precision-guided missiles in Syria.
Although Russia entered the fray of Syria's civil war in support of the Asad regime and came to control Syria's airspace by deploying its most sophisticated S-400 Surface-to-Air (SAM) missile batteries in the country, Israel continued its air strikes. Obviously, Israel reached a broad understanding with Russia that allowed Jerusalem to strike at its enemies if they posed a threat to its national security, so long as Israel's actions did not destabilize the Syrian regime. On the margins of the UN Climate Change Summit on November 30, 2015, Russian leader Vladimir Putin said to Israel's Prime Minister Benjamin Netanyahu:
We are satisfied with the way our bilateral relations are developing. I note that the coordination mechanism between our militaries that we established on your initiative in response to the escalating situation in the region is functioning, and functioning well.
Despite its coordination with Russia, Israel steadily grew concerned about Hezbollah and Iran's growing military cooperation with the Syrian regime and Russia. It was no surprise that Hezbollah in fighting the Syrian opposition, including Salafi-jihadis, came to acquire military experience and a large arsenal of weapons, especially missiles. This became doubly concerning for Israel when the Islamic State established a so-called Caliphate in both Iraq and Syria, which led United States to create an international alliance to defeat the Islamic State. With the international focus shifting towards fighting the Islamic State, Tehran, Damascus, and Baghdad, which coordinated closely with Washington, established a formal and informal close military strategic partnership, headed by Suleimani, to fight IS. This close partnership birthed a strong Iranian proxy alliance comprising the IRGC, Hezbollah and the Iraqi Mobilization Forces (MPF), which included various pro-Iranian Islamist militias. Israeli fears of Iran forging an overland military route connecting Tehran to Beirut became all but confirmed.
This led Israel to increase its air strikes against Iranian and Hezbollah bases and convoys suspected of smuggling weapons to Lebanon. This became a high priority for Israel as Iran doubled its efforts to enhance and entrench its military presence in Lebanon, Syria and Iraq in response to President Donald Trump's policy of "maximum pressure" against Iran following his withdrawal from the Iranian nuclear agreement. In essence, Suleimani tried to establish a network of powerful proxy forces not only to deter but also to contain Israel.
In addition to increasing the frequency and reach of its air strikes, Israel concluded an agreement with Russia whereby the latter would not allow Iran to establish any military bases in southern Syria all the way up to 80 KM from the Golan Heights. Nevertheless, despite incurring heavy losses in men and material in Syria, Hezbollah's attitude grew bolder. In a speech on February 17, 2017 Nasrallah warned Israel: "I call upon Israel not only to evacuate the Ammonia tank from Haifa, but also to dismantle Dimona nuclear facility." And he added that "the Israeli nuclear weapon that represents a threat to the entire region, we will turn it into a threat to Israel." This audacious warning to target Dimona's nuclear facility reflected both Hezbollah's growing arsenal of missiles and boldness in underscoring its deterrent-by terror strategy against Israel.
Conversely, Israel beefed up its military drills focusing not only on Hezbollah's northern front but also on Syria's eastern front, assuming that a potential conflagration with Hezbollah would extend to Syria's Golan Heights. Its drills included the scenario of destroying the complete infrastructure of Lebanon and invading southern Lebanon. It also improved the effectiveness of its Iron Dome anti-missile batteries. Yet, Israel has remained concerned about Hezbollah acquiring precision-guided missiles and about Hezbollah simultaneously firing a large number of missiles at Israel that could overwhelm the Iron Dome. Prime Minister Netanyahu consistently emphasized the danger of Hezbollah acquiring precision-guided missiles and members of his government implicitly and explicitly threatened to take Lebanon back to the stone age in a future conflagration.
Undaunted by Israel's warning, Nasrallah, in an exclusive interview with al-Manar TV station in July 2019, warned Israeli officials not to brag about "returning Lebanon to stone age." He asserted that "Hezbollah at minimum is capable of inflicting huge destruction upon the Zionist entity," and added that although a war with Israel is ruled out, "such a war will put Israelis on the verge of vanishing."
Acting on its threat not to allow Hezbollah to acquire precision-guided missiles, Israel launched in August 2019 a drone attack on a Hezbollah facility in West Beirut housing what Israel's media called a "planetary mixer," a large industrial machine critical to making missiles. Nasrallah responded by confirming that although Hezbollah does not have factories to produce missiles, the party "has enough precision-guided missiles in Lebanon for any confrontation with Israel."
It was against this background that both Washington and Jerusalem apparently began to single out Suleimani as the Iranian official who uniquely created a militant Shi'a regional axis, providing Iran with strategic depth. One could safely argue that the authors of Washington's "Maximum Pressure" policy shared Israel's concerns about Iran not only entrenching its presence in Lebanon and Syria but also in Iraq. Israeli fears of Iran's apparent strategy to acquire strategic depth grounded in deterring and containing Jerusalem were all but confirmed. Soon enough, reports circulated that Israel on multiple occasions struck weapons depots in Iraq, controlled by the pro-Iranian Iraqi Mobilization Forces. Israel has been concerned about Iran moving precision-guided missiles to Iraq, whence some of which would be smuggled to Syria and Lebanon. US officials confirmed Israel's latest air strike on weapons storage facilities in Iraq in August 2019. In an interview with a Russian-language TV station, Netanyahu implied that Israel carried out the strikes in Iraq. He remarked that "I don't give Iran immunity anywhere," accusing the Iranians of trying to establish bases "against us everywhere," including Syria, Lebanon, Yemen and Iraq.
PMF officials harshly criticized and threatened the U.S. Abu Mahdi al-Muhandis, deputy Chairman of the PMF, accused the U.S. of allowing four Israeli drones into Iraq (via Azerbaijan) to target Iraqi military headquarters and declared that "the first and last responsible for what happened are the American forces."
Clearly, Washington was at one with Israel in trying to curb Iranian power in Iraq, downplaying the fact that the PMF are integral part of Iraq's armed forces. Moreover, attacking the PMF headquarters and weapons facilities did not entail dealing with Russia which did not control Iraq's airspace like that of Syria. Following an attack on an Iraqi military base in Kirkuk that housed American soldiers, in which an American contractor was killed, American jets struck PMF headquarters in al-Qaim. In response, on December 31, protesters stormed the U.S. Embassy in Baghdad. On January 3, 2020, President Trump ordered the assassination of General Suleimani and his companions at Baghdad International Airport.
The assassination, unlike what the media and the Trump administration reported, bore the hallmark of American-Israeli cooperation involving the assassination of Mughniyah in Damascus. It was carried out against the background of intensified asymmetrical warfare between Iran and Hezbollah, on one side, and Israel and U.S., on the other. Both Washington and Jerusalem unmistakably frowned upon General Suleimani's strategy that provided Iran with strategic depth. He managed not only to enhance the deadly firepower of Iran's proxies but also to harness their power into a militant regional network with the potential of deterring and containing Israel. Neither Jerusalem, which has faced thousands of missiles near and far from its borders, nor Washington, which has seen its maximum pressure policy falter due to Iranian gradual military escalation, could have afforded General Suleimani's stewardship of Iranian military defiance. His elimination was essential to disrupt, even temporarily, Iran's regional enhancement and realignment of its proxy forces and by extension Iran's strategic depth.
Logistically, one could argue that his assassination was the outcome of the U.S.-Israel intelligence cooperation. Immediately following his arrival to Damascus International Airport on the morning of January 2, Suleimani was driven to Beirut where he met Hezbollah leader Nasrallah. Hezbollah intelligence provided his security. Reportedly, the two discussed how to confront Washington and Jerusalem's plan to disrupt Iran's design of strategic depth by striking at Iran's power bases across the region. Later that evening, Suleimani, accompanied again by Hezbollah security, returned to Damascus where he boarded a regular passenger Cham Wings flight to Baghdad. The scheduled flight departure was delayed from 20:20 to 22:28. It was clearly there that Israeli and/or American intelligence knew about his whereabouts and destination. Had they known about his itinerary to Beirut, Suleimani and Nasrallah would have been primary targets. Arguably, American and Israeli intelligence cooperated to assassinate Suleimani in the same manner they did when they assassinated Mughniyah in Damascus. Both have intelligence presence in Damascus and both shared the strategic threat posed by Suleimani's plans, and if the past and present cooperation between the two are a guide, Washington and Jerusalem definitely shared intelligence and cooperated to bring down what they deemed an essential target. Armed with credible intelligence, American drones were ready to eliminate Suleimani and his trusted companion al-Muhandis in Baghdad.
No doubt, the assassination was successful on the tactical level by removing the strategic puppeteer's hand that moved the proxy strings of Iran; but it was a failure on the strategic level by rallying enough Iraqi forces to call for the withdrawal of US forces from Iraq and rally enough Iranians behind the regime. Though largely symbolical, Iranian retaliatory attack on al-Asad Iraqi military base that housed American forces was carried out directly and not by proxy. This not only expanded the theater of operations of but also transformed the asymmetrical warfare into a vicious cycle of overt and covert operations, one of which whether or not by design could lead to a regional war. This warfare that initially originated in Lebanon has steadily spread across borders and led the involved parties to steadily increase their fire power potentially spelling disaster, regardless of the victor, for a region already suffering social, economic and political tribulations.
At the time of this writing, whereas Washington and Jerusalem seek to curb the power of Iran (and its proxies) and prevent it from developing a nuclear weapon, Tehran (and its proxies) seeks the eviction of Washington from the region while deepening Tehran's regional deterrent-by-terror strategy. These new dynamics of the transformed context of this warfare are prone to provoke a conflagration despite all the parties' desire to avoid a regional war. Put simply, unless all parties prioritize military restraint and sober diplomatic engagement a regional war is inevitable.
*Robert G. Rabil is a professor of political science at Florida Atlantic University. He can be followed @robertgrabil.