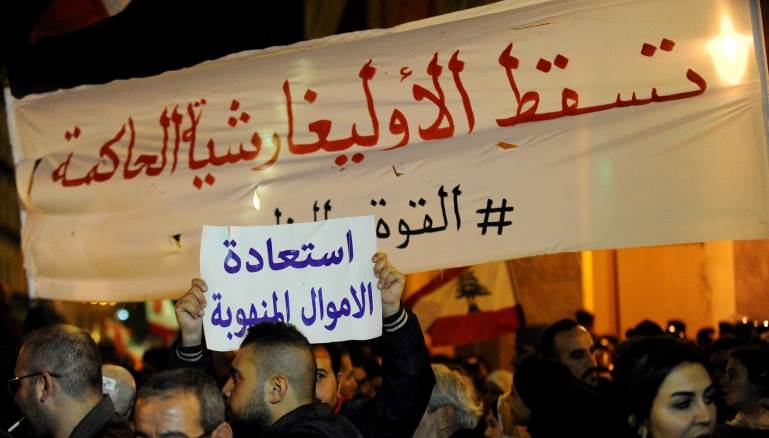 A Bundle Of English Reports, News and Editorials For 20-21/2020 Addressing the On Going Mass Demonstrations & Sit In-ins In Iranian Occupied Lebanon in its 127th Day




Compiled By: Elias Bejjani




February 21/2020
Titles For The Latest English LCCC Lebanese & Lebanese Related News & Editorials published on February 20-21/20
UNIFIL head chairs Tripartite meeting
Aoun discusses financial, economic conditions with Head of Association of Banks
Berri meets Kubis, Cuban ambassador
Diab Tells Cabinet Protest Movement Must Take Part in Ministerial Panels
Report: France 'Stands Beside' Lebanon to Overcome Crisis
Lebanese Protest against Hike in Goods Prices
SGBL Denies Making Transfers for Politicians, Shareholders after October 17
Akar talks general situation with US Ambassador
Army chief meets US Senate Armed Services Committee delegation
Hariri arrives in Abu Dhabi
Interior Minister talks overall situation with Daher, Boustani
House Finance Committee meets in second session on Eurobond dues' feasible solutions
Indian Ambassador from Tripoli: Democracy can only be saved through non-violence
Captain of Lebanese Ship Held in Probe of Libya Arms Trafficking
Tensions as PSP Supporters Confront FPM Demo outside Central Bank
Hariri in UAE for Talks with Emirati Officials
Jumblat Receives 'Solidarity' Call from Hariri, Urges Calm after Hamra Standoff
IMF delegation holds talks on Lebanon's economic crisis
Greek FM Discusses in Beirut How Athens Dealt with its Economic Crisis
Lebanon: 785 Restaurants, Cafes Closed, 25,000 Employees Laid Off
Beirut airport exchange rate rises for third time
Lebanon's President Aoun vows accountability over financial crisis:
Prosecutors further investigate Ghosn's Versailles palace party, other finances
'Boycott them or they will come': Hezbollah supporters dress as 'Orthodox Jews' in anti-Semitic stunt
Lebanon Is Seeking IMF Advice to Exit From Its Financial Crisis, but Can It Avoid a Full Bailout?/Michael Young/Carnegie MEC/February 20/2020
'Social explosion' in Lebanese camps imminent, warn officials/Najia Houssari/Arab News/February 21/2020
The Latest English LCCC Lebanese & Lebanese Related News & Editorials published on February 20-21/2020
UNIFIL head chairs Tripartite meeting
NNA/February 20/2020
UNIFIL Head of Mission and Force Commander Major General Stefano Del Col today chaired a Tripartite meeting at the UN position in Ras Al Naqoura. In a press release by UNIFIL, it siad: "Discussions focused on the situation along the Blue Line, air and ground violations as well as other issues within the scope of UNIFIL's mandate under UN Security Council resolution 1701. Major General Del Col said: "I appreciate the positive engagement of the parties with UNIFIL that has enabled continued stability along the Blue Line in a volatile regional context." And he added: "I call on the parties to further utilise UNIFIL's tripartite and liaison mechanisms to address issues and concerns in order to minimize the scope for any misunderstandings that could cause tensions or incidents." He reiterated his call to the parties to provide UNIFIL with sufficient prior notification of all planned activities along the Blue Line. Tripartite meetings have been held regularly under the auspices of UNIFIL since the end of the 2006 war in south Lebanon as an essential conflict management and confidence building mechanism."
Aoun discusses financial, economic conditions with Head of Association of Banks
NNA/February 20/2020
Pesident of the Republic, General Michel Aoun, discussed the financial and economic conditions with the Head of the Banks' Association, Dr. Salim Sfeir, this afternoon at Baabda Palace.
Former Minister, Salim Jreisatti, General Director of the Lebanese Presidency, Dr. Antoine Choucair, and Dr. Sfeir's advisor, Mr. Antoine Habib, attended the meeting. After the meeting, Dr. Sfeir stated that "The discussion with the President focused on the Eurobond issue, and its deadline next month. We have stressed the need to accelerate work on one of the proposed solutions, so the continuous decline in the price of bonds in global markets is holding losses for Lebanese banks, which applies pressure on them. We also wished President Aoun to technically tackle the issue of bonds, far from politics and street pressure, so we must watch over the interest of Lebanon, of course, but also about the integrity and reputation of the banking sector, and depositors' money in the event that a decision is taken in an irregular manner".
"We discussed the possibility of reaching a non-confrontational solution with international creditors, and in an organized manner, especially as investment funds abroad were ready for negotiation. The unified goal of President Aoun and PM Diab, and the Association of Banks, is to emerge from this crisis with the least possible damage and in what represents the best picture for Lebanon" Sfeir said. On the other hand, President Aoun also met with the Lebanese Ambassador to Washington, Gaby Issa, and discussed with him the Lebanese-US relations, and means of developing these relations, in multiple fields.
Berri meets Kubis, Cuban ambassador
NNA/February 20/2020
Speaker of the House, Nabih Berri, received in Ain El-Tineh the Special Representative of the United Nations Secretary-General in Lebanon, Jan Kubis, with whom he tackled the general situation in the country, with emphasis on the present financial and economic conditions. Berri then reviewed with Cuban Ambassador, Alexander Moraga, the means to bolster bilateral relations.

Diab Tells Cabinet Protest Movement Must Take Part in Ministerial Panels
Naharnet/February 20/2020
President Michel Aoun said Thursday that "measures will be taken to pinpoint every person's responsibility, especially as to the transfer of sums of money in an illegal manner that aggravated the severity of the crisis."Aoun was speaking at the beginning of the weekly Cabinet session in Baabda. Prime Minister Hassan Diab for his part said the government has started "the first step towards addressing the accumulations of 30 years of wrong policies which plunged the country into the current collapse."He also stressed that "figures from the popular protest movement must be added to the (ministerial) committees, each according to their expertise."Hoping that the meetings with the IMF will lead to results that "will help the country on the financial, social, economic and living conditions levels," Diab said public debt has "hemorrhaged state funds" and added that corruption and overspending have also emptied state coffers. Information Minister Manal Abdul Samad meanwhile told reporters that the issue of paying the due Eurobonds "was not discussed today," adding that "it is being tackled by the specialized committees."
The Cabinet also decided to "devise a mechanism to implement the content of the Policy Statement according to a roadmap that has already been approved," the minister said.
Report: France 'Stands Beside' Lebanon to Overcome Crisis
Naharnet/February 20/2020
France reportedly plans to "increase its presence" in crisis-hit Lebanon to help it overcome its economic crisis, as the debt-ridden country seeks assistance to rescue its moribund economy, al-Joumhouria daily reported on Thursday. In the past few day, senior Lebanese officials received assurances in that regard, said the daily, which they summarized as follows:
– Lebanon's stability and its ability to overcome the economic and financial crisis is a top priority for France.
– Paris, like all members of the Support Group for Lebanon, is committed to the decisions of the CEDRE Conference with the same momentum it showed on the day of the conference in 2018. France still insists that Lebanon takes this opportunity, which it believes helps the country overcome its crisis.
– Paris supports the government of PM Hassan Diab and is therefore satisfied with the government's performance and activity to find solutions to the crisis.
-The international community links assistance for Lebanon to its ability to implement much-needed reforms, and France finds it necessary that Lebanon expedites their implementation.
-Because France realizes the magnitude of the crisis in Lebanon, it supports the latter's decisions if it agrees on restructuring its Eurobond debts.

Lebanese Protest against Hike in Goods Prices
Naharnet/February 20/2020
Lebanese protesters rallied on Thursday outside headquarters of the economy ministry in Downtown Beirut to protest against uncontrolled hike in prices of consumer goods. Demonstrators said the ministry must activate its role and monitor prices of goods amid a crippling financial and economic crisis that left many unemployed. General Director of Economy and Trade at the Ministry of Economy, Alia Abbas, spoke to protesters assuring them that the Consumer Protection Authority operates with "transparency and its doors are open to all." Abbas said judicial authorities were asked to take appropriate measures against "greedy" merchants, even if it meant closing down their businesses. She assured that ministry inspectors "are doing their job."She urged all Lebanese to join efforts and cooperate with the ministry by filing complaints against shops and supermarkets manipulating prices of goods.
But the protesters said the ministry's efforts were "insufficient," and called for tighter measures. Lebanon has been suffering from slow growth, high unemployment and decades of widespread corruption and mismanagement that have triggered nationwide protests against the political elite since mid-October.
The local currency has lost nearly 60% of its value on the black market. Lebanon also has a massive debt, standing at $87 billion — 150% more than the country's GDP. Amid a severe liquidity crunch, banks have imposed informal capital controls, limiting withdrawals to a few hundred dollars a month. The country's economy has depended heavily on the U.S. dollars since the country's 15-year civil war ended in 1990.

SGBL Denies Making Transfers for Politicians, Shareholders after October 17
Naharnet/February 20/2020
Lebanon's SGBL bank on Thursday denied as "totally baseless" media reports claiming that politicians and shareholders had made transfers through the bank to foreign financial institutions in the wake of the October 17 uprising.
In a press release, the bank stressed that it is "committed to the resolution issued by (the central bank's) Special Investigation Commission on January 9, 2020 and the request for information that was issued by the aforementioned commission following its first resolution.""They clearly demonstrate that the circulated reports are totally fabricated and false, which subjects the media outlet concerned, the article's writer and the director in charge to legal prosecution," SGBL added. "Societe Generale de Banque au Liban S.A.L. will resort to the competent judicial authorities, especially criminal courts, to preserve its rights and reputation," the bank warned.
Akar talks general situation with US Ambassador
NNA/February 20/2020
Vice Prime Minister, National Defense Minister Zeina Akar Adra, on Thursday welcomed in her office at the Ministry US Ambassador to Lebanon, Elizabeth Richard, who came on a farewell visit, upon the end of her term of office in Lebanon. Ambassador Richard congratulated Minister Akar on her assumption of her ministerial duties. Talks reportedly touched on the general situation in Lebanon and the broad region. Minister Akar also received State Security Director General, Major General Tony Saliba, who congratulated her on her ministerial post. Discussions reportedly covered means of coordination between the military institution and the security agencies.
Army chief meets US Senate Armed Services Committee delegation
NNA/February 20/2020
Army Commander, General Joseph Aoun, on Thursday received at his Yarzeh office a delegation of the US senate Armed Services Committee, headed by Jonathan Lord, accompanied by US Ambassador to Lebanon, EElizabeth Richard. Talks reportedly touched on the general situation in Lebanon and the broad region, in addition to cooperation relations between the armies of both countries.
Hariri arrives in Abu Dhabi
NNA/February 20/2020
Former Prime Minister Saad Hariri arrived this evening to Abu Dhabi, accompanied by former Minister Ghattas Khoury. He was greateded at the airport by the Emirati Minister Mohamad Khalifa Mubarak and the Lebanese Ambassador to the United Arab Emirates Fouad Dandan.
During the two-day visit, Hariri will meet with Emirati officials.
Interior Minister talks overall situation with Daher, Boustani
NNA/February 20/2020
Minister of Interior and Municipalities, Mohamed Fahmi, on Thursday received in his office at the Ministry MP Michel Daher, with whom he discussed the country's general situation and developmental affairs related to the district of west Bekaa. Talks also covered the current monetary and financial situation.
Minister Fahmi also met with former Minister Naji Al Boustani, with the most recent political developments on the local arena featuring high on their talks.
House Finance Committee meets in second session on Eurobond dues' feasible solutions
NNA/February 20/2020
The Finance and Budget Committee held its second session this afternoon, chaired by MP Ibrahim Kanaan, to discuss feasible solutions for Eurobond dues. The meeting was attended by Finance Minister Ghazi Wazni, Chairman of the Association of Banks of Lebanon (ABL) Salim Sfeir, and Central Bank's representatives.
Indian Ambassador from Tripoli: Democracy can only be saved through non-violence
NNA/February 20/2020
Elite Center for Culture and Education in Tripoli on Thursday welcomed Ambassador of India to Lebanon, Dr. Suhel Ajaz Khan, in a cultural meeting on Mahatma Gandhi and an exhibition in cooperation with the Association of Lebanese Artists, Painters and Sculptors (LAAPS).
The following is the Indian Ambassador's speech:
"It's a great pleasure for me to be addressing this gathering today in Tripoli the second biggest and a very historic city in Lebanon. I also wish to thank Mrs. Aiman Kamli an active member of ADLIR i.e. Association for Development of India Lebanon Relations and the Elite Center for organizing this Seminar and Exhibition.
Friends ,
As you all must be aware Indian constitution is the biggest Constitution in the World. Constitution of India grants India a democratic form of Government based on adult franchise. The Constitution also grants citizens of India certain Fundamental Rights and also lists certain Fundamental duties the Country expects from its Citizens. The Constitutions also lists what we call Directive Principles of State Policies. These Directive Principles which are considered fundamental in governance of the Country ensures that the State and the Government shall strive to promote the welfare of the people by securing a social order in which social, economic and political justice is animated/informed in all institutions of life per as per Article 38 of the Indian Constitution.
There a a number of provision and article of the Indian Constitution which are heavily influenced by Gandhian Philosophy.
Mahatma Gandhi , as you all know , was one of the greatest personalities of 20th Century. He is referred to as Mahatma, meaning a "great soul. He led the civil rights movement in South Africa against the apartheid regime and later led Indian's independence movement against British colonial rule in complete non-violent manner. He showed us the path of non-violence and truth and gave us instrument of Non-cooperation and Satyagrah i.e. quest for truth. He always stood for intercultural understanding and peaceful coexistence.
According to Mahatma Gandhi, democracy can only be saved through non-violence because 'democracy, so long as it is sustained by violence, cannot provide for or protect the weak'. "My notion of democracy is that under it the weakest should have the same opportunity as the strongest. That can never happen through violence." said Mahatma Gandhi. In order to root out exploitation, therefore, a non-violent society or state has to be established. Such a society, of necessity, must be based on economic freedom and equality, because without economic equity there can exist no real political democracy. Gandhi, advocated such decentralisation of economic and political power in the form of, more or less, self-sufficient and self-governing village communities. He regards such communities as the models of non-violent organisation.
Gandhi, therefore, was of the definite opinion that the future Constitution of India should be based on the organization of well-knit and coordinated village communities with their positive and direct democracy, non-violent cottage economy and human contacts. "That state will be the best," declared Gandhi, "which is governed the least."
The concept of equality enshrined in Constitution of India is also based on Gandhian philosphy. "So long as a person ,whether man or women, is oppressed and does not enjoy equal rights with other citizens of the country , we cannot enjoy the freedom", Gandhi once said. Gandhiji's doctrine of equality was a corollary of his belief in the spiritual essence of all human beings-men and women. He was opposed to any form of discrimination and was strongly opposed to the practice of untouchability. "We have to realize equality in the midst of apparent external reality. Assumption of superiority by any person over any other is a sin against God and man" said Gandhi.
Gandhi also stood for the most downtrodden in the Society .He used to tell that when in doubt about ones actions, one must think of the poorest person one has seen and should consider how his action will impact that poorest person. In case that action is beneficial for him than the action is correct. This philosophy of Mahatma Gandhi for a governance structure which benefits the most downtrodden in the Society also is reflected well in the Indian Constitutions in terms of affirmative actions and a strive for a socialist and welfare society.
Apart from these general principles, there are specific articles in the Indian constitution which reflects various facets of Gandhian Philosophy like Articles 40, 43, 45, 46, 47 of Indian constitution . I would like to give you a brief introduction to these articles:
Article 40: Organisation of village Panchayats or local Self Bodies : The type of decentralised democracy that India had carefully evolved and maintained for centuries in the form of Village Republics was not a relic and survival of tribal communism; it was a product of mature thought and serious experimentation. The kind of local self-government that our country had developed in her numberless Village Communities stood the test of centuries of political storms and is still capable of being organised into an ideal form of democratic administration, i.e, Village Panchayats.
Article 43: To promote cottage industries: Decentralised cottage industrialism shows the way. The Indian village communes had evolved a well-balanced economic system by eschewing the two extremes of laissez faire and totalitarian control. After serious experimentation they had discovered a golden and happy mean between capitalism and socialism. They had developed an ideal form of cooperative agriculture and industry, in which there was scarcely any scope for exploitation of the poor by the rich. As Gandhiji put it, production was almost simultaneous with consumption and distribution. Commodities manufactured in cottages and domestic factories were for immediate use and not for distant markets. Such small scale and localised production on a self-sufficiency basis automatically eliminated capitalist exploitation. It virtually established economic equality without either ruthlessly curtailing individual liberty or allowing a few individuals to boss over others. Needless to mention that, according to Gandhian ideals, the decentralised cottage industries should be organised on a cooperative and not capitalistic basis.
Article 45: The state shall endeavour to provide early childhood care and education for all children until they complete the age of six years.
Article 46: Promotion of education and economic interests of scheduled castes, scheduled tribes and other weaker sections of the Society.
Article 47: to bring about the prohibition of intoxicating drinks and drugs that are injurious to health.
Gandhi also believed in self control and ones duty towards the Country and the society. He used to say, "Let each do his duty, If I do my duty, that is, serve myself, I shall be able to serve others". His idea was that all individual rights flow from one's duties. This aspect of Gandhian Philosophy is reflected in the Fundamental duties section of the Indian Constitution. The Fundamental duties have been incorporated in the constitution to remind every citizen that they should not only be conscious of their rights but also of their duties. Following are the Fundamental Duties under the Constitution of India:
a) to abide by the Constitution and respect its ideals and institutions, the National Flag and the National Anthem;
b) to cherish and follow the noble ideals which inspired our national struggle for freedom;
c) to uphold and protect the sovereignty, unity and integrity of India;
d) to defend the country and render national service when called upon to do so;
e) to promote harmony and the spirit of common brotherhood amongst all the people of India transcending religious, linguistic and regional or sectional diversities; to renounce practices derogatory to the dignity of women;
f) to value and preserve the rich heritage of our composite culture;
g) to protect and improve the natural environment including forests, lakes, rivers and wild life, and to have compassion for living creatures;
h) to develop the scientific temper, humanism and the spirit of inquiry and reform;
i) to safeguard public property and to abjure violence;
j) to strive towards excellence in all spheres of individual and collective activity so that the nation constantly rises to higher levels of endeavour and achievement.
k) who is a parent or guardian to provide opportunities for education to his child or, as the case may be, ward between the age of six and fourteen years.
Friends,
In the end I wish to say that Mahatma Gandhi and his teachings are relevant today even more than what they were during his times because we see violence , exploitation and disparities everywhere. I know there is a great goodwill and respect for Gandhian Philosophy in Lebanon and I hope we will all be able to follow Gandhiji's teachings in our lives."
Captain of Lebanese Ship Held in Probe of Libya Arms Trafficking
Agence France Presse/Naharnet/February 20/2020
Authorities in northern Italy arrested the captain of a Lebanese-flagged cargo ship on suspicion of international arms trafficking Wednesday while they investigate if the vessel transported tanks, rockets and other weapons from Turkey to Libya. The captain is under investigation for allegedly transferring military goods to Libya with as-yet unidentified Turkish military officials in violation of a United Nations arms embargo, Italian prosecutor Franceso Pinto told The Associated Press. Italian authorities launched their probe based on allegations a crew member made after the cargo ship arrived in the port city of Genoa earlier this month. The cargo ship, the Bana, turned up on the radar of French authorities not long before it reached Genoa on Feb. 2. The French aircraft carrier Charles de Gaulle shadowed the vessel in late January. The Lebanese crew member who blew the whistle in Italy alleged that tanks and other vehicles that could be used for military purposes were loaded onto the Bana at a Turkish port and then transported to Tripoli, the Libyan capital.
The sailor, who told Italian border police he was seeking political asylum, said the Bana allegedly sailed without cargo from Libya to Genoa. The 40-year–old ship's hold is designed to carry vehicles.
According to a report in Genoa daily newspaper Il Secolo XIX, the asylum-seeking sailor alleged that some 10 Turkish agents, including military officials, traveled on the cargo ship from Mersin, Turkey, to Tripoli, staying in the hold near armored vehicles. Pinto told the AP the sailor provided photographs showing vehicles in the ship's hold and that his application for political asylum in Italy is under consideration.
"He contends he discovered this trafficking" of arms, the prosecutor said.
If true, the alleged actions would violate the U.N. embargo aimed in part at ending nine years of fighting between rival factions seeking to control energy-rich Libya. It's not just the sailor's allegations that aroused suspicions about the cargo ship. Earlier in the week, a French military official, speaking anonymously due to the sensitivity of the issue, said the Charles de Gaulle aircraft carrier on Jan. 29 spotted a Turkish frigate off the Libyan coast escorting the Bana, which made a stop in Tripoli's port. French fighter jets from the aircraft carrier spotted a delivery while on a reconnaissance mission, French newspaper Le Monde reported. The Charles de Gaulle was in the area as part of a U.S.-led operation against the Islamic State group. Pinto told the AP the Bana's transponders were turned off after it left the Turkish port and crossed the water to Libya. Investigators in Italy hope that analyzing equipment from the ship, including the cellphones of crew members, would help verify the Bana's route.
Italy, in an effort to regain influence as a geopolitical player in Libya, has campaigned for vigorous monitoring and enforcement of the international arms embargo imposed on its former colony in northern Africa. The Italian government has not made any public statements about the Bana investigation. Rival forces control different parts of Libya. The U.N.-recognized government of Prime Minister Fayez Sarraj is based in the west and seated in Tripoli. Forces based in the east and led by a powerful general, Khalifa Hifter, have been engaged in an offensive to take Tripoli for nearly a year.
Both of the rival Libyan governments have enjoyed diplomatic and other forms of support from a host of countries. France, for example, a rival of Italy's in pursuing energy interests in oil-and-natural-gas rich Libya, sided with Hifter for a long time. The Turkish government recently ratcheted up its backing of Sarraj's government, promising military support and sending to Libya hundreds of Syrian fighters. The Syrians included militants affiliated with al-Qaida and the Islamic State group.
Turkish President Recep Tayyip Erdogan said Wednesday that Turkey would continue aiding Sarraj's government to "establish dominance" over all of Libya. Neither Turkey's Foreign Ministry nor the country's military responded to requests for comment on the whistle-blower's allegations or the Italian investigation. In an interview with the AP last week, Turkish Defense Minister Hulusi Akar said his country was doing all it could to ensure an agreement on respecting the arms embargo is put into practice. The deal was reached last month at a Berlin conference on Libya. A spokesman for Serraj's office didn't reply to phone calls and text messages from the AP on Wednesday seeking comment about the Bana investigation.
The cargo ship's Lebanese owner, Merhi Abou Merhi, denied media reports in recent weeks that the Bana was used to transport armored vehicles to Libya. He said the vessel usually takes cars between Lebanon and Libya.
He has not hasn't responded to an AP request for an interview. There was no immediate comment from Lebanese authorities in Beirut. The United States accused Abou Mehri in 2015 of laundering money for Hizbullah, but removed him from its list of sanctioned individuals in 2017. He consistently denied the money-laundering allegations. The Bana remains idled in Genoa's port, where it was supposed to take on a cargo of cars from European Union countries that were to be delivered to Misrata, Libya, prosecutor Pinto said. Pinto said the whistle-blower sailor was on his first voyage on the Bana but told authorities that other crew members recounted the cargo ship bringing arms to Tobruk, a city in eastern Libya, on a previous trip. Italian investigators plan to question the crew further. They are also awaiting results from technical analyses of ship equipment before deciding how to proceed.
Tensions as PSP Supporters Confront FPM Demo outside Central Bank
Naharnet/February 20/2020
Angry supporters of the Progressive Socialist Party on Thursday tried to reach a demo held by the Free Patriotic Movement outside the central bank on Beirut's Hamra Street. Army troops and riot police separated between the two groups to prevent any violence. The PSP supporters arrived on the scene of the demo chanting slogans in support of PSP leader Walid Jumblat and carrying flags of their party. FPM supporters meanwhile said PSP elements gathering near Jumblat's residence in Clemenceau attacked some of them physically and verbally and prevented buses carrying demonstrators from reaching the sit-in. Dozens of FPM supporters had earlier managed to reach the sit-in outside the central bank. They were later joined by dozens others whose buses took different routes to avoid friction with the PSP supporters. The rally was organized by the FPM's anti-corruption committee to demand "the recovery of money smuggled abroad and the unveiling of all facts in this file.""No leader is a red line, no bank is a red line, the central bank governor is not a red line and no oil cartel is a red line," an FPM official said in a speech at the demo. Another official said further popular protests will be staged in the coming period. Activists from the anti-government protest movement had earlier in the day plastered posters criticizing the FPM's "schizophrenia" on a wall outside the bank. "How can someone rally against themselves?", "Who extended Riad Salameh's term?" and "Are you in power or in the opposition?", read some of the posters.

Hariri in UAE for Talks with Emirati Officials
Naharnet/February 20/2020
Former Prime Minister Saad Hariri arrived Thursday evening in Abu Dhabi on a two-day visit during which he will meet with Emirati officials, his office said. He is accompanied by his adviser, former Minister Ghattas Khoury. Hariri was greeted at the airport by Emirati minister Mohammed Khalifa Mubarak and Lebanese Ambassador to the United Arab Emirates Fouad Dandan.
Jumblat Receives 'Solidarity' Call from Hariri, Urges Calm after Hamra Standoff
Naharnet/February 20/2020
Progressive Socialist Party leader Walid Jumblat has received a phone call from ex-PM Saad Hariri, who "stressed his solidarity and rejection of today's provocations against the PSP's supporters," the PSP said on Thursday. Army troops and riot police had earlier separated between supporters of the PSP and the Free Patriotic Movement near the central bank in Hamra during an FPM-organized demo. "Messages sent via social networking websites led to the tension," Jumblat told reporters, noting that he had called for calm prior to the demonstration. "But provocations and counter-provocations led to what happened," Jumblat lamented. Addressing supporters, the PSP leader reassured that he was "not in danger" and that he is "under the protection of the army and the Internal Security Forces. Jumblat's residence in Clemenceau is only a few hundred meters away from the central bank and rumors had claimed that the FPM supporters intended to rally outside his house. "There is no need for being tense," Jumblat urged. Asked whether the Presidency was trying to "besiege" him through the demo, Jumblat dismissed the hypothesis and stressed that "no one can eliminate the other."
"What's important is to salvage the economic situation through reform and Arab support," he added. Asked whether there are contacts with the Presidency, Jumblat said there is no communication but said he is willing to show positivity for the sake of the country.
IMF delegation holds talks on Lebanon's economic crisis
Associated Press/February 20/2020
The IMF experts first held talks in the morning with Prime Minister Hassan
Diab, who after the meeting headed to the presidential palace for a Cabinet session.
BEIRUT: An International Monetary Fund delegation began meetings Thursday in Lebanon to provide advice on dealing with the country's crippling economic and financial crisis amid concerns the country might default on its Eurobond debt payment for the first time.
Lebanon is going through its worst economic crisis since the 1975-90 civil war. Since then, the country has been marred by widespread corruption and mismanagement in which billions of dollars were spent on infrastructure, which remains mostly dysfunctional.
The IMF experts first held talks in the morning with Prime Minister Hassan Diab, who after the meeting headed to the presidential palace for a Cabinet session. The delegation stayed on at government headquarters for talks with Diab's advisers and left afterward without speaking to journalists.
The meetings come amid concerns that Lebanon might default for the first time on paying back Eurobonds due next month.
Information Minister Manal Abdul-Samad quoted Diab as saying in the Cabinet meeting that he hopes the meetings with the IMF will lead to results that "will help the country on the financial, social, economic and living conditions levels."
"We have started today the first step in solving an accumulation of wrong policies adopted over the past 30 years that led the country to the collapse that we are now living," Diab said, according to Abdul-Samad.
Diab said public debt has "hemorrhaged state funds" and said corruption and overspending have also emptied state coffers.
Diab became prime minister last month after he received backing from the militant Hezbollah group and its allies three months after Western-backed Prime Minister Saad Hariri resigned following broad protests against the ruling elite. Earlier this week, IMF Spokesman Gerry Rice said that the team will listen to Lebanese officials' views on how they plan to face the country's economic difficulties and provide "broad technical advice" on policies to deal with the challenges facing the economy.
"Lebanon has not requested financial assistance from the IMF," Rice said.
Lebanese Finance Minister Ghazi Wazni said in comments released by his office that the IMF delegation will discuss what advice it can give regarding a rescue plan that officials are preparing for the country.
Lebanon has been suffering from slow growth, high unemployment and decades of widespread corruption and mismanagement that have triggering nationwide protests against the political elite since mid-October.
The local currency has lost nearly 60% of its value on the black market. Lebanon also has a massive debt, standing at $87 billion — 150% more than the country's GDP. Amid a severe liquidity crunch, banks have imposed informal capital controls, limiting withdrawals to a few hundred dollars a month. The country's economy has depended heavily on U.S. dollars since the country's 15-year civil war ended in 1990.
The chairman of the Association of Banks in Lebanon, Salim Sfeir, met President Michel Aoun on Thursday to discuss paying Eurobonds that mature March 9 worth $1.2 billion. Lebanese officials have been discussing whether to pay on time — as they have always done in the past — or default.
Sfeir said after the meeting a solution must be found quickly because the price of Lebanese Eurobonds is dropping on international markets "making Lebanese banks suffer losses and come under increasing pressure."
On Wednesday, Parliament Speaker Nabih Berri was quoted by a member of his parliamentary bloc as saying that "restructuring the debt is the best solution."
Greek FM Discusses in Beirut How Athens Dealt with its Economic Crisis
Beirut – Asharq Al-Awsat/Thursday, 20 February, 2020
President Michel Aoun has expressed Lebanon's desire to enhance economic and tourism cooperation with Greece and Cyprus based on unified action plans. Aoun met on Wednesday at the Baabda Palace with Greek Foreign Minister Nikos Dendias, who is on an official visit to Beirut, ahead of a tripartite summit in March between Lebanon, Greece and Cyprus. The Greek minister emphasized the need for coordination between Lebanon and Greece in several fields in order to develop bilateral relations and support Lebanon in regional and international forums. Dendias told Aoun about his country's experience in overcoming its economic crisis ten years ago and the subsequent financial recovery. The Greek foreign minister also met with Speaker Nabih Berri, Prime Minister Hassan Diab and Foreign Minister Nassif Hitti. Following his meeting with Hitti, he said: "We have expressed our support for the agenda of reforms presented by the government. We have also exchanged views on the regional situation, and we underscore our support for political solutions under the United Nations, whether in Libya, Syria, or other countries of the world." The Lebanese foreign minister, for his part, noted that talks focused on economic cooperation between the two countries. "We heard from our friend, the minister, about his country's experience, and how it managed to face its difficult conditions. Perhaps this will be a useful lesson for us, especially since Greece has managed to recover," Hitti told reporters.
Lebanon: 785 Restaurants, Cafes Closed, 25,000 Employees Laid Off
Beirut – Asharq Al-Awsat/Thursday, 20 February, 2020
The number of restaurants and cafes that closed during the last five months in Lebanon reached 785, the highest percentage of which was recorded in the Mount Lebanon region. Meanwhile more than 25,000 employees were laid off. The head of Lebanon's syndicate of restaurants owners, Tony Ramy, said in a statement that 785 restaurants and cafes have been closed in the country since last September. He noted that the month of January alone witnessed the closing of 240 institutions. He explained that the Mount Lebanon governorate witnessed a closing rate of 54.6%, which is the highest for the year 2019, followed by Beirut, where the percentage of closings reached 29.4%, then come the North Governorate at 6.7%. The number of employees dismissed from their work exceeded 25,000, while another large portion of employees were working part-time and receiving half-pay, due to the 75 percent sales drop. "The purchase of raw materials from suppliers is based on the exchange rate of the dollar in the parallel market, at a price of LBP 2500, while the owners of institutions still adopt the official dollar exchange rate of LBP 1515 in their dealings with their customers, without an increase in prices," Ramy noted. "This makes investors hardly able to meet the minimum obligations of their employees, on one hand, and suppliers on the other," he added.
He stressed that the syndicate was awaiting a government action plan that would be commensurate with the current situation.

Beirut airport exchange rate rises for third time
Lauren Holtmeier, Al Arabiya English/Thursday, 20 February 2020
The Beirut airport duty-free exchange rate went up for a third time, reaching 2,100 Lebanese lira to $1. The official pegged rate is 1,500 lira to $1, though that peg has slipped since October. Now it is around 2,450 lira to $1 in the unofficial market. Lebanon's central bank and money exchangers had previously agreed to a 2,000 to $1 rate as the economic situation in the country continues to deteriorate. At the end of January, the airport raised its rate to 1,950 lira to $1. The first hike in the rate came in December, as the exchange rate hit 1,750 lira to $1. Lebanon's economy has been suffering for months as a shortage in dollars, needed to pay for much-needed imports, has spurred a larger economic crisis. Today in Beirut, policymakers and IMF officials are in meetings to discuss whether Lebanon will pay or default on an upcoming $1.2 billion Eurobond payment.

Lebanon's President Aoun vows accountability over financial crisis:
Reuters, Beirut/Thursday, 20 February 2020
Lebanese President Michel Aoun said on Thursday measures would be taken to hold to account all those who contributed to Lebanon's financial crisis through illegal actions be they transfers abroad, manipulation of Eurobonds or other acts. "There is information that we are still in need of with regards to the banking situation. There are measures that we will take to hold to account all who participated in bringing the crisis to where it is," Aoun said, according to his Twitter account.

Prosecutors further investigate Ghosn's Versailles palace party, other finances
Reuters, Paris/Thursday, 20 February 2020
French prosecutors have stepped up their investigation into alleged misappropriation of funds at Renault by former boss Carlos Ghosn, saying a judge had now been assigned to the case to launch a formal investigation. The prosecutor's office in Nanterre, on the outskirts of Paris, had since last year been looking into a party Ghosn had thrown for his wife at the sumptuous Versailles palace among other financial dealings. It said in a statement on Wednesday a judge would now examine several charges linked to Renault and levelled at an unnamed person or people. A judicial source confirmed that Ghosn was among them. A lawyer for Ghosn said he welcomed the opportunity to give his version of the events. "We will provide our explanations to the designated magistrate after we can finally have access to the case file," lawyer Jean-Yves Le Borgne told Reuters. Ghosn – now in Lebanon after he last month fled prosecution in Japan on financial misconduct charges – has repeatedly denied any wrongdoing. Reuters reported in January that judges, who have wider powers than investigators to pursue a criminal case, were set to get involved, potentially bringing prosecution a step closer. The prosecutor's office said the case involved suspect financial flows between Renault and a car dealership in Oman, as well as spending on trips and events. Prosecutors had been looking into whether Ghosn knowingly used company resources to throw a party that was for private purposes – his wife's birthday – in 2016. Ghosn's lawyers have said he did nothing wrong, but there may have been a misunderstanding between Versailles and party planners over who was to foot the bill for renting the venue. Another event at Versailles in 2014, when Ghosn held a corporate party to celebrate the 15-year anniversary of Renault's alliance with Japan's Nissan, will now also fall under the scope of the investigation, the judicial source said. At a news conference in January, Ghosn rejected allegations that most of the guests at the party – paid for by RNBV, a Dutch-based holding company for Renault and Nissan – were his own friends and family, saying the companies had invited business contacts from dealerships and other partners. Renault conducted its own internal inquiry into Ghosn's time at the carmaker and handed over information to prosecutors last year. This included its probe into millions of euros described as dealer incentives to an Omani distributor.
'Boycott them or they will come': Hezbollah supporters dress as 'Orthodox Jews' in anti-Semitic stunt
The New Arab/Thursday, 20 February 2020
The video was widely decried online as anti-Semitic.
A group of Hezbollah supporters dressed as Orthodox Jews staged a demonstration in Beirut on Wednesday calling for the boycott of US products in response to Donald Trump's Middle East peace plan. In a video shared online by supporters of the powerful Shia group, participants can be seen holding signs reading "Your money can boycott the deal of the century" and "Thank you IDF [Israeli Defence Force] for your support". The demonstrators, dressed all in black with fake sidelocks – traditionally grown by Orthodox Jewish men – walk through the streets of Beirut to a dramatic soundtrack as onlookers observe the protest. Other signs read "Boycott US products until they are gone", while the protesters also carried slogans written in Hebrew. The video was widely decried online as anti-semitic and ridiculed for its poor production value.Members of the group were reportedly assaulted following the demonstration after being mistaken for Orthodox Jews, social media users said.The demonstration was thought to be in response to a speech by Hezbollah leader Hassan Nasrallah on Sunday, in which he called on Lebanese citizens to boycott US goods and products as a part of a "battle" against Trump's pro-Israel peace plan.
"The Israeli is afraid of death while the American's weakness is his security and economy," Nasrallah said.Hezbollah social media accounts published lists of US products to boycott following the speech. Nasrallah's call for a boycott quickly backfired. Lebanese social media users posted sarcastic and scathing memes mocking the campaign. One user shared a photo of Nasrallah's son Jawad wearing a Timberland USA.73 sweatshirt with a caption reading: "before suggesting to your audience boycotting the US, please remove your son's sweatshirt and dress him in Iranian [clothing]". Another Twitter user wrote: "If I see any Hezbollah member carrying an iPhone, I will complain about him to Nasrallah." The call for a boycott of US goods comes as Lebanon faces the worst economic and financial crisis since the civil war. Lebanon has been suffering from slow growth, high unemployment and decades of widespread corruption and mismanagement that have triggered nationwide protests against the political elite, including Hezbollah, since mid-October
Lebanon Is Seeking IMF Advice to Exit From Its Financial Crisis, but Can It Avoid a Full Bailout?
Michael Young/Carnegie MEC/February 20/2020
Sibylle Rizk | Director of public policy at Kulluna Irada, a civic organization for political reform, in Beirut
Lebanon cannot avoid a comprehensive macrofiscal and financial stabilization and recovery plan. The alternative is a catastrophic scenario that would combine hyperinflation, devaluation, unemployment, poverty, and emigration. As a member of the International Monetary Fund (IMF), Lebanon is entitled to seek its advice and assessment of its financial situation. That would require a full disclosure of the Central Bank's and the banking sector financials to have an exact understanding of the magnitude of the losses.
We already know that Lebanon suffers from a combination of crises—balance of payment, debt, currency, financial sector, productive sector, and so on—that makes it a complex situation by any standard. The restructuring and financial needs are so great that we will probably need both a bail-in, meaning converting a portion of deposits into bank equity in a recapitalization process, after writing off the initial equity, and a bail-out, from foreign donors.
The main issue is political: Who will implement this rescue plan, knowing that Lebanon is also facing simultaneously a regime crisis? Lebanon needs a government able to steer the ship independently from the power system, based on elite-capture of the state, corruption, and clientelism. Competence, legitimacy, and credibility are key for any government that will need to reach out to external help, be it the IMF or any bilateral or institutional donor.
Ishac Diwan | Chaire Monde Arabe at Paris Sciences et Lettres, professor at the Ecole Normale Supérieure, Paris.
Lebanon is in dire need of financial support to help it adjust to the sudden stop of capital inflows. The huge internal and external deficits risk generating an economic meltdown. It is no exaggeration to assume that in the absence of large and quick disbursement of support, collapse and anarchy risk turning the country into a failed state. Under the best of circumstances, the International Monetary Fund (IMF) may be able, with the support of other donors, to come up with a total package of perhaps $20–25 billion over three years to support a rescue package and smoothen the inevitable short-term pain. To do so however, it will demand painful adjustments, including lower state spending, more taxes, privatization, debt reduction, and devaluation. Its goal will simply be to leave behind an economy that can repay its IMF loans within a decade.
In demanding adjustment against its support, the IMF will be in large part the messenger, prompting Lebanon to find an internal consensus on how to repair the wealth destruction brought about by the follies of its politicians. The precise ways in which the adjustment is made will have enormous distributional implications, especially how Lebanon's huge losses are allocated across society.
Lebanon's protest movement should not shut down the IMF option beforehand, as there is no other financial lifeline available at the moment. A better option for the movement is to support negotiations and set its own conditions on the rescue plan so that it protects the poor and the middle class. If it turns out that Lebanon cannot achieve an internal consensus on the way forward, then just as during its civil war the Phoenix may have to wait for the ashes before being reborn.
Amer Bisat | Head of sovereign and emerging markets investments at a New York-based asset manager, former International Monetary Fund senior economist, writing here solely in his personal capacity
It is time to demystify the International Monetary Fund (IMF). A full-fledged program is no longer a luxury. Lebanon needs one for three reasons. First, the Lebanese crisis is extremely complicated and seemingly intractable, and the IMF has the relevant and required expertise. Second, the Lebanese government's reform commitment, to put it politely, lacks credibility. The IMF's (monitored) conditionality will prove effective in anchoring implementation. Finally, and most importantly, the country's funding gaps are enormous. Unfilled, the economy will collapse and its foreign exchange reserves will decline further. Realistically, without an IMF imprimatur, other donors will be extremely reluctant to disburse money to Lebanon.
A separate, but related, point is whether the IMF conditions will be painful? Sadly, of course they will. But that's the wrong question. If the country is serious about dealing with its crisis, the IMF's prescribed measures will be what are needed anyway. Also, the notion that the IMF is insensitive to political realities and to the social impact of its conditions is outdated. A strong Lebanese negotiating team will be instrumental in shaping the program's details.
Nisreen Salti | Associate professor in the Department of Economics at the American University of Beirut
What "size" economic emergency program Lebanon needs is unclear, in the absence of any comprehensive inventory and verified consolidated balance sheets. But regardless, two fundamental reforms should precede any consideration of International Monetary Fund (IMF) involvement, whether timid (technical assistance) or robust (full program): reforms with regard to governance and with regard to an economic vision.
The IMF will come with policy prescriptions, some intrusive, with direct winners and losers—privatization, the lifting of subsidies, management of the public wage bill, and so on. There is much discord over the effectiveness and soundness of IMF intervention. But even proponents concede that pushing some of these policies in a system as corrupt and clientelistic as Lebanon's, without enacting reforms toward better governance, transparency, and the rule of law (all outside of the IMF's direct purview), is dangerous. It could provide the cover of "IMF conditionality" to further entrench the corrupt elite's grip on the economy. IMF bailouts purport to steer economies toward a path of economic growth, macroeconomic stability, and sustainable debt. Even when they include provisions for social safety nets, they do not adopt as objectives any distributional outcomes. But an economy can grow, be macroeconomically stable, and be fiscally responsible, yet distribute income in a highly unequal way. If Lebanon's collective economic vision is one that aims to correct the alarmingly skewed distribution of wealth and income (a distribution that has resulted from the very policies that have contributed to the crisis), adding a distributional objective to the triad of goals that are already explicit in an IMF bailout will also dictate which path to recovery the country chooses to tread. That may well require some policies that are not squarely in the IMF orthodoxy.
Sami Nader | Director of the Levant Institute for Strategic Affairs, economist, and lecturer at Université Saint Joseph in Beirut
Lebanon's ruling class has never missed an opportunity to miss an opportunity and engage in real economic reform. The last time this was true was after the CEDRE conference of international donors held in Paris in April 2018, which offered a financial package of around $18 billion, to be implemented in two phase, in exchange for the Lebanese government's introduction of long-awaited reforms. Yet the Lebanese political system is incapable of reforming, since that would imply a weakening of the country's political forces who would be deprived of their sources of funding.
CEDRE was the last chance to save the country at practically no cost. Today that is no longer the case. Lebanon is collapsing. The issue is no longer about how to avoid a crash but how to minimize its cost. Reforms, though necessary, are simply not enough anymore. Lebanon need a cash injection of at least $15–20 billion to restructure its public finances and banking system and avoid deep economic recession. No donor is ready to offer such a sum pro bono, as used to be the case in the past when Gulf Cooperation Council countries would give Lebanon money. Lebanon, under the auspices of Hezbollah, has lost his friends and their generous favors. It now needs to borrow money, and the only door on which it can knock is that of the International Monetary Fund.
'Social explosion' in Lebanese camps imminent, warn officials
Najia Houssari/Arab News/February 21/2020
Situation volatile as Palestinian refugees face economic crisis after US peace plan
BEIRUT: Authorities are battling to prevent "a social explosion" among Palestinian refugees crammed into camps in Lebanon, a top official has revealed.
Fathi Abu Al-Ardat, secretary of Palestine Liberation Organization (PLO) factions in Lebanon, told Arab News that urgent measures were being put in place to try and stop the "crisis" situation getting out of control. "Conditions in Palestinian refugee camps in Lebanon are very difficult due to the economic crisis facing the country, and we are trying to delay a social explosion in the camps and working on stopgap solutions," he said. And Dr. Hassan Mneimneh, the head of the Lebanese-Palestinian Dialogue Committee (LPDC), said: "More Palestinian refugees from the camps in Lebanon are immigrating. Embassies are receiving immigration requests, and Canada is inundated with a wave of immigration because its embassy has opened doors to applications."
According to a population census conducted in 2017 by the Central Administration of Statistics in Lebanon, in coordination with the Palestinian Central Bureau of Statistics (PCBS), there are 174,422 Palestinian refugees in Lebanon spread across 12 camps and nearby compounds.
Mneimneh insisted the figure was accurate despite the UN Relief and Works Agency (UNRWA) estimating there to be 459,292 refugees in the country. He said: "The census we had conducted refers to the current reality in Lebanon."
He added that he feared "increased pressure on European donor countries over UNRWA in the coming days after the unilateral implementation of the 'Deal of the Century' (the US peace plan for the Middle East) by Israel."Israel's goal is to undermine UNRWA's mission as a prelude to ending the Palestinian cause and, thus, preventing the return of Palestinians."Mneimneh held a meeting on Wednesday with two Lebanese and Palestinian action groups in Lebanon to discuss Palestinian asylum issues in light of the American peace plan. There were no representatives of Hezbollah or Hamas present at the talks.
He said: "This deal kick-starts an unusual stage that carries the most serious risks not only to the Palestinian people and cause, but also to the other countries and entities in the Arab region.
"The first of these is Lebanon, which senses the danger of this announcement in view of the clauses it contains to eliminate the Palestinian cause, including the refugee issue and the possibility of their settlement in the host countries."
Al-Ardat said: "Palestinian refugees have no choice but to withstand the pressures on them to implement the so-called 'Deal of the Century.' What is proposed is that we sell our country for promises, delusions, and $50 billion distributed to three countries. Palestine is not for sale."
He pointed out that "the camps in Lebanon resorted to family solidarity in coordination with the shops in the camps. Whoever does not have money can go to the shop after two (2 p.m.) in the afternoon and get vegetables for free. "We have been securing 7,000 packs of bread to distribute in the camps and buying the same amount to sell the pack at 500 liras. But this does not solve the problem."He added: "The PLO leadership continues to perform its duty toward the refugees and, until now, we have not been affected by the restrictions imposed by banks in Lebanon, and refugees are still receiving medical treatment.
"However, our concern now is that Palestinian refugees do not starve, taking into account all the indications that the situation in Lebanon will not improve soon. "Twenty percent of the Palestinians in Lebanon receive wages either from UNRWA — as they work there — or from the PLO because they are affiliated with the factions, but 80 percent are unemployed and have no income."
The meeting hosted by Mneimneh agreed "the categorical rejection of the 'Deal of the Century' because it means further erasing the identity existence of the Palestinian people as well as their national rights, especially their right to return and establish their independent state.
"It also means assassinating the Palestinian peoples' legitimate rights and supporting Israel's usurpation of international justice and 72 years of Arab struggle. "The deal includes ambiguous, illegal and immoral approaches that contradict all relevant UN and Security Council resolutions, especially with regard to the establishment of the Palestinian state on the Palestinian territories occupied in 1967 and the inalienable right of Palestinian refugees to return to their homeland and establish their state with Jerusalem as its capital," a statement on the meeting added.
"UNRWA must remain the living international witness to the ongoing suffering and tragedy of the Palestinian people, and UNRWA must continue to receive support." Attendees at the talks also recommended "improving the conditions of the Palestinian refugees in Lebanon to strengthen the elements of their steadfastness until they return." This was "based on the Unified Lebanese Vision for the Palestinian Refugees Affairs in Lebanon document, which includes the right to work."