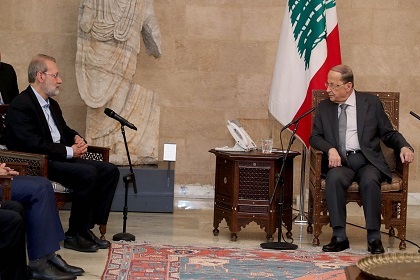 A Bundle Of English Reports, News and Editorials For 17-18/2020 Addressing the On Going Mass Demonstrations & Sit In-ins In Iranian Occupied Lebanon in its 124th Day
Compiled By: Elias Bejjani
February 18/2020
Titles For The Latest English LCCC Lebanese & Lebanese Related News & Editorials published on February 17-18/20
Larijani in Beirut for Senior Talks
Larijani says Lebanon endures critical stage, confirms Iran ready to cooperate with new government
Larijani Tells Aoun Iran Ready to Help Lebanon Economically
Lebanese President Aoun meets with Iran Parliament Speaker Larijani
President Aoun meets Chairman of Arab Banks' Executive Committee
Berri Stresses Arab and Islamic Unity in Talks with Larijani
Larijani Discusses Developments with Nasrallah
Geagea: Only Hizbullah Can Now Stop Country's Collapse
Diab Chairs Electricity Meeting Attended by World Bank Team
8 Activists Charged with Bank Torching, Referred to Criminal Court
Fahmi Vows 'No Leniency' in His Ministry
Lebanon, Greece, Cyprus to Discuss Oil, Tourism at Upcoming Summit
Palestinian-Lebanese Scholar Ali Al-Yousuf: We Will Rip Out The Israelis' Spleens And Livers; We Refuse To Accept Repatriation In Lebanon
Iraqi Shiite Militia Leader Sheikh Akram Al-Kaabi: We Have Resumed Covert Operations against U.S. Forces; Our IEDS, Rockets Will Chase America out Once Again
Lebanon could implode without serious government reforms, warns World Bank
Iran throws support behind Lebanon's government
Wazni holds financial talks with foreign diplomats, Kubis
Israeli enemy patrol violates technical fence east of Mays alJabal
Abdul Samad, Kubis discuss role of media facing crises
Yammine meets Turkish ambassador, ILO delegation, Federation of Building and Wood Workers delegation
Protesters march through Hamra Street, deplore Central Bank's financial policy
Launching RISE2030: Featuring first all-women solar crew in Lebanon
Ministry of Public Health, Lebanese Pediatric Society urge parents to get children vaccinated against measles
Snubbed by Gulf, Lebanon's PM Diab hosts Iranian official/Reuters/Ynetnews/February 17/2020
Hezbollah's Soleimani statue draws ire/The Arab Weekly/Monday 17/02/2020
Negative response to Larijani's offer of economic assistance to Lebanon/Najia Houssari/Arab News/February 17/2020
Why we should sell Lebanon's state-owned power company and how?/Rabih Sfeir/Annahar/February 17/2020
Save me! Lebanese man caught spying on Hezbollah begs Israel not to abandon him/Judah Ari Gross/Times Of Israel/February 17/2020
The Latest English LCCC Lebanese & Lebanese Related News & Editorials published on February 17-18/2020
Larijani in Beirut for Senior Talks
Naharnet/February 17/2020
Leading a delegation of lawmakers and politicians, Iranian parliament speaker Ali Larijani arrived in Beirut on a two-day visit to meet with senior Lebanese officials. Upon his arrival at the Rafik Hariri International Airport late on Sunday, Larijani praised relations between the two countries. "As you all know Iran is always striving to see brethren Lebanon a free and independent country," said Larijani, as he congratulated Lebanon on the formation of a new government. "We will always strive for excellent bilateral relations between the two brotherly countries," he told reporters. Larijani is scheduled to meet with President Michel Aoun, Speaker Nabih Berri, PM Hassan Diab and Hizbullah leader Sayyed Hassan Nasrallah. Larijani's visit came one day after Hizbullah -Iran's ally- unveiled a statue of slain Iranian commander Qassem Soleimani in the southern Lebanese village of Maroun al-Ras.
Larijani says Lebanon endures critical stage, confirms Iran ready to cooperate with new government
NNA/February 17/2020
President of the Iranian Shoura Council, Ali Larijani, on Monday indicated in a press conference held at the Iranian Embassy in Beirut that Lebanon was undergoing a sensitive stage. "We hope that the new government headed by Dr. Hassan Diab will be able to overcome all difficulties, and we are fully prepared to cooperate with the Lebanese government in all fields," Larijani said. "Our support to the Resistance is no secret, and today we have discussed all the areas of support for Lebanon during meetings with Lebanese officials, industrialists, economists, and agriculturalists," the Iranian official said.
He dismissed the assassination of Quds Force Commander, Qassem Soleimani, a terrorist crime. "It is a cowardly and reprehensible operation, and the method indicates the weakness of the United States, which has not been able to achieve its goals in any other way.""The US should be aware that we have become more determined to achieve our goals; mass rallies in Iran have confirmed their support for the Islamic regime," he added.

Larijani Tells Aoun Iran Ready to Help Lebanon Economically
Naharnet/February 17/2020
Iranian parliament speaker Ali Larijani held talks Monday with President Michel Aoun in Baabda and relayed to him a message from Iranian President Hassan Rouhani. Lebanon's National News Agency said the message tackled "means to develop the Lebanese-Iranian relations and involved an invitation to President Aoun to visit Tehran."During the meeting, Larijani congratulated Aoun on the formation of the new government and wished it "success in enhancing stability and security in the country," expressing Iran's willingness to "help improve the economic situations in Lebanon."NNA said Aoun and Larijani also "evaluated the current regional situations and the developments of events in Syria and the region.""They also tackled the situations of Syrian refugees in Lebanon and the need for their return to their country after stability and security returned to most Syrian regions," the agency added.
The president also discussed with Larijani the situations in Iran, NNA said. Larijani had arrived in Lebanon overnight for talks with the country's top leaders. The new Lebanese government was born after weeks of negotiations over its line-up, including with Iran-backed Hizbullah.
Tehran has already expressed willingness to assist Lebanon's economy, including by supporting the moribund electricity sector. The lack of electricity and other basic services was one of the reasons why protesters of all ages, sects and regions took the streets in mid-October to demand the wholesale removal of a political elite they see as corrupt and incompetent. Offers of support from Iran — itself in a difficult economic situation due to Western sanctions — are met with suspicion among Lebanon's deeply divided ruling class. "Iran's cash can help resolve the crisis of a party but not that of a country," Saad Hariri, who resigned as prime minister under pressure from the street last year, said on Friday. To rescue the country's economy, the new government has requested the advice of the International Monetary Fund on what measures to take. The next major date in Lebanon's economic calendar is March 9, when a $1.2 billion Eurobond is due to mature. Lebanon can either try to restructure its debt, repay the Eurobond — but the cash-strapped state can scarcely afford to — or default on its debt.
Lebanese President Aoun meets with Iran Parliament Speaker Larijani
Al Arabiya English/Monday, 17 February 2020
Lebanese President Michel Aoun is meeting with the Iranian Parliament Speaker Ali Larijani, who heads a delegation that includes a number of parliamentary and political figures, according to a post on the Lebanese Presidency official Twitter account. Larijani's visit to Lebanon comes after new Prime Minister Hassan Diab formed a government last month. Diab's government is supported by Hezbollah, which has close links to Iran and is fighting alongside Iranian troops in Syria. He reportedly wished the new government success and said Iran is ready to help improve Lebanon's economic situation, according to a tweet from the Lebanese Presidency Twitter account. Earlier, Larijani visited Damascus, where he said that Iranian businessmen would help rebuild Syria. Much of the country has been damaged as the Iran-backed Syrian regime extends its control over largest swaths of the country.
President Aoun meets Chairman of Arab Banks' Executive Committee
NNA/February 17/2020
President of the Republic, General Michel Aoun, received the Chairman of the Executive Committee of the Union of Arab Banks, Dr. Joseph Tarabay, in the presence of Former Minster, Salim Jreisatti, this morning at the Presidential Palace. Tarabay said that he conveyed, to President Aoun, the Arab Banks' solidarity, and continued cooperation with Lebanese banks, despite the current crisis which Lebanon is going through. "I conveyed, to his Excellency, the Arab Banks' experience regarding similar cases, focusing on the call to avoid judicial pathways and using negotiation with creditors. This is because there is no dispute over the amount of bonds or maturity dates, rather it can be requested that the payment would be postponed due to financial circumstances, which is normal in financial cases" Tarabay stated. —-Presidency Press Office
Berri Stresses Arab and Islamic Unity in Talks with Larijani
Naharnet/February 17/2020
Parliament Speaker Nabih Berri held talks Monday in Ain el-Tineh with his Iranian counterpart Ali Larijani. "Strength lies in unity and the Lebanese and the peoples of the region and the Arab and Islamic nations have no choice but to resort to the approach of unity, rapprochement and dialogue," Berri told his visitor. The National News Agency said the talks tackled the bilateral talks between Lebanon and Iran and that the meeting was attended by the accompanying Iranian delegation and Iranian Ambassador to Lebanon Mohammad Jalal Firouznia. The 90-minute meeting was followed by a lunch banquet thrown by Berri in honor of Larijani and the Iranian delegation. The Iranian visitor later left without making a statement. Larijani had arrived in Lebanon overnight for talks with the country's top leaders.
Larijani Discusses Developments with Nasrallah
Naharnet/February 17/2020
Iranian parliament speaker Ali Larijani held talks Monday in Lebanon with Hizbullah chief Sayyed Hasan Nasrallah. A statement issued by Hizbullah's media department said the talks tackled "the latest situations in the region, the ongoing developments and means to confront the political, security and economic challenges."Iranian Ambassador to Lebanon Mohammad Jalal Firouznia attended the meeting. Larijani also held talks on Monday with President Michel Aoun, Speaker Nabih Berri and Prime Minister Hassan Diab.
Geagea: Only Hizbullah Can Now Stop Country's Collapse
Naharnet/February 17/2020
Lebanese Forces leader Samir Geagea said Monday that "only Hizbullah can now stop the country's collapse" and that "it can pull it out of the current situation if it implements three steps.""Hizbullah must remove the cover off its allies, combat corruption in action not in words, withdraw from the region's problems, end its interference in Yemen and other countries, and hand over its weapons to the Lebanese state, which must regain control of the strategic decision," Geagea told MTV. Commenting on Hizbullah chief Sayyed Hassan Nasrallah's latest remarks about the country's crisis, Geagea said Nasrallah's call for forming a panel comprising all forces to seek a solution for the economic crisis is an "attempt to dodge responsibility.""The decisions are required from the government," he said. He added that the call for early elections will be the main demand of the coming period "once it is confirmed that the current government will fail in taking the necessary rescue steps.""This can be confirmed through its first practical step," Geagea noted. Separately, Geagea said talk of an opposition alliance between the LF, al-Mustaqbal Movement and the Progressive Socialist Party seems to be "premature," noting that Mustaqbal and the PSP have not yet decided to engage in a "confrontation" against the new government. He, however, noted that should Mustaqbal leader ex-PM Saad Hariri decide to "put his rhetoric into action and go to opposition, the only party he can rely on is the LF."
Diab Chairs Electricity Meeting Attended by World Bank Team
Naharnet/February 17/2020
Prime Minister Hassan Diab on Monday presided over a meeting dedicated to discussing the country's electricity file. The Grand Serail meeting was attended by a World Bank delegation led by regional chief Saroj Kumar Jha. It was also attended by Deputy PM and Defense Minister Zeina Akar, Energy Minister Raymond Ghajar and Economy Minister Raoul Nehme. A dated electricity grid, rampant corruption and lack of reform has left power supply lagging way behind rising demand since Lebanon's 1975-1990 civil war. Government subsidies to state-run EDL electricity firm have also worsened the cash-strapped government's budget. EDL receives one of the largest slices of the government's budget after debt servicing and salaries. According to the World Bank, government transfers to EDL averaged 3.8 percent of gross domestic product from 2008 to 2017, amounting to about half of Lebanon's fiscal deficit. Lebanon is one of the world's most indebted countries. Lebanon had committed itself to overhauling the electricity sector during the 2019 CEDRE conference in Paris.
8 Activists Charged with Bank Torching, Referred to Criminal Court
Naharnet/February 17/2020
Mount Lebanon Examining Magistrate Bassam al-Hajj on Monday issued an indictment in the file of protest movement activist Rabih al-Zein and seven others. The indictment says al-Zein "incited to the felony of the premeditated torching of banks."He was referred along with seven others to the Mount Lebanon Criminal Court. Al-Hajj had issued an in-absentia arrest warrant for al-Zein in recent days.
Fahmi Vows 'No Leniency' in His Ministry
Naharnet/February 17/2020
Interior Minister Mohammed Fahmi expressed determination to fight corruption and counter all kinds of challenges he might face in his ministry, al-Joumhouria daily reported on Monday. "I will never succumb to pressure or orders that contradict with my convictions," said Fahmi, "there are 300 stitches in my body as a result of injuries suffered during my service in the military, which is enough to make everyone realize that I am ready to confront all kinds of challenges I may encounter in the ministry," said Fahmi in an interview with the daily.
The Minister said a circular was distributed to civilians and military personnel at the ministry affirming that "any kind of mediation or unlawful requests will not be tolerated," even if it came from his late father. "Even if my late father came out of his grave to ask me for an unlawful request, I will apologize and say no I can not do it," said Fahmi. He concluded saying: "I am keen to push towards achieving the utmost discipline and regularity in the work of the ministry."
Lebanon, Greece, Cyprus to Discuss Oil, Tourism at Upcoming Summit
Beirut – Khalil Fleihan/Asharq Al-Awsat/Monday, 17 February, 2020
Preparations are underway to hold a Lebanese-Greek-Cypriot summit in Nicosia next March, after it was delayed from June 2019 due to political developments in Greece. Diplomatic sources told Asharq Al-Awsat that contacts are currently being led by foreign ministers of the three countries to coordinate between Beirut, Nicosia and Athens over issues expected to be tackled during the summit, particularly oil, tourism and security. Greek Foreign Minister Nikos Dendias is expected to visit Beirut Wednesday to meet with his counterpart Nassif Hitti and address the agenda and final date of the summit. Dendias' Cypriot counterpart Nikos Christodoulides had visited Beirut two weeks ago for the same purpose. Lebanon had first proposed holding this trilateral summit, which according to the sources, aims to reach cooperation in tourism, commerce and culture, in addition to protecting the democratic model in the region.
In the past weeks, the foreign, economic and tourism ministers of Lebanon, Greece and Cyprus held several meetings to examine these issues. During the discussions, Lebanon strongly spoke about the issue of Syrian refugees, which has up until now cost the country $25 billion, in addition to straining the health, environment, employment and housing sectors. Reports in Beirut revealed that both Cyprus and Greece said they understood the challenges Lebanon is facing due to the refugees. They are exerting efforts within the European Union to provide financial aid for securing their return home.
Palestinian-Lebanese Scholar Ali Al-Yousuf: We Will Rip Out The Israelis' Spleens And Livers; We Refuse To Accept Repatriation In Lebanon
MEMRI TV/February 17/2020
Palestinian-Lebanese Islamic scholar Sheikh Ali Al-Yousuf, who is a member of the International Union for the Support of Jerusalem and Palestine, said in a February 6, 2020 interview on Channel 9 (Turkey) that the Palestinians will rip out Israel's livers and spleens and deliver a "mighty and deadly" blow to its heart in a fashion similar to how Israeli forces shot Muhammad Salman Al-Haddad, a Palestinian 17-year old who was killed by Israeli forces during a February 5 protest in the West Bank. Sheikh Al-Yousuf said that the Palestinians in Lebanon still "erupt like a volcano" and fight on the Palestinian front while simultaneously fighting on the Lebanese front against injustice, tyranny, and oppression and against those who want to "restrain" and "neuter" the Palestinians by getting them to accept repatriation in Lebanon. He added: "We continue saying: No to repatriation, no to deportation, yes to returning to Palestine."
Ali Al-Yousuf: "We will strike a mighty and deadly blow to the heart [of Israel]. Just as they shot a bullet into the heart of Muhammad Salman [in Hebron], we will strike their hearts and tear out their livers and spleens, Allah willing.
"The Palestinians in Lebanon still erupt like a volcano. If you follow events in Lebanon, you know what the Palestinians there do for their people inside Palestine. Whenever the winds of resistance blow inside Palestine, all the refugee camps [in Lebanon] erupt. We erupt and fight on two fronts: We fight on the Palestinian front, which is the main front for us, and on the [Lebanese] front, which is the front of injustice, tyranny, and oppression and in which they want us to be under siege and be denied our rights. This front is no less important than the front of confrontation because it supports the people of Palestine.
"They want to restrain us and to neuter us. They want us to give up and accept repatriation [of refugees in Lebanon], but we continue saying: No to repatriation, no to deportation, yes to returning to Palestine."
Iraqi Shiite Militia Leader Sheikh Akram Al-Kaabi: We Have Resumed Covert Operations against U.S. Forces; Our IEDS, Rockets Will Chase America out Once Again
Al-Nujaba TV (Iraq)/MEMRI/February 17/2020
Sheikh Akram Al-Kaabi, the Secretary-General of the Iraqi Shiite Al-Nujaba Movement militia, said in a February 15, 2020 speech that aired on Al-Nujaba TV (Iraq) that following the death of IRGC Qods Force commander General Qasem Soleimani, the resistance has gone from defense to offense in order to show the American forces that the road to Baghdad Airport, where Soleimani was killed, is the Americans' "road to Hell." He said that the resistance has resumed its covert modus operandi and that it will once again carry out operations against U.S. forces and document these operations on video. Sheikh Al-Kaabi said that a decisive, high-profile attack will be carried out, that the Americans will lose the upcoming war of attrition, and that the IEDs, rockets, and bullets of the resistance will chase the American forces out of Iraq like they had in 2011.
Lebanon could implode without serious government reforms, warns World Bank
The New Arab & agencies/February 17/2020
Lebanon could implode unless it develops a new governance strategy with less corruption and more transparency, a senior World Bank representative told Bloomberg on Sunday. Marred by a continously deteriorating economic crisis and widespread corruption, Lebanon has been rocked by protests since October. The government of current Premier Hassan Diab is looking to the International Monetary Fund for technical help on handling the country's heavy debt, one of the highest rates in the world. "Politicians need to stop and listen," Ferid Belhaj, the World Bank's most senior MENA official, said in Dubai on Sunday. "You cannot continue doing what you've been doing for years when you see what the reaction on the street is and when you see what the state of the economy is."In addition to sending a team to Lebanon, the IMF will also consider financial assistance "if we are convinced that there is a seriousness in the approach the government is taking", Managing Director Kristalina Georgieva told Bloomberg TV.
Iran throws support behind Lebanon's government
Annahar Staff/Annahar/February 17/2020
Prime Minister Hassan Diab, along with President Michel Aoun, met with the Iranian Shura Council Speaker at the Baaba Presidential Palace. BEIRUT: Prime Minister Hassan Diab held his first meeting with a foreign official Monday, garnering support from Iran who pledged to "fully cooperate" with the Lebanese government. Diab, along with President Michel Aoun, met with the Iranian Shura Council Speaker at the Baaba Presidential Palace. "We, as a friendly country toward Lebanon, express our total readiness to support it in all fields," Ali Larijani said, adding that he met with leaders of "the resistance" in Syria before landing in Beirut. Following his meeting with Aoun, Ali Larijani said that the Islamic Republic stood ready to support Lebanon as it battles with its most severe economic crisis in decades. According to a statement from the presidential palace, the two also discussed "the bilateral relations between the two countries, regional developments, the situation in Syria and the importance of the return of Syrian refugees to their country." Larijani also extended Aoun with an invitation to visit Iran's capital Tehran. Diab's newly formed government recently secured a vote of confidence from parliament but has received a lukewarm reception from regional allies. Western-allied Arab Gulf states have held back from inviting Diab to a visit. His government is mostly made up of Hezbollah backed ministers and its Christian allies.
Wazni holds financial talks with foreign diplomats, Kubis
NNA/February 17/2020
Minister of Finance, Dr. Ghazi Wazni, on Monday held a series of diplomatic meetings with a number of European and foreign ambassadors to discuss the country's financial conditions in line with the current circumstances. Wazni met with Swiss Ambassador to Lebanon, Monika Schmutz Kirgِz, and Norwegian Ambassador to Lebanon, Leni Stenseth, and discussed with them their countries' support to Lebanon, its people, and institutions to enhance its economic, social, and political stability. The Minister also met with Japanese Ambassador to Lebanon, Takeshi Okubo, and Australian Ambassador to Lebanon, Rebekah Grindlay, and discussed with them bilateral relations between Lebanon and both countries, and ways of enhancing them in all fields. As for French Ambassador to Lebanon, Bruno Foucher, he stressed during his meeting with Minister Wazani France's support to Lebanon. The French diplomat also called on the government to implement the required reforms. Minister Wazani concluded his meetings by meeting with United Nations Special Coordinator in Lebanon, Jan Kubis, who stressed that the United Nations would exert all the necessary efforts to support Lebanon under these circumstances. He finally expressed hope that the Lebanese government would put in place clear procedures to thrash out the crises taking place in the country, especially in the financial and economic fields.
Israeli enemy patrol violates technical fence east of Mays alJabal
NNA/February 17/2020
An Israeli enemy infantry patrol, comprised of 14 soldiers with a police dog, has violated the technical fence in the Kroum al-Sharaqi area in the town of Mays al-Jabal, National News Agency correspondent reported on Monday.
The enemy patrol backed up by a Merkava tank and another military vehicle, carried out combing and search operations in this spot for about half an hour, only to withdraw later without violating the Blue Line. A state of mobilization and alertness dominates along both sides of the border, with the Lebanese army and UNIFIL forces running observation patrols in the area.
Abdul Samad, Kubis discuss role of media facing crises
NNA/February 17/2020
Information Minister, Manal Abdul Samad Najd, on Monday welcomed at her ministerial office with UN Special Coordinator for Lebanon, Jan Kubis, with whom she discussed the positive role that the media could play in confronting the prevailing crises and challenges. Kubis confirmed herein keenness on preserving the rights of journalists to be able to transparently purvey the image on the ground away from political pressure or any sort of personal threats. "The United Nations' role in Lebanon is not limited to supervision, as it has been endeavoring to push matters to a better end whilst steering clear from intervening in the country's internal politics," Kubis added.
Yammine meets Turkish ambassador, ILO delegation, Federation of Building and Wood Workers delegation
NNA/February 17/2020
Labor Minister Lamia Yammine on Monday welcomed in her office at the Ministry, International Labor Organization's Regional Director for Arab States, Dr. Ruba Jaradat, along with a delegation from the Organization. Discussions reportedly touched on issues of joint concern. Dr. Jaradat briefed Minister Yammine on the projects undertaken by the Organization in Lebanon and what it can offer in light of the existing circumstances. On the other hand, Minister Yammine received Turkish Ambassador to Lebanon, Hakan Cakil, with whom she discussed the bilateral relations between the two countries and the importance of bolstering them for the benefit of the two peoples in Lebanon and Turkey. Yammine later met with a delegation of the Geneva-based International Federation of Building and Wood Workers (IFBWW), with talks reportedly touching on means of cooperation between the Ministry and the Federation with regard to exchanging expertise and regulating the country's building and wood sector.
Protesters march through Hamra Street, deplore Central Bank's financial policy
NNA/February 17/2020
Protesters have marched through Hamra Street, chanting slogans deploring the Central Bank's financial policy, NNA Correspondent reported on Monday. Protesters have chanted slogans against Central Bank Governor Riad Salameh and the Association of Banks in Lebanon.
Launching RISE2030: Featuring first all-women solar crew in Lebanon
NNA/February 17/2020
"RISE2030" is a community-led initiative that focuses on women and youth empowerment, aiming at building capacity & improving living conditions of those living in deprived areas, through education, employment, and empowerment. The initiative includes different components designed together to achieve rural development, individual empowerment, and decentralization of power. RISE2030 is built on three major pillars: Empowerment, Equality, and Sustainability. Hence, Rise2030 launched the first all-women solar team in this cohort to challenge the gender stereotypes in male-dominated sectors.
The initiative implemented a community installation activity at the material recovery facility in Qaroun, serving Al Bohaira Federation of Municipalities. The facility receives municipal solid waste from 6 municipalities, and performs a range of activities to recover material and achieve higher recycling rates. This includes waste sorting, baling, storing, and moving.–RISE 2030 Initiative
Ministry of Public Health, Lebanese Pediatric Society urge parents to get children vaccinated against measles
NNA/WHO/February 17/2020
The recent measles vaccination campaign launched back in December following the outbreak that has spread across Lebanon have many parents concerned. The Ministry of Public Health, along with the Lebanese Pediatric Society, WHO and UNICEF are very concerned about certain misconstrued comments expressed over the last few weeks by parents on social media and WhatsApp messages. These comments are found to be wrong and misleading, while the only way to protect the child against measles is the vaccination.
Since onset in early 2018, the measles outbreak has spread to all eight Lebanese governorates, counting more than 2,000 reported cases, most prominently among children less than 10 years of age.
"Choosing to not vaccinate your children during the campaign not only leaves them susceptible to measles, but also exposes other children to measles," said Dr. Walid Amar, Director General of the Ministry of Public Health. "The Ministry of Public Health, with the support of the World Health Organization and UNICEF, provides safe and effective vaccines free of charge to children through trained teams of health workers in all institutions. We urge all parents to take advice from health professionals on health issues because health policies and practices are evidenced based and not based on rumors".
Measles is a serious and highly contagious disease. If not prevented, measles can cause serious complications including meningitis, severe diarrhea and dehydration, pneumonia and ear infections and even death. Measles survivors are often left with life-long disabilities, such as blindness, deafness and brain damage. "It is important to vaccinate your children during the campaign. The third additional dose of the measles containing vaccine is crucial for optimal immunity and it is safe," explained Dr. Bizri, Head of National Certification Committee (NCC). "The cold chain at the MoPH Central Drugs Warehouse and the primary health care facilities are of optimal quality and ensure safe storage of vaccines. Finally, it is important to note that MoPH provides free vaccines to some major private sector health facilities".
"The measles vaccine is safe and effective. A child to be better protected needs to receive at least two doses of Measles, and there is no harm in receiving an additional dose. There are no reasons children should still be dying of this disease," added Dr. Majdalani, Head of Lebanese pediatric society.
"Immunizations can save a child's life and vaccines are only given to children after a long and careful review by scientists, doctors, and healthcare professionals. The only way to halt the epidemic currently is to vaccinate all children, between the age of 6 months and 10 years. The Measles vaccine protects children against avoidable lifelong complications and potentially death. No child should be left behind" said Dr Shankiti, representative of WHO office in Lebanon.
The measles vaccine is procured by UNICEF through its Global Supply Division who is responsible for buying all vaccines and related items for global campaigns to eradicate polio, eliminate neonatal and maternal tetanus, and control measles. All vaccines procured through UNICEF are WHO pre-qualified and follow strict safety standards and quality control. WHO and UNICEF promote vaccine security by working with manufacturers to ensure there is a reliable supply of quality, affordable vaccines, and with governments to assess their vaccine requirements.
"UNICEF has a key role in vaccine procurement and procuring immunization supplies on behalf of around 100 countries annually," said Yukie Mokuo, UNICEF representative in Lebanon. "For the past 25 years UNICEF has brought quality vaccine to the Ministry of Public health to vaccinate all children in Lebanon. Parents and communities are urged to take part in the upcoming measles vaccination campaign to reach every child."
WHO and UNICEF are working with the ministry of Public Health to support vaccine supply and cold chain management, on-the-ground coordination, operations support and monitoring. WHO and UNICEF are also working with the MOPH to ensure clear communication to mobilize the general public aiming to achieve high turnout of all children under 10 years old for vaccination.
Representatives from the Ministry of Public Health, WHO, UNICEF, the Lebanese Pediatric Society regional delagates and the heads of other medical societies, stressed during the meeting on the need for commitment and active participation in the campaign, and the need to urge parents and advise them to give their children the extra dose during the campaign regardless of previous doses and that the vaccines provided by the Ministry of Public Health are safe and effective and that the cold chain in its central warehouse and in primary health care centers are of ideal quality and are subject to safe storage conditions .
The second phase of the national immunization campaign will be launched in April 2020 targeting children aged between 6 months to less than 10 years old. All children will also receive vaccination with bivalent Oral Polio Vaccine. Children will be reached in primary healthcare centers/dispensaries, schools, nurseries and private clinics, as well as in Informal settlements.–WHO
Snubbed by Gulf, Lebanon's PM Diab hosts Iranian official
Reuters/Ynetnews/February 17/2020
Experts say the Iranian-backed terror group Hezbollah's role in helping Diab form a government could impede securing Western and Gulf aid to solve the country's financial woes
Lebanese Prime Minister Hassan Diab, who is getting the cold shoulder from Gulf Arab states, on Monday met Iran's parliament speaker, the first senior foreign official to visit since Diab's government took office. Gulf states had long channeled funds to Beirut but have grown alarmed by the rising clout of Iran-backed terror organization Hezbollah. Lebanon's rich Gulf neighbors now appear to loathe to help it out of an unprecedented economic and financial crisis. The heavily armed Hezbollah backed Diab's cabinet after efforts failed to strike a deal with Saad al-Hariri, a traditional Western ally who stayed out of the new government. The economic crisis came to a head last year as slowing capital inflows led to a liquidity crunch and protests erupted against the ruling elite. Banks are curbing access to cash, the Lebanese pound has slumped and inflation has spiked. Foreign donors have said they will only help after Lebanon enacts reforms. However, analysts say Hezbollah's role in forming the government, which took office last month, could impede securing Western and Gulf aid. Iranian speaker Ali Larijani said in a news conference that Iran stood ready to help Lebanon. In response to a question on whether this would close the door to any Western aid, he said: "We express our full readiness to support but we do not force this on anyone." Mohanad Hage Ali, a fellow at the Carnegie Middle East Center, said his visit may not help bolster the new Lebanese government's image. "It's not very helpful at this stage as Lebanon seeks foreign aid and a bailout and the help of Gulf Arab states. This is the not message you want to send," he said. Diab has said his first trip abroad would be to the Arab region, particularly the Gulf monarchies. But none of them have officially commented on the government nor extended public invitations to Diab. An Arab diplomat in the Gulf said only Qatar had invited Diab to visit so far. "No other government in the Gulf will invite him," the diplomat said. Qatar did not immediately respond to a request for comment on whether it had sent an invitation. Lebanese President Michel Aoun's office said he received an invitation to Tehran during his meeting with Larijani on Monday. Hezbollah leader Hassan Nasrallah said on Sunday that the cabinet was not "Hezbollah's government" and that opponents who described it that way were damaging Lebanon's ties to foreign states and making it harder to combat the crisis. A team of IMF experts will begin consultations with Lebanon's government in Beirut on Thursday, a source familiar with the matter said. The heavily indebted state formally requested the Fund's technical help last week. On the parallel market – now the main source of hard currency – the price of U.S. dollars hovered around 2,400 Lebanese pounds on Monday, 60% beyond the official peg of 1,507.5 in place since 1997.
Hezbollah's Soleimani statue draws ire
The Arab Weekly/Monday 17/02/2020
Analysts warn that perceptions that Beirut is moving closer to Tehran could hurt Lebanon's foreign ties
LONDON – Hezbollah's unveiling of a statue of slain Iranian General Qassem Soleimani on Saturday drew widespread criticism at a time that many in Lebanon have expressed fears about the country moving closer to Tehran.
The statue, which is located on a hill in the southern Lebanese border town of Maroun Al-Ras and features Soleimani pointing his finger towards Israel, was roundly criticised by many in Lebanon who viewed it as an indication of increased Iranian influence over the small Mediterranean country. The hashtag '#Lebanon is greater than your Soleimani' was trending in Arabic hours after the unveiling of the statue, with many twitter users expressing discontent about the new statue and what it meant for Lebanon. Former Justice Minister Ashraf Rifi said: "The establishment of the Soleimani statue in the south has nothing to do with the confrontation with Israel, but rather with the assertion of Iran's mandate over Lebanon." Rifi, who served as the general director of Lebanon's Internal Security Forces before being appointed Justice Minister in 2014, added: "The Quds Forces did not fight for Jerusalem, but rather destroyed Syria and Iraq and transformed Lebanon into a failed state." "Are we in Lebanon or Iran?" asked May Chidiac, a former minister for administrative development. "Why insist on changing the identity of Lebanon? Every day, Hezbollah confirms that it is a branch of the Iranian Revolutionary Guard Corp (IRGC)… and not a Lebanese party," she tweeted. Regional and international commentators also questioned the wisdom behind the unveiling of the statue. Soleimani was killed on 3 January in a US drone strike on Iraqi soil which resulted in Tehran retaliating by firing ballistic missiles at the Ayn AL-Asad airbase in Iraq, raising tensions between Tehran and Washington to their highest levels in years. "Due to the act that Iran and Lebanese backed by Iran have extra cash… is it more humane to spend the money on building a statue of Qassim Soleimani instead of feeding the hungry," asked Saudi political commentator Abdulateef Al-Mulhim. "What a waste," he tweeted. The unveiling of the statue came just one day before Iranian parliamentary speaker Ali Larijani arrived in Beirut for a two-day visit to meet with senior Lebanese officials, another indication of growing ties between Beirut and Tehran.
"As you all know Iran is always striving to see brethren Lebanon a free and independent country," Larijani told reporters after his arrival at the Rafik Hariri International Airport. "We will always strive for excellent bilateral relations between the two brotherly countries," he added.
Lebanon is facing a major economic crisis with banks continuing to curtail access to deposits and the Lebanese pound slumping, leading to huge inflation and a rise in unemployment. There are hopes that a new cabinet, led by Prime Minister Hassan Diab, could bring in much needed investment and international aid, but analysts warn that Hezbollah's role in forming the cabinet and a perceived move closer to Tehran could stymie this. In a televised speech on Sunday, Hezbollah leader Hassan Nasrallah said that supporting the new government was a "national duty," adding that opponents who describe the new cabinet as "Hezbollah's government" were harming Lebanon's "Arab and international ties."
Negative response to Larijani's offer of economic assistance to Lebanon
Najia Houssari/Arab News/February 17/2020
Iranian offer sparks debate as acceptance will be considered a challenge to US sanctions on Iran
BEIRUT: Iran's Speaker Ali Larijani's visit to Lebanon was not welcomed by political leaders opposing Hezbollah, in what was the first official foreign visit by a senior politician to Beirut since the formation of a new government led by Prime Minister Hassan Diab. Apart from Diab, Larijani met with Lebanese President Michel Aoun and Speaker Nabih Berri. "He (Larijani) conveyed to Aoun a letter from the Iranian President Hassan Rouhani regarding Iranian-Lebanese ties, and invited him to visit Tehran," said Aoun's media office.
"Lebanon is an influential country in the region. The relations between our two countries have always been based on friendship and goodwill. Iran is continually seeking to see the brotherly Lebanon as a free, sovereign and independent country," said Larijani at Rafic Hariri International Airport.
Reacting to his visit, former Minister Ashraf Rifi said: "Keep your hands away from Lebanon for it to stay free, sovereign and independent. The project of Iranian hegemony and trusteeship will fall sooner or later because it opposes the people's freedom and dream of a better future.
"Liberating Lebanon from your hegemony is the gateway to salvation. Iran has only offered Lebanon destruction and blood. Do not believe the delusion of dominating over Lebanon through your tool's weapons," he added.
Member of Parliament Nadim Gemayel, who is a member of the Kataeb Party, said: "Welcome to your mini-state and thank you for your wishes. Start by keeping your hands and evil away from Lebanon. Tell that to Hassan Nasrallah, the chief of Wilayat Al-Faqih in our country.
"Our situation today is a direct result of Hezbollah's corruption, illegal weapons and indiscriminate wars. They led investors and the international community to lose confidence in the country and brought economic pressures and sanctions," he added.
Keep your hands away from Lebanon for it to stay free, sovereign and independent. The project of Iranian hegemony and trusteeship will fall sooner or later because it opposes the people's freedom and dream of a better future.
Ashraf Rifi, Former Lebanese minister
Nasrallah, the secretary-general of Hezbollah, had previously given a speech calling for a boycott of US goods in Lebanon. In it, he had stated his confidence that Iran would make up any shortfalls, and was ready to provide Lebanon's armed forces with necessary arms and equipment.
The offer was echoed by the Iranian Minister of Foreign Affairs Mohammad Javad Zarif during an official visit to Beirut.
"My country is ready to provide assistance and cooperate with the Lebanese government in all fields. We are waiting for this desire to be shared by the Lebanese side," he said. The Iranian offer sparked a debate in Lebanon, as acceptance would be considered a challenge to US sanctions on Iran and a deviation from Lebanon's disassociation policy.Nasrallah reiterated the offer and suggested resorting to China to resolve the country's chronic crises in a speech last November. Larijani's visit on Sunday coincided with another move by Hezbollah, to unveil a monument dedicated to Iranian Gen. Qassem Soleimani, killed in a US drone strike in January, on the Southern Lebanese border with Israel. Former Prime Minister Fouad Siniora reacted by saying: "The unveiling of the monument is an unhelpful move and an unwise action."
Why we should sell Lebanon's state-owned power company and how?
Rabih Sfeir/Annahar/February 17/2020
If these measures are implemented, EDL will become efficient and profitable instead of costing $1.5 billion in subsidies each year.
Privatization plans can expect opposition from politicians, hostility within the industries to be privatized, resistance from the financial community, and bewilderment in the population as a whole, argues John Moore in an article published in the January–February 1992 issue of Harvard Business Review.
Moore, a minister for ten years in Margaret Thatcher's government, explains that when his party took office in 1979, the UK economy was in "serious trouble." Yet, the government's privatization plans were met with stiff opposition back then, even by Britain's financial community.
But history proved them wrong.
On that premise, let's head straight to why we should sell the state-owned Electricité Du Liban and how.
EDL has long depleted and drained the Lebanese treasury for a myriad of reasons while its performance leaves much to be desired.
– It costs the government an average of 1.5 billion US dollars a year.
– It has failed to provide round the clock electricity supply for over 30 years.
– It is causing severe pollution in several areas.
– No Lebanese government was able to devise a proper plan to manage the power sector, let alone execute it.
Now, let's move to the rationale of politicians, who have always argued against privatization.
– We should fix and revamp EDL before selling it to fetch a better price.
– Why should we sell government properties when Lebanon can benefit from these assets if they are well managed?
– Our country's properties are not for sale; they are our "pride".
– Corrupt politicians' companies will buy it for pennies.
– Once EDL is privatized, the cost per KWH will increase tremendously on citizens.
What our politicians really mean, however, is the following:
– If we sell EDL, we lose all personal and party benefits.
– If we privatize EDL, we won't be able to ensure jobs to our constituents, just before the elections.
– I (a politician) own a private generator business in my district.
Choosing what to privatize is crucial, for instance, EDL's value is capped by Lebanon's population size and economic diversity when compared to Beirut port, which can theoretically grow in value if Lebanon assumes the role of a regional and global trade hub.
That said, the privatization of EDL comes with its own set of challenges in terms of methods (DCF, Multiples, and comparables). To derive EDL's value, I will use two approaches, assuming an interest from Electricité De France. EDF is 83% owned by the French government which announced its intention to conditionally assist Lebanon.
The comparable per capita approach
France's per capita electricity consumption is 6,900KWH/year while Lebanon's consumption currently stands at 2,600. The difference is mainly due to France having longer winters and being home to energy-intensive industries.
So, let us assume that we will reach France's economic sophistication (taking the best scenario in our sell-side analysis), Lebanon's total need for energy would reach 34.5 billion KWH given a population of 5 million excluding Syrian refugees.
Whether applying peak vs off-peak electricity rates or the current tranches system being applied in Lebanon, EDF can easily deliver the KWH at around USD 0.26 (Note that EDF delivers the KWH in the UK at a flat rate of £0.19 and €0.18 in France). While a flat rate is cheaper for industries, our politicians are likely to opt for the populist peak vs off-peak electricity approach. Either way, the total cost will drop for consumers after accounting for the fees charged by private generators.
Since mature energy companies trade at a price to sales ratio of 0.45 (EDF case) to 1, with EDL generating estimated revenues of USD9 billion, it can have a value of USD6.75Billion.
The comparable per user approach
Using EDF revenue per customer of around $2,200/year, EDL, which at best can have 2 million subscribers, would generate revenues of $4.4 billion.
EDL in this scenario can have a market value of ($4.4 billion x 0.75 P/S) $3.3 billion.
An average of both methods gives a best-case market value estimate of around $5 billion. My best unorthodox estimate would be USD3 billion.
Regardless of EDL's valuation, the privatization of the state-owned power company must be coupled with terms and conditions, to name a few:
– Layoffs, if needed, have to be fair and agreed upon before EDL is sold.
– EDF's future purchase of properties to build new power plants must be approved by the Lebanese government within a certain deadline.
– A clear and reasonable timeline must be outlined to upgrade the power grid and boost energy supply.
– If EDL generates higher revenues than estimated within the first 10 years, more value should be returned to the government either in the form of higher taxes or a share in the company (never an influential share).
– In case EDL shares are to be floated on the stock market, the government should require equity ownership but not a controlling stake.
– The decision to float EDL's shares on the market should lie only in the hands of the company's management and board.
-While EDL should remain the sole electricity provider for several years, the government must later open the electricity sector to competition while capping the price of the kWh.
If these measures are implemented, EDL will become efficient and profitable instead of costing $1.5 billion in subsidies each year. Simply put, we are selling the good future of a bad company at a good price with upside protection should the sector show more potential.
I say forget the haircut, the tough measures our populace must bear or any other intimidation; sell smartly, improve the service and cut their sources of corruption which is the root cause of the evil we are living in.
*Rabih G. Sfeir is a chartered financial analyst with 17 years of experience in commercial credit analysis, private equity, and capital markets.
Save me! Lebanese man caught spying on Hezbollah begs Israel not to abandon him
Judah Ari Gross/Times Of Israel/February 17/2020
https://www.timesofisrael.com/save-me-lebanese-man-caught-spying-on-hezbollah-begs-israel-not-to-abandon-him/
'Benjamin Philip' says he worked for the Mossad for 9 years, helping to fight the Iran-backed Hezbollah; now he faces deportation to Lebanon and says Israel's nowhere to be found.
EXCLUSIVE'THEY THINK I'M A DUMB ARAB, BUT I STILL LOVE ISRAEL'
Benjamin Philip decided to help Israel and the Mossad fight Hezbollah in 2011, gathering intelligence on the Lebanese terror group's activities and recruiting additional assets within the organization, including, he says, a member of one of its most elite units. His work, he says, has ruined his life and the lives of his family members in Lebanon.
After being found out as a Mossad asset and incarcerated in a Hezbollah prison for two years, Philip fled his native Lebanon in 2015, eventually winding up in East Asia, where he lived for approximately two years until he was forced to flee late last year as he was facing deportation. Now seeking asylum in Europe, he says Israel — the country he's helped in its fight against the Iran-backed terrorist organization since 2011 — is refusing to take him in or even respond to his phone calls and emails.
The Prime Minister's Office, which is responsible for the Mossad, refused to comment on the case.
Philip says he contacted The Times of Israel out of a sense of desperation, hoping — as a last-ditch effort — that by making his case public, he could pressure Israel and the Mossad to help him, as he says they promised to do.
Benjamin Philip is not his real name; it is a pseudonym. The Times of Israel is legally barred from publishing his true identity or any identifying details, despite Philip explicitly requesting that we name him, believing that it will help him in his effort to seek asylum, and despite the fact that Hezbollah and the Lebanese government already know who he is, having incarcerated him and indicted him, respectively.
Philip has tried to contact any Israeli official possible, emailing virtually all public email addresses for the Prime Minister's Office, the Mossad, the military, the Foreign Ministry and nearly every other government office. In December, he received a response from the office of Israel's ombudsman, saying, "We brought your complaint to the attention of the security forces."
A former Israeli defense official, speaking on condition of anonymity, said he was unfamiliar with Philip's case, but explained that there were several reasons why the Mossad might cut ties with one of its assets, including questions about their trustworthiness, security concerns, or whether or not they were still valuable to the organization, regardless of their contributions in the past.
"It's a cold, cold world out there," the former official said.
Philip maintains that while he is frustrated and disheartened by the actions of his Mossad handlers and the Israeli government, he feels no ill will toward the State of Israel.
"My complaints against the Mossad are like a lover blaming a lover. It's not a blame with hate," he said. "I'm not speaking out to do something against Israel. I'm doing this to correct how the government handles these things. Why do you have to be like the KGB? You finish with someone and you throw him away."Most of the things that the Israeli government brags about, the attacks in Syria and attacks in Gaza, the attacks on Iranian targets. It doesn't happen because the Mossad is sitting at home and a fairy tells them the Iranians are moving weapons here or there.
Officially labeled a traitor and a spy for Israel, Philip says he will likely face decades of imprisonment if he's deported back to Lebanon — a scenario that he, a gay man, cannot accept, knowing that such a sentence in a Lebanese prison would mean rape and torture.
He is now seeking asylum in Europe, having scraped together enough money for a plane ticket from East Asia by selling some of his electronic devices. He is receiving assistance from a local LGBTQ organization, including therapy for the trauma and abuse he experienced throughout his life, and believes he has a good chance of being granted asylum. However, if this fails and it appears he will be sent back to Lebanon, Philip says he is seriously considering suicide.
"Of course I'm not going to go to Lebanon. I've already ordered carbon monoxide gas. I've been looking for the least painful ways to commit suicide. I've already spent two years in prison. I know that humiliation. I can't imagine what would happen if I went back to Lebanon," he said over the phone late last year.
Avi Katz
Philip first contacted The Times of Israel in August 2019, after he says the Mossad broke contact with him and stopped providing him with living expenses. (Under the visa for the country where he lived in east Asia, which he says Israel paid for, he was not able to legally work, forcing him to be further dependent on Israel.) In September, I traveled abroad to meet Philip, speaking to him three times in person, in addition to many conversations over the internet, using encrypted applications, in the interim months. The location of these meetings is also legally barred from publication.
In the hours of interviews and conversations with Philip, he was calm, collected and forthcoming. His recollections were consistent, but did not appear to be rehearsed. He provided many screenshots of emails and WhatsApp conversations that he said were with representatives of the Mossad with whom he'd been in contact. The Times of Israel could not independently verify that these were in fact from Israeli agents, but was able to corroborate certain parts of Philip's story. Some pieces of evidence that Philip provided, which were used to validate portions of his story, are also barred from publication.
'Like stray dogs'
Philip hopes that Israel will intervene on his behalf and save him from deportation, but is growing increasingly doubtful that this will occur.
"Israel, a country that is capable of sending a drone into Dahiya, it can't save me?" he asked, referring to a drone attack on a Hezbollah target inside Beirut in August that was attributed to Israel.
"They're treating us like stray dogs," Philip said of the Mossad and the Israeli government.
Philip's mother in Lebanon is already being harassed by Hezbollah, with members of the terror group breaking into her house and trashing it in December; and his father has effectively been excommunicated from his religious community, he says.
Israel, a country that is capable of sending a drone into Dahiya, it can't save me?
Philip is not the first Lebanese asset of the Mossad to accuse the organization of abandoning him. In 2014, Amin al-Hajj, codenamed Rummenigge, a longtime Israeli agent who gathered critical intelligence on Palestinian terror groups in Lebanon beginning in the 1980s, went public about his disappointing interactions with Israel's security services, which ended with him stuck in Israel with an expired temporary residence permit, no health care and no job.
"It's a little hard for me to understand why I'm being treated like this; why, after everything I did, everything I provided, all those who were caught thanks to me, they're tossing me aside like a used rag," al-Hajj told Yedioth Ahronoth's intelligence correspondent Ronen Bergman.
Al-Hajj, at least, successfully made it out of Lebanon and into Israel.
According to Philip, one of the people he helped the Mossad recruit as an asset was a former member of Hezbollah's crack Radwan Unit, allowing the intelligence service to gather critical information about the Shiite terror group, an Iranian proxy. The former Hezbollah member agreed to have his story included here, but asked that his name not be published, instead asking to be referred to by the pseudonym "Gabriel."
Earlier this year, Gabriel was also imprisoned for approximately two months by Hezbollah for being an Israeli spy. He was released in August, after his family convinced the terror group that he was mentally ill — indeed he has been diagnosed as bipolar — Philip says. Upon release, Gabriel was placed under house arrest.
In late September, Hezbollah officials told Gabriel that he was going to be exiled from Lebanon and forced to remain outside the country for at least five years. At the end of October, he fled the country to be with Philip. He plans to seek asylum elsewhere.
To keep himself relevant, Philip even now maintains contact with other Hezbollah operatives and their relatives through social media — without them knowing he's an Israeli asset — in order to gather intelligence about the terror group. In many cases, he makes contact with homosexual Hezbollah members through Tinder, Grindr and other relationship smartphone applications. Despite ostensibly being a strict Shiite Muslim organization, Hezbollah has a "surprising" number of gay members, Philip says.
I know that they just think I'm a dumb Arab. But I still have an Israeli flag in my house. I love Israel. I do love the country. It's a principle. I felt my identity was closer to Israel than to Lebanon.
Philip acknowledges that he has not been a "perfect person" in his interactions with Israel, having initially lied to the Mossad about aspects of his past and also using the threat of exposing the identities of agents in order to pressure the organization into providing him with the resources that he says they have promised. The Times of Israel made it clear to Philip that it would not participate in such an exposure as it would potentially put lives and Israeli national security at risk and would serve no concrete benefit to the public.
"I was just trying to provoke a response," he said. "I would never sell them out. I could go to the Iranians or Hezbollah and make a deal, but I would never do this. It goes against my principles. I fucking hate Hezbollah and Iran — I wish to see their end."
Philip maintains that the level of assistance he and Gabriel provided Israel are worth far more than what the Mossad has given them. He routinely expresses frustration, anger and deep disappointment at his situation and the Israeli officials responsible for it, but speaks of the Jewish state with admiration.
"I know that they don't give a shit about my life. I know that they don't give a shit about my future. I know that they just think I'm a dumb Arab. But I still have an Israeli flag in my house," he said. "I love Israel. I do love the country. It's a principle. I felt my identity was closer to Israel than to Lebanon."
A desperate childhood
Philip does not look like the type of person who has dedicated their life to fighting an international terror group. He is short and wiry, with striking bright blue-green eyes, a meticulously sculpted beard and dangling earrings. In all of our interactions, he sported pristine tight black clothes, tinted glasses, silver jewelry and wide-soled black platform sneakers. He looks more like a chief graphic designer for a slick new startup than a globetrotting spy.
He speaks impeccable English, Arabic and French and sprinkles his discussions of Israel with Hebrew words and phrases. On Fridays he wishes me a "Shabbat shalom." He curses liberally, but always apologizes for it. He prides himself on his ability to read and manipulate people, which routinely led me to question his motives, perhaps unfairly. When he interrupted one of our interviews to give money to a homeless man outside the cafe where we met, was that altruism or a performance for my benefit? I'll never know for sure. I'm not sure the homeless man cares.
Philip was born to Lebanese parents elsewhere in the Middle East. The family later returned to Lebanon, living in the area of Nabatieh, a city known to be a Hezbollah stronghold.
The Hezbollah terror group was created in 1985 in response to Israel's then-occupation of southern Lebanon, which began three years earlier following the First Lebanon War. In the ensuing 35 years, the Iran-backed group has swelled into a massive militia with thousands of fighters and an arsenal of some 120,000 rockets and missiles of varying sizes and explosive capabilities. Israel fought Hezbollah in the 2006 Second Lebanon War, and the organization is currently considered the Jewish state's primary military foe in the region.
Philip recalls having "a desperate childhood in a really beautiful village" in southern Lebanon. As a child, he joined Hezbollah's youth scouts, and it was during that time that his hatred toward the group developed, he says.
When he was four years old, Philip says, he was sexually abused by the son of a senior Hezbollah commander. "That went on for 11 years."
Throughout that period, he says he was routinely humiliated, bullied and raped by the senior Hezbollah commander's son and others. Philip recalls that one of the few bright points of his childhood was watching cartoons on Israel's Channel 1, whose broadcast signal reached their home in southern Lebanon.
"My brother's favorite show was 'Moomins,'" Philip said, referring to a Japanese cartoon based on a Finnish book series and dubbed into the Hebrew, about a family of hippopotamuses.
As a teenager, he denounced his abuser in his hometown mosque, noting the hypocrisy in the fact that while he was insulted for being homosexual, the person raping him was not. "They said, 'He's not gay, he's ill. You're gay, and a person like you should be killed and burnt,'" Philip recounted.
The next day he was picked up by members of Hezbollah and threatened: "They told me, 'If you ever speak about what you said yesterday, you will disappear.'"
After a suicide attempt, Philip's parents decided he should leave their hometown of Nabatieh and study in a boarding school in Beirut.
Becoming a target for Hezbollah harassment
Philip graduated from high school, studied in the American University of Beirut and then started working in a variety of non-governmental organizations in Lebanon.
Philip said that during that time he also worked as an observer for the Lebanese Association For Democratic Elections group.
"These were the golden years of my life. I was in my country, doing what I loved," Philip said.
The following year, everything changed. "The year 2010 was the worst year of my life," he said.
While working as an observer during the country's national elections in 2009, Philip reported on illegal activities by Hezbollah at polling places in the village of Houmine el Faouqa, near Nabatieh.
"After I did that, I was put on a list," he said.
Suddenly, he says, friends would get phone calls from blocked numbers, asking why they would want to "hang out with a gay guy"; the principal of a school where Philip was working was told to fire him; and his boyfriend at the time was outed as a homosexual to his conservative Sunni Muslim family.
I decided — this is a war, literally a war. And those shitty people, I want to make them fucking pay for everything they did
"They went to his family and told them, 'Your son is gay and he's dating someone.' His family beat him up, a lot," Philip said.
At that point, he said, he decided to change his life's purpose to fighting Hezbollah.
"When this happened, I decided — this is a war, literally a war. And those shitty people, I want to make them fucking pay for everything they did," he said.
First the CIA, then the Mossad
Philip was initially wary of reaching out to Israel and so instead, he says, he contacted the CIA and offered to give the Americans information about Hezbollah.
"I was afraid of contacting the Mossad because I thought then that the Mossad — they use you and then they kill you. That's what you used to hear in Lebanon," he said.
Somehow Hezbollah discovered that Philip was working with the Americans and arrested him in 2011, imprisoning him for a few months, before releasing him on condition that he become a double agent, providing the terror group with intelligence on the CIA.
Fearing that he would again be arrested by Hezbollah since he had no intention of acting as a double agent, Philip fled Lebanon with his mother, traveling first to Syria — before the civil war began there in earnest — and then to Turkey.
In Turkey, he says, he made his first contact with the Mossad, eventually meeting with agents of the organization abroad, in a number of countries around the world that do not require visas for Lebanese citizens. Philip says that at this point the US cut ties with him.
In December 2012, Philip says, his problems with the Mossad began. He had never told the Israeli spy service that he had previously been imprisoned by Hezbollah, and the Mossad wanted him to return to Lebanon and gather intelligence about the terror group from there, he says. Fearing that he would be again sent to prison, Philip took off, traveling around the world in order to avoid returning to Lebanon.
The Mossad caught up with him in East Asia and he confessed to his Israeli handlers that he had not told them of his first incarceration by Hezbollah.
He then traveled to Europe and sought asylum in Switzerland. According to Philip, Swiss officials denied his request, saying they couldn't independently verify that he was gay and at risk of abuse for his sexual orientation in Lebanon, adding that since Israel was the cause of his problems, it should take him in.
He was put on a plane and flown back to Beirut. "After all this, I had no choice but to go back to Lebanon," Philip said.
The second arrest
Hezbollah officials assured his parents that Philip would not be abducted or immediately imprisoned, but would be required to speak with them. Panicking, Philip tried to make contact with Israel in order to leave Lebanon on October 7, 2013.
"I went to an internet cafe and I did the most stupid thing ever — I was afraid and I opened the Mossad website and I messaged them: I'm in Lebanon and I might be arrested. Please help me. At least let me jump over the border," he recalled.
"While I was writing the message, they arrested me."
According to Philip, a group of young men entered the internet cafe, hit him and then took him away. He assumes that the owner of the cafe saw what he was doing on the computer and contacted Hezbollah.
Philip says he was taken back to a Hezbollah prison, put in a cell a few doors down from where he'd been put the first time. "The first time I was in cell 13; the second time it was 17," he said.
Back in Hezbollah prison
Philip was imprisoned for two years before his family was able to convince Hezbollah to release him, with his mother threatening to go public on the years of rape and sexual assault he faced at the hands of a senior Hezbollah leader's son.
Philip says he was not subjected to physical torture during his time in prison, but was psychologically abused and subjected to weeks of intense interrogation. But, he says, he never broke.
"I didn't tell them I worked for the Mossad. I told them I'd just written them that I wanted to work with them, that it was my first contact with them. I'm not sure if they believed me. After 15 days, they got bored with me, so they left me in prison," he said.
I got a small, thin mattress in the corner where I can sleep and sit. A blanket, a spoon, a plate that looks it it's a dog bowl — for more humiliation. A water bucket. Three small plastic cups with toothpaste, soap and shampoo; a Quran and a prayer book — and that's all that you have
Philip says he believes if he were to return to Lebanon now, Hezbollah would not refrain from torturing him as they did the last time.
"It will be totally different this time. This time, I'm accused of recruiting someone from Radwan," he said, referring to Gabriel, whom he recruited from the Hezbollah crack unit.
From his two years in prison, Philip recalls the minutiae of prison life, the day-to-day indignities, how everything was painted a blinding white "to drive you crazy," he said.
"I got a small, thin mattress in the corner where I can sleep and sit; a blanket, a spoon, a plate that looks it it's a dog bowl — for more humiliation; a water bucket, three small plastic cups with toothpaste, soap and shampoo; a Quran and a prayer book — and that's all that you have," he recalled.
With a sad smile and a glazed look in his eyes, he added, "It was the worst shampoo I have ever tried in my entire life."
Two years, a month and a day after he was sent to prison — on November 8, 2015 — Philip was released. "You have no idea, it was an overwhelming day. For two years you don't see the sun," he said.
When I expressed surprise that he was released from prison after only two years for what seemed like a serious crime of cooperating with Hezbollah's sworn enemy Israel, Philip said the sentence was relatively common for the terror group.
"Hezbollah doesn't keep people in prison forever. Standard is two years then exile, unless you're a member of the Islamic State or a murderer," he said.
Upon his release, Philip was told to leave Lebanon. He says he traveled to Turkey, Dubai and Hong Kong, among other countries, working odd jobs. "I was a photographer, I did some translations, I helped with Syrian refugees in Turkey," he said.
Recruiting a Radwan fighter
In February 2017, when he was living in Dubai, he decided to again visit Lebanon in order to see his family. Philip's parents reached out to the terror group for permission, and he was allowed to return.
He says that during this trip, he recruited Gabriel, the Hezbollah Radwan commando, as a Mossad asset.
"He and I went camping for two days, and I convinced him to work with the Mossad," Philip said.
"I traveled back to Dubai, and I sent a message to the Mossad. They answered and they were really interested because he was in the Radwan unit."
The Radwan unit is one of Hezbollah's most elite forces. Had Israel not succeeded in locating and destroying the terror group's attack tunnels into northern Israel last winter, Radwan fighters would have been the ones coming through them to massacre and pillage Israeli border towns.
Getting a member of the unit to defect represented a significant coup for the Mossad.
In 2017, Philip says, the Mossad told him to move to East Asia. He assumes this was because of the relative ease with which he could get a visa.
Later that year, he met Mossad agents in Asia, received a special communication device from them and was instructed to return to Lebanon in order to deliver it to Gabriel, which he says he did in September 2017.
From that time, Gabriel was able to directly provide the Mossad with detailed evidence on Hezbollah's activities.
This continued until May 2019, when Gabriel was arrested suddenly by Hezbollah and imprisoned. Philip says he does not know how the terror group came to suspect that Gabriel was spying for Israel. He says he immediately contacted his Mossad handlers with news of the arrest and warned them that the communication device had also fallen into Hezbollah's hands.
This is when his relationship with the Mossad again took a turn for the worse. According to Philip, despite his warning, the Israeli spy service sent a message to the communication device identifying him as the person who recruited Gabriel.
He was later informed that the Mossad did this deliberately as a way to ensure that Hezbollah wouldn't recruit him and Gabriel as double agents.
Despite his arrest and two-year imprisonment by Hezbollah for being an Israeli spy, Philip says this message effectively sealed his fate with the terror organization and ensured that he could never safely return to his native Lebanon.
What next?
Philip is now seeking refuge in Europe, where he has some friends. However, this process is expensive and it may fail, as did his last attempt in Switzerland, though Philip hopes that publishing his story will make his asylum request more viable.
"Seeking asylum is risky," he said. "If it doesn't work, which it might not, I could again be deported [to Lebanon]."
Philip says he's also considered working with other intelligence services, including Kuwait's, but ultimately decided against it because "they're against Israel. I don't want to be with the other side."
His relationship with Israel and the Mossad is complicated. He'll rail against the government and his handlers and how they've abandoned him one minute, and a moment later, refer to the Jewish state with admiration and a sense of devotion.
In the Mossad, they told me, Israel is a nation of laws. Where is the law? What is the law?
He acknowledges that he never signed an agreement with the Mossad or otherwise made a formal arrangement about his future, but said he believed there was a "moral contract" that Israel should honor.
"In the Mossad, they told me, Israel is a nation of laws. Where is the law? What is the law?
Philip says he believes that if he is deported back to Lebanon, Hezbollah — a terror group known for its adept public relations abilities — would use him to set an example for what happens to people who cooperate with the Mossad, which could dissuade others from helping Israel in its fight against the terror group.
Hopefully one day, Lebanese will have hummus in Haifa and swim in Tel Aviv and eat shakshuka at Dr. Shakshuka in Jaffa; and Israelis will go to Faraiya to go skiing. I hope that day will come.
"If I go back to Lebanon, they'll use it against Israel. I came to work with the Mossad because I believe in peace and love and living together for a prosperous future as neighbors. I love Israel and I have been fighting for peace my whole life," he said.
"Hopefully one day, Lebanese will have hummus in Haifa and swim in Tel Aviv and eat shakshuka at Dr. Shakshuka in Jaffa; and Israelis will go to Faraiya to go skiing. I hope that day will come."
Philip says he has largely accepted that he may eventually commit suicide in order to avoid returning to Lebanon and facing rape and torture there. But he is concerned about what will happen after his death.
"I don't want my body to be sent back to Lebanon. The same people who raped me, the same people who bullied me, the same people who sexually harassed me — they'll see my naked body being washed and put in a coffin and a tomb. I'm just afraid that even my death won't be with dignity," he said.
"Regardless of how things end, I do feel proud. I feel proud that I am from a country where I could have been a terrorist, where I could have been a member of Hezbollah, but I chose not to be part of this fucking terrorist organization," he said. "I'm not a killer, I'm not a terrorist."
Despite feeling abandoned and scorned by Israel, Philip says he still believes people in Lebanon should cooperate with Israeli intelligence.
"I personally encourage people to keep working with the Mossad. It's a real way to stop Hezbollah, and we really need to stop Hezbollah," he said.
Philip notes that Prime Minister Benjamin Netanyahu and other senior Israeli officials routinely boast of the country's military prowess, but that they rarely if ever acknowledge the sources of the intelligence that makes this possible.
"Most of the things that the Israeli government brags about, the attacks in Syria and attacks in Gaza, the attacks on Iranian targets — it doesn't happen because the Mossad is sitting at home and a fairy tells them the Iranians are moving weapons here or there. It's because there are people like me, choosing to work and putting their lives at risk," he said.
"All the steps on this pyramid are part of this victory. The people at the bottom shouldn't be left out."