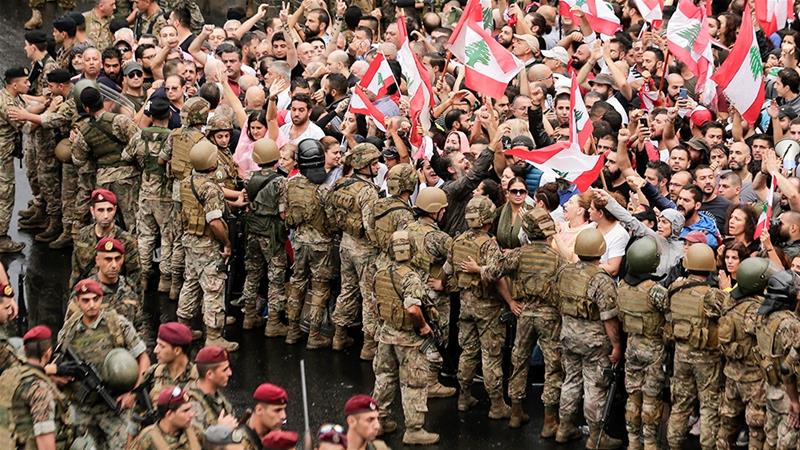 A Bundle Of English Reports, News and Editorials For 15-16/2020 Addressing the On Going Mass Demonstrations & Sit In-ins In Iranian Occupied Lebanon in its 122th Day
Compiled By: Elias Bejjani
February 16/2020
Titles For The Latest English LCCC Lebanese & Lebanese Related News & Editorials published on February 15-16/20
U.S.Department Of State/Press Statement/Anniversary of Lebanese Prime Minister Rafik Hariri's Assassination
Pompeo condemns Iranian interference in Iraq, Lebanon
Pompeo: Hariri's Killers Must be Brought to Justice
Report: Washington Considering Ways to Help Lebanon Recover Stolen Funds
Report: Lebanon Must Adhere to Dissociation Policy to Get International Assistance
Protest march from Ashrafieh to downtown Beirut, passing through Hamra Street
Al-Rahi appeals to Lebanese politicians from Rome: Stay away from rivalry because we are in need of our unity and achieving the uprising demands
Wazni's Media Office: News of his wife's appointment as a paid 'media advisor' is groundless
El-Sayed: Most political forces have absolved themselves of their responsibility for the financial collapse
Parliamentary Bloc, MP Fadi Saad: There is no escape from changing the political class through institutions
Bazzi calls for settling controversy over depositors' funds
Jumblatt honors Richard, meets with ambassadors
Abdel Samad: We are here to work, TL a 'top priority'
Hezbollah 'biggest winner' of Lebanese collapse/Alison Tahmizian Meuse/Asia Times/February 15/2020
Diab cabinet's plan for Syrian refugee crisis reflects allies' xenophobia/Makram Rabah/The Arab Weekly/February 15/2020
Hariri: Aoun settlement over, will not deal with 'shadow president/Najia Houssari/Arab News/February 15/2020
With 'suicide drones' and rocket attacks, Navy simulates war with Hezbollah/Judah Ari Gross/The Times Of Israel/February 15/2020
Hezbollah's popularity seen waning as Lebanese protests continue/The Media Line/Ynetnews/February 15/2020
Houda Kassatly's Lens: Capturing Lebanon's abused heritage/Christy-Belle Geha/Annahar/February 15/2020
The Latest English LCCC Lebanese & Lebanese Related News & Editorials published on February 15-16/2020
U.S.Department Of State/Press Statement/Anniversary of Lebanese Prime Minister Rafik Hariri's Assassination
PRESS STATEMENT
MICHAEL R. POMPEO, SECRETARY OF STATE
FEBRUARY 14, 2020
Today marks the 15th anniversary of the assassination of former Lebanese Premier Rafik Hariri, an act of mass murder that resulted in the deaths of 21 others and injuries of 266 victims in Beirut. Multiple Hizballah-linked individuals were indicted for their roles in this terrorist attack and must finally be brought to justice. Ending impunity is imperative to ensuring Lebanon's security, stability, and sovereignty. We support the work of the Special Tribunal for Lebanon (STL) to hold accountable those responsible for the attack. Hizballah has demonstrated through its terrorist and illicit activities that it is more concerned with its own interests and those of its patron, Iran, than what is best for the Lebanese people. The United States continues to stand proudly with the Lebanese people in their peaceful calls for reform, transparency, and accountability.
Pompeo condemns Iranian interference in Iraq, Lebanon
Al Arabiya English/Saturday, 15 February 2020
US Secretary of State Mike Pompeo on Saturday condemned Iranian interference in the affairs of Iraq and Lebanon, during a speech at the Munich Security Conference. Iran has been exploiting Lebanese and Iraqi youth for its own interest, he added. The United States will protect the Strait of Hormuz, and will ensure the Arabian Gulf region is secured, he said. The secretary of state also noted that the US has been sucessful in its mission to eradicate ISIS and its leader Abu Bakr al-Baghdadi, as killed in a US special forces raid in Syria's northwestern province of Idlib in October. Pompeo also hit back at German claims that Washington was retreating from the global stage, insisting that the death of the transatlantic alliance was "grossly over-exaggerated". "Those statements don't reflect reality," he said, a day after German President Frank-Walter Steinmeier said Donald Trump's America rejected "even the idea of an international community". "I'm happy to report that the death of the transatlantic alliance is grossly over-exaggerated," Pompeo said, paraphrasing a famous Mark Twain. (With AFP)
Pompeo: Hariri's Killers Must be Brought to Justice
Naharnet/February 15/2020
U.S. Secretary of State Mike Pompeo said on Saturday that "Hizbullah" individuals involved in the "terrorist" assassination attack of ex-PM Rafik Hariri must be brought to justice. Pompeo issued the statement marking the 15th assassination anniversary of Hariri, saying the crime was an act of "mass murder that killed 21 individuals and injured 266 others in Beirut.""Ending impunity is imperative to ensuring Lebanon's stability and sovereignty," he added, affirming "U.S. support for the work of the Special Tribunal for Lebanon on this case to hold those responsible accountable." He said that Hizbullah's "terrorist and illegal activities" have demonstrated more care for its own interests and those of its patron, Iran, than it does for the interests of the Lebanese people."The U.S. "proudly stands by the Lebanese people in their peaceful calls for reform, transparency and accountability," he added. Several Hizbullah members have been indicted in the 2005 assassination of former Prime Minister Rafik Hariri, but they were never arrested.
Report: Washington Considering Ways to Help Lebanon Recover Stolen Funds
Agence France Presse/Naharnet/February 15/2020
A senior U.S. State Department official confirmed in an interview with al-Arabiya net on Saturday that relations between the United States and the government of Prime Minister Hassan Diab "depend on his commitment to implement reforms and to fighting endemic corruption."
The US official spoke on condition of anonymity about U.S. assistance for the Lebanese army and America's willingness to interfere "financially" to prevent Lebanon from total collapse. He said: "They (Lebanese officials) know how to introduce genuine reforms which, if implemented, will open the doors wide for international, US and EU investors in Lebanon." The U.S. is providing "assistance" for Lebanon but the Lebanese government has to make some "difficult decisions," he added. On reports that the US does not intend to interfere in Lebanon, and therefore does not support the protesters, the official said: "We have not abandoned the protesters and protected them from violence. We are in constant contact with the Lebanese army and highly praise the role of security forces in protecting demonstrators. "The protesters must keep pressuring the government peacefully until it meets their demands. Reforms are necessary and everyone in Lebanon must seek to achieve them," he added. On the issue of amounts of money smuggled from Lebanon to Switzerland after the October 17 uprising, he explained that the economic crisis came as a result of policies pursued since the civil war in Lebanon and as a result of high-level thefts.
"Most of these stolen public funds are now abroad, some have suggested that the US administration contributes to returning them. We are cooperating with some international bodies to discuss the issue," he emphasized.
On the US sanctions he said a long-list of new sanctions is being prepared.
Report: Lebanon Must Adhere to Dissociation Policy to Get International Assistance
Naharnet/February 15/2020
In order for crisis-hit Lebanon to get international assistance for its crippling economy, it must first kick start a series of reforms mainly committing to the dissociation policy as devised in the government's policy statement, Asharq al-Awsat reported on Saturday."Lebanon is not only required internationally to implement financial and economic reforms, it must mainly implement political ones. The government of PM Hassan Diab must show an ability to commit in deeds, not words, to its dissociation policy," a parliamentary source told the daily on condition of anonymity. "Failure to adhere to the dissociation policy not only constitutes an embarrassment for the government but will also push the international community to distance itself from assisting Lebanon," added the source. Referring to assurances that deposits of Lebanese are safe in banks, he said: "Rosy promises made on a daily basis by central bank governor Riad Salameh, head of Chairman of the Association of Banks Salim Sfeir and some statesmen have no positive effect in terms of reassuring depositors that their deposits won't be touched. "These promises are only ink on paper as long as banks continue to violate the monetary and credit law with a cover from Salameh on one hand, and ignorance of officials on he other," he added. Last week, Lebanon's new cabinet approved a policy statement expected to outline a broad action plan to save the protest-hit country from one of its worst economic crises in decades. Prime Minister Hassan Diab and his new government face the twin challenge of angry street protests and a collapsing economy, with Lebanon burdened by debt of nearly 90 billion dollars, or more than 150 percent of GDP. The policy statement maintained the tripartite alliance between the army, the people and the Resistance, the third term referring to Hizbullah.Hizbullah- listed as a "terrorist" group by the United States and the European Union- has been fighting alongside the troops of President Bashar al-Assad in Syria, a move condemned by many in Lebanon and internationally.
Protest march from Ashrafieh to downtown Beirut, passing through Hamra Street
NNA/February 15/2020
Civil movement groups marched this afternoon from Sassine Square in Ashrafieh to downtown Beirut, passing through Hamra Street, with a stop in front of the Financial Revenues Building and a number of banking centers, in condemnation of the banking policy. The participating activists confirmed, in a unified statement, their stay in the squares and their pursuit of "accountability and public pressure to ensure the fall of the system of corruption." They also accused the government of being "uninterested in a bailout plan to transform the economy from a rentier economy to a productive one," and called for a government "that stimulates small and medium-sized companies, employs thousands of Lebanese nationals and brings in investments…a government that is keen on prioritizing the interests of depositors over the interest of capital owners."Protesters also called for the "non-payment of Eurobonds at the expense of small depositors and people's money," and "working on an honest and transparent judiciary to hold accountable the corrupt and the looters and smugglers of funds."They vowed, as well, to continue to "defend the rights of the Lebanese people" and "work to monitor the government, and to topple it if it fails to fulfill the aspirations of the people."
Protesters gather in Sassine Square in Ashrafieh
NNA/February 15/2020
A number of activists started gathering in Sassine Square in Ashrafieh this afternoon, in preparation for their protest march under the headline, "You will pay the price", which is expected to set out at 3:00 p.m., NNA correspondent reported. Protesters raised banners that read: "No confidence", "No legitimacy", and "Your settlements have brought us to where we are today!"The march will head towards Parliament House in downtown Beirut, passing through the area of Bechara el-Khoury and the Building of Financial Revenues, amidst wide presence of army and security forces.
Al-Rahi appeals to Lebanese politicians from Rome: Stay away from rivalry because we are in need of our unity and achieving the uprising demands
NNA/February 15/2020
Maronite Patriarch, Cardinal Beshara Boutros al-Rahi, continued to participate in reciting the Rosary prayer rituals in Rome devoted to Lebanon's intention, where he appealed to Lebanese politicians this evening before the start of prayers to refrain from rivalry since the country is in need of unity and achieving the people's demands. "We pray today for the new government to be able to meet the needs of citizens for which the popular uprising erupted…rightful demands which we support," he said. "This requires the cabinet to work seriously to develop a rescue plan for an economic, financial and social renaissance, similar to what was presented and confirmed at the Cedar Conference, and according to the government plan," the Patriarch asserted. "This is the only way to meet the demands of the uprisings in the street, which are also our demands because they are the cry of a hungry people," he said. "I appeal to the political officials in Lebanon, to the heads of parties and parliamentary blocs, to move away from the atmosphere of rivalry, rhetoric, accusations and mutual complaints. We are in urgent need today for our national unity," AL-Rahi corroborated.
"This call is also a prayer for all the political forces on Lebanese grounds to work for the internal unity and aspirations of Lebanon, because the intifada was launched from all Lebanese regions and from all sects, parties and colors," he maintained. "I hope that the political officials would be advocates of unity, understanding and brotherhood for the sake of the salvation of Lebanon and its people," al-Rahi concluded.
Wazni's Media Office: News of his wife's appointment as a paid 'media advisor' is groundless
NNA/February 15/2020
Finance Minister Ghazi Wazni's Media Office issued a statement this evening, in which it categorically denied the circulated news that the minister has appointed his spouse as his media advisor with a paid allowance, deeming it as "false, fabricated and misleading news." The statement urged all sides "to verify any news before circulation, in the interest of truth and credibility."
El-Sayed: Most political forces have absolved themselves of their responsibility for the financial collapse
NNA/February 15/2020
MP Jamil El-Sayed tweeted Saturday on the financial crisis, saying: "Two days ago in the House of Parliament, most political forces disavowed their responsibility for the financial, economic, and moral collapse in the country they had ruled since 2005."He added: "Yesterday, Saad Hariri also acquitted himself and the whole era of his father, and tried to persuade us that everyone plundered his power, and that he was 'Mister Chastity'…but the fool is one who stupefies the people!"
Parliamentary Bloc, MP Fadi Saad: There is no escape from changing the political class through institutions
NNA/February 15/2020
Member of the "Strong Republic" Parliamentary Bloc, MP Fadi Saad, highlighted in a television interview today "the necessity of holding early parliamentary elections, especially after October 17," stressing that "there is no escape from changing the political class, and there is no possibility of achieving that except through institutions." He added: "The protest movement must express itself in the parliamentary elections, and we are with this matter and will present a law proposal in this regard. The people should bear their responsibility to produce a clean political class that works for the interest of Lebanon and builds a state in the fullest sense of the word." "Most of the Lebanese components have failed to manage political life and citizens' affairs, and all we want is for everyone to be aware that Lebanon is going through the worst stages of its history regarding the economy and the livelihood of its citizens," Saad corroborated. He deemed that the time has come for all parties to reassess their performance, and to acknowledge that October 17th has signaled in a new phase that calls for a careful approach and for reevaluation, both internally and externally. "We admit that we have been mistaken at times, but we do undergo self-review and recalculation to find out where we erred and where we succeeded…and each party must follow suit," Saad underscored.
Bazzi calls for settling controversy over depositors' funds
NNA/February 15/2020
During his meeting with popular, municipal and educational delegations who visited him at his Bint Jbeil office today, MP Ali Bazzi highlighted the need "to resolve the controversy over depositors' money and lifetime savings, liberating them from discretionary and humiliation." He also stressed that "the reduction of interest rates on deposits must be accompanied by a reduction on the interests imposed on loans and advances as well."Bazzi deemed that the current situation calls for a tranquil atmosphere, "so that the government and those concerned can take decisions and measures aimed at addressing the financial and economic crisis.""We can overcome our bad conditions through the implementation of laws, combatting corruption and demonstrating serious commitment to reforms and the independence of the judiciary," he asserted.
Jumblatt honors Richard, meets with ambassadors
NNA/February 15/2020
Progressive Socialist Party Chief, Walid Jumblatt, met at his Mukhtara Palace this morning with the United States Ambassador to Lebanon, Elizabeth Richard, Egyptian Ambassador Yasser Alawi, and the United Nations Special Coordinator, Jan Kubis, with talks centering on the prevailing situation in the country and ways of dealing with the economic crisis. Also present during the meetings were "Democratic Gathering" Chief, MP Taymour Jumblatt, Deputies Akram Shehayeb and Wael Abu Faour, Mrs. Nora Jumblatt, and Advisor to MP Jumblatt Hussam Harb, alongside a number of prominent figures.
Jumblatt kept his guests to a farewell luncheon in honor Ambassador Richard, marking the near end of her term of office in Lebanon. As a farewell token, Jumblatt presented Richard with the "Kamal Jumblatt Medal" in appreciation of her undertaken efforts.
Abdel Samad: We are here to work, TL a 'top priority'
NNA/February 15/2020
Minister of Information, Dr. Manal Abdel Samad Najd, maintained in an interview on Saturday with "Voice of Lebanon" Radio Station, that "the government's work began the moment it was formed." She added: "We are the most people facing challenges to address the problems of [Lebanon], in the hope that these efforts will lead to proposals and solutions that serve the whole society." Responding to a question on appointing an administrative board for the state-run TV Channel "Tele Liban", the Minister said: "Everyone played a role in confronting obstacles, and at certain times the rotation of governments hindered the completion of plans." Abdel Samad indicated, herein, that she has drawn-up a clear and objective plan, which she hoped would lead to removing all obstacles through strong will, and with the help of her work team. Abdel Samad also emphasized that "the issue of Lebanon TV is a priority because it needs to be addressed so that the station can rise to the ranks of high-end institutions." "Lebanon faces a difficult circumstance and major challenges, and the pursuit of objective solutions with the adoption of equality and justice in choosing people will not be opposed by anyone," the Minister asserted, adding that there is a determination from all parties to appoint the right person in the right place, away from any political interventions. Abdel Samad also explained that she was not appointed as a minister based on a political background. However, she added that "there is no problem for an individual to have political affiliation; yet, the problem occurs when politics interferes in administration and judicial work, which impedes the course of objectivity, equality and justice.""We believe that all have their eyes set on the country, and every person from his position, whether in the government or the opposition, plays a major role in reforming or criticizing the government for its decisions, and this is healthy, because it urges us to work effectively," the Minister underlined. Commenting on the declaration of funds, Abdel Samad stated: "We have passed the law of unlawful enrichment to disclose movable and immovable funds or loans belonging to us and any of our family members." Finally, the Information Minister emphasized the existence of cooperation, cohesion, and exchange of valuable and objective ideas between the members of cabinet, away from any political controversy. "Dealing with urgent dossiers is our main goal in the government, as there is no time to waste on polemic and disputes," she said, adding, "We came to work in the administration, and each cabinet member is meeting, from his position, the requirements and goals of his ministry and is establishing a strategic plan that works to achieve these goals in the service of society and its development."
Hezbollah 'biggest winner' of Lebanese collapse
ريا الحسن: حزب الله الرابح الأكبر من انهيار لبنان
Alison Tahmizian Meuse/Asia Times/February 15/2020
Former interior minister Raya al-Hassan speaks to Asia Times as Lebanon inches closer to the IMF to avert bankruptcy
The Lebanese Shiite movement Hezbollah will be the "biggest winner" of the country's impending economic collapse, Lebanon's former interior minister Raya al-Hassan warned this week in a wide-ranging interview with the Asia Times.
"Do you know who will be the biggest winners? Hezbollah. Because they'd be able to survive an economic collapse much more than anybody else," said Hassan, speaking from the offices of the Western and Gulf-aligned Future Movement in downtown Beirut.
"I talk to them. They say we have our own systems, our own social safety nets. We have our own hospitals and our people can resist, in their psyche, much more than anybody else."
Those systems have been impacted by US sanctions on Iran, but have not been broken, says Hassan, who served as Lebanon's finance minister from 2009-2011. A Hezbollah official told Asia Times last May that the party has a "financial infrastructure that would keep it fully functional for around four to five years under sanctions on Iran."
The US government under President Donald Trump has pursued what it calls a "maximum pressure" campaign against Iran and its Lebanese ally Hezbollah, a strategy encouraged by its regional allies Saudi Arabia and Israel.
A year before Trump took office, Saudi Crown Prince Mohammad bin Salman canceled US$4 billion in military and security aid to Lebanon, and has not looked back since.
Hassan disputes that the US-led pressure campaign is hurting its stated target in Lebanon.
"I have a question mark, frankly, on the US strategy – undermining the banking sector to put a pressure on Hezbollah. Hezbollah doesn't use the banking sector!" she told Asia Times.
US Secretary of State Mike Pompeo, who has characterized Lebanon's ongoing anti-corruption protests as an uprising against Hezbollah, has refrained from endorsing the new Lebanese government.
That government, composed only of Hezbollah and its allies, now risks overseeing the evaporation up of the country's foreign-currency reserves, should it refuse to submit itself to the International Monetary Fund.
Lebanese Prime Minister Hassan Diab reiterated his pledge on Tuesday to court the "brotherly" nations of the oil-rich Persian Gulf region for urgent aid, but he has had no success doing so since taking office.
Hopes that energy-rich Qatar or the rival United Arab Emirates would offer substantial support have not come through.
"The Europeans may have been coaxed into providing some funding, but I think the Americans are putting some pressure on them," Hassan said.
While Lebanon's central bank governor Riad Salameh has assured the public there remain $30 billion in foreign-currency reserves, the amount of usable reserves likely stands at roughly $10 billion.
With 6 million people, a third of those Syrian and Palestinian refugees, living within its borders, Lebanon requires some $5 billion in US dollars each year to import its most basic needs of oil and gas, medicine, and wheat.
"If no fresh money comes in, probably the foreign reserves would dry up in a year," Hassan told Asia Times. "There is no likelihood to get money from the outside."
With dollars running out, she concluded: "We don't have any other option except an IMF program."
Nabih Berri, the head of the Hezbollah-allied Amal party in control of the Finance Ministry, has signaled he will back negotiations with the IMF over Lebanon's debt, an undertaking the Argentine president recently likened to player poker.
According to a Wednesday report in Lebanese daily Annahar, Berri told visitors Lebanon must "send a message abroad, to the Americans in particular – as they are the most influential actor in the IMF – that Lebanon needs 'technical' assistance from the Fund to come up with a rescue plan."
At the same time, Berri reportedly cautioned that Lebanon must not "hand over its affairs" to the fund, as austerity measures like those placed on its Mediterranean neighbor Greece by the European Union would be crushing.
Lebanon's ongoing protest movement was famously sparked on October 17 by a planned tax on the messaging service WhatsApp, which serves as the de facto phone plan of the poor and middle class.
Hezbollah has yet to announce its position on a potential IMF rescue plan, a spokeswoman told Asia Times on Tuesday, declining to say whether it had decided its position or not.
IMF spokesman Gerry Rice late on Wednesday indicated that the Lebanese government had sought its "technical advice."
"Today the #Lebanese authorities requested our technical advice on the macroeconomic challenges facing the economy. IMF stands ready to assist Lebanon. Any decisions on debt are the authorities', to be made in consultation with their own legal and financial advisors," he tweeted.
The nationwide economic situation has meanwhile become increasingly dire, with salaries being slashed and people losing jobs.
Banks have for months enforced arbitrary, and increasingly rigid, capital controls on dollars accounts and international transfers, leaving hospitals in crisis and businesses bordering on a standstill amid rising inflation.
On Tuesday in the northern city of Tripoli, the dollar was trading for 2,200 Lebanese pounds at black-market exchange offices, marking a roughly 50% depreciation for the local currency in less than six months. The official exchange rate is 1,507.5 pounds to the dollar.
Lebanese traders are until now selling goods in local currency, exchanging those profits for USD at black market rates, and then bringing those dollars to banks to be transferred to their international suppliers. "But how long can you sustain that?" Hassan asked.
Eurobonds in flux
The question hanging over Lebanon at present is whether the central Banque du Liban will honor a $1.2 billion payment in Eurobonds, due in less than four weeks.
Lebanon has one of the highest debt-to-GDP ratios in the world, at more than 150%. But it has never defaulted on its debts, a point of pride for a banking sector that was once one of the most respected in the region.
Civic organization Kulluna Irada, which has been lobbying the new government against the upcoming payment, argued in a policy brief on February 4 that:
"Defaulting is not a matter of national pride. It is unwise to proceed to paying bonds at full, when the market has already written down their values by 40-50% and is expecting a restructuring of debt.
"It is a matter of time before Lebanon's rampant socioeconomic crisis develops into a full-blown humanitarian crisis," it said, adding: "It is inadmissible to proceed with the payment of debt principal and interest, privileging interests of few banks and investors, when the economy is not able to bear this burden.
"We call on the government to honor its responsibility towards the Lebanese people and proceed immediately to an orderly default."
Even some of the foreign funds that hold Lebanon's bonds are urging the beleaguered Lebanese government not to pay, sources in those funds have told Bloomberg.
Yet the new cabinet is facing "intense lobbying from some local bankers and foreign bondholders," said Kulluna Irada's director, Karim Bitar.
In her interview with Asia Times, Hassan said she was "of the opinion we should not pay; that we should announce a moratorium and immediately start negotiation."
"Because if [the central bank governor] uses whatever little he has, then whatever is remaining will only probably be sufficient until maximum the end of the year to cover for fuel, wheat and for medicine."
With the payment due March 9, however, she believes Lebanon is dangerously close to defaulting before it can come to an agreement on a moratorium and secure the legal and financial expertise to negotiate a restructuring of its obligations.
She acknowledges that there are divergent views on this issue even within her own party, however, and in the government as a whole.
The Diab cabinet, in the end, may pass the buck to the IMF and ask for its determination on whether or not Lebanon should pay up in March.
Blocking the screams
As Lebanon faces an economic and even humanitarian precipice, with half the population in danger of falling below the poverty line according to the World Bank, the protest movement has struggled to keep up momentum.
Hundreds of Lebanese protesters on Tuesday attempted to block the paths of lawmakers' SUVs to the parliament, now surrounded by concrete barrier walls, but were unsuccessful in halting a vote of confidence.
Hassan, who held the post of interior minister from January 2019 until last month, says she fought to allow space for demonstrations to take place, even when it meant bumping heads with government rivals and putting the overstretched riot police force in a complex situation on the ground.
During the last weeks of her tenure, Lebanon saw fierce confrontations between the security forces and protesters, with a handful of people having their eye shot out at point blank range by rubber bullets.
Hassan acknowledged "grave mistakes" were made, and said internal investigations and consequences were being taken, though not publicized. She also defended the performance of the security personnel, who she says were often working 15-hour shifts and deployed between demonstrators and Hezbollah and Amal partisans attacking the sit-ins.
The protest movement, which began October 17, also interrupted a major British-led retraining of the Lebanese riot police, she said, which saw only the top class of officers graduate.
In total, Lebanon's riot police number 1,400 nationwide, of which only 500 could be deployed to downtown Beirut at a time.
"You didn't have the proper institutional training to accompany that kind of movement," said the former minister, who says her worst fear was that someone would be killed.
"Thank God there were no death casualties," she said.
Lebanon's new interior minster, who comes from a military security background, has signaled zero tolerance for the demonstrations, expanding and fortifying a circle of concrete barriers around the parliament.
The protest movement, which began with what could have been a million people on the streets, has also seen its numbers wear thin, ground down by disillusionment, frigid weather, and the literal flight of Lebanese seeking a livelihood outside the country.
Speaking of the government's expanded cordon, Hassan reflected: "It's going to be like they're in isolation.
"They will not hear people screaming and shouting any more."
https://www.asiatimes.com/2020/02/article/hezbollah-biggest-winner-of-lebanese-collapse/

Diab cabinet's plan for Syrian refugee crisis reflects allies' xenophobia
Makram Rabah/The Arab Weekly/February 15/2020
Lebanese President Michel Aoun blamed Lebanon's predicament on the refugees and conflicts in the region.
The cabinet of Lebanese Prime Minister Hassan Diab won a vote of confidence with just 63 parliamentarians voting in favour of its platform — a plan that promised some impossible feats, including addressing the thorny matter of the Syrian refugees.
Faced with a nose-diving economy and an even worse political crisis, Diab vowed to ensure the safe return of more than 1 million refugees to Syria, a task easier said than done.
For most of his plan, Diab adopted the same pledges of earlier cabinets to deal with the refugee crisis and, likewise, he failed to field any clear map to achieve his goal. The main feature of Diab's refugee plan espouses — but masks — the xenophobia of his allies — primarily Lebanese President Michel Aoun and his son-in-law Gebran Bassil — who set the policy for this issue in their many statements and actions on the matter, undermining and rendering any commitment from Diab as inconsequential.
In an interview with the French magazine Valeurs Actuelles a few days before Diab and his cabinet went to parliament, Aoun blamed Lebanon's predicament on the refugees and on conflicts in the region. Aoun continues to adopt the tactic of downplaying the political elite's role in the crisis and instead demands that the international community aids Lebanon simply because it is the right thing to do.
If this was not enough, Aoun also requested that the countries responsible for the war in Syria pay reparations to Lebanon because of the repercussions of refugees on the Lebanese economy and infrastructure.
Coincidentally, Aoun had a number in mind — $25 billion — the same amount needed for Lebanon to escape its current predicament.
Obviously, Aoun did not mean his allies Iran, Russia, Qatar and the Assad regime, who are equally responsible for the mayhem and destruction of Syria. The Lebanese president was rather insinuating against and targeting Saudi Arabia and the United Arab Emirates. Those countries have recently been aloof towards Lebanon and, consequently, have withdrawn their political and — more important — financial support.
This false sense of entitlement has been a feature of cabinets since the start of the Syrian crisis. Yet this use of populism and xenophobia is not entirely the fault of the Lebanese state. It can partially be blamed on the international community that condones it.
European countries, in particular, play along and keep endorsing the Lebanese refugee plan, or lack thereof, refusing to confront Beirut over its refusal to assume responsibility and acknowledge Hezbollah's involvement in the Syrian crisis. This involvement is directly responsible for many of the refugees fleeing Syria after their homes and land were occupied by Hezbollah and other Iranian militias.
Equally, Diab's cabinet proposes to formulate a plan to ensure the safe and immediate return of the Syrian refugees to their country but not necessarily in that order. Diab consciously disregards the fact that the Assad regime does not want these people back, first because of demographic considerations. Most of the refugees are Sunnis from areas the regime wishes to populate with people loyal to them.
Second, the return of the refugees requires billions of dollars, which the Assad regime is incapable of supplying and the international community is equally unwilling to provide.
Diab met with EU ambassadors and blatantly declared that "Lebanon is in urgent need for support in all areas, including electricity, food and raw materials and medicine. Our country urges Europe to help in securing these items to protect social stability."
Although he did not explicitly mention the issue of the refugees, Diab and the Lebanese state use the refugees as a weapon, a tactic first adopted by Turkish President Recep Tayyip Erdogan, who constantly threatens to facilitate the exodus of these desperate refugees to Europe.
In December, Bassil, then caretaker minister of Foreign Affairs and Emigrants, reminded his audience at the first Global Refugee Forum in Geneva that, if the international community did not come to the immediate aid of Lebanon, chaos and instability would lead to the mass migration of Syrian refugees to Europe.
The refugees, he hinted, would bring crime and terrorism with them. Unfortunately, these scare tactics seem to work with the European community, which took the easy way out and, rather than risk implementing an inclusive return plan by establishing safe zones, decided to keep the refugees in Lebanon.
If one is to look beyond the populist rhetoric of Bassil and the Diab cabinet, the Syrian refugees are one of the sources of hard currency entering Lebanon, something that Lebanon is in dire need of. It is estimated that, up to 2019, Lebanon received more than $8.2 billion to support refugee and host community response plans, something which, if properly enhanced, could mean further funds for Lebanon.
The figure is, in fact, even higher because this $8 billion plays an important role in jump-starting the economy and has a tremendous trickle-down effect, something Diab and his allies refuse to publicly acknowledge.
The issue of Syrian refugees, just like the many crises facing the Diab cabinet and Lebanon, is a challenging yet surmountable one. Nevertheless, to reach this goal, the Lebanese need to realise that the refugees are in Lebanon to stay at least for a few years and thus they should not accept their state and its so-called policymakers continuing to use the same tactics and rhetoric which have failed time and again.
As it stands, Diab, just like Saad Hariri before him, is proving that the Lebanese political elite has failed to grasp that Lebanon is not as important as they think and that, until further notice, the refugees are their problem and no xenophobic rhetoric can change that.
*Makram Rabah is a lecturer at the American University of Beirut, department of history. His forthcoming book, "Conflict on Mount Lebanon: The Druze, the Maronites and Collective Memory," (Edinburgh University Press) covers collective identities and the Lebanese Civil War.
Hariri: Aoun settlement over, will not deal with 'shadow president'
Najia Houssari/Arab News/February 15/2020
BEIRUT: In a speech on the 15th anniversary of the assassination of his father, Rafic Hariri, former Lebanese Prime Minister Saad Hariri announced that the settlement he had established with President Michel Aoun had come to an end. "The Hariri era has not ended, and I am staying in the country and in politics, and the Sunnis are staying," he stated.
"Before the settlement, I tried to pave the way for my friend, Suleiman Franjieh, to become president, but his allies prevented him. The abolition mentality wants to abolish the Progressive Socialist Party, the Lebanese Forces and, now, Hariri," he said.
Hariri lashed out at the leader of the Free Patriotic Movement, Gebran Bassil, without naming him. "President Aoun knows how much I respect him, but I arrived at a point where I have begun to deal with two presidents — I have to deal with a shadow president to protect the original one," he said.
He was also indirectly critical of Hezbollah. "How can we strengthen tourism without the Arabs and the citizens of the Arabian Gulf region, and how do we protect the interests of the Lebanese people, who are benefitting from employment opportunities in the Gulf Cooperation Council countries when there are those who stir up trouble with these countries?" he said.
"Iran's money solves Hezbollah's crisis; not the crisis of a country. Parties in the state do not operate separately and individually without actual financial policies."
Hariri strongly criticized the ongoing efforts to hold his father responsible for Lebanon's economic collapse.
"What is most dangerous are suggestions that the countdown to the Taif Agreement has begun. People know how Lebanon was before Rafic Hariri and what he did for it. They did not offer the country anything of value. They did not even build a sewer. Instead, they fabricated files, dug graves, and made accusations. There is a political system that started discussing a non-Hariri era and holding Hariri responsible for 'the deal of the century' and the resettlement nightmare. We say that resettlement is not mentioned in the constitution," he said.
"Seven years of impediment after (Rafic) Hariri's assassination have been wasted on talks about the rights of minorities, who have been partners for 30 years and participated in all disturbances. The cost of electric power has amounted for 50 percent of public debt," he added, highlighting that since the war ended, no Future Movement member of parliament had ever assumed the role of minister of energy.
"In the last two months, we have heard that the Future Movement has come to its end. We have also heard that Saudi Arabia, the US, China, and the world do not want Saad Hariri, but I assure you that the Future Movement, the movement of Arabism and moderation, is staying, and this house shall never close," he added.
FASTFACT
Saad Hariri strongly criticized the ongoing efforts to hold his father responsible for Lebanon's economic collapse.
Thousands of supporters and popular delegations carrying the Future Movement's blue flag as well as Lebanon's flag flocked to Hariri's house and the streets surrounding it. They also carried banners that read, "Your martyrdom is revolution."
The speech was attended by a delegation from the Democratic Gathering, led by Taymour Jumblatt, a parliamentary and ministerial delegation from the Lebanese Forces, and delegations from the Armenian Tashnag Party and the Phalange Party. It was also attended by the Saudi Arabian and UAE ambassadors to Lebanon.
Walid, a young man from Iklim Al-Kharoub region, told Arab News: "People are with Saad Hariri, may God give him strength."
Nabiha from Beirut said: "We are with Saad Hariri. His allies have deceived him despite everything he did. He shall return to power."
Farouk, also from Beirut, said: "Rafic Hariri leveraged everyone, but they removed him from power and then assassinated him. They are now trying to do the same to his son, Saad Hariri, but he is staying and will return strong. He will not lose his popularity."
Political, religious and diplomatic figures also visited the grave of Rafic Hariri on the anniversary of his death, including Russian Ambassador to Lebanon Alexander Zasypkin.
There was friction between Hariri's supporters and protesters in Martyrs' Square, opposite the site of Rafic Hariri's grave.
During the commemoration of Rafic Hariri, US Secretary of State Mike Pompeo said: "The assassination of Prime Minister Rafic Hariri is a mass killing. Many individuals linked to Hezbollah have been charged with playing roles in this terrorist attack, and they must be brought to justice in the end."
Pompeo added that Hezbollah had proven through its terrorist and illegal activities that it cared more about its interests and the interests of its sponsor, Iran, than about the best interests of the Lebanese people.
"The US continues to proudly stand with the Lebanese people in their peaceful calls for reform, transparency, and accountability," he added.
With 'suicide drones' and rocket attacks, Navy simulates war with Hezbollah
Judah Ari Gross/The Times Of Israel/February 15/2020
Times of Israel joins the 3rd Flotilla of missile ships as it holds an exercise preparing for possible conflict off the northern coast.
ABOARD THE I.N.S. KESHET — In the next conflict with the Hezbollah terror group, Israel's Navy knows that one of its main goals will be to protect Israel's burgeoning natural gas infrastructure and shipping in the Eastern Mediterranean Sea.
Hezbollah has long identified the maritime platforms as a potential target for attack, with verbal threats by the terror group's leader Hassan Nasrallah and his deputies over the years, as well as ominous videos and graphics putting the structures in cross-hairs.
Moreover, the military assumes that the terror group possesses the capabilities necessary to carry out those threats and stage potentially successful attacks not only on the gas platforms but on the commercial shipping lanes that bring in nearly all of Israel's imported goods.
Last week, the navy's 3rd Flotilla of missile ships — known in Hebrew by the acronym satilim — simulated such a war with a week-long exercise at sea, including deadly missile strikes on Israeli vessels, attempted suicide boat bombings and drone attacks.
"We assume [Hezbollah] will try to attack on the maritime front. They see it as a very important arena," Lt. Col. Guy Barak, commander of the 34th Anti-Submarine Squadron, told The Times of Israel, on board the INS Keshet, a 67-meter (220-foot) Sa'ar 4.5-model "submarine hunter" missile ship, during the second day of the five-day drill.
"With an enemy like Hezbollah, a surprise can come on the tenth day of a war or within the first hour," he said. "So we have to know how to go from zero to 60 fast."
Barak declined to comment on the specific types of weapons that the IDF believes the Tehran-backed Hezbollah has in its arsenals, but said generally that this included shore-to-sea missiles, suicide drones, submarine capabilities and others.
"We have to think that whatever Iran has, Hezbollah — and Hamas — can also have," he said.
Barak said the military is both directly tracking Hezbollah's weapons development closely and also making assessments based on the "vectors" that the terror group was already on.
In the 2006 Second Lebanon War, Hezbollah forces fired an anti-ship missile at the INS Hanit that killed four Israeli soldiers — one of the most significant, and in Israel, infamous, events of the 34-day conflict.
The strike on the Hanit on July 14 crippled the ship but did not destroy it. It was the first direct strike on an Israeli warship in decades and Hezbollah celebrated it as among its biggest victories of the war.
Though much of the exercise was conducted virtually, one aspect that was simulated with live fire was an attack by a "suicide drone" packed with explosives, a weapon that Hezbollah and other Iran-backed militias are known to have.
A civilian company was brought in to fly a Styrofoam glider around the participating ships, as machine gunners tried to shoot them down.
On board the INS Keshet, it took 94 bullets from one of the ship's .50-caliber machine gun to send the drone crashing into the sea.
Asked why only one drone was used in the operation, when it's possible a swarm of them could actually be used in a future war, Barak recognized that this was true not only of drones but of all aspects of the exercise, and that the decision to only use one was something of an arbitrary one.
"It can be one suicide boat or several, one drone or several, one rocket or several," he said.
Israel is an island
Though surrounded on three sides by land, the State of Israel effectively functions as an island economy, importing and exporting nearly all of its goods through the sea — rather than by land — making the maritime arena one of critical value to the normal functioning of the country. The recent discovery of natural gas reserves in Israel's territorial waters and the construction of one extraction platform in easy view of northern Israeli coastal communities has only added to the importance to the sea.
To assist in defending these new resources, the Israeli military has purchased four Sa'ar 6-model missile ships to be delivered beginning next year that will come equipped with two Iron Dome air defense batteries to defend the natural gas platforms from missile and rocket attacks.
In the meantime, the Israeli Navy is protecting the extraction platforms with slightly smaller Sa'ar 5-model missile ships, also equipped with Iron Dome batteries.
In addition to their strategic importance to the State of Israel, these platforms also represent a highly visible targets for Hezbollah, which could provide it with what military officials refer to as a "victory picture," like the Raising the Flag on Iwo Jima from World War II or the Israeli paratroopers at the Western Wall from the 1967 Six Day War. A massive fireball erupting out of the extraction rig less than 10 kilometers from the Israeli shore could serve a similar function for Hezbollah.
"But that's less my concern," Barak said. "My concern is defending national infrastructure installations — regardless of how things look."
To accomplish this task, Israel's missile ships are equipped with a dizzying array of sensors and detection systems — radar, sonar, electro-optical and more — active defense systems that can intercept incoming attacks, as well as ship-to-ship and ship-to-shore missiles.
While other navies around the world maintain fleets of different varieties of ships capable of performing specific tasks and mission, Barak said, "we need our missile ships to do everything."
All of these systems are controlled from the warships' combat information center — known in Hebrew by the acronym MIK, or Merkaz Yediyat Krav — a pitch black, cramped room in the belly of the vessel whose walls are covered in a myriad of screens and information panels.
Barak said these detection systems and weapons make the missile ships critical for defensive and offensive operations "not just on the sea, but above it and below it."
However, he stressed, the navy cannot use these tools solely for the maritime front and must serve an integral part of the overall war effort.
Naval officials often point to the case of the 1973 Yom Kippur War, in which the military's air and ground forces suffered heavy losses while the navy performed far better. Despite the navy's significant successes on its front, the war in general is seen as having been far less than a decisive victory for Israel.
An ultra-Orthodox Israeli sailor holds a rifle during a naval exercise off Israel's northern coast in February 2020. (Judah Ari Gross/Times of Israel)
"It's no longer the military telling the navy, 'Just keep the sea clean,'" he said.
Barak said the navy, especially the 3rd Flotilla and the 7th Flotilla of submarines, does have a slightly different mindset than the rest of the military, as the vessels they use are not only war machines, but also their homes, on which they can remain for extended periods of time.
"The sailors see this as their house and the other crew members as their family, so when they fight, they're fighting for their home," he said. "We go out to war and we come back when we've won. We don't know for how long."
Despite this singular quality, the navy works closely with the other branches of the IDF, especially the Israeli Air Force, Barak said, giving the specific example of the air force-operated Iron Dome batteries on board navy ships.
But in order to maintain the ability to fight more traditional naval warfare, last week's exercise also included fleet-on-fleet combat.
The drill also simulated the death of the captain of the INS Romach from the direct strike of a Hezbollah rocket, fires and flooding onboard ships, emergency helicopter evacuations and other emergencies.
"The exercise took the commanders to extremes and tested their functioning under pressure," the military said.
The 3rd Flotilla's ship-to-shore missiles and other weaponry ensures that it will also play an active role in any future war against Hezbollah in Lebanon, as it did in the 2006 Second Lebanon War and against Hamas in Gaza in the 2014 conflict there.
"Hezbollah knows that if an all-out war breaks out, the IDF will display force like never before, and that will include a 'punch' from the sea from the 3rd Flotilla," Barak said.
https://www.timesofisrael.com/with-suicide-drones-and-rocket-attacks-navy-simulates-war-with-hezbollah/
Hezbollah's popularity seen waning as Lebanese protests continue
The Media Line/Ynetnews/February 15/2020
Analysis: As new Beirut government's biggest supporter, Iran-backed group is facing possibility of losing its legitimacy as resistance movement; according to one expert, with so much poverty, few in Lebanon mention 'resistance' to Israel.
Anti-government protesters continued to take to the streets of Beirut last week, declaring their lack of confidence in new prime minister Hassan Diab and his cabinet.
Meanwhile, the new government's biggest backer, the Iran-backed Hezbollah movement is seeing its popularity wane as it faces the possibility of losing its legitimacy as a resistance movement.
"The government failed before it even started," said Ali Amin, a Lebanese analyst and journalist who writes for the London-based Al-Arab newspaper said.
He said that people were revolting against an entire political system but were given a new government with the same platform and same political powers.
"Hezbollah is a key party in forming this new government and is perhaps its primary backer, as [the government] could never have been formed without Hezbollah's support for its leader and members," he said.
"The ongoing battle here is between the new government and the street, which rejects it and is expressing this through protests."
The protests have been taking place since mid-October when people rose up against a new tax on the use of internet-based communications programs like WhatsApp. The protests widened to express deep dissatisfaction with economic mismanagement, corruption, and sectarianism.
Under relentless pressure, Prime Minister Saad al-Hariri resigned on October 29. But since the beginning, demonstrators have vowed not to leave the streets until there is a government of experts rather than politicians who merely represent the country's many ethnic and religious groups.
Raneem al-Ahmar, a Lebanese political activist who is a regular participant in the anti-government demonstrations, said that Hezbollah has lost popular support.
"We don't trust Hezbollah, as it's a partner of the current political game," Ahmar said. "They manipulated us."
Asad Bishara, who served as an adviser to former justice minister Ashraf Rifi, said that Diab's government represents the same system that brought the country to collapse, adding that this is hurting Hezbollah.
"Hezbollah sponsors the majority of the new government. Its image as a resistance movement [against Israel and Western powers] has suffered," he said, adding, however, that the Shi'ite group also sponsored the previous cabinet.
"The formation of the new government is a sign of failure and further collapse," Bishara said.
"The ministerial platform is broad and doesn't include a clear economic plan, a plan to stop corruption or work on Lebanon's regional and international relations. It is the same old approach, just with a new government."
He said that the interests of the country's diverse political forces conflict with the interests of Lebanon itself.
"Obviously, Hezbollah is working to thwart the revolution to protect a corrupt system," he said.
Charles Jabour, a journalist and head of media and communications for the Lebanese Forces, a Christian party and Hezbollah foe, said that such talk would change only if the new government managed to rescue the country from its deep foreign debt.
"It can hardly achieve this," he said. "It's not supported by the Lebanese street.
"It faces political opposition in the country and has no support from Arab countries, which means no aid money. In addition, the international community won't offer any help without a cohesive plan [for economic recovery]."
Regarding Hezbollah, a group that has long found support due to its resistance against Israel, Lebanon's neighbor to the south, Jabour said that nobody talks much about resistance nowadays.
"People," he said, "are busy facing poverty."
*Article written by Dima Abumaria. Reprinted with permission from The Media Line
Houda Kassatly's Lens: Capturing Lebanon's abused heritage
Christy-Belle Geha/Annahar/February 15/2020
Kassatly described her photography style as simple and clean, with no photo editing or cropping. This serves to preserve the subject's human dimension.
BEIRUT: Over the past 30 years, Houda Kassatly's camera lens has captured Lebanon's abused heritage and environment. 365 of these photos are currently being showcased in five different exhibitions at the Alice Mogabgab Gallery, Achrafieh.
"Why is the country slowly vanishing thirty years after the end of the Civil War? Isn't the end of a war supposed to be a new beginning? We wanted to look closer at what led the country to hit rock bottom," Alice Mogabgab, owner of the Alice Mogabgab Gallery, told Annahar. "We deeply reflected on how to combine art and the October 17 revolution in our gallery. Houda Kassatly's photography is in perfect accordance with what Lebanon is currently going through, considering that she started photographing corruption, the country's destruction, and its collective memory at a very young age. We picked her artwork for a year-long exhibition, ramified in five themes."
In the first exhibition "Dalieh, the threatened shore," on view until March 21, hundreds of snapshots of the Raouche Rocks dominate the gallery's walls. These photos reflect the algae linked to water pollution and human destruction of natural landscapes.
"You see in Houda's photographs the beauty of simplicity and normality. Her photographs echo children's laughter, and women's chats," said Mogabgab.
The Alice Mogabgab Gallery showcased the same shots in 2014, back when stacks of huge cement blocks occupied the Dalieh shore site in an attempt to privatize urban commons and hinder public access to the sea. The event led to the eviction of a number of fishermen and the closing of several restaurants.
"The Dalieh shore battle is a successful battle against corruption. We can now witness the revival of this battle in the national campaign that aims to protect the Bisri Valley," highlighted Mogabgab.
The privatization of the city's public maritime domain of the Dalieh affected the site's ecological wealth, diverse topographical, and geological features.
"I started taking shots of Beirut's slow 'disappearance' until it reached ultimate absence," Kassatly told Annahar.
As an ethnologist, Kassatly has long been interested in Lebanon's cultural and environmental heritage.
"We cannot look at our history without examining the issue of the refugees, from Armenians, Palestinians, and Syrians. The country never managed the refugee crisis," emphasized Kassatly, speaking about the second exhibition "Refugee's camps, the unsustainable precariousness," which will run between April 7 and May 23. "What is provisional for some, is permanent for others, so I thought of collecting and documenting this memory," she said.
Mogabgab concurred, adding that many people prefer to stay blindfolded in front of the refugees' issue.
"Some even told me they wouldn't come to the refugees' exhibition. See how hostile people can be? Art has to reduce hostility," said the gallery's owner.
The third exhibition, "Tripoli of the Orient; Plural City," is scheduled to take place between June 9 and July 25. Kassatly explained that this exhibition reminds her of the late journalist Samir Kassir.
"Samir Kassir, my former editor at L'Orient-Express, and I had plans for a project about Tripoli. Kassir is gone, but I revived his will to highlight Tripoli's rich heritage, which is also my will," Kassatly told Annahar.
Kassatly described her photography style as simple and clean, with no photo editing or cropping. This serves to preserve the subject's human dimension.
"I only use my camera, and pay meticulous attention to the natural lighting," she said.
The cluster of shots around Tripoli's heritage will be followed by a fourth exhibition, "Sacred Trees, Sacrificed Trees," between September 15 and October 31. The last exhibition will take place between November 10 and December 26 and is titled "Beirut, the Iconography of an Absence."
"Beirut remains the guideline for my work," said Kassatly, smiling.
She added that she complements her photography work with academic publications and research.
During the opening ceremony, Kassatly launched a book titled "Of earth and human hands, the construction of a Syrian domed house," in collaboration with Arcenciel and the British Council. The book focuses on the traditional houses in the region, their architecture, and their structure. It also allows people who read it to re-create domed houses, if they follow the technical steps included in the book.