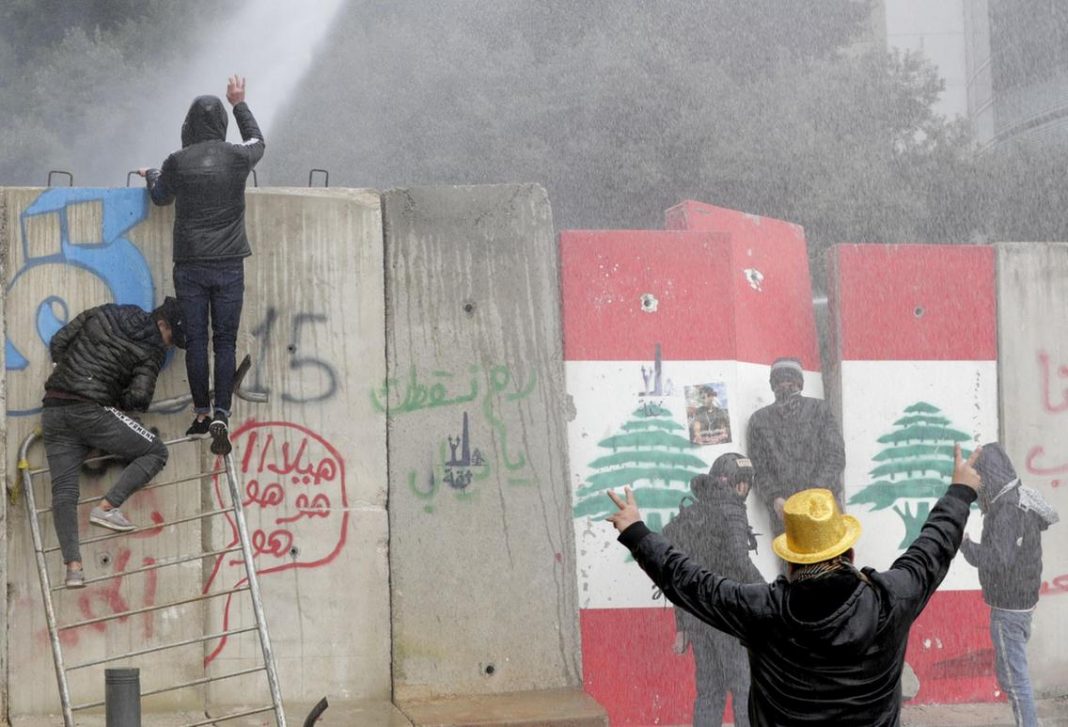 A Bundle Of English Reports, News and Editorials For 12-13/2020 Addressing the On Going Mass Demonstrations & Sit In-ins In Iranian Occupied Lebanon in its 119th Day
Compiled By: Elias Bejjani
February 13/2020
Titles For The Latest English LCCC Lebanese & Lebanese Related News & Editorials published on February 12-13/20
Lebanon: Four Months of Protests
Aoun Says Financial, Economic Crises Require 'Relatively Painful Measures'
Daryan Meets Diab, Says He's 'PM of Entire Lebanon'
Diab and Wazni Meet World Bank Officials, ABL Chief
Report: Wazni Meets International Bodies on Lebanon's Eurobonds
ABL: Lebanon Must Pay Eurobonds due in March
ABL: To pay Eurobonds due in March to protect depositors' interests
Mikati says submitted draft electoral law, suggested shortening parliament's mandate
Minister of Interior meets ambassadors: Priority for prison improvement, women's rights support
Othman tackles general situation with Egyptian ambassador
Dabour, Ambassador of Iran utter rejection of Deal of the Century
Mohammed Bazih released from al Helo Barracks
Several wounded in Baouchriye scuffle
ISG Reaffirms Support for Lebanon, Urges Quick Action
Int'l Lenders Form Group to Discuss Lebanon's Foreign Debt
Lebanon's int'l backers lend their support to new premier
7 Injured in Baouchriyeh Clash Involving Gunfire
Army Fires at Israeli Drone over Mays al-Jabal
Miqati Calls for Early Parliamentary Elections
Lebanon: Shy Majority Attends Parliament Session
Nissan Sues Ghosn, Seeking Damages for Property, Jet Use
Tehran-backed Hezbollah steps in to guide Iraqi militias in Soleimani's wake
Inside Iran's push to get Hezbollah to take a role in Iraq/Seith J.Frantzman/Jerusalem Post/February 12/2020
The Latest English LCCC Lebanese & Lebanese Related News & Editorials published on February 12-13/2020
Lebanon: Four Months of Protests
Agence France Presse/Naharnet/February 12/2020
Lebanon has been paralysed by nearly four months of protests demanding an overhaul of the entire political system.Here is a recap of the unrest after parliament on Tuesday backed the new government in a confidence vote despite protesters' attempts to block it.
'WhatsApp tax' anger
On October 17, amid a looming economic crisis, the government announces a tax on messaging applications, including WhatsApp. Thousands take to the streets in Beirut and other cities, some chanting "the people demand the fall of the regime". The government of Saad Hariri scraps the tax the same day, but protests continue.
Demos grow
On October 18, thousands of demonstrators representing different sects and political affiliations bring the capital to a standstill. They demand an overhaul of the political system, citing grievances from austerity measures and state corruption to poor infrastructure and regular electricity cuts. Demonstrations swell over the following days and dozens are arrested. On October 25, the powerful Shiite movement Hezbollah — which with its allies holds a majority in parliament — tells supporters not to take part in protests. The next day, Hezbollah mobilises counter-rallies, sparking scuffles with anti-government demonstrators.
Government resigns
On October 29, Hariri submits his resignation and that of his government, prompting celebrations in the streets. In a television address on November 3, President Michel Aoun announces plans to tackle corruption, reform the economy and form a new government including technical experts. But thousands of protesters stream back into Beirut's Martyrs' Square, chanting "Revolution!"
Foreign aid appeal rebuffed
On December 11 at a Paris conference, France, the United States, Russia and other countries rebuff Lebanon's urgent aid appeal, making assistance conditional on the formation of a new reform-minded government. Hariri also asks the International Monetary Fund and the World Bank for support in drawing up a rescue plan.
Violence intensifies
On December 14 and 15 dozens of people are wounded and security forces use tear gas and rubber bullets to disperse demonstrators. Dozens more are wounded on December 17, in dawn clashes between security forces and supporters of Hezbollah and Amal.
New prime minister
On December 19, the president finally names a new prime minister: little-known academic Hassan Diab, who is backed by Hezbollah. Protesters immediately regroup to condemn the appointment, which outrages members of the Sunni community. Protests continue the following day with roads blocked across the country.
Escalation in Beirut
On January 11, 2020, protests resume after a pause over the holidays. Days later clashes take place in Beirut and several banks are vandalised.  On January 17 violence breaks out after dozens of protesters throw rocks and large plant pots at police guarding a road leading to parliament while others charge police lines. Over the next two days, at least 546 people, demonstrators, but also members of the security forces, are injured in clashes in central Beirut.
Human Rights Watch accuses the police of firing rubber bullets at protesters' eyes. Authorities accuse "infiltrators" of being among the demonstrators and clear the security forces of all responsibility.
New government
On the 21, a new government is unveiled, made up of a single political camp, the pro-Iranian Hezbollah and its allies, who have a parliamentary majority. Demonstrators respond by torching tyres and blocking several roads in mainly Sunni towns across the country. On February 11, parliament votes its confidence in the new government, despite attempts by hundreds of protesters to block the session. They are dispersed by security forces using tear gas and water cannon. The clashes leave more than 370 injured, according to the Lebanese Red Cross.

Aoun Says Financial, Economic Crises Require 'Relatively Painful Measures'
Naharnet/February 12/2020
President Michel Aoun announced Wednesday that a "new phase" started after the new government won parliament's confidence. "The financial and economic crises can no longer be resolved in an easy manner and they now require measures that will be relatively painful for the Lebanese," Aoun said.
"I'm not trying to separate myself from other officials, seeing as I'm still in a position of responsibility and therefore obliged to fix the current situation, but today the cost has become higher," the president added. And pledging that "anyone who stole from the treasury will be held accountable under the law and by a special court for financial crimes involving public funds," Aoun called for "differentiating during this period between thieves and upright officials."

Daryan Meets Diab, Says He's 'PM of Entire Lebanon'
Naharnet/February 12/2020
Prime Minister Hassan Diab held talks Wednesday at Dar al-Fatwa with Grand Mufti Sheikh Abdul Latif Daryan, a day after his government won parliament's confidence. "After the government won parliament's confidence, His Eminence the Mufti of the Republic called me and we agreed on this meeting, that's why my visit today is very normal," Diab said after the talks. "The Mufti is playing a unifying role that preserves the position of Dar al-Fatwa and he is a dear friend and brother. I trust his wisdom and we are counting on it for the unity of ranks and stances," the PM added. "We discussed the general situations and the financial and social affairs as well as the need to unify the efforts of all the loyal ones in order to overcome this difficult period that Lebanon is going through," Diab went on to say, adding that he agreed with the Mufti on "maintaining communication for the sake of Lebanon's interest and the service of Muslims."Daryan for his part noted that the government "has won (parliament's) confidence." "Mr. Prime Minister is the Prime Minister of the government of entire Lebanon and we wish him success," the Mufti added. This is the first meeting between Daryan and Diab since the latter's designation as premier.
New premier Diab, a little-known academic and former education minister, was tasked with forming a government in December after mass rallies against official corruption and economic woes forced premier Saad Hariri to resign.

Diab and Wazni Meet World Bank Officials, ABL Chief
Naharnet/February 12/2020
Prime Minister Hassan Diab held separate talks Wednesday with a World Bank delegation and Lebanon's Association of Banks chief Salim Sfeir. Diab's meeting with the World Bank team was held away from reporters' eyes according to TV networks. Finance Minister Ghazi Wazni meanwhile chaired an economic-financial meeting at the Grand Serail in the presence of World Bank representatives, Finance Ministry Director General Alain Bifani and Diab's economic and financial team. The National News Agency said the meeting is a completion of the previous economic and financial meetings aimed at devising a complete economic and financial plan for the coming period. MTV meanwhile reported that Diab is inclined to ask for a "technical consultation" from the International Monetary Fund that would not inflict harsh measures on Lebanon. "This consultation would lay out a roadmap for what the government can do in the face of the crisis," the TV network added. MTV also said that a meeting would be held Wednesday afternoon with IMF officials at Diab's request.

Report: Wazni Meets International Bodies on Lebanon's Eurobonds
Naharnet/February 12/2020
Finance Minister Ghazi Wazni reportedly began negotiations with international bodies on Lebanon's $1.2 billion Eurobonds due to mature in March, al-Joumhouria daily reported on Wednesday. Wazni kicked off talks with a "technical nature" with the International Monetary Fund and the World Bank, in the presence of representatives of investment Lazard Bank, which advised Greece on the management of its debt, added the daily. Lazard attends the negotiations as an "adviser of the Lebanese State," according to al-Joumhouria. Awaiting the results of these negotiations, Lebanon's government must not make any decision whether it plans to pay or not these Eurobonds, otherwise, in both cases, the State and Lebanese citizens could be immensely harmed, said the daily. On Sunday, Lebanon's central bank has proposed that Lebanese holders of the $1.2 billion Eurobonds swap their holdings for longer-dated notes. Crisis-hit Lebanon is on the brink of defaulting on its sovereign debt and the impact is being felt by all social classes, with tough restrictions on cash withdrawals and a steep de-facto devaluation of the national currency. The World Bank has warned that if no solution is found swiftly to the crisis, the poverty rate may shoot up from a third to half of the population. Lebanon's government has to decide whether it should restructure or pay its $2.5 billion Eurobonds, including a $1.2 billion Eurobond maturing in March, $600 million maturing in April, and $700 million in June.

ABL: Lebanon Must Pay Eurobonds due in March
Naharnet/February 12/2020
The Association of Banks in Lebanon said on Wednesday that it was necessary for Lebanon to pay $1.2 billion Eurobonds due to be paid in March to "protect depositors, preserve Lebanon's position in international financial markets and preserve its relations with correspondent banks."In a statement, ABL said Lebanon should pay its dues, pointing out that fulfilling Lebanon's financial obligations is a permanent and fixed policy announced and affirmed previously by the Lebanese State. The association explained that failing to pay Lebanon's external debts is a significant problem and that restructuring the debt in understanding with the creditors requires time and assistance of international institutions. Crisis-hit Lebanon's government has to decide whether it should restructure or pay its $2.5 billion Eurobonds, including a $1.2 billion Eurobond maturing in March, $600 million maturing in April, and $700 million in June.
Lebanon is passing through an unprecedented economic and financial crisis unprecedented since its 1975-90 civil war.
ABL: To pay Eurobonds due in March to protect depositors' interests
NNA/February 12/2020
The Association of Banks in Lebanon (ABL) on Wednesday issued a statement urging the new government to pay off the maturing Eurobonds in March in a bid to protect the interests of Lebanese depositors."In the coming weeks, Lebanon faces grave financial deadlines, the most important of which is deciding on the issue of Eurobonds which are due in March, and which have sparked a wide debate on whether or not they should be paid," the ABL's statement said, reminding that the government has previously announced that the fulfillment of Lebanon's financial obligations was a "stable policy". "Failure to pay Lebanon's external debts is a matter that should be approached with great precision and precaution," the statement added, noting that current suggestions propose rescheduling the public debt or restructuring it in agreement with creditors. "To accomplish this matter requires time, communications, and mechanisms that conform to international standards and similar approaches adopted by other countries. It calls for the use of the competent international bodies to build credible financial and monetary programs," the ABL statement explained. However, it warned that time was running out and was not enough to delve into the aforementioned option. "The remaining period until the maturity of Eurobonds in March is very short and does not allow apt preparation and efficient handling of this important national issue."Therefore, the Association of Banks in Lebanon said that for the sake of protecting the interests of depositors, not to mention Lebanon's survival amidst the global financial market, March's debt must be paid on time in line with immediate actions to address the entire public debt file. The ABL statement also indicated that the means by which this major financial deadline was dealt with by the new government "is a very important indication of the way it will deal with the international community in the future."

Mikati says submitted draft electoral law, suggested shortening parliament's mandate
NNA/February 12/2020
Former Prime Minister, Najib Mikati, on Wednesday said at a press conference that he had submitted an electoral bill based on 5 governorates, in which each voter votes within his or her jurisdiction with two preferential votes. He suggested as well shortening the current parliament's mandate. Moreover, the lawmaker called on the parliament to meet and discuss the new electoral law, expecting the situation to only improve through early elections. "An imbalance exists today because of the presence of strong and weak parties; this is unacceptable. We await the ordinary Parliament session to submit a constitutional amendment to set the voting age at 18," Mikati added.

Minister of Interior meets ambassadors: Priority for prison improvement, women's rights support
NNA/February 12/2020
Minister of Interior Mohamed Fahmy welcomed this Wednesday the Canadian Ambassador to Lebanon Emmanuelle Lamoureux, and discussed with her Lebanese-Canadian relations, in addition to the general situation in Lebanon and the demonstrations that accompanied the confidence session.
Minister Fahmy assured the Ambassador of Canada that "the demonstrators have not been treated with force," pointing out that "the security forces worked to protect the peaceful demonstrators on the one hand and public and private properties on the other hand," stressing that "the priority was to uphold the work of the ISF at all levels." He pointed out that "the economic situation is of utmost importance for the Lebanese citizen, and this is the focus of attention of the current government," underlining "the important Ministry of Interior role in the process of improving the conditions of prisons, developing municipalities and supporting the rights of children and women." For her part, Ambassador Lamoureux affirmed "Canada's contribution to the project of developing the capabilities of municipal police in Lebanon, in order to support the security forces in maintaining security across all regions," expressing Canada's readiness to assist Lebanon in all fields. Minister Fahmy also welcomed the Australian Ambassador to Lebanon, Rebecca Grindley, who congratulated him on the government gaining confidence yesterday, and provided an explanation of the projects that the Australian Embassy in Lebanon is contributing to, praising the impactful presence of the Lebanese community in Australia in all fields. She expressed regret over the martyrdom of an officer and a member of the Internal Security Forces yesterday in Ouzaei, stressing "the necessity of security cooperation between Lebanon and Australia."
For his part, Minister Fahmy hoped "Australia would assist in building prisons and supporting the security forces development."Minister Fahmy finally met with the French Ambassador to Lebanon, Bruno Foucher, who stressed his country's readiness to help Lebanon, calling for "concerted efforts between ministers in Lebanon to benefit from the assistance provided via the Cedre Conference." Foucher emphasized "permanent coordination to combat terrorism," stressing that "France has allocated $ 50 million to support such projects, in coordination with the Internal Security Forces."

Othman tackles general situation with Egyptian ambassador
NNA/February 12/2020
Internal Security Forces' chief Imad Othman, welcomed in his office the Egyptian Ambassador to Lebanon, Dr. Yasser Alawi, who came on a visit aimed at cooperation and coordination. Talks reportedly touched on the Country's general situation. On the other hand, Maj. Gen. Othman met with a delegation of the International Center for Migration Policy Development (ICMPD) in Vienna, with talks touching on the progress of the Integrated Border Management project in Lebanon (phase III).

Dabour, Ambassador of Iran utter rejection of Deal of the Century
NNA/February 12/2020
Ambassador of the State of Palestine Ashraf Dabour welcomed this Wednesday the Ambassador of the Islamic Republic of Iran, Muhammad Jalal Firouzenia, and briefed him on the "official Palestinian position and the unified popular stance against the so-called Deal of the Century.""The deal targets the national rights of our Palestinian people and totally contradicts with the international legitimacy resolutions issued by the Security Council and the General Assembly by international consensus," Dabour said. In turn, the Iranian Ambassador affirmed "the Islamic Republic of Iran's rejection of the deal of the century and its standing by the Palestinian cause, until its full goals are achieved and an independent State with Jerusalem as its capital is established."

Mohammed Bazih released from al Helo Barracks
NNA/February 12/2020
Communist Party's Youth and Students' Sector Command member, Mohammed Bazih, who had been arrested earlier, was released this afternoon from al-Helo army barracks, NNA field reporter said on Wednesday. A number of Bazih's friends have staged a sit in outside al-Helo Barracks to demand his release.Bazih's friends then marched towards Riad Al Sol Square, chanting slogans.

Several wounded in Baouchriye scuffle
NNA/February 12/2020
Several people were injured in a scuffle that broke out between young men in the locality of Baouchriye, NNA field reporter said on Wednesday.The army cordoned off the area

ISG Reaffirms Support for Lebanon, Urges Quick Action
Naharnet/February 12/2020
The International Support for Lebanon issued a statement on Wednesday reaffirming support for Lebanon and calling on PM Hassan Diab's government to stop and reverse the deepening crises and address the needs of Lebanese.
The statement said: Following the vote of confidence by the Parliament yesterday evening, the ISG calls on the newly confirmed Government of Lebanon led by Hassan Diab to swiftly and resolutely undertake timely, tangible, credible, and comprehensive set of measures and reforms to stop and reverse the deepening crises, to address the needs and demands of the Lebanese people. Recalling the statements of the ISG meeting in Paris on 11 December 2019 and in Beirut on 23 January 2020 the ISG underlines the importance of action to regain the trust of the Lebanese people and that of the international community and unlock future international assistance for Lebanon. The ISG appeals to all political forces and leaders of Lebanon to prioritize their support for reforms when in the national interest and for the benefit of the people and the country. The ISG reaffirms its willingness to support Lebanon as it undertakes efforts to restore economic stability, credibility of the financial sector, a critical review of the 2020 budget to ensure sustainability, implementation of key sectoral reforms like the energy sector, reforms of state-owned enterprises to ensure efficiency and consumer benefit, and the passing and implementing of effective procurement laws. The ISG also reaffirms its willingness to support credible efforts by government leaders to tackle corruption and combat tax evasion, including adoption and implementation of an anti-corruption national strategy, the anti-corruption agency law and judicial reform, and other measures that ensure concrete changes are made and guarantee both transparency and full accountability. The ISG reaffirms the need for internal stability and the right to peaceful protest to be protected. The ISG reiterates the importance of Lebanon implementing Security Council Resolutions 1701 (2006), 1559 (2004) and other relevant Security Council resolutions, as well as the Taif Accord and the Baabda Declaration and its commitments made at the Brussels, Paris and Rome conferences. The ISG members reaffirm their continuous strong support for Lebanon and its people, for its stability, security, territorial integrity, sovereignty and political independence.

Int'l Lenders Form Group to Discuss Lebanon's Foreign Debt
Agence France Presse/Naharnet/February 12/2020
A group of international lenders have formed a group to talk to the Lebanese government about its options regarding its foreign debt, distressed-debt investor Greylock Capital Management said on Wednesday. "This group will facilitate communication between disparate creditors and stands by to engage with the Lebanese Republic in any discussions," Hans Humes, chief executive of New York-based Greylock, said in n statement. Earlier on Wednesday, Lebanon's Association of Banks urged the state to pay the forthcoming Eurobond maturity on time, despite fears that such a move may compound the country's worst economic crisis in decades. The 1.2 billion Eurobond payment due in March is a divisive issue in debt-ridden Lebanon. Economists warn that payment on time would eat away at plummeting foreign currency reserves, while bankers say a default would damage Lebanon's reputation and compromise its ties with lenders. In a statement on Wednesday, the Association of Banks said paying on time "would protect the interests of depositors, preserve the country's place in global financial markets and would maintain ties with" lenders. It said debt restructuring, which some experts have called for, could not be undertaken on time, especially as it would require talks with international bodies. "The remaining period before the debt matures in March is very short," it added. Lebanon is one of the world's most indebted countries, with a debt reaching more than 150 percent of GDP.
It is currently in the throes of a severe economic meltdown and a biting liquidity crunch that has seen banks impose stringent controls on withdrawals and transfers abroad.
Credit rating agencies and economists have also warned of dwindling foreign currency reserves that have plummeted in recent months, threatening import payments and a devaluation of the Lebanese pound. The local currency has already lost more than a third of its value on the black market. Credit rating agencies in recent month have downgraded Lebanon into junk territory, citing a high risk of default. The Lebanese government has never defaulted on a debt payment, but some analysts say now may be the right time to do so. "Repayment would weaken our foreign currency reserves, and we will therefore have less dollars to import basic goods, such as medicine and wheat," said economist Charbel Cordahi, who argued in favor of a deferred payment. Mohammed Zbeeb, an economic expert, said repayment may further threaten savings of ordinary depositors, who are already struggling to access money trapped under informal banking controls. "A comprehensive rescue plan must be developed, including restructuring of public and private debt," he told AFP. But a banking source close to the issue said that the Eurobond payment would ease pressure on commercial banks. "Failure to pay by March may have a (negative) impact on commercial banks, which hold a large share of the maturing Eurobonds," said the source, who asked not to be named because he is not authorized to speak on the matter. "Such a scenario would put additional pressure on banks," he told AFP. Bank of America Merill Lynch in a November report estimated that around 50 percent of Eurobonds were held by local banks, while the central bank had around 11 percent. Foreign investors owned the remainder, around 39 percent of Eurobonds, it said. But these figures may have changed, with local media reporting that local banks have recently sold a chunk of their Eurobonds to foreign lenders.
Lebanon's int'l backers lend their support to new premier
Associated Press/February 12/2020
Lebanon's economic slump has sparked months of mass protests against its government and ruling elite, many of them in power since the end of the 15-year-long civil war in 1990.
BEIRUT: Lebanon's international backers said Wednesday they supported its new Cabinet while urging it to swiftly tackle the country's snowballing crises amid ongoing anti-government protests. The group urged Prime Minister Hassan Diab's government to commit to major reforms that would "stop and reverse the deepening crises" afflicting the country economically and politically. Those issuing the statement included international partners like France, the United States, Russia, and the United Nations. Lebanon's economic slump has sparked months of mass protests against its government and ruling elite, many of them in power since the end of the 15-year-long civil war in 1990. Diab, a former professor at the American University of Beirut, was picked by the Lebanese militant group Hezbollah and its allies after Prime Minister Saad Hariri resigned at the end of October, two weeks after the nationwide protests erupted.
The new Cabinet secured 63 votes out of the 84 lawmakers who attended Tuesday's session. Over forty lawmakers skipped the vote while the protesters hurled stones at security forces outside the fortified barriers surrounding the legislative chamber.
Diab urged the international community, and local opponents, to give his government a chance.
Lebanon is at the center of a foreign power play between supporters and detractors of Iran. Hezbollah, a major ally of Tehran, has come under intensifying U.S. sanctions as Washington seeks to put pressure on Iran and its regional allies. Thousands of protesters clashed with security forces outside the Parliament on Tuesday while lawmakers voted on the new government. Nearly 400 people were injured in the melee. Speaking ahead of the vote, Diab said he fully realized the massive task ahead but was confident it was possible to rescue Lebanon's economy from complete collapse — and that his government would get to work immediately. Diab vowed to fight corruption, while ushering in judicial, financial and administrative reforms, but offered few specifics in his 16-page plan. Amid a spiraling financial crisis, Lebanese banks have imposed informal capital controls on withdrawals of U.S. dollars and halted transfers of foreign currency abroad. Lebanon has one of the highest debt ratios in the world, standing at more than 150% of GDP with no economic growth, a liquidity crunch, and high unemployment. International donors had pledged some $11 billion in grants and loans for Lebanon in 2018, calling for major reforms to unleash the money. In recent weeks, friendly nations have said they will not bail Lebanon out without those major policy and regulatory changes. On Wednesday, the international group, which also includes the European Union, Britain, China, Germany, and Italy, said it supports Lebanon's efforts to restore economic stability, the credibility of the financial sector and key sector reforms. It also announced its support for peaceful protests.

7 Injured in Baouchriyeh Clash Involving Gunfire
Naharnet/February 12/2020
Seven people have been injured in a clash between Baouchriyeh residents and members of the Zoaiter family who live in the area, MTV reported on Wednesday. The TV network said the tensions erupted Tuesday following a confrontation between a bus driver from the Zoaiter family and Baouchriyeh residents. Security forces have since deployed in the area and arrested several people. In remarks to MTV, a young man from Baouchriyeh accused members of the Zoaiter family of opening fire at residents and buildings.
Strong Lebanon bloc secretary MP Ibrahim Kanaan meanwhile contacted security and judicial authorities in the wake of the clash, voicing support for "the army's measures and its arrest of four people until the moment ahead of bringing the situation fully under control." Kanaan also called on authorities to "be strict in pursuing violators, attackers of public and private property and those who caused the incident." MP Eddy Abillama of the Lebanese Forces for his part visited the area and sought to pacify the situation. "We are one people but we heard profanities at all levels and there are infiltrators among the residents of the Zoaiteriyeh neighborhood," he said. He also warned against "sowing discord among people," noting that his party was exerting efforts to "avoid disputes."
Media reports said a local mayor of Jdeideh-Baouchriyeh, Charbel Khoury, was among the wounded.

Army Fires at Israeli Drone over Mays al-Jabal
Naharnet/February 12/2020
The Lebanese Army on Wednesday opened fire at an Israeli drone over the southern border town of Mays al-Jabal, the National News Agency said.
The drone, which was not hit, was flying over the Kroum al-Sharraqi area, NNA said. "The aircraft immediately returned to the occupied Palestinian territories amid a security deployment by the Lebanese Army and UNIFIl forces in the aforementioned area," the agency added.

Miqati Calls for Early Parliamentary Elections
Naharnet/February 12/2020
Head of the parliamentary Independent Center bloc MP Najib Miqati on Wednesday voiced calls for reducing the term of the current parliament and hence staging early parliamentary elections. "The people have no more confidence in the current political class. We need to stage early parliamentary elections to facilitate the mission of the new government, now that it has gained its vote of confidence," said Miqati in a press conference. "I urge the Parliament to hold a meeting soon. We submitted a proposal for a parliamentary election law based on 5 districts where every voter votes within his own district with two preferential votes. Meanwhile the term of the current parliament would be shortened," said Miqati. After the new Cabinet of PM Hassan Diab won the confidence vote at the Parliament on Tuesday, Miqati said "we need to take very difficult decisions in the next stage. This is not related to the government or the people, but rather to the source of the authorities and the authority itself."

Lebanon: Shy Majority Attends Parliament Session
Beirut- Caroline Akoum/Asharq Al-Awsat/Wednesday, 12 February, 2020
A parliament session devoted to discussing the new government's ministerial statement was held on Tuesday in the presence of 68 deputies, before they were joined by the MPs of the Future Movement and the Lebanese Forces.
Before the session, during which Parliament was set to give its confidence to Prime Minister Hassan Diab's government, confusion appeared within the ranks of blocs that had previously announced their abstention from granting a vote of confidence, specifically the Future bloc, the Strong Republic, and the Democratic Gathering. It was clear that those deputies were waiting for the quorum to be completed before entering the parliament hall, so that their presence would not be seen as a contributor to securing the quorum, which is 65 deputies. Half an hour after the scheduled time of the session, Speaker Nabih Berri announced its launch without specifying the number of attendees, while several sources had confirmed that the number of deputies had not exceeded 58. When Diab finished his speech, Berri announced that the session of confidence was opened in the presence of 67 deputies, "and the number now is 68." Most of the MPs were from the blocs of Hezbollah, Amal Movement, the Free Patriotic Movement (FPM), the Marada Movement, and their allies. It was later confirmed that the PSP deputies secured the quorum, a piece of information that was not rejected by the party's leader, Walid Jumblatt. Based on this controversy, some parties questioned the constitutionality of the session. In remarks to Asharq Al-Awsat, former Justice Minister Ibrahim Najjar said that the session could not be regarded as unconstitutional. He explained that the quorum was later completed, and Berri's abstention from announcing the number of deputies at the beginning of the session was a "minor violation" of the Constitution. "There are major violations and other minor breaches, which do not lead to the annulment of the session. What Berri did is a minor violation," he stated. Kataeb Party MP Elias Hankash, who boycotted the session, criticized the anti-government blocs for attending the session and securing the quorum. "The deputies were supposed to respect the street protests and refrain from attending the session," he told Asharq Al-Awsat. "This government, even if it got confidence vote, does not enjoy popular legitimacy," he remarked.
Nissan Sues Ghosn, Seeking Damages for Property, Jet Use
Associated Press/Naharnet/February 12/2020
Nissan filed a civil suit Wednesday seeking 10 billion yen ($91 million) in damages from the Japanese automaker's former Chairman Carlos Ghosn.
Nissan Motor Co. filed the case in Yokohama District Court to recoup some of the monetary damages suffered, it said, "as a result of years of misconduct and fraudulent activity" by Ghosn. The claim was calculated by adding the costs from what Nissan called Ghosn's "corrupt practices," such as rent for overseas property, use of corporate jets and payments to Ghosn's sister, as well as costs for the internal investigation into Ghosn's alleged wrongdoings.
Ghosn, who led Nissan for two decades and saved it from near-bankruptcy, was arrested in Japan in November 2018, and charged with underreporting his future compensation and breach of trust in diverting Nissan money for personal gain.
He was awaiting trial but skipped bail and showed up in Lebanon late last year. Japan has no extradition treaty with Lebanon, and he's unlikely to be arrested. A date had not been set for his trial, and Ghosn has said he was worried his ordeal would never end and he would not get a fair hearing. The bail conditions also barred him from seeing his wife. He has repeatedly lashed out at Japan's judicial system, where the conviction rate is higher than 99%. Japanese authorities recently issued an arrest warrant for Ghosn and three Americans, accused of helping his escape. Separately, they issued an arrest warrant for Ghosn's wife on suspicion of perjury.
Ghosn has repeatedly said he is innocent, saying that the promised compensation had never been decided, and all the payments were for legitimate services.
Wednesday's lawsuit by Nissan comes on top of the civil case Nissan filed against Ghosn in the British Virgin Islands in August last year. It alleged unauthorized payments, sought to regain a luxury yacht and pursued other damages, according to Nissan. Yokohama-based Nissan, which makes the Z sportscar, Leaf electric car and Infiniti luxury models, is also facing trial in Japan as a company in relation to Ghosn's scandal. It has indicated it will agree to any penalties. Nissan's reputation has been sorely tarnished over the Ghosn fiasco, and its sales have dropped. Nissan reports financial results Thursday. The company is struggling to redefine its image and managerial leadership after the departure of Ghosn. His successor Hiroto Saikawa tendered his resignation in September after acknowledging he had received dubious income. Saikawa said he did not know about the money. He has not been charged.
Also in question is Nissan's relationship with alliance partner Renault SA of France, the top shareholder in Nissan. Ghosn, sent in by Renault to lead Nissan, has said his arrest was set off by a conspiracy against him at Nissan.
Tehran-backed Hezbollah steps in to guide Iraqi militias in Soleimani's wake
Reuters/February 12/2020
Shortly after Iranian Major General Qassem Soleimani was killed in a U.S. drone strike in Iraq, the Tehran-backed Lebanese organization Hezbollah urgently met with Iraqi militia leaders, seeking to unite them in the face of a huge void left by their powerful mentor's death, two sources with knowledge of the meetings told Reuters.
The meetings were meant to coordinate the political efforts of Iraq's often-fractious militias, which lost not only Soleimani but also Abu Mahdi al-Muhandis, a unifying Iraqi paramilitary commander, in the Jan. 3 attack at Baghdad airport, the sources said.
While offering few details, two additional sources in a pro-Iran regional alliance confirmed that Hezbollah, which is sanctioned as a terrorist group by the United States, has stepped in to help fill the void left by Soleimani in guiding the militias. All sources in this article spoke on condition of anonymity to address sensitive political activities rarely addressed in public. Officials with the governments of Iraq and Iran did not respond to requests for comment, nor did a spokesperson for the militia groups.
The discussions shed light on how Iran and its allied groups are trying to cement control in the unstable Middle East, especially in the wake of the devastating U.S. attack on a revered Iranian military leader.
The Tehran-backed militias are critical to Iran's efforts to maintain control over Iraq, where the U.S. still maintains some 5,000 troops. The country has experienced years of civil war since U.S. forces toppled Saddam Hussein and more recently, the government – and the militias – have faced growing protests against Iran's influence in the country. Iran helped found some Iraqi militia groups.
In the months ahead of his death, Soleimani had waded ever deeper into the Iraq crisis, holding meetings with the Iraqi militias in Baghdad as Tehran sought to defend its allies and interests in its power struggle with the United States, one of the two Iraqi sources said.
Hezbollah's involvement marks an expansion of its role in the region. The Shi'ite group, founded by Iran's Revolutionary Guards in 1982, has been at the heart of Iran's regional strategy for years, helping Soleimani to train paramilitary groups in both Iraq and Syria.
One pro-Iran regional official said Hezbollah's guidance of the militias would continue until the new leadership in the Quds Force – a unit of the Revolutionary Guards led by Soleimani since 1998 – gets a handle on the political crisis in Iraq.
The meetings between Hezbollah and Iraqi militia leaders began in January, just days after Soleimani's assassination, the two Iraqi sources said. Reuters couldn't confirm the number of meetings or where they took place. One source said they were in Beirut and the other said they were either in Lebanon or Iran.
Sheikh Mohammad al-Kawtharani, the Hezbollah representative in Iraq who worked closely with Soleimani for years to guide the Iraqi militias, hosted the meetings, the Iraqi sources said.
Kawtharani picked up where Soleimani left off, the Iraqi sources said. The sources said Kawtharani berated the groups, as Soleimani had done in one of his final meetings with them, for failing to come up with a unified plan to contain popular protests against the Baghdad government and the paramilitaries that dominate it. The government and militia groups have killed hundreds of protesters but not managed to contain the rebellion.
Kawatharani also urged a united front in picking a new Iraqi prime minister, the Iraqi sources said. Since then, former Iraqi communications minister Mohammed Tawfiq Allawi has been named – a development welcomed by Iran and accepted by the militia-linked parties it backs but opposed by protesters.
BIG SHOES TO FILL
For now, Kawtharani is seen as the most suitable figure to direct Iraqi militias until a permanent Iranian successor can be chosen, although he possesses nowhere near Soleimani's clout and charisma, according to the two Iraqi sources and a senior Iraqi Shi'ite Muslim leader.
"Kawtharani has connections with the militia groups," the Shi'ite leader said, noting that he was born in Najaf, lived in Iraq for decades and speaks Iraqi dialect. "He was trusted by Soleimani, who used to depend and call on him to help him in crises and in meetings in Baghdad."
One of the Iraqi sources close to the militias said that Kawtharani also met with the Iraqi populist cleric Moqtada al-Sadr, a powerful but unpredictable figure, to convince him to support the new Iraqi prime minister. As Reuters has reported, Sadr has given Allawi his support.
Kawtharani will face serious – perhaps insurmountable- challenges in filling the shoes of the leaders killed in the drone attack, the Iraqi sources close to the militias told Reuters.
"A lot of faction leaders see themselves as too big and important to take orders from " one Iraqi source said. "For now, because of pressure from Iran, they're cooperating with him, but I doubt that will continue and the Iranians know that."
One of the pro-Iran sources, a military commander, said Hezbollah's involvement would consist of political guidance but stop short of providing manpower and materiel to retaliate for the Solemani killing. The militias "do not need Hezbollah's intervention because they have the strength in numbers, combat experience and firepower," the commander said.
Those groups are difficult to control while Hezbollah is seen as more disciplined. But like the rest of Iran's network, Hezbollah risks stretching itself thin, a senior U.S. official in the region and an Iraqi political leader said.
In recent years, Hezbollah's role has grown considerably. It has fought in support of President Bashar Al-Assad in Syria and extended political support to the Iran-allied Houthis of Yemen in their war with a Saudi-led military alliance.
Iran is likely to rely partly on the clout Nasrallah, a figure who commands deep respect among Iran's allies across the region, the U.S. official said. Nasrallah is seen as overseeing Kawtharani's efforts, according to a senior Shi'ite Iraqi leader.
"I think ideologically, religiously, he's seen as a charismatic figure to many of the Iraqi Shia militias," the U.S. official said, requesting anonymity because he was not authorized to speak on the record.
In two lengthy televised addresses, Nasrallah has paid homage to Soleimani and vowed to avenge his death.
He has also declared it a goal of Hezbollah and its allies to eject U.S. forces from the region once and for all. U.S. forces have been in Iraq since 2014 as part of a coalition fighting against Islamic State.
If the Iraqi militias have their way, sources close to them say, these troops will be the first to depart.
Editing by Julie Marquis

Inside Iran's push to get Hezbollah to take a role in Iraq
Seith J.Frantzman/Jerusalem Post/February 12/2020
Why is Hezbollah the go-to, with thousands of fighters and support base barely in the hundreds of thousands, when Iraqi Shi'ites number in the millions?
Since the US killed Iran's Islamic Revolutionary Guard Corps Commander Qasem Soleimani and Iraqi Kataib Hezbollah militia leader Abu Mahdi al-Muhandis, Iran has been feeling a vacuum in its "axis of resistance." Tehran must now reach out to Hezbollah for help to shore up its role in Iraq, according to recent reports.
Why is Hezbollah the go-to, with its thousands of fighters and base of support barely in the hundreds of thousands, when Iraqi Shi'ites number in the millions?
Middle East Eye first reported on January 14 that Iran had tasked Hezbollah's Hassan Nasrallah to begin "uniting Iraqi proxies" after Soleimani's death. Now Reuters has followed up on those rumors from a month ago regarding Hezbollah's role in Iraq. "Two additional sources in a pro-Iran regional alliance confirmed that Hezbollah… has stepped in to help fill the void left by Soleimani in guiding [Iraqi] militias."
The mystery surrounds the "Hezbollah will manage Iran's affairs in Iraq" story, and must be understood as relating to Iran's trust in Hezbollah. In a time that Iran's leaders now look back to with nostalgia, there were three men that anchored Iran's power abroad: Qasem Soleimani, Imad Mughniyeh and Hassan Nasrallah. From Tehran's point of view, the "good old days" of the 2006 war against Israel brought them together. Now, two of them are dead. Muhandis, a key Iranian ally in Iraq is also gone.
It's important to understand that these were trusted knights of the realm for Iran. They operated in Syria, which was key to Tehran's attempt to create a "road to the sea" via Iraq to Lebanon. Kataib Hezbollah, for instance, had a headquarters base in Albukamal – until it was blown up in an air strike in the summer of 2018.
Does Iran's tapping of Hezbollah mean that it does not have faith in the Shi'ite base in Iraq – and that it is concerned that months of anti-Iranian protests in Iraq might have damaged it? Perhaps it thinks Lebanese can operate in Iraq more easily now.
Hezbollah sent Mohammad Al-Kawtharani to Iraq to negotiate after Soleimani and Muhandis were killed on January 3. Meetings followed in Lebanon and Iran. One goal was to bring in Muqtada al-Sadr, leader of Iraq's largest political party, together with Hadi al-Amiri, leader of the second largest party. Amiri is head of the Badr Organization as well and fought alongside Iran in the 1980s. As such, the idea was to unite Sadr with Iranian-backed militias in Iraq. Sadr complied, ordering marches against the US in Iraq on January 24 and sending his blue hatted Saraya al-Salam to tamp down the protests on February 1.
BUT IT'S not so simple. Sadr held meetings in mid-January in the Iranian city of Qom with members of the Iraqi militias, the Popular Mobilization Units (Hashd al-Shaabi). Who was at the meeting? Akram Al-Kaabi of the Harakat Hezbollah al-Nujaba militia was photographed along with Sadr. But Kawtharani was not photographed there. Nevertheless, Irib News showed a photo of the various flags of Iran's proxies all united behind an image of the "martyred" Soleimani during the same week. Iran's message was unity, and Hezbollah was expected to help.
According to Reuters, Kawtharani has close connections to Iraq's militias and, like Sadr, was born in Najaf. Soleimani would go to him in times of crisis. Kawtharani was in Iraq and Iran in late December, according to other reports and Al-Hurra. He spoke to Amiri and went to Qom to speak to Sadr. This was prior to the major crisis between the US and Iraqi militias which unfolded on December 27 when a rocket killed a US contractor. Kawtharani was trying to push the Iraqis to unify on a new prime minister choice.
The US Treasury department sanctioned Kawtharani in 2013. He was accused of being involved in "training, funding, [and] political and logistical support to Iraqi Shi'a insurgent groups." He was a member of Hezbollah's Political Council and had helped free Hezbollah member Ali Musa Daqduq, who was involved in planning an attack that had killed five US soldiers in Iraq in 2007. Kawtharani helped send fighters to Syria to support Assad after 2011, like Muhandis and Al-Kaabi. It might be assumed they worked closely on this issue.
Kawtharani was rumored to have been killed by the January 3 air strike. In fact, Jamal Jaafar Ibrahimi, a senior PMU member, was killed alongside Muhandis and Soleimani. Kawtharani was lucky, as was Al-Kaabi, whom the US has named as a key conduit for Soleimani's network in Iraq.
The question now is what is the next step for men like Kawtharani and Iraq. The militias in Iraq have no shortage of members, but some of their own families have joined the protests against Iran's overbearing influence in Iraq. Sadr is constantly unsure of himself. Amiri and Qais Khazali, another militia leader, are either in hiding or rarely seen in public. Hezbollah is strained through its role fighting in Syria and challenges at home.
Iran's all-powerful proxy network appears to have some question marks at the top now. Reports about Tehran scrambling to get Hezbollah involved in Iraq point to a growing problem for Tehran in coordinating its efforts.