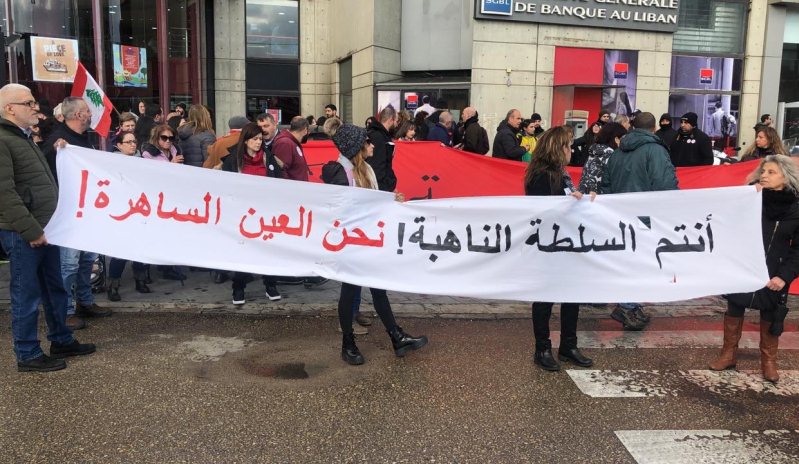 A Bundle Of English Reports, News and Editorials For 08-09/2020 Addressing the On Going Mass Demonstrations & Sit In-ins In Iranian Occupied Lebanon in its 115th Day
Compiled By: Elias Bejjani
February 09/2020
Titles For The Latest English LCCC Lebanese & Lebanese Related News & Editorials published on February 08-09/2020
Lebanon's Financial Crisis Changes People's Lifestyle
Aoun: We will take all measures to ensure the country's rise, and we will work closely with our international partners to recover the stolen money
Berri at AIU Conference Rejects 'Deal of the Century, Palestinian Naturalization'
Diab Invited to HIC Meeting, Apologizes for Not Attending
'No Confidence' Protests March against Government
Foucher during a dinner banquet hosted in his honor by Makhzoumi: We are supportive of the government, so long as it enjoys credibility and restores confidence in Lebanon
PSP: We will strive for a civil political system
Najm Says Won't Bear 'Endless' Suspension of Probes
Foreign Minister: We ask the Lebanese society to give us a chance to start reforms
Two protest marches head towards Central Beirut
Rahi calls for repealing Article 95 of the Constitution
Grand Mufti of the Lebanese Republic, Sheikh Abdul Latif Derian presides over Supreme Sharia Council meeting
An Economic and Political 'Corona' in Lebanon?/Rajeh Khoury/Asharq Al-Awsat/February 08/2020
If you feel like reading in a rainy week end/Roger Bejjani/Face Book/Fenruary 08/2020
Lebanon's cabinet heads to controversial vote of confidence/Samar Kadi/The Arab Weekly/February 09/2020
Is it still too early to judge Rafik Hariri's legacy?/Gareth Smyth/The Arab Weekly/February 09/2020
The Latest English LCCC Lebanese & Lebanese Related News & Editorials published  on February 08-09/2020
Lebanon's Financial Crisis Changes People's Lifestyle
Beirut – Paula Astih/Asharq Al-Awsat/Saturday, 8 February, 2020
Lebanon's financial crisis and the tight measures imposed by banks on depositors since late last year have greatly damaged the lifestyle of most Lebanese, who can no longer afford travel expenses, shopping and dining out. Charbel Naamah, 38, used to plan a yearly vacation abroad with his family during summer holidays. However, as most Lebanese, he can no longer afford it. Despite taking measures to save some cash in US dollars, the young man fell short on securing what's needed to buy airplane tickets, book a hotel room and cover the remaining expenses of the trip. Since last November, Lebanon's banks tightened limits on foreign currency withdrawals, restricting depositors to a maximum withdrawal of some hundreds of dollars a month. Such measures left most Lebanese with no liquidity in US dollars. "Unfortunately, our lifestyle has unexpectedly changed in just a few months. Now, we have to think one thousand times before going to a restaurant or buying unnecessary outfits. Our purchasing power is now restricted to the basic needs of our children," Charbel told Asharq Al-Awsat. However, others choose to maintain an extravagant lifestyle to escape the daily economic and social pressures imposed by the financial crisis. Ghada Youness, 43, said she and her family need a breathing space after a hectic week at work or school. "We are used to eating sushi twice a week," she told Asharq Al-Awsat. "After the crisis, we're having it only once because we expect the coming months to be get worse economically." Across the country, most shops and malls have announced huge discounts but have failed to draw shoppers. The change of lifestyle has not only affected the poor and middle classes in Lebanon. While standing in a long queue at a bank, a woman in her sixties told Asharq Al-Awsat on condition of anonymity that she is only allowed to withdraw $300 from her account that exceeds $1 million. She is currently looking for a property to get her money out of the account. "We earned this money from our hard work … How can they steal it from us?" she asked. Dr. Mona Fayad, professor at the Lebanese University's Psychology Department, told the newspaper that the financial crisis has wiped out the entire lifestyle of the Lebanese people. "We expect things to get worse. There will no longer be any middle class and the Lebanese would be divided between the poor and the rich," she said.

Aoun: We will take all measures to ensure the country's rise, and we will work closely with our international partners to recover the stolen money
NNA/Saturday, 8 February, 2020
President of the Republic, General Michel Aoun, stressed Saturday that "all necessary measures to ensure the country's rise will be adopted," adding that "serious efforts will be exerted with international partners to recover the looted public funds" and confirming that "combating corruption is an essential part of our work program.""We will take all strict financial measures for the economic revival…and for that we do not need exceptional assistance, as much as we have the right to recover from the countries that ignited the war in Syria, part of the 25 billion dollars that Lebanon incurred as a result of this war and the Syrian displacement to it. The Lebanese economic market is small and can quickly be exhausted, but can also rapidly rise from its repression," stated Aoun. The President's words came in a special interview published by the widely-spread French magazine, Valeurs Actuelles, in its latest issue of today.
"The current Lebanese situation is difficult, as we are suffering from a suffocating economic crisis, and the Lebanese economy has turned into a rentier economy since the Syrian entry into Lebanon in the nineties, which made our budgets rely on debts, and thus creating an unproductive economy that led to doubling the public debts," he said. "The wars that flared in a number of neighboring Arab countries, through which Lebanese products crossed into the Arab region, also contributed to doubling the economic crisis, which was further aggravated by the large number of Syrian displaced people, which exceeded Lebanon's ability to bear. Today, their number with the Palestinian refugees constitutes about half of the population of Lebanon," the President explained. In this connection, Aoun considered that the burdens shouldered by Lebanon in this respect exceed the capacity of major countries. "This crisis has cost us about 25 billion dollars so far, according to the estimates of the International Monetary Fund and the World Bank," he said. "A number of countries have expressed their desire to help Lebanon, foremost of which is France," indicated Aoun. He revealed that during the last phone call between him and French President Emmanuel Macron, the French President congratulated him on forming the new government and they both dwelled on the current crisis, whereby Macron affirmed, "We will have another conversation in the next few days." Referring to the new government's role, President Aoun indicated that it has to work to end the current economic crisis and take broad economic and financial measures to this effect, according to its ministerial statement. "Hezbollah does not lead the new government," he stressed in response to a question. Over the US-Iranian conflict, President Aoun said: "Everyone believes that Hezbollah will interfere in a war between the two sides, but I personally guarantee that Hezbollah will respect Resolution #1701 issued by the Security Council. Additionally, the Party does not interfere in Lebanese internal affairs. It has its deputies and ministers, and everything issued by the government is acceptable at the national level, and the same applies with regards to Parliament. Outside this matter, Hezbollah has no role. We often hear that Lebanon's sovereignty is lost and even violated due to the presence of Hezbollah, but this belief is wrong."Turning to the Lebanese-French relations, Aoun described them as "firm and steadfast". He added in response to a question on France's policy towards Lebanon, that "there were very strict French positions toward Israel, just as there were French positions in the interest of Lebanon, although there were not many practical initiatives as a result of international circumstances…We have always maintained the best relations with France, and they have done what they could." On the issue of Carlos Ghosn, the President said: "We have repeatedly contacted the Japanese authorities throughout the duration of his detention, with the aim of helping him and knowing the charges against him. We also met with the Japanese Deputy Foreign Minister and asked him about the matter, yet we received no document on this issue…Then one morning I was surprised by a call from him [Ghosn], and he left his contact number in Beirut, to which he returned from Turkey."
Asked if he anticipates a role for Ghosn in the economic revival of Lebanon, Aoun said: "This is possible."

Berri at AIU Conference Rejects 'Deal of the Century, Palestinian Naturalization'
Naharnet/February 08/2020
Speaker Nabih Berri at the AIU meeting on a US Mideast plan held in Jordan reiterated the strong rejection of Palestinian resettlement and the so-called Deal of the Century. "In the name of the Lebanese Parliament, we condemn the deal of the century and refuse the naturalization of Palestinians in their whereabouts. We renew our commitment to stand by the Palestinian people," said Berri speaking at the 30th emergency conference of the Arab Inter-Parliamentary Union in Jordan. "Once again, we only meet in an emergency manner….As always, Palestine unites us in confronting the deal, calling out to our values of courage and chivalry…It is a cry to save our awareness about the lurking danger…If Palestine collapses, the nation shall fall, so do we hear this cry?" said Berri. "Did we read the maps and points of the deal of the century and what will result from this crime?" he asked.
The US plan suggests that Israel would retain control of the contested city of Jerusalem as its "undivided capital" and annex settlements on Palestinian lands. Berri flew to Jordan leading an administrative and media delegation, the National News Agency reported. Berri delivered his speech at the opening of the conference. On Sunday, current chair of the AIU and Speaker of the Jordanian House of Representatives Atef Tarawneh, called for the emergency conference to coordinate the positions of Arab parliamentarians towards a peace plan announced by US President Donald Trump on January 28.

Diab Invited to HIC Meeting, Apologizes for Not Attending
Naharnet/February 08/2020
Prime Minister Hassan Diab received an invitation to take part in the Higher Islamic Council meeting in Dar el-Fatwa, after "dull" relations between the two following Diab's designation, al-Joumhouria daily reported on Saturday.
Diab, designated in December, is an original member of the HIC, along with former prime ministers, elected members, the Muftis of Lebanese regions and Sharia judges. Sources close to Diab said: "The PM apologized for participating in the meeting before his government gains the confidence vote," but added that "obtaining the Parliament's vote of confidence for the new government is not conditional for premiers to join HIC meetings because Diab (in this case) has become a full-fledged member of the Prime Ministers Club.""Inviting Diab to the HIC meeting could normalize relations between Dar el-Fatwa and the PM necessary to arrange the situation within the Sunni community after dull ties," said the sources. Diab was designated after the resignation of Saad Hariri. His designation reportedly did not get the "blessings" of Dar el-Fatwa, who later failed to invite him to the HIC meeting held earlier.

'No Confidence' Protests March against Government
Associated Press/Naharnet/February 08/2020
Defying a cold storm that saw temperatures drop significantly in Lebanon, demonstrators kicked off a march on Saturday rejecting the new government of PM Hassan Diab named to deal with an economic crisis, which they say lacks a popular mandate. Protesting under the banner of "no confidence," demonstrators marched through the streets of Beirut starting near the Interior Ministry in Hamra then heading to the central bank and the Parliament in downtown Beirut. The new government named in January came after weeks of political stalemate and amid nationwide protests while Lebanon grappled with an unprecedented economic crisis. Backed by the two main blocs in parliament, the government is awaiting a vote of confidence on Tuesday, which it is likely to get. But protesters say the government is an extension of traditional political parties they have denounced as corrupt. Lebanon's nationwide protests broke out Oct. 17 after a summer of discontent over a slumping economy and an austerity budget. The protests, sparked by proposals for new taxes, snowballed into demands for the ruling elite to step aside. Lebanon's ruling class has been in power since the end of the 1975-90 civil war, including some of its warlords. Protesters accuse them of mismanaging Lebanon's wealth and of widespread corruption. The new 20-member government of Prime Minister Hassan Diab was announced in late January but protests continued. In recent weeks, demonstrations have turned violent as frustration rose. Security forces and protesters clashed outside the country's parliament and the central bank in pitched street battles that left hundreds injured. Rights groups denounced the security forces' use of rubber bullets to disperse the crowds. Over the last week, security forces erected blast walls around parliament and other government buildings, sealing them off from protesters and turning central Beirut into a fortified security zone. Lebanon has one of the world's highest public debts, standing at more than 150% of gross domestic product. Growth has plummeted and the budget deficit reached 11% of GDP in 2 018 as economic activities slowed and remittances from Lebanese living abroad shrank. The national currency, which has been pegged to the dollar since 1997, lost about 60% of its value in recent weeks, sparking a run on banks which responded with limits on cash withdrawals and transfers.

Foucher during a dinner banquet hosted in his honor by Makhzoumi: We are supportive of the government, so long as it enjoys credibility and restores confidence in Lebanon
NNA/February 08/2020
French Ambassador to Lebanon, Bruno Foucher, expressed his country's continued support to Lebanon, adding: "It is necessary for the new government to enjoy credibility and transparency and to be in contact with all parties, as well as with the people and the outside, so that it can restore confidence in Lebanon." Foucher's words came during a dinner banquet held in his honor by MP Fouad Makhzoumi on Friday, in the presence of political, security and social figures and accredited ambassadors of Arab and foreign countries. Foucher thanked Makhzoumi for hosting the dinner in his honor, stressing, according to a statement by Makhzoumi's press office, "on the strength of the Lebanese-French relations," and hoping that "Lebanon would overcome the crises it is going through."In his welcoming word, Makhzoumi, in turn, thanked France for permanently standing by Lebanon, and its people during the October 17th Revolution, affirming that "the conditions that Lebanon faces are dangerous because of the economic, financial and social crises, which triggered the revolution.""One of the country's most challenging crises is the economic and financial policy that its governments have produced over the past thirty years," he said. "These policies are still continuing," he added regretfully, hoping that the friendly countries of Lebanon, who wish to help and support our country, "would not provide any financial support before the fall of the corrupt people, and before they are ousted from the public positions they occupy, and until reform is initiated and confidence of the Lebanese people in managing their affairs is restored."Makhzoumi concluded by calling on Europe, particularly France, to "support our people's decision to get rid of this corrupt political class," stressing that "Paris will remain a voice for a free and independent Lebanon in forums around the world."

PSP: We will strive for a civil political system
NNA/February 08/2020
In remembrance of its fallen Martyr Anwar al-Fatayri, the Progressive Socialist Party issued a statement on Saturday recalling his national role and sacrifices, while pledging to pursue all possible efforts for achieving a civil political system in the country. "During these difficult times filled with crises at all levels, we recall, on the anniversary of the assassination of Martyr Anwar al-Fatayri, his leading role in raising the torch of social, economic and daily living demands….Such stringent conditions which are back today to restrict the lives of people, in light of the ruling team's hitting of all chances of rescue by insisting on the same wrong management in waste files and in undermining the essential sectors," the Party statement indicated. PSP vowed to remain biased towards people's issues and youth concerns and aspirations, and towards national unity and coexistence, always seeking to rise above the limitations of the current system to establish a civil political system that respects the rights of citizens in a clear framework of equality and social justice.

Najm Says Won't Bear 'Endless' Suspension of Probes
Naharnet/February 08/2020
Justice Minister Marie-Claude Najm stressed in a tweet on Saturday that investigations kept unresolved for an indefinite period of time won't be tolerated and that she will use her powers to accelerate probes. "Regarding reports circulated in social media about my jurisdiction and confidential investigations, rest assured I did not meddle in details of investigation in order to ensure the independence of the judiciary..but I will not stand idle towards any investigation that remains spending indefinitely, mainly corruption charges," said Najm. "I will exercise my full powers to accelerate investigations," stressed Najm.

Foreign Minister: We ask the Lebanese society to give us a chance to start reforms
NA/February 08/2020
Minister of Foreign Affairs and Emigrants, Nassif Hitti, affirmed that "the government is looking for comprehensive structural reforms in the economy, especially towards strengthening the productive sectors, most notably the agricultural sector and the small industries, in order to strike a balance between the various economic sectors in Lebanon, which allows for dealing in a successful and effective way to find a solution to the problem of unemployment and economic collapse. "In an interview with "Akhbar Al-Yom" website, Minister Hitti added that "Lebanon is facing a serious economic crisis, and if it is not addressed in a comprehensive and rapid manner, it may lead to serious social and perhaps political repercussions; therefore, we attach great importance to economic reform." In this context, the Minister asked the Lebanese components to give them some time to launch the reform process. He also referred to the reform program as mentioned in the ministerial statement, which is based on three phases: the first stage is the one hundred-day phase devoted to rapid and necessary reforms, while the second and third phases range from one to three years to plan reform in a comprehensive manner. Finally, Minister Hitti considered that if the government gained confidence from the Parliament, Lebanon would seek support from the Gulf and Arab states, as well as from the International Support Group for Lebanon, in order to help Lebanon in its reform program.

Two protest marches head towards Central Beirut
NNA/February 08/2020
A protest march set out from Chevrolet this afternoon, passing through Furn El-Chebbak and the Justice Palace, heading towards downtown Beirut, NNA correspondent reported. Meanwhile, another protest march set out from outside the Ministry of Interior, passing through the Central Bank of Lebanon, far-reaching Hamra Street, after which it will head to the center of Beirut. The protesters announced that they will prevent deputies next Tuesday from arriving at the Parliament House to give confidence to the government.

Rahi calls for repealing Article 95 of the Constitution
NNA/February 08/2020
Maronite Patriarch, Cardinal Bechara Boutros Rahi, called on the civil movement, which is pushing for the establishment of a civic-nation state based on the separation of religion and politics, to adopt the policy of administrative decentralization and a senate.
"The civil movement that calls for the establishment of a civil state must demand the restoration and completion of this state through the application of expanded administrative decentralization and the Senate, and then Article 95 of the Constitution can be repealed," Rahi said during his participation in the symposium honoring Patriarch Elias Al-Howayek at St. Maroun Church in Rome. In this context, Rahi indicated that Patriarch Howayek was the first to demand a civil state, asking: "Does this movement know that Patriarch Howayek was the first to demand a civil state?" Rahi recalled herein Howayek's past statement: "In Lebanon there is one sect called Lebanon, and all other sects are the components of this Lebanon."  "Lebanon is essentially a civil state, and belonging to it is through citizenship and not through sect and religion. The National Charter gave a spirit to this concept and constitution, as Christians and Muslims coexist with mutual respect and cooperation, but unfortunately this concept began to disappear until Lebanon became the country of sects," he concluded.
Grand Mufti of the Lebanese Republic, Sheikh Abdul Latif Derian presides over Supreme Sharia Council meeting
NNA/February 08/2020 
The Supreme Sharia Council is currently holding a meeting at Dar El-Fatwa, headed by Grand Mufti of the Lebanese Republic, Sheikh Abdul Latif Derian, with talks touching on Sharia and national affairs. In wake of recent developments, the conferees called for "standing responsibly" as a one rank in the face of international disassembly and the attempts to strike the unity of political entities. Over the cabinet's ministerial statement, the conferees considered that it "will pose a major challenge to the government, and time may be the greatest challenge, to demonstrate its ability to advance the country's deteriorating and dangerous conditions, and to get it out of its financial, economic, social and daily living crises, and to adhere to the constitution and the requirements of the Taif Agreement and the values ​​of integrity and transparency and commitment to applying the laws in force…"They considered that the government has to demonstrate through actions, and not words, its determination to address the problems and concerns of the Lebanese and their suffering, and work to restore their confidence in the state. "We will follow up on its pledges carefully," they affirmed. Referring to the rejected "deal of the century", the Council stressed that "Palestine, its history, land and sanctuaries, are not for sale, and the sacred land is not for exchange, and its national entity is not for deliberation…Its people are steadfast, unified, and struggling, and nothing will undermine their determination to regain their land and legitimate rights, and to return to their united homeland and its holy capital."The Council also paid tribute to Martyr PM Rafik Hariri, marking the fifteenth commemoration of his assassination, stressing their "faithfulness to his memory and continuous loyalty to his approach.

An Economic and Political 'Corona' in Lebanon?
Rajeh Khoury/Asharq Al-Awsat/February 08/2020
Weeks ago, the French Foreign Minister gave what seemed to be an obituary to Lebanon in light of its ongoing political and economic disarray. Worst of all, those in power are dealing with the revolution that broke out in every city in the country and reached 26 countries through Lebanese expats, as though it were merely a storm or a passing crisis!
When, immediately after the formation of the single-sided government led by Hassan Diab with no support from the Sunnis – as shown by the fact that he has not visited Mufti Darian – Jean-Yves Le Drian says: "The new government must put all of its effort behind implementing reforms that are needed if Lebanon is to survive, because this is the degree of the difficulty of the situation", this simply means that Lebanon's survival is on the line and that there is no alternative to real, radical and responsible reform if we are to avoid the danger of total collapse.
But the constant miserable question posed by the Lebanese is: Who will carry out these reforms, if decisions are taken by the politicians, who have gone about, for years, creating the dangerous crisis that is now threatening Lebanon's survival. In other words, how could the disease become the cure, especially with a government that has a totally clear political direction; it came out of the womb of Hezbollah, which it says is a "salvation government." However, two weeks after its formation, it is clear it will not be able to save anything.
Two days ago, Assistant US Secretary of State for Near Eastern Affairs David Schenker, who is well aware of the realities in Lebanon, said: "The Lebanese economy is in a worse position than some think, and we believe that its foreign reserves are much less than what is reported."
This comes amid two crises: the banking crisis, which has led to strict controls on deposits and is expected to get worse, and a debt crisis, as $1.2 billion Eurobond is due to mature in March. What makes matters worse is that the sum required of the Lebanese state that is mired with corruption will eventually be paid by the central bank, which means, in practice, by Lebanese depositors and not the state itself. Former Minister of Finance Ali Hassan Al-Khalil has previously announced on TV that there is no money in the treasury: not a Lira!
Because Schenker's statement was issued in Tel Aviv, many were quick to link his statement to the naturalization of Palestinians as part of the "deal of the century". However, regardless of the deal, the financial crisis that Lebanon is suffering from is fatal, and Secretary of State Mike Pompeo stated two weeks ago that "Lebanon will face a terrible financial crisis in the coming weeks".
All of this comes as no surprise and adds nothing to what we know of this miserable situation threatening to put Lebanon in the list of failed countries. Officials in Beirut admit as much. The resigned government confronted the revolution against corruption and theft with an honest admission that the situation is geared towards disaster. That is, especially that the government's revenues have receded by 40 percent in the last three months and that catastrophic numbers have precipitated to the surface with the money meant for officials and salaries paid by this farm state to more than 300,000 employees, in addition to the public debt servicing, reaching 106 percent of revenues. This means that the electricity, healthcare, industry, import and food industries will not receive a single dollar from these massive sums of money that the central bank is asking to be secured, i.e., from the peoples' money.
The government announced bankruptcy and is headed towards a disaster. Hassan Diab did not hesitate to say, "We are confronting an economic crisis"! Minister of Finance Ghazi Wazni also rushed to say, "If the situation continues as it is, we are walking towards collapse".
However, what is needed is not for the Lebanese to hear this eulogy, what is required is that Diab delineates in his government's statement what he will do to confront this disaster and that Wazni and other ministers announce how they will act to stop it.
What has been leaked from the government's statement is mournful, for example, when it says, "In the last years Lebanon has gone through enormous crises and challenges that have accumulated and culminated in an existential one". What an outstanding discovery! It also talks about "activating the role of the judiciary in the war on corruption", following President Michel Aoun's statement that "We are continuing the war on corruption". However, up until now, there has been no such war in Lebanon, not even on a single one of the corrupt people who looted public funds.
The reality is that nobody is afraid anymore; Lebanon is in a catastrophic economic crisis, and what's worse is that it is shut off from any possible foreign aids. It is confronting Gulf countries with a one-sided government, so it was not surprising when all indicators and communications say that it is not possible to rely on aid from Gulf countries facing accusations from a country that speaks of neutralizing itself and then enrolls in a camp that is hostile towards the Gulf.
It is no secret, and is quite clear, western statements, whether by the United Nations through its representative in Beirut, Jan Kubis that the solution is "reform reform reform", and by US officials and countries that pledged aid in the CEDRE Conference that Lebanon cannot receive a single cent without a real and serious reform that stops this monstrous corruption and looting of public funds. This is clearly not possible without throwing the corrupt in prison or holding them accountable.
This seems impossible for two reasons: First because the decision is in the hands of a few people who benefited from corruption for a very long time. Second, because sectarianism quickly precipitates and halts any real reform process. This is what President Charles Helou faced in 1964 and Prime Minister Rafik Hariri after him in 1994, whom I remember personally telling me that day that how are we to lead to any reform when every sect believes that purging any corrupt individual belonging to it is an insult and attack against it?
Returning to the present, it is clear that Lebanon is facing two types of lethal epidemics: an economic "Corona" and a political one. The former will push the country towards bankruptcy, while the latter prevents it from undergoing any real reform process. Everything we hear about fighting corruption is impossible, such as the illusion of restoring looted money, precisely because he who looted will not restore what has been stolen.

If you feel like reading in a rainy week end:
Roger Bejjani/Face Book/Fenruary 08/2020
We were put on the trajectory of a deep political, financial and economical crisis that went spiraling since 2009.
We are about to reach rock bottom with an unprecedented confidence crisis between politicians and the people, between Banks and their depositors, between the people and the justice system and between the people and Army/security forces.
If this sentiment of mistrust has been amplified by tons of fake news, the background of failure is overwhelming and the people are not required to have any analytical skills. They only have reactionary ones.
Some (Hezbollah and their vassals) impute today's disaster to Rafic Hariri's financial and reconstruction policies. Of course facts and figures contradict them. If obviously the deficit has started during Hariri's mandate in the 90', it was due to 3 clear items:
1. EDL: Hariri urges everyone to privatize or semi-privatize energy supply in Lebanon at a time it was quite easy for him to bring in EDF or Siemens or GE. He was faced with a barrage of opposition by Jomblat, Berri and of course the Syrians. They were all benefiting from the golden eggs' chicken popper. All energy ministers were close to either one of those 3 opponents to privatization.
2. Political employment: Many political sectarian parties excluding the Kataeb, LF and the Aounists have benefited from political not needed public employment, causing more deficit.
3. The Lebanese refugees crisis resulting from the Lebanese civil war was solved through an open blackmail made by Berri and Jomblat liberating astronomic indemnities to be paid to illegal squatters from our national budget.
Meanwhile, Hezbollah has started its wars against Israel in South Lebanon which have led to the 1996 war.
Hariri, an optimist by nature, was banking on patience rather than on confrontation. He did reach the point where his credibility in the West and in the Arab countries (excluding Syria) has reached a maximum level, whereas his credibility with the Syrian regime and Hezbollah has reached rock bottom. His bet was to leverage his international very strong connections against the Syrians and Hezbollah.
After being outcasted and persecuted by the Lahoud (a vassal to Assad and Hezbollah) régime, he was assassinated by Hezbollah.
Imputing to Rafic Hariri's political era the demise of today is simply childish or results from total ignorance of the facts. Some would tell you : he should have resigned! Well that was the easiest thing for him to do.
You must have guessed by now that I consider Rafic Hariri and his team as one of the best thing that happened to Lebanon.
Pragmatically, Lebanese or at least a large part of the Lebanese political
choices have propelled us into the abyss we are in today.
Starting with the Cairo accord, the non ratification of May 17 accords, the suicidal destructive wars of calamity Aoun, the covering up of Hezbollah's activity; thus affirming its grip (Iran's grip) gradually over our country's destiny. These political stupid choices are responsible of our dead country walking status.
Not Rafic Hariri, not Riad Salameh, not the banks…
Corruption is a byproduct of the political bad decisions and not the reason behind what we're trying to live through today.
Corruption has always existed since 1943 in Lebanon. Addressing it is a technical issue and it can be contained through an independent justice system that we will never have as long as no prosecutor dares prosecuting Hassan Nasrallah for high treason and for protecting indicted assassins.
Our only way out is through reversing the bad geo-political decisions:
1. Outcasting Hezbollah entirely (not the Lebanese Shias) and consider it as an outlaw organization.
2. Deny political role to Hezbollah and deny them media coverage by law (the way Shin Fein was denied political or media coverage prior to the disarming of IRA).
3. Declare the neutrality of Lebanon regarding all regional conflicts.
4. Consolidate the 1948 armistice agreement with Israel and initiate permanent peace talks.
5. Provide permanent residencies to Palestinians in Lebanon (not Nationality) who will be holders of a UN temporary passport against a financial compensation to Lebanon. Organize and coordinate relocation of Palestinians in Lebanon according to quotas amongst Arab countries and Europe. Lebanon being able to absorb a maximum of 20,000 who will be granted the Lebanese nationality.
6. Reaffirm Lebanon's friendship with the west and the Arab world.
7. Lean up the state, security and carcéral apparatus through thorough privatization.
8. Privatize EDL and GSM companies.
9. Legislate a 6 months renewable capital control.
10. Reduce retro-actively interests earned by depositors since 2011.
11. Adopt a secular political reform where sectarian belonging will only be considered in a new institution: the Sénat.
12. Adopt a Presidential regime similar to the US system as long as President is elected by the people (2 rounds election) irrespective of his/her sect.
Adopting this clear cut political agenda by a wide National Political Front would be meaningful. Much more than the idiotic attacks on public figures in restaurants or pissing on Banks' walls.
Pragmatically, we need to form a large parliamentarian coalition that would regroup uncompromisingly around this agenda and push forward.
Only then we can have the attention of the Arabs and the West.
**you mean 2006 war…You wrote 1996 war !!

Lebanon's cabinet heads to controversial vote of confidence
Samar Kadi/The Arab Weekly/February 09/2020
BEIRUT – Lebanese parliamentarians are preparing a vote of confidence regarding Prime Minister Hassan Diab's Hezbollah-backed government amid extremely tight security aimed at deterring anti-government demonstrators who pledged to escalate protests to disrupt the meeting.
The parliament is to convene February 11-12 to review the new cabinet's policy statement and vote on whether to accept the proposed government.
"This government does not represent us so we are going to do everything possible non-violently to deny parliament that represents the corrupt political class of Lebanon to recreate an administration that represents and protects their interests," said activist Marc Daou.
"We will mobilise the people and block roads leading to the parliament building to abort the session."
Expressing apprehension at a possible crackdown, Daou said the government would be held responsible for any violence.
"Since this government does not represent the majority of the Lebanese people who are protesting in the street, the only way for it to get a vote of confidence is through violence and protection by the security and armed forces," Daou added.
The Higher Defence Council, grouping leaders of security and military apparatuses, stated that "efforts will be coordinated between military and security agencies to pre-empt any acts of sabotage of the parliament session."
Local newspaper al-Joumhouria quoted security officials as describing the planned measures as "similar to ones taken in a state of emergency."
"The troops will carry out intensive and strict measures around several areas mainly in downtown Beirut (the parliament's location), which will be more like a military operations zone. They will confront any riots, or any attempt to disturb security," a security source told al-Joumhouria.
Demonstrators have on several occasions protested near parliament and prevented lawmakers from reaching the building.
Backed by Hezbollah and its allies, the Shia Amal Movement and the Christian Free Patriotic Movement of President Michel Aoun, which hold a majority in parliament, the government is likely to win a vote of confidence.
The main opposition parties — the Future Movement of former Prime Minister Saad Hariri, the Progressive Socialist Party of Druze leader Walid Jumblatt, the Christian Lebanese Forces party and the Phalange party — were expected to vote against a confidence measure.
Diab's government faces the twin challenges of angry street protests and a collapsing economy, with Lebanon burdened with a debt of nearly $90 billion, more than 150% of GDP.
The government's policy statement was largely criticised for being void of a clear or detailed plan to deal with the crisis.
"The policy statement is mostly rhetorical and unlikely to win the badly needed (financial) support of the international community," said political analyst Mounir Rabi'.
"For instance, it offered no solutions for the ailing electricity sector but readopted an electricity plan approved (by the previous government) in 2019. That means deficit and waste will continue and mistrust by the international community will persist."
"Moreover, the government will not be able to implement severe and painful economic measures that are requested by the international community because Hezbollah is against imposing new taxes or revisiting salaries in the public sector," he said.
The policy statement maintains the so-called army-people-resistance equation. The phrasing confers legitimacy to Hezbollah as an armed force and has sparked controversy in the past after being included in previous cabinet statements.

Is it still too early to judge Rafik Hariri's legacy?
Gareth Smyth/The Arab Weekly/February 09/2020
On February 14, 2005, I flew from northern Iraq to Beirut. Resting in the Erbil departures hall, I barely noticed a silent television showing what I assumed was the latest bombing in Iraq. Then I recognised Ain Mreisseh on the Beirut seafront.
It was the attack that killed former Lebanese Prime Minister Rafik Hariri along with 21 other people with a massive bomb — estimated at 1,000 kilograms of explosives. The bomb was detonated shortly after his motorcade left the Lebanese parliament. I wrote Hariri's obituary on a 20-seat, propeller aircraft flying over the deserts of Iraq and Syria and then the snow-capped Lebanese peak of Qurnat as Sawda.
Hariri, for me, was a latter-day Phoenician. Like his forebears who traded along the Mediterranean and beyond, he believed in the lure, even the healing power, of commerce. If the Lebanese could do business well, then they would forget, even overcome, the sectarianism that had fuelled a 15-year civil war and that still defined Lebanese politics.
It was a strategy and the country was short of leaders with any strategy. Hariri was a good storyteller and he told the Lebanese how they might move forward. He once insisted to me that the Lebanese all ate the same food and celebrated each other's religious festivals. "The problem," he said, "is with the politicians, not the people."
Hariri was an affable man, energetic and good company. He was also surprisingly humble. I once brought up with him the lack of public access to the seafront, which is required in Lebanon by law, and the many illegal buildings below high tide. I told the prime minister that Beirut's Hamam al-Askari, the military swimming club, had once been a sandy beach where all could walk or swim.
He disagreed, saying he remembered that area as a child and it had never been a sandy beach. So, the next time I went to see him I took an old poster — one of the large tourist ones — showing that seafront with its sandy beach before the Hamam al-Askari was built. Hariri immediately admitted he had been wrong, rare in a Lebanese political leader. A few weeks later I found out he had framed the picture and put in on a wall.
On another occasion, in a newspaper story, I compared two jokes about Hariri to show how his popularity had declined over a certain period. In the first, walking on the Corniche and asked by a magic genie for a wish, Hariri had replied, "No, no, what can I do for you?"In the second, Hariri met an ordinary Beiruti. "I am poor and can't pay my bills," said the man. "Oh dear," said Hariri, surprised. "My wife is also poor," said the man, insisting. "And my children are poor." Hariri finally looked concerned: "And your servants?" he asked. "Are they poor, too?"
One of Hariri's aides complained that including such jokes in a newspaper showed a lack of respect for the prime minister. Such remarks can lead to a reporter being denied access but Hariri wanted none of it, he enjoyed the story. If he didn't already know what people said in shared taxis, then he wanted to find out. This was more important to him than his own ego.
For the Lebanese, Hariri was larger than life. Not only did they swap jokes about him, they passed on rumours about pieces of land and property he had supposedly bought, sometimes imagining his financial tentacles in unlikely places.
In interviewing Hariri, the "harder" the questions, the better he answered. The first time I went to Lebanon, in January 1996, I interviewed Hariri for BBC radio. When I asked him his opinion of Al-Manar, Hezbollah's TV station, he said his television at home wasn't tuned to receive it. It was a clever answer delivered for radio with impeccable timing. Perhaps this mixture of directness and diplomacy was why some of Hariri's finest moments were in crisis. During the 1996 Israeli "Grapes of Wrath" attacks and the Qana massacre, he was genuinely statesman-like — not exactly common in Lebanese politics. Hariri spoke well and he spoke for Lebanon and not for any particular sect, party or interest.
It is too early to say how history will judge Hariri. Without doubt he was the major figure in post-war Lebanese politics, more responsible than anyone for the country's direction. Reconstruction has had successes but many burdens resulted from his economic policies. The public debt is $78 billion and the Lebanese ask whether this money has been wisely spent. Corruption has been rampant and many farmers lack basic irrigation. There are no railways and the lack of 24-hour electricity reflects a creaking infrastructure.
When I went to see Hariri just before I moved to Iran in December 2003, he feigned surprise. "You are a journalist," he said. "Why are you leaving? Here in Lebanon, if you spend ten minutes on the phone or watching satellite television, you can know what's going on anywhere in the world. In Iran, in ten years you won't know what's going on in the next house." That was the last time I saw him. May he rest in peace.