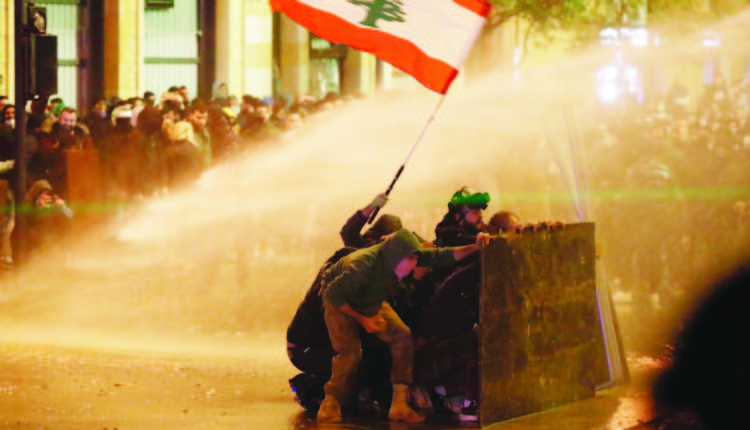 A Bundle Of English Reports, News and Editorials For January 23-24/2020 Addressing the On Going Mass Demonstrations & Sit In-ins In Iranian Occupied Lebanon in its 99th Day
Compiled By: Elias Bejjani
January 24/2020
Titles For The Latest English LCCC Lebanese & Lebanese Related News & Editorials published on January 23-24/2020
A New Hezbollah Government Per Excellence In Occupied Lebanon/Elias Bejjani/January 22/2020
Pompeo on Lebanon: Only a Cabinet Committed to Reform Will Unlock Int'l Aid
Lebanese Have Mixed Reactions to New Government
Paris Urges Lebanon's New Cabinet to Take Emergency Measures
ISG Urges Govt. to Adopt 'Substantial, Credible and Comprehensive' Reforms
Give the Government a Chance, Says Bassil
Security Walls Erected outside Beirut's Nejmeh Square
Paris Urges New Govt. to 'Work Collectively', Take 'Urgent Measures'
UK Ambassador Urges Govt. to Show 'Commitment to Reforms'
New FM Denies Announcing Walid al-Muallem's 'Death'
EU Envoy Meets Diab, Says Aid Hinges on Reforms
Ambassador Tells Diab Switzerland Ready to Help on Capital Flight Reports
Foreign states waiting for new government's reforms: Lebanon finance minister
Political manipulation seen behind Lebanon violent protests: UN
New Interior Minister Says He Won't Permit Attacks on Security Forces
Daryan Says Riots Tarnish Popular Cause
Wazni: Lebanon Seeks Loans to Purchase Wheat, Fuel and Medicine
Greece Seizes 1.25 Tons of Lebanese Cannabis
U.S. Senator Drafting Lebanon Sanctions over Amer Fakhoury
Bassil Feels Heat in Testy Davos Debate
Japan Prosecutors Hit Back at Ghosn's '8 Hours of Questions' Claim
Why EU should ban Hezbollah/Richard A. Grenell/ U.S. ambassador to Germany/Politico/January 23/2020
Former Lebanese FM Gebran Bassil comes under fire in Davos panel/Tarek Ali Ahmad/Arab News/January 23/2020
Lebanon's former foreign minister tries to defend Davos trip as country faces economic collapse/Natasha Turak/CNBC/January 23/2020
U.S. Withholds Support for New Lebanon Government/Dion Nissenbaum and Nazih Osseiran/The Wall Street Journal/January 23/2020
The 'Culture' of Assadist Punishment in Beirut/Hazem Saghieh/Asharq Al Awsat/January 23/2020
On the Government of Collapse and Violence!/Hanna Saleh/Asharq Al Awsat/January 23/2020
Saving The Revolution And Lebanon/Robert G. Rabil/Eurasia Review/January 23/2020
From Robert Rabil' Face Book Page/Main arguments:
Lebanon, Japan have 40 days to agree on fate of ex-Nissan boss Ghosn
Details Of The Latest English LCCC Lebanese & Lebanese Related News & Editorial published on January 23-24/2020
A New Hezbollah Government Per Excellence In Occupied Lebanon
Elias Bejjani/January 22/2020
In reality and actuality it is worth mentioning that all The governments in Lebanon since 2005, and all those that took place during the entire savage-Stalinist Syrian occupation era were mere puppets, clowns, and masks no more no less.
Sadly the new so called falsely Lebanese government that was imposed by force today by the occupier Hezbollah has nothing that is Lebanese and practically it is not going to be different by any means.
It remains that Lebanon's main problem and devastating cancer is the Hezbollah-Iranian occupation, and accordingly no solutions are possible in any field or sector as long as this occupier remains in control and have the upper hand in all domains and all levels.
In conclusion Lebanon is an Iranian occupied country, while all its officials and politicians from top to bottom are castrated in all domains of sovereignty, independence, decision making process, dignity, self respect, faith, and freedom.
All these clowns have no say in any matter and did actually sell themselves and the country with much less than thirty coins.
They are officials and politicians who shamelessly obey Hezbollah's Faramens (orders and decrees) and happily serve its Iranian schemes of occupation, oppression, iranization and expansionism
Meanwhile the Hariri last government was a Hezbollah facade too and Hariri himself was a number one advocate for the Hezbollah occupation regionally and globally.
It remains that this third government during Michael Aoun's presidency is a Hezbollah one per excellence while Aoun himself as a president was made by Hezbollah.
Unfortunately, Aoun and since year 2006 has been openly and boldly serving Hezbollah's Iranian hegemony and Occupation on the account of every thing that is Lebanon and Lebanese.
Pompeo on Lebanon: Only a Cabinet Committed to Reform Will Unlock Int'l Aid
Asharq Al-Awsat/Thursday, 23 January, 2020
The United States called Wednesday on the new government of Lebanese PM Hassan Diab to enact serious reforms to tackle the twin challenges of a collapsing economy and angry street protests. "The test of Lebanon's new government will be its actions and its responsiveness to the demands of the Lebanese people to implement reforms and to fight corruption," US Secretary of State Mike Pompeo said in a statement. "Only a government that is capable of and committed to undertaking real and tangible reforms will restore investor confidence and unlock international assistance for Lebanon," he added. Diab said Wednesday his country faces a "catastrophe" after the cabinet held its first meeting. A long-brewing discontent has been compounded by fears of a total economic collapse in recent weeks, with a liquidity crunch pushing banks to impose crippling capital controls. On Wednesday, some protesters unhappy with the new cabinet breached a small security barricade near parliament in downtown Beirut and set on fire a tent for security forces, who responded with tear gas and water cannon. The skirmishes extended to a nearby luxury shopping district. A civil defense worker told local media some people suffered slight injuries. Last weekend, hundreds were injured in similar clashes. President Michel Aoun tasked the government at its first meeting on Wednesday with restoring international confidence,
Lebanese Have Mixed Reactions to New Government
Beirut – Sanaa el-Jack/Asharq Al-Awsat/Thursday, 23 January, 2020
The Lebanese people have responded differently to the new government lineup. While some said the new ministers should be given the chance to prove their abilities, others argued that the government could not be trusted since its members were appointed by the same political blocs which the protesters accused of leading the country into the current crisis. "What can we expect from ministers, who thank their leaders on the air as soon as they are nominated, and others who publicly visit their political authority even before receiving their portfolios?!" one protester asked.
Dr. Elie Chaaya, a dentist, said he believed the new government would neither be productive nor would it last long. "Had [Hezbollah] been able to rule the country in the shadow of Saad Hariri, it would have achieved its highest goals. But, for many reasons, it was left alone in the face of Western pressures amid the growing US-Iranian tension." "So it had no other choice but this government that includes some distinctive figures, but which will not be able to secure sufficient support in the coming stage," Chaaya told Asharq Al-Awsat. Others, however, are more optimistic.
Nada Rizk, an employee at a food company, said: "The attack on the government in this violent manner ahead of its formation through road closures and stone throwing, confirms that some parties want to harm Lebanon." "Didn't the protesters call for a government of specialists? This government has been formed. How do you condemn it to failure even before it starts working? We have to give it a chance and see if it is able to … stop the economic and financial collapse," she remarked. "We must not expect miracles; but some wise policies may open the way for effective rescue plans," she added.
Paris Urges Lebanon's New Cabinet to Take Emergency Measures
Asharq Al-Awsat/Thursday, 23 January, 2020
France stands ready to help Lebanon tackle a financial and economic crisis which requires the new government of Prime Minister Hassan Diab to take "emergency measures", said the French embassy in Beirut on Thursday. "The difficult situation in Lebanon requires the new government to prioritize emergency measures and restore confidence," the statement issued on the embassy website said. On Wednesday, President Emmanuel Macron said Paris will do "everything" to help Lebanon. "We will do everything, during this deep crisis that they are going through, to help … our Lebanese friends," Macron said. Protesters first took to the streets in mid-October in a mass uprising against the country's ruling elite, which they blame for decades of corruption and mismanagement that have brought Lebanon to the brink of economic collapse. Shortly after the demonstrations, Prime Minister Saad Hariri's government resigned. Since then, the country has sunk deeper into a political crisis. The Lebanese pound, long pegged to the dollar, has lost up to 60% of its value against the dollar and banks have imposed unprecedented capital controls to preserve liquidity. Diab vowed on Wednesday to tackle the country's crippling crisis — the worst since the civil war — saying his cabinet will adopt financial and economic methods different than those of previous governments. But analysts said it was highly unlikely he would be able to drum up the international and regional support needed to avoid economic collapse. Finance Minister Ghazi Wazni said Thursday the government must reassure international donors it is serious about reforms to tackle the financial crisis as it looks initially to secure up to $5 billion in soft loans for basic goods.
ISG Urges Govt. to Adopt 'Substantial, Credible and Comprehensive' Reforms
Naharnet/January 23/2020
The International Support Group for Lebanon (ISG) on Thursday urged Lebanon's new government to swiftly adopt a ministerial policy statement with the "necessary substantial, credible and comprehensive policy package of measures and reforms that can address the demands of the Lebanese people.""Their timely and decisive implementation will be essential to stopping and reversing the deepening crises facing the country and its citizens," the ISG said in a statement. "Recalling the ISG statement of 11 December 2019 which laid out a way forward on immediate and longer-term reforms in line with Lebanon's prior commitments, the ISG encourages the new Government to move forward with such reforms that are needed in order to halt the deteriorating economic situation, restore fiscal balance and financial stability and address long-standing structural deficiencies in the Lebanese economy," the statement added. It said Lebanon's economy and its population, in the absence of reform, remain reliant on external funding and are vulnerable to increased hardships. Accordingly, the ISG encouraged Lebanese authorities to take "the necessary decisive actions to restore stability and sustainability of the funding model of the financial sector, including by immediately adopting a reliable 2020 budget, implementing the electricity reform plan, reforming state-owned enterprises and passing and implementing effective procurement laws.""In response to the demands of the Lebanese people and the needs to restore investor confidence in the economy, the authorities are further urged to tackle corruption and tax evasion, including through adoption and implementation of its anti-corruption national strategy, the anti-corruption agency law, judicial independence reform and other measures to instill transparency, accountability and strengthen good governance," it said. The ISG also reaffirmed the need for internal stability and the right to peaceful protest to be protected. "The ISG reiterates its strong support for Lebanon and its people, for its stability, security, territorial integrity, sovereignty and political independence in accordance with Security Council resolutions 1701 (2006), 1680 (2006), 1559 (2004), 2433 (2018), 2485 (2019) as well as other relevant Security Council resolutions and statements of the President of the Security Council on the situation in Lebanon," it said.
It called upon all Lebanese parties to implement "a tangible policy of disassociation from any external conflicts, as an important priority, as spelled out in previous declarations, in particular the 2012 Baabda Declaration."
"They recall the importance of implementing relevant United Nations Security Council resolutions and previous commitments which require the disarmament of all armed groups in Lebanon so that there will be no weapons or authority in Lebanon other than those of the Lebanese State. The ISG recalls that the Lebanese Armed Forces are the only legitimate armed forces of Lebanon, as enshrined in the Lebanese constitution and in the Taif Agreement," the ISG added. Reaffirming its willingness to "support a Lebanon committed to reforms in the implementation of a comprehensive set of actions," the group said "the above measures once implemented will start to rebuild confidence in the economy among the Lebanese and the international community and help facilitate sustained international support."The ISG also called on the international community, including international organizations, to ensure continued support for Lebanon in addressing the security, economic, and humanitarian challenges facing the country. The International Support Group has brought together the United Nations and the governments of China, France, Germany, Italy, the Russian Federation, the United Kingdom and the United States, together with the European Union and the Arab League. It was launched in September 2013 by the U.N. Secretary-General with former President Michel Suleiman to help mobilize support and assistance for Lebanon.
Give the Government a Chance, Says Bassil
Associated Press/Naharnet/January 23/2020
Free Patriotic Movement chief MP Jebran Bassil, who is also a former foreign minister who has been a frequent target of protesters in crisis-hit Lebanon, said Thursday he understands the people want change, but said he's not going anywhere until voters drive him out. Bassil was officially replaced as foreign minister this week with the appointment of a new technocratic government backed by his party and the allied Hizbullah group. He said the new team should get right to work pushing for reform — and demanded results in a reasonable amount of time. "We should give the government a chance, and a small delay of time," Bassil told The Associated Press, suggesting "three months or 100 days." Bassil emerged as a power broker in Lebanese politics over the last decade. The new government of 20 ministers has at least six ministers his party backs. Bassil is the son-in-law of President Michel Aoun and many say he himself harbors presidential aspirations. He appears frequently in the media and many blamed him for fanning anti-refugee sentiment, often faulting them for the country's woes. As the head of one of the country's main Christian parties since 2015, Bassil currently leads the largest bloc in Parliament, controlling with allies 29 out of the 128 seats.Bassil's appearance at the World Economic Forum on Thursday stoked fury among his critics in Lebanon, who accuse him of corruption and blast him as the embodiment of a sclityuerotic democratic system. The country's woes have been compounded by unpaid salaries and public services, jockeying for influence by foreign powers and sectarian divisions. Also, nearly one in four people now living in Lebanon is a refugee from neighboring Syria.
"This government has to quickly adopt new policies in economy and finance and implement the new plans that are already in place and this is what will make it succeed or fail," Bassil said. He noted, in particular, changes needed in waste management and electricity in a country beset by sporadic power outages and trash piling up in public areas. Bassil once served as electricity minister from 2009 until 2014, when he returned as foreign minister. Bassil said he thought Lebanon could enact change even without Western government support. However, he said, "If we prove internally that we can have the ability to reform, then we can ask the international community to help."Bassil took aim at those who consider him corrupt, defending himself as "the first one in Lebanon to reveal my accounts," and listing steps including pushing for laws that would limit bank secrecy and immunity of public servants.
"So put your pressure on the deputies that are refusing to adopt these laws," he said, when asked to respond to his critics. When word came out that Bassil was invited to Davos, many Lebanese campaigned against his trip, petitioning the World Economic Forum to un-invite him, arguing that he no longer represents Lebanon. Many also argued it was a costly trip for a bankrupt country. Asked at the forum if he paid for the trip from state money, Bassil said he paid for it privately, adding that he arrived on a private jet that "was offered to me." He didn't elaborate. Bassil said the street protesters who shouted and chanted against him do not represent the majority of Lebanese. "When, in elections they do (voice their opposition), definitely we will obey their desire," he said. In the meantime, Bassil said he's not going anywhere. "It is my obligation, as a deputy to this parliament, to be representing the people," he said.

Security Walls Erected outside Beirut's Nejmeh Square
Associated Press/Naharnet/January 23/2020
Cement security walls were on Thursday erected at the entrances to the street leading to the Lebanese parliament in central Beirut, the site of recent clashes. The blast walls, some painted with Lebanese flags, were installed as security forces guarded the area.
They replaced metal barriers that protesters tried to climb. The protesters had also hurled stones and other projectiles at security forces through the metal barriers. Dozens of protesters gathered in the area as the walls were being erected on Thursday. They objected to the move and some of them sat on the ground before being removed by riot police. The small rally has however remained peaceful, in contrast to the fierce clashes of the recent days. Over the weekend, Beirut saw some of the most violent clashes between protesters and security forces yet. More than 500 people, including over 100 security forces, were injured in clashes outside the parliament building. Protesters hurled stones, firecrackers and flares at security forces who responded with rubber bullets, tear gas and water cannon. Several protesters were hit in their eyes. On Wednesday, hours after the new government held its first meeting, hundreds of protesters gathered again outside parliament, attempting to break through security barriers and hurling stones, firecrackers, tree branches and Molotov cocktails. Clashes lasted late into the night, as security forces chased protesters down the streets.
Paris Urges New Govt. to 'Work Collectively', Take 'Urgent Measures'
Naharnet/January 23/2020
The French foreign ministry on Thursday noted that "the difficult situation that Lebanon is going through requires its new government to give the priority to taking urgent measures that can restore confidence.""It's about time all Lebanese officials worked collectively in a manner that achieves the interest of all Lebanese," the ministry urged in a statement. "Accordingly, France is ready to support Lebanese authorities in implementing the necessary reforms and it will exert utmost effort to help Lebanon overcome its crisis," the ministry added. Reiterating Paris' keenness on Lebanon's "sovereignty, stability and security," the ministry stressed the need to dissociate Lebanon from the current crises in the region. "France, as always, stands by the Lebanese," the ministry added.

UK Ambassador Urges Govt. to Show 'Commitment to Reforms'
Naharnet/January 23/2020
British Ambassador to Lebanon Chris Rampling met Thursday with Prime Minister Hassan Diab at the Grand Serail.After the meeting, Rampling said: "The formation of a new government is an important step for Lebanon. The UK has been consistent in calling for the urgent formation of an effective and credible government, which reflects the aspirations of the Lebanese people."He added that along with "other members of the international community," Britain stands ready to "support Lebanon."He, however, noted that the government must first "demonstrate its commitment to the reforms which Lebanon desperately needs."The meeting was also attended by Lebanon's new environment and administrative development minister Demianos Qattar, who had served as finance and economy minister in the past and was once nominated for the Lebanese presidency.
New FM Denies Announcing Walid al-Muallem's 'Death'
Naharnet/January 23/2020
Lebanon's new foreign minister Nassif Hitti on Thursday denied announcing the "death" of Syrian Foreign Minister Walid al-Muallem.
"He has not used the account carrying his name for the past three and a half years and he has not created any Twitter account recently," a statement issued by his office said. The office earlier announced that the account in question had been "hacked" and that efforts were underway to recover it. The account, @NassifHitti, was later deactivated. The tweet had been reported as real news by some media outlets. Several parody accounts impersonating a number of ministers have popped up since the formation of the new government on Tuesday night, most notably one claiming to be the new information minister – Manal Abdul Samad. Syria's information minister and deputy foreign minister meanwhile denied the death of Muallem, stressing that he is in good health.
EU Envoy Meets Diab, Says Aid Hinges on Reforms
Naharnet/January 23/2020
EU Ambassador to Lebanon Ralph Tarraf held talks Thursday with Prime Minister Hassan Diab at the Grand Serail and noted that the European Union's assistance to Lebanon hinges on the implementation of economic reforms. The meeting was held in the presence of Environment and Administrative Development Minister Demianos Qattar. Speaking to reporters after the talks, Tarraf said the conferees agreed that the new government needs to focus on the economic files and implement structural reforms in order to improve the government's performance.
He added that the EU is willing to help Lebanon should the government carry out the necessary reforms. Tarraf also stressed that Lebanon should dissociate itself from the regional conflicts, adding that the European Union will monitor the government's political alignment. He also declined to answer a question on whether the government is one-sided or under Hizbullah's control. Diab also met on Thursday with French Ambassador to Lebanon Bruno Foucher in the presence of Minister Qattar.
Ambassador Tells Diab Switzerland Ready to Help on Capital Flight Reports
Naharnet/January 23/2020
Swiss Ambassador to Lebanon Monika Schmutz Kirgoz on Thursday held talks with Prime Minister Hassan Diab at the Grand Serail. Commenting on reports that a number of Lebanese politicians have recently transferred billions of dollars to Swiss banks despite the de facto capital controls imposed by Lebanese banks, the ambassador said her country is willing to investigate the claims should the Lebanese government request help. Central Bank Governor Riad Salameh said on January 16 that legal measures would be taken to know the fate of the transfers allegedly sent to Switzerland. "All legal measures needed will be taken to know the fate of money transfers to Switzerland in 2019 and if they truly happened," he said. Asked whether Lebanon is going to contact Switzerland to inquire on the issue, Salameh said: "We have to confirm first whether these remittances actually came out of Lebanon."On December 30, State Prosecutor Ghassan Oueidat had requested information from Swiss and Lebanese authorities about the alleged transfers. The National News Agency said Oueidat has sought the help of "the Swiss judiciary, the Special Investigation Commission of Banque du Liban and the Banking Control Commission of Lebanon."The agency added that the prosecutor has asked for information to verify whether or not Lebanese politicians had recently made any "suspicious" transfers. Asharq al-Awsat newspaper had reported that the Lebanese judiciary had launched an investigation into reports claiming that nine Lebanese politicians had transferred $2 billion abroad over 15 days. It said a judicial probe got underway simultaneously with investigations that were being carried out by the central bank.
Foreign states waiting for new government's reforms: Lebanon finance minister
Reuters, Beirut/Thursday, 23 January 2020
Lebanon's Finance Minister Ghazi Wazni said on Thursday that foreign donors were waiting to see what reforms the new government would enact and whether it was ready for support. "The entire international community has its eye on what this government will do," he said in televised comments. "What is its program, what are the reform steps, is it ready for support or no?"
Political manipulation seen behind Lebanon violent protests: UN
Reuters, Beirut/Thursday, 23 January 2020
Violence by some protesters in the Lebanese capital Beirut appears to be politically driven to undermine security and stability, a senior United Nations official said on Thursday. "This looks more like a political manipulation to provoke the security forces, to undermine civil peace, to fan up sectarian strife," Jan Kubis, UN special coordinator for Lebanon, wrote on Twitter, mentioning attacks on security forces and vandalism of state institutions and private property.

New Interior Minister Says He Won't Permit Attacks on Security Forces
Associated Press/Naharnet/January 23/2020
Lebanon's new interior minister said Thursday he won't permit attacks on security forces amid angry rioting that has gripped the country's capital amid a deepening economic crisis. Mohammed Fahmi spoke during a handover ceremony from the outgoing minister, two days after a new government was formed. That ended a three-month political vacuum on the heels of nationwide protests against the country's long serving political class. "I will not allow attacks on security forces who are carrying out their duties" to protect the country's laws and properties, he said.
Meanwhile, Amnesty International called on the new government to "immediately rein in" security forces, which it said unlawfully used rubber bullets at close range against the protesters, injuring hundreds over the weekend before Fahmi took office. On Wednesday, the security forces did not use rubber bullets.
Many protesters have rejected the new government, saying it is still backed by the same traditional political powers they accuse of corruption. Fahmi said he would guarantee that security forces won't attack protesters and will protect their rights to freely express their opinion. He vowed to investigate any security forces violations "if they happen."Over the weekend, Beirut saw some of the most violent clashes between protesters and security forces yet. More than 500 people, including over 100 security forces, were injured in clashes outside the parliament building. Protesters hurled stones, firecrackers and flares at security forces who responded with rubber bullets, tear gas and water cannon. Several protesters were hit in their eyes.
On Wednesday, hours after the new government held its first meeting, hundreds of protesters gathered again outside parliament, attempting to break through security barriers and hurling stones. Clashes lasted late into the night, as security forces chased protesters down the streets.
Amnesty said with protests likely to continue over the next weeks, Lebanon's newly formed government must "as a matter of urgency" prioritize reining in security forces and investigate the unlawful and excessive use of force. It said security forces "shoot to harm," causing serious injuries in the head, face, chin and mouth. At least three protesters were hit directly in the eye with rubber bullets. Amnesty said police also threatened two female protesters with rape. Red Cross said at least 409 protesters were injured in clashes over the weekend. "The new minister of interior must immediately rein in the (Internal Security Forces) and order them to comply with international standards and respect the right to assembly," Heba Morayef, Middle East and North Africa regional director at Amnesty said. "Acts of violence by a minority of protesters does not justify a violent dispersal but should have been dealt with in a targeted manner." Morayef called for an investigation to provide "redress for the victims and send a strong signal that violence will not be tolerated."
Daryan Says Riots Tarnish Popular Cause
Naharnet/January 23/2020
Grand Mufti of the Republic Sheikh Abdul Latif Daryan condemned the massive acts of "sabotage" that were witnessed in downtown Beirut yesterday evening, the National News Agency reported on Thursday. The Mufti utterly rejected acts of vandalism against private and public property, saying "infiltrators have smashed shops, uprooted trees and violated private and public property.""What is happening in the streets of Beirut is an insult to the popular movement and its just demands," Daryan warned, calling for preserving the security of the country and the safety of its property, as well as that of the Lebanese people.He finally appealed to the security forces to intensify their efforts to preserve the security of the homeland.
Wazni: Lebanon Seeks Loans to Purchase Wheat, Fuel and Medicine
Naharnet/January 23/2020
Finance Minister Ghazi Wazni on Thursday said that around 4 to 5 billion dollars will be requested from international donor countries to finance purchases of wheat, fuel and medicines in crisis-hit Lebanon, according to media reports. Named as new minister on Tuesday, Wazni said that Lebanon is looking to secure 4-5 billion dollars in soft loans to finance the purchase of the country's needs of wheat, fuel and medicines in light of a dollar shortage crisis. In December, Lebanon's appeal for foreign aid at the International Support for Lebanon was rebuffed pending reforms and the formation of the government. Prime Minister Hassan Diab formed Lebanon's government on Tuesday set to tackle the twin challenges of a tenacious protest movement since October and a nosediving economy.
Greece Seizes 1.25 Tons of Lebanese Cannabis
Associated Press/Naharnet/January 23/2020
Greek authorities said Thursday they found more than a ton of processed cannabis camouflaged among a shipment of date paste headed by sea from Lebanon to Libya. A police statement said the drugs were discovered on Jan. 16 in a ship's container on a freighter that had stopped at Greece's main port of Piraeus. The statement said the raid was carried out in cooperation with U.S. and Saudi authorities. No arrests were announced. A total 1.25 tons of processed cannabis were confiscated. Greek police said the drugs were loaded in Beirut and were destined for the Libyan port of Misrata.
U.S. Senator Drafting Lebanon Sanctions over Amer Fakhoury
Associated Press/Naharnet/January 23/2020
U.S. Senator Jeanne Shaheen is drafting sanctions legislation to hold Lebanese officials accountable for jailing Amer Fakhoury, a former official at the Khiam prison, which was operated by the Israeli-backed South Lebanon Army militia. "Time is of the essence and the Lebanese government needs to understand there will be consequences for his continued detention," Shaheen, a Democrat and member of the Senate Committee on Foreign Relations, said in a statement this week.
Fakhoury, 57, who owns a restaurant in Dover, New Hampshire and who became a U.S. citizen last year, has been jailed since Sept. 12 in his native country. He went on vacation to visit family he hadn't seen in nearly two decades.
Fakhoury was once a member of the SLA and worked at a former prison described by human rights groups as a center for torture. His lawyer and family say he fled Lebanon in 2001 through Israel and eventually to the United States, because of death threats he and other SLA members received after Israel ended its occupation of Lebanon in 2000. Before Fakhoury went back, he received assurances from government officials in Lebanon that there were no legal matters that might interfere with his return. But days after he arrived, an article in the pro-Hizbullah al-Akhbar newspaper accused him of torture and murder at the former Khiam Prison. He has been detained since then.Fakhoury's lawyer and family say he was never involved in the interrogation or torture of prisoners and was never accused when the prison was investigated years ago. They said Fakhoury, who has been hospitalized, has now been diagnosed with stage 4 lymphoma and has developed a new infection. They recently learned that medical records show he is suffering from a broken rib cage.
Lebanon itself has been in the middle of an unprecedented economic and political crisis amid nationwide protests since October, leading to the prime minister's resignation. A new government was formed Tuesday. It was unclear who could address Fakhoury's case.
Guila Fakhoury, the oldest of Fakhoury's four daughters, said doctors cannot always reach her father because of the protest road closures. She said he has missed chemotherapy treatments. "It's a life and death situation right now," she said. "I'm just frustrated we're not able to get him home. We're talking about a sick, innocent U.S. citizen."Shaheen was part of the effort to bring sanctions against Turkey in the detention of American pastor Andrew Brunson, who was eventually freed in 2018. She raised the idea of sanctions against Lebanon in December, saying that U.S. officials have been unable to persuade the Lebanese government to release Fakhoury on humanitarian grounds. She said then that sanctions should include ones that would make any involved officials and their family members ineligible for entry into the United States.
In her statement, Shaheen said she is drafting the legislation "to hold those accountable who are complicit in Mr. Fakhoury's arrest, beating and prolonged detention." She added, "Whenever an American is held unjustly by a foreign government, we as a nation need to do everything we can do bring them home. All options are on the table to secure Mr. Fakhoury's freedom, reunite him with his family and provide the care he urgently needs."Shaheen's office said she has been in frequent contact with the State Department and White House. A State Department spokesperson said Wednesday that consular officers from the U.S. Embassy in Beirut most recently visited Fakhoury on Jan. 16. "We are concerned about his welfare, as doctors report his health is failing and he requires urgent specialized medical treatment," the spokesperson said a statement. "We have raised these concerns at all appropriate levels with the Lebanese government. We will continue to follow his case closely, and to provide him and his family all appropriate consular assistance," the spokesperson added.
Bassil Feels Heat in Testy Davos Debate
Agence France Presse/Naharnet/January 23/2020
Former foreign minister Jebran Bassil on Thursday faced accusations over his personal wealth and record at the top of a country mired in corruption, during a hugely uncomfortable appearance at the Davos economic forum. Bassil, the son-in-law of President Michel Aoun, lost his post as foreign minister when a new government was finally announced this week after months of street protests over a collapsing economy. His appearance at the luxury Swiss resort had caused howls of outrage in Lebanon where thousands signed petitions asking about the financing of his trip at a time when Lebanese are trying to make ends meet. "How did you get here?", asked the moderator. "Did you take a private plane?""I came simply on my own expenses," Bassil replied. "I know rumors and lies circulate always but this is the reality. Not one lira at the expense of the Lebanese treasury!" "So this is family money?" the moderator pressed. "No this was offered to me. I was invited here," Bassil replied. "We are not allowed to have friends like that when we are in government," witheringly pointed out Dutch Trade Minister Sigrid Kaag, who previously served as U.N. coordinator for Lebanon. Turning to the situation in Lebanon, Bassil insisted the protests were not political in nature and he even supported them. "What is happening in the street is very positive," said Bassil, still seen as a key powerbroker as leader of the Free Patriotic Movement. "They are protesting as they lost their money, they are not united on any political issue."
Opponents of Bassil reacted with glee on social media to his performance. "Watching Jebran Bassil getting roasted is so good," commented one on Twitter. Bassil, who served half a decade as foreign minister after a similar time as energy minister, has consistently come under fire from demonstrators mobilized to demand the removal of a political class they deem incompetent and corrupt. "Lebanon is a country that has been stymied by top-level corruption across the board," commented Kaarg. "The sectarian system, coupled with the former warlords, have hijacked the state," she said.

Japan Prosecutors Hit Back at Ghosn's '8 Hours of Questions' Claim
Agence France Presse/Naharnet/January 23/2020
Japanese prosecutors hit back Thursday at claims made by fugitive former Nissan boss Carlos Ghosn that he was interrogated for "up to eight hours per day" during questioning over financial misconduct allegations. Ghosn, who dramatically skipped bail earlier this month and fled to Lebanon, had painted a picture of harsh conditions in Japanese custody that authorities have contested. "I had spent the previous months being interrogated up to eight hours a day without any lawyers present, without an understanding of exactly what I was being accused of, without access to the evidence that justified this travesty against my human rights and dignity," he told reporters in Lebanon. But the deputy head of the Tokyo district public prosecutors' office, Takahiro Saito, said Ghosn's claims were "clearly false and designed to fool the media". "Mr Ghosn spent 130 days in detention and was questioned in total on 70 of those days. So 60 days without questioning," said Saito. "On average, he was questioned for less than four hours per day." He said questioning was halted for meals, visits, showers and to give Ghosn a chance to consult his lawyers — time he said the tycoon had counted as "interrogation". "The longest questioning over one day was for around six hours, not continuously, with breaks. It never went as long as seven hours, still less eight," this prosecutor stressed. He also said that everything was on tape and would have been available during Ghosn's trial if he had not fled. The high-profile case has put the spotlight on the Japanese justice system, which has come under fire for its ability to keep suspects in custody for lengthy periods, its reliance on confessions and an almost 100 percent conviction rate. "Everything has been recorded and would have been used as evidence for a judgement," Saito said. "In such conditions, if we were extracting confessions by force, it would be visible." In his first comments about Ghosn's daring escape, which has left Japanese officials red-faced, Prime Minister Shinzo Abe said Thursday it was "extremely regrettable".
Why EU should ban Hezbollah
Richard A. Grenell/ U.S. ambassador to Germany/Politico/January 23/2020
السفير الأميركي لدى ألمانيا، ريتشارد كرانيل: لكل هذه الأسباب مطلوب من الإتحاد الأوروبي منع حزب الله ووضعه على قوائم الإرهاب
Terror group relies on European recruiting and fundraising networks to survive.
http://eliasbejjaninews.com/archives/82560/%d8%a7%d9%84%d8%b3%d9%81%d9%8a%d8%b1-%d8%a7%d9%84%d8%a3%d9%85%d9%8a%d8%b1%d9%83%d9%8a-%d9%84%d8%af%d9%89-%d8%a3%d9%84%d9%85%d8%a7%d9%86%d9%8a%d8%a7%d8%8c-%d8%b1%d9%8a%d8%aa%d8%b4%d8%a7%d8%b1/
BERLIN — In one of its last acts of 2019, the German parliament called on the government to ban Hezbollah. Recent developments show the government is ready to act, using available legal tools to deny the Iranian terror proxy the ability to plan, recruit and raise funds on German soil.
The European Union should follow the German parliament's lead and recognize Hezbollah in its entirety as a terrorist organization.
Berlin's action comes in the wake of continued paralysis in Brussels, where some member countries still argue for Hezbollah's legitimacy due to its political role in Lebanon.
The EU thus maintains an artificial distinction between Hezbollah's "political wing" and "military wing," a division the terror group itself does not recognize.
The EU's stated intent for creating this false distinction is to preserve an open channel with Hezbollah and its representatives in the Lebanese government.
The facts belie the EU's stance.
Hezbollah works for the Iranian regime, not the Lebanese people, who have protested against Iran's influence in their country since October. It contributes to the 400,000-plus death toll in Syria, and remains dedicated to the extermination of Israel. It has planned and executed terrorist attacks on European soil. And it flouts the rule of law, raising hundreds of millions of dollars in financing per year through criminal networks and transnational money laundering schemes originating in or transiting Europe. An EU-wide designation of Hezbollah is necessary to deny it the vast European recruiting and fundraising networks it needs to survive.
This designation would not deprive Brussels of its open channel to the Lebanese government. The Netherlands, the United Kingdom, Canada, the United States, and others each recognize Hezbollah as a terrorist organization, and each maintains a robust relationship with Lebanon. In fact, Lebanon receives more foreign assistance from the U.S. than from any other country in the world. Designating Hezbollah as a terrorist organization does no harm to U.S.-Lebanese relations, but it does empower the U.S. to disrupt the international criminal networks that help fund Hezbollah's support for the Assad regime and Iran's Islamic Revolutionary Guard Corps.
The U.S. is resolute in its efforts to stop the spread of Hezbollah's terror, but we cannot contain the threat on our own.
On January 10, U.S President Donald Trump signed an executive order targeting revenue used by the Iranian regime to fund and support its terrorist proxy networks. The U.S. imposed additional sanctions against broad sectors of the Iranian economy, including construction, manufacturing, and mining, to further deny funding to terrorist groups that threaten the U.S., Europe and our partners in the Middle East.
As a result, Hezbollah is under enormous financial pressure. The group's leader, Hassan Nasrallah, has called on his supporters to make an unprecedented increase in "charitable" donations to pay for fighters perpetuating violence in the Levant. But in the meantime, Hezbollah's coercive influence over Lebanon's financial sector, and its operational freedom within the European Union, allow it access to the revenue it needs to weather the storm of sanctions.
The U.S. is resolute in its efforts to stop the spread of Hezbollah's terror, but we cannot contain the threat on our own. As with similar challenges, the U.S. requires the support of its European allies. If the EU wants to take a stand against the Assad regime's violence in Syria and the export of that violence and instability to Europe, it should follow the German parliament's lead, and designate all of Hezbollah as a terrorist organization.https://www.politico.eu/article/why-eu-should-ban-hezbollah/
Former Lebanese FM Gebran Bassil comes under fire in Davos panel
جبران باسيل: نيران انكشاف وتعري في دافوس
Tarek Ali Ahmad/Arab News/January 23/2020
http://eliasbejjaninews.com/archives/82563/%d8%ac%d8%a8%d8%b1%d8%a7%d9%86-%d8%a8%d8%a7%d8%b3%d9%8a%d9%84-%d9%86%d9%8a%d8%b1%d8%a7%d9%86-%d8%a7%d8%ad%d8%b1%d8%a7%d9%88%d8%ac-%d8%a7%d9%86%d9%83%d8%b4%d8%a7%d9%81-%d9%88%d8%aa%d8%b9%d8%b1%d9%8a/
*Bassil, who has been the target of protesters' anger, was speaking on a panel named "The return of Arab Unrest"
*CNBC's Hadley Gamble, who moderated the discussion, put pressure on Bassil over his comments on governance
DAVOS: Lebanon's new government needs to win the confidence of the parliament, the confidence of the people, and the confidence of the international community, former Lebanese foreign minister Gebran Bassil said at the World Economic Forum in Davos on Thursday.
In a much-anticipated panel discussion plagued by controversy and uncertainty since its announcement, Bassil appeared despite a social media campaign and petition calling for his invitation to be rescinded.
He said the country was in its current position because of 30 years of "wrong policies."
"The responsibility of the Lebanese government is to take the challenge of changing and reforming the system," he said. "What is happening now in the streets is very positive because it is creating a dynamic for change."
Joining Bassil for the discussion — "The return of Arab Unrest" — were Dutch Minister for Foreign Trade and Development Cooperation Sigrid Kaag and Damac Properties chairman Hussein Sajwani.
Kaag spoke of the importance of Lebanon as a "regional public good in a volatile region" saying the country has "so much to offer." However, she added, "It is so painful to see a model of consensual democracy turn away to provide a disservice.
"One should not need wasta," she continued, referring to the Arabic word for influence and/or bribery. "Wasta is a total sign of poverty, whereby only if you have means, access, and influence, you are someone."
Panel moderator, CNBC anchor Hadley Gamble, did not hold back when questioning the former foreign minister, repeatedly reminding him of his infamous quote at Davos last year, when he said, "Washington and London should maybe learn from Lebanon how to run a country without a budget."
Bassil's spokesperson May Khreish had earlier accused Gamble of being part of "a Zionist campaign against Bassil's participation in the conference."
"We have a malfunctioning system because of confessionalism. What the young people are calling for in the streets is a secular system whereby citizens are equal," Bassil said.
He also expressed his hope that Lebanon's current crisis could be resolved in-house. "Let the people of the region decide what they want," he said. "Don't dictate to them foreign recipes. Let the international community help not dictate.
"Lebanon is still a democracy — we have a high level of freedom and they are encouraged to keep this force of change, and when they decide we don't represent them anymore, we step aside," he continued, referring to former Prime Minister Saad Hariri's government resigning a few weeks after the start of the protests in October 2019.
Damac boss Sajwani suggested that the general public in the region did not treat democracy with appropriate gravitas. "The challenge we have in the Middle East is that people are not being professional when it comes to elections," he said. "They are going by emotions and religion, which is totally unacceptable."
Kaag praised the determination and persistence of Lebanon's youth. "The specter of possible civil war will not work anymore (as a deterrent for protests)," she said.
Lebanon's new coalition government was formed on Tuesday after almost 100 days of widespread public protests about the state of the economy, corruption, high unemployment and a lack of basic services. The majority of its 20 ministers are aligned with Hezbollah and its allies.
Lebanon's former foreign minister tries to defend Davos trip as country faces economic collapse
Natasha Turak/CNBC/January 23/2020
http://eliasbejjaninews.com/archives/82563/%d8%ac%d8%a8%d8%b1%d8%a7%d9%86-%d8%a8%d8%a7%d8%b3%d9%8a%d9%84-%d9%86%d9%8a%d8%b1%d8%a7%d9%86-%d8%a7%d8%ad%d8%b1%d8%a7%d9%88%d8%ac-%d8%a7%d9%86%d9%83%d8%b4%d8%a7%d9%81-%d9%88%d8%aa%d8%b9%d8%b1%d9%8a/
Gebran Bassil, Lebanon's former foreign minister, came to Davos "on his own expenses," he told CNBC at the World Economic Forum in Switzerland on Thursday.
Bassil's claim came as a defense against a torrent of accusations of public funds misuse by a politician viewed as the face of Lebanon's political corruption and economic disintegration. His presence at Davos has drawn widespread anger among Lebanese, with petitions to ban his participation at the elite event garnering tens of thousands of signatures.
Hundreds of Lebanese citizens are reported to have been injured, arrested and hospitalized in nationwide anti-government protests in the Middle Eastern country as the alpine conference got underway.
"I came simply on my own expenses," Bassil, who heads the largest political bloc in Lebanon's parliament, told CNBC's Hadley Gamble.
"I know rumors and lies circulate always on issues like this, but I am used to this and this is the reality. On my own expenses."
The claim raised immediate questions of how someone on a civil servant salary could charter a personal plane. Bassil added that "This was offered to me. You know I was invited here … Not one Lebanese leader on the expense of the Lebanese treasury. Very simple."
Bassil is a target of growing rage across Lebanon and the subject of a popular anti-government protest chant.
The son-in-law of Lebanese President Michel Aoun, Bassil is supported by Shiite militant and political group Hezbollah, which is designated a terrorist organization by the U.S. Many in and outside of Lebanon accuse him of corruption, pilfering the country's bankrupt electricity utility and proliferating the sectarian politics that stymied an economy now facing its worst crisis since the country's bloody 15-year civil war that ended in 1990.
Popular protests have rocked the small country of 6 million since October, and have recently spiraled into violent clashes with police as security forces use rubber bullets, tear gas and water cannons on demonstrators. More than 100 people have been injured.
The protests — the country's largest in 14 years — are a manifestation of widespread anger at decades of corruption, dysfunctional government and the deterioration of basic public services. A new government announced Tuesday failed to satisfy the demonstrators, who want a full overhaul of the country's sectarian political system.
Lebanon's debt-to-GDP stands at more than 150%, one of the highest in the world, and unemployment hovers between 35% and 40%. Lebanon is ranked 138 out of 175 countries by Transparency International's Corruption Perception Index.
The sheer scope of the protests — spanning all age groups, religious sects and cities all over the country — make it unprecedented and more significant than perhaps any that have taken place before.
https://www.cnbc.com/amp/2020/01/23/lebanons-former-foreign-minister-tries-to-defend-davos-trip.html?__twitter_impression=true&fbclid=IwAR1CeowPtdsCePUD-PuI3JKyXxIfYOo9eqSL38el6l1fa628_qZ4jxMQj6o
U.S. Withholds Support for New Lebanon Government
Dion Nissenbaum and Nazih Osseiran/The Wall Street Journal/January 23/2020
ولستريت جورنال: الولايات المتحدة تحجب المساعدات عن حكومة لبنان الجديدة
http://eliasbejjaninews.com/archives/82557/the-wall-street-journal-u-s-withholds-support-for-new-lebanon-government-%d9%88%d9%84%d8%b3%d8%aa%d8%b1%d9%8a%d8%aa-%d8%ac%d9%88%d8%b1%d9%86%d8%a7%d9%84-%d8%a7%d9%84%d9%88%d9%84%d8%a7%d9%8a%d8%a7/
BEIRUT—Lebanon's new government received a tepid welcome on Wednesday as police used water cannons to prevent protesters from marching on parliament and the Trump administration said it wasn't certain it would work with the coalition dominated by Iranian ally Hezbollah and its Christian allies.
Secretary of State Mike Pompeo withheld support for Lebanon's government as it met for the first time in hopes of ending a deepening economic crisis. Asked in a Bloomberg News interview if the U.S. would work with a government dominated by Hezbollah, one of Iran's most important allies in the Middle East, Mr. Pompeo demurred.
"I don't know the answer to that yet," he said. "We're prepared to engage, provide support, but only to a government that's committed to reform."
Mr. Pompeo and top Trump administration officials have pressed the Lebanese government for years to sideline Hezbollah political leaders. But Hezbollah is a dominant military and political force with grass roots support in Lebanon, securing its influence and stature inside the country.
After weeks of nationwide protests brought down Prime Minister Saad Hariri, a weakened political leader supported by Saudi Arabia and the U.S., Lebanon's President Michel Aoun tapped Hassan Diab, a relatively unknown university professor backed by Hezbollah, to lead the new government.
Mr. Diab unveiled his cabinet on Tuesday after a weekend of street protests devolved into outbursts of violence with police firing rubber bullets at demonstrators and activists smashing windows around the capital.
The protests and political uncertainty have rattled Lebanon, where the currency is collapsing, power outages are increasing, businesses are closing, and no one is eager to swoop with a financial bailout for the country.
"We are facing the most difficult and dangerous stage in the history of Lebanon," Mr. Diab said during his government's first session on Wednesday. "We are facing a disaster."
Trump administration officials have been considering cutting off aid to the new government amid concerns about Hezbollah's influence, according to U.S. officials. Last year, without public announcement, the U.S. temporarily suspended more than $200 million in military and economic aid to Lebanon as it pushed the previous government to sideline Hezbollah.
Across Lebanon, demonstrations have been united in their call for an overhaul of the fractured political system and a clean sweep of longtime leaders from all ruling parties, including both those supported by America and those aligned with Iran.
On Wednesday, Mr. Pompeo pointed to the continuing protests as a reason to be wary of working with the new government.
"The protests taking place today in Lebanon are saying to Hezbollah 'No Mas.' No more," he said. "We want a noncorrupt government that reflects the will of the people of Lebanon."
Later in the day, Mr. Pompeo suggested that international aid would be contingent upon the Lebanese government's ability to enact reforms needed to pull the economy out of a tailspin.
"The test of Lebanon's new government will be its actions and its responsiveness to the demands of the Lebanese people to implement reforms and to fight corruption," he said in a statement that did not specifically mention Hezbollah. "Only a government that is capable of and committed to undertaking real and tangible reforms will restore investor confidence and unlock international assistance for Lebanon."
The European Union appeared to offer more support by trumpeting its "strong partnership" with Lebanon and describing the new government's formation as "an essential step" in resolving the country's problems.
On Wednesday, security forces again used tear gas and water cannons against demonstrators trying to march on parliament. They also erected a metal fence that blocked demonstrators.
"We are not scared, we are not scared," a group of young men chanted as they made their way through the crowd toward the barricades.
Activists tore down tiles from surrounding buildings using metal roads and hammers and then threw them at police. Demonstrators said the new government didn't satisfy their calls for a technocratic government capable of enacting widespread reforms.
The new cabinet includes no members from Mr. Hariri's Sunni party or the country's Christian Lebanese Forces political group.
"We don't want a one-colored government," one protester said, referring to the lack of political representation from rival parties. "We want a cabinet on our terms. We want one like our own minds, not like them."
—Laurence Norman contributed to this article.
Write to Dion Nissenbaum at dion.nissenbaum@wsj.com
Copyright ©2019 Dow Jones & Company, Inc. All Rights Reserved.
The 'Culture' of Assadist Punishment in Beirut
Hazem Saghieh/Asharq Al Awsat/January 23/2020
Last Tuesday night, on the 14th of January, tens of youths were taken to the El-Helou Police Station in Beirut after the security forces experimented with the use of excessive violence on them. Once they were released, they spoke of the beatings and humiliation that they were subjected to. However, they also mentioned a few brief "political" phrases that they had heard, phrases that reflect the "culture" of the Lebanese security apparatus.
We know that jailers are "honest" when speaking to prisoners, in the sense that what they say to them accurately mirrors the jailer's true thoughts and feelings. For there is no media or public opinion in dark rooms and halls that bring the two together, and the punishment to protect the victim and tie the perpetrator's hands is absent. Indeed, there is also an absence of the standards of civil treatment that govern the relationship between two supposedly equal individuals. Thus, the jailer, who is by definition in a superior position, is freed from all restraints and acts under his most primitive natural disposition.
More than this, the jailer treats his prisoner like he is nobody, and he who is nobody can't hear or convey what he hears to a ''respectable '' audience. All of this allows the jailer to beat what he views as a corpse. For he is not satisfied with avenging a deep-rooted feeling of inferiority that lurks inside him, he lets out the accumulation of times he felt this inferiority, the last of which stems from his tiring efforts to confront the angry protesters.
Briefly, these factors come together to bring out the sadism inside the jailer and loosen his inhibitions.
Because eavesdropping on jailers' monologues is certainly tempting and the tales told by those released from custody satiate this curiosity, any doubts we have over the prisoners' truthfulness are quelled. Among the things the prisoners relayed is that the jailers lamented the fact that they were "not in Syria" and their deep desire to be there. Being in the "beating heart of Arabism" would have allowed them to enact a greater degree of harm and destruction on the prisoners, degrees they are reluctant to use in Lebanon. This adoration that the jailers proclaim for "Assad's Syria", which they see as an ideal model, finds its culmination in their grudge against Syrian victims. For those victims, according to the same story, are subjected to a greater degree of violence and humiliation at the Helou station, and they are incarcerated for longer periods.
The combination of adoring Assad and hating Syrians summarizes a pillar of Lebanese prison cell ''culture, '' a side to that ''culture '' which demonstrates some of the worst aspects of Lebanese society, that bring blaming the victim together with sympathizing with the perpetrator.
This behavior was partly formed during the years of Syrian military presence in Lebanon. At the time some "intellectual" circles specialized in propagating a "theory" to the effect of: We (the Lebanese) are a great nation and Syria's ruler Hafez el-Assad is a great leader. He suits us, while our mediocre leaders (Assad's employees in Beirut) suit the mediocre Syrian nation.
This "theory" was based on a desire to switch roles: identifying with the victor from a position of inferiority while looking down on the vanquished, i.e. the Syrian partners of the Lebanese in their submission to Assad, in an effort to escape their humiliation.
This "theory" is foundational to the subsequent "alliance of minorities": the great Lebanese people were biased in favor of the great ruler's son against the mediocre Syrian people with whom the mediocre Lebanese people sympathized with. As for Hezbollah's involvement in the Syrian War, it improved the terms of vassalage that link the smaller great with the bigger great. The debt was paid off with high interest.
However, deploying this combination of adoration for Assad and hatred of the Syrian people in the context of the Lebanese revolution and its repression is indicative of an unseen hand playing a role in the repression: the counter-revolution in Assad's Syria and the region at large, something that Lebanese revolutionaries ought not forget or ignore, thinking that big brother's eyes are not watching them.
There is a third issue mentioned by those who were released, which completes this "culture" and sheds more light on its dangers. Those detained were called "Zionists", applying an Assadist principle that it applied in Lebanon until 2005, when Hezbollah inherited it. The purpose of the principle is to blackmail opponents and oppositionists with an automatic verbal exercise.
Behind the humiliation of those accused of being Zionists, lurks a greater humiliation for the charge itself. The fact is that this continuous exchange of verbal attacks in the bazaar of verbal conflict with Israel is as much a part of the "culture" of the big Syrian prison as it is the "culture" of the smaller prisons that spring from it in Syria and in Lebanon. The only solid result of these verbal attacks is the real enmity towards the Palestinians. For example, the Aounist OTV television station, tells us that "Palestinians masked in the kufiyas speaking the Lebanese dialect" participated in a demonstration in Hamra Street.
Now, with the government of "one color," this "culture" might spread and expand. In any case, the violence of Saturday and Sunday, on the 18th and 19th of this month, was much more ferocious than it was on Tuesday night, and many more people were taken to jail cells. When they are released, they will tell us what they heard there, and they will, for the most part, confirm what we already know about the "culture" of Assadist punishment in Beirut.
On the Government of Collapse and Violence!
Hanna Saleh/Asharq Al Awsat/January 23/2020
Hezbollah has made up its mind and decided to announce the formation of the Lebanese government, headed by Hassan Diab, 33 days after he had been appointed and following 85 days of governmental vacuum. The partisan power-sharing in this government of twenty is restricted to the "axis of resistance", with Hezbollah's direct presence among faces that, politically speaking, belong to the era of the Syrian occupation. In this sense, this is a pre-2005 government. If the 2018 elections had, to some extent, as per Deputy-Speaker of Parliament Elie Ferzli "corrected the error" made after the independence uprising, then announcing this government is nothing but a desire to deliver two messages: First, that all of the positive implications of the second independence have been undone, and second, that there is a definitive divorce between the ruling side led by Nasrallah and the October 17 revolution.
Diab's word after announcing the government formation, which overlooked the truth and reality when he claimed it was "a government of exception" and that it included exceptional non-partisan ministers, set a precedent when the public demanded its overthrow before the memorial photo of the government was even taken. Diab broke the promises he made the day he was appointed, as he is happy with entering the Prime Ministers' club. Nevertheless, he remains the weakest link in a government formed for him by those responsible for the country's collapse and isolation. He doesn't have a political banner, no popularity and no political experience to make use of.
This means that the constitutional authority invested in such a prominent decision-making and executive position was already confiscated before the formation, as evidenced by the fierce conflict over seats, forcing him to name only his share of ministers, even though the Speaker of Parliament Nabih Berri did not reveal the names of his representatives until the moment that the legislation of the government formation was printed.
The announced government provided more than one indicator of a new type of Iranian-Syrian coexistence/competition within the "axis of resistance" camp, and it pointed towards a reinstatement of certain limits on the influence of every party. In a decisive moment, it seemed that Hezbollah's control over its allies had been shaken. In a crucial moment, Hezbollah rushed to form a favorable government as it is in dire need for internal fortification in light of the pressures and dangers that it is facing after Soleimani's death! This is not far removed from the political dimensions drawn by Putin's visit to Syria and his reception of the Syrian president in a Russian military base in Damascus. This has unambiguously revealed that the Syrian regime has subjected itself to Russia, which shows that there is indeed disagreement, however limited, between Tehran and Moscow regarding Lebanon.
While the Lebanese did not discuss the qualifications of any of the candidates in the government of masks, and there were no ideas or visions on the priorities of this government that is facing total collapse and the implications of isolation as a result of Hezbollah being at its forefront, the people who took to the street saw Diab's government as a provocation and an insult to the revolution that has repeatedly declared that any government that goes against the October 17 Revolution will not receive the support of the interior nor the exterior, both of which had urged for a government that is independent of the ruling parties capable of meeting the peoples' demands and implementing the necessary reforms.
Putting aside the structural flaws in the formation of speech, so far, there is also a political program, and nobody knows what the government's economic agenda is. Meanwhile, the Lebanese Pound is collapsing, salaries are no longer sufficient to cover the needs of families, peoples' savings are diminishing, and hunger has started to haunt citizens. This is not limited to rural areas, but also to cities where working-class neighborhoods have become hotspots of poverty.
In this context, the immediate response of the demonstrators is to try to avoid the imminent collapse being overseen by an authoritarian formula whose decision is not made by the ministers of the government, inasmuch as they are in the hands of Nasrallah and what he represents and the parliamentarian General Jamil al-Sayyed and his affiliates. Consequently, the government may resort to the language of repression and violence with the protesters. Notably, the new Minister of Interior commended the security forces performance, the same performance that has led to more than 500 injured and several losing their eyes, instigating a wave of internal and international criticism and what Head of the Order of Lawyers found to be a "clear violation of all standards of security". A legal campaign to hold officials responsible for the excessive violence and the use of rubber bullets from up close accountable has taken shape, in an attempt to prevent the most vulnerable from paying the price of the collapse and the persistence of ensuring the security of the cartel-like banking, thereby legitimizing their turning of the Lebanese into beggars at the doors of their banks.
The night of the 100th day of the dignity revolution is almost upon us, and not a single official has addressed the peoples' pain. Instead, they continue to be indifferent and stubborn. The announcement of the government signaled a desire for isolation and ex-communication, and this kind of behavior amounts to a formula that will aggravate rage and heighten the revolution. Far from any discussion on violence and concerns about what it may lead to, it has become apparent that the demonstrators are the most cautious about keeping Beirut a pearl among cities. They will remain peaceful, and this is affirmed by the extensive participation by women and families. People have lost a lot, and they have placed all their stakes on the success of the revolution, the peaceful nature which has resonated with all groups in society will persist until the formation of a real rescue government to save the country from collapse! The popular rage is nothing but an expression of self-defense instigated by a long line of insults and violations of dignity.
The regime's behavior after October 17, as well as this government, are the only ones responsible for the rage that is traversing Lebanon. Whoever is threatening civil peace is hoping that chaos will save the power-sharing confessional system that Hezbollah has been at the forefront of, while the revolution for dignity has, for the first time in the history of this country, undone the outcomes of the civil war, and has articulated demands for change and affirmed that the people who took the country to collapse are not capable of rescuing it. It is as if the revolution is saying: You have deprived us of the most fundamental rights, the right work, water, electricity, healthcare, and education. You increased the poverty rate and turned the Lebanese into beggars, all while making wealth beyond imagination and yet you call for fighting corruption!!
Lebanon has entered a new phase. The October rebels are challenging lies with truth, and there is no retreat. No attempt to turn the revolution violent will be successful. The general conviction that the revolution should be peaceful will stop this destruction and rebuild the state, and Beirut will remain a "flower that never dies"!
Saving The Revolution And Lebanon
Robert G. Rabil/Eurasia Review/January 23/2020
روبرت رابيل: انقاذ الثورة ولبنان
http://eliasbejjaninews.com/archives/82550/%d8%b1%d9%88%d8%a8%d8%b1%d8%aa-%d8%b1%d8%a7%d8%a8%d9%8a%d9%84-%d8%a7%d9%86%d9%82%d8%a7%d8%b0-%d8%a7%d9%84%d8%ab%d9%88%d8%b1%d8%a9-%d9%88%d9%84%d8%a8%d9%86%d8%a7%d9%86-robert-g-rabil-eurasia-review/
Lebanon is fast approaching a failed state status, nearing the precipice of economic bankruptcy, social disruption and civil strife.
The recent violent altercations between the Lebanese Armed Forces (and Internal Security Forces ISF) and protestors are extremely dangerous for they have created a rift between the two entities most needed for ensuring stability and political transition.
Contrary to its initial position to not use force against peaceful protesters, the LAF has used what Human Rights Watch condemned as excessive use of force.
The LAF threw tear gas and fired rubber bullets at protesters to disperse them.
Conversely, some protesters threw rocks and firecrackers at the LAF.
By Monday January 20, following two days of violence in Beirut and other areas, over 400 persons were injured, the majority of whom from the protesters.
Clearly, the LAF has been under immense pressure from political parties, including Hezbollah, for their actions cannot be separated from the political maneuvering of their leadership who are trying to protect their political survival.
The ISF and parliament police, which have been most harsh with protesters, answer in no small measure to former Sunni Prime Minister Saad Hariri's Future Movement and the Shi'a Speaker of the House Nabih Berri's Amal movement, respectively.
Yet the core of the Command leadership of LAF is apprehensive of the deepening rift between them and protestors.
This core believes its acquiescence to the country's political leadership is a necessary evil to prevent the army from disintegrating along confessional lines, as happened during the civil war, or paving the way for civil strife including an open confrontation with Hezbollah.
Interestingly, Hezbollah, which initially sent its thugs to beat protesters and trash their tents in the capital, has signaled to the protesters its readiness to support their reformist demands.
At the same time, Hezbollah enjoined its wrangling allies to realign their priorities in order to forge a new coalition government, which was formed under the premiership of American University professor Hassan Diab.
This dangerous and convoluted situation is not only the product of the Iran-US deepening tension in the region but also of the country's confessional dynamics in relation to Iran and Syria's meddling in Lebanon's state of affairs.
On the surface, observers had imputed the inability to form a government to American objection of creating one under the suzerainty of Hezbollah.
Others blame the political parties for their selfish and insatiable interest in confessional power and spoils of the state.
On a deeper level, however, a stealthy scuffle had taken place between Syria and its allies in Lebanon, supported by Russia, on one side, and Hezbollah, supported by Iran, on the other.
In contrast to conventional wisdom about Lebanon's politics, as astutely observed by former parliamentarian Basem Schabb, "Mr Diab, far from being weak and isolated, has considerable support from Pro-Syrian factions opposed to Mr. Hariri."
Apparently, Diab tried to form a government of technocrats in conformity with the demands of protesters, with active support from pro-Syrian politicians including Jamil al-Sayyid. Reportedly, pro-Syrian factions and politicians expressed their desire to be part of the new government.
Syria, whose hegemony of Lebanon virtually dissipated following the withdrawal of its occupying forces in 2005, is apparently trying to revive its influence in Beirut.
Notwithstanding the fact that it has managed to exercise its political influence in Beirut through its ally Hezbollah, the Syrian regime has had to concede to Hezbollah's political expediencies, especially after Russia curbed Hezbollah and Iranian activities next to the border of Israel in Syria.
Consequently, Hezbollah, backed by its Iranian patron, has been circumspect in allowing Syria to revive its former power in Lebanon so that Russia, Syria's patron, would not be able to challenge Hezbollah's policies under certain circumstances.
Moreover, Syria's stealthy desire to regain its influence in Lebanon has been frowned upon by the Lebanese Forces, Future Movement, and Druze leader Walid Jumblat, who has been indefatigably harsh in his criticism and opposition to the Syrian regime.
As a result, most political parties, though for different reasons, had shared a common reservation about Diab forming a government.
Notwithstanding the fact that the Christian Lebanese Forces and Sunni Future Movement have reservations about Diab as being a front for Hezbollah, Syria and Iran's allies in Lebanon had scuffled with each other over the extent to which Syria, and by extension Russian, should revive its power in Lebanon.
Eventually, Hezbollah criticized its allies and prodded them to help create a new government.
As it turned out, Hezbollah, following 33 days of wrangling over the formation of a new government, saw in the dangerous escalation of violence an opportune moment to midwife the birth of the government.
Clearly, the violence, which rocked Beirut and alarmed Washington among other capitals, has apparently offered Hezbollah an opportunity to wear the mantle of the peacemaker and statesman in Lebanon's hodgepodge mafia-like environment.
In the words of a perceptive observer Hezbollah embraced "strategic patience" until the appropriate moment when the country faced the abyss of civil strife, assuming that Lebanon's stability coexisting with Hezbollah's preponderance influence is more favorable than civil strife.
Before long, on January 21, a new government was born filled with technocrats.
However, the members of the new government were nominated by Hezbollah and its allies.
In other words, the new government has worn the technocratic mask on the face of the political elite that the rebels have striven to dislodge.
Moreover, on closer observation, it seems that Hezbollah has reached an agreement with the Syrian regime by placing the important interior ministry in the hands of General Muhammad Fehmi, reportedly considered close to both the Syrian regime and Hezbollah. General Fehmi served as the head of the Military Security branch in Military Intelligence during Syrian occupation of Lebanon.
Thereafter, he headed the Lebanese Mine Action Center, which worked to clear Israeli cluster bombs and mines in southern Lebanon.
To be sure, the formation of the government was a virtual revolution against the popular revolution. No doubt, the protesters would not only continue but also escalate the tempo of their revolution for many of them feel they have nothing more to lose.
Besides being angry and desperate, they feel their present and future and that of the country have been robbed by the gangsters who have ruled Lebanon since the end of the civil war in 1990.
Significantly, though it's hard to control angry people feeling trampled upon by central authorities, it's imperative that protesters remain peaceful in withstanding the vagaries of their revolution.
The revolution cannot and should not be militarized and/or turn violent, as some rebels are calling. There are already voices on social media asserting that a revolution cannot succeed without blood. This is wrong and immature.
In fact, this is tantamount to suicide and/or making the hope of the political elite including Hezbollah come true, for they will in the name of stability suppress violently the revolution.
Some observers look at the protests in Hong Kong as a recent example. Violence by the protesters gave legitimacy to the ruling party to maintain its position and suppress the protest.
No less significant, the revolution has a number of great leaders but it does not have a leadership to provide and implement strategy and discipline. Despite its appeal and rightful demands, the Revolution has underestimated the staying power of the political parties that have monopolized power and patronage.
The revolutionary slogan removing them all (Kullun Ye'ni Kullun) is easier said than done, especially without a unified leadership and strategy.
At this critical juncture, in order to save the revolution and save the country, it is essential for the leaders of the revolution to unify their ranks and outlook under one leadership and partner with retired army officers who have been supporting the revolution.
A leadership combining civil activists/leaders and honorable retired officers is essential to narrow the dangerous deepening gap between the LAF and demonstrators.
Generals Khalil Helou, Chamel Roukoz, George Ghanem, among others, could play profound roles in helping secure stability while continuing the struggle for reform.
Fundamentally, strategic priority should be given to early elections.
The Christian Phalange party and Lebanese Forces have publicly called for early elections. Efforts must be made to bring first Harriri's Future Movement and Jumblatt's Progressive Socialist Party on board, then Gibran Bassil's Free Patriotic Movement.
Bassil, son-in-law of President Michel Aoun and former foreign minister will most likely follow suit, given his recent statements indicating his readiness to make concessions to save the country. It will then be difficult for Hezbollah to oppose or boycott the election.
The protesters, whose grievances, courage and aspiration for better Lebanon, have created an unprecedented non-sectarian, reformist revolutionary movement to stifle endemic corruption, patronage and foreign meddling in Lebanon's affairs. Yet their path will be hardly navigated employing violence and/or lacking a unified leadership and strategy to challenge the formidable power and machinations of the developing Russian-Iranian-Syrian-Hezbollah alliance.
*Robert G. Rabil is a professor of Political Science at Florida Atlantic University. He can be followed @robertgrabil and www.robertrabil.com.
https://www.eurasiareview.com/23012020-saving-the-revolution-and-lebanon-oped/?fbclid=IwAR1HO5Lj-G8hebXvkwZ37He9Cu1nA3aFTOTrmH52ELPSR7nlREz_azKJsJ8
From Robert Rabil' Face Book Page/Main arguments:
January 23/2020
Colleagues,
Main arguments:
1- Lebanon has reached a failed state status.
2- Violent altercations between LAF and protesters need to stop, for both entities are most needed for stability and political transition.
3- The new technocratic government is in name only! It's a decorated facade.
4- Hezbollah and Syrian regime, by extension Russia and Iran, reached an understanding over reviving some Syrian role in Lebanon.
5- a violent revolution is tantamount to suicide.
6- An alliance between honorable retired generals (who supported revolution) and revolution leaders is a must to provide stability.
7- Revolution must appoint a unified leadership to speak with one voice and apply a strategy, minimizing the swelling of voices calling for violence.
8- Strategy should revolve around how to continue revolution toward early elections.
9- Revolutionaries have a taken an unprecedented inclusive stand for better Lebanon. Yet path is difficult as new dynamics include machinations and developing alliance not yet fully shaped by Hezbollah, Syria, Iran and Russia. Russian role is a variable.
Lebanon, Japan have 40 days to agree on fate of ex-Nissan boss Ghosn
Reuters, Beirut/Thursday, 23 January 2020
Lebanon and Japan have about 40 days to decide whether ousted Nissan boss Carlos Ghosn will be extradited to Japan or stand trial in Lebanon, a judicial source and a source close to Ghosn said on Thursday, following his escape from Japan last month. Ghosn fled to Lebanon, his childhood home, as he was awaiting trial on charges of under-reporting earnings, breach of trust and misappropriation of company funds, all of which he denies. Japan and Lebanon have no extradition agreement and Lebanon does not typically hand over its nationals. Ghosn's legal team is hoping to hold the trial in Lebanon, where the former auto executive enjoys deep ties and hopes to clear his name. Japan has in recent days asked Lebanon to clarify what files Tokyo needs to send as part of an official extradition request, the two sources said. "They came back and requested a clarification. Today, we sent that to the Japanese," the judicial source said. That communication is significant because, according to Interpol rules on due process, it triggers a 40-day period by the end of which agreement must be reached between the countries on where and how Ghosn will stand trial, the sources said. The source close to Ghosn said Japan must now either send a formal extradition request to Lebanon or send Ghosn's file to Beirut and agree on a process for trying him there. Ghosn, who holds Lebanese, French, and Brazilian nationality, was questioned earlier this month by Lebanese prosecutors who imposed a travel ban as part of the Interpol arrest warrant process. Japanese prosecutors have said they are still pushing for Ghosn to be tried in Japan. Ghosn has struck out at what he has called Japan's unjust judicial system and said the alternative to fleeing would have been to spend the rest of his life languishing in Tokyo without a fair trial.