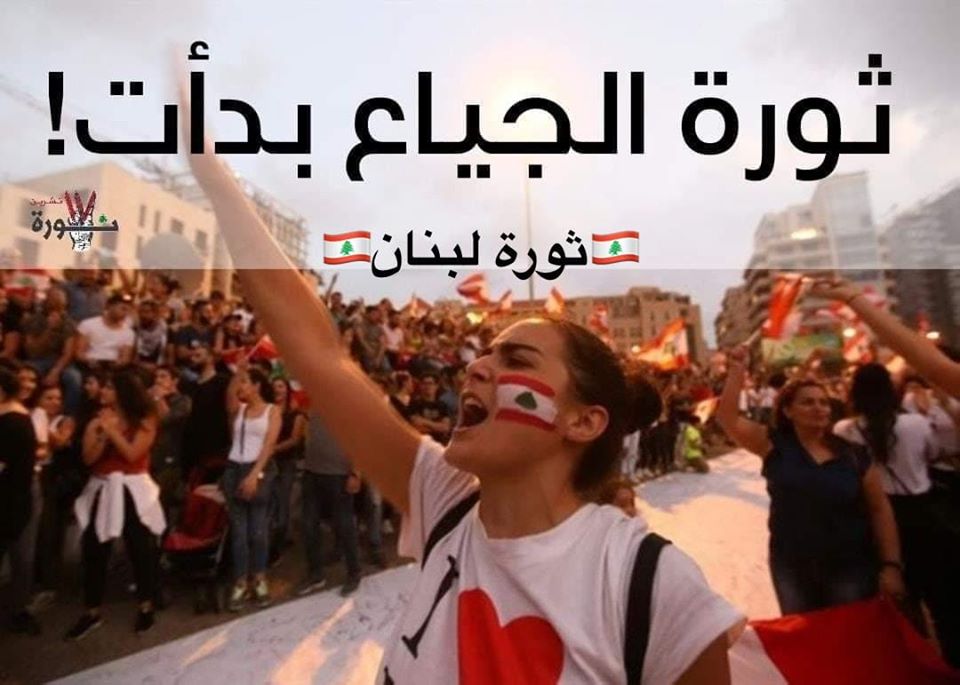 A Bundle Of English Reports, News and Editorials For January 13-14/2020 Addressing the On Going Mass Demonstrations & Sit In-ins In Iranian Occupied Lebanon in its 89th Day
Compiled By: Elias Bejjani
January 14/2020
Titles For The Latest English LCCC Lebanese & Lebanese Related News & Editorials published on January 12-13/2020
Nasrallah Is A Gowned King Of delusions, nightmares, and hallucinations/Elias Bejjani/January 12/2020
The Cancerous Hezbollah Is The Main Problem In Lebanon/Elias Bejjani/January 11/2020
Protesters Injured in Sidon as Scuffles Erupt on Ring Highway
Aoun tasks Bou Saab to offer condolences in Muscat, tackles developments with Baabda itinerants
Berri: Diab set cabinet formation terms that complicated his task
Berri: If Diab Doesn't Want to Support Me I'll Still Support Him
Report: France Advises Diab to 'Ignore' Bassil's Govt. Terms
Bassil Seeks Government of Specialists, Media Office Says
Report: U.S. Embassy in Beirut Reinforces Security
Jumblat Meets Berri, Urges Activation of Caretaker Govt.
Lebanon Pays Outstanding U.N. Dues after Being Stripped of Vote
Mudallali tweets: Lebanon paid its UN dues
Gen. Aoun: Army Has Rescued Lebanon
Fenianos from Bkerki says Rahi's statements appeal for country's salvation
Jreissati, Japanese ambassador tackle developments on Ghosn's case
No change in Bassil's position from government of experts: press office
Beirut Prosecution presses slander charges against al-Jadeed, journalist Riad Qobeissi'
Omani Embassy receives condolences January 15, 16 & 17 on passing away of Sultan Qaboos
Carlos Ghosn Seeks Retirement Benefit from Renault
Musicians 'Play Ghosn' by Squeezing into Instrument Cases in Web Craze
Musicians 'Play Ghosn' by Squeezing into Instrument Cases in Web Craze
State of Our State' Index Highlights Further Deterioration in Lebanon in 2019
Lebanon faces Internet shutdown
Are there any legal remedies for depositors/Dan Azzi/Annahar/January 13/2020
Iran, Hizballah gird up for guerilla, rocket attacks on US forces in Iraq, rockets against Israel/DEBKAfile/January 13/2020
Will Iran and the US clash in Lebanon and Syria/Joe Macaron /Al Jazeera/January 13/2020
Analysis/U.S.-Iran Tensions Temporarily Restrain Israel on Northern Front/Amos Harel/Haaretz/January 13/2020
Iran: the Glaring Rifts/Charles Elias Chartouni/January 13/2020
Details Of The Latest English LCCC Lebanese & Lebanese Related News & Editorial published on January 13-14/2020
Nasrallah Is A Gowned King Of delusions, nightmares, and hallucinations
Elias Bejjani/January 12/2020
Sadly Sayed Nasrallah lives in a world of his own grandiose delusions and accordingly he is totally detached from reality. In this sickening realm comes his 'One Thousand Nights and One Day,' Tale stylish speech of today that was mere fabrications lies, fantasies. Definitely he himself does not believe a word of his inflated threats, allegations and lies. In reality, this man and his mercenary terrorist Iranian party, the so called Hezbollah, are a cancerous catastrophe that is destroying Lebanon and every thing that is Lebanese
The Cancerous Hezbollah Is The Main Problem In Lebanon
Elias Bejjani/January 11/2020
No solutions could ever take place in occupied Lebanon before the total eradication of the cancerous Hezbollah and the burying for ever its two big devastating lies the so evilly and falsely called resistance and liberation.
Protesters Injured in Sidon as Scuffles Erupt on Ring Highway
Naharnet/January 13/2020
Scuffles erupted Monday evening on the Ring highway in central Beirut after security forces tried to reopen the road, which was blocked by anti-government protesters. Several people were meanwhile injured in scuffles between the army and protesters at Sidon's Elia square.
MTV said protesters blocked most internal roads in the city after the scuffles. Several arrests were also made during the confrontation. Many roads were meanwhile blocked in the northern city of Tripoli. Although protests have declined in size, demonstrations have been ongoing since October 17, increasingly targeting banks and state institutions blamed for driving the country towards collapse. The movement has been fueled by a crippling economic crisis, the worst since Lebanon's 1975-1990 civil war.
Aoun tasks Bou Saab to offer condolences in Muscat, tackles developments with Baabda itinerants
NNA/January 13/2020
President Michel Aoun will receive, tomorrow at 11:00 am, the dean of the diplomatic sector, papal Ambassador, Monsignor Joseph Spitri, members of the Arab and foreign diplomatic sectors, and heads of international organizations accredited in Lebanon, to congratulate the President on the occasion of holidays, according to an established annual tradition.
The Papal Ambassador will deliver a speech on behalf of the diplomats, afterwards President Aoun will respond with a speech in which he addresses Lebanon's position concerning current local, regional, and international developments.
The President of the Republic met MP, Fouad Makhzoumi, and discussed with him the general situation.
After the meeting, Makhzoumi said that the visit is to congratulate the President on the occasion of the glorious feasts and New Year, hoping that it will be a good year for Lebanon.
"The discussion touched on general conditions in the country, especially the difficult economic and financial living conditions which Lebanon is going through" Makhzoumi added, pointing out that the Lebanese are looking for stability and a Government of specialists meeting their demands and rights which were lost for thirty years. "What is required is to accelerate the establishment of a transitional rescue Government, whose primary concern is to stop the financial and economic deterioration, and restore confidence in Lebanon as soon as possible".
MP Makhzoumi also considered that "The economic situation is no longer tolerable and that and that trust in banks has been lost, which is very dangerous, especially after the banking sector was the first pillar of the Lebanese economy". He considered that "A large part of the responsibility falls on the financial engineering which brought the country to this situation, and on the Association of Banks whose procedures violated monetary and credit laws". In addition, Makhzoumi pointed out that "Negligence and disregard for the small depositors will not pass, the Lebanese and the October 17 Revolution for them are on the lookout. The House of Representatives called for the adoption of a repeated accelerated law to protect the accounts of the small depositors who make up 86% of the depositors in banks, in order to reassure people of their savings".
Finally, while stressing that "It is unacceptable that Lebanon delayed payment of UN dues while we wait for support from the International Community", Makhzoumi condemned the caretaker Government's absence from duties, considering that "A large part of the repercussions of the crisis falls on the responsibility of this Government".
President Michel Aoun received former Minister, Fady Abboud, and deliberated with him the situation of the Lebanese Industrial sector.
The President reviewed with Abboud the general condition in the country, especially the conditions of factories and industrial institutions, and what they are suffering as a result of the current crisis, and the import of raw materials for the national industry.
Sultan Qabous's Death Condolences:
President Aoun sent the Minister of National Defense, Elias Bou Saab, to Muscat to offer condolences, on his behalf and on behalf of the Lebanese people, on the death of Sultan Qabous Bin Said.
Bou Saab, who will be accompanied by an official delegation, will convey President Aoun's congratulations on the appointment of Sultan, Haitham Bin Tariq Al Said, to succeed the late Sultan Qabous.
Congratulations From Trump and Merkel:
President Aoun received congratulation cards, on the occasion of holidays, from US President, Donald Trump, and German President, Frank Walter Steinmeier, and Chancellor, Angela Merkel.–Presidency Press Palace
Berri: Diab set cabinet formation terms that complicated his task
NNA/January 13/2020
Speaker of the House, Nabih Berri, said on Monday that Prime Minister-designate, Hassan Diab, has complicated his cabinet formation task by setting upon himself "unnecessary conditions". Speaking to a delegation from the Press Syndicate, Berri said that despite his intention to support Diab, his team's participation in the cabinet won't be necessary. "50 percent of the causes behind the prevailing economic crisis are for political reasons; we have gone through bigger crises and we have overcome them," Berri added, noting that the current economic crisis has not been experienced by Lebanon since 1914.
As for the nature of the ongoing protests, Berri said that he had felt as if he were one of the protesters in the beginning of it all; however, he added that this was no longer the case as things changed. "There is no longer a revolution. Protests are simply being led by three local TV stations," he added. Moreover, Berri reiterated the importance of having the caretaker cabinet carry out its duties.On the other hand, Speaker Berri received at his Ain El Tineh residence the French Ambassador to Lebanon, Bruno Faucher, with whom he discussed most recent political developments. Berri also met with "Strong Republic" bloc MP Ziad Hawat, with the latest developments featuring high on their talks. Among Berri's itinerant visitors for today had been Ambassador George Khoury.
Berri: If Diab Doesn't Want to Support Me I'll Still Support Him
Naharnet/January 13/2020
Parliament Speaker Nabih Berri on Monday said that Prime Minister-designate Hassan Diab "has imposed on himself conditions which were not required from him, which has made the formation process more difficult for him."Calling for the formation of "a government that combats corruption and rescues the country," Berri added: "I don't want Hassan Diab to confine me or to confine himself. If he doesn't want to support me I will still support him.""I will back him, but it is not necessary that I take part" in the new government, Berri went on to say, in remarks to a delegation from the Press Syndicate. "Fifty percent of the economic deterioration has purely political reasons and I assure you that it is possible to rescue Lebanon and halt the decline, seeing as politics is the main issue," the Speaker added. "I have rejected a purely political government and a government should be formed as soon as possible," Berri said, noting that his bloc would grant it its confidence. Commenting on the popular uprising that has been rocking Lebanon since October 17, the Speaker said: "In the beginning, I felt that I was one of them, but things have changed and there is no revolution anymore. The protest movement is being led by three TV channels."Berri also reiterated that the caretaker government should perform its duties.
Report: France Advises Diab to 'Ignore' Bassil's Govt. Terms
Naharnet/January 13/2020
France has reportedly warned of an "economic collapse" and an "explosion of protests" in Lebanon shall the PM-designate form a government of politicians as desired by the head of the Free Patriotic Movement and his allies,Nidaa al-Watan daily reported on Monday.
Prominent French sources, who spoke on condition of anonymity, warned that an imperative collapse of the economy and a howl of street protests shall erupt if PM-designate Hassan Diab renounces his initial call for a government of technocrats and accepts conditions of caretaker Foreign Minister Bassil to form a government of politicians. "If Diab accepts Bassil's terms it means he will form a government of politicians that will neither have the support of the street nor the international community. The explosion of the street and the collapse of the economy will become imperative," said the sources.
They sounded surprise at the "maneuvering" of Lebanese politicians who "instead of focusing on the ailing economy, they embark on bad maneuvers and carry on with disrupting (the formation of a government) meanwhile the country and people are paying the price and the street will explode in anger because of the disastrous economic and financial conditions.""Hizbullah and its allies have a majority in the parliament but despite that they were unable to form a government," said the sources. Adding that "if they (Hizbullah and allies) were able to do so under their conditions, then it is unlikely that France's international partners will not provide basic support to Lebanon." The French sources said the new Lebanese government, "no matter who heads it" must have credibility in the eye of Lebanese people and the international community. Bassil argues that the "regional crisis" compels the formation of a techno-political government in Lebanon and insists on the "Shiite duo," Hizbullah and AMAL Movement, that Diab forms such a government. Bassil also reportedly insists on getting seven ministerial seats, meanwhile the Shiite duo, who wanted five portfolios before, insist on getting seven seats now leaving no seats for the PM himself, according to reports.

Bassil Seeks Government of Specialists, Media Office Says
Naharnet/January 13/2020
Caretaker Foreign Minister Jebran Bassil on Monday denied "fabricated" reports accusing him of insisting on the formation of a techno-political government which defies the people's will and the announcement of PM-designate Hassan Diab. In a statement released by the minister's media office, Bassil said Nidaa al-Watan daily published "fabricated report" accusing the minister of "turning against the formation of a government of specialists." "Bassil has not for one moment changed his mind and still insists on a government of specialists," added the statement.The Minister "affirms that the Free Patriotic Movement is committed to supporting a government composed of personalities who are credible, honest and trustworthy," added the statement.

Report: U.S. Embassy in Beirut Reinforces Security
Naharnet/January 13/2020
A US Marine Corps force of 35 soldiers arrived in Lebanon a few days ago, with the aim of intensifying security measures at the U.S. Embassy located in Awkar, al-Akhbar daily reported on Monday. The daily said that the US troops arrived by plane that landed at the Hamat military airport, not through the Rafik Hariri International Airport in Beirut. The step comes after a deepening regional crisis between the US and Iran amid fear of reprisals in response to the US assassination of key Iranian General Qassem Soleimani and top Iraqi military figure Abu Mahdi al-Muhandis.Hamat Air Base is a Lebanese Air Force base that was never used as a civilian airport. It also operates with Puma helicopters. The airfield is also used by the Special Forces school.
Jumblat Meets Berri, Urges Activation of Caretaker Govt.
Naharnet/January 13/2020
Progressive Socialist Party leader Walid Jumbat held talks Monday in Ain el-Tineh with Parliament Speaker Nabih Berri.
"The country cannot remain in this state of collapse," Jumblat said after the meeting. Warning that "vacuum is increasing in the country," the PSP leader said "the work of the caretaker government is as important as the formation of a new government." Jumblat also confirmed that he has communicated with MP Jamil al-Sayyed over the Druze seat in the new government, voicing surprise that Sayyed "is among those forming the government."
Lebanon Pays Outstanding U.N. Dues after Being Stripped of Vote
Agence France Presse/Associated Press/Naharnet/January 13/2020
Lebanon's representative to the U.N. Monday said the crisis-hit country has paid outstanding dues it owes the international body after it lost voting privileges because it was behind on payments. "Lebanon paid its dues that were delayed (a) few days… and everything is back to normal," Amal Mudallali, the country's ambassador to the U.N., said in a post on Twitter. "Lebanon is not under article 19 anymore," she added, referring to a U.N. provision that allows the body to strip a member state of voting privileges if they have fallen behind on financial contributions. U.N. spokesman Stephane Dujarric for his part said that the U.N. controller reported Monday that Lebanon has made the payment and "Lebanon's voting rights have been fully restored." Dujarric said: "We fully recognize that the recent events in Lebanon have challenged the banking system, delaying part of this money." The U.N. on Friday said that Lebanon was among seven countries which would lose the right to vote in the General Assembly because of a failure to pay dues. This sparked a social media outcry in Lebanon, with many blasting the government for putting the country in such a position. The small Mediterranean nation is facing its worst economic crisis since the 1975-1990 civil war. The World Bank says that Lebanon is in recession, and has warned that the proportion of people living in poverty could increase from a third to half the population. The economic downturn coincides with an anti-government protest movement that has been active since October 17.Protesters are demanding the removal of a political class they deem incompetent and corrupt.
Mudallali tweets: Lebanon paid its UN dues
NNA/January 13/2020
Lebanon's Permanent Representative to the United Nations, Ambassador Amal Mudallali, said in a tweet that Lebanon has settled its dues to the United Nations. "Lebanon paid its dues that were delayed few days because of the current situation in Lebanon and everything is back to normal. Lebanon is not under article 19 anymore," Ambassador Mudallali tweeted.
Gen. Aoun: Army Has Rescued Lebanon
Naharnet/January 13/2020
Army Commander General Joseph Aoun on Monday noted that "a day will come when it will be said that the army has rescued Lebanon," referring to the military's approach in dealing with the unprecedented protests that have been rocking the country since October 17.
"The army's approach towards civilians is based on the military institution's belief in the right to assembly and freedom of expression, but this does not at all stand for leniency with any security violator, unethical actions or road-blocking moves," Aoun said as he inspected the command of the Sixth Intervention Regiment in Riyaq. "A day will come when it will be said that the army has rescued Lebanon," Aoun added. Lauding the armed forces' "composure and restraint in dealing with the protests," the Commander pointed out that their behavior has won "the praise of international institutions, especially when compared to similar circumstances in other countries."Although protests have declined in size, demonstrations have been ongoing since October, increasingly targeting banks and state institutions blamed for driving the country towards collapse. The movement has been fueled by a crippling economic crisis, the worst since Lebanon's 1975-1990 civil war.
Fenianos from Bkerki says Rahi's statements appeal for country's salvation
NNA/January 13/2020
Maronite patriarch, Mar Bechara Boutros Rahi, on Monday received in Bkerki, Caretaker Minister of Public Works and Transportation, Youssef Fenianos, who conveyed to him Marada Movement leader Sleiman Frangieh's well-wishes marking the new year. In the wake of the meeting, Fenianos said that the patriarch's sermons constituted "an appeal to those responsible for the salvation of the country."
Jreissati, Japanese ambassador tackle developments on Ghosn's case
NNA/January 13/2020
Caretaker State Minister for Presidency Affairs, Salim Jreissati, on Monday received in his office at the Baabda palace Japanese Ambassador to Lebanon, Takeshi Okubo, with whom he discussed the latest developments concerning Businessman Carlos Ghosn's case.
Ambassador Okubo thanked "the President of the Republic, General Michel Aoun, and the Lebanese government for following up on this dossier, and their keenness on the Lebanese-Japanese relations and ways of developing them in all fields."
No change in Bassil's position from government of experts: press office
NNA/January 13/2020
The press office of Caretaker Foreign Minister, Gebran Bassil, denied Monday that the latter's position from a government of experts had changed, as claimed in an article issued by Nidaa al-Watan daily. "[Bassil] hasn't change his position at all and he still insists on a government of experts," his press office said in a statement. It added that the Free Patriotic Movement was committed to backing a government comprising competent and trusted figures.
Beirut Prosecution presses slander charges against al-Jadeed, journalist Riad Qobeissi
NNA/January 13/2020
The State Prosecution of Beirut on Monday pressed charges of slander and liber against al-Jadeed TV channel and journalist Riad Qobeissi, and referred them to the court of publications for trial, following a complaint lodged by Customs' Director General, Badri Daher.
Omani Embassy receives condolences January 15, 16 & 17 on passing away of Sultan Qaboos
NNA/January 13/2020
Sultanate of Oman Embassy in Lebanon announced that it will open the condolence register on the passing away of late Sultan Qaboos bin Said bin Teymour, on Wednesday, Thursday and Friday January 15, 16 & 17, at the Embassy in Beirut.
Condolences will take place from 10.00 am until 2.00 pm.
Carlos Ghosn Seeks Retirement Benefit from Renault
Agence France Presse/Naharnet/January 13/2020
The former chief executive of Renault Carlos Ghosn, who fled Japan while awaiting trial on financial misconduct charges, is seeking the payment of a retirement payment by the French carmaker that he says was unfairly withheld. Ghosn has filed a complaint with a French employment tribunal in Boulogne-Billancourt outside Paris, where Renault is headquartered, a source close to Ghosn told AFP, confirming a report in Le Figaro daily. A Renault spokesman said the company had received notice of the lawsuit in December. Both sides said a hearing is expected at the end of February, without giving a precise date.
The claim focuses on the payment of a retirement benefit of 250,000 euros ($278,000) which Renault did not pay on the grounds that Ghosn quit at the end of January 2019 while he was still in prison in Japan. Ghosn, 65, was arrested in Tokyo in November 2018 on charges of financial misconduct while head of Renault's alliance partner Nissan, including a claim he under-reported millions of dollars in salary.However, his team argues Ghosn did not quit of his own free will but left the company as he was no longer able to lead it from behind bars. A source close to Ghosn also added that an even larger claim is planned at a French commercial court to obtain an annual supplementary pension of 774,774 euros ($861,700) per year, as well as 380,000 shares granted for reaching performance targets. These shares, handed out from 2015-2018 on the condition he was still at the firm four years later, are now worth 15.5 million euros at current prices. Ghosn fled Japan for Lebanon in late January while awaiting a trial he said would not be fair under Japan's legal system.
Musicians 'Play Ghosn' by Squeezing into Instrument Cases in Web Craze
Agence France Presse/Naharnet/January 13/2020
Yamaha has warned musicians in Japan against stuffing themselves into their instrument cases to mimic the escape technique allegedly used by fugitive ex-tycoon Carlos Ghosn. Ghosn, who faces financial misconduct charges in Japan, managed to slip past authorities at the end of December reportedly by smuggling himself on board a plane inside an audio equipment box. The 65-year-old has refused to shed light on how he ghosted out of Japan to Lebanon, but that has not stopped a string of internet users "playing Ghosn" by posing in cases usually meant to protect big instruments. In one picture posted to Twitter, a young woman curled up inside a padded green harp case, while another post appeared to show somebody standing in a double bass gig bag. The stunts have not chimed with Japanese instrument manufacturer Yamaha, however, who sounded a note of caution warning people against the trend.
"There have been a large number of tweets showing people climbing into large instrument cases," tweeted Yamaha Wind Stream, the company's account for information on wind instruments. "To avoid the possibility of a tragic accident, please do not do this… Musical instrument and audio equipment cases are designed to hold musical instruments and audio equipment. Please use them correctly." Ghosn, arrested on financial misconduct charges in 2018, jumped bail and fled in mysterious circumstances to Lebanon, where he gave a rambling press conference last week. The Wall Street Journal reported that he was snuck on to a private jet in Osaka in a large case for audio equipment, which was later found at the back of the cabin. The newspaper cited unnamed sources close to the investigation in Turkey as saying that holes had been drilled into the container to ensure the businessman could breathe.
The report was accompanied by a picture of a large black case which The Wall Street Journal claimed was the one used by Ghosn.

State of Our State' Index Highlights Further Deterioration in Lebanon in 2019
Naharnet/January 13/2020
The Lebanon Renaissance Foundation has released its 2019 version of the 'State of Our State' index, which exposes further deterioration at most levels in Lebanon in 2019.
"Some of the worst scores (related to quality of political leadership and debt settlement record) were offset by three improvements induced by the October 17th uprising: efficiency of civil society; limiting corruption and freedom of speech," LRF said in a statement emailed to Naharnet.
"State of our State compiles, on annual basis, the observations of people hailing from diverse backgrounds, all of whom members of the Foundation (civil society activists, former officials and business leaders) and whose profiles can be found on LRF's website under About Us – Board of Directors and Senior Staff," LRF explained.
"Basic functions of a State are to provide physical security, efficient institutions and a capable administration. The Goal of this index is to evaluate Lebanon's situation and share results with the Lebanese public in a succinct manner. It also enables us to prioritize initiatives that are to be addressed by our foundation," the Foundation added.
Thirteen criteria have been specifically adopted to reflect the Lebanese conditions. Those same criteria are also evaluated for a model country (Norway) thus enabling the final Lebanese result to be compared to a benchmark or model.
Each of the following 13 criteria is evaluated on a 0 to 10 scale by the evaluators (worst to best) for both Lebanon and Norway and a simple arithmetic average for all evaluators comes out as the index figure for the elapsed year (2019).
1. Stability over 3 years (LEB 3.3 – NOR 8.7)
2. Citizens' personal security (LEB 4.2 – NOR 8.6)
3. Government control over territory (LEB 3.4 – NOR 9.4)
4. Capacity to resist foreign influence (LEB 2.1 – NOR 8.2)
5. Rule of law (LEB 3.0 – NOR 9.0)
6. Quality of political leadership (LEB 1.4 – NOR 8.0)
7. Freedom of speech (LEB 5.0 – NOR 9.0)
8. Cultural and religious tolerance (LEB 5.0 – NOR 8.0)
9. Efficiency of civil society (LEB 6.0 – NOR 8.0)
10. Limiting corruption (LEB 2.5 – NOR 8.0)
11. Confidence in public institutions (LEB 2.0 – NOR 8.0)
12. Economic transparency (LEB 2.1 – NOR 9.0)
13. Sovereign debt settlement record (LEB 2.1 – NOR 8.0)
Score over 10: LEBANON 3.2 – NORWAY 8.5
– Last year (2018) result
Lebanon 3.2/10
Norway 8.4/10
– 2017 result
Lebanon 3.4/10
Norway 8.5/10
– 2016 result
Lebanon 3.7/10
Norway 8.3/10
Lebanon faces Internet shutdown
Ogero Chairman Imad Kreidieh confirmed on Twitter that he is facing "tremendous pressure" to secure $4 million in foreign currency to avert a shutdown by the end of March.
Annahar/January 13/2020
BEIRUT: Lebanon is at risk of being disconnected from the global web as it struggles to secure the requisite dollars to maintain Internet connectivity. Ogero Chairman Imad Kreidieh confirmed on Twitter that he is facing "tremendous pressure" to secure $4 million in foreign currency to avert a shutdown by the end of March.
"The fact is we are facing tremendous pressures from our suppliers to secure [foreign exchange]. It's pure and simple," Kreidieh said Monday. Lebanon's state-owned Ogero receives its internet connection from international suppliers before transmitting it to the rest of private ISPs.
Trump lashes out at Iran for shutting down internet
After his tweet, Kreideh sought to ease mounting concerns over the possible blackout, telling LBCI that the "Telecommunication Ministry will not let it happen.""This is out of the question, until now," he said. The shortage of dollar liquidity has raised fears over local businesses and companies' ability to maintain the import of both basic and luxury goods. Last week, Lebanon's Electricity Du Liban sounded the alarm over the gradual disappearance of dollars in the market, saying that it may reduce the hours of services. Meanwhile, Energy Minister Nada Boustani said that "fuel reserves will last until the end of February", with electricity production in Beirut to be reduced to 16 hours daily, while other regions will be allocated around 10 hours of power. Lebanon has been grappling with its most severe economic crisis in decades, with the shortage of dollar liquidity sending ripples across several industries. Banks have implemented informal capital controls, limiting withdrawals to $200 per week. Meanwhile, credit and lending have also been capped or halted to ration deposit withdrawals and external transfers.
Are there any legal remedies for depositors?
Dan Azzi/Annahar/January 13/2020
If a bank tells you that they refuse to give your money, doesn't this meet criterion 1 of Article 2?
I'm not a lawyer, so I shouldn't be writing this article, but since nobody else did, I thought I'd jump in myself. I once tweeted on this topic, so consider this article an expanded version. There's not much original thought — I'm just translating Lebanese jurisprudence on the topic, mainly Law 2/67 passed on January 16, 1967, 53 years ago, almost to the day. For such an old law, it is surprisingly comprehensive because it's simple and it was written at a time when banking was simple, before it was polluted by financial engineering.
Here are some excerpts:
Article 1: All banks, operating in Lebanon, that "stopped paying" are subject to this law.
Article 2: Upon proving that a bank has stopped paying, it is incumbent upon the Governor of the Central Bank to ask the relevant court to apply this law on the delinquent bank and inform the Minister of Justice and the Minister of Finance. A bank is considered to have "stopped paying" if any the following conditions apply:
Central Bank slashes interest rates on deposits
1. If the bank announces that it stopped paying.
2. If the bank does not meet any obligation to the central bank upon maturity.
3. If the bank withdraws a check drawn on the central bank with insufficient funds.
4. If the bank does not provide sufficient liquidity to cover an account resulting from clearinghouse operations.
Article 4: Every claimant is entitled to ask the relevant court to apply the articles of this law in the two cases referenced in Article 489 of the Trade Law.
Article 6: The court shall examine, and in the event of compliance, shall issue an accelerated decision to declaring the delinquency and assign a date for the breach, after taking into account the Governor's opinion, as well as the opinion of the representative of the effected bank, and this decision would be to remove all board members of the delinquent bank.
Article 13: All monies, tangible and intangible, belonging to natural persons presently holding positions as board members for the bank that stopped paying, as well as all senior bank officers with signing authority, as well as its auditors, and those who held such positions in the 18 months preceding the breach, shall be deemed preemptively frozen without any need for further legal action, in order to guarantee all their obligations … These persons shall declare to the management committee all assets they possessed one year before the delinquency … If they fail to comply they are subject to incarceration and jail time …
Article 14: The General Prosecutor, or temporarily assigned bank manager or management committee shall seek to prosecute the persons mentioned in the previous article for civil, as well as criminal penalties, under the bankruptcy provisions.
Article 15: As of the delinquency date, all these persons shall be deemed to have waived bank secrecy laws, by virtue of accepting their positions.
I will leave it to a real lawyer to analyze which one, if any, of the 4 criteria of Article 2 apply to our current situation; however, here are my thoughts:
If a bank tells you that they refuse to give your money, doesn't this meet criterion 1 of Article 2?
Does issuing a bankers check that bounces, when deposited overseas, not meet criterion 4 in article 2? Isn't a bankers check simply a promissory note and not a method of payment, until it meets the purpose it was intended by the depositor?
Iran, Hizballah gird up for guerilla, rocket attacks on US forces in Iraq, rockets against Israel
DEBKAfile/January 13/2020
After recovering from the fallout of the Ukrainian jet disaster, Tehran will revert to its plan of assault on US bases across the Middle East, starting in Iraq. That was one of the deductions made by DEBKAfile's military and intelligence sources from the synchronized threats coming on Sunday, Jan. 12 from Revolutionary Guards chief Maj. Gen. Hossein Salami and Hizballah chief Hassan Nasrallah in Beirut. Gen. Salami, speaking at a closed session of the Iranian parliament, said: "Our operations against the United States are not over." Nasrallah: "The response to Soleimani's killing is not a single operation [the missile attack on two US bases in Iraq] but rather a long course that leads to the ouster of American forces from the region." The Hizballah leader, reflecting his Iranian master's voice, added that the attacks on the US military in Iraq should be taken by Israel as a serious warning of what lies ahead if attacks on Iranian targets continue. The two Shiite military leaders' words debunked the sanguine assessments prevailing in America and Israel that by hitting the two US bases, Tehran had closed the account for the killing of al Qods commander Qassem Soleimani. Indeed, bucked up by the Trump administrations non-response to that strike, the Islamic regime is determined to press on. Undeterred by the embarrassment caused by being caught out in a lie over the shooting down of the Ukrainian airliner, killing all 176 people aboard, Iran's Revolutionary Guards have continued non-stop to pump large quantities of rockets and other weapons systems, such as heavy mortars and equipment for guerrilla warfare, to the Iraqi Shiite militias under their control. Those militias were ordered until now to hold back from participating in Iran's latest strikes against the US. This was mistaken for Iranian restraint, when, in fact, our sources report, Tehran is only taking time – two or three weeks at most – to replenish the militias' stocks of weaponry and prepare the fighting strength for the next, escalating stage of its campaign. Iran appears to be planning to replicate the Shiite militia campaign conducted 14 years ago which harassed US forces in Iraq on the move in convoys and in bases with IED roadside bombs. Another part of this plan is expected to include rocket bstrikes against Israel.Until then, Iran is not desisting entirely from aggressive operations. On Sunday, Jan. 12, the Al-Balad air base, 70km north of Baghdad, which is also used by US forces, took 8 Katyusha rockets. Four Iraqi troops were injured.
Will Iran and the US clash in Lebanon and Syria?
Joe Macaron /Al Jazeera/January 13/2020
Banks in Lebanon are being increasingly targeted
On January 3, a US drone strike killed Iranian General Qassim Soleimani, head of the Quds Force of the Islamic Revolutionary Guard Corps (IRGC), shortly after he landed in Baghdad following a visit to Lebanon and Syria. On January 8, the Iranian regime retaliated by firing ballistic missiles at military bases in Iraq housing American and Iraqi forces. While direct confrontation between Washington and Tehran remains improbable in the foreseeable future, there are questions about what implications the current escalation might have for Lebanon and Syria, especially since Soleimani was the main architect of Iranian expansion in the Levant. However, Iran might face limitations for any retaliatory actions in Lebanon and Syria it may consider.
Hezbollah Secretary General Hassan Nasrallah, who had a close relationship with Soleimani, was the first proxy leader within the Iranian orbit to speak publicly after the assassination. When officials came to offer condolences, an image of Nasrallah was seen on display at Soleimani's home, which speaks of the status he enjoys within the Iranian regime compared to leaders of other Iranian proxies.
In his January 5 speech, Hezbollah's leader said it is time for US forces to leave the region and the way to accelerate that is to attack its military positions (rather than civilians). He also made it clear that members of the Iran-led "axis of resistance", which includes Hezbollah, will decide themselves how to respond to the US, regardless of what Tehran does. In his second speech, on January 12, Nasrallah took this matter further by urging that "it is time for the axis of resistance to start working" on driving out US forces.
Since 2006, Hezbollah has acquired some form of autonomy from the Iranian regime in handling issues related to Lebanon even though the Lebanese armed group became more dependent on the Iranian regime for funding as a result of US sanctions against Lebanese banks and businesses that deal with Hezbollah. It remains to be seen if that autonomy will remain in place after the killing of Soleimani as Iran would expect more from its allies.
In a January 9 speech, IRGC Air Force commander Amir Ali Hajizadeh made it clear that Iran expects its proxies to take action. Speaking in front of the flags of Iranian backed-armed movements, including Hezbollah, he said that the next phase of retaliation will be undertaken by what he called "the resistance front". Although Hezbollah has the capabilities, experience and internal structures – led by Samer Abdallah, son-in-law of former Hezbollah leader Imad Mughniyeh, assassinated in a 2008 CIA-Mossad operation in Syria – to carry out clandestine activities abroad, it stands to lose more than gain from any operation that is seen as a retaliation for Soleimani's killing. Taking military action against the US or Israel in Lebanon or on its border also seems far-fetched at this point, given the dire economic crisis in the country and the growing frustration among the Shia community which was on display during the ongoing protests. The Lebanese protests might have a lasting impact on Lebanon more than the killing of Soleimani. Political changes they triggered managed to break apart the 2016 presidential deal backed by a tacit US-Iranian understanding that led to the selection of Michel Aoun as president and Saad Hariri as prime minister. Although Hariri resigned on October 29 under public pressure, he has not cut ties with Hezbollah and appears hopeful of making a comeback at some point.
It is not clear whether the latest round of US-Iranian tensions will change his calculus and force him to revert to anti-Hezbollah rhetoric, but his lack of funding and his political weakness could make him less inclined to go down that route. Saudi Arabia, supposedly the main regional backer of Hariri, does not seem invested in playing a major role in Lebanon, nor in escalating tensions with Iran in the foreseeable future.
The renewed US-Iranian tensions, however, might complicate the cabinet formation process, as the country faces a looming financial crisis.
Hezbollah and its allies might become keener on placing veteran politicians in key ministerial posts instead of technocrats – as the protesters have demanded – since emerging regional developments would require certain foreign policy positions from the Lebanese government. This might trigger political tensions in the country if Hariri or the US perceived the new cabinet as pro-Hezbollah.
Meanwhile, any retaliatory action in Lebanon's neighbour, Syria, might also be restrained.
While Hezbollah has significantly reduced its role in Syria, partially due to increasing frustration among its constituents in Lebanon, the group could re-emerge and potentially exploit weak points of the US forces either in northeast Syria or around al-Tanf military base near the Iraqi-Jordanian-Syrian border but this might come at a cost of US retaliation through airstrikes. Iran too could take action in Syria, especially in the face of continuing airstrikes on its positions by Israeli jets – most recently on January 10 in the Bukamal area on the Iraqi-Syrian border. Israel's emboldened operations in Syria might prompt Tehran to reinforce deterrence by switching to an offensive posture.
But both Hezbollah and Iran will be limited in what they can do by Russia's dominant presence.
On January 7, Russian President Vladimir Putin paid a visit to Syria before his trip to Turkey, which was meant as a reminder that Russia will not allow the US and Iran to move their confrontation to Syria. If Iran decides to target US forces in Syria, this might complicate its coordination and competition with Russia. Even though Moscow wants to ultimately have US forces leave Syria, for now it does not want this to happen by force under its watch. Moreover, an Iranian move against the US in Syria might also antagonise Turkey given the current arrangements in northeast Syria, and this does not serve Iranian interests since Ankara was supportive of Tehran, in rhetoric at least, after the killing of Soleimani. Iranian-backed groups in Syria are also not prepared and disciplined enough (compared to Hezbollah) to carry out a major offensive.
The assassination of Soleimani, who helped nurture close relationships with the leaders of Iranian-backed groups in Lebanon, Syria, Yemen and Iraq, is a setback for Iranian influence in the region. However, his leadership of the Quds Force was not a one-man show and Iranian institutions will carry on his legacy even if the frequency and intimacy of communications with proxy leaders may no longer be the same.
At the same time, despite the fiery rhetoric coming out of Tehran, a military response against the US or US interests in Lebanon and Syria seems less likely. In fact, both the US and Iran have little wiggle room to manoeuvre in these two countries where they may opt for less aggressive tactics.
The views expressed in this article are the author's own and do not necessarily reflect Al Jazeera's editorial stance.
*Joe Macaron is a fellow at the Arab Center Washington DC.
Analysis/U.S.-Iran Tensions Temporarily Restrain Israel on Northern Front
Amos Harel/Haaretz/January 13/2020
عاموس هاريل/هآرتس: التوتر الأميركي-الإيراني يقيد مؤقتاً إسرائيل على جبهتها الشمالية مع لبنان
http://eliasbejjaninews.com/archives/82273/%d8%b9%d8%a7%d9%85%d9%88%d8%b3-%d9%87%d8%a7%d8%b1%d9%8a%d9%84-%d9%87%d8%a2%d8%b1%d8%aa%d8%b3-%d8%a7%d9%84%d8%aa%d9%88%d8%aa%d8%b1-%d8%a7%d9%84%d8%a3%d9%85%d9%8a%d8%b1%d9%83%d9%8a-%d8%a7%d9%84/
Amid an escalation in the Gulf, Israeli officials are being cautious – and it looks like the military is doing the same ■ Tehran must meanwhile deal with unwanted consequences
The surprising and aggressive step America took when it decided to assassinate Iranian general Qassem Soleimani was welcomed enthusiastically in Israel. There was a lot of praise for U.S. President Donald Trump in local television studios this weekend, as well as hope for the return of the era of American greatness in the Middle East – and even, on the margins, dreams of a new regional order in which the ayatollahs' regime in Tehran would be speedily toppled.
But the strategic picture may well be a bit more complicated and dangerous than the rather gleeful tone that occasionally dominated the airwaves.
The Trump administration's regional policy for the last three years hasn't reflected a consistent line of thinking, but rather flip-flops, experimentation and mistakes. About 18 months ago, Trump quit the Iranian nuclear deal, as he had promised to do during his campaign. Later, he adopted the maximum pressure approach, in which he imposed severe economic sanctions on Iran and on foreign companies that traded with it.
Yet the desired outcome – an Iranian capitulation to a new nuclear accord with more demanding terms, which might even include restrictions on its regional subversion – wasn't achieved. On the contrary, ever since May, Tehran has responded with a large-scale campaign of attacks on the oil industry in the Persian Gulf, and sometimes even with attacks on American interests.
For many months, Trump responded with restraint, due mainly to his fears of getting embroiled in a war. Israel was disappointed by this lack of an American response, as evident from recent statements by Prime Minister Benjamin Netanyahu and Israel Defense Forces Chief of Staff Aviv Kochavi.
But last week, the Iranians went too far. The killing of an American citizen in a rocket attack on an Iraqi military base, followed by a mob storming the American Embassy in Baghdad (in response to an American retaliatory strike that killed 25 Shi'ite militiamen), led to a sharp change in the administration's position.
Trump stood by his red line – zero tolerance for killing Americans. And Soleimani, the commander of the Iranian Revolutionary Guards' Quds force, paid for his arrogance with his life. This arrogance was evident both in his decision to escalate his actions against the Americans and in his insistence on moving openly, as if he were invulnerable.
Far from being careful to stay under the radar, the Iranian general appeared in public frequently when his plane landed at airports around the Middle East. More than once, he even commemorated these visits with photographs that were disseminated on social media. American airstrikes hit his convoy shortly after he landed in Baghdad.
Unlike Soleimani, Hezbollah leader Hassan Nasrallah has been far more cautious, and he knows why. Now, he will doubtless be even more careful, given the similarity between American and Israeli attitudes toward the tactic that Israel called "pinpoint preventions" when it developed and perfected it during the second intifada.
According to American media reports, Trump was given several options for an intensified response against Iran. To the surprise of some of his advisers, he chose the most aggressive one, which anti-Iran hawks had long been pushing for. Soleimani, who was responsible for the murder of tens of thousands of people – including Americans and Israelis, but primarily Sunni Muslims – was assassinated.
This was a justified and appropriate decision – certainly from Israel's perspective. But it doesn't put an end to the American-Iranian conflict, which is liable to involve Israel as well. The threats of vengeance from Tehran – which have so far focused on America and largely ignored Israel – should be taken seriously.
The most likely theater for an Iranian response is Iraq, where a battle for influence is already taking place between Washington and Tehran. Saudi Arabia and the United Arab Emirates might also be hit.
The assassination is a blow to the entire "axis of resistance" led by Iran, which also includes Hezbollah, Shi'ite militias in countries throughout the region and, to a lesser extent, the Palestinian organization Islamic Jihad. Soleimani's removal will apparently erode the effectiveness of the intimidating network of terrorist and guerrilla groups that he built and whose activities he largely coordinated.
In 2008, senior Hezbollah official Imad Mughniyeh was assassinated in Damascus (a hit from which Soleimani escaped by the skin of his teeth). Iran and Hezbollah threatened to avenge his death – as well as the assassination of several Iranian scientists involved in Tehran's nuclear program – with attacks on Israeli targets. But most of those attacks were thwarted or disrupted. The reason why, in hindsight, is that after Mughniyeh's death, there was no Mughniyeh left to avenge him.
The same may well happen after Soleimani's death, though it would be foolish to underestimate the seriousness of Iran's intentions. U.S. Secretary of State Mike Pompeo said that Soleimani's assassination made the region much safer for Americans. That may be true in the long-term, but a few hours after he made that remark, the State Department ordered all Americans in Iraq to urgently leave the country.
It's reasonable to assume that the Americans warned Israel in advance about the approaching assassination. In retrospect, Netanyahu's statement on Thursday, just before he left for a visit to Greece ("Very dramatic events happen in our region. We're following them closely and are in constant contact with our great friend, the United States"), seems like a slightly-too-explicit hint about what was going to happen in Iraq a few hours later.
After the assassination, the prime minister rightly ordered his ministers to maintain radio silence, so as not to tempt the Iranians to put Israel in their crosshairs. And so far, the politicians have demonstrated uncharacteristic restraint. At the start of the third election campaign of the past year, this, too, deserves praise.
Iran: the Glaring Rifts
Charles Elias Chartouni/January 13/2020
The Iranian regime failed to regain the denied public endorsement after the assassination of Qassem Suleimani. The purported unity around the regime and its emblematic figure turned out to be a hoax less than a week after the death of Suleimani. The open challenge to the regime was highlighted in the various demonstrations where the iconic portraits of Khamenei and Qassemi were removed and torn down ( video no 1 ), and when the majority of students refused to tread on the American and Israeli flags ( video no 2 ) as an utter rejection of the regime political narrative and rhetorics. The estrangement has reached a pinnacle, let alone of point of no return, while the regime doubles down on bloody repression, dismissive self righteousness, and faked conspiracy assumptions. One wonders how this eroding legitimacy is likely to sustain if this environment of open ended crises and defiance perpetuates.