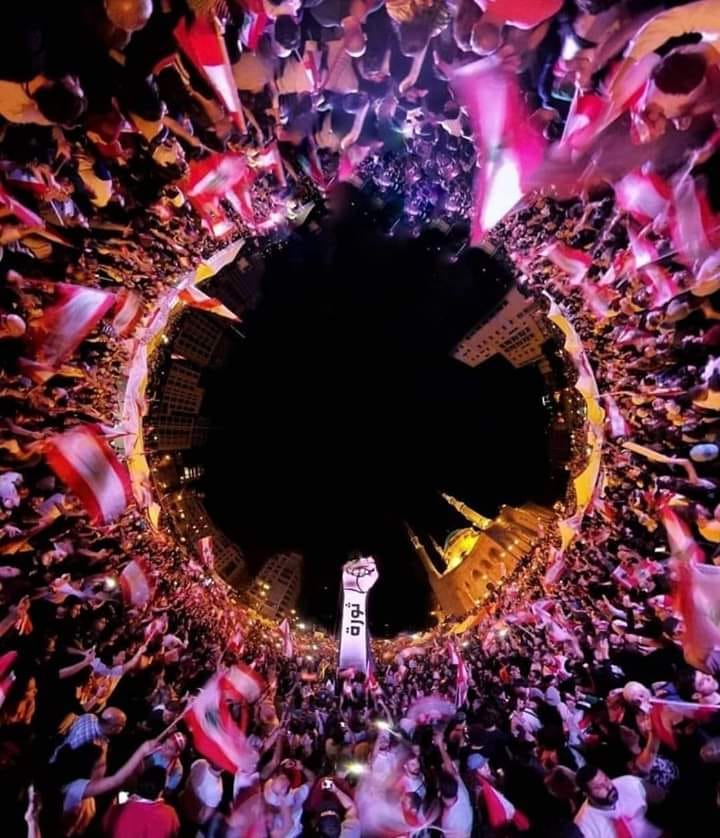 A Bundle Of English Reports, News and Editorials For January 10-11/2020 Addressing the On Going Mass Demonstrations & Sit In-ins In Iranian Occupied Lebanon in its 86th Day
Compiled By: Elias Bejjani
January 11/2020
Titles For The Latest English LCCC Lebanese & Lebanese Related News & Editorials published on January 10-11/2020
The Presence Of Iran & It Proxies In The Region Will End Very/SoonElias Bejjani/January 10/2020
The End Of Iran's Regional Terrorist Role Is Inevitable/Elias Bejjani/January 09/2020
Iran's, Mullahs' Regime Is A Terrorist and Rogue One/Elias Bejjani/January 08/2020
Lebanese protesters close road; scuffles injure 14 soldiers
Aoun, Salameh Tackle Financial Situation
Salameh Rules Out 'Collapse', Says No Bank Will Go Bankrupt
Berri Denies Seeking Political Govt., Confirms Support for Diab
Scuffles Erupt Near Beirut Municipality
Report: Diab Insists He Completes His Mission
Protesters Block Beddawi Highway after Tense Night
Ghosn Escape Proves Fresh Headache for Ailing Nissan
Ghosn Laments Brazil's Failure to 'Pressure' Japan
Bank Audi condemns Jal El Dib Branch incident
Rahi, Salameh tackle financial, economic situation
Othman meets Italian Embassy's Military Attaché
Serhan: We are keen on friendly relations with Japan
Captagon smuggling to Britain foiled, smuggler arrested
Roukoz: Cabinet is absent, Central Bank Governor polishing his own image
UNICEF calls on all stakeholders to put children first and ensure their safeguarding in these times of crisis in Lebanon
AUB Professor Saouma Boujaoude awarded top honor for distinguished contributions to science education
'Time and its Unknown Dimensions' as viewed by the Esoteric Science by Dr. Joseph B. Majdalani (JBM)
Details Of The Latest English LCCC Lebanese & Lebanese Related News & Editoarials published on January 10-11/2020
The Presence Of Iran & It Proxies In The Region Will End Very Soon
Elias Bejjani/January 10/2020
Could the So Falsely Called "Resistance and Liberation Axis" Leadership Explain how they are going to force the American's military out of the region while, their topnotch figure Sayed Nasrallah is still living underground since 14 years because of his fear from them?. In Conclusion no one can offer what he does not own.
The End Of Iran's Regional Terrorist Role Is Inevitable
Elias Bejjani/January 09/2020
دور ملالي إيران الإقليمي إلى نهاية حتمية
History repeats itself despite all odds and delusions of rogue countries. In this context, as the Saudi-Syrian marriage was ended when Rafic Hariri was assassinated by Hezbollah-Al Assad regime assassinates, at the present time, the long term eviler American-Iranian marriage is over after the killing of qassim Soliemani. Iran's regional role is going to end soon.. as well as the role of all its terrorist militia proxies including that of Hezbollah in Lebanon
Iran's, Mullahs' Regime Is A Terrorist and Rogue One
Elias Bejjani/January 08/2020
Definitely, Iran's, Mullahs' Regime Is A Terrorist and Rogue One.. In Lebanon and before dismantling Hezbollah, the Iranian armed proxy, and putting an end to its military and occupational role there will be no freedom, independence, sovereignty or any effective solution for any of Lebanon's many hardships on all levels and in all domains.
Lebanese protesters close road; scuffles injure 14 soldiers
Associated Press/January 10/2020
Police deployed to separate the two sides, after which the protesters left the area outside the municipality building in central Beirut.
BEIRUT: Protesters closed a major road in northern Lebanon, triggering scuffles with Lebanese troops that left more than a dozen soldiers injured, the Lebanese army said Friday. The incident occurred late Thursday night when protesters closed the Biddawi road near the northern city of Tripoli. They were protesting electricity cuts that can last for hours each day. Lebanese troops detained some of the protesters who had blocked the road. Later in the evening, more demonstrators came to the protest site to demand the detainees' release. They then attacked troops with Molotov cocktails and hurled stones, injuring 14 soldiers, the army said, adding eight protesters were detained in those clashes. Lebanon has seen increased electricity cuts as the country grapples with its worst economic and financial crisis in decades. Protesters took to the streets in October over proposed new taxes. But the nationwide demonstrations quickly grew into calls for an end to the rule of the political elite that has run the country since the 1975-90 civil war ended. The protesters blame the politicians for widespread corruption and mismanagement, which they say are the main reasons for the country's financial crisis.
Prime Minister Saad Hariri resigned in late October, meeting a key demand of the protesters. However, that's left the country without a government ever since, as politicians bicker over the shape of the new Cabinet. Local banks have imposed unprecedented capital controls, putting limits on withdrawals and preventing transfers outside the country. In Beirut, at least one person was injured Friday during protests calling for the resignation of Beirut's mayor and governor over alleged corruption within the municipality. The protesters were attacked by men who support the two local officials.
Police deployed to separate the two sides, after which the protesters left the area outside the municipality building in central Beirut.
Aoun, Salameh Tackle Financial Situation
Naharnet/January 10/2020
President Michel Aoun discussed the financial situation with Central Bank Governor Riad Salameh amid unprecedented capital controls and a tightening economic and political crisis gripping the country since October. The National News Agency said the two men tackled the "financial and monetary status and the measures taken by the bank in that regard."The meeting was held in the presence of Caretaker Minister of State for Presidency Affairs Salim Jreissati. Since September banks have arbitrarily capped the amount of dollars that can be withdrawn or transferred abroad, sparking fury among customers who accuse lenders of holding their money hostage. There is also a limit on Lebanese pound withdrawals. Unprecedented anti-government protests have gripped Lebanon since October 17, in part to decry a lack of action over the deepening economic crisis. The Lebanese pound has been pegged to the dollar for more than two decades at 1,507 to the greenback, and both currencies are used in everyday interactions. But with banks limiting dollar withdrawals, the rate on the unofficial market has topped 2,000 Lebanese pounds to the dollar and the cost of living has increased.
On Thursday, Salameh ruled out an imminent financial collapse in the country as he reassured that no bank will go bankrupt.
Salameh Rules Out 'Collapse', Says No Bank Will Go Bankrupt
Naharnet/January 10/2020
Central Bank Governor Riad Salameh on Thursday ruled out an imminent financial collapse in the country as he reassured that no bank will go bankrupt. "There is a crisis and difficulties, but not a collapse," Salameh said in an interview with Lebanon's MTV. "Not a single bank will go bankrupt and banks facing difficulties will be merged," he added. Noting that liquidity in the country has declined due to "the pressure created by depositors," Salameh reassured that Lebanese banks enjoy solvency. "There won't be a haircut," the Governor answered in response to a question. "The central bank does not have the jurisdiction to carry out a haircut; this needs a law," he reminded. He added: "Banks must be allowed to 'breathe' and we have devised a plan under which depositors' money will be preserved.""I want to fix things and reassure the Lebanese about their monetary situation," Salameh went on to say. Pointing out that it is his responsibility to "preserve the current structure" and the "continuity of the Lebanese state," Salameh noted that the central bank had financed the state "on the hope that there would be reforms." He also blamed the financial and economic woes on the country's presidential vacuums, the delay in the formation of its governments and the failure to reform its electricity sector. Asked about the latest reports about the alleged transfer abroad of huge sums of money by a number of politicians, Salameh said: "We'll send teams from the central bank's Special Investigations Commission to the banks to explore the outcome of investigations into the transfers and we will then send the result to the state prosecutor so that he takes the necessary measures."Salameh also ruled out a "revolution of the hungry," but noted that poverty is expected to increase, urging measures.
Berri Denies Seeking Political Govt., Confirms Support for Diab
Naharnet/January 10/2020
Parliament Speaker Nabih Berri on Thursday denied media reports claiming that he has called for the formation of a "political government" as well as suggestions that he does not want Hassan Diab to lead the new government. "The situation in the region is very bad and the situation in Lebanon is unfortunately changing from bad to worse," Berri said in a chat with reporters in Ain el-Tineh. "The solution at the Lebanese level requires the presence of a government, which should have been formed within 15 days had we benefited from the previous experiences," Berri lamented. He asked: "Why the delay and why are there new rules that violate formation norms?""Let it be known that all governments in the world are mirrors of parliaments. They have proposed a government of independents, but does independence stand for the absence of belonging? Why are they depicting parties and party members in a scary fashion? This is strange, seeing as parties have competent and capable figures," the Speaker added. Commenting on recent reports he said: "What I have suggested is a techno-political government and I reject a purely political government. Isn't the current government a techno-political government?""The new government should comprise representatives of the protest movement," Berri added, denying that he is "unenthusiastic for a government led by Hassan Diab.""All these rumors are baseless. I have offered him all support and assistance," Berri stressed. Asked about the possibility that caretaker Prime Minister Saad Hariri might not agree with him that the caretaker cabinet should be activated, Berri said: "It is not up to him. Acting in a caretaker capacity is a constitutional duty that must be performed."
Scuffles Erupt Near Beirut Municipality
Naharnet/January 10/2020
Scuffles erupted in downtown Beirut on Friday between protesters demanding the resignation of Beirut governor and mayor, and another group defending them amid heavy security deployment of anti-riot police. Activists staged a sit-in near the municipality building shouting "Thieves, Thieves" accusing Beirut governor Ziad Shebib and Beirut mayor Jamal Itani of corruption and mismanagement. Security forces formed a human barrier between the two groups as protesters hurled empty bottles at each other and some hurled stones reportedly injuring a woman. "Beirut is the capital, we pay taxes but see no improvement. They robbed the funds. They are corrupt," one protester said. One Beirut protester pointed at the other group saying "they are not even from Beirut," he alleged. "We are here to protest their corruption, the wasted public funds and shady deal," Rana Shmaitely said, "they should be ashamed."The three-month ongoing protests against the ruling class gained momentum Friday with protesters blocking several roads across Lebanon. Protesters in the northern city of Tripoli blocked al-Beddawi highway on Friday protesting the detention of a group of activists the night before. Lebanon is facing its worst economic crisis in decades, while protests against corruption and mismanagement have gripped the country since October 17.
Report: Diab Insists He Completes His Mission
Naharnet/January 10/2020
PM-designate Hassan Diab "insists" on completing his mission and considers the latest developments in the region all the more call for forming a government of non-partisan experts, al-Joumhouria daily reported on Friday. Sources close to Diab told the daily that he "still adheres to form a small government of specialized ministers, who are not partisans, and who have not participated in previous governments."They said the latest regional tension calls all the more for insisting on these standards because the new government must be "fortified internally and externally.""The three-month protest movement and the international community are looking for a government that inspires confidence through a cabinet of specialists able to face the financial economic crisis and its effects," said the sources. Diab carried a list of names to Aoun during a "positive" meeting earlier this week and reports said the obstacles related to some portfolios have been resolved. "Diab has no plans to draw back. Everyone must cooperate in order to help this government see the light to stop the economic collapse," they concluded.
Protesters Block Beddawi Highway after Tense Night
Naharnet/January 10/2020
Protesters in the northern city of Tripoli blocked al-Beddawi highway to protest the detention of a group of activists arrested by the Lebanese army overnight, the National News Agency reported on Friday. Blocking the highway with burning tyres and cement blocks, the protesters vowed to keep the blockades until the detainees are freed.Scuffles erupted between army troops and activists blocking the road overnight protesting worsening power outages. 53 people, including 23 soldiers, were wounded and bruised, the emergency team in the Islamic Medical Association said. The army arrested several after failed attempts to make them remove the blockades and open the road for traffic. Lebanon, already plagued with severe power rationing, is grappling with a close to three-month-old protest movement demanding the removal of political leaders deemed incompetent and corrupt.

Ghosn Escape Proves Fresh Headache for Ailing Nissan
Agence France Presse/Naharnet/January 10/2020
Out of Japan and free to speak to the media, a fugitive Carlos Ghosn is proving a fresh headache for his old firm Nissan as it struggles to rebuild its reputation. The tycoon who once headed the automaker jumped bail and fled Japan last month while awaiting trial on financial misconduct charges. And he has not pulled any punches when it comes to the firm he helped turn around. He accuses executives there of effectively setting him up, in a bid to block his plans for further integration with Nissan's French partner Renault. And in a press conference on Wednesday in Lebanon, where he emerged after his audacious escape, he slammed the firm's executives, accusing them of losing shareholder value and pursuing a vendetta. Nissan has remained largely silent, waiting until January 7 to release a statement calling his decision to flee "extremely regrettable" and insisting it had uncovered "numerous acts of misconduct" by the tycoon.
The firm faces its own legal proceedings linked to the case, which limits what it can say, a source close to Nissan told AFP. "We have responsibilities, we must respect the law, we have obligations. It will be painful, but we have to do it."
Ghosn meanwhile, in Lebanon and apparently beyond the reach of Japanese prosecutors, "can say what he wants, he has no more constraints," the source said.
Morale hit
In a lengthy and at times combative press conference on Wednesday, the former auto magnate once again accused Nissan executives of plotting his downfall and sought to rebut the charges against him. "For the moment there is nothing new in Mr Ghosn's allegations against Nissan," Koji Endo, an automotive analyst at SBI Securities, told AFP. "But if Ghosn continues with his negative campaign… the market will get more sceptical about Nissan's fundamental recovery and its brand image," he said. And internally there is "no doubt" that seeing the firm slammed so publicly is hitting morale, Endo said. "I've been told that lots of people continue to resign from Nissan, young engineers" in particular, he added. The Ghosn scandal has already cost Nissan dearly. Its market cap has fallen more than $10 billion since his arrest. "They lost more than $40 million a day," Ghosn said on Wednesday. The losses coincide with an overall crisis in the auto industry, which has hit earnings, but Ghosn argues Nissan's desire to push him out has hurt profits and shareholder value. Bloomberg News has also reported that Nissan spent $200 million on lawyers, investigators and private detectives during the scandal, a claim that insiders dismiss."The figure is ridiculously exaggerated. You probably need to take one zero off," one source inside Nissan told AFP.
'A one-man show'
But there have been other costs related to the case. Nissan was forced to pay a $15 million fine in September to settle an investigation by US securities regulators, who charged that the firm hid more than $140 million in Ghosn's expected retirement income from investors. And in December, it said it would not contest a $22 million fine levied by Japan's Securities and Exchange Commission for filing documents that under-reported Ghosn's compensation. It still faces questions from the Tokyo Stock Exchange, to avoid being delisted, and is the subject of legal action by shareholders in the United States. Internally, the firm says it has tried to clean up shop implementing governance reforms and internal investigations. Among those caught up in that were former CEO Hiroto Saikawa, who stepped down last year after admitting he had received more pay than he was entitled to. Current Nissan executives have remained largely tight-lipped on their former colleague's broadsides. "I don't have time to deal with a one-man show by someone who fled the country in violation of the law," Masakazu Toyoda, an external administrator told reporters acidly when asked for comment. And Nissan's new management likely has more pressing things on its mind: profits have fallen to their lowest level in ten years and sources say a strategy will be presented to the board next week to reverse the slide.

Ghosn Laments Brazil's Failure to 'Pressure' Japan
Agence France Presse/Naharnet/January 10/2020
Ex-auto tycoon Carlos Ghosn told Brazilian media he was disappointed by the Latin American country's failure to "pressure" authorities in Japan, where he was detained before jumping bail and fleeing to Lebanon. The former Renault-Nissan chief, who was born in Brazil, had been awaiting trial on charges of financial misconduct, which he denies. Ghosn, 65, told the media in Beirut on Wednesday that he fled Japan last month because he would not get a fair trial. He had been held for 130 days under severe conditions. In an interview with GloboNews, Ghosn said President Jair Bolsonaro had previously contacted his sister, Claudine Bichara, who lives in Brazil, raising his expectations for official intervention in his case. "I was hoping that at some point, perhaps some pressure from the Brazilian government for normal, proper treatment would be made," Ghosn said in the interview broadcast Wednesday evening. Ghosn, who holds French, Lebanese and Brazilian passports, had hoped Bolsonaro would raise the issue with Japanese officials during his visit to Tokyo in October. "I believe the ministry of foreign affairs told him the Japanese would be upset, so nothing was done."Bolsonaro's office did not immediately respond to AFP's request for comment. Ghosn said he could go to Brazil "without problem" so long as he took a direct flight to "avoid problems with Interpol."Lebanon on Thursday banned Ghosn from traveling after questioning him over an Interpol "red notice." A "red notice" is a request to police across the world to provisionally arrest a person pending extradition, surrender or similar legal action. It is not an arrest warrant. Lebanon does not have an extradition agreement with Japan. Ghosn has argued since his shock November 2018 arrest that the case against him was a bid to block his plans to more closely integrate Nissan with its French partner Renault. Bichara, Ghosn's sister, told Brazilian daily Folha de Sao Paulo that she was disappointed by Brazil's inaction in her brother's case."It preferred to abstain and avoid taking risks, unlike Lebanon," she said.
Bank Audi condemns Jal El Dib Branch incident
NNA/January 10/2020
Bank Audi strongly condemned and regretted in a statement the incident which took place in its Jal El Dib branch this morning.
The Bank acknowledged that both clients and employees are under tremendous pressure, which temporarily led to the situation running out of control. Bank Audi assured that it is conducting a thorough investigation on the incident and taking all necessary measures, if need be.–Bank Audi
Rahi, Salameh tackle financial, economic situation
NNA/January 10/2020
Maronite Patriarch Cardinal, Bechara Boutros Rahi, met this Friday in Bkerke with Central Bank Governor, Riad Salameh, with whom he discussed the current financial and economic situation in the country. Discussions touched on means to address the current financial and economic crisis, most notably the formation of a government of experts which would restore the confidence of the Lebanese people. On the other hand, Patriarch Rahi met with outgoing Italian Ambassador to Lebanon, Massimo Marotti, who came on a farewell visit upon the end of his diplomatic mission in the country.
Othman meets Italian Embassy's Military Attaché
NNA/January 10/2020
Internal Security Forces chief, Major General Imad Othman, received this Friday in his office the Military Attaché at the Italian Embassy in Beirut, Colonel Luciano Antoci, accompanied by Liaison Officer Lieutenant Colonels Sergio Lo Presti and Leonardo Albanesi, who came on a visit aimed at cooperation and coordination. Discussions reportedly touched on the general situation.
Serhan: We are keen on friendly relations with Japan
NNA/January 10/2020
Caretaker Justice Minister, Albert Serhan, affirmed that "the Lebanese State is keen on friendly relations with Japan, and that the case of businessman Carlos Ghosn will not affect the existing cooperation, within the framework of bilateral relations."
Minister Serhan's remarks came during a series of chats with foreign media, where he indicated that "Ghosn was summoned by the State Prosecutor for interrogation, in reference to the international arrest warrant, that is, the red notice issued by the Interpol. It was the duty of the Lebanese judiciary to investigate this matter."
Upon Interrogation, Ghosn was served a travel ban and his French passport was confiscated. "If the Japanese authorities did not initiate a recovery request within 40 days, the travel ban will be dropped," he explained. On the charge of economic normalization with the Israeli enemy, Serhan pointed out that "this file has nothing to do with the charges filed by the Japanese judiciary. Lebanese laws criminalize dealings with the Israeli enemy. Ghosn was thus summoned by the State Prosecution, interrogated, and also banned from traveling.""Ghosn's wife Carole will be questioned by Lebanese prosecutors when authorities receive an Interpol notice," he added. "Carole will be subject to the same procedures that were followed for (Carlos) when the red notice was received from Interpol." Serhan said he "discussed with the Japanese Ambassador (…) the existing bilateral relations and the keenness on friendship and cooperation ties," stressing that "the Lebanese judiciary will carry out its duty independently and transparently, as evidenced by what happened during the interrogation.
Captagon smuggling to Britain foiled, smuggler arrested
NNA/January 10/2020
The General Directorate of Internal Security Forces issued a statement saying: "In the context of the pursuit of drug smuggling networks and people involved in such operations, and as a result of vigorous follow-up, monitoring and tracing, a patrol from the Anti-narcotics Office in the Judicial Police Unit was able to arrest a Syrian born in 1987 in the neighborhood of Hay El- Sellom, for the crime of smuggling a quantity of about 4000 captagon pills, seized by the airport customs, packed inside coffee packs and en route to Britain."
Roukoz: Cabinet is absent, Central Bank Governor polishing his own image
NNA /January 10/2020
Member of Parliament, Chamel Roukoz, on Friday warned via his Twitter account that "the USD dollar has almost hit LBP 2500 whilst the government is absent and its head is a tourist who has resigned from his duties."Roukoz also said that Lebanese Central Bank Governor, Riad Salameh, was working on polishing his own image instead of polishing the country's financial image. He slammed Salameh's new claim that "banks are not obliged to give USD to depositors."
"Despite all this, a solution still exists; however, it requires a different mentality," the MP's tweet added.
UNICEF calls on all stakeholders to put children first and ensure their safeguarding in these times of crisis in Lebanon
NNA/January 10/2020
UNICEF has called on all stakeholders to put children first and to ensure their safeguarding in these times of crisis in Lebanon. "As the new year begins, it is time for all of us to put children first and ensure their safeguarding in these times of crisis in Lebanon. All of us -national and international institutions, civil society, private sector, communities, families- must act now to protect girls and boys from the impact of the deepening economic crisis. The situation is deteriorating and increasing the challenges for all children, especially those in families already living in poverty.
According to the available estimates, more than one in four Lebanese families live in poverty, and the crisis is now impacting many families, and much more so children than adults. Exacerbation of poverty is also expected among other vulnerable households in Lebanon.
Increasing poverty can affect girls and boys in many ways, including harming their nutrition, education and health, as well as having long-term impacts on their emotional and social development, future potential and wellbeing. Such crises can lead to an increased risk of abuse and neglect, and higher levels of child labour and child marriage. Young people face reduced opportunities to continue to learn, build their skills and find dignified work.
In such a situation, girls and boys must be the first to be protected and safeguarded by all stakeholders, especially since they will be the foundation of Lebanon's recovery, and the limited public resources in the national budget should be used to protect and prioritize children and young people.
UNICEF is adjusting its strategies to expand our reach to the most vulnerable girls, boys and young people by scaling-up our new Integrated Programme for Child Wellbeing, increasing programmes for adolescent and youth skills development, and providing cash support to 100,000 of the most vulnerable families. While Lebanon's social protection system struggles to effectively respond to the ongoing crisis for now, UNICEF continues to support access to basic social services and development of national social assistance and calls on all actors to rapidly expand social assistance to poor families. UNICEF-supported programmes continue to address Lebanese children and other children living in Lebanon, and we work with partners and donors to deepen our programming and ensure its funding to expand our support to children and families at risk of falling into poverty in these times of crisis."
AUB Professor Saouma Boujaoude awarded top honor for distinguished contributions to science education
NNA/January 10/2020
In a press release by the American University of Beirut (AUB), IT SAID: "Professor Saouma BouJaoude, associate dean at the Faculty of Arts and Sciences, and director of the Center for Teaching and Learning at the American University of Beirut (AUB) was awarded top honor by NARST, a global organization for improving science education through research. BouJaoude was selected to receive the NARST 2020 Distinguished Contributions to Science Education through Research Award (DCRA). This honor recognizes his professional accomplishments as the most significant among other researchers nominated for the DCRA this year. "AUB has provided me with the nourishing and demanding environment along with the support that allowed me to pursue my passion for science education," commented BouJaoude.
BouJaoude is an engaged scholar who has impacted science education at the local, regional, and international level. His scholarly productivity spans many areas from curriculum, to teachers, to students. At the core of this continuous line of work is his passion for the improvement of the educational condition for many students and teachers. As a tireless scholar and advocate for science education, he also mentors many students and faculty, and serves on numerous national and international committees. As stated by a fellow science educator, BouJaoude's dedication to the field of science education has resulted in his being the "nucleus of science education [in] the Arab region and an essential bridge between the region and the international science education community."
"I am delighted and proud that Professor Saouma BouJaoude will be awarded the Distinguished Contributions to Science Education Award from the National Association for Research in Science Teaching (NARST)," said AUB President Dr. Fadlo R. Khuri. "This is the most prestigious award that NARST confers. In adding this latest, even more luminous recognition to the Kuwait Prize, which Professor Saouma BouJaoude deservedly received in 2018, this magnificent, humble and accomplished educator and servant leader of AUB continues to bring enormous acclaim to the university." Khuri continued, "Saouma is an educator's educator, and a scholar's scholar. In perusing the previous stellar winners of this award, it is clear that all are in even greater company now that they have been joined by the matchless Saouma BouJaoude."
'Time and its Unknown Dimensions' as viewed by the Esoteric Science by Dr. Joseph B. Majdalani (JBM)
NNA/January 10/2020
After the notable success of the fortieth esoteric publication in Arabic "Time and its Unknown Dimensions", written by Dr. Joseph B. Majdalani (JBM), the book is translated into English, in 96 medium sized pages and is published by the Society of Friends of the White Knowledge, based in Beirut – Lebanon.
With this seventh publication in English, added to more than one hundred esoteric publications in eight languages, the remarkable abundance of the esoteric publications, by Dr. Joseph B. Majdalani (JBM), has become certain to the readers. In an unprecedented novelty, they delve in all that is unknown, connecting the outer with the inner to enrich Man's life and to reveal the invisible in a workable logic, linking reality with the eternal truth.
A lot has been written about Time. It has been speculated, philosophised and debated; moreover, Einstein's theory of Relativity was studied and taught, however it seems that no one looked at Time in its cosmic dimensions, not to say in its absolute existence.
The unveiled truths of "TIME AND ITS UNKNOWN DIMENSIONS" fathom out mysteries and secrets that surround the element of Time from the initial stages of its existence. The book elucidates that "It is the Universal Mind that invented the Time factor to embrace within it the childhood of creation". Also, the book differentiates between two important notions, namely time (وقت) as a terrestrial dimension measured in days, months or years, and Time (زمن) at a higher level measured as a cosmic dimension in life cycles and stages of evolution. This is just a glance into this valuable book.
The book "TIME AND ITS UNKNOWN DIMENSIONS" explains also that "the nature of Time is based on the succession of mental images on the screen of consciousness, whether through the physical senses or the inner esoteric senses. Without this succession of mental images, there would not be any sense of Time".On another front, have we ever asked why has astronomy taken such an important spot during the civilisations of Babylon and Ancient Egypt? What is the role of crystals in bringing together the different time dimensions latent in the subconscious? Will the future witness the discovery of the "Time Manuscript" followed by the discovery of "The Apparatus of Time"? Noting that the book reveals that this Apparatus, made of a crystal sphere, was invented by the Atlanteans to bring them closer to the physical concept of time and make them accustomed to the fact that time on Earth is but a miniature of the Time dimensions in the beyond. The quality of the Esoteric Science is that it goes back in every research, to the unknown origins, in quests and inquiries that use scientific logic synchronized with the logic of everyday life.
Accordingly, the book delves in the dimensions of Time, and explains it with illustrations. It presents its brilliant findings as an appetizing mental plate, enjoyed by every reader in his workaday life.
These are some of glimpses into this interesting book, which offers ample scientific explanations and vivid revelations on the secret of practical application.