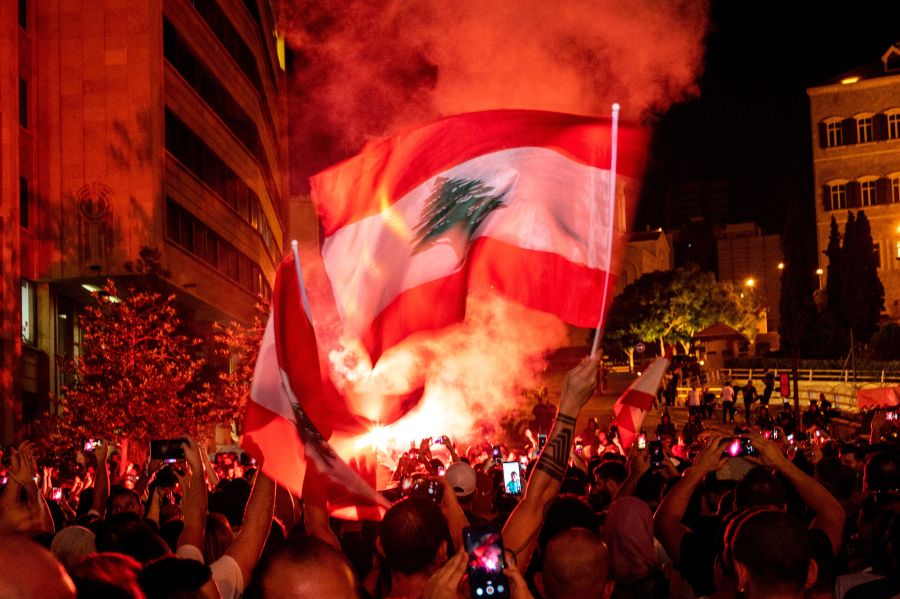 A Bundle Of English Reports, News and Editorials For January 09-10/2020 Addressing the On Going Mass Demonstrations & Sit In-ins In Iranian Occupied Lebanon in its 85th Day
Compiled By: Elias Bejjani
January 10/2020
Titles For The Latest English LCCC Lebanese & Lebanese Related News published on January 09-10/2020
The End Of Iran's Regional Terrorist Role Is Inevitable/Elias Bejjani/January 09/2020
Iran's, Mullahs' Regime Is A Terrorist and Rogue One/Elias Bejjani/January 08/2020
Aoun discusses economic, financial situation with former Minister Raed Khoury
Berri supports techno-political government, meets Rampling, UNIFIL's Del Col
Berri Denies Seeking Political Govt., Confirms Support for Diab
Salameh Rules Out 'Collapse', Says No Bank Will Go Bankrupt
In Bkirki, Hizbullah Delegation Says Regional Escalation Won't Affect Govt.
Lebanon's Hezbollah says working for government formation
Reuters, Beirut/Thursday, 9 January 2020
'October 17' Protests Target EDL Offices
Report: Balanced Govt. Required to Stop Economic Collapse
The Middle East Council of Churches urges dialogue as tensions flare
Ministry of Energy: Power supply to return gradually on Saturday
Kanaan after bloc meeting: Our stance has not changed regarding government of experts
Mufti of the Republic steps up calls for 'courageous decisions that save Lebanon'
Sheikh Hassan meets Apostolic Nuncio
Scholar Khatib receives Apostolic Nuncio
Loyalty to Resistance bloc: For a government that protects people's interests
Mikati tackles latest developments with Kubis
Jumblat Says Carlos Ghosn Should Be Energy Minister
Prosecutor Issues Travel Ban on Ghosn
Ghosn Laments Brazil's Failure to 'Pressure' Japan
Fugitive Ghosn Brings Global Attention to Japanese Justice
Ghosn Slams Japan Minister, Says Will 'Cooperate with Lebanese State'
Japan Urges Ghosn to Return as Fugitive Tycoon Defends Escape
Ghosn 'very comfortable' after Lebanon questioning: Lawyer
Details Of The Latest English LCCC Lebanese & Lebanese Related News published on January 09-10/2020
The End Of Iran's Regional Terrorist Role Is Inevitable
Elias Bejjani/January 09/2020
دور ملالي إيران الإقليمي إلى نهاية حتمية
History repeats itself despite all odds and delusions of rogue countries. In this context, as the Saudi-Syrian marriage was ended when Rafic Hariri was assassinated by Hezbollah-Al Assad regime assassinates, at the present time, the long term eviler American-Iranian marriage is over after the killing of qassim Soliemani. Iran's regional role is going to end soon.. as well as the role of all its terrorist militia proxies including that of Hezbollah in Lebanon
Iran's, Mullahs' Regime Is A Terrorist and Rogue One
Elias Bejjani/January 08/2020
Definitely, Iran's, Mullahs' Regime Is A Terrorist and Rogue One.. In Lebanon and before dismantling Hezbollah, the Iranian armed proxy, and putting an end to its military and occupational role there will be no freedom, independence, sovereignty or any effective solution for any of Lebanon's many hardships on all levels and in all domains.
Aoun discusses economic, financial situation with former Minister Raed Khoury
NNA/January 09/2020
President of the Republic, Michel Aoun, on Thursday discussed the country's economic situation with former Minister, Raed Khoury, and his advisor, Fadi Asali.The President also received MP, Eddy Maalouf, who invited him to attend the first anniversary commemoration of death of former Minister and Deputy, Major General Edgar Maalouf, in a mass which will be held next Saturday, January 11th, at 5 p.m., in the Church of Our Lady of Annunciation of the Royal Roman Catholic in Rabweh.-Presidency Press Office

Berri supports techno-political government, meets Rampling, UNIFIL's Del Col
NNA/January 09/2020
House Speaker, Nabih Berri, on Thursday stressed that he has always advocated the formation of a techno-political government, saying "what is important for any government, regardless of its form, is its harmony and program."Speaker Berri stressed again that the new government must include representatives of the civil movement, denying "all rumors that he is not enthusiastic about a government headed by Dr. Hassan Diab."Berri described the situation in the region as "not good at all" and that the situation in Lebanon, unfortunately, is worsening more and more. He underlined that the solution lies in the presence of a government, wondering about the delay and the introduction of new rules for formation contradictory to the existing norms. The House Speaker also pointed out that Amal Movement has not yet named candidates for ministerial portfolios. In reply to a question, Berri stressed that "caretaking" business role is a constitutional duty. On the other hand, Berri met at his Ain Tineh residence the British Ambassador to Lebanon, Chris Rampling, where they exchanged viewpoints on the current situation. On emerging, Ambassador Rampling said: "We mainly talked about the economic situation and the importance of forming a government as soon as possible to deal with the challenges facing the country." Rampling underlined the importance that Lebanon dissociates itself from regional events. This afternoon, Berri received UNIFIL Commander, General Stefano Del Col. Berri also met with a delegation of the syndicate of the exchange dealers, headed by its Dean Mahmoud Murad, with whom he discussed the current financial situation.
Berri Denies Seeking Political Govt., Confirms Support for Diab
Naharnet/January 09/2020
Parliament Speaker Nabih Berri on Thursday denied media reports claiming that he has called for the formation of a "political government" as well as suggestions that he does not want Hassan Diab to lead the new government. "The situation in the region is very bad and the situation in Lebanon is unfortunately changing from bad to worse," Berri said in a chat with reporters in Ain el-Tineh. "The solution at the Lebanese level requires the presence of a government, which should have been formed within 15 days had we benefited from the previous experiences," Berri lamented.
He asked: "Why the delay and why are there new rules that violate formation norms?""Let it be known that all governments in the world are mirrors of parliaments. They have proposed a government of independents, but does independence stand for the absence of belonging? Why are they depicting parties and party members in a scary fashion? This is strange, seeing as parties have competent and capable figures," the Speaker added. Commenting on recent reports he said: "What I have suggested is a techno-political government and I reject a purely political government. Isn't the current government a techno-political government?""The new government should comprise representatives of the protest movement," Berri added, denying that he is "unenthusiastic for a government led by Hassan Diab.""All these rumors are baseless. I have offered him all support and assistance," Berri stressed.
Asked about the possibility that caretaker Prime Minister Saad Hariri might not agree with him that the caretaker cabinet should be activated, Berri said: "It is not up to him. Acting in a caretaker capacity is a constitutional duty that must be performed."
Salameh Rules Out 'Collapse', Says No Bank Will Go Bankrupt
Naharnet/January 09/2020
Central Bank Governor Riad Salameh on Thursday ruled out an imminent financial collapse in the country as he reassured that no bank will go bankrupt. "There is a crisis and difficulties, but not a collapse," Salameh said in an interview with Lebanon's MTV. "Not a single bank will go bankrupt and banks facing difficulties will be merged," he added. Noting that liquidity in the country has declined due to "the pressure created by depositors," Salameh reassured that Lebanese banks enjoy solvency. "There won't be a haircut," the Governor answered in response to a question. "The central bank does not have the jurisdiction to carry out a haircut; this needs a law," he reminded. He added: "Banks must be allowed to 'breathe' and we have devised a plan under which depositors' money will be preserved.""I want to fix things and reassure the Lebanese about their monetary situation," Salameh went on to say. Pointing out that it is his responsibility to "preserve the current structure" and the "continuity of the Lebanese state," Salameh noted that the central bank had financed the state "on the hope that there would be reforms."He also blamed the financial and economic woes on the country's presidential vacuums, the delay in the formation of its governments and the failure to reform its electricity sector. Asked about the latest reports about the alleged transfer abroad of huge sums of money by a number of politicians, Salameh said: "We'll send teams from the central bank's Special Investigations Commission to the banks to explore the outcome of investigations into the transfers and we will then send the result to the state prosecutor so that he takes the necessary measures." Salameh also ruled out a "revolution of the hungry," but noted that poverty is expected to increase, urging measures.
In Bkirki, Hizbullah Delegation Says Regional Escalation Won't Affect Govt.
Naharnet/January 09/2020
A Hizbullah delegation led by politburo chief Sayyed Ibrahim Amin al-Sayyed held talks Thursday in Bkirki with Maronite Patriarch Beshara al-Rahi. "What we know is that all parties, from the PM-designate to the rest of parties and political forces, are keen on the formation of a government as soon as possible," Sayyed said after the meeting. Asked whether the regional developments triggered by Qassem Soleimani's killing will have an impact of the nature of the new government in Lebanon, the Hizbullah official said the regional escalation has not affected the formation process. "Until this moment, we are doing everything that facilitates the formation of the government and the issue of replacing candidates with other candidates for political considerations has not been raised with us at all and our stance has not changed," Sayyed said. Asked whether a "confrontational government" will be formed, the Hizbullah official said: "No one wants a confrontational government or else the country will go to a difference situation."
Lebanon's Hezbollah says working for government formation
Reuters, Beirut/Thursday, 9 January 2020
Lebanon's Hezbollah group is working to remove obstacles to a deal on a new government which must be formed as soon as possible to avoid collapse, one of its top officials said on Thursday. Lebanon has been without a functioning government since Saad Hariri quit as prime minister in October after protests against the political elite over corruption, leaving the country without a rescue plan as financial and economic crises deepen. The worst economic crisis since the 1975-90 civil war has led the Lebanese pound to slump amid a dollar shortage and banks to tightly control access to cash and block transfers abroad.
Spiralling regional tensions since the killing of Iranian Major General Qassem Soleimani by the United States last week have added to the risks facing the heavily indebted state. Hezbollah has said Iran's allies in the region should help avenge the killing. But referring to the regional conflict, senior Hezbollah official Ibrahim Amin al-Sayyed said nobody including Hezbollah wanted "a government of confrontation" in Lebanon but one that could save the country. "We are carrying a very important and exhausting role to reach an agreement as soon as possible to prevent this collapse," Sayyed said. "We have taken the initiative and continue to do so to remove all obstacles and complications to reach a government."Speaking after a meeting with Maronite Patriarch Bechara Boutros Al-Rai, Sayyid also noted that the regional situation was "another incentive" for concessions.Hezbollah, which is sanctioned as a terrorist group by the United States, has exercised more sway over Lebanese state affairs since it won a parliamentary majority together with its political allies in 2018. Along with allies including President Michel Aoun, Hezbollah last month nominated former government minister Hassan Diab to form the next government after the failure of efforts to make a deal with Hariri, an ally of the West and Gulf Arab states. Shiite Parliament Speaker Nabih Berri, a Hezbollah ally, said the government formation was facing complications and the situation in Lebanon was going from bad to worse. The pound has weakened again in recent days on the parallel market: dollars were being offered at 2,400 pounds on Thursday – some 60 percent weaker than its official peg of 1,507.5 pounds, a dealer said. In a rebuke to politicians, Jan Kubis, the senior UN official in Lebanon, on Wednesday said it was "increasingly irresponsible" to keep Lebanon without a government.
'October 17' Protests Target EDL Offices
Naharnet/January 09/2020
As Lebanon's protest against the ruling elite approaches its third month, protesters targeted on Thursday the offices of Electricity du Liban over worsening power outages with the country in the grip of political and economic turmoil. Protesters staged sit-in near EDL premises in Tripoli's Bahsas area to protest aggravating power outages in a country already plagued with chronic rationing. They burned tires near the premises entrance preventing access for employees. The Lebanese army and security forces were heavily deployed in the area, said the National News Agency. Another group blocked a road leading to Tripoli's entrance from the south that triggered heavy traffic, said NNA. Lebanon is without a cabinet and in the grips of a deepening economic crisis after an almost three-month-old protest movement forced Saad Hariri to stand down as prime minister on October 29. Lebanese have been protesting in main squares across the country and rallying near the government institutions against corruption and mismanagement. Anti-government protests continued after Hariri's resignation, while political parties negotiated for weeks before nominating Hassan Diab, a professor and former education minister, to replace him on December 19. Political parties have failed so far to agree on the form of a government, and protesters accuse the political class of seeking personal gains and draining the state resources through patronage and clientelism.
Report: Balanced Govt. Required to Stop Economic Collapse
Naharnet/January 09/2020
Deposits in foreign currencies, especially in US dollar are reportedly "safe" in Lebanese banks but the formation of a government is necessary to stop Lebanon's economic "collapse," the Kuwaiti al-Anbaa daily reported on Thursday. A senior banking source who spoke on condition of anonymity told the daily that "deposits in Lebanese banks were safe," but he warned that "withdrawals in dollars could be restricted if a balanced government is not formed in December."Faced with a grinding US dollar liquidity crisis, Lebanon's banks have since September imposed increasingly tight restrictions on dollar withdrawals and transfers abroad in an attempt to conserve dwindling foreign currency reserves. This has fuelled tensions in the debt-ridden country, where a close to three-month-old protest movement is demanding the removal of political leaders deemed incompetent and corrupt. The source said the price of one US dollar to the Lebanese pound could witness a dramatic increase, "around 3000 LL to the dollar, if the formation of a new government is not facilitated."He commented on the large "suspicious" transfers of money abroad, which if confirmed, would mark a violation of banking restrictions curtailing such transactions, and the role of the Central Bank in that regard. He said: "The Finance and Budget parliamentary committee led by Strong Lebanon bloc MP Ibrahim Kanaan has the answer and knows the owners of these funds. When the list of names gets delivered to the central bank, then the implementation becomes the responsibility of the bank. Stop fooling us by silly excuses."Activists say ordinary depositors are footing the bill for a liquidity crisis worsened by politicians, senior civil servants and bank owners who used their influence to get their hefty savings out of the country. Many of the country's top leaders own, or have large shares in, several banks.
The Middle East Council of Churches urges dialogue as tensions flare
Annahar/January 09/2020
MECC Secretary General Dr Souraya Bechealany considered that "the Middle East and the Arab world have clearly entered a dangerous crisis. The Middle East Council of Churches urged Thursday for leaders to resort to "constructive dialogue in conflict resolution" as rising tensions flare in the region. MECC Secretary General Dr Souraya Bechealany considered that "the Middle East and the Arab world have clearly entered a dangerous crisis, and that's why we are all called to pray for peace, reject all forms of violence, and to always rely on constructive dialogue in conflict resolution while fighting for justice and love". Bechealany added: "the Middle East and the Arab world have always been exposed to a great deal of pain, and their inhabitants paid the consequences on economic, social, cultural, demographic and environmental levels. That's why we are all called upon to make efforts in order to avoid disasters, build bridges based on our ethics and faith, and keep civilians out of conflicts to protect them. In fact, human dignity and peacebuilding are considered as priorities in the MECC's mission and work".
Ministry of Energy: Power supply to return gradually on Saturday
NNA/January 09/2020
The media office at the Ministry of Energy and Water on Thursday explained in a statement that due to the great difficulties faced by Electricite Du Liban to open the required credits for the purchase of fuel and gas oil materials to operate power plants, coupled with the storm that has been hitting Lebanon and preventing fuel ships from being unloaded in EDL's tanks, electricity rationing has been increasing by the day across the country. The statement went on to clarify that the storm has also led to the separation of some power production networks from the main ones, which has led to an additional rationing of power supply. "Nonetheless, the technical teams at EDL have been endeavoring to gradually put these networks back into service, and it is expected that the power supply will gradually return to its previous routine as of Saturday, January 11/2020," the statement clarified, noting that until the end of February, the EDL will provide power supply to areas outside of Beirut at an average rate of 8 to 10 hours per day and for Beirut at a rate of 16 to 21 hours per day — if production is fixed at a capacity of 1500 megawatts.
Kanaan after bloc meeting: Our stance has not changed regarding government of experts
NNA/January 09/2020
"Strong Lebanon" bloc on Thursday held its weekly meeting presided over by Caretaker Foreign Minister Gebran Bassil, at the FPM's headquarters at the Mirna Chalouhi center in Sin El Fil. Speaking in the wake of the bloc's periodic meeting, MP Ibrahim Kanaan said that discussions dwelt on the regional situation, stressing the Bloc's firm position that "Lebanon should not and will not be a battlefield for others.""Our stance is consistent with our stability, sovereignty, and the principles on which we have participated in national and political work," MP Kanaan corroborated. On the governmental dossier, Kanaan stressed that the bloc supports closing national ranks, saying "we are with the formation of a government of experts.. and our stance has not changed in this regard." The Lawmaker underlined that the new government should carry a rescue plan to address the current crisis, stressing the urgent need for political solutions that would secure the rescue operation from the deteriorating financial and economic situation.
Mufti of the Republic steps up calls for 'courageous decisions that save Lebanon'
NNA/January 09/2020
Mufti of the Lebanese Republic, Sheikh Abdel Latif Derian, on Thursday called on Lebanese officials to find a swift rescue solution to the current political and economic situation. "The current situation requires courageous and sharp decisions in favor of Lebanon and the Lebanese," the Mufti told his visitors, amongst of which had been apostolic nuncio, Joseph Spiteri, who delivered to him Pope Francis's message on peace — through dialogue and solidarity. "This message is important for Lebanon. We pray for this country and its people that Lebanon will overcome the crisis it faces," the apostolic nuncio said. United Nations Special Coordinator for Lebanon, Jan Kubis, also had an audience with the Mufti on Thursday. Discussions focused on the situation in Lebanon and the region.
Sheikh Hassan meets Apostolic Nuncio
NNA/January 09/2020
Druze Sheikh Akl, Naim Hassan, on Thursday met at the House of the Druze Community in Beirut, Apostolic Nuncio, Joseph Spiteri, who delivered to him Pope Francis's message on the occasion of the International Day of Peace. The message bears the Pope's vision of peace as a path of hope, dialogue, reconciliation, environmental repentance, and the concept of peace through fraternal communion.Sheikh Akl welcomed the papal nuncio, thanking him for the Pope's valuable message about peace that all of our people and the world yearn for, especially during the delicate circumstances that our societies are going through at the various levels. Speaking on emerging, Spiteri highlighted the importance of solidarity among the Lebanese, hoping that the Lebanese officials would shoulder their responsibilities so that Lebanon can overcome this crisis and form a government as soon as possible. "We continue to pray for Lebanon and its people," the apostolic nuncio said, voicing permanent commitment to assisting this nation.
Scholar Khatib receives Apostolic Nuncio
NNA /January 09/2020
Deputy Head of the Supreme Islamic Shia Council, Sheikh Ali Khatib, met Thursday with Apostolic Nuncio to Lebanon, Archbishop Joseph Spiteri, with talks touching on the means to activate interfaith dialogue, as well as on the current situation on the local and regional scenes. A statement by the Council's press office indicated that the two sides had agreed on the obligation to bolster cooperation between Muslims and Christians and enhance coexistence. It is to note that Spiteri conveyed to his host Pope Francis's message on peace.
Loyalty to Resistance bloc: For a government that protects people's interests
NNA/January 09/2020
The Loyalty to the Resistance parliamentary bloc on Thursday highlighted the necessity to form a new government that would protect the interests of the Lebanese and redress the ailing financial condition in the country, especially in light of the latest developments taking place in the broader region. "The local and regional developments entail the formation of a government that shoulders the responsibility of managing the country's affairs, protects the interests of the Lebanese, and endeavors to rectify the financial, monetary, economic and livelihood situation, and restore order to the work of institutions, administrations and apparatuses," the bloc said in a statement following its weekly meeting. The bloc considered that as Lebanon had suffered from the US-backed Zionist occupation, it was certainly concerned with the eradication of hegemony and aggressive policies. "The US hostility has again proven to be a terrorist act and an organized crime," the bloc said in reference to the US attack on Baghdad airport and assassination of General Qassem Suleimani and others. The bloc depicted US President Donald Trump as an "imperious" and "evil" who brutally killed Suleimani and his comrades. The bloc also indicated that the massive turnout in the funeral processions in both Iran and Iraq showed people's utmost confidence in the path followed by the martyrs. It added that the message both peoples sought to convey was that there were no room for any US military presence in the region.
Mikati tackles latest developments with Kubis
NNA/January 09/2020
Former Prime Minister, received this Thursday UN Special Coordinator for Lebanon, Jan Kubis, with whom he discussed the current situation in light of most recent developments in the region. Discussions also reportedly touched on the situation in s. Lebanon.
Jumblat Says Carlos Ghosn Should Be Energy Minister
Naharnet/January 09/2020
Progressive Socialist Party leader ex-MP Walid Jumblat on Thursday suggested that ex-chairman of Nissan-Renault Carlos Ghosn be named as Lebanon's energy minister. "Awaiting the Japanese strict judicial ruling and awaiting the opinion of justice in Lebanon in a lawless state in the case of Carlos Ghosn, I suggest his appointment as energy minister to replace the controlling gang that caused this massive deficit and rejects reform," said Jumblat in a tweet. "Carlos Ghosn has built an empire, perhaps we can benefit from his experience," added Jumblat. Fugitive auto tycoon Carlos Ghosn was interrogated on Thursday by Lebanon's State Prosecutor Ghassan Oueidat over the content of the Interpol red notice issued by Japan's judiciary, which accuses him of offenses committed on Japanese soil and demands his arrest. Ghosn, who is Lebanese and also holds French and Brazilian passports, was expected to go on trial in Tokyo in April. In statements, he has said he fled to avoid "political persecution" by a "rigged Japanese justice system." He also said that he alone organized his departure from Japan and that his wife, Carole, played no role.
Prosecutor Issues Travel Ban on Ghosn
Agence France Presse/Naharnet/January 09/2020
Lebanon banned former auto tycoon Carlos Ghosn from travelling on Thursday after questioning him over an Interpol "red notice" of charges of financial misconduct in Japan, judicial sources said. The 65-year-old businessman — for years venerated in Japan for turning around once-ailing Nissan — fled while awaiting trial on charges including allegedly under-reporting his compensation to the tune of $85 million. His shock arrival in his native Lebanon last month was the latest twist in a story worthy of a Hollywood plot and prompted outrage from the Japanese government as well as from Nissan.
"The state prosecution issued a travel ban for Ghosn, and asked for his file from the Japanese authorities," a judicial source told AFP. A second judicial source said: "He has been banned from travelling until his judicial file arrives from Japan. "According to what is inside the file, if it appears that the crimes he is accused of in Japan require being pursued in Lebanon, he will be tried," the source added. "But if it doesn't require being pursued under Lebanese law, then he will be free." Lebanon's judiciary received a "red notice" from Interpol last week urging Ghosn's arrest. A "red notice" is a request to police across the world to provisionally arrest a person pending extradition, surrender or similar legal action. It is not an arrest warrant. Lebanon does not have an extradition agreement with Japan. Ghosn also made a statement to prosecutors on a report submitted by Lebanese lawyers that he had travelled to neighbouring Israel as head of Renault-Nissan. Lebanon and neighbouring Israel are still technically at war, and Beirut has forbidden its citizens from visiting or having contacts. In early 2008, Ghosn travelled to Israel to announce the mass production of electric vehicles there with the cooperation of Renault-Nissan. At a press conference in Beirut on Wednesday, Ghosn apologised to the Lebanese people for having visited the neighbouring country. He said he went as the head of Renault. "I went as a Frenchman because of a contract between Renault and an Israeli company," said Ghosn, who holds French, Lebanese and Brazilian nationalities. "I always come back to Lebanon and nothing has ever happened before," he said.

Ghosn Laments Brazil's Failure to 'Pressure' Japan
Agence France Presse/Naharnet/January 09/2020
Ex-auto tycoon Carlos Ghosn told Brazilian media he was disappointed by the Latin American country's failure to "pressure" authorities in Japan, where he was detained before jumping bail and fleeing to Lebanon. The former Renault-Nissan chief, who was born in Brazil, had been awaiting trial on charges of financial misconduct, which he denies. Ghosn, 65, told the media in Beirut on Wednesday that he fled Japan last month because he would not get a fair trial. He had been held for 130 days under severe conditions. In an interview with GloboNews, Ghosn said President Jair Bolsonaro had previously contacted his sister, Claudine Bichara, who lives in Brazil, raising his expectations for official intervention in his case. "I was hoping that at some point, perhaps some pressure from the Brazilian government for normal, proper treatment would be made," Ghosn said in the interview broadcast Wednesday evening.
Ghosn, who holds French, Lebanese and Brazilian passports, had hoped Bolsonaro would raise the issue with Japanese officials during his visit to Tokyo in October. "I believe the ministry of foreign affairs told him the Japanese would be upset, so nothing was done." Bolsonaro's office did not immediately respond to AFP's request for comment. Ghosn said he could go to Brazil "without problem" so long as he took a direct flight to "avoid problems with Interpol." Lebanon on Thursday banned Ghosn from traveling after questioning him over an Interpol "red notice."A "red notice" is a request to police across the world to provisionally arrest a person pending extradition, surrender or similar legal action. It is not an arrest warrant. Lebanon does not have an extradition agreement with Japan. Ghosn has argued since his shock November 2018 arrest that the case against him was a bid to block his plans to more closely integrate Nissan with its French partner Renault. Bichara, Ghosn's sister, told Brazilian daily Folha de Sao Paulo that she was disappointed by Brazil's inaction in her brother's case. "It preferred to abstain and avoid taking risks, unlike Lebanon," she said.
Fugitive Ghosn Brings Global Attention to Japanese Justice
Associated Press/Naharnet/January 09/2020
Though former Nissan Chairman Carlos Ghosn is unlikely to stand trial in a real court, he has made himself a key witness in putting Japan's justice system on trial. In his first public appearance after fleeing to Lebanon, Ghosn lambasted what he called unfair detention and bail conditions, saying he was presumed guilty and had "zero chance" of a fair trial in a system rigged against him. "I didn't run from justice, I left Japan because I wanted justice," the former auto industry icon said at a spirited two-hour news conference in Beirut. With little chance they can extradite him, Japanese authorities struck back with words Thursday. Tokyo prosecutors, who arrested him in late 2018, said Ghosn had "only himself to blame" for being detained 130 days before being released and for strict bail conditions like being banned from seeing his wife. "Defendant Ghosn was deemed a high-profile risk, which is obvious from the fact that he actually fled," they said. Justice Minister Masako Mori denounced Ghosn's comments as erroneous and credited Japan's extremely low crime rate to a judicial system rooted in "its history and culture."
Ghosn's remarks, however, highlighted many of the issues human rights advocates call problematic in Japan's justice system.
Because of Japan's extremely low crime rate, how suspects are treated is surprisingly unknown to Japanese, who tend to trust authoritative figures and assume no one gets arrested without a reason. In Japan, suspects can be detained in solitary confinement without charge for up to 23 days. Charges can be filed piecemeal to prolong incarceration. Suspects are routinely grilled for hours each day without a lawyer present. Critics call the detention conditions mental torture. Japan's conviction rate is higher than 99%, a number that critics, including Ghosn, say indicates unfairness. Japanese officials insist the conviction rate is so high because they don't make mistakes and only guilty people are prosecuted. At the same time, they insist there's a presumption of innocence. It's an entrenched system that not only leads to confessions but also has judges thinking suspects are guilty, says Tokyo defense lawyer Seiho Cho, who has been trying to change it. "They really believe that this system is functioning efficiently and correctly," he said. Cho said Ghosn was a high-profile case and the way regular suspects are treated is worse. Those who insist they are innocent especially are detained longer, some for hundreds of days. Bans on contact with family members are also common, he said.
The ban in Ghosn's case cited the risk his wife Carole might tamper with evidence. An arrest warrant was issued this week for Carole Ghosn on suspicion of perjury. Carlos Ghosn argued the ban on contact with his wife was illogical because he was allowed to meet with other family members, implying the decision was meant to wear him out. His decision to escape was driven by his desire to be with his wife, he said. The preparation for Ghosn's trial had already taken a year, and the date for his trial was undecided. He was charged with underreporting of future income and breach of trust in diverting Nissan Motor Co. money for personal gain, the two separate charges complicating and prolonging his trial process. If convicted, he could face 15 years in prison. Prosecutors also can appeal district court decisions. "Even when they are eventually exonerated, they have already lost so much," Cho said, noting some suspects have lost their jobs, their reputation, even their families. Among the famous cases of wrongful convictions is Iwao Hakamada, who spent 48 years in prison until new DNA evidence won his release from death row in 2014. He had been questioned, beaten and bullied by police daily in detention and confessed to murdering a family of four, but asserted his innocence when his trial began.
Frenchman Mark Karpeles was arrested in 2015 after his bitcoin exchange collapsed. He spent 11 months in detention, although he was eventually cleared of embezzlement and fraud allegations. He got a suspended sentence, meaning no additional jail time was required, on a conviction on charges of manipulating electronic data. He is appealing. Karpeles said he was an innocent victim of hackers. A true-life story of a man who refused to sign a confession that he groped a woman on a crowded commuter train became a popular 2007 movie. The film depicts a five-year legal battle for exoneration, highlighting the burden of proof of innocence was on the accused rather than police and prosecutors proving guilt. Although Ghosn has drawn attention to the system's possible flaws, Cho was worried about a backlash, with release on bail getting tighter. "We had gradually been making progress, but this could set us back," Cho said. For example, with the idea of introducing an electronic tether, which Japan lacks and Ghosn had proposed to get bail, fewer people could end up getting bail, and, on top of that, be electronically monitored. Interpol has published a wanted notice for Ghosn but it is non-binding. Chief government spokesman Yoshihide Suga said whether Ghosn would be extradited was Lebanon's decision but that Japan would cooperate with international organizations "so that Japan's criminal justice system can be operated appropriately."Jacques Deguest, an expert on Japanese law and business, thinks Ghosn's case is so embarrassing for Japan it may discourage some non-Japanese from wanting to invest or live there. "Prosecutors are regarded as guardians and protectors of Japanese culture," said Deguest, an investor, lawyer and consultant. Their super-efficient, but often brutal, practices have resisted change, but sometimes pressures from abroad can bring it about, Deguest said. "Change happens often through crisis because it forces people to be uncomfortable with the status quo and forces them to move on," he said. "This Ghosn case is great in terms of magnitude because it has the power to put the external pressure on Japan that we all love," Deguest said. Ghosn was careful not to blame the people of Japan for what he called the nation's injustices. He led Nissan for two decades, steering the automaker back from near-bankruptcy to a thriving brand, although sales and profits have tumbled since his arrest. Ghosn said people on the streets who spotted him while he was out on bail would come up to him. They would tell him, he said in Japanese, "Ghosn-san gambatte kudsai," using the honorific for his name, saying: "Hang in there."
Ghosn Slams Japan Minister, Says Will 'Cooperate with Lebanese State'
Agence France Presse/Naharnet/January 09/2020
Former auto tycoon Carlos Ghosn on Thursday slammed as "ridiculous" a call by Japan's justice minister that he return from Lebanon to defend himself against charges of financial misconduct. The Japanese "judicial system is completely backwards," Ghosn said in an interview with Lebanese LBCI television channel. "I will fully cooperate with the Lebanese judiciary, and I'm much more comfortable with it than with the Japanese judiciary." Ghosn added that he wanted to stay in Lebanon and has no issues to hand in his passport. "I came to Lebanon and I will cooperate with the Lebanese state and judiciary to make sure that everything is done in a way that can't be criticized, not for Lebanon and not for me," he said. Ghosn then added that he is "a lot more" confident in Lebanon's judicial system than Japan's. He said Lebanese prosecutors questioned him on all the charges, adding that he was ready to hand in all the documents for his case. Moreover, Ghosn said his case highlighted the thousands of unfair trials in Japan. "It has become now my duty to defend all those people to change this regime that the Japanese are hiding and they claim is a democracy," he said.
Japan Urges Ghosn to Return as Fugitive Tycoon Defends Escape
Agence France Presse/Naharnet/January 09/2020
Japan's justice minister on Thursday urged Carlos Ghosn to return and make his case in court, after the fugitive former auto tycoon gave an impassioned defence of his decision to jump bail and flee to Lebanon. Ghosn made his first public appearance since his audacious December escape at a combative press conference in Beirut on Wednesday, where he slammed Japan and said he had been forced to flee because he would not get a fair trial. The ex-chairman of Nissan-Renault faced four charges of financial misconduct in Japan, which he alleges were cooked up by disgruntled executives at Nissan in collusion with Japanese prosecutors. On Thursday, Japanese Justice Minister Masako Mori called those claims "baseless" and insisted Ghosn's "assertions will not justify his flight from Japan in any way.""If defendant Ghosn has anything to say on his criminal case, he should make his argument in a Japanese court and present concrete evidence," she added. "If he claims innocence, he should face a trial under the justice system in Japan, where he was doing business, and he should submit evidence to prove his claims," Mori said.
'Presumed guilty'
The former car magnate spent much of his two-hour press conference insisting that justice was impossible for him in Japan. He argued that the charges against him, including allegedly under-reporting his pay and skimming Nissan funds for his own personal use, were a bid to bring him down for political reasons. "There was no way I was going to be treated fairly… this was not about justice," he told reporters, responding to questions in English, Arabic, French and Portuguese. Ghosn said he was "presumed guilty before the eyes of the world and subject to a system whose only objective is to coerce confessions, secure guilty pleas."Ghosn has argued since his shock November 2018 arrest that the case against him was a bid to block his plans to more closely integrate Nissan with its French partner Renault.On Wednesday, he alleged extensive collusion between the Japanese automaker and prosecutors and said he was the victim of character assassination. The Tokyo prosecutor's office hit back late Wednesday, saying "Ghosn's allegations completely ignore his own conduct." "His one-sided criticism of the Japanese justice system is totally unacceptable," the prosecutor's office said. Former Nissan CEO Hiroto Saikawa, a one-time Ghosn protege who was forced to resign in the wake of the scandal, also hit out on Thursday. Ghosn "fled because he was afraid of being found guilty," Saikawa told reporters.
Ghosn mum on escape details –
The 65-year-old businessman was out on bail in Tokyo when he launched his audacious escape plan, and said he decided to flee after his lawyers told him he could wait five years for a verdict. He also accused prosecutors of imposing strict conditions on his contact with his wife Carole in a bid to "break" him. Prosecutors in Tokyo this week obtained an arrest warrant for Carole, who is also in Lebanon, alleging she lied to a Japanese court. Ghosn refused to shed any further light on how he managed to slip past authorities and flee Japan at the end of December — an astonishing feat given his high-profile status and the restrictions he faced. Under his bail terms, his passports were confiscated, his home monitored and his internet access limited to a computer at his lawyer's office. Despite that, he appears to have formulated an elaborate plan with security experts who smuggled him onto a private jet at an airport near Osaka, packed into an audio equipment case. The plane whisked him to Istanbul, where he boarded a second private jet and continued to Lebanon, which does not have an extradition treaty with Japan. Interpol has issued a "red notice" at Japan's request, but it remains unclear how Tokyo can bring Ghosn back to the country to face trial. He said Wednesday he plans to take measures, including possibly challenging the Interpol notice, in a bid to clear his name, but would not be drawn on whether he planned to travel outside Lebanon.
Ghosn 'very comfortable' after Lebanon questioning: Lawyer
Reuters/Thursday, 9 January 2020
Carlos Ghosn's lawyer said he was "very comfortable" with legal proceedings in Lebanon on Thursday, after the fugitive ex-Nissan boss was questioned over an extradition request from Japan where he faces financial misappropriation charges. Ghosn fled Japan to Lebanon, his childhood home, last month as he awaited trial on charges of under-reporting earnings, breach of trust and misappropriation of company funds, all of which he denies. His dramatic escape has raised tension between Japan and Lebanon, where Ghosn slammed the Japanese justice system at a two-hour news conference on Wednesday, prompting Japan's Justice Minister to launch a rare and forceful public response. After questioning in Beirut about Japan's Interpol warrant, two judicial sources said the prosecutor had imposed a travel ban, a step Carlos Abou Jaoude, a Beirut-based lawyer for Ghosn, described as procedural to broadcaster Al Jadeed. Lebanon has no extradition agreement with Japan. "He (Ghosn) is very comfortable with the path," Abou Jaoude told another broadcaster, MTV, adding that Ghosn was also comfortable in himself "especially after what he went through." Ghosn said later he was more comfortable with the Lebanese judiciary than that of Japan. "I will fully cooperate," he told broadcaster LBCI. He also said he did not want to put pressure on Japan-Lebanon bilateral ties, two days after Japan's ambassador to Lebanon requested greater cooperation from President Michel Aoun in dealing in the case.
One of the judicial sources said authorities had asked Japan for its file on Ghosn, including the charges against him, and would not question him again until the information is received. Ghosn would surrender his French passport on Thursday, he said. Japan's Justice Minister Masako Mori said Ghosn's allegations that he had had "zero chance" of a fair trial in Japan were unfounded. "Defendant Ghosn was looking to justify his unlawful exit from Japan by propagating a false recognition of our justice system," she said at the second of two news conferences, the first of which was held shortly after midnight. "I felt that we needed to respond immediately to broadcast a correct understanding to people around the world."Ghosn told LBCI her comments were "ridiculous."
Trial in Lebanon?
Ghosn's arrest after his private jet touched down in Toyko in November 2018 shook the global auto industry and jeopardised the Renault-Nissan alliance of which he was the mastermind. The Brazilian-born executive said on Wednesday he had escaped to Lebanon to clear his name and was prepared to stand trial anywhere he could get a fair hearing. Ghosn has also said he was ready to stay for a long time in Lebanon and a source close to the 65-year-old has said his legal team is pushing for him to be tried in the country. The decision by Lebanon's prosecutor, Judge Ghassan Ouiedat, after Ghosn's questioning at Beirut's Justice Palace requires Ghosn to keep the authorities informed of his place of residence, the judicial sources said. Ghosn was also questioned over a formal legal complaint filed by a group of Lebanese lawyers who accuse him of "normalization" with Israel over a visit he made there in 2008. The prosecutor released him with the same condition, that he keep the authorities aware of his place of residence, the sources said. Ghosn said on Wednesday he had made the trip as a French citizen and an executive of Renault to sign a contract with a state-backed Israeli firm to sell electric vehicles, and had been obliged to go because the board had requested it. He said he had apologized for the trip and had not meant to hurt the people of Lebanon, which deems Israel an enemy state. During the visit, Ghosn met Ehud Olmert, who was Israel's prime minister at the time of the 2006 war between Israel and the Iranian-backed Lebanese group Hezbollah. Nearly 1,200 Lebanese, mostly civilians, died in the 2006 war and 158 people died in Israel, mostly soldiers.