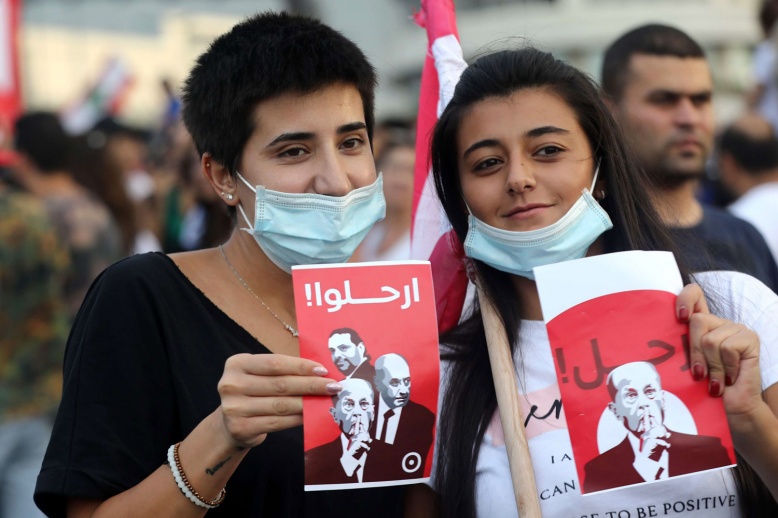 A Bundle Of English Reports, News and Editorials For December 05- 06/2019 Addressing the On Going Mass Demonstrations & Sit In-ins In Iranian Occupied Lebanon in its 50th Day




Compiled By: Elias Bejjani




December 06/2019
Tites For The Latest English LCCC Lebanese & Lebanese Related News published on December 05-06/2019
Rainfall Floods Poorly Maintained Lebanon Roads
Protesters Block Roads, Close Schools as Uprising Enters Day 50
Aoun Urges Fast Govt. Formation, Restoration of Confidence
Miqati Says His Bloc to Vote for Hariri, Not Khatib
Nadim Gemayel to Boycott PM Consultations
Geagea Says Proposed Govt. Nothing but 'One-Sided Govt.
Israeli Army Says Hizbullah Undeterred despite Recent Setbacks
Filipino Workers Flock to Leave Crisis-Hit Lebanon
Climate, Not Conflict, Drove Many Syrian Refugees to Lebanon
Suicide Deaths Rise in Lebanon's Stricken Economy
Lebanese Parliamentary Consultations Begin Monday as Khatib's Nomination Comes into Question
Rebuttal of Sarkis Naoum's column
Amin Gemayel meets Cypriot President in Nicosia
The Latest English LCCC Lebanese & Lebanese Related News published on December 05-06/2019
Rainfall Floods Poorly Maintained Lebanon Roads
Naharnet/December 05/2019
Heavy rainfall flooded many of Lebanon's badly maintained roads, stranding citizens in their cars and adding misery and suffering to their daily life conditions amid a burgeoning economic crisis unprecedented in the country's history. Most of the roads have been rendered impassable by heavy rain. Several roads south of the capital mainly in Jiyeh, al-Naameh and Khaldeh all the way to the airport road were flooding with water. Cars were seen washed away. The National News Agency said the northern international highway in al-Biddawi, north of Beirut, was also rendered impassable. Students on their way back home were stuck for hours in school buses. Some had to take the walk back home with assistance. For Lebanese, the scene of flooded streets is nothing new, given poor maintenance, corruption and mismanagement. Only some of the few reasons that drove people to the streets in massive protests ongoing since October 17. In the southern town of Nabatieh and Iqlim al-Tuffah, rainfall transformed the roads into swamps and lakes, said NNA, due to clogged sewage and waterways. Incident response staff were nowhere to be seen. Lebanon has been swept with anti-government nationwide protests since October 17 against mismanagement and corruption, with Lebanese demanding an overhaul of the entire political class.

Protesters Block Roads, Close Schools as Uprising Enters Day 50
Agence France Presse/Naharnet/December 05/2019
Setting a date for the binding parliamentary consultations has not appeased protests against corruption and mismanagement in Lebanon as protesters blocked several roads and closed schools on Thursday keeping up the flame of 50 days of protests that witnessed suicides linked to a deteriorating economic crisis.In the northern city of Tripoli, university students skipped classes and blocked a major highway linking Tripoli to el-Koura. The main square in Tripoli, al-Nour, remains blocked since the protests began on October 17. In the southern city of Sidon, angry students and protesters disrupted traffic at the city's main square before marching towards public institutions and banks to force them to close. They also marched to schools to close them down calling on students to join the protest. Other roads in north of Beirut were blocked with burning tires including a highway near Casino du Liban. On Wednesday, the presidency announced that consultations to name a new prime minister will begin Monday, more than a month after a wave of protests led Prime Minister Saad Hariri to resign. But protesters have already began rallying against the potential candidate for the job, saying he is too close to the political elite they have been calling on to step down. In a stark reflection of the deepening economic crisis, Danny Abi Haidar, in his 40s shot himself to death Wednesday with a bird rifle when he became despondent over salary cuts in recent weeks, according to his family. Many private companies have resorted to reducing staff or slashing their pay to deal with rising inflation and liquidity crunch. Protesters, already mobilized against the name floated as a potential successor for resigned Prime Minister Saad Hariri, gathered in central Beirut on Wednesday to mourn Abi Haidar's death. The protesters say Samir Khatib, named as a possible prime minister and a prominent contractor, is close to the political elite they have been protesting since Oct. 17. Hundreds of protesters blocked in towns in the Bekaa valley in the east on Wednesday in rallies against Khatib. Lebanon's armed forces said it arrested 16 protesters following scuffles to break up road blocks.
Aoun Urges Fast Govt. Formation, Restoration of Confidence
Naharnet/December 05/2019
President Michel Aoun on Thursday hoped the new government "will be formed as soon as possible so that it starts addressing the problems that need urgent care and attention."Aoun added that the new government should "restore confidence between the state and citizens.""The priorities of the new government will be achieving the necessary reforms in the various sectors, continuing the process of fighting corruption, and rectifying the flaws in the work of state institutions," the president went on to say. The Presidency on Wednesday announced that the binding parliamentary consultations to name a PM-designate will be held on Monday. Saad Hariri had tendered his government's resignation on October 29, bowing to pressure from massive and unprecedented popular protests that erupted on October 17. Aoun refrained from calling for immediate consultations to name a replacement, arguing that prior consensus was needed on the shape of the new government amid the extraordinary situations in the country. Protesters had demanded the formation of an independent technocrat government but media reports have said that the ruling political forces have agreed to form a techno-political cabinet led by prominent contractor Samir Khatib. Quoting Hizbullah and AMAL Movement sources, MTV reported Wednesday that a final agreement has been reached on Khatib's nomination. The sources added that they are "very optimistic," saying that the new government could be formed "before Christmas" and that "only the distribution of some portfolios remains pending."
Miqati Says His Bloc to Vote for Hariri, Not Khatib
Naharnet/December 05/2019
Ex-PM and Tripoli MP Najib Miqati on Thursday announced that his four-member parliamentary bloc had decided to vote for caretaker PM Saad Hariri in the binding parliamentary consultations to name a new premier. Hariri should "continue the mission that he has been leading since the presidential settlement three years ago, because we are not in a period that allows experiments," Miqati said in an interview with Al-Arabiya's al-Hadath television. Asked whether the bloc might nominate Samir Khatib, Miqati said: "Khatib possesses capabilities that should be respected, but the capability to shoulder burdens in these political circumstances is something else, seeing as the current period is difficult."He also added that other candidate "might emerge," noting that "an extraordinary government is needed to rescue the country."

Nadim Gemayel to Boycott PM Consultations
Naharnet/December 05/2019
MP Nadim Gemayel of the Kataeb Party on Thursday announced that he will boycott the binding parliamentary consultations for naming a PM-designate that have been scheduled for Monday. "Since the beginning of the revolution, I have witnessed with all Lebanese how much officials, topped by the president of the republic, have failed to truly heed the demands and spirit of the revolution," Gemayel tweeted. "Then we witnessed the farce of preparing for the binding parliamentary consultations. Accordingly, there is no point in taking part in these consultations, seeing as I'm not used to blind approval of decisions and charades," the MP added. The ruling political parties have reportedly reached consensus on nominating the contractor Samir Khatib for the PM post. President Michel Aoun had refrained from immediately calling for official consultations, arguing that prior agreement was needed on the candidate and on the shape of the new government due to the extraordinary circumstances in the country.
Geagea Says Proposed Govt. Nothing but 'One-Sided Govt.'
Naharnet/December 05/2019
Lebanese Forces leader Samir Geagea on Thursday noted that the proposed techno-political government is "nothing but a one-sided government.""The techno-political government that the ruling forces are proposing today is nothing but a one-sided government, seeing as its technocrats are mere fronts for the same political forces who have pushed people inside and outside Lebanon to lose confidence in the country," Geagea said after a meeting for the Strong Republic bloc. "What's needed today is a government that works according to scientific and economic backgrounds and with a new approach characterized with integrity, competence, objectivity and impartiality, which would restore the lost confidence in Lebanon," the LF leader added. Warning that Lebanon has become "in the middle of the storm of financial and economic collapse," Geagea called for "an immediate revival operation and a mighty, revolutionary salvation plan that draws inspiration from the revolution and its spirit and meets its demands, away from the approach of obstinacy and the distribution of shares." Saad Hariri had tendered his government's resignation on October 29, bowing to pressure from massive and unprecedented popular protests that erupted on October 17.Protesters had demanded the formation of an independent technocrat government but media reports have said that the ruling political forces have agreed to form a techno-political cabinet led by prominent contractor Samir Khatib.The Presidency has meanwhile scheduled the binding parliamentary consultations to name a new PM for Monday.

Israeli Army Says Hizbullah Undeterred despite Recent Setbacks
Associated Press/Naharnet/December 05/2019
A year after uncovering a network of cross-border Hizbullah tunnels, the Israeli military said Thursday that the Lebanese Iran-backed group has beefed up its presence along the volatile frontier. Israeli military officials said that neither the destruction of the tunnels, nor the current political crisis in Lebanon, have weakened the group's desire to prepare for renewed conflict with Israel. "We have a very serious enemy," said Colonel Roy Levy, the Israeli military's Northern Border Brigade commander, during a tour of the area Thursday. He said Hizbullah's main focus is to entrench itself along the border area and "plan to attack us."Israel and Hizbullah fought a monthlong war in 2006 that ended in a U.N.-brokered cease-fire. While direct fighting has been rare since then, there has been occasional violence, most recently on Sept. 1 when Hizbullah fired a barrage of anti-tank missiles into Israel in response to an airstrike in Syria that killed two of its operatives. Israel responded with artillery fire. Israel also has acknowledged carrying out scores of airstrikes in Syria, many of them believed to have been aimed at Iranian weapons shipments bound for Hizbullah. Israel considers Hizbullah to be its most immediate threat, saying the group has amassed an arsenal of some 130,000 rockets and missiles capable of striking virtually anywhere in Israel. More recently, it has accused the group of trying to import or develop guided missiles. Last December, Israel announced that it had uncovered a network of tunnels that it said Hizbullah was building with the aim of infiltrating and carrying out attacks. Over several months, it systematically destroyed the structures. In recent years, Israel has accused Hizbullah of taking over houses in southern Lebanese border villages to hide soldiers, ammunition, cameras and intelligence-gathering equipment. Levy pointed across the tree-lined frontier to several small shacks that he said were Hizbullah positions, just a few hundred meters away from Israeli residents. "Civilians, farmers, children drive here every day," he said. In addition to the loss of its tunnels, Hizbullah has suffered other setbacks in recent months. Its patron Iran, suffering from U.S. sanctions, is being rocked by mass demonstrations in which over 200 people have reportedly been killed. Lebanon has also experienced nationwide protests over the past two months against widespread corruption and mismanagement. Some of that anger has been directed toward Hizbullah, which is now seen as part of the ruling class that has wrecked the country's economy. But Levy said he has seen no changes in the group's behavior. "They have a lot of cameras, a lot of forces along the border, camouflaged," he said.
Filipino Workers Flock to Leave Crisis-Hit Lebanon
Agence France Presse/Naharnet/December 05/2019
Hundreds of Filipinos, most of them female domestic workers, flocked to their embassy in Lebanon Thursday to sign up for free repatriation from the crisis-hit country. The embassy issued a statement linking its offer of a free ticket home to Lebanon's free-falling economy. "More than 1,000 Filipinos, mostly women with some children in tow, arrived in droves to the Philippine embassy in Beirut to register for free mass repatriation scheduled in February next year," a statement said. An estimated quarter of a million domestic workers live in Lebanon, in conditions that have repeatedly been condemned by their countries of origin and rights group. A sponsorship system known as "kafala" leaves maids, nannies and carers outside the remit of Lebanon's labor law, and at the mercy of their employers. Cases of abuses are reported regularly, with workers often unable to obtain their rights or even flee because all their money and travel documents are held by their employers. Hailing mostly from the Philippines, Ethiopia, Sri Lanka and Bangladesh, some make as little as $150 a month. The Lebanese pound's tumbling value on the black market in recent weeks has led many employers to pay their domestic workers in the local currency. Others have been fired by employers who can no longer afford their services, leaving foreign workers stranded in Lebanon with no income. The embassy statement said that some workers "have recently lost jobs and income opportunities during these trying times in Lebanon."
Mohanna Ishak, a lawyer with the KAFA NGO that assists domestic workers, said that the severe economic downturn risked leading to more abuses. "The financial and psychological stress the Lebanese are under risks have repercussions on domestic workers," she said, adding that their salaries may go unpaid or they could face "more verbal and physical violence." Lebanon has been rocked by seven weeks of an unprecedented protest movement demanding an end to corruption and the wholesale removal of the current political elite. The campaign to abolish the "kafala" system has been widely supported by protesters.

Climate, Not Conflict, Drove Many Syrian Refugees to Lebanon
Associated Press/Naharnet/December 05/2019
Hundreds of Filipinos, most of them female domestic People who fled Syria in recent years are often viewed as war refugees because of the violence that has engulfed much of the country since 2011. But those from the northern and northeastern parts of Syria may more accurately be viewed as climate refugees, fleeing not a worsening conflict but an increasingly severe drought. I have been studying various aspects of water and food security in the Middle East for a long time. Now I have begun a new project studying the social and economic conditions needed to repatriate rural refugees to the farming communities in Syria. My recent interviews with Syrian refugees who now live in Lebanon reveal that climate is a major obstacle for many people when they consider returning to their homeland. In Syria, most farming relies on rain, not irrigation, which makes it vulnerable to climate change. Many refugees from the Raqqa region tell a similar story: As one told me, "The land has been giving less and less."The reason, they told me, is that it rains far less than it used to when they were young farmers, and rainfall is less predictable.
Increasing drought
Historically, northern Syria has been a productive agricultural area, making up part of the fabled Fertile Crescent of the Middle East, where humans first began farming around 9,000 B.C. An estimated 75 percent of Syria's wheat production is in northern and northeastern parts of the country: Al Haksa, Ar-Raqqa, Aleppo and Dayr Az Zawr provinces. In general, precipitation is highest in the coastal areas in the west of the country and along the Turkish border to the north. Usually, there is enough rain to support rain-fed farming and pastureland for sheep and goat herders. Rainfall decreases farther east and south in the country. In the last few centuries, the country's drought cycle has become more frequent, from having a drought once every 55 years, to every 27 years, to every 13. Now, droughts happen every seven or eight years. The poorest peasants of the Raqqa region are hit the hardest because they do not have many assets to sell in times of drought – nor any surplus grains to save for the next planting season.
People start to move
There is not a direct, immediate relationship between changing climate and the drive to migrate. The climate can change slowly, and people don't usually respond instantly when circumstances shift. Thousands of Syrians have been leaving northern and northeastern parts of the country over the past 20 years or so. As the severe drought of 2006 to 2011 hit, the number of emigrants rose. A 2011 study found that Syrian households had lost 19.5% of their income as a result of droughts and other environmental factors – and that rain-dependent farmers were hit harder than farmers who relied on irrigation. The vast majority of Syrians who left northern and northeastern Syria are farmers and unskilled workers. Many of them were drawn, on a permanent or seasonal basis, to the Bekaa Valley, a large agricultural area in eastern Lebanon. The valley enjoys a moderate Mediterranean climate.
A rise in refugees
In 2011, before the Syrian civil war broke out, up to one million Syrians were believed to be working in Lebanon. When the violence started, those established settlers drew in relatives and neighbors. Official numbers say there are close to a million Syrian refugees also in Lebanon now, in addition to the million workers there before the war. The Lebanese government and U.N. officials believe the actual number is closer to one and a half million refugees. That means Syrians make up over one-quarter of Lebanon's population. In my recent interviews with Syrian refugees in the Bekaa Valley, I learned why they had left their homes and what it might take for them to be ready to go back. The refugees I spoke with came from farming backgrounds. Many were from the city of Raqqa and nearby villages.
A few, especially those from southwestern Syria, spoke of bumper crops and routine farming challenges like varying harvests and the costs of seeds, fertilizer and livestock fodder. However, farmers who came from northern and northeast areas such as Raqqa and nearby towns and villages were almost unanimous in describing how hard farming had become over the last 20 years. The refugees attributed this to government agriculture policies that changed in the face of drought. The Syrian government reduced the amount of land that could be planted with cotton and sugar beets, water-intensive crops that earn farmers a lot of income. The government tried to boost farmers' income by selling drought-resistant cotton seeds and sprinkler systems, which conserve water and boost yields. However, refugees told me, farmers were already financially squeezed from lower yields due to the drought. Most were small-scale farmers, or didn't own the land they worked, so they could not earn enough to purchase the technology.
Heading home?
Many refugees told me that even if their home region became physically safe to return to, they would not go back. They feared they would be unable to eke out a living from the increasingly arid land. If they did return, they would also be faced with needing to repair war-damaged wells and irrigation canals and restore services from veterinary experts and farmers' suppliers, who were driven away by war. Almost all of this infrastructure remains unrepaired.
Together, the drought and the war's destruction mean it's unlikely that many of these refugees will leave Lebanon anytime soon – if at all. The Syrian civil war may end one day, but the land's problems will remain.
[ Like what you've read? Want more? Sign up for The Conversation's daily newsletter. ] This article is republished from The Conversation under a Creative Commons license. Read the original article here: http://theconversation.com/climate-not-conflict-drove-many-syrian-refugees-to-lebanon-127681.
Suicide Deaths Rise in Lebanon's Stricken Economy
Associated Press/Naharnet/December 05/2019
Suicide deaths are rising in Lebanon as the country grapples with an unprecedented economic crisis raising suicide deaths to three on Thursday. Nazih Aoun, 56, from the southern town of Tebnin, put his life to an end on Thursday "because he has been unable to find a job for while," the National News Agency reported. Aoun is the third Lebanese to commit suicide over dire economic conditions and an unprecedented financial crisis. On Wednesday, a man in his 40s shot himself to death with a bird rifle when he became despondent over salary cuts in recent weeks. On Sunday, Naji Fliti, a 40-year-old father of two, committed suicide outside his home in the eastern border town of Arsal because he could not pay outstanding medical bills for his cancer-stricken wife. An unprecedented anti-government protest movement has gripped Lebanon since October 17, fueled in part by deteriorating living conditions. The World Bank has warned of an impending recession that may see the number of people living in poverty climb from a third to half of the population. Unemployment, already above 30 percent for young people, would also go up, it said. Prime Minister Saad Hariri's cabinet resigned two weeks into the protest movement, bowing to popular pressure. But the country's deeply divided political class has yet to form a new cabinet, frustrating demonstrators who have remained mobilized.
Lebanese Parliamentary Consultations Begin Monday as Khatib's Nomination Comes into Question
Beirut – Asharq Al-Awsat/Thursday, 5 December, 2019
A recent agreement on the nomination of Engineer Samir al-Khatib for the premiership was further complicated by a controversy between the country's former prime ministers and President Michel Aoun over constitutional powers, and renewed protests in the street. Although the Baabda Palace announced that the binding parliamentary consultations would be held on Monday, political sources noted that solutions were only "written on paper" and not approved by politicians, pointing that delaying the consultations for additional four days was an indication of complications. The political sources said that the initial consensus on Khatib was still open to all possibilities, adding that the positive atmosphere could be dissipated by two factors: the renewal of street protests and doubts surrounding the composition of the new government, "which looks so similar to the old cabinet, with some minor alteration."
Meanwhile, a Lebanese ministerial source told Asharq Al-Awsat that caretaker Prime Minister Saad Hariri was still supportive of Khatib's nomination to head the new government. They added that Hariri would name experts to assume portfolios in the cabinet, out of his conviction that the current stage required a government of technocrats to create a "positive shock", meet the demands of the street and salvage the economy. The source said that Hariri's recent meeting with Speaker Nabih Berri's political aide, caretaker Minister Ali Hassan Khalil, and Hezbollah Secretary General's political assistant Hussein Khalil was "positive." Well-informed sources said that the government would be composed of 24 ministers, including five Sunnis and five Shiites, two Druze ministers, five Maronites, four Orthodox, two Catholics and one Armenian.
They added that the Progressive Socialist Party (PSP) would not participate in the government as a political party, but would name one non-partisan Druze figure to assume a key ministry. The other Druze seat will go to the civil movement, according to the sources. The Shiite seats will be shared by the Amal Movement and Hezbollah, while Hariri would nominate a Sunni professional to take over a portfolio. Two Sunni seats will go to the civil movement, in addition to the prime minister, while a fifth Sunni figure remains unresolved. As for the Christian seats, the quota of Lebanese Forces (three ministers) will go to the civil movement, which will name its own figures, the sources said.
Rebuttal of Sarkis Naoum's column
NNA/December 05/2019
The Press Office of Caretaker Prime Minister Saad Hariri issued the following: In his column published in An-Nahar newspaper yesterday, journalist Sarkis Naoum said that caretaker Prime Minister Saad Hariri "contacted his friend since college in Georgetown, the Saudi Minister of State for Foreign Affairs Adel Al-Jubeir, and asked him to convey his greetings to Crown Prince Mohammed bin Salman and to ask for his guidance and positions. The Prince's response, through Jubeir, was: The Crown Prince is fine and greets you. He tells you that when you were with him and told him about your candidacy or your intention to nominate Michel Aoun for the presidency, he objected. You then replied that you would vote for Aoun and that you would be responsible for the results. Now you have to bear the consequences of this stance." Hariri's Press office underscores that this phone call did not take place, and that everything in the alleged imagined dialogue is totally untrue.
Amin Gemayel meets Cypriot President in Nicosia
NNA/December 05/2019
Former President Amin Gemayel met in Nicosia with Cypriot President Nicos Anastasiades, who called on his host to "use his international and regional relations with a view to reducing tensions and converging views so as to spare the Middle East further disasters, especially as this region has become strategic par excellence on the background of the discovery of oil and gas wells, which triggers the major powers."The Cypriot president urged "creating an atmosphere of understanding to enable countries to invest in this wealth and use it in raising the standard of living of peoples and in establishing economic, cultural and social development."
Lebanese security forces re-open all blocked roads
Joanne Serrieh, Al Arabiya/December 05/2019
The security forces have succeeded in opening all the blocked roads across Lebanon, according to an Al Arabiya correspondent. Clashes and road blocks continued into Thursday morning in various parts of Lebanon as the protests near their 50th day. Earlier in the south, demonstrators blocked the main entrance to Nabatieh's vehicle registration department and demanded it be shut down, reported the NNA. Employees and demonstrators clashed when the employees refused to disrupt the business and interests of the citizens. Meanwhile in Sidon, a group of protesters, mostly school students, marched from Elia Square to public facilities to shut them down, starting with Electricite du Liban, telecommunications company Ogero as well as a number of banks, while another group headed to the public market of Sidon to close the shops. Shop owners re-opened their shops after closing for two hours at the request of the protesters. Others held demonstrations in front of the Lebanese University and the LIU in order to interrupt their studies and encourage the others to join the demonstrations. There were also major traffic delays in downtown Beirut due to the Ring Bridge being blocked by demonstrators once again Thursday morning. It was later opened by anti-riot police. Many clashes have taken place in this area since the start of the demonstrations, including clashes when Lebanon's Hezbollah and Amal supporters attacked protesters. Lebanon's President Michel Aoun called on Wednesday for binding parliamentary consultations to designate a new prime minister to take place on Monday. According to Al Arabiya sources, it is expected that the protests will continue and possibly escalate due to people objecting the nomination of Samir Khatib for the prime minister position. Lebanon has been in political deadlock since Saad Hariri resigned as prime minister in late October.
Titles For The Latest Lebanese LCCC English analysis & editorials from miscellaneous sources published on December 05-06/2019
Lebanese security forces re-open all blocked roads/Joanne Serrieh, Al Arabiya/December 05/2019
Lebanon protests are dividing the country's struggling media/Adèle Surprenant/Al Arabiya/December 05/2019
After this week's suicides, Lebanese NGOs offer assistance/Perla Kantarjian/Annahar/December 05/2019
Milking Iraq and Lebanon for Iran's benefit/Abdulrahman Al-Rashed/Arab News/December 05/2019
Lebanon's Daily Star employees on strike, citing unpaid salaries/Leila Molana-Allen/Al Jazeera/December 05/2019
Rafik Hariri was a nation-builder – his legacy must not be tarnished/Basem Shabb/The National/December 05/2019
U.S. Senator Jeanne Shaheen of New Hampshire Suggests Sanctions on Lebanese Officials over Amer Fakhoury/Associated Press/Naharnet/December 05/2019
The Latest Lebanese LCCC English analysis & editorials from miscellaneous sources published on December 05-06/2019
Lebanon protests are dividing the country's struggling media
Adèle Surprenant/Al Arabiya/December 05/2019
The ongoing protests in Lebanon have divided the country's media along new lines and placed further stress on an already struggling industry – but also offered opportunities for new platforms to emerge. "One camp supports the revolution, and the other still conveys the narrative of the ruling power," said Matthieu Karam, the head of the web journalism department at the Beirut-based French-language publication L'Orient-le Jour. This is a new dividing line in the country's media landscape, which previously reflected the divide that emerged in 2005: between the March 14 Alliance, which opposes Syria's interference in the country, and the pro-Syrian March 8 Alliance, made up of Hezbollah and the Free Patriotic Movement of current President Michel Aoun. "The fracture line [in Lebanese media since the protests began] is less clear, as we can now see a firm opposition between the media outlets that support the revolution and those that are completely opposed," explained Ayman Mhanna, Executive Director of the Samir Kassir Foundation, named after the Lebanese journalist and intellectual that was assassinated in 2005. News channel like MTV, LBCI and New TV have embraced editorial lines that clearly support the protesters, while media outlets like the Hezbollah-led al-Manar or al-Akhbar have expressed their support for the government. While some journalists have been able to criticize the political elite while working for elite-controlled media, others have been forced to resign. Al-Akhbar in fact saw two of its journalists resign in the first weeks of the protests on account of the paper's position on the nationwide social movement.
Media struggling
As Lebanon remains in political deadlock and nears economic crisis, the media is also struggling. Since October 17, journalists have been working over-time, but advertising revenue has been dropping drastically, leaving the actors of the industry under stress. The financial pressure has already cost the jobs of 300 employees from Future TV, former Prime Minister Rafic Hariri's channel – inherited by his son, Saad Hariri – that closed in mid-September due to economic reasons. Earlier this year, Hariri already had to let go of his newspaper al-Mustaqbal. This closure is seen as a reflection of the unsustainability of the current media model, which has resulted in unpaid salaries, increasing dependence on unpaid interns, and the dismissal of staff. Outlets such as The Daily Star have experienced high numbers of resignations, with many of the remaining staff striking on Wednesday, December 5, in protest against months of late pay checks. A staff member on strike told Al Arabiya English that, "what broke the camel's back really was the dismissal of [their] colleague Benjamin Redd, quite abruptly in a way that [they] felt was unjustified." In a Twitter post, Redd announced that he was let go on December 4 due to his implication in the "[organization of] a strike because workers are owed up to half a year's salary — despite the paper being owned by Lebanon's billionaire [former] prime minister [Saad Hariri]."
Journalists have also been the target of several attacks since the beginning of the uprising. The Samir Kassir Foundation's Center for Media and Cultural Freedom has reported cases of online harassment or damages on vehicles and buildings owned by media enterprises, raising the question of journalists' security in the coverage of the protests.
Journalists have also been harassed in the streets, as was the case with MTV staff members Joyce Akki and Christian Abi Nader, who got their cameras broken by protesters in downtown Beirut during the first days of the protests.
Challenging elite control
While traditional Lebanese media may be struggling, new forms of grassroots journalism have sprung up in line with the protests challenge to the status quo. Traditionally, political elites have controlled the media in Lebanon, a process with roots in the Lebanese civil war (1975-1990). "[The wartime government gave] licenses to media outlets created by militias, militias who then converted into political parties and controlled the post-war political arena in Lebanon," explained Mhanna. As the law does not prevent any MPs or Ministers from holding shares in media, media watchdog Reporters Without Borders – which ranks Lebanon 100 out of 180 for press freedom – estimates that 78.4 percent of the media outlets are politically affiliated. From that number, a quarter are directly owned by active politicians. But the protests have encouraged grassroots journalists to produce their own platforms.
On November 28 the first edition of the 17 Teshreen newspaper was published. Named after the October 17 Revolution, the print was created with the aim of "documenting the experiences and achievements of the Lebanese street," according to its director, Bashir Abu Zeid.
In his first editorial, the young director also claims that the initiative was financed solely by donations collected during the protests – a rare feat in a country where the media's economic structure is based on private ownership or donations from either political leaders or their parties. Already existing outlets such as Megaphone, Daraj and Raseef22 also saw their popularity rose, giving some commentators optimism about the future of Lebanese media. "These protests strongly helped independent, progressive and secular media, especially online publications," said Mhanna, who sees hope in the new platforms. As protesters continue to voice their anger on social media, these new channels of communication might become "the reference for all the young revolutionaries that don't recognizes themselves in the traditional media treatment," he added.
After this week's suicides, Lebanese NGOs offer assistance
Perla Kantarjian/Annahar/December 05/2019
In these times of distress, many Lebanese NGO's and sympathetic groups are offering their services and assistance to alleviate any pain or difficulty their homeland's community members may be going through.
BEIRUT: Lebanon's ongoing economic and political turmoil is taking its toll on the mental health of its citizens, many of whom are losing their jobs and facing overwhelming financial and psychological troubles on a daily basis.
Within less than five days, the culmination of a variety of factors has led four of Lebanon's citizens to die of suicide.
On Thursday, Nazih Aoun ended his life in Tebnine, South Lebanon, a day after Dany Abou Haidar, a man in his early 40s, shot himself in the Sin El Fil area in public; and Antonio Tannous, an Internal Security Force member from the Akkar area, was found dead with his rifle next to him.
On Wednesday, two men attempted suicide, one by jumping off the roof of his building in Saida, and another by setting himself on fire in Akkar.
On Sunday, Naji Al Fleity, a father of two, hung himself in his home in the Ersal area. Suicide prevention marches took place on Wednesday, where people carried posters that say "how many more suicides do you need?" directed at government officials.
In these times of distress, many Lebanese NGO's and sympathetic groups are offering their services and assistance to alleviate any pain or difficulty their homeland's community members may be going through.
Lea Zeinoun, Executive Director of "Embrace" told Annahar: "Mental illness has a twofold nature: one caused by biological circumstances and another by environmental surroundings, and 90% of suicides are caused by people with mental illnesses."
"Embrace" is a local NGO, founded in 2013, dedicated to raising awareness on mental health in Lebanon and who launched the first national and emotional support and suicide prevention helpline in Lebanon.
"Within the last three hours, we have received over 25 calls expressing feelings of anxiety and distress, and four of which exhibited suicidal thoughts," Zeinoun said, explaining that the enormous amount of stress that Lebanese citizens are currently going through might "add on the mental illness of a person and lead to suicide if left untreated."
She continued: "When we receive calls on the suicide prevention hotline, we firstly tell our callers that politics and the economy affect our lives indirectly and directly and cause feelings of uncertainty, and it's very normal to feel uncertain."
"We advise them to pace themselves in times likes this in order to cope with the uncertainty and stress," Zeinoun said, explaining that "there's a certain amount of news the average human can tolerate, and taking a break from them is important, especially with the fake news being circulated."
With the ongoing financial crisis, many Lebanese are struggling to provide food for their families. Maya Terro, co-founder and Executive Director at FoodBlessed, a pioneering national hunger-relief and food rescue initiative founded in 2012, told Annahar that "anyone in need can come to one of our soup kitchens and have a free meal any time they feel the need to. What's ours is theirs. No questions asked."
FoodBlessed keeps an updated record of all of its soup kitchen regulars who receive food assistance packages every couple of months, and not just over the holidays.
"The list is always updated," Terro said, "Some names we already know and are our regulars, others are referred to us. This being said, anyone in need is welcomed."
FoodBlessed's volunteers are currently launching their Christmas food drive and are asking community members to help them collect food items for those in need, which are then packaged and distributed across Lebanon.
In the words of Ghida Husseini, counseling psychologist and managing partner at Metanoia, the stress and trauma center in the Middle East, "There are many factors that are at play for people who commit suicide."
Husseini explained that "it's not unusual for suicide rates to increase during times of crisis. People who are already suffering may find themselves more trapped, and revert to ending their life for the pain to stop."
"However," she continued, "I encourage anyone who might be suffering to seek help, there's always a way out. I also encourage the people around friends and relatives in distress to help and listen to any suicidal reflection, since offering the needed support may save their lives."
For anyone in need of psychological or physiological assistance, Annahar has gathered a list of local NGOs and groups who can help:
– Embrace's suicide prevention hotline (12pm-2am): 1564
– Restart (NGO for specialized mental health services) : Tripoli +961 06 411 451 – Beirut +961 01 291 066
– FoodBlessed (NGO dedicated to hunger-relief): +961 70 159 337
– 4-A-Cause (NGO that collects fund for a variety of causes, currently dedicated to hunger-relief): cynthia@blackhowl.org
– Himaya (NGO dedicated to fighting child-abuse in Lebanon): himaya@himaya.org
– ABAAD (Resource Center for Gender Equality):
• Al Dar, emergency safe sheltering for women and girl survivors or at-risk of violence, emergency line (24/7): +96176060602
• Women and Girls Safe Spaces, legal, psychosocial, referral, holistic services, safe line (24/7): +96181788178
• Men Centre, support for men who have issues with aggressive behavior or masculinities, (M-F, 9:00-17:00): +96171283820
Our thoughts and prayers go out to all victims of suicide.
Milking Iraq and Lebanon for Iran's benefit
Abdulrahman Al-Rashed/Arab News/December 05/2019
Protests in Basra, Beirut and elsewhere thwart Iran's most important political plan, which is building a regional market under its control.
The uprisings are a development that the leaders in Tehran did not anticipate, as they had regarded Iraq and Lebanon as subordinate states, whose task was to host a land corridor linking Tehran to Beirut. The Iranian plan, however, is falling apart in Iraq and shrinking in Lebanon as a result of the hostile protests against it. This was reinforced by protests against the regime that erupted simultaneously in all Iranian cities.
The market plan was mentioned in a speech delivered by Hezbollah Secretary-General Hassan Nasrallah. In his speech, he revealed the plan to exploit the Iraqi market by linking it to Syria and Lebanon through the so-called Iranian land corridor.
In his televised speech last month, Nasrallah said: "What is the opportunity? It is Iraq. Iraq is a big and rich country. We have one problem. How would Lebanon's agricultural products reach Iraq? How would the Lebanese industrial production reach Iraq? What would all this lead to? It will reactivate the agriculture sector, revive the factories, open a horizon for new factories. What does all this depend on? Well, since we cannot export by sea and do not export potatoes to Iraq by air, our products must be exported by land, depending on one step: That the Lebanese government agrees with the Syrian government (to have a land link) between the crossings from Lebanon to the Al-Bukamal border crossing (between Syria and Iraq). The Americans have worked day and night to prevent the opening of the latter. One of the reasons for the (US) outrage against the Iraqi Prime Minister, Adel Abdul Mahdi, is his insistence on opening the Al-Bukamal border crossing with Syria. Take it from me, and I know the details, the Americans have not spared any means of pressure or threat to prevent the opening of the Al-Bukamal crossing. The 'excuse/lie' is that, through the Al-Bukamal crossing, missiles will pass to Lebanon."
This is what Nasrallah said, and we realize that the escalation of the Syrian war has been taking place in unison with a project of Iranian domination by armed force in three countries — Iraq, Syria and Lebanon — with an action plan to control all their markets.
In his speech, Nasrallah focused on the Iraqi border crossing with Syria because it is, indeed, the gateway for the militias and missiles of the Iranian project, in addition to potatoes and other goods. The Iranian regime is unable to transport these militias and missiles by air or sea, and has discovered that using distant sea lanes via the Atlantic Ocean was an expensive and dangerous operation.
What about Nasrallah's trade integration?
The idea is not new. Before the Iranian intervention, Lebanon used to export agricultural and industrial products to the Iraqi and Gulf markets; but Hezbollah has destroyed Lebanon's economy and stability by insisting on keeping its weapons.
Nasrallah focused on the Iraqi border crossing with Syria because it is the gateway to the Iranian project. Iran now intends to create its own regional economies that will bolster its political influence and war effort in the region; not to create independent economies that help the people of the countries concerned and strengthen their governments. In Lebanon itself, Hezbollah has filled its south and northeast with hashish farms and drug factories, imposed exorbitant tariffs and excluded those who disagreed with it from the market; leading to mounting hostility against it in areas such as Baalbek-Hermel.
In fact, Lebanon has lived for a decade-and-a-half under the almost total domination of Hezbollah. The result is the current deterioration of people's living conditions, a shrinking economy, and widespread corruption.
Like the Lebanese, the Iraqi people, led by Shiites, have revolted too: Demanding decent living standards, and refusing to be a "cash cow" for Iran's Islamic Revolutionary Guard Corps and its militias.
*Abdulrahman Al-Rashed is a veteran columnist. He is the former general manager of Al Arabiya news channel, and former editor-in-chief of Asharq Al-Awsat. Twitter: @aalrashed
Lebanon's Daily Star employees on strike, citing unpaid salaries
Leila Molana-Allen/Al Jazeera/December 05/2019
Over a dozen members of staff at English-language daily do not go to work after not being paid for months.
Beirut, Lebanon – Members of staff at Lebanon's The Daily Star newspaper have gone on strike, saying salaries had gone unpaid for months.
More than a dozen reporters and editors at the English-language daily did not go to work on Thursday. Some said they had not been paid in nearly six months despite working full-time.
"First it was a week, then two, then a month," said Timour Azhari, a reporter at The Daily Star and one of those on strike. "Then suddenly we went for two or three months without anything."
"We've had promises saying the money is coming, we're working on getting the money… but in the end, we have no money," he said. "So we've been pressuring, we've been holding meetings, we've been asking, sending emails. But generally we felt that our demands were not getting through."
Employees last week had warned management of the impending strike, submitting a document asking for one month's salary to be paid by Wednesday, and for a schedule to be drawn up for the rest of the outstanding payments. The newspaper's editor said it was unable to meet these demands.
"Yes, we have a cashflow problem; yes, salaries have been somewhat delayed, that of course is true," Editor-in-Chief Nadim Ladki told Al Jazeera.
"We are doing as much as we can to resolve the situation. But, as you know, the newspaper industry around the globe is facing challenges, so we are part of that." Ladki said employees could ask the company accountant to pay small sums in emergency circumstances on a case-by-case basis. Staffers said this system helped them to survive this long, with one likening the process to asking employees to "beg for our salaries".
Previous promises to pay wages soon had gone unfulfilled due to Lebanon's anti-government protests, which have been ongoing for six weeks, having disrupted the banking system and driven down advertising sales, Ladki said.
"I'm not saying the staff are not within their rights to demand the full amount, and of course this is the duty of the paper. But there are circumstances that have really not helped us."
'You're fired'
As staffers met on Wednesday afternoon to decide whether or not to proceed with the strike, long-time employee Benjamin Redd received an email from management telling him it was his last day at the newspaper: He was being let go due to financial constraints.
"At the end of my shift I got an email basically saying you're fired, get out, don't come back … on the eve of the strike," Redd said.
"I don't believe it was just a financial decision. The timing is very convenient."
The consensus among staff was that Redd had been fired for appearing to lead calls for a strike, according to Azhari, who submitted his resignation on Thursday, citing Redd's dismissal.
"Management seemed to think that he had taken on a leading role, which I must stress is not true," he said. "It really was democratically by consensus, with all staff members, but somehow they got the impression that he was leading it and he was fired for that."Staff said if management had intended firing Redd to dampen calls for a strike, it had the opposite effect.
"[It] was the trigger for a lot of the people who went on strike today, because it came very much out of the blue, and it appeared to be in response to Ben's role in helping organise this action," said one current staffer taking part in the strike, who asked to remain anonymous as they feared jeopardising their job following Redd's dismissal.
"We just weren't convinced that it was done in good faith."
"It was a clear tactic of intimidation coming from upper management … and I received that message as a clear threat," said another. Ladki insisted Redd was let go solely for financial reasons, but acknowledged that the timing was unfortunate. "Ben was on a high salary and high expenses … so the idea was that for his salary, I can get three or four younger journalists, that was the decision," Ladki said. "The timing looked very bad, yes."
Several staffers at The Daily Star confirmed to Al Jazeera on Thursday that they had resigned or planned to do so imminently. One said they had been thinking about leaving over the pay issue, but Redd's firing "was the last straw".
Tens of employees have left the newspaper in recent months thanks to payment issues, leaving it severely understaffed.
The Daily Star is almost entirely owned by the family of Lebanon's caretaker prime minister, Saad Hariri. Employees of several media companies owned by the family have consistently gone unpaid. In September, Hariri announced the suspension of operations at Future TV, once one of Lebanon's most-high profile channels, citing financial difficulties. At the time, the majority of the station's 380 staff had been on a weeks-long strike after going unpaid for months
Rafik Hariri was a nation-builder – his legacy must not be tarnished
Basem Shabb/The National/December 05/2019
Historians looking back at his rule will describe him as a patriot who had his country's best interests at heart
Lebanon is undergoing the worst economic crisis in its history, and protesters have filled the streets of its cities and towns since October. Rampant corruption, mismanagement and a lack of job opportunities are at the root of the uprising. Protests initially opposed a new tax on Whatsapp, the popular messaging application, before quickly taking a political turn, with demonstrators demanding an end to corruption and sectarianism – as well as the departure of the entire political class.
In response, Shia political outfit Hezbollah and its allies – which effectively dominate Lebanese government – have orchestrated an assault on the legacy of the late Rafik Hariri, who as prime minister in the 1990s and 2000s, helped build an economically liberal Lebanon. They have blamed him for the current economic collapse, 14 years after he was assassinated.
Rafik Hariri's critics could not be farther from the truth. However, before talking about his legacy as a nation-builder, it is important to provide the political context that the country finds itself in.
Iran-backed Hezbollah has been allied to the Free Patriotic Movement, or FPM, founded by Lebanese president Michel Aoun and headed by his son-in-law, Lebanon's foreign minister Gebran Bassil since 2006. A decade later, Mr Aoun became president and the alliance gained a majority in parliament and inside the council of ministers. For Hezbollah, this was an ideal arrangement. The FPM provided a broad Christian cover to the terrorist organisation, while rapprochement between the FPM and the now former prime minister Saad Hariri, the son of Rafik, served to appease the West and Gulf allies, understandably worried about the rise to power of an Iranian proxy.
All three major players in Mr Aoun's unity government ignored the signs of a battered economy on the verge of collapse. A strong sense of entitlement prevailed. With Hezbollah dominating government, foreign investment dwindled, especially after the group provoked a month-long war with Israel in 2006. Tourists who used to flock from the Arab world by the thousands stopped visiting Lebanon, depriving the country of an important source of revenue, which Beirut relied on heavily during Rafik Hariri's time in office.
In recent years, banks have applied skyrocketing interest rates to attract money to the cash-strapped country, where endemic corruption and poor governance have emptied the coffers of the state and plagued the economy.
While Hezbollah and the FPM have blamed the economic policies of the senior Hariri for the country's financial woes, these parties have failed to acknowledge their own responsibility in precipitating Lebanon's economic demise. Hezbollah's Iranian backing, for instance, has made Lebanon the target of US sanctions against Tehran, which were by default extended to entities dealing with the proxy. The banking sector took a toll, with Jammal Trust Bank having had to close down in September for its dealings with the group. A few years ago, it was the Lebanese Canadian Bank that was under strain after the US accused it of laundering money for Hezbollah. Not only did ordinary civilians with no relation to the terror group lose their jobs, as a result of it, but the banking sector had also been tarnished.
Hezbollah and its allies have added further strain on the economy by delaying the formation of a new government. The junior Hariri and his cabinet bowed to protesters' demands and resigned in October but Mr Aoun has yet to name a successor to form a technocratic government – a key demand made by the protesters. Hezbollah and the FPM insist on a shared technocratic-political government, an alternative that is refused by both the protest movement as well as Saad Hariri. This impasse has precipitated the country's economic problems. In the past few weeks alone, the private sector suffered tremendous losses with many businesses halving their employees' salaries for lack of revenues. The currency lose one-third of its value against the US dollar.
Returning to the issue about Rafik Hariri's legacy, one must remember that he had a vision for an economically liberal Lebanon, closely allied with the West and fellow Arab countries, especially in the Gulf. The sound business acumen of the self-made billionaire gained the trust of Arab and European nations who invested in Lebanon after the 15-year civil war came to an end in 1990. Today, Beirut has failed to convince its allies to invest in a country unable to manage its resources properly, or to prevent funds from being siphoned off by corrupt officials.
I am confident that historians looking back at Rafik Hariri's reign will describe him as a patriot who worked hard to end the civil war
I am confident that historians looking back at Rafik Hariri's reign will describe him as a patriot who worked hard to end the war, paving the way for reconciliation and just representation with the so-called Taif Agreement. Signed in 1989 in Saudi Arabia, the deal that effectively ended the war focused on a power-sharing solution between the country's three main religious groups. From then on, Lebanon's president was to always going to be a Maronite Christian, the prime minister would be a Sunni and the speaker of parliament a Shia. In addition to his political achievements, the late Hariri oversaw an unprecedented period of growth in post-war Lebanon and had his country's best interests at heart.
The restoration of downtown Beirut, entirely rebuilt after the war, was to be the jewel crowning Rafik Hariri's achievements. The neighbourhood was supposed to revitalise the local economy and become a tourist destination. Its vacant shops and deserted alleys have now become silent witnesses to the end of an era. Years from today, we will recall Rafik Hariri's time as prime minister as many Lebanese now recall Camille Shamoun's presidency: a golden age of prosperity.
*Dr Basem Shabb is a former member of parliament in Lebanon
U.S. Senator Jeanne Shaheen of New Hampshire Suggests Sanctions on Lebanese Officials over Amer Fakhoury
Associated Press/Naharnet/December 05/2019
Amer Fakhoury — a Lebanese-American man jailed in Lebanon since September over collaboration with Israel accusations — is very ill, and if he dies there, then Lebanon should be subject to sanctions, U.S. Senator Jeanne Shaheen of New Hampshire has said.
Shaheen, who was addressing a Senate Foreign Relations Committee hearing in Washington, said Fakhoury has been "illegally" detained since Sept. 12. The 57-year-old Fakhoury, who owns a restaurant in Dover, New Hampshire, went to visit family in Lebanon on vacation — his first trip back in nearly 20 years.
"I think his health is very critical and we do not want a situation where he dies in Lebanese custody," the Democratic senator testified during a hearing on Lebanon and Iraq. She said sanctions should include ones that would make any involved officials and their family members ineligible for entry into the United States. Joey Hood, the principal deputy assistant secretary of the Bureau of Near Eastern Affairs, said the U.S. Embassy team in Beirut visited Fakhoury on Wednesday. "There are grave concerns about the process and the way he's being treated," he said. "But we are making this our absolute highest priority at the embassy and here at the State Department."
Shaheen said, "I think this is a very serious situation that has not been taken seriously by the officials of the Lebanese government, and they need to be on notice that we are looking very carefully and closely at what they're doing." Fakhoury's family said doctors have told them his condition is life threatening. In addition to an infection and bleeding disorder, doctors believe he's developed an aggressive form of lymphoma. "We need to get him out of Lebanon as soon as possible to be treated," his lawyer, Celine Atallah, said from Lebanon in a phone interview with The Associated Press on Thursday.
Atallah said it remains unclear why he's being held. Fakhoury, however, was once a member of the former Israeli-backed South Lebanon Army militia. He also worked at a former prison described by human rights groups as a center for torture.
His lawyer and family insist he had no direct contact with prisoners and never abused anyone, and there was never an abuse allegation against him. Shaheen entered into the record a document provided by Atallah that she said indicates "that he's not the individual that the Lebanese and Hizbullah-liked papers allege him to be."
The articles described Fakhoury as "the Butcher of Khiam," accusing him of torture and murder at the former Khiam Prison in Lebanon. The document said Fakhoury was assigned to the prison from 1989 to 1996 and that he never was involved in the interrogation or torture of prisoners. It also says he fled Lebanon in 2001 through Israel and eventually to the United States, because of "credible" death threats he and other SLA members received after Israel ended its occupation of Lebanon in 2000. The prison and the SLA were "investigated and documented exhaustively" by journalists, international organizations, agencies of the Lebanese government and others, according to the document. It also showed a 1996 charge of collaborating with Israel against Fakhoury was dropped in 2018. The document shows Fakhoury decided to return to Lebanon after receiving written confirmation in August 2018 from the Lebanese government that there were no accusations against him in Lebanon. Also, a senior Ministry of Foreign Affairs official encouraged Fakhoury, during an event in Boston in September 2018, to "come back to Lebanon."Lebanon is in the middle of an unprecedented economic and political crisis amid nearly 50 days of nationwide protests. The anti-government protests led to the prime minister's resignation last month. Given the current instability in Lebanon, it was unclear who could address Fakhoury's case."This is their opportunity to do the right thing," Atallah said, "and to show the world the democracy they've been striving for now."