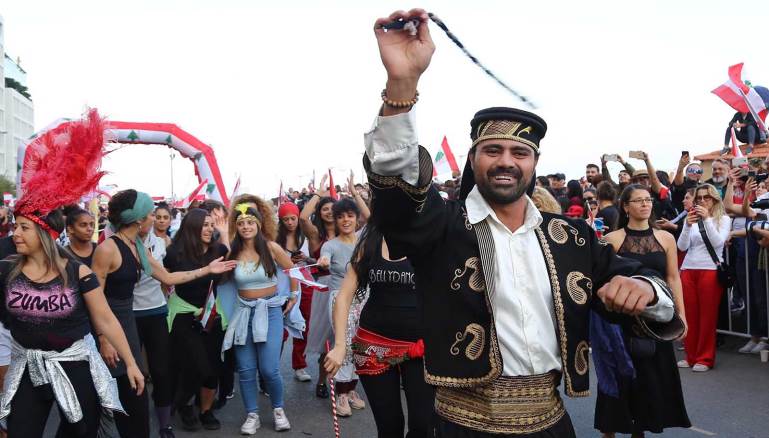 A Bundle Of English Reports, News and Editorials For November 23-24/2019 Addressing the On Going Mass Demonstrations & Sit In-ins In Iranian Occupied Lebanon in its 38th Day




Compiled By: Elias Bejjani




November 23-24/2019
Titles For The Latest English LCCC Lebanese & Lebanese Related News published on November 23-24/2019
Mystery Grows over Trump Administration Hold on Lebanon Aid
Lebanese protesters pack streets to mark independence day
Hizbullah Official Accuses U.S. of Meddling in Lebanon
Protesters Close Exchange Shops in Tripoli as Uprising Enters Day 38
Feltman: Hizbullah's Repute Dwindled under Protests
Germany again Deports Lebanese Convict Back to Beirut
Lebanon's Interior Minister Blames Politicians, Protesters for Crisis
Lebanon's Political Impasse Reflected in Chilly Ties between Hariri, Aoun and Berri
Al-Rahi: What citizens have done yesterday in Martyrs' Square is greatest proof that our people are stronger than the problem they face
Jumblatt says some ambassadors and foreign ministers have joined in on the cabinet formation track
Protest Movement continues with same momentum in Tripoli's
Mouawad calls for a rescue government of specialists
Claudine Aoun Roukoz, chairs Arab Women's Organization meeting in Cairo: Momentum of change in Lebanese women is present in all women in the Arab
Mystery grows over Lebanon aid hold-up as impeachment looms
The Latest English LCCC Lebanese & Lebanese Related News published on November 23-24/2019
Mystery Grows over Trump Administration Hold on Lebanon Aid
Associated Press/Naharnet/November 23/2019
The Trump administration is withholding more than $100 million in U.S. military assistance to Lebanon that has been approved by Congress and is favored by his national security team, an assertion of executive control of foreign aid that is similar to the delay in support for Ukraine at the center of the impeachment inquiry. Secretary of State Mike Pompeo on Friday congratulated Lebanon as the country marked its independence day but made no mention of the hold-up in aid that State Department and Pentagon officials have complained about for weeks. It came up in impeachment testimony by David Hale, the No. 3 official in the State Department, according to the transcript of the closed-door hearing released this week. He described growing consternation among diplomats as the administration would neither release the aid nor provide an explanation for the hold. "People started asking: What's the problem?" Hale told the impeachment investigators. The White House and the Office of Management and Budget have declined to comment on the matter. The $105 million in Foreign Military Funding for the Lebanese Armed Forces has languished for months, awaiting approval from the Office of Management and Budget despite congressional approval, an early September notification to lawmakers that it would be spent and overwhelming support for it from the Pentagon, State Department and National Security Council. As with the Ukraine assistance, OMB has not explained the reason for the delay. However, unlike Ukraine, there is no suggestion that President Donald Trump is seeking "a favor" from Lebanon to release it, according to five officials familiar with the matter. The mystery has only added to the consternation of the national security community, which believes the assistance that pays for American-made military equipment for the Lebanese army is essential, particularly as Lebanon reels in financial chaos and mass protests. The aid is important to counter Iran's influence in Lebanon, which is highlighted by the presence of the Iranian-supported Shiite Hizbullah movement in the government and the group's fighters, the officials said.
There is opposition to aid to the Lebanese army from outside the NSC. Pro-Israel hawks in Congress have long sought to de-fund the Lebanese military, arguing that it has been compromised by Hizbullah, which the U.S. designates as a "foreign terrorist organization."
But the Pentagon and State Department reject that view, saying the army is the only independent Lebanese institution capable of resisting Hizbullah.
Outside experts agree.
Although there are some issues, Jeffrey Feltman, a former U.S. ambassador to Lebanon, said this week that the assistance should be released. "The U.S. has some legitimate concerns about the Lebanese Armed Forces' performance, but the FMF should resume quickly and publicly: both because of the program's merit in terms of improving the LAF's counterterrorism performance but also to undermine the Hizbullah-Iranian-Syrian-Russian narrative that the U.S. is unreliable," Feltman he told the House Foreign Affairs Committee on Tuesday. Hale told the impeachment inquiry there were parallels between the Lebanon and Ukraine aid in that the White House refused to offer an explanation for the delays. He said inquiries into the Lebanon assistance since June have been met with silence. "We just understand there are differences of opinion on this, or there had been," he said. "And the matter now rests with OMB. I don't think that the differences currently exist outside of OMB." The Lebanon aid was put into Trump's budget last winter and the State Department notified Congress on Sept. 5 that it would be spent even though the OMB had not yet signed off on it. The State Department has offered only a cryptic response to queries, defending the assistance but also calling for Lebanese authorities to implement economic reforms and rein in corruption. "As the sole legitimate defense arm of the government of Lebanon, the United States remains committed to strengthening the capacity of the Lebanese Armed Forces to secure Lebanon's borders, defend its sovereignty, and preserve its stability," the department said. "The Lebanon FMF has been apportioned by the administration. No Lebanese expenditures or purchases of military materiel with FMF have been delayed.""Apportionment" is a technical term that refers to federal funds that have been appropriated by Congress and obligated by the administration but have not yet been released. However, several officials said National Security Council staff had deliberately tried to run an end-around of the Pentagon and State Department by demanding a signed presidential determination to release the aid and then slow-walking delivery of the finding to the Oval Office for Trump's signature. The officials who were not authorized to discuss the matter publicly and spoke on condition of anonymity."It's beyond the pale," said one official. "This is people at the NSC and OMB trying to insert their own personal ideologies into something that most everyone else supports as a national security interest."
Lebanese protesters pack streets to mark independence day
Reuters, Beirut/Saturday, 23 November 2019
Tens of thousands of protesters took to the streets in Lebanon on Friday to mark independence day with a fresh wave of demonstrations against a ruling elite accused of rampant corruption and steering the country into deep crisis. The unprecedented wave of nationwide protests erupted five weeks ago, leading to the resignation of Prime Minister Saad al-Hariri on October 29. Despite a worsening economic crisis, deeply divided politicians have yet to agree on a new government. Protesters waving Lebanese flags packed central Beirut's Martyrs Square where music blasted into the night. Many protesters said they felt like they were celebrating independence for the first time. "This year independence day is different. Before, they marred it with their system of sharing power and corruption. Today, we are demanding a clean independence and a country where we can live in dignity and pride," said a protester who gave her name as Hind. "It's important to show up today of all days and be united as a country. Everyone is realizing what true independence looks like," said Lydia, 21, who was protesting in Beirut. A military parade usually held on the seafront near Martyrs Square was relocated to the defense ministry where Hariri, still serving as prime minister in a caretaker capacity since his resignation, attended a low-key ceremony with President Michel Aoun and Parliament Speaker Nabih Berri. Hariri is at odds with Aoun, Berri and the powerful Shi'ite group Hezbollah over the make-up of the next government. Broadcaster al-Jadeed noted an "unusual" silence between Hariri and Berri while other members of the government chatted to each other. Lebanon is facing its worst economic crisis since the 1975-90 civil war, rooted in years of state corruption and waste. The crisis has spread to the financial system where the pegged Lebanese pound has weakened, dollars have become scarce and banks have imposed controls to prevent capital flight. Aoun, in a televised speech marking independence day on Thursday, said it was "not the time for speeches, words and celebrations". "It is time for work, serious and and diligent work because we are in a race against time."
Hizbullah Official Accuses U.S. of Meddling in Lebanon
Naharnet/November 23/2019
Hizbullah deputy leader Sheikh Naim Qassem on Saturday said the United States was "delaying" the formation of a government in Lebanon, stressing that Hizbullah "will not be dragged into sedition," media reports quoted him as saying. "The first obstruction in the formation of Lebanon's government is America, because it wants a government that resembles it while we want a government that resembles the Lebanese people, and the needs of the Lebanese people," said Qassem. He said he does not see any signs of a civil war in Lebanon. "The economic crisis that has spread to the banking system has hit Hizbullah's Shiite environment as any Lebanese citizen of any sect, but although our public is affected, like all Lebanese, that does not mean it will be a success for those who initiated the crisis," he said. "Hizbullah has supported popular calls to put all corrupt officials on trial, no matter who they are," he said.
Protesters Close Exchange Shops in Tripoli as Uprising Enters Day 38
Associated Press/Naharnet/November 23/2019
Protesters closed exchange houses during a demonstration in the northern city of Tripoli, as the country grapples with nationwide protests entering 38th day demanding an overhaul of the whole political class. The protesters say exchange houses are trading US dollars to the Lebanese pound contrary to the local currency peg set by the central bank. Earlier this month, Lebanon's central bank said it would strive to maintain the local currency's peg to the US dollar and ease access to the greenback after weeks of mass protests. Already facing an economic crisis, Lebanon's financial troubles have worsened since economically driven mass protests erupted nationwide last month, paralyzing the country and keeping banks shuttered for two weeks. Depositors have rushed to withdraw their money since the banks reopened last week, with the country's lenders imposing varying capital controls that differ from bank to bank, fueling the turmoil.Though it's still pegged at 1,500 pounds to the dollar, the Lebanese pound is trading at up to 1,900 to the dollar on the black market, a devaluation of nearly 30% from the official rate.
Feltman: Hizbullah's Repute Dwindled under Protests
Naharnet/November 23/2019
Jeffrey Feltman, former US ambassador to Lebanon, said that Hizbullah's reputation "dwindled" throughout the demonstrations in Lebanon and has become part of the political problem in the country, the Saudi Asharq al-Awsat daily reported on Saturday.
In a statement he made to the daily, Feltman said: "We have seen and listened to Nasrallah's speeches, in four of them he demanded the demonstrators to go back home but they did not, when he asked the Shiites (community) to get out of the streets, some listened to him but many paid him no attention, Lebanon has never seen it before."Feltman pointed out that Hizbullah's attempt to "discredit" the demonstrators and their intentions undermined the reputation they had worked on for many years, and today they are like other political parties in Lebanon that have lost credibility, reported the daily.
Feltman described the uprising in Lebanon as "inspiring" and different in many aspects from the March 14, 2005 demonstrations, which he believes were "politicized."Today's demonstrations are strong because they are driven by "purely humanitarian and livinghood motives," he said.
He expressed hope that Lebanon's political class lends a listening ear to the demonstrators to initiate the required reforms, fight corruption and activate accountability in order for Lebanon to recover from its economic crisis by attracting investors. He urged the US administration to release millions in U.S. military assistance to Lebanon because the freeze "serves Hizbullahh and the Iranian and Russian influence in Lebanon.""The US government should provide an international aid package to Lebanon for reform," he said. Feltman was keen to point out that he did not represent the official American opinion, and that he spoke only as an expert.
Germany again Deports Lebanese Convict Back to Beirut
Associated Press/Naharnet/November 23/2019
German authorities have again deported a Lebanese man who was convicted of drug dealing and deported earlier this year but then returned to Germany. The German news agency dpa reported that Ibrahim Miri was handed over to Lebanese authorities on Saturday in Beirut.
Miri was earlier deported to Lebanon in July and was banned from re-entering Europe's visa-free Schengen travel area, which includes Germany. However, he somehow reappeared in the German city of Bremen last month, applied for asylum and was arrested. After his asylum application was rejected, he tried to appeal but a Bremen administrative court on Friday rejected Miri's appeal. His case has made headlines in Germany, with some alleging that Miri's ability to return to Germany showed the country's allegedly lax handling of asylum requests by criminals.
Lebanon's Interior Minister Blames Politicians, Protesters for Crisis
Asharq Al-Awsat/Saturday, 23 November, 2019
Lebanese Caretaker Interior Minister Raya el-Hassan has held both the country's political leaders and anti-government protesters responsible for the deadlock. In remarks to the press after attending a truncated military parade at the defense ministry in Yarze, Hassan said: "I am concerned over the developments in the country. We haven't yet reached common ground with the protesters."She blamed "the two sides" for the stalemate. Lebanese Prime Minister Saad Hariri resigned on Oct. 29 following an unprecedented wave of demonstrations against proposed taxes on WhatsApp calls that turned into a condemnation of the political elite. On Friday, the protesters held a boisterous parade at downtown Beirut's Martyrs Square. "The parade in Yarze is the parade of the Republic and it was an honor to attend it. Yet a segment of the population has revolted to ask for its rights, and I do understand their grievances," Hassan said.
She added that protesters "have the right to demonstrate and carry out a civilian parade."Asked about on-and-off road closures by the demonstrators, Hassan said that since day one her instructions against the use of force have been clear. "But if roads must be opened, then appropriate measures must be taken," she added.

Lebanon's Political Impasse Reflected in Chilly Ties between Hariri, Aoun and Berri
Beirut – Nazeer Rida/Asharq Al-Awsat/Saturday, 23 November, 2019
The somber mood at a brief parade at the defense ministry on the occasion of Lebanon's Independence Day was a clear reflection of growing tension between President Michel Aoun, Speaker Nabih Berri and caretaker Prime Minister Saad Hariri. This mood came amid a warning from the UN Special Coordinator for Lebanon, Jan Kubis, that Lebanon urgently needs to form a government seen as competent by the people, supported by political parties and capable of implementing deep reforms. "High level meetings in Washington with the World Bank and International Monetary Fund. Grave concerns about the rapidly deepening economic and social crisis in Lebanon and lack of proper management of the situation," Kubis wrote on Twitter. The top leadership attended the truncated military parade which was relocated to the headquarters of the defense ministry from central Beirut, occupied by anti-government protesters.A little over a dozen regiments marched before the country´s president, parliament speaker and prime minister, who sat under a red canopy. The three only exchanged a few words and left separately. An official celebration at the presidential palace in Baabda was canceled. There were no foreign dignitaries in attendance and no display of tanks or equipment. Despite official statements that there have been contacts among political parties to resolve the country's deadlock, a leading source from Hariri's Mustaqbal Movement told Asharq Al-Awsat that relations between the country's top leaders are almost frozen.
Al-Rahi: What citizens have done yesterday in Martyrs' Square is greatest proof that our people are stronger than the problem they face
NNA//November 23/2019
Maronite Patriarch, Cardinal Bechara Boutros al-Rahi, commended Saturday the livelihood of the Lebanese citizens in their active participation in yesterday's civil parade at Beirut's Martyr's Square marking the Independence Day celebrations. "What citizens have done yesterday in Martyrs' Square is the greatest evidence that our people are stronger than the challenges confronting them," he said. "Despite the political, financial and economic crisis, we do have spiritual strength, faith, hope and determination," al-Rahi reiterated. The Patriarch's words came during the prayer of the Rosary devoted to Lebanon, which he held in Bkirki this evening. "With great hope and joy, we continue our prayers beyond all the fears we face, for with God, man is stronger than all fears," the Patriarch asserted. "There is nothing difficult before the Lord, no matter how many locked doors, black clouds and deadlocks…and none of us knows how the Lord intervenes," he said. Al-Rahi considered that this is evident in the hope that exists in the hearts of the Lebanese, reflected in their positive, peaceful and civilized uprising, which is concentrated and is getting stronger day by day. "The value of our prayer is to seek power through the Lord…We must keep our faith, our morals and our values, and the hope that is in our hearts," the Patriarch concluded.
Jumblatt says some ambassadors and foreign ministers have joined in on the cabinet formation track
NNA//November 23/2019
Even some active ambassadors and some foreign ministers have joined in on the cabinet formation track, further increasing the complexity of the matter alongside the political class that refuses to compromise and sticks to its survival," tweeted Progressive Socialist Party Chief, Walid Jumblatt, this evening. "This is my opinion as an observer who has witnessed the experience of the International Tribunal and the polarization of forces around it," he added.
Protest Movement continues with same momentum in Tripoli's
NNA//November 23/2019
The protest movement in Abdul Hamid Karami Square in Tripoli has maintained its momentum since October 17, as crowds of citizens from the city and its surrounding northern areas flocked to the scene this evening, amidst popular and national songs playing in the background.
A sit-in also took place today, during which protesters complained about the increasing prices on various products under the pretext of the dollar rise.
Mouawad calls for a rescue government of specialists
NNA/November 23/2019
"Independence Movement" Chief, MP Michel Mouawad, renewed Saturday his call for "the formation of a government comprised fully of specialists, so as not to engage in the game of politics."He underlined the need for a cabinet that would have a positive impact, both internally through managing the country's difficult economic crisis, and externally in terms of the Arab and international community and markets. "What is required is a political solution, and the first key is a rescue government," Mouawad emphasized in an interview with Sky News Arabia. "We are not in normal conditions, and we do not have the luxury of discussing whether or not to hold the parliamentary consultations, but rather we need to form a government today before tomorrow. Each delay increases the rift between the Lebanese in the street, and between the Lebanese and the state, and brings Lebanon closer to chaos and bankruptcy, turning it into a regional and international arena of conflict," Mouawad cautioned. "The roadmap must take into account the reasons that led us to this situation. Lebanon cannot refrain from distancing itself. We have the right to defend ourselves, but there must be a defense strategy managed by the Lebanese state," he said. Mouawad called for "keeping pace with the revolution through adopting serious steps to fight corruption.""This requires an independent judiciary and laws to lift immunities and recover looted funds, alongside economic and financial reforms," he asserted. "The Lebanese are demanding their basic elements of livelihood," Mouawad concluded, stressing that "Lebanon, despite the difficult challenges, can emerge from the state of collapse to prosperity, but this requires a decision, effort, and confidence, internally and externally."
Claudine Aoun Roukoz, chairs Arab Women's Organization meeting in Cairo: Momentum of change in Lebanese women is present in all women in the Arab
NNA/November 23/2019
Head of the National Commission for Lebanese Women (NCLW), Arab Women Organization's Supreme Council Head, Claudine Aoun Roukoz, chaired Saturday the Council's ninth meeting held in the Egyptian capital, Cairo, with the participation of various women from Arab countries.
Addressing the attendees, Aoun Roukoz considered that "the change momentum force recently demonstrated by Lebanese women is an energy that is stored in all women across the Arab world.""This energy can push our countries forward to prove the vitality of our peoples," she said. "Yes, our societies are developing and the women and girls of our country are carrying the banner of advancement in the fulfillment of the hopes that our Organization aspires to achieve," Aoun Roukoz added. "Recent developments in a number of our countries have reflected the key, positive role that women have to play in order to reach social transformations," she went on, noting that "these transformations will peacefully move our societies from the economic, political and cultural stagnation to become a vibrant state of youthful impulse." "Women's efforts to realize their rights in our Arab countries contribute to raising awareness in our communities towards giving attention to the needs of society as a whole," she asserted.Aoun Roukoz commended herein the efforts exerted by the Council members, and all the Arab women who, according to their environment and living circumstances, face challenges and difficulties to improve the conditions of their lives and the lives of those around them.
Mystery grows over Lebanon aid hold-up as impeachment looms
Associated Press/November 23/2019
But the Pentagon and State Department reject that view, saying the army is the only independent Lebanese institution capable of resisting Hezbollah.
WASHINGTON: The Trump administration is withholding more than $100 million in U.S. military assistance to Lebanon that has been approved by Congress and is favored by his national security team, an assertion of executive control of foreign aid that is similar to the delay in support for Ukraine at the center of the impeachment inquiry. Secretary of State Mike Pompeo on Friday congratulated Lebanon as the country marked its independence day but made no mention of the hold-up in aid that the State Department and Pentagon officials have complained about for weeks.
It came up in impeachment testimony by David Hale, the No. 3 official in the State Department, according to the transcript of the closed-door hearing released this week. He described growing consternation among diplomats as the administration would neither release the aid nor provide an explanation for the hold. The White House and the Office of Management and Budget have declined to comment on the matter.
The $105 million in Foreign Military Funding for the Lebanese Armed Forces has languished for months, awaiting approval from the Office of Management and Budget despite congressional approval, an early September notification to lawmakers that it would be spent and overwhelming support for it from the Pentagon, State Department, and National Security Council.
As with the Ukraine assistance, OMB has not explained the reason for the delay. However, unlike Ukraine, there is no suggestion that President Donald Trump is seeking "a favor" from Lebanon to release it, according to five officials familiar with the matter.
The mystery has only added to the consternation of the national security community, which believes the assistance that pays for American-made military equipment for the Lebanese army is essential, particularly as Lebanon reels in financial chaos and mass protests.
The aid is important to counter Iran's influence in Iran, which is highlighted by the presence of the Iranian-supported Shiite Hezbollah movement in the government and the group's militias, the officials said.
There is opposition to aid to the Lebanese army from outside the NSC. Pro-Israel hawks in Congress have long sought to de-fund the Lebanese military, arguing that it has been compromised by Hezbollah, which the U.S. designates as a "foreign terrorist organization."
But the Pentagon and State Department reject that view, saying the army is the only independent Lebanese institution capable of resisting Hezbollah.
Outside experts agree.
Although there are some issues, Jeffrey Feltman, a former U.S. ambassador to Lebanon, said this week that the assistance should be released.
"The U.S. has some legitimate concerns about the Lebanese Armed Forces' performance, but the FMF should resume quickly and publicly: both because of the program's merit in terms of improving the LAF's counterterrorism performance but also to undermine the Hezbollah-Iranian-Syrian-Russian narrative that the U.S. is unreliable," Feltman he told the House Foreign Affairs Committee on Tuesday.
Hale told the impeachment inquiry there were parallels between the Lebanon and Ukraine aid in that the White House refused to offer an explanation for the delays.
He said inquiries into Lebanon's assistance since June have been met with silence.
"We just understand there are differences of opinion on this, or there had been," he said. "And the matter now rests with OMB. I don't think that the differences currently exist outside of OMB."
The Lebanon aid was put into Trump's budget last winter and the State Department notified Congress on Sept. 5 that it would be spent even though the OMB had not yet signed off on it.
The State Department has offered only a cryptic response to queries, defending the assistance but also calling for Lebanese authorities to implement economic reforms and rein in corruption.
"As the sole legitimate defense arm of the government of Lebanon, the United States remains committed to strengthening the capacity of the Lebanese Armed Forces to secure Lebanon's borders, defend its sovereignty, and preserve its stability," the department said. "The Lebanon FMF has been apportioned by the administration. No Lebanese expenditures or purchases of military materiel with FMF have been delayed."
"Apportionment" is a technical term that refers to federal funds that have been appropriated by Congress and obligated by the administration but have not yet been released.
However, several officials said National Security Council staff had deliberately tried to run an end-around of the Pentagon and State Department by demanding a signed presidential determination to release the aid and then slow-walking delivery of the finding to the Oval Office for Trump's signature. The officials who were not authorized to discuss the matter publicly and spoke on condition of anonymity.
"It's beyond the pale," said one official. "This is people at the NSC and OMB trying to insert their own personal ideologies into something that most everyone else supports as a national security interest."
Titles For The Latest Lebanese LCCC English analysis & editorials from miscellaneous sources published on November 23-24/2019
Burning the USA flag in Tyr By Hezbollah is condemned/Elias Bejjani/November 23/2019
Lebanon Is Totally Occupied by Iran …Help Liberate The Land Of The Holy Cedars/Elias Bejjani/November 22/2019
Enjoy the sight of the US and Lebanese flags, side by side./Dr.Walid Phares/November 23/2019
Hezbollah MPs step up attacks on US over Lebanon 'meddling'/Najia Houssari/Arab News/November 23/2019
Arabic Rap: A form of revolutionary expression/Maysaa Ajjan/Annahar/November 23/2019
Lebanon protests undermine Hezbollah's sectarian narrative/Simon Speakman Cordall/The Arab Weekly/November 23/2019
Sooner or later, Iran's regime will lose its grip/Khairallah Khairallah/The Arab Weekly/November 23/2019
Lebanese abroad look for ways to get involved in protest movement/Justin Salhani/The Arab Weekly/November 23/2019
The Latest Lebanese LCCC English analysis & editorials from miscellaneous sources published on November 23-24/2019
Burning the USA flag in Tyr By Hezbollah is condemned
Elias Bejjani/November 23/2019
http://eliasbejjaninews.com/archives/80807/%d9%81%d8%a7%d8%af%d9%8a%d8%a9-%d8%b3%d9%85%d8%b9%d8%a7%d9%86-%d8%b9%d8%a8%d9%8a%d8%af-%d8%a5%d9%8a%d8%b1%d8%a7%d9%86-%d9%81%d9%8a-%d9%84%d8%a8%d9%86%d8%a7%d9%86-%d9%8a%d8%ad%d8%b1%d9%82%d9%88%d9%86/
Hezbollah has nothing to do with Lebanon or the Lebanese people.
This criminal and terrorist armed organization is Iranian 100% and savagely occupies Lebanon since 2005, while taking the Lebanese peace loving Shiite community a hostage by force and through terrorism and brutality.
The Lebanese people look at the USA as a great friendly country and appreciates very much its on going support for Lebanon's freedom, democracy, sovereignty and independence.
Meanwhile Hezbollah is a terrorist Iranian militia and does nor speak on behalf of the Lebanese or represent them in any way.
In this context, burning the USA flag in Tyr is condemned by each and every sovereign and patriotic Lebanese in both occupied Lebanon and Diaspora.
Lebanon Is Totally Occupied by Iran …Help Liberate The Land Of The Holy Cedars
Elias Bejjani/November 22/2019
لبنان وطن الحرف والرسالة والأرز المقدس تحتله إيران وميليشياتها وهو يحتاج لمساعدة العالم الحر ليستعيد استقلاله
http://eliasbejjaninews.com/archives/80773/elias-bejjani-lebanon-is-totally-occupied-by-iran-help-liberate-the-land-of-the-holy-cedars/
Lebanon, the land of the Holy Cedars and 7000 years deeply rooted glory, holiness and history is sadly an occupied, impoverished, and oppressed country.
The stone age savage occupier is the terrorist Iranian armed Hezbollah militia.
This terrorist armed militia controls totally Lebanon's decision making process on all levels and in all domains including the peace and war one.
Meanwhile the majority of the Lebanese officials, as well as the politicians are mere mercenaries appointed by Hezbollah and like puppets carry its wishes and orders.
The USA and other democratic countries can help Lebanon and the Lebanese people in reclaiming back their confiscated independence and stolen country through a strong, loud and official stance in practically and not only rhetorically supporting the immediate implementation of the three UN resolutions that addresses Lebanon's crisis: the armistice agreement, 1559 and 1701.
The Lebanese people after years (since 1975) of Syrian, Palestinian, and current Iranian occupations and oppression are unable on their own to liberate their country without a real and clear practical support from the UN and all the democratic countries.. Help liberate Lebanon.
In this realm I quote Dr. Walid Phares's response to ambassador Jeffrey Feltman's recent testimony before the House Subcommittee on the Middle East, North Africa, and International Terrorism on "What's Next for Lebanon? Examining the Implications of Current Protests.
Ambassador Feltman told Congress said:
"Over the long term, U.S. interests in Lebanon would be best protected by what the Lebanese people indicate that they want: a prosperous, democratic, independent, fully sovereign, peaceful Lebanon, reliant (including for security) on effective, transparent government institutions subject to public accountability. With the right government in place and with renewed international support, this should not be impossible to achieve."
Dr. Walid Phares's response:
Yes Mr. Ambassador that's what a majority of Lebanese want. But between now and then, there is a blocking force that will oppose moving Lebanon in that direction. It is a force feared by many and countering it has no strategies, in official policies. A force that is obstructing prosperity, reform, sovereignty, and protective of corruption. And on top of it there are no plans to deal with it. One can ignore it and pretend that it is not there, that eventually it will just go away. But that is not reality…
From our Diaspora, we hail and command the courageous and patriotic Lebanese citizens who bravely for the last 37 days are involved in the current ongoing demonstrations and sit-ins in occupied Lebanon.
May Almighty God bless, safeguard Lebanon and grant its oppressed people the power and will to free their country and reclaim it back from Hezbollah, the Iranian terrorist Occupier.
Click here to read ambassador Jeffrey Feltman's testimony text before the House Subcommittee on the Middle East, North Africa, and International Terrorism on "What's Next for Lebanon? Examining the Implications of Current Protests.
In regards to the Iranian occupied Lebanon the help that the country and its oppressed people need from the USA, Europe and all other free countries is the immediate implementation of the UN three resolutions: the armistice agreement, 1559 and 1701. The USA sanctions on the Mullahs' regime for almost 40 years did not actually make any difference except in hurting more the Iranian people. Sanctions on Hezbollah while it occupies Lebanon and controls fully its rulers is not going to change the current status quo..although sanctions on Lebanese politicians who are Hezbollah puppets can help in deterring them.
Enjoy the sight of the US and Lebanese flags, side by side.
Dr.Walid Phares/November 23/2019
http://eliasbejjaninews.com/archives/80807/%d9%81%d8%a7%d8%af%d9%8a%d8%a9-%d8%b3%d9%85%d8%b9%d8%a7%d9%86-%d8%b9%d8%a8%d9%8a%d8%af-%d8%a5%d9%8a%d8%b1%d8%a7%d9%86-%d9%81%d9%8a-%d9%84%d8%a8%d9%86%d8%a7%d9%86-%d9%8a%d8%ad%d8%b1%d9%82%d9%88%d9%86/
Great post (by Fadia Samaan) in response to the Hezbollah and Jihadi cohorts who have burned the US flag in south Lebanon. Let them know that close to 1.8 Lebanese Americans oppose terror in their mother land, support the Lebanese people and the Lebanese army, and love their adopted country America.
1.8 million Lebanese Americans (Minus the Hezb supporters in the US) plus 2 million in the #lebaneseprotests equal 3.8 million.
Enjoy the sight of the US and Lebanese flags, side by side.
We haven't counted the other countries of the Diaspora yet.
Hezbollah MPs step up attacks on US over Lebanon 'meddling'
Najia Houssari/Arab News/November 23/2019
BEIRUT: Hezbollah and its allies in the Lebanese government on Saturday widened their attacks on the US over alleged meddling in the country's political future. In an interview with the Central News Agency (Al-Markazia), Muhammad Fneish, Hezbollah's minister in the caretaker government, referred to "foreign interference in our affairs" and said: "We want to form a sovereign government that is distant from US desires and foreign accounts."He said that recent statements by former US ambassador to Lebanon Jeffrey Feltman had "complicated matters."Feltman told a US House of Representatives hearing last Tuesday that most Lebanese people have lost faith in Hezbollah and that there is growing anger against Foreign Minister Gebran Bassil for providing "Christian cover" for the militant party. The comments sparked outrage in Lebanon with Hezbollah and its allies accusing the former envoy of "interfering in Lebanon's internal affairs."
Hezbollah Deputy Secretary-General Sheikh Naim Qassem joined the criticism on Saturday, accusing the US of "meddling in the formation of a new Lebanese government.""Hezbollah is determined not to fall into strife," he said, adding: "I do not see signs of a civil war in Lebanon."As widespread street protests in the country entered their 38th day, MP Salim Aoun, a member of the parliamentary bloc loyal to the president and the Free Patriotic Movement, claimed that protesters have created a "political movement.""No matter what we give them, nothing pleases them," he said, accusing international bodies of backing the demonstrations.
"We know who is intervening and what their goals are," Aoun said. Amal MP and Hezbollah ally Ali Bazzi asked: "Is it true that there is aim to create a political vacuum and chaos in the country?"Russian Ambassador to Lebanon Alexander Zasypkin also questioned the motives of the civil movement. Speaking in Beirut, he said that "people's demands have turned against Hezbollah, and this is a very serious matter." Zasypkin urged "the Lebanese parties to find a compromise solution that satisfies everyone on the formation of a government."However, former Future Movement MP Mustafa Alloush described Hezbollah's claims of US meddling as "ridiculous.""To say that the US is behind a movement that brought thousands of people on to the streets to demand tax cuts and jobs is a ridiculous accusation. Will they prosecute people for high treason?" he asked.
"Hezbollah supporters who are paid by Iran, take up arms, and fight and kill people, are not held accountable. How does this make sense?"
Public affairs analyst Walid Fakhreddine also rejected claims of a US conspiracy, saying: "We have seen these accusations at the beginning of the movement and now they are back. We were accused of treason and of receiving funding for the protests. They do not understand what is happening. People are now in a different place."Fakhreddine warned that the ruling class is "dragging the country into financial and economic collapse." "They insist on leading the country into bankruptcy. What is required is an independent transitional government that will hold early elections," he said.
"They think people are revolting because they want to be represented in government. This is not true. The civil movement does not want to share power. We are looking for a homeland. They accuse us of demagoguery. We are a people who want real reform, not their corrupt reform."
Arabic Rap: A form of revolutionary expression
Maysaa Ajjan/Annahar/November 23/2019
"Esma'a" is a song that speaks about the transitory phase we are in as a people," Omar Ali told Annahar. "It is actually a direct call to the leaders in authority who do not listen to what the people want."
BEIRUT: Chants, slogans, nationalistic songs, and other noise, such as the clanging of pots and pans, have become an integral part of the October revolution. Indeed, the audible part of the revolution has become just as important and enticing to the people as the visual one.
One recent addition to this sphere is the emergence of revolutionary rap songs in Arabic. During the course of the revolution, several Arabic rap songs were released by rappers in the Lebanese rap scene. One example is team Ghorabaa's "عليهم," which loosely translates to "charge on," and which was released on the second day of the revolution.
"We released this track after a woman [Malak Alaywe Herz] famously kicked a man on the first day of the revolution and a poster of her kicking the man emerged with "عليهم" written on it," Omar Ali, one of the rappers in Ghorabaa, told Annahar. "That was the source of our inspiration. We meant to ignite people's anger with the song and give them the energy they need to be part of the revolution."
The song "عليهم" has since received more than 40,000 views on YouTube.
Some of its lyrics translate to the following: "To my people, get rid of those rulers…Destroy their homes upon their heads, how beautiful is the revolution…Burn their flags and raise the flag of freedom."
Ghorabaa, which means "strangers" in English, has five members: Omar Ali, Omar Adawieh, Youssef Sayouf, Ahmed Kassar, and Fady Torfeh.
Ghorabaa's second track, released November 19, was called "esma'a," which translates to "listen" in English. It was inspired by a popular song of the same name and that includes the following chorus: "Listen to me…Just listen to what is driving me crazy…I am the tortured one and you are the one living in bliss…Actually you are the tortured one and I am the one living in bliss."
"Esma'a" is a song that speaks about the transitory phase we are in as a people," Omar Ali told Annahar. "It is actually a direct call to the leaders in authority who do not listen to what the people want."
Another rapper, who is new to the rap scene in Lebanon and who goes by the name "Roytivation," is Alaa Naboulsy. He has been recording for two years with the aid of Ghorabaa, and has performed with them in downtown Beirut next to the Grand Theatro last Sunday.
Roytivation has released one revolutionary song called "عاطية عثورة" which loosely translates to "Looks like we need a revolution."
"I never consciously insert messages into my song," Roytivation told Annahar. "I just sing what I feel like singing, and as long as it is relevant to the listeners and they can identify themselves with it, I'm good. I also always make sure I talk about Tripoli in my songs, because it is the city I come from, a neglected city.""People think that us rapping about the revolution is something new," Omar Ali told Annahar. "But what they don't know is that rap has always been revolutionary, all the way back to its roots in fighting slavery."
*Mohamad Shour contributed to this article.
Lebanon protests undermine Hezbollah's sectarian narrative
Simon Speakman Cordall/The Arab Weekly/November 23/2019
TUNIS – As predominantly young demonstrators have taken to the streets across Lebanon calling for an end to the country's confessional system of government in which posts and ministries are divided along sectarian lines, the sense of identity that has underpinned Hezbollah and its ally Amal's rise has come under repeated attack.
The cross-sectarian nature of the protests took many among Lebanon's ruling elite, more accustomed to attributing blame across confessional lines than defending the system of government, by surprise. Protesters from all sects — Sunni, Druze, Shia and Christian — have rebelled against a political elite they see as having enriched itself at the country's cost.
For Hezbollah, which has relied on an ingrained sense of Shia identity, the problems are acute. Responding to the groundswell of popular discontent, Hezbollah Secretary-General Hassan Nasrallah appeared to open the door to corruption investigations while maintaining his defence of the political status quo and particularly the group's allies within the Shia Amal Movement.
Speaking to the Daily Beast, a Hezbollah member who fought in Syria in support of Syrian President Bashar Assad said the challenges of defending the movement and denying the demands of protesters were manifest.
"Am I a member of Hezbollah against the Israelis? Yes, I am," the fighter, identified as Abu Hussein, said. "Am I a member of Hezbollah when it's against the people in the streets? No!"
"The protesters' demands are 100% legitimate and they have no other choice to get their demands met," he told the Daily Beast, suggesting that an increasing number of fighters held similar views.
"Hezbollah built itself up into a formidable power in large part by portraying itself as a defender of the Lebanese people against Israel," said Thomas Abi-Hanna, a security analyst with the risk consultancy Stratfor. "The group's sole focus was defending Lebanon. Hezbollah's activities in Syria, in which it fought to defend the Syrian government of Bashar Assad, undermined that image in the eyes of some Lebanese."
Since its foundation, Iran has played a pivotal role in Hezbollah's development, providing arms to the group through Syria and overseeing its deployment in that conflict. As in other countries across the region, that influence is being challenged. "Iran is watching the events with great interest. However, Lebanese protests are likely the third-most important protest movement to Iran, which also faces problems closer to home including massive protests within its own borders as well as large scale protests in neighbouring Iraq," Abi-Hanna said.
However, predictions that the protests might inflict long-term damage to Hezbollah's support in Lebanon appear flawed.
"There has been a lot of speculation recently about the level of control Hezbollah and Amal maintain over Shias given the multiple demonstrations that happened in places considered as the stronghold of these two parties," said Elie Abouaoun, director of the MENA programme at the US Institute of Peace.
"Undeniably, a number of both parties' supporters went on the streets and complained about the lack of services and economic opportunities. However, this uprising in the parties' fiefs is more about the economic and social conditions than it is about the political options of these parties."
Abouaoun said that, after decades of political exclusion, many Lebanese Shias hold that Hezbollah remains the only route to political representation and protection.
"While this might shift to become less of a priority in the context of acute economic and social hardship," he said, "it does not disappear completely and will re-emerge when relevant. So, in a nutshell, this erosion is easily reversible unless a miracle happens, i.e. building a political system and state institutions that would dismiss their concern."
It has been suggested that the extent to which Hezbollah would be open to corruption investigations may be limited. While accusations against Hezbollah officials have been limited, those against their allies are widespread.
"Hezbollah's main allies in Lebanon, starting with Amal, are heavily involved in corruption. Therefore, going after (corruption) will lead to a sharp divide between Shias, which is the last thing Hezbollah would want now," Abouaoun said.
"Fighting corruption will involve as well targeting key figures in another heavyweight ally, the Free Patriotic Movement, some of which are also involved in malpractices and abuse of power."
Hezbollah's position cannot be assured. "Even within its own ranks and despite a strict discipline there have been more than one case of corruption reported. There is no doubt that this is only the emerging part of the iceberg and that a serious investigation will disclose more about the involvement of key figures in Hezbollah in corruption," Abouaoun said.
Sooner or later, Iran's regime will lose its grip
Khairallah Khairallah/The Arab Weekly/November 23/2019
It is only natural that the Iranian people rise up against a regime that has been, for 40 years, constantly escaping its failures by venturing outside the borders of Iran. It is more than normal that the popular uprising engulfs all of the country. Ordinary citizens have had enough of the lies that the regime has been feeding them while half of the country's population — about 40 million people — lives below the globally recognised poverty line. The Iranian people may not succeed this time to get rid of this regime but it will eventually happen, perhaps tomorrow or the day after.
It must be admitted that the regime has equipped itself with an impressive repressive machine. That machine was at work during the bloody quelling of the youth-driven 2009 Green Revolution.
However, it must also be acknowledged that Iran is entering a new and irreversible stage, since the existing regime is not viable, no matter how oppressive. This is because the regime is not able to be a normal natural system that cares about the affairs and well-being of its people. All it has to offer them are hollow slogans. With time, it has become clear to Iranian citizens that the slogans cannot feed them or give them hope for a better future for them and their children. What is being witnessed in Iran is the culmination of the failure of a regime that has nothing to export besides weapons, misery, militias and sectarian strife while its citizens are finding it tougher to survive by the day as they watch huge amounts disbursed to Hezbollah in Lebanon, Hamas and Islamic Jihad in Gaza and the Houthis in Yemen. What does investing in militias lead to? Can investing in misery have positive results at any level?
The Iranian regime, this Islamic Republic founded by Ayatollah Ruhollah Khomeini in 1979, has fallen because it became more dependent on oil and gas revenues than its predecessor, the shah regime. The shah was the victim of his hesitation and of the cancer he suffered from during the last five years of his reign.
Khomeini, who proved to be an extremely wily fellow, controlled the revolution and diverted it in favour of establishing a regime to his own measure, the system of velayat-e faqih.
In everything Iran has done in the past 40 years, there has been a hidden link called its relationship with the United States. This relationship allowed the regime to remain in power after successive US administrations found it had an interest in its survival. From the Jimmy Carter administration that deliberately avoided military confrontation, despite having US diplomats held hostage in Tehran for 444 days, to the Barack Obama administration, which did everything it could to meet the demands of the Iranian regime and make room for it to breathe financially, each administration had its own story with the Islamic Republic.
In October 1983, Ronald Reagan closed his eyes on the bombing of the US Marine Corps headquarters near Beirut airport, an operation that Iran was suspected of sponsoring. He dismissed the death of 241 American troops in that operation and withdrew US forces from Lebanon to please Iran.
The George H.W. Bush administration spent most of its effort on addressing the consequences of the Iraqi invasion of Kuwait. At that stage, and thanks to Iraqi leader Saddam Hussein's multiple mistakes, Iran found an indirect ally in the United States America.
Bill Clinton was not interested in any confrontation with Iran, creating a state of coexistence that the Islamic Republic took full advantage of until the arrival of the greatest and most invaluable of opportunities, the one offered by the George W. Bush administration in 2003. The United States delivered Iraq on a silver plate to Iran. This marked the second launch of the Iranian expansion project. The Iranian regime was all over the place, in Lebanon, Syria, Yemen, Bahrain and Iraq. In reality, the regime was exporting its own crises because it has nothing to export but crises and now this system is in crisis. Iraq was its major playing card but now it is playing against it. The Iranian people have seen how the Iraqis rose up against their corrupt regime so they chose to revolt against the Khomeini regime and Iranian Supreme Leader Ali Khamenei.
Much credit for what is going on in Iran must go to Iraq and to the Trump administration, which realised that the problem with Iran was not in the nuclear file. The Trump administration tore up the 2015 nuclear deal with Iran signed under the Obama administration. Most important, the current US administration joined Arab countries, led by Saudi Arabia and the United Arab Emirates, in considering that the problem with Iran is in its behaviour beyond its borders. Iran is obsessed with being recognised as a major player in the Middle East but it refuses to admit that such a role requires a strong and diversified economy able to stand on its own.
The Trump administration hit Iran at its weak point, the economy. Iran is beginning to feel the effect of US sanctions. Iranians are being influenced by the courage of Iraqis who are not only resisting a corrupt regime but also Iranian colonialism. Eventually, Iran will be liberated from a backward regime living from exporting its crises beyond its borders. It is not only Iran that will be liberated; Lebanon, Syria and Iraq will be liberated, too, and so will Yemen, even though the latter is suffering not just from the Houthis and their backwardness in Sana'a but also from the absence of a "legitimacy" camp that has a project for all of Yemen.
The Iranian issue must be treated with caution but the fact that all of Iran is revolting against the injustices and obscurantism of the existing regime is cause for optimism. Everything seems to indicate that an abnormal situation like that of the Iranian regime cannot continue. These are the times when the US administration seems unwilling to back down on its sanctions against Iran and these sanctions are beginning to produce consequences for Iran and for the region as a whole.

Lebanese abroad look for ways to get involved in protest movement
Justin Salhani/The Arab Weekly/November 23/2019
PARIS – As Lebanon marks one month of protests, activists and demonstrators are charting their next steps in the effort to remove what they say is a corrupt political system. The Lebanese diaspora, which faces a different set of struggles, is finding ways to get involved in the movement.
When the protests began, many Lebanese outside the country experienced a whirlwind of emotions. There was pride in compatriots standing up to the long-entrenched government but also some uneasiness about not being present to support them. This was not the first time Lebanese have had a protest effort aimed at revolutionising the political system but previous setbacks made many lose hope. In 2005, massive demonstrations led to the expulsion of occupying Syrian forces but the following ten years were punctuated by social and economic crises. In 2015, a waste-disposal crisis led Lebanese to again protest in mass but that movement broke down because of internal divisions and the political class's efforts to keep them at bay. "I really lost heart after the (2015) 'You Stink' (protests)," said Drew Mikhael, a Belfast-based academic who said he visits Lebanon around eight times each year. Mikhael said that, after the collapse of the 2015 protests, he stopped keeping up with Lebanese news.
This time, however, something feels different, protesters said. "The united nature crosses sect, class, gender. It's inclusive of the LGBT community and it has reignited hope," Mikhael said, adding that the new social contract forged by Lebanese across the country appears to be a watershed moment in casting off sectarian divisions. The Lebanese diaspora is re-energised. Weekly protests have taken place in New York, Paris, London and elsewhere since mid-October. There has been a significant backlash to Lebanese President Michel Aoun's suggestions that Lebanese unhappy with their government can simply emigrate. That struck a particularly harsh note with the diaspora, many of whom left because of a lack of opportunity at home. Many Lebanese living abroad confess they feel guilt, shame or fear of missing out in the protests. It isn't helped that they are sometimes stigmatised by other Lebanese for having left their country, whether or not by choice.
Nasri Atallah said he was at a protest in London, where he lives, and heard people chanting how they wish to live and work in Lebanon. While he doesn't disagree, he said his personal situation is different.
"I thought about how, even if things in Lebanon were ideal, I would probably leave anyway because my ambitions are matched in a place like London or New York," Atallah said.
When the protests broke out, Atallah said he considered returning to Beirut but he felt uneasy. "I felt it would be conflict tourism to go to my own country as an expat under these circumstances and I thought about how I could be of better use in my own city," he said.
Since then, he's been talking to others in the diaspora about how to help and build a network that can help find opportunities for young Lebanese artists or professionals, similar to networks used by the Armenian or Chinese
communities abroad. There is a stark dichotomy between the lives of Lebanese diaspora members and Lebanese at home, many pointed out. A meme on social media during the first days of the protest movement showed a drawn figurine of an expat woman watching developments on her laptop surrounded by trinkets and dishes that reminded her of Lebanon.
"For the first week, I was glued to (Lebanese news channel) MTV and I'd be at my job and listening to all the latest developments at the same time," said Micha Maalouf, who lives in New York. "I told everyone at my office what was happening and why this was so important."
She was not the only Lebanese living abroad eagerly keeping up with the news but while expatriates used social media to stay informed, they sometimes struggled to manage their daily lives. Maalouf admitted she's had to shut off the news so her work performance didn't suffer. Many diaspora members observed a strange dichotomy between following developments in Lebanon and staying connected to local happenings. Some found it surreal to flip through memes of their friends and family supporting the protests, only to be interrupted by an Instagram story featuring a plate of food posted by a non-Lebanese colleague.
"It felt like a moral obligation at first," Youssef Mallat, a Lebanese living in Paris, said about focusing solely on "the revolution." "When I'd see posts not about the revolution it made me a bit angry because I felt it wasn't time to talk about other things and we have bigger problems but as an expat what do you do? At some point, your life is still going," he said. The divide reminds the Lebanese diaspora of the duality of their lives. Many left Lebanon for the chance at a more stable life but their hearts are with protesters on the streets of Lebanon chanting "thawra, thawra, thawra!"