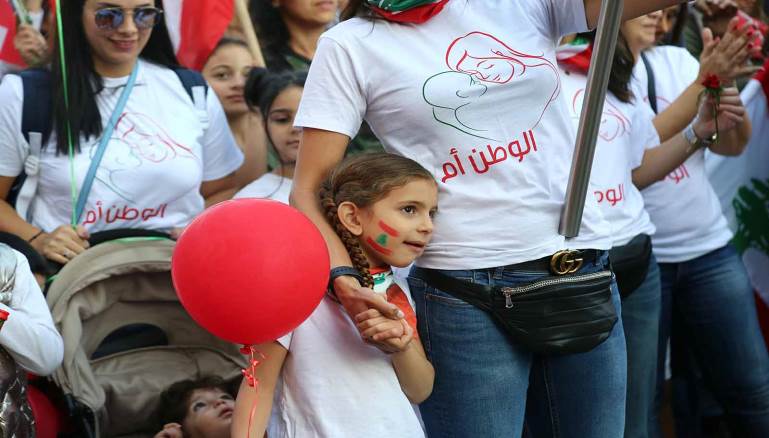 A Bundle Of English Reports, News and Editorials For November 22-23/2019 Addressing the On Going Mass Demonstrations & Sit In-ins In Iranian Occupied Lebanon in its 37th Day
Compiled By: Elias Bejjani
November 22-23/2019
Titles For The Latest English LCCC Lebanese & Lebanese Related News published on November 22-23/2019
Lebanon´s Top Politicians Attend Military Parade
Aoun, Hariri, Berri Make Joint Appearance at Military Parade
Parallel National Day Rallies by Lebanon Protesters, Leaders
Lebanese protesters, embattled leaders hold separate national day celebrations
Sources: France, US, UK Support Technocrat Govt In Lebanon
Protesters Say 'Real Independence' Close as Lebanon Turns 76
U.S. Affirms Readiness to Work with New Lebanese Govt.
Five Weeks of Protests in Lebanon
Lebanon since Independence
Mystery grows over Lebanon aid hold-up as impeachment looms
The Latest English LCCC Lebanese & Lebanese Related News published on November 22-23/2019
Lebanon´s Top Politicians Attend Military Parade
Beirut- Asharq Al-Awsat/Friday, 22 November, 2019
Lebanon´s top politicians made their first joint appearance Friday since massive anti-government protests erupted last month, attending a military parade for the country´s 76th Independence Day. This year´s parade couldn´t be held in its traditional location in central Beirut because a protest camp still occupies the area. A parallel civilian celebration, organized by the protesters, is planned for later in the day. The limited Independence Day display reflects the nation's somber mood. Lebanon faces its most serious political and economic crises in years, as anti-government protests have gripped the country since mid-October.
A deadlock among the top leaders has failed to produce a government, three weeks after Prime Minister Saad Hariri resigned. Most of those leaders have refused to answer the protesters´ demand for forming a government of experts, outside of the traditional sectarian-based power sharing agreement.
Hariri maintained a stern expression during the military parade, while President Michel Aoun and Parliament Speaker Nabih Berri exchanged smiles. The leaders exchanged a few words during the 30-minute parade of marching soldiers. There was no display of tanks or helicopters and no foreign dignitaries were in attendance. Berri and Aoun immediately left after the parade ended, while Hariri milled around for a little longer exchanging words with the commander of the Lebanese Armed Forces. A day earlier, Aoun had said a consensus on forming a government remained far off because of "contradictions that control Lebanese politics." He didn´t elaborate. He also told protesters "only dialogue is the right path to resolve crises."In an ominous sign, unknown vandals set fire to a large cardboard fist in Beirut´s protest camp, which had become a symbol of the uprising. The first had been painted with the word "Revolution."
Videos and photos circulating on social media showed the fist catching fire at dawn Friday. Protesters we were camped out in the square quickly tried to put out the blaze. A single protester defiantly raised his fist in the air beside the charred effigy. Local media said the protesters are preparing a new effigy to be installed during the Independence Day parade they´re organizing. Nationwide demonstrations began on Oct. 17, triggered by new taxes on WhatsApp calls amid a plunging economy. The protesters now are calling for the downfall of the political elite who have run the country since the 1975-90 civil war.
Aoun, Hariri, Berri Make Joint Appearance at Military Parade
Associated Press/Naharnet/November 22/2019
Lebanon's top politicians are attending a military parade on the country's 76th Independence Day. They appeared together Friday for the first time since the government resigned amid nationwide protests. President Michel Aoun, Parliament Speaker Nabih Berri and resigned Prime Minister Saad Hariri sat together under a canopy at the Defense Ministry. The traditional military parade in central Beirut has been called off as a protest camp still occupies the area, more than a month after anti-government demonstrations broke out. The limited Independence Day display reflects the nation's somber mood. Lebanon is facing its most serious political and economic crises in years. A deadlock among the top leaders has failed to produce a government. Hariri resigned two weeks into the protests, which have targeted Lebanon's entire political class.
Parallel National Day Rallies by Lebanon Protesters, Leaders
Beirut- Asharq Al-Awsat/Friday, 22 November, 2019
Lebanon´s protesters and top politicians held competing Independence Day celebrations Friday, reflecting the deepening rift that has beset the country grappling with its worst political and economic crises in decades.
The top leadership attended a truncated military parade which was relocated to the headquarters of the Defense Ministry from central Beirut, occupied by protesters.
The mood was somber at the brief parade as a little over a dozen regiments marched before the country´s president, parliament speaker and prime minister, who sat under a red canopy. The three only exchanged a few words and left separately. An official celebration at the presidential palace was cancelled. There were no foreign dignitaries in attendance and no display of tanks or equipment.
It was the first joint appearance by the three since the prime minister resigned three weeks ago, citing a deadlock with political rivals in meeting protesters demands. Since then, the politicians have continued bickering, deadlocked over a new government and showing little ability to adapt in the face of more than a month of nationwide protests demanding an end to business as usual.
Separately, the protesters later held a boisterous parade at Martyrs´ Square, near the waterfront boulevard where the formal celebration is traditionally held. The area has been occupied by protesters since mid-October and is closed off to traffic.
Industrialists, doctors, students, expatriates, musicians, and mothers marched down a main street leading to the square, organized in more than 40 groups, built as "regiments" by the protesters to mirror the military parade.
Lara Hayek, a university staffer, said they wanted to hold popular celebrations where the army does it every year.
"This year we decided that independence is also for the people. We started this revolution. It is a people´s revolution, a nation´s revolution. All the people want to express that."
The demonstrations began Oct. 17 against proposed taxes on WhatsApp calls but turned into a condemnation of the political elite who have run the country since the 1975-90 civil war. Protesters blame them for years of corruption and mismanagement.
Young people have been at the forefront of the leaderless protest movement, facing a plunging economy and high unemployment and left with few options other than emigrating. The protesters call for a new government and elections outside of the traditional sectarian-based power-sharing agreement.
The politicians "don´t want the country to change. They want it to stay the same and they want us to leave," said one protester who appeared in the square dressed as Charlie Chaplin and gave her name only as Joyce. "I am an actress. I don´t want to leave this country. I want to stay here, work and live in Lebanon."
She raised a banner that read: "You people have the power to make life free and beautiful."
A white banner was hung between two trees inviting protesters to "be creative" about how they want to commemorate independence. One person scribbled: "This is a popular Independence Day. Independence from a corrupt authority. November 22 with a different flavor."
During the celebrations, protesters planned to re-install a new large cardboard fist labelled "Revolution" in Martyr´s Square after a previous one was burned down overnight by unknown vandals.
Videos and photos circulating on social media showed the fist – which has been a symbol of the uprising – catching fire at dawn Friday. Protesters who were camped out in the square rushed to the site of the blaze. A single protester stood there, defiantly raising his fist in the air beside the charred emblem.
The top political leaders have been deadlocked over forming a new government since the Western-backed prime minister, Saad Hariri, resigned on Oct. 29.
Hariri said he has hit a dead-end with his partners in the government, dominated by the Iran-backed Hezbollah group, and has called for an apolitical emergency government. His rivals in the president´s party and its ally Hezbollah want to preserve their electoral wins and Hariri, as the face acceptable to the world.
The two sides have sparred publicly. Hariri said the party of President Michel Aoun is acting "irresponsibly" while Aoun´s group said the acting prime minister is holding the Cabinet hostage: "either me or no one else."
Late Thursday, Aoun said in a televised address that a consensus on forming a government remained far off because of "contradictions that control Lebanese politics." He didn´t elaborate.
Mahya Yaha, a senior analyst with Carnegie Middle East Center, said the political elite is acting "as it were business as usual," engaging in closed-door horse trading to form a new government while seeking to maintain power.
"Today, Lebanon´s politicians fear that the demographic and social tide is turning against them. And when the country´s political forces that have exercised power for a long time come to believe that their eclipse is inevitable, they will fight to preserve the privileges they have acquired, at whatever the cost," she wrote. "This could include resorting to violence in any form necessary."Meanwhile, there is always the temptation of Lebanon factions turning to their foreign backers, Yaha said, which risks transforming the country into the focal point for a showdown between the United States, Iran, and Russia.
"This would be disastrous for the Lebanese," she wrote Friday.
Lebanese protesters, embattled leaders hold separate national day celebrations
Arab News/November 22/2019
BEIRUT: Protesters and Lebanon's embattled politicians on Friday held separate celebrations to mark the country's 76th Independence Day.
Lebanese leaders attended the traditional military parade, which was much truncated and had to be moved to the Ministry of Defense's headquarters because demonstrators had occupied the usual venue in central Beirut.
Meanwhile, thousands of protesters staged a peaceful march through the capital's Martyrs' Square, 37 days after the start of national action against the political elite which has plunged the country into economic crisis and prompted the resignation of Prime Minister Saad Hariri.
The government's national day parade was attended by President Michel Aoun, Parliament Speaker Nabih Berri, and caretaker premier Hariri, the first time the trio had appeared in public together in three weeks.
Fashion designer Paula Noaman was among Lebanese citizens taking part in the self-rule anniversary celebrations in Riad Al-Solh and Martyrs' squares which she described as "a celebration of freedom."
Her friend Deniz Nassif Sader, also a fashion designer, said: "The ruling class has become decrepit and must be renewed. If they consider Lebanon a company, then its owner must step down when he gets old. But our politicians have a big ego and are clinging to power like children.
"They can no longer run Lebanon the way they have been doing for decades. We need a young generation. Who said that young people have no experience in politics? Politics have destroyed us. Give the youth the chance to create a different Lebanon."
Many activities accompanied the civil celebrations in town and city squares throughout Lebanon. A giant fist, symbolizing the civilian uprising in Lebanon, was set on fire to in Martyrs' Square on Friday morning.
Youssef Issa, an activist, said: "Unidentified young men on motorcycles sneaked into the square at dawn, threw a Molotov cocktail at the cutout image of a large fist, and left. The security forces in the area could not catch them."The incident provoked social media reaction criticizing the "sabotage of the revolution."
Another protester, Joyce Thabet, said: "Those cowards were intimidated by a hand that carries no weapon. A hand of cardboard. They are men of cardboard. The revolution will continue and will burn anyone who undermines people's dignity."
Former MP Faris Saeed stressed that "whoever burned the fist is foolish because every city and town in Lebanon will have a revolution symbol."Protesters were quick to replace the fist, with Independence Day participants using torches on their cell phones to light up the square.
Hisham Tabbara, 57, said: "Today's message is that the revolution will continue until we are independent of corruption. My generation was the one that produced this wonder generation of young people who are aware of their rights and refuse to be a herd of sheep."
Protesters from Baalbek-Hermel, considered an incubator environment for Hezbollah and the Amal Movement, also joined in celebration marches.
Ali Yazbeck said: "It is not true that all the people in our area are with Hezbollah and Amal. There is 40-50 percent who voted for them, but the rest refrained from voting because they believed that the candidates did not represent their aspirations. We want to build a homeland in which Hezbollah supporters are part of a non-corrupt country."
Activists from Qabb Ilyas in the Bekaa area, which is known for its loyalty to the prime minister, also took part in national day events.
Zakaria Kouider, of the Bekaa Youth Movement, said: "The president's speech, in which he addressed the people of Lebanon on the eve of Independence Day, did not address the concerns of the people. We do not care about oil. We want taxes to be canceled. We want old-age security and we want to live with dignity."I work in mechanics in a factory in the Bekaa, but others cannot work unless they pull strings. People in the Bekaa can no longer buy heating fuel, and the weather has become very cold. Heating in the Bekaa costs 800,000 liras ($520) — this is a month's salary and it is barely enough."
Amer Hassan Salloum, a 25-year-old maintenance worker in Zahle, said he joined the revolution because he wanted "to change the ruling class."
He said he was not a Hariri supporter but added: "Without Hariri, the country cannot be run. He is a magnet that attracts the international community and gives confidence to the country. Also, he was the first to step down at the request of the people and he stood by the movement.
"It is true that President Aoun is addressing us calmly, but he complains about the corrupt, and we complain about them. Who is the corrupt? Help us understand."Young expatriates in Arab, European and American countries coordinated via social media and traveled to Beirut to spend the weekend in the squares.
Dalia Obeid, a public health researcher who has lived in Paris for 17 years, said: "We arrived at Beirut airport today and came to the square. Each of us paid their travel costs. We are active in setting up groups abroad to support the movement in Lebanon. We have come to Lebanon to say that we want to return to a country in which there is neither chaos nor corruption. We have come because we believe there is hope for our return through this revolution."As the day advanced, the number of protesters in Beirut's squares soared and included intellectuals, doctors, pharmacists, environmentalists, artists, lawyers, teachers, mothers with children, people with special needs, bank employees, engineers, agriculturalists, craftsmen, businessmen, industrialists, and athletes. They all carried Lebanon's flag and chanted for the revolution.
Caretaker Defense Minister Elias Bou Saab gave a speech following the symbolic military parade. He said: "There are people using the civic movement politically to come across as heroes — whether through negotiations to form a government or by seeking to improve the stance.
"How can anyone name all the ministers from outside the existing parliamentary blocs? How will they win trust? There are political, sectarian and religious balances."
Bou Saab highlighted that parliamentary consultations are bound by their outcome and not by time.Protesters in the street are demanding a speedy appointment for binding parliamentary consultations to appoint a prime minister. The president and his ally Hezbollah are holding onto a techno-political government, while Prime Minister Hariri wants a technocratic government if he is named to take over the new government.
Sources: France, US, UK Support Technocrat Govt In Lebanon
Paris, Beirut – Michel Abou Najem, Asharq Al-Awsat/Friday, 22 November, 2019
High-ranking French sources told Asharq Al-Awsat on Thursday that Paris is exerting efforts to find a solution to Lebanon's crisis, preferably through a cabinet of technocrats who are not affiliated to any political party. France is currently mobilizing its partners and the international community to help Lebanon exit its political and economic crisis.In that regard, Paris is contacting regional parties, including Tehran and Washington to find solutions to end the Lebanese stalemate. A tripartite French-US-British meeting was held Wednesday in Paris to discuss Lebanon. On Thursday, French Ambassador to Lebanon, Bruno Foucher briefed President Michel Aoun on the outcome of this meeting. The French diplomat informed Aoun that the three countries stressed their continued support for Lebanon's stability, sovereignty, and independence, and also pushed for the return of constitutional institutions to work. Foucher also discussed with Aoun the visit of Director of the Middle East and North Africa Department of the French Foreign Ministry, Christophe Farno, who returned to Paris with an utmost conviction of a pressing need for reforms at various levels in Lebanon. The sources said that Farno's mission to Beirut focused on the need to form a cabinet of technocrats with a mission to take urgent decisions that meet the demands of the popular movement and to speed up necessary measures to fix the dire economic and financial situation. "Paris is currently studying the idea of holding a summit of the states supporting Lebanon. However, there is still no decision on the level of participants attending this summit," the sources said. The summit would serve to renew trust in the Lebanese situation. "France reiterates that the donor states would not blindly offer aid to Lebanon, but those states insist that Beirut starts with economic reform measures before receiving any international financing," the sources explained. The meeting in Paris uncovered a new development related to the US position from the situation in Lebanon. The French sources said the US diplomats who attended Wednesday's meeting expressed "moderate" positions towards the crisis in Beirut. There was a huge gap between Washington and Paris' positions regarding the Lebanese crisis, as some officials at the US administration wanted to employ the Lebanese crisis in their war against Iran.

Protesters Say 'Real Independence' Close as Lebanon Turns 76
Beirut- Asharq Al-Awsat/Friday, 22 November, 2019
Lebanon was marking 76 years of self-rule on Friday, but protesters say that only this year are its people experiencing "real independence". An unprecedented protest movement has gripped the small Mediterranean country since October 17, demanding the complete overhaul of politicians deemed inept and corrupt. The demonstrations have brought together people from across sectarian lines, and given them hope that change might finally sweep away a system they say is broken. "It's the first time Lebanese from all religious communities have protested en masse without a political party calling for it, and against all parties," said 21-year-old university student Tamara. "That's real independence — one that's organic". On November 22, 1943, Lebanon achieved independence after 23 years under a French mandate, following a wave of demonstrations that brought together the country's Christians and Muslims.
But the country was ripped apart in the 1975-1990 civil war.
Two more foreign powers occupied the tiny multi-confessional country — Israel from 1978 to 2000, and Syria from 1976 to 2005. A post-war accord sought to share out power between Lebanon's various religious communities, but the country remained deeply divided along sectarian lines.
Wajed, 26, said this year's Independence Day will be different. "We want to emancipate ourselves from the corrupt people governing us," he told AFP, his beard shaved short and a cap on his head. "After the French left, others occupied us," he said, alluding to Lebanese politicians, some of whose families have been in power ever since. In the face of such anger from the street, Lebanese president Michel Aoun again called for dialogue Friday, saying in a televised address that was "the only pertinent path to solving the crisis".
Revised anthem
After more than a month of protests, a large military parade along the seafront has been cancelled, and replaced by a smaller event at the defence ministry instead.
Wajed said the changes in state festivities was just the latest "victory" for protesters.
The street movement brought down the government last month, though a new cabinet has yet to be formed.
On Sunday an independent candidate was elected head of the Bar Association, and on Tuesday demonstrators successfully prevented a parliament vote on a controversial amnesty law. Two people have so far been killed during the protests. Activists have called for "civil marches" to take place nationwide on Friday as Lebanese of all ages maintain hope they can fix a broken government, draw the country out of endless political deadlocks, and revive its crumbling economy. On social media, they urged protesters to wave high "the light of the independence" after nightfall — whether with a candle, lighter, or the torch on their mobile phones. In the southern city of Sidon, an event has been planned to beam light against "obscurity, theft, corruption, and poverty". A revised version of the national anthem is making the rounds online to celebrate Lebanese women, many of whom have played a central role in the recent protests.
'Independence of mind'
There have been other large protests in Lebanon in recent decades, but none this big have been spontaneous. In 2005, a huge street movement managed to end the Syrian occupation. But that was called for by anti-Syrian political parties after former premier Rafik Hariri was killed in a car bombing they blamed on Damascus. Dina Abu Dahr, 55, said she felt "different" about the national holiday this year. "It's the first time independence means something to me," she said. Near a huge mosque in central Beirut, Youssef el-Gherez agreed. "This independence is an independence of mind, body and spirit," said the 26-year-old. "People are starting to change their habits," he said. "They want to change things deeply, all the way to the roots."Motivated by the protests, some members of Lebanon's huge diaspora have also planned to fly home to take part. Tracy Saad, 23, said she would be heading back from the Netherlands to "celebrate independence from the warlords and their sectarian regime", referring to politicians who once headed militias during the civil conflict. The idea of a mass homecoming took life on social media, she said, and then those interested managed to negotiate cheaper air fares for the occasion.
In total, some 600 people are expected to travel in from the Gulf, Europe, North America, and even Australia, and make their way to Beirut's iconic Martyrs' Square.
U.S. Affirms Readiness to Work with New Lebanese Govt.
Naharnet/November 22/2019
The US Department of State on Friday congratulated Lebanon on Independence Day, affirming willingness to cooperate with a new Lebanese government meeting the aspirations of its people, one day after Trump's letter to Aoun in the same context.
"The United States reaffirms its permanent friendship with the Lebanese people," the ministry said. "We remain committed to a brighter future for Lebanon and stand proudly with the Lebanese people in their peaceful demonstrations calling for reforms and an end to corruption."
"The United States stands ready to work with a new Lebanese government that responds to the needs of its citizens and has the capacity and political will to build a stable, prosperous, independent, and secure Lebanon for all," it added. On Thursday, US President Donald Trump sent a cable to President Michel Aoun. He said: "The American people share my best wishes for Lebanon's Independence Day. The friendly relations between the Lebanese and American peoples are strong. The United States is ready to work with a new Lebanese government that meets the needs of the Lebanese by building a stable, prosperous, independent, and secure country."

Five Weeks of Protests in Lebanon
Agence France Presse/Naharnet/November 22/2019
Lebanon has been paralysed by more than a month of protests demanding an overhaul of the entire political system.
Here is a recap:
– 'WhatsApp tax' anger –
On October 17, the government announces a tax on calls made via messaging apps such as WhatsApp, widely used in Lebanon. Coming amid a looming economic crisis in a country whose infrastructure remains decrepit almost three decades since the end of its civil war, the announcement is seen by many as a step too far. Thousands take to the streets in Beirut and other cities, some chanting "the people demand the fall of the regime" and security forces fire tear gas to try to disperse crowds. The government scraps the messaging app tax later the same day, but the protests keep on going.
– Demos grow –
On October 18, thousands of demonstrators from a broad spectrum of sects and political affiliations bring the capital to a standstill. They demand an overhaul of the political system, citing a broad range of grievances from austerity measures and state corruption to poor infrastructure and rampant electricity cuts. The army reopens some highways blocked by protesters and disperses a huge crowd in Beirut with water cannon and tear gas. Dozens are arrested.The demonstrations swell over the following days, with major gatherings also in second city Tripoli and other centres.
– Reforms announced –
On October 21, Prime Minister Saad Hariri announces his government has approved a raft of economic reforms, including halving lawmakers' and ministers' salaries. But protests continue and demonstrators dismiss the new measures as insufficient.
– Hezbollah backs government –
On October 25, the head of the powerful Shiite movement Hezbollah — which with its allies holds a majority in parliament — tells supporters not to take part in the protests. Hezbollah's leader, Hassan Nasrallah, also warns of chaos should the government resign. The next day, Hezbollah mobilises counter-rallies, sparking scuffles with demonstrators.
– Government resigns –
On October 29, dozens of counter-demonstrators attack anti-government protesters in Beirut. That evening, Hariri submits his resignation and that of his government, prompting cheers and dancing in the streets. The following day, President Michel Aoun asks the government to stay on in a caretaker capacity until a new cabinet is formed. Protesters regroup over the next days, demanding a government of technocrats, independent of traditional political parties divided along sectarian lines.
– Students join in –
In a live television address on November 3, Aoun announces plans to tackle corruption, reform the economy and form a civil government. But thousands of protesters stream back into Beirut's Martyrs' Square, chanting "Revolution!"On November 6, hundreds of schoolchildren lead demonstrations across the country. The following day, thousands of university and high school students also take to the streets. On November 12, Aoun says that Lebanese unhappy with those in power should "emigrate". His remarks spark a new eruption of demonstrations. The army opens fire to disperse protesters south of Beirut, shooting a man who later dies of his wounds.
– Parliament under siege –
On November 15, protesters react with anger to the reported designation of 75-year-old business tycoon and former finance minister Mohammed Safadi as new prime minister. Two days later, Safadi announces he will not assume the role. Aoun on November 19 says he is open to a government that would include representatives of the popular movement. Besieged by angry protesters, the Lebanese parliament postpones a session to discuss controversial draft laws. On November 21, in a speech on the eve of the 76th anniversary of independence from France, Aoun reiterates his call for dialogue.
Lebanon since Independence
Agence France Presse/November 22/2019
Here is a recap of key events in Lebanon since its independence from France 76 years ago:
– Power-sharing –
The small Mediterranean country becomes independent on November 22, 1943 after 23 years under French mandate. Under a "national pact", its Christians agree to abandon protection by the West and Muslims by Arab nations. It lays out a power-sharing agreement still in place today that allocates the post of president to a Maronite Christian, prime minister to a Sunni Muslim, and parliament speaker to a Shiite Muslim.
– Civil strife –
A five-month civil war breaks out in 1958 when Muslims, backed by Egypt and Syria, take up arms against the pro-Western regime of president Camille Chamoun. The president appeals to the United States for help. American troops arrive in July, their first military intervention in the Middle East. With the revolt quelled, they pull out three months later.
– PLO moves to Lebanon –
After the Arab defeat in the 1967 Six-Day War, the first Palestinian bases are established in south Lebanon on the border with Israel and Syria. In 1969, Lebanon legalises the armed Palestinian presence on its soil under the Cairo Accord. Following the bloody Black September clashes in Jordan in 1970, Yasser Arafat's Palestine Liberation Organisation (PLO) retreats to Lebanon, later setting up base in Beirut.
– Civil war –
In April 1975, a 15-year-long civil war starts: Christian militias battle Palestinians, who are quickly backed by leftists and Muslim forces.
In 1976 the Syrian army intervenes, with US approval, after an appeal by embattled Christian forces. In 1982, Israel invades and besieges Beirut: Arafat and 11,000 Palestinian fighters evacuate the capital. In September, a Christian militia massacres at least 1,000 people in the Palestinian camps of Sabra and Shatila in Beirut. The war ends in 1990. More than 150,000 people had been killed, 17,000 went missing and hundreds of thousands were exiled or displaced.
Syrian domination –
Syria's military and political presence is crystallised with a May 1991 treaty between Damascus and Beirut. Israel maintains its occupation of southern Lebanon, withdrawing only in 2000. In February 2005, former prime minister Rafik Hariri is killed in a massive Beirut bombing along with 21 others. Those opposed to Syria blame Damascus, which denies any role. Mass demonstrations lead to all Syrian troops withdrawing from Lebanon by late April 2005. They had peaked at 40,000 during the army's 29-year deployment.
Israel vs Hezbollah
In July 2006, conflict erupts between Israeli forces and Lebanon's powerful Shiite movement Hezbollah, which was founded in 1982 during the civil war. The conflict is sparked by Hezbollah's capture of two Israeli soldiers from the southern Lebanon border area. The devastating 34-day war costs Lebanon around 1,200 lives, mostly civilians. With the withdrawal of Israeli troops in October, the Lebanese army — aided by a United Nations force — deploys in the south after a 40-year absence.
– Syria war –
Two years after the Syrian conflict breaks out, Hezbollah leader Hassan Nasrallah says in April 2013 his fighters have intervened on the side of President Bashar al-Assad. The Syrian conflict entrenches Lebanon's divided political blocs: one led by Iran-backed Hezbollah, and the other by Saad Hariri, son of the assassinated former premier who is backed by the US and Saudi Arabia.
– Anti-regime unrest –
In May 2018, Hezbollah and its allies dominate the first legislative polls held since 2009. Hariri is designated premier for a third term but it takes him till January 2019 to form a new government. On October 17, protests break out sparked by a government plan to tax online phone calls made through apps.
The unrest turns into a broader popular revolt involving hundreds of thousands of people across the country, cutting across sectarian lines, against the perceived ineptitude and corruption of the ruling class.The government resigns on October 29, but the protest movement carries on, demanding the departure of the ruling elite.
Mystery grows over Lebanon aid hold-up as impeachment looms
Associated Press/November 22/2019
But the Pentagon and State Department reject that view, saying the army is the only independent Lebanese institution capable of resisting Hezbollah.
WASHINGTON: The Trump administration is withholding more than $100 million in U.S. military assistance to Lebanon that has been approved by Congress and is favored by his national security team, an assertion of executive control of foreign aid that is similar to the delay in support for Ukraine at the center of the impeachment inquiry. Secretary of State Mike Pompeo on Friday congratulated Lebanon as the country marked its independence day but made no mention of the hold-up in aid that the State Department and Pentagon officials have complained about for weeks.
It came up in impeachment testimony by David Hale, the No. 3 official in the State Department, according to the transcript of the closed-door hearing released this week. He described growing consternation among diplomats as the administration would neither release the aid nor provide an explanation for the hold. "People started asking: What's the problem?" Hale told the impeachment investigators.
The White House and the Office of Management and Budget have declined to comment on the matter. The $105 million in Foreign Military Funding for the Lebanese Armed Forces has languished for months, awaiting approval from the Office of Management and Budget despite congressional approval, an early September notification to lawmakers that it would be spent and overwhelming support for it from the Pentagon, State Department, and National Security Council.
As with the Ukraine assistance, OMB has not explained the reason for the delay. However, unlike Ukraine, there is no suggestion that President Donald Trump is seeking "a favor" from Lebanon to release it, according to five officials familiar with the matter.
The mystery has only added to the consternation of the national security community, which believes the assistance that pays for American-made military equipment for the Lebanese army is essential, particularly as Lebanon reels in financial chaos and mass protests.
The aid is important to counter Iran's influence in Iran, which is highlighted by the presence of the Iranian-supported Shiite Hezbollah movement in the government and the group's militias, the officials said.
There is opposition to aid to the Lebanese army from outside the NSC. Pro-Israel hawks in Congress have long sought to de-fund the Lebanese military, arguing that it has been compromised by Hezbollah, which the U.S. designates as a "foreign terrorist organization."
But the Pentagon and State Department reject that view, saying the army is the only independent Lebanese institution capable of resisting Hezbollah.
Outside experts agree.
Although there are some issues, Jeffrey Feltman, a former U.S. ambassador to Lebanon, said this week that the assistance should be released. "The U.S. has some legitimate concerns about the Lebanese Armed Forces' performance, but the FMF should resume quickly and publicly: both because of the program's merit in terms of improving the LAF's counterterrorism performance but also to undermine the Hezbollah-Iranian-Syrian-Russian narrative that the U.S. is unreliable," Feltman he told the House Foreign Affairs Committee on Tuesday.
Hale told the impeachment inquiry there were parallels between the Lebanon and Ukraine aid in that the White House refused to offer an explanation for the delays. He said inquiries into Lebanon's assistance since June have been met with silence. "We just understand there are differences of opinion on this, or there had been," he said. "And the matter now rests with OMB. I don't think that the differences currently exist outside of OMB."
The Lebanon aid was put into Trump's budget last winter and the State Department notified Congress on Sept. 5 that it would be spent even though the OMB had not yet signed off on it. The State Department has offered only a cryptic response to queries, defending the assistance but also calling for Lebanese authorities to implement economic reforms and rein in corruption. "As the sole legitimate defense arm of the government of Lebanon, the United States remains committed to strengthening the capacity of the Lebanese Armed Forces to secure Lebanon's borders, defend its sovereignty, and preserve its stability," the department said. "The Lebanon FMF has been apportioned by the administration. No Lebanese expenditures or purchases of military materiel with FMF have been delayed.""Apportionment" is a technical term that refers to federal funds that have been appropriated by Congress and obligated by the administration but have not yet been released.
However, several officials said National Security Council staff had deliberately tried to run an end-around of the Pentagon and State Department by demanding a signed presidential determination to release the aid and then slow-walking delivery of the finding to the Oval Office for Trump's signature. The officials who were not authorized to discuss the matter publicly and spoke on condition of anonymity. "It's beyond the pale," said one official. "This is people at the NSC and OMB trying to insert their own personal ideologies into something that most everyone else supports as a national security interest."
Titles For The Latest Lebanese LCCC English analysis & editorials from miscellaneous sources published on November 22-23/2019
Lebanon Is Totally Occupied by Iran …Help Liberate The Land Of The Holy Cedars/Elias Bejjani/November 22/2019
Lebanese mark their very own Independence Day across the nation/Ryme Alhussayni and Tala Ramadan/Annahar/November 22/2019
Lebanese citizens take to the streets to celebrate Independence Day/Sunniva Rose/The National/November 22/2019
Happy Independence Day, Dad/Sally Farhat/Annahar/November 22/2019
Pentagon, State Dep't, U.S. Evangelicals and Israel Battle Over Lebanese Army Aid/Amir Tibon/Haaretz/November 22/2019
France leading international effort to help Lebanon/Randa Takieddine/Arab News/November 22/2019
The Latest Lebanese LCCC English analysis & editorials from miscellaneous sources published on November 22-23/2019
Lebanon Is Totally Occupied by Iran …Help Liberate The Land Of The Holy Cedars
Elias Bejjani/November 22/2019
لبنان وطن الحرف والرسالة والأرز المقدس تحتله إيران وميليشياتها وهو يحتاج لمساعدة العالم الحر ليستعيد استقلاله
http://eliasbejjaninews.com/archives/80773/elias-bejjani-lebanon-is-totally-occupied-by-iran-help-liberate-the-land-of-the-holy-cedars/
Lebanon, the land of the Holy Cedars and 7000 years deeply rooted glory, holiness and history is sadly an occupied, impoverished, and oppressed country.
The stone age savage occupier is the terrorist Iranian armed Hezbollah militia.
This terrorist armed militia controls totally Lebanon's decision making process on all levels and in all domains including the peace and war one.
Meanwhile the majority of the Lebanese officials, as well as the politicians are mere mercenaries appointed by Hezbollah and like puppets carry its wishes and orders.
The USA and other democratic countries can help Lebanon and the Lebanese people in reclaiming back their confiscated independence and stolen country through a strong, loud and official stance in practically and not only rhetorically supporting the immediate implementation of the three UN resolutions that addresses Lebanon's crisis: the armistice agreement, 1559 and 1701.
The Lebanese people after years (since 1975) of Syrian, Palestinian, and current Iranian occupations and oppression are unable on their own to liberate their country without a real and clear practical support from the UN and all the democratic countries.. Help liberate Lebanon.
In this realm I quote Dr. Walid Phares's response to ambassador Jeffrey Feltman's recent testimony before the House Subcommittee on the Middle East, North Africa, and International Terrorism on "What's Next for Lebanon? Examining the Implications of Current Protests.
Ambassador Feltman told Congress said:
"Over the long term, U.S. interests in Lebanon would be best protected by what the Lebanese people indicate that they want: a prosperous, democratic, independent, fully sovereign, peaceful Lebanon, reliant (including for security) on effective, transparent government institutions subject to public accountability. With the right government in place and with renewed international support, this should not be impossible to achieve."
Dr. Walid Phares's response:
Yes Mr. Ambassador that's what a majority of Lebanese want. But between now and then, there is a blocking force that will oppose moving Lebanon in that direction. It is a force feared by many and countering it has no strategies, in official policies. A force that is obstructing prosperity, reform, sovereignty, and protective of corruption. And on top of it there are no plans to deal with it. One can ignore it and pretend that it is not there, that eventually it will just go away. But that is not reality…
From our Diaspora, we hail and command the courageous and patriotic Lebanese citizens who bravely for the last 37 days are involved in the current ongoing demonstrations and sit-ins in occupied Lebanon.
May Almighty God bless, safeguard Lebanon and grant its oppressed people the power and will to free their country and reclaim it back from Hezbollah, the Iranian terrorist Occupier.
Click here to read ambassador Jeffrey Feltman's testimony text before the House Subcommittee on the Middle East, North Africa, and International Terrorism on "What's Next for Lebanon? Examining the Implications of Current Protests.
In regards to the Iranian occupied Lebanon the help that the country and its oppressed people need from the USA, Europe and all other free countries is the immediate implementation of the UN three resolutions: the armistice agreement, 1559 and 1701. The USA sanctions on the Mullahs' regime for almost 40 years did not actually make any difference except in hurting more the Iranian people. Sanctions on Hezbollah while it occupies Lebanon and controls fully its rulers is not going to change the current status quo..although sanctions on Lebanese politicians who are Hezbollah puppets can help in deterring them.
Lebanese mark their very own Independence Day across the nation
Ryme Alhussayni and Tala Ramadan/Annahar/November 22/2019
Protestors, in parallel, organized a protest in Riad Al Solh and activists continued to call for civil marches to take place at a nationwide level to mark the occasion as the revolution enters day 37.
BEIRUT: Every year on November 22, a military parade takes place in central Beirut to celebrate Lebanon's Independence Day; but this year, amid Lebanon's uprising, the people had their own celebratory plans.
Instead of the usual big parade that takes place every year, a smaller one was held in Yarze at the Defence Ministry, attended by President Michel Aoun, Speaker Nabih Berri, resigned Prime Minister Saad Hariri, and officials.
As for the protesters, they organized a gathering in Riad Al Solh and activists called for civil marches to take place at a nationwide level to mark the country's 76th Independence Day as the revolution enters its 37th day.
While lighting a lantern, Mohammad Chamseddine said Lebanon has yet to become fully independent. "The real independence will be when we become independent from all these politicians ruling us, and hopefully this day will come," he said.
The civil parade consisted of groups from eclectic backgrounds, including teachers, doctors, engineers, lawyers, media personnel, mothers, students, and other professions.
"As a man in his 70s now, I fully appreciate that people of all ages, sects, professions, and interests are united for one cause. There's a long way to go but we will get there," Osman El Khalil, an attendee shared with Annahar.
On a nationwide level, marches from several locations in the country kicked off early in the morning.
The Lebanese diaspora was highly motivated by the protests and organized a march that will travel in a convoy from the airport to Martyr's Square at 5:00 p.m. Protestors called on all citizens to wave high "the light of the independence" after nightfall with a candle, lighter, or the flashlight on their mobile phones to bring people together from across sectarian lines and give a light of hope that change might finally sweep away the broken system.
"I've been on the streets since day one and I've never felt frustrated despite all the ambient vibes willing to discourage protesters, and this is what independence should be all about. This is the first time we actually celebrate independence," Jocelyne Sabbagh told Annahar.
Nationwide protests began on Oct. 17 against new taxes on WhatsApp calls amid a plunging economy. The protesters now are calling for the downfall of the political class that has been ruling since the Civil War.
While addressing the nation last night, President Aoun had said that an agreement about forming a government is still far off due to conflicts within Lebanon's political sphere.
Today, Lebanon celebrates its 76th year of independence from the French rule.
*Christy-Belle Agha and Fatima Dia contributed to this report
Lebanese citizens take to the streets to celebrate Independence Day
Sunniva Rose/The National/November 22/2019
Lebanese civilians marched through Beirut as the traditional military parade was cancelled because of ongoing protests.
Hundreds of Lebanese citizens marched joyfully through Beirut on Friday to celebrate their country's 76th Independence Day. It comes as the traditional austere military parade was relocated to the Defence Ministry because of tensions fuelled by anti-government protests that have paralysed Lebanon's political class. Crowds representing some of the 41 professions or groups, including mothers and fathers, paraded through the capital's Martyrs Square in the early afternoon. Waving the Lebanese flag, thousands cheered them on under the bright autumn sun as others distributed flowers.
Participants said this was a first in Lebanese history.
"For the first time, we feel that this is a national celebration," said Peter Mouracade. Carrying his baby son on his shoulders, he took part in a "daddy's parade" with a dozen other men. "There is a real resurgence of patriotism," agreed his friend Ralph Raad, who said that he wanted to show solidarity with "all the Lebanese fathers" who could not be present because they had to live abroad to find work. High unemployment is one the many grievances of the Lebanese against its ruling elite which has been in power since the end of the civil war in 1990.
Lebanon creates six times fewer jobs than its labour market needs and exports more graduates than any country in the Arab world, according to a 2019 government study quoted by Reuters. Local media reported that hundreds of Lebanese expatriates landed at Beirut airport on Friday afternoon to join the celebrations. Independence Day is normally celebrated with a military parade attended by top officials on Beirut's sea front but it was relocated this year to the Defence Ministry south-east of the capital because of security concerns.
Triggered on October 17 by a proposed tax hike, protests have exacerbated the unpopularity of the Lebanese political class, which is widely believed to have mismanaged the country's finances, pushing it to the brink of collapse. The festive atmosphere in Martyr's Square sharply contrasted with the violence earlier this week that occurred when protesters stopped MPs from entering Parliament. One policeman held a red flower in his hand as he watched the parade. The extra barbed wire that had been installed on Tuesday had been removed.
Participants in Beirut's Independence Day celebrations said they were proud to display their unity while maintaining pressure on politicians to form a new government that would pay attention to people's demands of a fairer, non-sectarian society. Prime Minister Saad Hariri resigned on October 29 and political parties have been unable to agree on a successor since. "Independence Day is usually taken hostage by politicians. We used to have no role to play. Today, the people are asking for their independence from the political class which they reject", Mr Mouracade told The National.
Wearing her professional uniform, Hiba Azar, a nephrologist, said that she feared that Lebanese hospitals, which enjoy a good reputation in the region, would soon start struggling because of the liquidity shortage which has hindered imports that are vital for the Lebanese economy.
"In Lebanon, it has become a problem to import material from abroad. We risk (medical) shortages if we do not have a government soon that is accepted by the entire population and represents us," she said, as she took part in a march of health professionals.
The presence of young people, sometimes as young as 15-year-old Duaa Hadidi, who came with her wheelchair-bound sister, was also strong. "There are no facilities to help her. When I push her, I cannot get onto the sidewalk. It really breaks my heart to live in such a country. Our dream was to leave Lebanon, but we saw a glimpse of hope since protests began", she told The National, minutes before pushing her younger sister to the front of the march. Behind the two girls, teachers, students, lawyers, retired soldiers, environmentalists and many more followed.
Happy Independence Day, Dad
Sally Farhat/Annahar/November 22/2019
This revolution has been the hope I was searching for, for my father at least. But it was only today, after capturing the 21st picture, that I was sure of its power.
Lebanon's Independence Day has always had a special place in my heart. For 21 years, I celebrated this day exactly like I celebrate my birthday; yes, it means I over did it in so many ways.
On November 22 of each year, I would wake up extremely early, wear one of the three dominant colors in our national flag (red, green, or white), and turn on the TV to watch the national celebration.
The Soldiers' March has always been my favorite: the music, the organization, and the way soldiers' steps follow the beat smoothly. I'd watch with goosebumps as I imagine my father, who is today a retired soldier, march among these young faces, who prepare to take on the world for the sake of a country. I have always admired these soldiers for how selfless they can be, exactly like my father has always been.
I would watch the entire show and sing my lungs out to the national anthem. And every year, after the show is over, I'd take a picture with my father in his army suit next to the family tree.
We have so far captured 21 pictures, and with every passing year, these photos recorded how my father aged. Yet, in 20 of those photos, my father's hope for the country that used to spark from his eyes also faded.
As years passed, my father stopped narrating stories from his childhood and all the adventures he had as a soldier, and while he did encourage me to keep on dreaming and supported all my ambitions, I always felt that he's trying to expand my horizon (literally), to make me search for a future abroad. He never said it, obviously because who wants their kids to live in a different country, right? But he hinted at it.
I admit, of all things that could disappoint me in this country, this disappointed me the most. How can I love a country who has not loved me nor my father who has dedicated his entire life for it? Until the revolution started.
This revolution has been the hope I was searching for, for my father at least. But it was only today, after capturing the 21st picture, that I was sure of its power. Although I've always loved Independence Day, today's celebration had a completely different feeling, a feeling I kind of like more.
This year, I did wake up extremely early, but I didn't turn on the TV to watch the soldiers' parade and to imagine how my father would've marched back in his days. Today, I saw how proud he was as he marched among his fellow retired soldiers.
Among the huge crowd who gathered in Martyr's Square to witness the civil parade, I could see how his eyes sparked with hope, the hope I thought he long lost. And when it was time for the retired soldiers to turn their faces and salute the Martyr's Statue, flags down, I looked at my father and I felt his eyes whispering: "There's still hope."
Pentagon, State Dep't, U.S. Evangelicals and Israel Battle Over Lebanese Army Aid
Amir Tibon/Haaretz/November 22/2019
في أميركا البنتاغون والإدارة والإنجيليون وإسرائيل في حالة صراع وعراك على خلفية المساعدات الأميركية للجيش اللبناني
White House is at center of storm over whether it should be withholding $105 million of military funding to Beirut
http://eliasbejjaninews.com/archives/80784/%d9%81%d9%8a-%d8%a3%d9%85%d9%8a%d8%b1%d9%83%d8%a7-%d8%a7%d9%84%d8%a8%d9%86%d8%aa%d8%a7%d8%ba%d9%88%d9%86-%d9%88%d8%a7%d9%84%d8%a5%d8%af%d8%a7%d8%b1%d8%a9-%d9%88%d8%a7%d9%84%d8%a5%d9%86%d8%ac%d9%8a/
WASHINGTON — The Trump administration is sending mixed signals on the issue of U.S. security assistance to Lebanon. In recent days, senior officials within the administration confirmed that $105 million of aid to Lebanon has been put on hold by the White House. Earlier this month, however, the State Department's assistant secretary for Near East Affairs said during a visit to Israel that the aid to Lebanon was not being withheld, and rejected Israeli requests to block it.
The United States provides Lebanon with security aid, including equipment and training to its armed forces. Israel has pressured the U.S. to condition the continuation of this aid on concrete steps by the Lebanese Armed Forces to distance itself from Hezbollah. Israel has accused the LAF of being infiltrated by Hezbollah and of cooperating with the Iran-supported organization, which is both a member of the Lebanese government and an active terror organization. Israel has made similar requests to other countries that provide aid to Lebanon, such as France and the United Kingdom.
In Washington, the administration is facing pressure from two directions on the Lebanese aid issue. On the one hand, lawmakers are promoting legislation that would limit aid to Lebanon unless the LAF can prove that it is taking concrete steps to distance itself from Hezbollah. In the House of Representatives, a bill on this subject, called the "Countering Hizballah in Lebanon's Military Act," proposes that the administration will have to present a report to Congress dealing with the LAF's ties to Hezbollah, with a focus on members of the military who are also members of Hezbollah.
If the report does not show progress on the part of the Lebanese government in reducing Hezbollah's influence on the army, 20 percent of the American aid intended for Lebanon will be withheld. The bill has 12 Republican co-sponsors, led by Rep. Lee Zeldin of New York, and one Democratic co-sponsor, Rep. Elaine Luria of Virginia. It includes a "national security waiver" that would allow the administration to avoid actually limiting the aid, but would require the president to sign a document announcing such a decision.
On the other hand, senior Democratic lawmakers are pushing the administration to explain why it is currently withholding $105 million of aid that was supposed to go to Lebanon. In a public letter on the subject, Rep. Eliot Engel (New York Democrat), who is chairman of the House Foreign Affairs Committee, and Rep. Ted Deutch (Florida Democrat), who heads a sub-committee on the Middle East, sought answers about an "unexplained and indefinite" hold on security aid to Lebanon.
Engel and Deutch, who are considered pro-Israeli legislators with close ties to pro-Israel lobby organizations, explained in their letter that the $105 million currently being withheld from Lebanon is "necessary for building the capacity of the Lebanese government to maintain security and stability and to support the LAF in a variety of areas, including counter-terrorism, border security and implementation of UN Security Council Resolution 1701." The White House, as of Wednesday, did not offer an explanation.
Adding to the confusion over the issue are two recent statements by senior State Department officials. David Schenker, the assistant secretary for Near East Affairs, said during a visit to Jerusalem earlier this month that the aid was not being withheld, but rather, going through a review process. He defended the aid and said that withholding it could actually push the Lebanese forces closer to Hezbollah and Iran."
In Washington, meanwhile, the department's Under Secretary for Political Affairs, David Hale, told lawmakers that a "hold had been placed" over the aid to Lebanon during the summer. Hale mentioned the issue as part of a deposition related to the ongoing impeachment investigation over President Donald Trump's conduct toward Ukraine. Hale said that the aid to Lebanon was being held up at the same time that aid to Ukraine was being held up.
In the Ukrainian case, Congress is investigating whether Trump held up the aid in order to pressure the government in Kiev to open a politically-motivated investigation against the president's political rival, former Vice President Joe Biden over his son's business dealings in the country. The aid to Ukraine was released in September, shortly after a whistle blower from within the U.S. government reported Trump's alleged effort to tie the aid issue to Ukraine investigating the Bidens.
In the Lebanese case, however, Hale said that the aid hasn't yet been released, and added that there is "a dispute over the efficacy of the assistance" within the administration. Two sources close to the administration, who both asked not to be identified due to the sensitivity of the matter, told Haaretz that the White House initiated the decision to withhold the aid, and the State Department and the Pentagon were currently trying to get the funds released.
Pushing for change
For the Pentagon, the concern is that the withholding of the funds could contribute to growing instability in the country and strengthen Hezbollah and Iran. The Pentagon's objections were known to the White House before the decision was taken. Supporters of the move to withhold the security aid warn that U.S. support is ending up in the hands of Hezbollah, and claim that conditioning the aid will give opponents of Hezbollah a strong argument for decreasing the organization's involvement in the military.
One of the organizations pushing for a change of policy regarding the military aid to Lebanon is Christians United for Israel, the largest Christian evangelical pro-Israeli group in America. The organization wrote in a policy brief earlier this year that "Instead of being used to aid the LAF in reinforcing its borders and safeguarding its sovereignty as envisioned by the State Department, U.S. aid is being used to arm the very terrorist organization that threatens Lebanon's sovereignty."
Boris Zilberman, director of public policy and strategy for Christians United for Israel, told Haaretz that a helpful step for clarifying where exactly the administration stands on the issue would be a hearing about it on Capitol Hill. "With the developing political situation in Lebanon, including heightened concerns over Hezbollah's increasing influence and questions about the status of U.S. assistance to the Lebanese Armed Forces, now would be an important time for the Senate Foreign Relations Committee to hold a hearing with administration officials to better understand U.S. policy," he explained. Zilberman added that "Congress should insist on greater oversight of assistance to the LAF, and can start by passing bipartisan legislation already introduced which would condition a small portion of this aid to ensure it is not being used counter to U.S. interests."
France leading international effort to help Lebanon
Randa Takieddine/Arab News/November 22/2019
With the Lebanese protests continuing well into their second month, French President Emmanuel Macron is looking to help the country by convening a group of friendly nations that are interested in its stability. Macron wants the International Support Group (ISG) for Lebanon to send a strong message to the Lebanese political class, pressing it to address the demands of the protesters, quickly form a credible government and implement reforms. This way, Lebanon will have the opportunity to receive the investments promised during the Cedre conference in Paris in April 2018.
The proposed French initiative signals its concern about the stability of Lebanon. The problem is that the political class in Lebanon has ignored the well-being of the people for decades because of its corrupt ill-management, which benefits only the few in power and their supporters. The social and economic crises in the country — the worst since the civil war — have pushed young people to the streets. The protesters are fueled by anger over this corruption and the sectarianism of the politicians who have governed the country for so long.
This anger pushed demonstrators to constantly ask for the entire political class to leave power, and this message was understood internationally. The international community is aware that the Lebanese government has failed for more than 18 months to carry out the reforms Cedre's main investors expected in order to start helping Lebanon.
France's special envoy in charge of Cedre, Pierre Duquesne, has repeatedly visited Lebanon, warning Prime Minister Saad Hariri and his government of the dangers of not going ahead with the expected reforms. He explained many times that the interest of international donors and investors — and the $7 billion they pledged — will not last forever. But the political class has failed to carry out any reforms.
People have taken to the streets because they are fed up with a political system that is based on sectarianism, nepotism and corruption. They are asking for basic rights such as electricity, clean water, garbage removal and recycling. These could have been dealt with quickly had the government implemented the reforms requested by the Cedre conference.
When the Lebanon uprising started and forced Hariri to offer his resignation, France sent an envoy, Christophe Farnaud, to have talks with all the political actors, including Hezbollah's Ammar Al-Moussawi and commander of the Lebanese army Gen. Joseph Aoun. Farnaud also asked to see representatives of the protesters, but they refused as they wanted to remain independent of foreign interference. Farnaud's mission to Lebanon was wrongly described by many in the media and the public as mediation, when it was actually only an informative visit.
In Lebanon, France is widely considered to be a potential mediator. Its diplomats are allowed to see and talk to Hezbollah, while Europe has diplomatic relations with Hezbollah's sponsor, Iran, although many French officials realize how bad the impact of Iranian policies are in the region. Farnaud's impression upon his return was that tension is increasing — that the Lebanese situation is dangerously sliding toward total collapse with a possible violent outcome. He has warned all political actors, including Hezbollah, against resorting to violence and stressed on the need to protect protesters.
The Lebanese situation is dangerously sliding toward total collapse with a possible violent outcome.
After Farnaud's return from Beirut, he met with his American and British counterparts, David Schenker and Stephanie Al-Qaq, respectively. France wants to move ahead with mobilizing the international community to help Lebanon. Macron wants to organize an ISG meeting to push the Lebanese to form a credible, efficient government that will quickly implement the Cedre reforms. All the countries discussing Lebanon agree that no blank checks should be handed out; in other words, no funds if reforms are not implemented.
France is keen on mobilizing support for Lebanon because it is convinced that a destabilized Lebanon is not in the interests of either the region or the international community. The question remains whether a meeting of the ISG within the coming two weeks can do anything for Lebanon if no independent government is formed, with capable and honest new ministers as requested by the protesters. With Hezbollah and its Christian allies, represented by President Michel Aoun and his son-in-law and Foreign Minister Gebran Bassil (a most-hated figure among the protesters), insisting on a political government with approximately the same people in charge, it is difficult to see how France can succeed in its mobilization efforts.
The ISG meeting should aim to give a strong signal to the Lebanese political leaders that, if they do not take into account the legitimate demands of the protesters and form an efficient and credible government, collapse and chaos will follow. However, the political class seems to be in complete denial of what the people on the streets are striving for.
*Randa Takieddine is a Paris-based Lebanese journalist who headed Al-Hayat's bureau in France for 30 years. She has covered France's relations with the Middle East through the terms of four presidents.