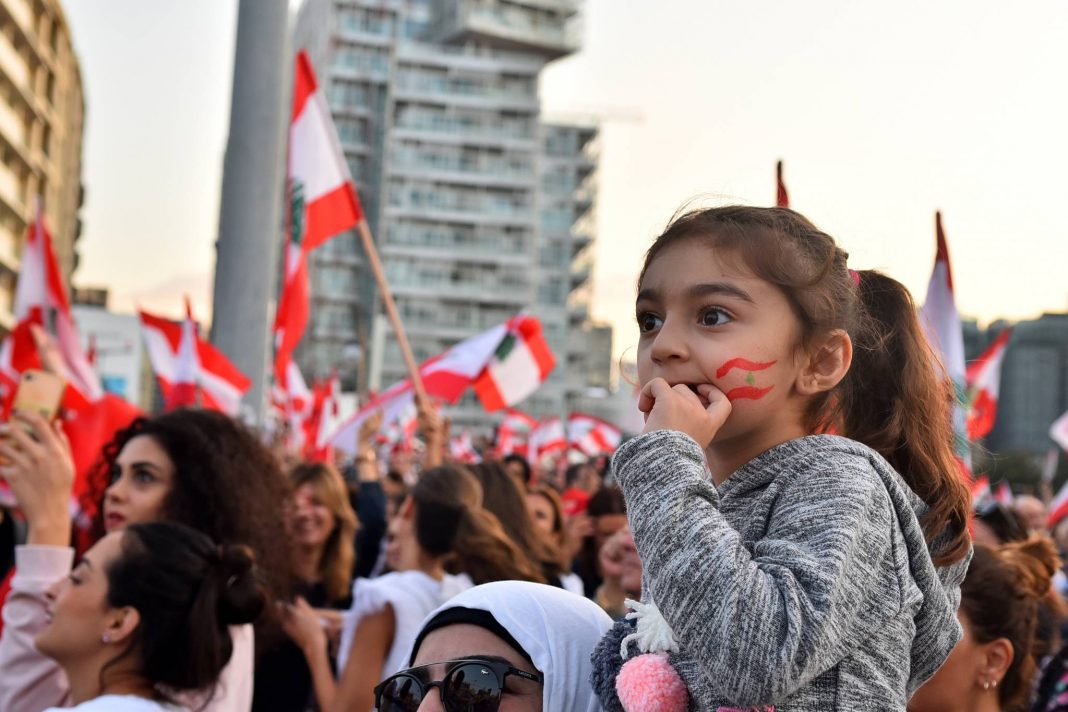 A Bundle Of English Reports, News and Editorials For November 11-12/2019 Addressing the On Going Mass Demonstrations & Sit In-ins In Iranian Occupied Lebanon in its 26th Day
Compiled By: Elias Bejjani
November 11-12/2019
Titles For The Latest English LCCC Lebanese & Lebanese Related News published on November 11-12/2019
Hezbollah 'willing to co-operate' with Lebanon's judiciary over corruption
Nasrallah ups the ante amid financial and political turmoil
Lebanon's Nasrallah says non-sectarian politics not everybody's demand
Nasrallah on New Govt.: Meetings Ongoing, All Doors Open to Reach Best Possible Result
Aoun Expected to Call for PM Consultations in Tuesday Interview
Berri Postpones Legislative Session, Slams 'Campaign to Maintain Political Vacuum'
Banks Go on Strike Until 'Normalcy' Returns in Lebanon
Lebanon's Central Bank governor says country is in a 'dollarized economy'
Lebanon: Central Bank Tries to Calm Nerves as Bank Employee Union Calls for Strike
Mustaqbal Says 'Govt. of Experts' Must Lead 'Transitional Phase'
Geagea Says Technocrat Ministers Must be Totally Independent
Shehayyeb Orders Closure of Educational Institutions on Tuesday
Rahi: State's Destiny Not subject to Individual Interests
Protests Keep Up Pressure Against Political Class
'Sister Protests': Lebanon, Iraq Look to Each Other
British Embassy Commemorates Remembrance Day
The Latest English LCCC Lebanese & Lebanese Related News published on November 11-12/2019
Hezbollah 'willing to co-operate' with Lebanon's judiciary over corruption
The National/November 11/2019
Hassan Nasrallah urged the judiciary to act on corruption in a speech on Monday
Hezbollah will co-operate with Lebanon's judiciary on any corruption probe, the group's leader said on Monday.
In a televised address on the country's 13th day without a functioning government and amid massive street protests, Hassan Nasrallah said Hezbollah would respect the judiciary in carrying out corruption investigations into its members. "If there is any case related to a Hezbollah official, I urge you to start with us, and I guarantee Hezbollah's respect," Nasrallah said.
Nasrallah urged the judiciary, which has been a target of criticism in the month-long street protests, to rebel against powerful political forces."We need a judiciary that is brave, strong and does not bow to political pressure," he said.
The unrest across Lebanon erupted after a build-up of anger at rising living costs and political leaders accused of steering the country toward economic collapse. The unrelenting fervour of the protesters led to the resignation of Prime Minister Saad Hariri in a bid to bring calm. He remains in a caretaker capacity, but the lack of progress on forming a new government has only fanned the flames of protest. From the capital Beirut to Sidon and Tyre in the south up to Tripoli in the north, protesters brandished Lebanese flags, demanding that the formation of a new government be accelerated. They insist any incoming Cabinet be comprised of technocrats and be independent of established political parties.
"We will not leave the streets before our demands are totally satisfied!" shouted one young protester into the microphone of a local broadcaster on Sunday. "We are more determined than ever," she insisted.
Parliament Speaker Nabih Berri suggested on Monday that a new Cabinet should include representatives from the protest movement.
"The popular movement must be represented in the Cabinet … the true movement that has demands that we all believe in … not the movement that insults people," Mr Berri told local news service Al Joumhouria. Nasrallah said Hezbollah will "leave the door open" on talks to form a new government. But Mr Berri once again delayed a session of the Lebanese parliament scheduled for Tuesday, citing safety concerns as protesters blocked roads around the Beirut parliament building, causing further delays to a process he said needed to be "quick, quick, quick" to deal with the economic woes the country is facing. "Everyone must be convinced that an economic [crisis] is hanging above our heads," he said, after postponing the session for a week. Meanwhile, the governor of Lebanon's Central Bank sought to calm nerves amid the worsening economic and financial crisis, pledging to work on safeguarding the stability of the national currency and protecting bank deposits. Riad Salameh told reporters at a packed press conference that the bank will keep defending the currency peg, stable since 1997. He said there won't be any capital controls or a "haircut" on customer's bank deposits, in which the state takes a cut of their money to cover its debts. As he spoke, dozens of protesters outside the bank on Beirut's commercial Hamra Street blocked the road, chanting "down with the rule of the banks!" as riot police looked on.
Lebanon's financial troubles have worsened since economically driven mass protests erupted nationwide last month, paralyzing the country and keeping banks shuttered for two weeks. Depositors have rushed to withdraw their money since the banks reopened last week, with the country's lenders imposing varying capital controls that differ from bank to bank, fueling the turmoil. "The Central Bank aims to protect the stability of the pound and we have the capability to do that," Salameh said, acknowledging at the same time the difference in price in currency exchange shops, which he said was due to market demand.
He described it as a "phenomenon" that will go away when demand diminishes. Mr Salameh added that the central bank has reserves of $38 billion – including 30 billion "that we can use immediately."
Students who joined the protest in dramatic fashion last week, carrying school bags and banging pots and pans, remained out of education on Monday. The caretaker education minister said schools and universities would close on Tuesday "to preserve the safety of students" amid continuing protests, and out of respect for their right to demonstrate.
Nasrallah ups the ante amid financial and political turmoil
Georgi Azar/Annahar/November 11/2019
Hezbollah leader Hassan Nasrallah's comments came during a televised news conference on Monday
BEIRUT: Hezbollah is pushing for a government that prioritizes Lebanon's national interests and resists US hegemony, its leader Hassan Nasrallah said Monday. Lebanon has been without a fully functioning government since Prime Minister Saad Hariri submitted his resignation almost two weeks ago. Hariri capitulated to thousands of protesters' demands who accused the decades-old political class of leading Lebanon to the brink of economic collapse. Nasrallah also accused the U.S of blocking capital inflows into Lebanon, hindering Chinese investments and threatening sanctions for doing business in Syria. "The state should bolster the agricultural and industrial sectors," Nasrallah said, arguing that the "Iraqi market presents a historic opportunity for Lebanon."He also urged discussions with the Syrian government to open the export routes to Iraq, which will bolster local production.
Nasrallah also accused the U.S of hindering progress in the demarcation of Lebanon's maritime and land borders with Israel to block Lebanon from extracting its own oil and gas.
Lebanon has yet to begin its offshore oil and gas exploration despite signing an agreement with a consortium of energy firms last year. In the midst of a massive contraction of its economy, with economic growth falling below the 0 percent mark, Lebanon has also been hit with U.S sanctions targetting its banking sector. In August, the U.S targetted Jammal Trust Bank, accusing it of aiding and abetting Hezbollah. The bank denied the charges but was forced to go through liquidation./ "Our money is not in the banks and the sanctions on the banking sector are sanctions against Lebanon and the Lebanese people which seek to divide our people," Nasrallah said. Lebanon has found itself caught in the crosshairs of a wider U.S-Iranian conflict, with President Donald Trump's administration seemingly determined to implement an economic pressure campaign on the Islamic Republic and its proxies. "Iranian and Chinese companies are willing and able of investing in Lebanon but the U.S prohibits them," Nasrallah said. Lebanese firms, meanwhile, are also refraining from investing in Syria fearing possible retribution from the U.S, Nasrallah said.
Nasrallah also threw his support behind Lebanon's judiciary, saying that his party is willing to cooperate even in cases involving its members. "If there is any case related to a Hezbollah official, I urge you to start with us, and I guarantee Hezbollah's respect," Nasrallah said, addressing the Higher Judicial Council during as protests entered their 26th day.  Tackling corruption should be Lebanon's priority, he said, acknowledging that a political consensus is forming on the issue. Consensus over the makeup of the government, however, has yet to materialize. "When it comes to the government formation … the meetings are ongoing and the discussions are underway in the country," he said. "I will not discuss this matter … and we will leave the door open."Hariri, sources say, has pushed for a Cabinet free from the traditional political parties, as per the protesters' demands, but has met opposition from Hezbollah and to a lesser extent its ally the Free Patriotic Movement.
Lebanon's Nasrallah says non-sectarian politics not everybody's demand
Staff writer, Al Arabiya English/Monday, 11 November 2019
Lebanese Hezbollah's Secretary General Hassan Nasrallah said on Monday that canceling sectarian politics is not everybody's demand. "There are other nationwide demands such as fighting corruption."In a televised speech, the Hezbollah leader said he will not talk about the new Lebanese government, adding that he wants to leave doors open because talks are still underway. On Sunday three senior sources told Reuters talks to agree on an urgently needed new government were still deadlocked. "When it comes to the government formation … the meetings are ongoing and the discussions are underway in the country. I will not discuss this matter … and we will leave the door open," Nasrallah said.
Nasrallah on New Govt.: Meetings Ongoing, All Doors Open to Reach Best Possible Result
Naharnet/November 11/2019
Hizbullah Secretary-General Sayyed Hassan Nasrallah on Monday refrained from commenting extensively on the issue of the ongoing negotiations to form a new government, saying efforts are being exerted to "reach the best possible result for the country.""As for the discussions over the government, the designation of a new premier and the government's line-up and nature, I will not say anything, because the meetings and bilateral and tripartite consultations are ongoing and we are not obliged to announce any stance," Nasrallah said in a televised address marking Hizbullah's 'Martyr Day'. "All doors are open in order to reach the best possible result for the country," Hizbullah's leader added. Turning to the issue of the fight against corruption, Nasrallah said: "I've been saying that we must capitalize on positivities and there is currently consensus… on the issue of recovering stolen funds.""Today, I don't believe that anyone can protect any corrupt, and there is a real call for combating corruption," he said. "The fight against corruption requires honest judges who do not bow to political pressures," Nasrallah noted, adding that "there are honest and brave judges on whom we can count."
"I tell judges in the country to emulate the martyrs who sacrificed themselves for the sake of the country. You must be brave and you must not bow to any political or religious leader in the country," he said. "In my capacity as Hizbullah's secretary general, I call on the Higher Judicial Council and the competent judges to tackle any corruption file targeting any Hizbullah official… You can start by us," Nasrallah added. Moreover, Nasrallah accused the United States and its Lebanese allies of preventing Lebanon from cooperating economically with Iraq, Syria and China. "The United States is playing a role in the current economic hardships in Lebanon… The U.S. is trying to deepen this (economic) dilemma," he lamented. "The Americans are preventing us from dealing with Chinese companies," Nasrallah said. "Why should we bow to the Americans over something that can rescue our country?" he asked. Nasrallah added that the recent U.S. sanctions on a Lebanese bank are aimed at "stirring sedition in Lebanon."Calling on the Lebanese state to "activate the agricultural and industrial sectors," Nasrallah said there is "a major chance for the Lebanese agricultural and industrial sectors, which is (exporting to) Iraq.""The Lebanese government should agree with the Syrian government over exportation to Iraq," he urged. "The Americans are seeking to prevent us from finding markets for our products," Nasrallah warned. 35 Responding to remarks by U.S. Secretary of State Mike Pompeo over the Iranian influence in Lebanon and Iraq, Nasrallah added: "Where is the Iranian influence in Lebanon? Where is the Iranian influence over banks and the army?"
Aoun Expected to Call for PM Consultations in Tuesday Interview
Naharnet/November 11/2019
President Michel Aoun will appear in a TV interview Tuesday at 8:30 pm to talk about the latest developments, the Presidency said on Monday. Several Lebanese TV networks said the president is expected to announce the date of the binding parliamentary consultations for choosing a new premier during the interview. Aoun has delayed the consultations in a bid to secure prior consensus on the premier and the shape of the new government. Saad Hariri had tendered his government's resignation on October 29 in response to pressure from unprecedented, massive and cross-sectarian street protests that have gripped Lebanon since October 17. The World Bank on Wednesday warned that the failure to quickly form a government that meets protesters' demands could lead to an even sharper economic downturn.
Berri Postpones Legislative Session, Slams 'Campaign to Maintain Political Vacuum'
Naharnet/November 11/2019
Parliament Speaker Nabih Berri on Monday postponed a legislative session scheduled for Tuesday, citing security concerns, as he accused some protesters of seeking to prolong the state of "political vacuum" in the country. "Due to the current circumstances and turbulent security situation… and because of this reason exclusively, I have decided to postpone tomorrow's session to Tuesday, November 19, with the same agenda," Berri said. "The campaign that has been launched against the legislative session is aimed at maintaining the current political vacuum," Berri added, warning that the postponement of the session "is not in the interest of those who are plotting for vacuum.""Those who want to hijack the rightful demands don't want the approval of a law against corruption, the law on setting up a special court for financial crimes, the elderly pension law and other important laws in order to keep bargaining over the affected people," Berri said. He however called for representing "the real protest movement" in an "inclusive government," urging a speedy cabinet formation. Protesters had called for blocking the roads leading to parliament on Tuesday to prevent MPs from taking part in the legislative session. Strikes in various sectors are still scheduled for Tuesday.
Vacuum" in the country.
"Due to the current circumstances and turbulent security situation… and because of this reason exclusively, I have decided to postpone tomorrow's session to Tuesday, November 19, with the same agenda," Berri said. "The campaign that has been launched against the legislative session is aimed at maintaining the current political vacuum," Berri added, warning that the postponement of the session "is not in the interest of those who are plotting for vacuum.""Those who want to hijack the rightful demands don't want the approval of a law against corruption, the law on setting up a special court for financial crimes, the elderly pension law and other important laws in order to keep bargaining over the affected people," Berri said. He however called for representing "the real protest movement" in an "inclusive government," urging a speedy cabinet formation. Protesters had called for blocking the roads leading to parliament on Tuesday to prevent MPs from taking part in the legislative session. Strikes in various sectors are still scheduled for Tuesday.
Banks Go on Strike Until 'Normalcy' Returns in Lebanon
Naharnet/November 11/2019
The Federation of Syndicates of Employees of Lebanese Banks announced in a statement on Monday an open-ended strike "until the situation returns to normalcy,"amid an aggravating economic crisis. The statement said: Last week, the banking sector witnessed unstable situation that led to unacceptable working conditions. Colleagues were subjected to insults and even assaults by depositors, whom we fully understand their concerns. In addition, chaos in a number of bank branches led to a state of confusion, anxiety and fear among colleagues who continued to carry out their professional duties despite these stressful conditions psychologically and even physically. The Federation received many requests from colleagues demanding its intervention to carry out its duties to defend the safety of bankers. The Federation announces a general strike and calls on colleagues to stop work from Tuesday morning on November 12, 2019 until calm returns to the general conditions needed by the banking sector to resume normal business.
Lebanon's Central Bank governor says country is in a 'dollarized economy'
Staff Writer, Al Arabiya English/Monday, 11 November 2019
Lebanon's Central Bank Governor Riad Salameh said on Monday in a televised news conference that because of the latest developments in the country's ongoing economic crisis, the country has now entered "exceptional circumstances."The economy is now "dollarized," Salameh said, adding "If there are no dollars in the market, there is no economy." The governor confirmed the central bank's commitment to maintaining the Lebanese pound's exchange rate peg to the US dollar. He said that the bank's main goal is the preservation of this peg adding, "we have the capacity for this." Salameh said that the central bank has also put measures in place to protect depositors so that they do not bear losses, and that "deposits are secured." Capital controls are not on the table, Salameh continued, stating that, "this country lives off of freedom of financial transfers."
Foreign reserves excluding gold current stand at around $38 billion, including eurobonds, the governor confirmed. He added that the central bank has asked banks to re-evauluate all credit facilities that have been reduced since October 17, and that banks have been asked to maintain their credit card ceilings. The governor said that banks will meet to discuss and agree on these issues immediately. He concluded his address stating that the central bank hopes for a new government as soon as possible.
Lebanon Leaders Try to Buy Time to Address Protests
Agence France Presse/Naharnet/November 11/2019
Lebanon's embattled leaders tried to buy time Monday, dodging mounting public pressure over the country's unprecedented economic and political crises. Nearly four weeks into nationwide protests calling for the ouster of the ruling elite, radical changes demanded by demonstrators have not been implemented.
The peaceful protests against corruption and sectarianism have paralyzed Lebanon, worsening an economic crisis that has brought the country to the brink of default. Central Bank Governor Riad Salameh — increasingly under fire for his monetary policies — insisted however that deposits were safe and the country's currency would remain pegged to the dollar. "The central bank's first and foremost goal is to protect the Lebanese pound's stability," he told a news conference. The bank has taken measures "to protect depositors and protect deposits," he said. Salameh said he had asked local banks to lift restrictions imposed after protests started on October 17. Recent decreases in capital inflows have caused dollar shortages, leading banks to cap withdrawals. On the unofficial market, the greenback has sold at up to 20 percent more than its official rate.
While Salameh insisted the financial sector would remain solvent, trust in the central bank has plummeted and outside the news conference dozens of protesters voiced their anger. "All of them means all of them. Salameh's one of them," they chanted, in a variation of a common call for all political figures to resign.
– Victory of sorts – Protesters demand a complete overhaul of a political system they say has been dominated by the same families of political leaders since the end of the 1975-1990 civil war. The government resigned on October 29 but stayed on in a caretaker capacity and parliamentary consultations on forming a new government are yet to be held. Demonstrators call for technocrats not affiliated with Lebanon's traditional parties, but it is unclear whether this demand will be met. Activists on social media called for a general strike, vowing to block roads leading to parliament on Tuesday, as Speaker Nabih Berri postponed a scheduled legislative session by a week to November 19. In the northern city of Tripoli, thousands gathered in the main square at night fall. Protester Bilal Hussein, 33, said parliament's postponement was a victory of sorts. "This is the speaker's first time recognizing that things after October 17 are not as they were before," he said.
– 'Point of no return' –
Earlier in the day, hundreds of students protested in several parts of the country, and dozens of demonstrators gathered near the airport. In recent days, high school pupils and university students have taken a leading role in protests, demanding a better future in a country where youth unemployment is over 30 percent. In central Beirut, Mohammed, an unemployed 51-year-old, said he had hope in the next generation. "We have reached a point of no return. Young school pupils are the ones who will decide our destiny," he said. Corrupt political leaders "have stolen 30 years of our lives, but they won't be able to steal a single second off the young generations." On Monday, Hizbullah chief Sayyed Hassan Nasrallah called for corruption prosecutions and a mechanism to return stolen money to the state. Nasrallah had previously called on his supporters to leave the cross-sectarian street movement, arguing that unnamed foreign entities were funding protests. The World Bank on Wednesday urged authorities to swiftly form a new government to prevent further deterioration of the economy. The crisis has hit businessmen unable to purchase imports in dollars, and caused panic among citizens fearing petrol and food shortages. Lebanon's economy has been battered by a series of political crises, compounded by the eight-year civil war in neighboring Syria. Economists are deeply concerned by the country's crippling debt of $86 billion, which equates to roughly 150 percent of the gross domestic product.

Lebanon: Central Bank Tries to Calm Nerves as Bank Employee Union Calls for Strike
Asharq Al-Awsat/Monday, 11 November, 2019
Lebanese Central Bank Governor Riad Salameh sought on Monday to calm nerves by saying bank deposits are secure and that there won't be any capital controls. In a televised news conference, Salameh said the central bank had taken measures to safeguard deposits. Capital controls were not on the table because Lebanon depended on free movement of money, he added. "A haircut is not on the table," said Salameh, adding that Lebanon was passing through "exceptional circumstances" and a historic phase. Lebanon's financial troubles have worsened since nationwide economically-driven protests erupted last month. Depositors have rushed to withdraw their money in recent days, while the country's various lenders have imposed varying capital controls that differ from bank to bank, fueling the turmoil. The unprecedented wave of anti-government protests prompted the resignation of Prime Minister Saad Hariri.
Though it's still pegged at 1,500 pounds to the dollar, the Lebanese pound is trading at up to 1,900 to the dollar on the black market, a devaluation of nearly 30 percent from the official rate. But Salameh reiterated that the central bank had the capabilities to defend the currency peg.
Salameh said the central bank hoped for the formation of a new government as soon as possible. The central bank would seek to bring down interest rates through liquidity management measures, he added. Referring to restrictions imposed by commercial banks since they reopened from a two-week closure, Salameh said the central bank had also asked banks to review these. His press conference came minutes after the president of the Federation of Syndicates of Bank Employees called on bank staff to go on strike from Tuesday because of safety concerns. George al Hajj said the decision had been taken on Monday at a meeting of the syndicate that represents 11,000 bank employees. "We call on the employees to abide by our decision," he said, adding he did not know how many banks might be closed as a result. Giving examples of safety risks faced by bank staff, he cited protests against banks and customers demanding to withdraw their deposits.
Mustaqbal Says 'Govt. of Experts' Must Lead 'Transitional Phase'
Naharnet/November 11/2019
Al-Mustaqbal parliamentary bloc on Monday hailed caretaker Prime Minister Saad Hariri's "responsible stances on preserving people's freedom to protest and express their opinions in a peaceful manner."It also lauded his "strenuous efforts to prepare for a transitional phase in which a government of experts would shoulder the responsibility of restoring confidence and addressing people's economic, social and livelihood problems."The bloc also said that Hariri's efforts come out of "his keenness on responding to the rightful demands of the popular protest movement."
Geagea Says Technocrat Ministers Must be Totally Independent
Naharnet/November 11/2019
Lebanese Forces leader Samir Geagea on Monday emphasized that the new government should be formed of "independent experts," warning that "some are seeking a government of experts who would be their cronies.""This is not what is needed at the moment," Geagea said after a meeting for the LF-led Strong Republic bloc. "To those clinging to seats and posts, I tell them that the situation is dangerous and very critical and that things must be addressed in a more serious manner so that they don't up without seats, posts or anything else," Geagea cautioned. Geagea also criticized as "unacceptable" the ongoing delay in setting a date for the binding parliamentary consultations. Commenting on Hizbullah chief Sayyed Hassan Nasrallah's latest remarks, the LF leader denounced his attempt to "downplay the crisis.""Some suppose that had China (firms) operated in Lebanon, we would have avoided the crisis, but I do not share this viewpoint," Geagea said. Noting that there is no confidence in the ruling class, the LF leader pointed out that "the living conditions are the only catalyst of the uprising."
Shehayyeb Orders Closure of Educational Institutions on Tuesday
Naharnet/November 11/2019
Caretaker Education Minister Akram Shehayyeb on Monday ordered the closure of all schools and universities on Tuesday. "Due the continuation of the popular uprising, which has called for a general strike tomorrow, and to preserve students' safety and respect their right to democratic expression, classes will be suspended tomorrow, Tuesday… at all public and private schools, high schools, vocational institutes and universities," Shehayyeb said in a statement. High school and university students across Lebanon have skipped classes since Wednesday to carry on the flame of the country's anti-graft movement. Lebanon has since October 17 been gripped by massive cross-sectarian protests demanding a complete revamping of a political system they say is corrupt and inept.With youth unemployment running at over 30 percent, school students have joined en masse since Wednesday demanding a better country so they don't have to emigrate.
Rahi: State's Destiny Not subject to Individual Interests
Naharnet/November 11/2019
Maronite Patriarch Beshara al-Rahi emphasized on Monday that the State's destiny must not be conditional upon the interests of individuals or parties. "It is not permissible at all to link the fate of the State's entity, people and capabilities to the interest of an individual or party, no matter how strong they believe themselves to be. No one is stronger than his people," said Rahi. The Patriarch regretted the obstacles standing before the formation of a government, that would gain the confidence of the people. According to him, this delay will cause collapse and the fall of the state.
Protests Keep Up Pressure Against Political Class
Naharnet/November 11/2019
Demonstrations against the ruling class in Lebanon pursue for the 26th day on Monday as demonstrators slept in tents in front of the state-run Electricte Du Liban headquarters in Corniche al-Nahr area demanding 24-hr electricity. The protesters put up their tents on Sunday where they spent the night protesting the institution's failure over the years to fix an electricity sector that has pushed the country to the brink of economic collapse. A dated electricity grid, rampant corruption and lack of reform has left power supply lagging way behind rising demand since Lebanon's 1975-1990 civil war.
Government subsidies to state-run EDL electricity firm have also worsened the cash-strapped government's budget. EDL receives one of the largest slices of the government's budget after debt servicing and salaries. In Kaslik, university students staged sit-ins in front of the USEK university blocking the entrances to the facility. MTV said students and university professors did not have access to the facility. In the southern city of Sidon, around 30 fishing boats sailed from the port brandishing Lebanese flags to demand regulation of the fishing sector, and in support of the protesters' demands. The country has since October 17 been swept by an unprecedented cross-sectarian protest movement against the entire political establishment, which is widely seen as irretrievably corrupt and unable to deal with a deepening economic crisis. The protests triggered Prime Minister Saad Hariri to tender the resignation of his government on October 29, but he remains in a caretaker capacity and manoeuvrings are still ongoing to form a new cabinet.
'Sister Protests': Lebanon, Iraq Look to Each Other
Agence France Presse/Naharnet/November 11/2019
A Lebanese flag flutters in the protest-hit Iraqi capital. More than 900 kilometers away, a revolutionary Iraqi chant rings out from a bustling protest square in Beirut. "Don't trust the rumors, they're a group of thieves," sings a group of Lebanese musicians in Iraqi dialect, referring to political leaders they deem incompetent and corrupt. "The identity is Lebanese," they continue, reworking the chant by Iraqi preacher Ali Youssef al-Karbalai, made popular during the street movement there. Such recent shows of solidarity have become a common feature of protest squares in the two countries, where corruption, unemployment and appalling public services have fueled unprecedented street movements demanding the ouster of an entire political class. They serve to "shed light on similarities between the two movements and boost morale," said Farah Qadour, a Lebanese oud musician. "The two streets are observing and learning from each other," said the 26-year-old who is part of the group that adopted al-Karbalai's chant. In Lebanon's southern city of Nabatiyeh, hundreds brandishing Lebanese flags chanted: "From Iraq to Beirut, one revolution that never dies."And in the northern city of Tripoli, dubbed the "bride" of Lebanon's protest movement, a man standing on a podium waved a wooden pole bearing the flags of the two countries. "From Lebanon to Iraq, our pain is one, our right is one, and victory is near," read a sign raised during another protest, outside Beirut's state-run electricity company.
– 'We're with you' –
In Tahrir Square, the beating heart of Baghdad's month-old protest movement, demonstrators are selling Lebanese flags alongside Iraqi ones. They have hung some on the abandoned Turkish restaurant, turned by Iraqi demonstrators into a protest control tower.
Banners reading "from Beirut to Baghdad, one revolution against the corrupt" could be seen throughout. Lebanon and Iraq are ranked amongst the most corrupt countries in the region by anti-graft watchdog Transparency International, with Iraq listed as the 12th most corrupt in the world. Public debt levels in both countries are relatively high, with the rate in Lebanon exceeding 150 percent of gross domestic product (GDP). "What's happening on the streets in Iraq and Lebanon, they're sister protests," said Samah, a 28-year-old Lebanese demonstrator. "They're the result of an accumulation" of years of problems. One video that went viral on social media networks showed a masked Iraqi protester dressed in military fatigues demanding the resignation of Lebanese Foreign Minister Jebran Bassil, one of the main targets of protesters in the small Mediterranean country. In a video released online, a group of young Iraqi men had filmed themselves singing, "Lebanon, we're with you!" The two movements also seem to be adopting similar protest strategies. In both countries, rows of parked vehicles have blocked traffic along main thoroughfares in recent weeks. University-aged demonstrators wearing medical masks or eye goggles have occupied bridges and flyovers, refusing to believe pledges of reform from both governments.
'The goal is one'
The big difference is that in Iraq, the demonstrations have turned deadly, with more than 300 people, mostly protesters but also including security forces, killed since the movement started October 1. Lebanon's street movement, which started on October 17, has been largely incident-free despite scuffles with security forces and counter-demonstrators rallying in support of established parties. The two movements, however, are united in their anger about the kind of political system that prioritizes power-sharing between sects over good governance. The consecutive governments born out of this system have been prone to deadlock and have failed to meet popular demands for better living conditions. "We are united by a sense of patriotic duty in confronting this sectarian political system," said Obeida, a 29-year-old protester from Tripoli. He said he had high hopes for Iraqi protesters because the sectarian power-sharing system there is relatively new, having emerged after the fall of Saddam Hussein in 2003. "In Lebanon, it's more entrenched," he said of the arrangement that ended the country's 1975-1990 civil war. On a Beirut waterfront, dotted with luxury restaurants and cafes, a 70-year-old Iraqi man who has been living in Lebanon for five years looked on as demonstrators laid out picnic blankets on the grass. With a Lebanese flag wrapped around his neck, Fawzi said the protests looked different but reminded him of those back home. "The goal is one," he said.
British Embassy Commemorates Remembrance Day
Naharnet/November 11/2019
Commemorating the annual 'Remembrance Day', the British embassy hosted a service at the Beirut Commonwealth War Grave Cemetery in honor of the brave soldiers on all sides, who were killed during World Wars I and II, and in other conflicts. The service was attended by the families of Lebanese and Palestinian veterans, British Ambassador Chris Rampling; British Defense Attaché Lt. Col. Alex Hilton; senior representatives from the Lebanese Army Commander, Head of the Internal Security Forces and the Director General of the General Security. Ambassadors, diplomats and military attachés of U.S., European and Commonwealth countries were present. At the end of the service, two minutes' silence was held before Ambassador Rampling and Commonwealth Ambassadors laid wreaths on the memorial. Last week, Ambassador Rampling visited veteran soldier Sheikh Jad El Hassaniye in Ain Wou Zein and handed him his Commonwealth Ex Servicemen's League pension. Hassaniyeh, born in 1921, served in the British Army with the Trans-Jordanian Frontier Force (TJFF) from 1939 to 1945. The Beirut War Cemetery is the final resting place of around 1,200 soldiers, most of whom were from the UK, Australia, New Zealand, India and South Africa. The war graves are supervised by the Commonwealth War Graves Commission.
Titles For The Latest Lebanese LCCC English analysis & editorials from miscellaneous sources published on November 11-12/2019
Hezbollah 'willing to co-operate' with Lebanon's judiciary over corruption/The National/November 11/2019
Nasrallah ups the ante amid financial and political turmoil/Georgi Azar/Annahar/November 11/2019
Lebanese protests lacking a legitimate leader/Dr. Dania Koleilat Khatib/Arab News/November 11/ 2019
Recovering stolen public funds, a priority for demonstrators/Ryme Alhussayni/Annahar/November 11/2019
Ye shall know the truth and the truth shall set you free/Dan Azzi/Annahar/November 11/2019
Lebanon is on the brink of economic disaster/The National/November 11/2019
Lebanon has no haircut or capital control plans, central bank governor says/Massoud A Derhally/The National/November 11/2019
What will 'fix' Lebanon? A century of sectarianism cannot be scrapped overnight – but it can be transformed/Albadr Alshateri/The National/November 11/2019
Lebanon's Richest Need To Take a Haircut/Dan Azzi/Bloomberg/Monday, 11 November, 2019
The Walls of Iraq and Lebanon and the Iranian Thread/Ghassan Charbel/Monday, 11 November, 2019
Khalaf Ahmad Al-Habtoor/My message to the Lebanese: Stay strong and you will triumph/Arab News/November 11, 2019
Inside The House of Michel Aoun: A Feuding Dynasty/Haifa Zeaiter/Raseef22/November 11/2019
The Latest LCCC English analysis & editorials from miscellaneous sources published on November 11-12/2019
Lebanese protests lacking a legitimate leader
Dr. Dania Koleilat Khatib/Arab News/November 11/ 2019
What is the way forward for Lebanon? This is a very tricky question. How can Lebanon reconcile the street's demands with reality? How can the international community safeguard Lebanon from total collapse? The regional director of the World Bank last week met with the Lebanese president and informed him of the seriousness of the situation. As many as 30 percent of the Lebanese people are living in poverty and this figure could easily go up to 50 percentif reforms are not undertaken immediately.
The country has no functioning infrastructure and the state is incapable of providing basic services. Nevertheless, the traditional political elite is unwilling to relinquish its grip on power. The problem is that the street represents no alternative. The street can demand, but it is not the one offering solutions or implementing them. These protests do not have a leadership — they are composed of small groups that appeared spontaneously and the ruling elite does not take them seriously. The political leaders are counting on the movement dissipating or becoming politicized, just like the 2015-16 movement of "Talaat Rihatkon" (You Stink) did before it fizzled out.
However, this movement is different. It marks a new collective consciousness: The Lebanese people are finally aware that the system is dysfunctional. More importantly, they are aware that they are all together in one boat. They are chanting "kullun yaani kullun," meaning "all means all." By denouncing all politicians, they are standing together, united against corruption. Here the corrupt political elites have no internal support, except for the few thugs they occasionally use to infiltrate and disrupt the demonstrations and intimidate protesters.
The streets now have a new problem, which is representation. Obviously, the existing elected parliament has lost its legitimacy as people are chanting for its removal. However, who are the true legitimate representatives of the people? So far there is no framework through which a legitimate representative can emerge. Anyone could claim that he or she represents the people and there is no mechanism to check or contest that. It is known that the current situation will allow many opportunists who have no real connection to the people to jump on the bandwagon and claim they are the true legitimate representatives of the streets. If all powers fall — i.e., if the president resigns and the parliament and prime minister do the same — then how will the country be governed and how will any reforms be conducted? What kind of transition would allow for the formation of a new patriotic and clean political elite that is representative of the grassroots? What would early elections result in if there were no credible alternative to the current representation? We might have very much the same configuration.
Not only has the current configuration lost the trust of the people, it has also lost the trust of the international community. This is why we don't see any international support for the government. No one is ready to bail out a corrupt state. When Prime Minister Saad Hariri resigned, we did not see any opposition to that, except from France. The silence facing the resignation of Hariri, given that he was the personality giving international exposure to the government, shows that the current structure has lost its international legitimacy.
Everyone is counting down to a banking crisis despite the statement made by the head of the Lebanese banking association on Saturday, when he reassured depositors that their money is safe and that there is no need to panic. Moody's, the ratings agency, has downgraded Lebanon's rating to Caa2, which is poor quality and a very high credit risk. No friendly country is ready to support the current configuration and put dollars into the Lebanese central bank to boost the Lebanese pound.
Not only has the current configuration lost the trust of the people, it has also lost the trust of the international community.
As I have written previously, the only institution that has popular legitimacy is the army. The US State Department last week confirmed its continuing support for the armed forces. The discipline the army has shown in managing those protests is admirable. In a joint statement, Fadlo Khuri, the president of the American University of Beirut, and Salim Daccache, the head of Saint Joseph University — two very prestigious institutions — expressed their support for the demonstrationsand their gratitude to the Lebanese armed and security forces.
However, the army cannot rule. A military council is incompatible with the Lebanese culture and traditions. A government of technocrats that is shielded from the current political streams is the best possible solution to implement reforms and lead the country toward new parliamentary elections. Nonetheless, in this very difficult period, the army should have the authority and the international support to protect the government and its members from any intimidation they might face from the old guard. *Dr. Dania Koleilat Khatib is a specialist in US-Arab relations with a focus on lobbying. She holds a PhD in politics from the University of Exeter and is an affiliated scholar with the Issam Fares Institute for Public Policy and International Affairs at the American University of Beirut.
Recovering stolen public funds, a priority for demonstrators
Ryme Alhussayni/Annahar/November 11/2019
Embezzlement of public funds, illicit enrichment and corruption are three crimes that are categorized under money laundering.
BEIRUT: Political parties, public administrations, and the Lebanese Parliament are perceived by demonstrators as the most corrupt institutions of the country. Rampant corruption has exacerbated political instability and the dire economic situation, triggering the Lebanese people to fill the streets for the 25th day in a row. The "recovery of stolen public funds" is at the top of the list of protester's demands. Coffee & Politics, an organization where political debates are encouraged, held a discussion last week to discuss tools that should be taken into consideration, by the youth, to fight corruption.
The long-time activist in a number of Lebanese civil society organizations dealing with the areas of human rights, anti-corruption, democratization, the rule of law and conflict resolution, Former MP Ghassan Moukheiber stressed three anti-corruption mechanisms: transparency, accountability, and incrimination.
NAYA| Woman of the Month: Malak Alaywe Herz, Lebanon's uprising icon
"When a state employee or an MP is confident that no one is going to hold him accountable for taking a certain amount of money, he will take the risk," Moukheiber said.
In any parliamentary system, lawmakers are tasked with passing laws and holding ministers accountable when needed. However, from 1992 to 2019, a mere 21 sessions were held (less than one session per year), Moukheiber noted. On the other hand, the Central Inspection Authority, which investigates corruption in public administrations, is understaffed, Moukheiber added.
"The revolution reflects apeople's dissatisfaction; they don't know the right cure yet, but any existing power that does not abide by a transparent system will fall,"Moukheiber told Annahar.
Lebanon has enacted legislation on fighting corruption but needs to modernize its laws. Legal expert and consultant Paul Morcos shared with Annahar three laws that can be employed to recover stolen funds: the penal code on fighting money laundering, the illicit enrichment law that was enacted in 1954, and the whistle blowing law enacted in October 2018. Law number 44, which was issued in 2015 to fight money laundering, also applies in the case of public funds embezzlement, illicit enrichment and corruption, which are three crimes categorized under money laundering.
"A special investigaton commission was established before BDL (Banque Du Liban), which has the right to lift banking secrecy in Lebanon and to investigate suspected accounts," Morcos said. He explained that the commission has the right to communicate with other commissions around the world to trace funds that have been transferred from Lebanon. This particular mechanism has used to investigate money laundering cases. Morcos says if political parties stop pressuring the Judiciary to protect perpetrators, the state prosecutor may ask the special investigator commission at BDL to investigate corruption.
Ye shall know the truth and the truth shall set you free
Dan Azzi/Annahar/November 11/2019
If two thirds of all deposits are at the central bank, with his having no way of creating it to pay you back, what exactly are we waiting on, for us to recognize our ailment?
A press conference by the Governor of the Central Bank, Mr. Riad Salameh, addressed things on people's minds — capital controls, haircuts, and devaluation/floating the currency. Should we do it? Can we avoid it?
Let's start by establishing a benchmark of mutually agreed-upon facts and premises.
If you have a deposit in a current account at your bank and you can only withdraw a small amount of your money, like a teenager pleading with his dad for his weekly pocket money, don't we already have capital controls?
Maybe it's temporary, right? When a government is formed, we'll get relief? When CEDRE funds come? When the US or EU writes us a check for $20 billion because we are too important for the survival of the world order? When oil and gas starts gushing in a few short months?
If two thirds of all deposits are at the central bank, with his having no way of creating it to pay you back, what exactly are we waiting on, for us to recognize our ailment?
If you're too busy to read the balance sheet of your own bank (published on its website) to see exactly what percentage of its deposits are with BDL, don't you feel something is wrong just from the reaction you get when you visit a branch?
This is the quintessential metric in Lebanon to know the real liquidity of your bank. The average is 65%. If your bank ratio is below, this is good. If it's higher, then the senior managers at your bank own the most expensive suits, watches, cars, homes, and yachts … thanks to you. Before you start transferring your money to banks with lower ratios, or a Lebanese foreign bank, which (probably) wasn't allowed to play in Disneyland, it's too late — it's just fake money moving around.
Does Governor Salameh have to spell it out for you in black and white? Are you waiting for him to tell you that things are not "top"? Can't you see the truth in his eyes? In the grave look on his face? In the ever-so-slight quiver in his voice?
The one time he told the unvarnished truth on CNN, he was hammered by the market and commentators, and was alihassankhalilled.
When you see people offering 10% commissions to trade a check for cash, isn't that a voluntary 10% haircut or a DEVALUATION OF THE LEBANESE DOLLAR? If a check is no longer the same as cash (despite it being a felony to bounce one), what does that tell you?
If you can't buy dollars at the bank, and you have to execute in the parallel market at 1,850-2,000 Lira, to meet basic needs (like paying a loan or rent), then, for all practical purposes, haven't we already de-pegged or floated the currency? Hasn't it already happened, but we just haven't received the memo?
Do you really prefer to continue to be lied to? That the Lira is still at 1,507.5, when all your daily experiences tell you it's not? Do you want to continue believing that your account is intact, when your personal experience and deepest intuition is screaming that something is drastically wrong?
Does postponing recognition improve things? Does shooting the messenger help? Is it like good wine and will get better with time … or more like cancer, spreading relentlessly through the bone marrow of our economy?
Governor Salameh himself said he has $30 billion cash reserves — that's "real" money in the system. Real money is dollars that can be tracked to a transfer from overseas to Lebanon, or generated through selling an export, or actual cold, hard cash. Fake money is the virtual, theoretical crap generated from fake interest in banks, with nothing on the other side, such as deposits at the central bank, which are now 65% of all deposits. What that means is that there's only 1 real dollar for every 3 or 4 fake ones. The owners of fake dollars are all competing for that one real dollar, 75% of which is part of the central bank reserves. The rest, between $3 and $9 billion are with the Lebanese banks' custodians (such as Bank of New York or Standard Chartered Bank). It's somewhat like three guys trying to pick up one girl in an empty bar. At best, one of them will get lucky, with the other two going home empty-handed … or forced to experiment with new adventures.
To make matters worse, many of these foreign banks cut credit lines to our banks, which is why our banks cut credit lines to our companies, choking them further.
These fake dollar owners are also competing with importers, who need real dollars from the central bank, to buy fuel, grain, medicine, cars, clothes, vacations in Greece, iPhones, AK-47 assault rifles, etc. The Chevrolet dealer in America or oil exporter in the GCC would not be amused if you gave him a check drawn on these fake dollars — Monopoly money can only be used in the Lebanese Monopoly board game. And this is why when you go to a gas station to fill your car, the attendant limits you to 20,000 Lebanese Lira.
In other words, our circular Ponzi scheme has now spilled over into the real world, causing shortages of products on our shelves, including some necessities like syringe needles at hospitals. As these competing forces all converge on the dwindling real dollars, the struggle becomes more and more ferocious, not unlike calm people exiting a sinking ship onto a life-raft, that is until they realize that the raft can only fit one third of the passengers. That's when the orderly exit turns into a violent stampede as people shove each other, each trying to save himself. Little do these poor, middle class, and "merely rich" passengers know that on the other side of the Titanic, there's a nice luxurious yacht quietly and calmly loading the upper level passengers — the super-rich and super-connected — with little fanfare. In our banking sector, these are the insiders, whose surrogates are going on TV calming you down, telling you that there's plenty of space on the raft, and to trust them, while they're getting the hell out of Dodge.
As this competition gets more intense and violent, i.e. the next time you're at that bar, with 5 guys now competing for that one girl, a fight might break out. At gas stations, maybe in a few weeks, 10,000 Lira might be your limit per car or maybe they just won't have any fuel. So all this circular problem and denial culture, with these multi-millionaires insisting that their net worth is still intact, a central bank who pawned the problem over to the politicians, politicians refusing to acknowledge reality and react, is now turning us into a self-generated failed state, with broken law and order, all to protect 6,000 decamillionaires.
If you execute capital controls, this forces everyone to get on the same raft, so no more unfair advantage for the top 3 per 1,000 — we all live together or we die together — there's no better incentive to make us work as a team.
One of the advantages of official, legally-enforceable capital controls is that in the same way that you don't pay a convict in prison the same wages as a normal citizen on the outside, similarly, interest rates could be reduced for all our deposits, to stop this fake growth, and reduce pressure on our dollar reserves. There's also another ancillary benefit. We can now reduce interest on all our businesses and factories whose loan rates became way too high, driving many of them to bankruptcy and increasing our already dismally high unemployment rate. This would reduce nonperforming loans and halt the accelerating unemployment rate. This is when dealing with our virtual problem can decisively translate into improving conditions in the real world.
I won't lie to you. It will take several years of pain, but then we'll truly rise up, better than we were before, with a real economy, not the lazy rentier fake economy we had before.
Today, the central bank governor missed a chance to take a leading leadership role and unwind some of the mistakes of the past. There's no shame in making mistakes, but there's no excuse for piling on bigger mistakes to cover up smaller ones.
What exactly is the end game? Keep depleting the reserves for the next 3 years, and hope that people won't notice? That's one hell of an assumption about the collective stupidity of the country.
I leave you with what the top economist in the country, Professor Naim Halawi said, "Your financial engineering is great, now where's our money?"
Lebanon is on the brink of economic disaster
The National/November 11/2019
With the scarcity of dollars and basic services disrupted, everyday life in the country is grinding to a standstill
It was a financial crisis and unpopular taxes that prompted hundreds of thousands of Lebanese to pour onto the streets nearly four weeks ago, demanding a better quality of life. And it is the worsening state of an already stricken economy that is bringing Lebanon grinding to a standstill. Fuel shortages are rife after petrol stations across the country remained closed, with owners complaining they cannot buy enough fuel because of restricted access to US dollars. Together with wheat and medical shortages, no government, and fears among citizens of being unable to access their savings, Lebanon stands on the brink of economic disaster.
A fortnight ago, Lebanese Prime Minister Saad Hariri and his entire government resigned, saying they had reached an impasse. Yet there has still been no resolution or clear way forward from the ruling class, who have failed to appoint replacements or come up with meaningful solutions. Basic services, from a reliable supply of drinking water to round-the-clock electricity, are still a pipe dream in a nation ravaged by decades of mismanagement and corruption.
Drivers have been stranded without fuel this week as numerous petrol stations stayed closed or rationed their sales, unable to withstand the scarcity of dollars used to buy imported fuel. This shortage of foreign currency has only increased the burden on citizens who are already struggling to make ends meet. Some of the owners of fuel stations, who are also bearing the brunt of a broken system, have shunted the extra costs onto customers by illegally hiking the price of fuel by 25 per cent.
Food supplies are also affected. Last month Lebanese millers, who buy wheat from overseas, warned of a national bread shortage caused by the crunch on the dollar.
And Lebanon's economy took another hit last Thursday when credit rating agency Moody's downgraded Lebanon's three largest banks to junk status, two days after lowering Lebanon's sovereign bonds rating, citing the lack of credit worthiness of the government. In the latest blow, the credit card firm American Express has told customers it is reducing their credit limits.
This is an untenable situation, further punishing ordinary citizens who are still suffering from a string of government failures. It is a sad reality that when banks opened on November 1 after nearly a fortnight of closure amid the ongoing protests, there was concern about a rush from people anxious to withdraw their savings or transfer them abroad to protect them. To make citizens anxious about whether their savings are even safe in banks is a severe indictment of how ruinous Lebanon's governance has been – so much so that from 2005 until 2017, parliament could not even agree a formal budget.
Nearly three decades after the end of the 15-year-civil war, the country's infrastructure, riven by endemic corruption, remains woefully inadequate. There are power cuts of up to 20 hours a day, an unreliable water supply and mounting piles of rubbish in the streets that prompted a 2015 campaign called You Stink, aimed at the inability of politicians to orchestrate proper waste disposal and leaving aggrieved citizens to deal with the stench. It is little wonder the Lebanese felt they had little choice but to march on parliament in protest.
Lebanon has even had to buy electricity from war-torn Syria, a shameful indication of government failures. Yet $11 billion in donor aid, pledged at the Cedre international development conference in Paris last year, remains untouched because Beirut has yet to carry out the necessary reforms, including lowering its deficit and funding infrastructure projects, to unlock it.
Faced with the third-highest public debt in the world and nearly non-existent economic growth, the country was already entrenched in severe financial turmoil even before the October 17 uprising. For the past few weeks, demonstrators have been calling for change and demanding "the return of stolen money", as some signs held up by protesters have stated, referring to state corruption and the spending that has failed to materialise.
Lebanon has much to offer, from a stunning landscape to some natural resources and a vibrant culture. It is to the detriment of its citizens that so much of that potential is being squandered. The prevailing conditions have gone on too long and cannot be allowed to fester. A situation in which citizens cannot fill their cars, or buy bread or medicine, is indicative of a failed state. Lebanon needs strong leadership to steer it through these troubled times and find a long-term strategy for the revival of a country that has all but collapsed.
Lebanon has no haircut or capital control plans, central bank governor says
Massoud A Derhally/The National/November 11/2019
The regulator's governor Riad Salameh said the bank can immediately deploy $30bn if required
Lebanon's central bank governor Riad Salameh said there are no plans to impose capital controls or a haircut on depositors as the country faces its largest economic crisis in three decades.
The central bank will look "to protect depositors," Riad Salameh said in a televised press conference at the regulator's headquarters in Beirut as citizens protested outside. "We have taken enough measures so that depositors don't lose money, there won't be a haircut, and the central bank doesn't support this."A haircut is a financial term used to describe a devaluation of an asset to provide a cushion to lenders. In 2011 depositors of banks in Cyprus, exposed to the Greek debt crisis, lost as much as 60 per cent of their uninsured deposits on balances of more than €100,000. The measure was a requirement at the time for Cyprus to secure a €10 billion bailout from the EU. In recent weeks some in Lebanon have touted the idea as the only way out of the current impasse, as the country faces debt obligations maturing this month as well as next year, and its currency, pegged to the dollar since 1997, is under pressure and has lost more than 19 per cent of its value in the black market.
"The central bank is not authorised to do a haircut and it doesn't support such a measure," Mr Salameh said.
Mr Salameh said the central bank had instructed banks to adhere to certain confidence-building measures to restore stability and assure jittery citizens that have been critical of lenders for implementing curbs on withdrawals and charging fees on dollar transactions. One of the requests was for banks to maintain the limit on credit cards and not reduce it, to resume lending to clients and facilitate trade financing, with the goal of averting a liquidity crunch. However, he said the transfer of money abroad will be subject to certain conditions
"Deposits are secured," Mr Salameh said. "The measures we put in place are to protect any bank … we notified the banks that they can borrow from the central bank at 20 per cent but the funds are not permitted to be transferred abroad."
The governor downplayed concerns about the strength of the central bank saying its reserves excluding gold stood at $38 billion and the regulator has the ability to deploy $30bn of that amount if needed immediately and will maintain the stability of the Lebanese pound.
The country's worsening economic climate culminated in more than three weeks of protests that forced prime minister Saad Hariri to step down last month. Citizens have demanded reforms and changes in the political system that has governed the country since the end of a 15-year civil war in 1990. They blame Lebanon's political elite for widespread
corruption and nepotism, which they say contributed to the country accruing $86bn of public debt, equivalent to 150 per cent of gross domestic product. The central bank holds about 35 per cent of the state's debt in Lebanese currency.
The social unrest and protests are the largest the country has seen since the assassination of former prime minister Rafik Hariri in 2005, which forced Syria to withdraw its troops from the country after a 29-year presence there.
Lebanon saw an outflow of about $3bn in the first nine months of the year, according to the Institute of International Finance. Mr Salameh put the figure at $2bn and said some $3bn was withdrawn by depositors and stored at homes in Lebanon.
Both Moody's Investors Service and Fitch Ratings cut the ratings of the country and its banks further into junk territory, on the back of the deteriorating economic climate.
Deflecting public criticism waged at him by some in Lebanese media outlets, Mr Salameh said over the last 27 years central bank adhered to policies that helped Lebanon in environments that were not conducive to the bank's operations.
"Financial engineering allowed us to accumulate reserves which backed the Lebanese pound, and implementing international standards of the banking system, and funding the country," he said.
Mr Salameh referred to various challenging junctures that included heightened internal political tensions that left the country without a president on two occasions, the sanctioning of by the US of two Lebanese banks that led to their closure and regional geopolitical developments like the war in neighbouring Syria that has had direct reverberations on Lebanon's economy.
"Lebanon today is living in a historic time … our view is that the government's budget should not have a deficit…we also hope there are essential reforms…and that the private sector is reenergised," Mr Salameh said.
Lebanon's economy is projected to slow to 0.2 per cent this year, from about 0.3 per cent in 2018, according to International Monetary Fund estimates. Prior to Mr Hariri's resignation, the fund was assessing an emergency economic reform package unveiled by the Lebanese government that sought to tax banks and cut the pay of officials, in an attempt to avert a financial crisis. The emergency plan, announced by Mr Hariri on October 21, proposed a 2020 budget that targets a fiscal deficit of 0.6 per cent of GDP.
Most of Lebanon's sovereign debt is held by local banks and the financial system, which underpins the economy, attracted billions of dollars in capital flows that helped the country service its fiscal and external deficits over the past three decades.
"I do not want to blame responsibility on anyone," Mr Salameh said. "This is an exceptional time in Lebanon. The priority today is to preserve stability with the measures and objectives so that the country can take off again once the situation [improves]… Lebanon has the capacity … to overcome … to exit this crisis."
What will 'fix' Lebanon? A century of sectarianism cannot be scrapped overnight – but it can be transformed
Albadr Alshateri/The National/November 11/2019
It is imperative any reforms are carried out while avoiding breaking the political system or causing its collapse
For nearly a month, Lebanese citizens have been thronging the streets, making demands against what they view as a corrupt political class. While it might seem a familiar lament, this time the people are demanding a radical overhaul, not just of the government but the entire political system. The majority are fed up of the sectarian edifice of the state that is responsible, from the protesters' perspective, for the predominance of a meretricious political class.
But it is imperative any reforms are carried out while avoiding breaking the political system or causing its collapse. Rule number one is "do no harm". If one cannot fix it, at least do not break it. Rule number two is to beware of the historical process that has given rise to the current system. Political systems are products of a historical process – or, to quote Karl Marx, "the tradition of all dead generations weighs like a nightmare on the brains of the living".
Rule number three is if you have segmented society, the reforms have to be all-inclusive. You cannot afford to alienate certain groups. And rule number four is whatever reforms might be offered, they have to be based on what you got, with the necessary changes to keep the system stable enough for reforms to be implemented. Throwing the baby out with the bathwater would be perilous.
These rules are integral to any reforms because Lebanon is an amalgam of 18 sects, a product of its colonial legacy. Lebanon's foremost historian, the late Kamal Salibi, called it "a house of many mansions", which was also the title of his book.
In that respect, Lebanon is not unique. Many Arab countries were the creation of a colonial past, such as Syria, Jordan and Iraq. Salibi argues that Lebanon was unique because it was "willed into existence by a community of its own people, albeit one community among others". It was at the insistence of the Maronite Christians that the creation of Greater Lebanon was acquiesced by the French mandate authority on May 25, 1926, with its constitution. The first Republic of Lebanon was thus born.
Two decades later, the paramount chief of the Sunni Muslims, Riyad Al Solh, struck an unwritten deal with Maronite Christian Bechara El Khoury, known as the National Pact, which laid the foundation for power-sharing between different sects. The Christians (Greek Orthodox, Maronite, Greek Catholic and others), then a majority, and Muslims (Sunni, Shiite, Druz, Alawite) – who, according to the French census of 1932, constituted a minority – would divvy up power in a ratio of 6:5 in favour of the former. The Maronites, thought to have a plurality, would assume the presidency, the prime minister would be a Sunni Muslim, and the Shiite sect would head the parliament.
The formula ushered in what is known as a multiconfessional or consociational democracy; namely, one based on power-sharing. Arend Lijphart, a leading authority on consociationalism, outlined a few aspects that applied to Lebanon. One was an elite agreement on a power-sharing formula; another was the proportional representation of different groups within society; a third was consensus and mutual veto among major groups; and a fourth was autonomy for the constituent parts to exercise cultural or religious practice freely.
Lebanese ingenuity and resourcefulness transformed the country into a prosperous and stable one. However, what looked like a boon for the country later proved to be a bane. The rigidity of the system, plus the vested interests of the elite, who to borrow TS Eliot's line, were as focused on citizens' progress as foxes "have a sincere interest in prolonging the lives of the poultry" did not bode well for the country. In less than two decades, the system faced its real reckoning in 1958 when different factions collided over Lebanon's identity and civil war was barely averted.
The accumulated burdens of the past, in addition to unpropitious regional politics and the presence of armed Palestinians, were too much for the system to bear. Lebanon had become a tinderbox waiting for the strike of the flint. That duly came in 1975 and the whole country exploded in civil warfare. Lebanon's first republic came tumbling down.
After weeks of street protests by multiconfessionalists and groups, the second republic is now over a barrel
Thanks to war fatigue and a helping hand from Saudi Arabia, the warring factions negotiated the Taif Agreement in 1989. The deal revised the National Pact of 1943. Christians and Muslims would now share power equally. Moreover, the post of the prime minister, still allocated to Sunni Muslims, gained more gravitas than had previously been the case. Lebanon's second republic, then, saw the light of day.
After weeks of street protests by multiconfessionalists and groups, the second republic is now over a barrel. The demonstrators are not letting up until their demands are met in full. Simply revamping the system will not do for the young people gathered in public squares.
So what is the solution? Political systems have elective affinity with social structures. No one can bypass them. Genuine reforms will have to take this into account. A century of sectarian politics cannot be disposed of at the drop of a hat. It is possible, however, to transform it to suit the new circumstances.
Lebanon's third republic is now in gestation. It can incorporate the strength of consociationalism with majoritarian democracy. There are quite successful consociational democracy examples that Lebanon can borrow from. The late Lebanese-American political scientist Iliya Harik once pointed to Switzerland's model for a possible post-war settlement. The Lebanese need not copy-paste from different political systems – but it can draw some lessons from a stable multiethnic country like Switzerland all the same.
In this scheme, Lebanon's third republic would have a bicameral legislature with an upper house featuring two representatives of each of the 18 officially recognised sects, and a lower house with proportional representation. Any legislation would have to pass both houses to become law. The majority party, or parties, in the lower house, would form a government. There would be no sectarian qualification for the post of the prime minister, who would serve as chief executive.
The 36-members of the upper house, which represents all sects, would nominate five of their number to form a presidential council. The chair of the council would rotate among members every two years. The chair would serve as the president of the republic but the council would be responsible for ratifying laws, calling parliament to session, declaring war and other constitutional responsibilities. They would be individually and collectively answerable to the upper house and could be impeached and removed only by the upper house.
As such, Lebanon can preserve minority rights while moving the ball forward on the sectarian issue. Lebanese institutions are too brittle to withstand a total transformation.
*Albadr Alshateri is a former professor at the National Defence College in Abu Dhabi
Lebanon's Richest Need To Take a Haircut
Dan Azzi/Bloomberg/Monday, 11 November, 2019
At the root of the economic grievances fueling Lebanon's mass protests lies what looks like a regulated Ponzi scheme. The problem will not be solved by a change of government—even with a cabinet of experts—or by injections of capital from friendly Arab states: it will require tougher measures, including a compulsory haircut for many of the country's richest citizens. For decades, Lebanon depended on remittances to sustain its economy and the lira peg. Fixed at 1507.5 lira to the US dollar since 1997, the peg resulted in an overvalued currency, relative to the country's productivity. This gave the Lebanese a higher income and standard of living than in any neighboring Arab country, allowing them to spend on travel, cars, clothes, and gadgets.During the 2008 credit crisis, Lebanon had a reverse capital flight to its perceived safety. Rich Lebanese expats stopped trusting foreign banks and moved their money home, helping to create a balance-of-payment surplus of $20 billion between 2006 and 2010. This surplus was squandered on real-estate development and government waste, resulting in a bubble, the remnants of which can today be seen in the shiny, vacant towers dotting the Beirut skyline.
Starting in 2011, the surplus morphed into a persistent annual deficit. It wasn't until 2016 that the Banque du Liban recognized the danger signs. The central bank initiated a series of so-called "financial engineering" transactions, which were equivalent to swapping lira for fresh (that is, attracted from overseas) dollars at exorbitant interest rates reaching 14-30%. Most of the lira thus printed by BDL was recognized as revenue, giving banks record profits, despite a stagnant economy. The two top banks alone made over $1 billion in 2016 in these artificial profits; the bonuses paid to senior managers were in real cash.
The interest owed to earlier depositors was sourced from new investors. Neither local nor foreign analysts picked up on this, even though the mechanism was suspiciously similar to what an infamous Italian immigrant did in Boston a century ago. All employed Lebanese have benefited from this particular variant of the Ponzi scheme: the dollar peg meant that their salaries are worth more than in a floating-currency regime.
Due to the crowding-out effect, the main losers are the youth, among whom the unemployment rate is almost 40%. In the Lebanese paradigm, unemployed youth are expected to emigrate, find jobs elsewhere and transmit remittances—in effect, to continue funding the scheme. But this has become increasingly difficult as job opportunities overseas have dwindled. Most analysts have been too distracted with traditional metrics, such as government debt worth nearly $90 billion, and have been neglecting the fact that BDL has borrowed $110 billion from Lebanese banks—out of $170 billion in total deposits. Half the dollar deposits in Lebanese banks are now with BDL, with the rest in lira. There is just no way for BDL to return this money.
Meanwhile, the astronomically high interest rates have created a cohort of millionaires and decamillionaires. But their account values are just computer entries, produced by compounded rates of return with no productive investment yielding real returns on the other side. Which is why, as bank deposits increased artificially, real liquidity shrank. The real dollars in BDL reserves, plus bank deposits with custodial accounts, amount to around $40 billion: in other words, there's only one dollar of liquidity for every $3 dollars of claims. This would normally not be a problem in fractional banking, except that all these liabilities are in a foreign currency that BDL cannot print nor generate locally.
The good news is that almost all this debt is internal. This makes the solution quite simple: a national restructuring that equitably distributes losses, clawing back the phantom returns. Less than 1% of depositors, or 24,000 accounts, account for nearly $90 billion, with the average account worth $3.5 million. (Assuming each millionaire has three or four accounts, a common practice in Lebanon, we may be talking about no more than 6,000-8,000 account holders.)
But the owners of these phantom-money accounts spend some of it in the real world—on a Bentley, say—which consumes BDL reserves. Similarly, any Lebanese earning in lira consumes BDL reserves every time they go on vacation to Greece or buy an imported product.
How to fix the problem? The central bank can start by imposing capital controls on transfers overseas and curtail cash withdrawals; some banks are already doing this, but it would be more efficient and equitable if BDL made it compulsory for all.
Capital controls would only stanch the bleeding. Healing the wound would require more drastic measures, such as a haircut on all accounts above $1 million. (The extent of the haircut would depend on where BDL is prepared to start cutting: the larger the account, the deeper the cut can be.) This may require a ministerial decree, possibly even parliamentary approval. Legislators could call it a deferred tax, if that makes it politically more palatable.
This will not be as catastrophic as it sounds. A Lebanese who deposited $10 million 10 years ago, at 12%, holds $31 million today. With a 50% haircut, they would have $15.5 million, a quite reasonable return of 4.5%.
Lebanon officials may balk at trying something no other country has attempted before, but since their problem is sui generis, the solution can hardly be otherwise.
The Walls of Iraq and Lebanon and the Iranian Thread
Ghassan Charbel/Monday, 11 November, 2019
Thirty years ago, Asharq Al-Awsat dispatched me to cover the news of the fall of the Berlin wall. As a young Arab journalist, it was not odd for me to question the world around me. These questions only increased with the collapse of the Soviet Union.
I sat at a cafe near the wall, pondering when will the Arab walls collapse. These are not just the walls that are preventing Arab countries from communicating with their neighbors, but also the internal walls that hold the mind, heart and lungs captive. At the time, Iraq was ruled by Saddam Hussein, Libya was ruled by Moammar al-Gaddafi and Syria was ruled by Hafez Assad. Lebanon's Baabda presidential palace was in the hands of a fiery general called Michel Aoun. He acted as prime minister of a military government.
Today, Saddam, Gaddafi and Assad are no more and the Baabda palace is occupied by Aoun, the elected president whose tenure is witnessing the collapse of many walls as a result of the youth and student popular protests. As for Iraq, we believed that Saddam was the only wall that was preventing it from catching its breath and joining the current age. Instead, we are now witnessing the cracking of the walls of the abuse of the power-sharing system that have exhausted the country.
The fall of the wall was the end of the era and the beginning of a new one. The world believed that it would live long under the rule of the sole victor. It later emerged that the burden of ruling the world was too great for one country alone, regardless of how powerful its economy and army were. It did not take long for Russia to rise from under the Soviet rubble under the leadership of the colonel, Vladimir Putin, who lived not too far from the wall and carried a wound in his heart. We then witnessed the magnificent Chinese rise whereby Mao's successors were able to take hundreds of millions of Chinese out of poverty through ideas that were never written down in his Little Red Book. The successors tore down Mao's wall without fanfare, but preserved his mausoleum, censors and stability through the Communist Party after they ran it through globalization.
The most significant and dangerous change was yet to come. The successive advances in science and technology also changed the way the individual views the world. It paved the way for the flood of news, comments and images. Guards could no longer capture information at the border and subject it to a security test before it seeps into the minds of the people. This is the social media revolution. The Kalashnikov may have taken its place in history for playing a major role in revolts around the world, but history will also record that the smartphone is more violent, dangerous and effective than the rifle.
The telecommunications revolution broke down several walls. Walls that were built by the people out of fear and for their own self-preservation. Walls built for securing the regime. Walls that were built by governments to prevent new fiery blood from flowing in the veins of society. The telecommunications revolution shook up everything. It raised questions about everything. It broke taboos and paved the way for unprecedented discussions.
Would it be exaggeration to say that the flow of Iraqi youths to the squares is a sign of the imminent collapse of corruption, the cracked state and sectarianism that have almost killed the people and with them, Iraq? Would it be exaggeration to say that the flow of Lebanese youths to the squares and streets is a sign of the imminent collapse of the wall of corruption, the cracked state and sects that have almost killed the people and with them, Lebanon's spirit? Is it exaggeration to say that a new Iraq is being born and that it will accept nothing less than a modern state that is based on transparency, integrity and competency? Is it exaggeration to say that a new Lebanon is being born and that it refuses to be dragged into sectarian plots and will accept nothing less than a state of law, openness and an independent judiciary?
We have sailed long in despair. The long wait has been killing us. We were then met with the disappointment that was the Arab Spring and how forces of the past seized the dreams of the people. We were intimidated by the ability of the regimes to strike fear and alter the course of protests and plunge them in blood and terrorism.
Today, we are on the verge of the birth of a new Arab. An Arab who does not want one sect to be victorious against the other. An Arab who wants education that will pave the way for job opportunities, progress and innovation. An Arab who wants the police to work under the rule of law and a trial that is not influenced by the intelligence chief. An Arab who wants a normal and modern state that is not constantly living on the edge of civil war and does not birth desperate people, suicide bombers and explosive belts. The Arab here and there wants a state lined with balconies, not walls.
Everyone needs to stop and pause at the developments in Iraq and Lebanon. The flow of history cannot be halted no matter how high the dams and walls. Authorities in Iraq must read and listen and draw conclusions. The same applies to Lebanese authorities. And because the Iranian thread is present strongly in both capitals and is resistant to the winds of change, Iran itself must read and listen and draw conclusions.
It is hard to believe that the Iranian youths do not share the same dreams as those in Iraq and Lebanon, despite the unique conditions in each country. The addiction to fanning the flames of revolution cannot forever postpone crucial economic, political and social tests. The constant clash with the West cannot conceal the dire state of the economy and currency and the level of poverty. Iranian officials must keep in mind that the Chinese revolution was saved by those who reconciled it with the facts of economic progress and the need to improve the people's lives. They must remember that the Soviet Union collapsed due to economic failure and the refusal to take the people's needs into account. Accusing the protesters in Iraq and Lebanon of receiving funds and orders from foreign embassies will not resolve the problems of the accuser nor the accused.
Innocent youths armed with smartphones, a vivid imagination and pure intentions topple walls. Those who stand against them will sooner or later join the losers camp. Iran does not have the right to be the wall that stands in the way of change in Iraq and Lebanon.
Khalaf Ahmad Al-Habtoor/My message to the Lebanese: Stay strong and you will triumph
Arab News/November 11, 2019
Lebanon has always been close to my heart, and today I am proud to stand with those Lebanese who are protesting against the criminal political class that has bled the country's coffers dry and stifled opportunities for generations. They have shown that they will no longer be played for fools.
As long as I can remember, Lebanon's government has been in the strangulating grip of sectarian mafia bosses protected by armed militias that are obliged to pretend allegiance to the Iranian-funded godfather Hassan Nasrallah, Hezbollah's secretary general, in order to maintain their vast wealth and power. But their gravy train is poised to crash and burn.
Lebanon's youth has woken up to the deceit of these slick-talking peddlers of fake hope, who together have led the nation down a road to ruin. The veil has dropped from their eyes. They can no longer be fooled by political dynasties or those with weighty overseas bank accounts living securely behind the walls of hilltop palaces.
I salute each one of you who has courageously taken to the streets in a peaceful bid to overthrow a government stuffed with inept, corrupt dinosaurs whose only interest is self-interest. These same tired faces have been vying for a piece of the pie since the end of the civil war in 1990 and, if left to them, their sons would inherit their mantle. Fat-cat politicians in Lebanon do not see their role as a patriotic duty to serve the nation and its people, but rather a lucrative job for life.
On their watch, youth unemployment has reached the untenable level of 40 percent, forcing graduates to seek greener pastures abroad. There is zero economic growth and the country's debt burden, which exceeds 150 percent of gross domestic product, is unsustainable. Adding to people's woes are regular electricity cuts, severe shortages in water and medicines, and mountains of rotting garbage disfiguring the landscape.
Watching good-natured, fiesta-like gatherings, where Lebanese of all ages and religious persuasions stand shoulder-to-shoulder, speaking with one voice under the cedar flag, is inspirational and portends the demise of sectarianism — the cause of so much enmity and violence.
Fat-cat politicians do not see their role as a patriotic duty to serve the nation and its people, but rather a lucrative job for life.
Hezbollah's attack dogs were unleashed into the crowds as a disruptive force, but were called off once their efforts were met with strong resistance. Supporters of President Michel Aoun's Free Patriotic Movement, which is allied with Hezbollah and the Amal Movement, called for Aoun to remain in office. Nasrallah initially ordered the government to remain in place while warning of an impending civil war. Such scare tactics only served to harden the protesters' resolve.
Societal divisions have been greatly exacerbated by a sectarian political system that was bequeathed by the French colonial mandate and reaffirmed by the Taif Agreement, which sealed the end of the civil war by ensuring political representation is shared among the various sects that make up Lebanon's rich religious tapestry.
This ill-conceived system is not only a recipe for disunity; it often translates to the best man or woman for the job being excluded solely due to their faith. Lebanon needs more than a new government, it needs a complete overhaul of its political system. The new system should allow for candidates to be chosen according to their merit, not their religion — and that is what the good Lebanese people are now demanding.
The people insist on a government that represents them and is chosen by them. So far, they have succeeded in unseating the Cabinet led by Prime Minister Saad Hariri, who, after a last-ditch attempt at promising reforms, resigned. Bravo to the people. You did it.
That said, danger still lurks on the horizon. Hariri now leads a caretaker Cabinet and, according to the Daily Star, he is willing to once again head a government on condition that it includes technocrats qualified to stave off economic collapse. He is the leader who, upon his resignation, said he had reached "a dead end." In that case, he should be sufficiently dignified to announce his permanent retirement. Hariri should walk into the sunset together with his colleagues — failures all.
My message to the Lebanese is this: Please do not allow the current leadership to derail your demands using the "collapse of the economy" or "the devaluation of the Lebanese pound" as warning flags. If the old guard had any decency, it would heed your wishes and move aside to make room for qualified fresh faces with innovative ideas, who would be able to restore confidence and thus attract much-needed investment.
Do not permit those glued to their chairs for decades to slow down the creation of a new government to a snail's pace in the hope you will return to a state of political slumber. Keep up the good fight for your rights and your future while there is momentum. Do not be mesmerized by master hypnotists out to lull you into a false sense of security. This is your chance. Grab it.
Last but not least, avoid placing your trust in any foreign nation because they do not have your best interests at heart. The idea of heroes on white horses riding in to save the day is nothing more than an illusion. All are out for their own benefit, so do not be tempted to exchange one set of masters for another. The only way to save your beloved Lebanon is to take matters into your own hands. Stay strong and determined and, with the grace of God, you will be triumphant.
*Khalaf Ahmad Al-Habtoor is a prominent UAE businessman and public figure. He is renowned for his views on international political affairs, his philanthropic activity, and his efforts to promote peace. He has long acted as an unofficial ambassador for his country abroad. Twitter: @KhalafAlHabtoor
Inside The House of Michel Aoun: A Feuding Dynasty
Haifa Zeaiter/Raseef22/November 11/2019
What is happening behind the scenes at Baabda Palace – home of Lebanon's president Michel Aoun – and more specifically, within the Presidential family? Many Lebanese citizens are today asking this question, with reports suggesting internal differences between the two "sons-in-law": namely, Foreign Minister (in the caretaker government) and leader of the "Free Patriotic Movement" Gebran Bassil, and former army brigadier-general and current member of parliament Chamel Roukoz – married respectively to Chantal and Claudine Aoun, two of President Aoun's daughters.
Indeed, reports alleged differences between the two daughters themselves, attributed to differing public stances taken by each, as well as to 'gossip' by workers in the palace and those close to the family.
President Aoun – age 84 – has three daughters: Chantal, Claudine and Mireille – the latter married to the Director of OTV channel, the voice of Bassil's "Free Patriotic Movement", Roy el-Hachem. We mention the husbands of Aoun's daughters not out of a patriarchal motive, but for the role the husbands play in formulating the family's political stand as they rose to leading position in the country.
Yet Aoun's daughters themselves are not neutral observers in the family's political scene: Claudine is the media consultant of the president, she runs the "National Commission for Lebanese Women" and also runs Clémentine, an advertising company. Mireille is the principal advisor of the president. Chantal on the other hand does not appear to take an active frontline political role, assuming mostly the role of "first daughter" while at other times the "wife of the leader of the Free Patriotic Movement."
Aoun Supporters Join the Uprising
The president's family tree, its dynamics and the respective roles of the president's relations have taken center stage with the onset of the October revolution. Old differences between Gebran Bassil and Chamel Roukoz have resurfaced, with the latter appearing on the fourth day of the uprising where protesters were cursing Bassil's mother, Roukoz was carried on the shoulders of demonstrators calling for the downfall of the Aounist-led regime.
The video of Roukoz's flash appearance in the mob was widely shared labelled: "Has Roukoz joined the ranks of protesters?" – however, Roukoz himself downplayed the incident, saying that he was driving by with his and the street was blocked by the protesters " so I got out of the car, said hello to the young people, who carried me and were affectionate. It's a normal matter."
Yet Roukoz's clarification did not dilute reports of what appeared to be a division within Aoun's extended family caused by the October revolution – allegedly exacerbating previous grievances which were apparent beforehand.
During the first post uprising speech by the president, eight days after Lebanese citizens went to the streets and squares, there was a sentence in the president's speech which was in turn relayed later on Twitter by his two daughters Claudine and Mireille: namely "reconsidering the government", the statement was understood as opposing Bassil and an insinuation that he could be sacrificed from the government.
Lebanese citizens had taken to repeating a phrase that connoted Bassil's central role in the regime – "either he is minister or the country falls into ruin" – Bassil possibly being the only thing that stands in the way of a new technocrats' government.
The Disagreement
Before delving further into the Aounist state of protest against the "Bassil" role in the country's governance, it is useful to return to the origins of the divisions – or at least the emergence of these divisions.
Raseef22 asked many Lebanese citizens about the reason for Bassil being the most hated figure these days, a unanimous response cited Bassil's "provocative arrogance" which implies near-full control over the president.
Bassil's transformation from being a leader in the Free Patriotic Movement (FPM) to the strongman of Lebanon happened in a very short time, with some describing his ascension to the head of the party's leadership as a "parachute landing" – marginalizing veteran Aounist activists. This reality would force many to leave the party while others would retrench after witnessing Bassil's template of governance and viewing it as the opposite of the Aounist dream they struggled for.
It should be noted that Bassil assumed the leadership of the Free Patriotic Movement on the eve of Michel Aoun's election to the presidency three years ago, pushing aside two possible candidates for the party's leadership. Last September Bassil would win a new term as party leader, amidst a backdrop which critics described as one that favored businessmen in the party over activists, and where a policy of absolute loyalty to Bassil – that or the risk of marginalization – prevailed.
While Bassil was celebrating winning his second term at the head of the Free Patriotic Movement, Roukoz was hosting a group of "Aounist opposition" figures in the presence of his wife Claudine. While the meeting was described at the time as a social visit, in reality it entailed many messages – not least serving as evidence to a new movement which defined itself as 'Aounist' separate from the Free Patriotic Movement.
Heated Exchanges
Ten days after the outbreak of the revolution, Roukoz resigned from the "Strong Lebanon Bloc" – a coalition formed by the Free Patriotic Movement. Roukoz declared that he had not been attending meetings for months.
In an interview with Sky News, Roukoz declared his wish for the president to "work on changing the government and for a new government with the strongest hand belonging to the president and the prime minister."
Attacks subsequently began targeting Roukoz and his wife from Bassil's wing of the party, with the two accused of "treachery" and "defaming the image of the president."
Lebanon's President has three daughters: two of them are "palace consultants". He has three sons in law: two are members of parliament, one is also a foreign minister and FPM party leader, and one runs OTV, the dynasty's TV station
Three days after Roukoz's resignation, Bassil's deputy-leader in the Free Patriotic Movement May Khreich appeared in a television interview and dismissed the Roukoz's role. When asked about the statements by the two daughters of Aoun declaring the necessity of holding early elections, Khreich angrily responded and trivialized their opinions, declaring: "What do Claudine Aoun and Mireille Aoun represent?"
On the 3rd of November, the road leading to the presidential palace at Baabda witnessed a demonstration in support of Aoun, in which Bassil – accompanied by his wife – was the star, while Claudine and Mireille were both absent. Bassil spoke to the crowd heavily praising the performance of the Free Patriotic Movement, only for Aoun to come out afterwards with a brief statement; the event was a source of dismay for the two daughters, as it contrasted the strong image that Bassil appeared in contrasted with the weakness of the president.
Two days after the protest, Claudine appeared in an interview explaining why she was absent from the rally at Baabda palace, directing many pointed messages in the process. She declared: "I am a member of this establishment, so how can I demonstrate in support of myself?" – adding that she had not heard Bassil's speech.
Bassil had earlier declared that "there is no space in the movement for those who are scared or for traitors." Here, Claudine took the opportunity to declare that no one can give her husband lessons in patriotism and loyalty, adding that it was "necessary to dilute all of our egos."
Claudine had rejected in a previous interview her description as the "daughter of the Free Patriotic Movement" – declaring that she considered herself to be an Aounist, not an FPM daughter, now that Bassil heads the party.
On November 7, Roukoz returned to the scene, declaring in a television interview that "what is happening is an opportunity to launch new reforms and a new political climate," and warning that "personal interests are still dominating until now." He warned against attempting to "circumvent the demands of the street" – while calling for a separation members of parliament and government ministers.
Roukoz also praised the students protesting in the streets – in the meantime, OTV channel simultaneously disseminated reports alleging "ambiguous parties orchestrating the revolution" and "Israeli infiltration attempts."
Skirmishes Everywhere
There is an additional source of disagreement between Claudine and her brother in Law Gebran Bassil: in addition to holding Bassil responsible for obstructing the appointment of Roukoz as minister and his control over Baabda palace, reports has also proliferated about Bassil's negative attitude to Claudine's work in the "Women's Commission" – both regarding the laws that the commission proposed and worked on, as well as a general lack of cooperation where possible.
Many have taken to ask about the reality of Claudine's exclusion from the palace's media-related decisions, rand the exclusion also of her sister Mireille from other consultations after her name was proposed for a ministerial position.
Accordingly, critics citing Claudine's exclusion declare: "How can a media consultant who runs an advertising company that is renowned for its successful campaigns allow the president to emerge in his first speech to Lebanese citizens after the revolution in this controversial image?" Aoun had appeared exhausted during his speech, which was not broadcast live – despite it being claimed otherwise.
Followers of Claudine's Twitter account can observe the sheer scale of attacks against her from different accounts, including by supporters of the Free Patriotic Movement, doubting her loyalty and criticizing her performance and that of her husband. This gives rise to an important question: who is behind the accounts that are launching these concerted attacks the moment she posts a Tweet?
On the other hand, Raseef22 posed a series of questions to protesters of various affiliations, on the position of Claudine and Roukoz. There was a near unanimous response that "we should not fall into the trap of being infatuated with them both, or considering them heroes standing in the ranks of the revolution."
According to the responses, both Roukoz and Claudine had their own calculations and interests in projecting a certain image, which will reserve a role for them in the upcoming political scene, and which ensure they have another chance however events turn out. On the other hand, there were also responses criticizing Roukoz, pointing to his military background and his lack of political acumen.
Amongst the responses, some also pointed out to what they considered the "patriarchal" nature of Aoun, who promoted his sons-in-law at the expense of his daughters, not least Bassil who he considers "the son he never had" – otherwise, in the words of one protester, "why has he [Aoun] not passed on the presidency of the Free Patriotic Movement to one of his daughters?"
While protesters continue to deploy various means to express their rejection of the ruling authority, its policies and its deeply-rooted ways, the state of division inside the Aounist camp continues to emerge more clearly – allowing the revolting street to target the ruling authority without raising the status of the anti-Bassil Aounist crowd to that of "heroes" and "revolutionaries."