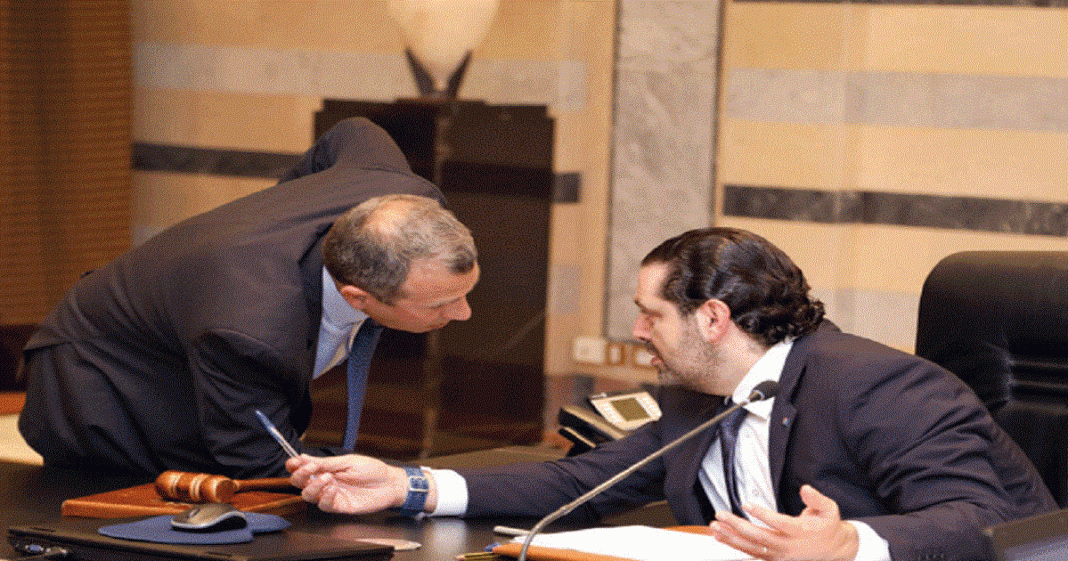 A Bundle Of English Reports, News and Editorials For November 06-07/2019 Addressing the On Going Mass Demonstrations & Sit In-ins In Iranian Occupied Lebanon in its 21th Day




Compiled By: Elias Bejjani




November 06-07/2019
Titles For The Latest English LCCC Lebanese & Lebanese Related News published on November 06-07/2019
World Bank Ready to Support Lebanon, Urges Quick Formation of New Cabinet
World Bank ready to support Lebanon, urges quick formation of new cabinet
World Bank Sounds Alarm about Lebanon amid Protests, Crisis
Aoun Says Corruption Investigations Won't Spare Any Incumbent, Former Official
President to Kumar Jha: Investigations will not exclude anyone, 17 files on corruption referred to judiciary
Hariri, Bassil Hold 'Positive' Second Meeting
World Bank ready to support Lebanon, urges quick formation of new cabinet
Geagea: We seek a government of experts who are independent of political majority
Women Stage Pot-Banging Demo as Protesters Scuffle with Police in Ramlet al-Bayda
State Prosecutor Authorizes Financial Prosecution to Sue 13 Public Employees
Financial Prosecutor Summons Saniora for Testimony in $11 Billion Case
STL President Convenes Trial Chamber in Hamadeh, Hawi, Murr Case
Lebanese Students Skip School, Protesters Rally Outside State Institutions to Press Demands
Jumblat to ABC: Lebanon on Verge of Economic Collapse, Needs Technocratic Govt.
School Principal Threatens to Expel Students over Demos
The Latest English LCCC Lebanese & Lebanese Related News published on November 06-07/2019
World Bank Ready to Support Lebanon, Urges Quick Formation of New Cabinet
Asharq Al-Awsat/Wednesday, 6 November, 2019
The World Bank said on Wednesday it stood ready to back a new Lebanese government, warning the country had no time to waste to tackle an emerging economic crisis worsening by the day. The bank called for the rapid formation of a new cabinet and said it expected a recession in 2019 to be even more significant than an earlier projection of a 0.2% contraction in the economy. A wave of massive protests across Lebanon against the ruling elite pushed Prime Minister Saad al-Hariri to resign last week, toppling his coalition cabinet. There has been no sign of progress toward agreeing a new government.
The turmoil comes as Lebanon grapples with the worst economic and financial strains since the 1975-90 civil war. The World Bank is among foreign donors who pledged billions of dollars in badly needed aid last year, as long as Lebanon's government enacts reforms it has long delayed. But with foreign allies not fully convinced, the money has yet to flow into the economy. "Lebanon does not have the luxury of time to waste to redress issues that need immediate attention," the World Bank said in a statement after its regional director, Saroj Kumar Jha, met Lebanese President Michel Aoun on Wednesday. "There is an urgent need to stop the emerging economic crisis." "We stand ready to extend all possible support to the new government that commits itself to good governance and creating opportunities for all Lebanese," it added, according to Reuters.
The proportion of Lebanese living in poverty could rise to 50% if economic conditions worsen, from about a third in 2018, the World Bank said. Unemployment, which already runs at 37% for the under 35s, could rise sharply. "With every passing day, the situation is becoming more acute and this would make recovery extremely challenging," Jha added.Aoun told the World Bank the next government would have competent ministers "of good reputation and far from suspicions of corruption", the president's office said after the meeting.
Public anger
Unrest erupted across Lebanon some three weeks ago amid a build-up of anger at rising costs of living, new tax plans and a ruling elite accused of rampant corruption. Demonstrators blame the political class, many of them sectarian civil war leaders, for plunging the country toward collapse after milking the state for decades. Hariri remains in office in a caretaker capacity until political parties agree a new government. Aoun, an ally of the Iran-backed Hezbollah party, has yet to begin official talks with MPs to designate a prime minister who would form the next cabinet.
Crowds protested in front of ministries and state institutions on Wednesday in the capital Beirut, as well as parts of south and north Lebanon. "We came to show that we're in the protest squares no matter what the corrupt (authorities) do," Rasha Hijazi, a public school teacher, said at a protest in the southern city of Sidon, where teachers and students went on strike. "It is not important to lose our hours, our archaic curriculum…This is the real revolution that we are teaching."Lebanon has one of the world's highest public debt burdens at 150% of GDP. Political disputes in Lebanon and regional conflict have hit economic growth. With growth around zero percent, a slowdown in capital inflows has led to a scarcity of dollars and pressure on the pegged Lebanese pound. Moody's Investors Service downgraded Lebanon's rating to Caa2 on Tuesday, at the lower end of the "junk" grade bracket, citing the increased likelihood of a debt rescheduling it would classify as a default. Lebanon's issuer rating, which was lowered from Caa1, remained under review for downgrade, Moody's said. Moody's classifies Caa ratings as very high credit risk.
World Bank ready to support Lebanon, urges quick formation of new cabinet
Reuters, Beirut/Wednesday, 6 November 2019
The World Bank said on Wednesday it stood ready to back a new Lebanese government and warned that the country had no time to waste to fix economic troubles that were becoming worse by the day. The bank called for the rapid formation of a new cabinet and said it expected a recession in 2019 to be even more significant than an earlier projection of a 0.2% contraction in the economy. A wave of massive protests against the ruling elite across Lebanon pushed Prime Minister Saad Hariri to resign last week, toppling his coalition cabinet. There has been no sign of progress towards agreeing a new government.
The political turmoil comes as Lebanon grapples with the worst economic and financial strains since the 1975-90 civil war. The World Bank is among foreign donors who pledged billions of dollars in badly needed aid last year, as long as Lebanon's government enacts reforms it has long neglected. But with foreign allies not fully convinced, the money has yet to flow into the economy. "With every passing day, the situation is becoming more acute and this would make recovery extremely challenging," World Bank regional director Saroj Kumar Jha said in a statement after meeting with Lebanese President Michel Aoun on Wednesday. "We stand ready to extend all possible support to the new government that commits itself to good governance and creating opportunities for all Lebanese, especially the youth and women," the World Bank statement said.
World Bank Sounds Alarm about Lebanon amid Protests, Crisis
Associated Press/Agence France Presse/Naharnet/November 06/2019
The World Bank called on Lebanese authorities Wednesday to urgently form a new government that can address the country's worsening economic situation, warning that Lebanon "does not have the luxury of time to waste."The stark warning came in a statement issued after a meeting between the World Bank's regional director and President Michel Aoun amid ongoing mass protests and a severe economic and financial crisis. Prime Minister Saad Hariri resigned his government on Oct. 29 in response to the unprecedented protests which have swept Lebanon starting in the middle of last month. The protesters erupted over proposed new taxes and have snowballed into calls for the government to resign and for the entire political elite that has ruled Lebanon since the end of its 1975-90 civil war to step aside. The protests have paralyzed the country and kept banks shuttered for two weeks. Lebanon, one of the most heavily indebted countries in the world, already was dealing with a severe fiscal crisis before the protests began, one rooted in years of heavy borrowing and expensive patronage networks run by entrenched political parties. The protesters are calling for the formation of a technocrat government that would get to work immediately on addressing Lebanon's economic crisis. They accuse officials of dragging their feet on that. Following his meeting with Aoun, World Bank Regional Director Saroj Kumar Jha said he urged swift measures to ensure Lebanon's economic and financial stability. "The politics has most attention, but economy has the most risks," he said. "With every passing day, the situation is becoming more acute and this would make recovery extremely challenging," he added. "Lebanon does not have the luxury of time to waste to redress issues that need immediate attention."In a statement, the World Bank also warned "we expect the recession to be even more significant" than previously, having forecast a contraction of 0.2 percent before the ongoing political turmoil. Without quick steps to address the crisis, about half of Lebanon's population could fall into poverty and unemployment could "rise sharply," the lender said.
On Wednesday, protesters rallied outside state institutions and ministries to keep up the pressure on officials to form a new government. Dozens of people gathered outside the justice, education and other ministries as well as the state-run electricity company and the tax department. In their third week, protesters have adopted a new tactic of surrounding state institutions to disrupt their work. The protesters agreed on Tuesday to shift the focus of the protests and open main roads to ease up traffic and allow people to get back to work.
Aoun Says Corruption Investigations Won't Spare Any Incumbent, Former Official
Naharnet/November 06/2019
President Michel Aoun on Wednesday stressed that a fresh anti-corruption crackdown will not spare any incumbent or former official suspected of wrongdoing. "The new government will comprise ministers enjoying expertise, economy and integrity who are not suspected of any corruption," Aoun told a World Bank delegation led by Regional Director Saroj Kumar Jha. "The investigations that will target incumbent and former officials suspected of misconduct will not spare any of those involved," the president added. "Lebanon is at a critical crossroads, especially at the economic level, and it is in dire need of a harmonious government that can be productive without being obstructed by political conflicts and bickering," Aoun went on to say, noting that the new government should also enjoy "the needed support from the people." The president also emphasized that he will not hesitate to "propose any reformist law that suits the priorities of the coming period," revealing that "17 corruption-related files have been referred to investigation and will be addressed.""Accountability will encompass all the culprits, participators and facilitators," Aoun underlined.
President to Kumar Jha: Investigations will not exclude anyone, 17 files on corruption referred to judiciary
NNA -Wed 06 Nov 2019
President Michel Aoun told the World Bank Group's Regional Director for the Middle East and North Africa, Kumar Jha, whom he welcomed this afternoon at Baabda Palace, that "the coming government will include experienced, competent and reputable ministers, free of suspicions of corruption."
He pointed out that "investigations that will be conducted with current and former officials around whom there are question marks, will exclude nobody." "Lebanon is at a delicate crossroads, especially in economic terms, and is in dire need of a harmonious government capable of producing; a government that is not hampered by political conflicts and rivalries," Aoun said, noting that the project meant to fight against corruption "are in the hands of the House of Representatives, the most important of which is the lifting of bank secrecy and immunity on perpetrators, the recovery of looted funds, and the establishment of the Special Court for financial crimes." The Head of State stressed that he was working to address "a legacy of decades of corruption" and "will continue to work so that I can eradicate it and put an end to waste and chaos in State administrations and institutions."He noted that 17 corruption-related files have been referred to the judiciary, and all those involved, whether by participating or facilitating, will be held accountable. The President thanked Jha for "the support provided by the World Bank to Lebanon," pointing out that "any delay in the completion of one or more projects is due either to administrative routines or to the lack of supplementary funds," promising to "find solutions to such a delay "once the new government is formed." Jha, in turn, conveyed to Aoun the views of the World Bank on the latest developments, stressing "the continuation of assistance to Lebanon in the fields it requests help with."
Hariri, Bassil Hold 'Positive' Second Meeting
Naharnet/November 06/2019
Caretaker Prime Minister Saad Hariri and Free Patriotic Movement chief Jebran Bassil met anew Wednesday at the Center House. According to media reports, sources close to Hariri said the caretaker PM will maintain his contacts with Bassil and the rest of the parties over the coming hours in order to find the best possible solutions to the economic and financial woes. Describing the meeting as positive, the sources said the two men discussed ideas that can pull the country out of its economic crisis and respond to the demands of the hundreds of thousands of protesters who have taken to Lebanon's streets since October 17.FPM sources meanwhile told al-Jadeed TV that Hariri asked Bassil to give him time to respond to his proposal on forming a techno-political government led by a figure enjoying consensus and comprising representatives of the protest movement. "Bassil told Hariri that the FPM has no desire to represent Bassil or other prominent FPM figures in the new government but will reject overbidding on forming a government of experts," the sources said, adding that "Hariri has reopened channels of communication with Hizbullah."
World Bank ready to support Lebanon, urges quick formation of new cabinet
NNA -Wed 06 Nov 2019
House Speaker, Nabih Berri, raised during the Wednesday periodic meeting with lawmakers at Ain-el-Tineh, the Lebanese doubts backed by information and international reports about oil exploration led by a Greek company, of which "Total" owns 40% of shares, near the Lebanese border intertwining with the exclusive economic zone. These reports also evoked the issue of the delay in the exploration works by the "Total" Company in the offshore block 9. In this framework, Speaker Berri held contacts with the concerned official parties, and dispatched a delegate to France to meet "Total" officials. On the legislations' issue, Berri stressed the need to endorse project laws on the agenda of the forthcoming legislative session, deeming such laws as "righteous demands of the people."Turning to the current economic and governmental situation, Berri stressed the need to swiftly seek reform, political and economic solutions, including the formation of a new government. On the other hand, Berri met with the Head of the Lebanese Banks Association, Dr. Salim Sfeir, with whom he discussed the current financial and economic situation. Among Berri's itinerant visitors for today had been former Minister Karim Pakradouni, with the latest developments featuring high on their talks.
Geagea: We seek a government of experts who are independent of political majority
NNA -Wed 06 Nov 2019
"Lebanese Forces" Party leader, Samir Geagea, said on Wednesday that his party favors a government of experts who are independent of the political majority. "Any attempt to form a government of experts named by this majority is unacceptable," Geagea said in an interview with the "Free Lebanon" Radio Station, noting that it was a trap, since the key word in this matter lies in "independent." Geagea said the LF is in favor of a government that has nothing to do with politicians and the parliamentary and ministerial majority. The LF leader also pointed out that his Party has always been in full harmony with its people and community. Geagea also deemed the current popular movement as glorious, saying that people proceed with their protests by adopting several methods.
Women Stage Pot-Banging Demo as Protesters Scuffle with Police in Ramlet al-Bayda
Agence France Presse/Naharnet/November 06/2019
Thousands of women gathered Wednesday evening near the seat of government in Beirut's Riad al-Solh Square, carrying candles as some banged on saucepans."O patriarchal powers, women's rights are not a footnote," they chanted. Other pot-banging protests were also held in other parts of the country as some citizens staged similar expressions of solidarity on their balconies. In the Ramlet al-Bayda area on the Beirut waterfront, security forces and activists clashed after protesters tried to enter into the Eden Bay resort, denouncing what they say is illegal privatization of public property.
State Prosecutor Authorizes Financial Prosecution to Sue 13 Public Employees
Naharnet/November 06/2019
State Prosecutor Ghassan Ouweidat on Wednesday authorized the financial prosecution to sue 13 employees, including heads of municipalities, "after their administrations procrastinated in giving prosecution permission," the National News Agency said. "This measure is part of the memos issued by Ouweidat to the regional prosecution offices to enforce the law and secure the good functioning of justice," NNA added. The memos have been sent to the financial prosecutor, the state commissioner to the Military Court and the prosecutors of the governorates, the agency said.
Financial Prosecutor Summons Saniora for Testimony in $11 Billion Case
Naharnet/November 06/2019
Financial Prosecutor Ali Ibrahim on Wednesday summoned ex-PM Fouad Saniora to a testimony in the case of the 11 billion dollars spent between 2006 and 2008, state-run National News Agency said. "Judge Ibrahim has asked ex-PM Saniora to show up at his office at the Justice Palace on Thursday morning," NNA added. But State Prosecutor Ghassan Ouweidat later told NNA that "due to the failure to inform ex-PM Fouad Saniora of the date of the hearing session… it has been decided to reschedule the session to Thursday, November 14." Earlier this year, Hizbullah MP Hassan Fadlallah called for a probe into what he claimed were missing state funds amounting to $11 billion dollars. He was indirectly pointing a finger at former PM Saniora. He submitted financial documents to the judiciary that he claimed could "land many people in jail, including former prime ministers." Saniora later described the issue of the "missing" $11 billion as a "farce," as he announced that those "setting up mini-states inside the state" are the real corrupts, in an apparent jab at Hizbullah.Saniora said the 11 billion dollars in question were spent on interest hikes, treasury loans for Electricite Du Liban, and wage hikes and recruitment expenses for the armed forces.
STL President Convenes Trial Chamber in Hamadeh, Hawi, Murr Case
Naharnet/November 06/2019
The President of the Special Tribunal for Lebanon Judge Ivana Hrdličková on Wednesday issued an order convening the Trial Chamber in the connected case related to the attacks against Marwan Hamadeh, Georges Hawi and Elias Murr. According to the STL's Rules of Procedure and Evidence, the Trial Chamber may be engaged in various judicial matters before the start of trial. This can include holding an initial appearance with the Accused if one is in custody, deciding whether a trial should proceed in absentia and ruling on preliminary motions. The judges of the 'Trial Chamber II' are: Judge Walid Akoum of Lebanon; Judge Nicolas Lettieri of Italy; and Judge Anna Bednarek of Poland. Judge Bednarek was appointed by the United Nations Secretary-General as new international judge. Judge Akoum and Judge Lettieri currently also serve as alternate judges in the Trial Chamber of the case against the killers of ex-PM Rafik Hariri. "I congratulate the Judges on their appointments to Trial Chamber II, and welcome Judge Anna Bednarek as new STL Judge. I wish them all the best in their judicial duties," STL President Hrdličková said. The STL Pre-Trial Judge had on September 16, 2019 lifted the confidentiality of his decision confirming an indictment against suspected Hizbullah operative Salim Jamil Ayyash. The indictment, dated June 14, 2019, alleges that Ayyash was involved in the Oct. 1, 2004 bomb attack against Hamade, the June, 21 2005 bomb attack against Hawi and the July 12, 2005 bomb attack against Murr. These attacks were found by the STL to be "connected" to the February 14, 2005 attack that killed Hariri. The STL has put Ayyash and three other suspected Hizbullah operatives on an in-absentia trial and the judges are holding confidential deliberations prior to the issuance of sentences.
Hizbullah has denied involvement in the assassination of Hariri, describing the STL as a hostile scheme against it.
Lebanese Students Skip School, Protesters Rally Outside State Institutions to Press Demands
Asharq Al-Awsat/Wednesday, 6 November, 2019
Hundreds of schoolchildren led anti-government demonstrations across Lebanon on Wednesday, refusing to return to class before the demands of a nearly three-week-old protest movement are met. In the capital Beirut, dozens gathered in front of the education ministry, brandishing Lebanese flags and chanting slogans demanding the removal of a political class seen as incompetent and corrupt. "What will I do with a school leaver's certificate if I don't have a country," one pupil told Lebanese television. In the largest pupil-led protest, crowds streamed into a central square in the southern city of Sidon, demanding better public education and more job opportunities for school leavers, the state-run National News Agency (NNA) reported. In a school in the resort town of Jounieh, just north of the capital, pupils mobilized against school governors accusing them of banning participation in the protests. Other pupil-led protests took place in the southern cities of Tyre and Nabatieh, the eastern city of Zahleh and the northern city of Byblos, according to NNA and other Lebanese media reports. But demonstrators, who have kept up their protests since October 17, were not blocking key roads on Wednesday morning.
Banks were open and classes resumed at most schools after a two-week gap. But demonstrators gathered around key state institutions for a second day in a row, in what appears to be a new tactic replacing road closures. The most significant in the capital was around the Palace of Justice, where hundreds demanded an independent judiciary and an end to political interference, an AFP correspondent reported. "We don't want judges who receive orders," read one placard held aloft by the crowd. A smaller group of protesters gathered near the central bank, accusing it of aggravating the country's economic crisis. Dozens of people also gathered in front of the state-run electricity company and the tax department. Pressure from the street prompted Prime Minister Saad Hariri to resign last week. He remains in his post in a caretaker capacity while rival politicians haggle over the make-up of a new government.
The protesters have expressed mounting frustration with the slow pace of the coalition talks.
Jumblat to ABC: Lebanon on Verge of Economic Collapse, Needs Technocratic Govt.
Naharnet/November 06/2019
Progressive Socialist Party leader ex-MP Walid Jumblat on Wednesday said he hopes that demonstrations in Lebanon succeed in changing the political class, calling for the formation of a technocratic government in order to salvage the country. "I am no angel, but at the end of my political life, I must give a message of hope to the new generation," Jumblatt said in an interview with ABC News hoping to see the demonstrators in Lebanon succeed. He stated: "During my 40-year career in politics, it is the first time in the history of Lebanon that such a revolution, stretching from north to south Lebanon, away from sectarianism has ever taken place." saying the outcome might take a long time before bearing fruits. "I am optimistic, but it is going to take a long time," he said. On the economic situation in Lebanon, which ranks third in terms of indebtedness in the world, Jumblat said: "Lebanon is on the verge of economic collapse, we need technocratic, impartial and honest figures to handle portfolios in key ministries like finance, economy and other."He encouraged the new generation of political leaderships to emerge from the political crisis. "It is up to the new class that will govern Lebanon to implement a policy far from neoliberalism that ruined us," he concluded.
School Principal Threatens to Expel Students over Demos
A school principal in Lebanon threatened to expel her pupils shall they participate in the nationwide protests gripping the country since October 17 demanding to overhaul the country's political leaders. An audio recording on Whatsapp sent by Mona Wazen, principal of Collège Notre Dame Des Soeurs Salvatoriennes – Abra, to her students went viral on Tuesday. She addressed the pupils "mainly" baccalaureate-level students, saying in a demanding tone: "Each student who chooses to partake in the movements is considered permanently expelled from the school." A prompt reply from the Secretary of Union of Parents in Private Schools in Lebanon, attorney Sharif Suleiman, denounced in an audio what he said was an "authoritarian, intimidating rhetoric," practiced by the principal. He vowed legal measures. Caretaker Minister of Education, Akram Shehayyeb, issued a statement condemning the "substance of the voice message," vowing that investigations will be run into the matter. In a first since the beginning of the demonstrations on October 17, Lebanon's school students turned to the streets on Wednesday joining the country's revolution against the political class. Students from different parts of the country, from north to south, left their classes some gathering outside the schools' premises and others joining protesters near the state's institutions, chanting angry slogans at an "incompetent authority."Photos of Wazen with head of the Free Patriotic Movement, Foreign Minister Jebran Bassil and some members of his parliamentary blocked circulated on social media.
Titles For The Latest Lebanese LCCC English analysis & editorials from miscellaneous sources published on November 06-07/2019
The Majority Of Lebanon's politicians know no shame or blush/Elias Bejjani/November 06/2019
The Lebanon Protests: ِAudio-Views from Beirut and Policy Implications/Makram Rabah, Lokman Slim, Jean Tawile, and Hanin Ghaddar/
Washington Institute for Near East Policy/November 06/ 2019
Presidential Love/Elie Aoun/November 06/2019
"We have Reached the Brink"/Issam Kayssi/Carnegie MECenter/November 06/2019
Iran and the Specter of Political Change in the Middle East/New York Times/November 06/2019
Protests in Iraq, Lebanon Reveal a Long-Simmering Anger at Iran/Associated Press/Naharnet/November 06/2019
The Latest LCCC English analysis & editorials from miscellaneous sources published on November 06-07/2019
The Majority Of Lebanon's politicians know no shame or blush
Elias Bejjani/November 06/2019
غالبية الطاقم السياسي لا يعرف لا الحياء ولا الخجل ويحتاج لتوبة وتقديم كفارات
http://eliasbejjaninews.com/archives/80248/80248/
Because human beings remain entangles in traps of covetousness in all times and ages.
And because their thinking components are always strongly inclined to fall in earthly temptations.
And because the eternal struggle between good and evil continues on.
And because the Lebanese in general have lost their scale of priorities.
And because many Lebanese citizens, as well as many politician are confused between what is right and what is wrong, and between what is Godly and what is evil.
And because the majority of the Lebanese politicians are hostages of corruption, greed, ingratitude, selfishness and Narcissism.
And because all these above human weaknesses, aberrations from ethical, legal and faith norm codes are sadly spreading without any accountability in the Iranian occupied Lebanon we strongly believe that some thing positive and directive Must be done to put an end to all these divergences.
So, According to all of the above "becauses" We sincerely advice all these losers being either citizens or politician to repent and offer the required penances.
And in a bid to purify their souls and put their lives again on the righteous track we recommend that they willingly and with a through concentration to read the below Biblical verse.
Hopefully they shall wake up and never ever cross over the inevitable Day Of Judgment.
Jeremiah 6/10-15/"To whom shall I speak and testify, that they may hear? Behold, their ear is uncircumcised, and they can't listen. Behold, the word of Yahweh has become a reproach to them. They have no delight in it. 6:11 Therefore I am full of the wrath of Yahweh. I am weary with holding in. "Pour it out on the children in the street, and on the assembly of young men together; for even the husband with the wife shall be taken, the aged with him who is full of days. Their houses shall be turned to others, their fields and their wives together; for I will stretch out my hand on the inhabitants of the land, says Yahweh." "For from their least even to their greatest, everyone is given to covetousness; and from the prophet even to the priest, everyone deals falsely. They have healed also the hurt of my people superficially, saying, 'Peace, peace!' when there is no peace. Were they ashamed when they had committed abomination? No, they were not at all ashamed, neither could they blush. Therefore they shall fall among those who fall; at the time that I visit them, they shall be cast down," says Yahweh`."
The Lebanon Protests: ِAudio-Views from Beirut and Policy Implications/Makram Rabah, Lokman Slim, Jean Tawile, and Hanin Ghaddar
من موقع معهد واشنطن فيديو لأراء أكاديمية تتناول الثورة الشعبية في لبنان لكل من/ مكرم رباح/لقمان سليم/جان طويلة/حنان غدار
Washington Institute for Near East Policy/November 06/ 2019
http://eliasbejjaninews.com/archives/80271/the-lebanon-protests-%d9%90audio-views-from-beirut-and-policy-implications-makram-rabah-lokman-slim-jean-tawile-and-hanin-ghaddar-%d9%85%d9%86-%d9%85%d9%88%d9%82%d8%b9-%d9%85%d8%b9%d9%87%d8%af/
Click Here To Watch the Audio Viewsاضغط هنا لمشاهدة الأراء وهي باللغة الإنكليزية
Watch four Lebanese experts explore the protests and political situation in Lebanon. Why have street protests continued beyond the resignation of the prime minister, and how will Hezbollah react if the protests threaten its dominance?
Lebanon's unprecedented protests have already spurred Prime Minister Hariri to resign, and although Hezbollah still has the majority of parliament and a friendly president on its side, the people are intent on staying in the streets until a new transitional government is formed. How are the demonstrations developing, and what have they achieved so far?
What is needed to ensure a proper transition at a time of serious economic crisis? And how will Hezbollah react if the protests threaten its dominance?
To discuss these and other questions, The Washington Institute hosted a Policy Forum with Makram Rabah, Lokman Slim (who will join from Beirut via video teleconference), Jean Tawile, and Hanin Ghaddar.
*Makram Rabah is a lecturer of history at the American University of Beirut and lead consultant with Quantum Communications.
*Lokman Slim is director of Hayya Bina and UMAM, a Lebanese organization that focuses on Shia politics and social dynamics.
*Jean Tawile is president of the Kataeb Economic and Social Council, a board member with the Lebanese Businessmen Association (RDCL) and the Lebanese Association for Taxpayers' Rights (ALDIC), and a former advisor to Lebanon's minister of economy and trade (2014-2017).
*Hanin Ghaddar is the Friedmann Visiting Fellow in The Washington Institute's Geduld Program on Arab Politics. A longtime journalist in her native Lebanon, she has worked as managing editor of the NOW news site and written for a wide range of Arabic and English media outlets.
The Policy Forum series is made possible through the generosity of the Florence and Robert Kaufman Family.
Presidential Love/إيلي عون: الحب الرئاسي
Elie Aoun/November 06/2019
ترى أين وكيف ومتى يمكن صرف قول الرئيس عون للمتظاهرين من حزبه أما قصر بعبدا: "أنا بحبكون كلكون"
I did not listen to the President's speech to the demonstrators in Baabda few days ago. I do not listen to anything that the three Lebanese presidents say or to any speech or a press conference held by the leaders of the major political parties. In my humble opinion, listening to them is a waste of time.
However, I heard from a news reporter that he told the demonstrators: "I Love you all, and all means all."
If that is the case, we have the right to ask:
Where is the love to "you all" when the first thing he did as president was to raise taxes on the "you all, and all means all"?
Where are the job opportunities that he created to "you all"?
Where is the love to those who spent decades supporting him, and what he had done to achieve what they fought for?
Where is the love to the families of those who died during 1989-1990 believing in what he said, and what he had done to help them?
And the "love" list goes on…
Also, someone on the social media was commenting on a parliamentarian (presidential supporter) saying that "the demands of the revolution are the demands of the president."
If that is the case, then why would the president ask the revolutionaries to have a "dialogue" with him and to tell him what they need if their demands are his? Does not he already know what he needs or what they need?
If the revolutionaries are a "Zionist conspiracy" and cabaret goers (as they had been accused), why would the president want to lower himself to their level by having a dialogue with them?
If the revolutionaries are a bunch of fornicators, why would fornicators want an honest government while the "holy men" who rule that government had never prosecuted a single corrupt official?
Does the "love you all, and all means all" include the Zionists, cabaret goers, and fornicators?
One problem with the ruling class is that the people are suffering while they are reciting "poetry" and trying to be "smart" to diffuse the revolution instead of pursuing viable solutions to existing problems – viable solutions which they do not have and refuse to hire anyone who does.
One problem (and there are many) of Lebanese politicians is that they are sick and detached from reality.
They lie while thinking that they are not lying.
They do everything wrong while thinking that they are not doing anything wrong.
To them, destroying people's dreams and talents, not listening to them, not doing anything to help them, is their way of showing "love."
Maybe "the president is love" slogan should be printed on Lebanese currency notes, to add more "confidence" and to improve their purchasing power.
"We have Reached the Brink"
Issam Kayssi/Carnegie MECenter/November 06/2019
Young protestors in Lebanon say they will continue until their demands are met.
"It is the first time I feel this involved. It comes from the feeling that, this time, it is for Lebanon, for all the people," says Michele, a 24-year-old art director at an advertising company in Beirut, who has participated in the protests from day-one on October 17.
Michele echoes the feeling of many young Lebanese from all over the country who have participated in the protest movement. The protests erupted after the Hariri government announced that it planned to levy a series of new taxes, a decision that has now been rescinded.
The tax decision came at the end of a week in which the government had proven its incompetence in extinguishing fires that had consumed hundreds of acres of Lebanon's forests as well as some urban areas. Add to that an economic crisis in which the provision of necessities such as bread and fuel are in question and the likely impending devaluation of the Lebanese pound, and you will understand the reasons for the anger and frustration that finally pushed people to take to Lebanon's streets.
The population's reaction surprised the government, until it finally announced its resignation on October 29. After the resignation, there was a brief withdrawal from the streets. People seemed to be waiting to see how the political elite would act. Would it form an interim rescue government, as demanded by protesters all over the country?
Lebanon has witnessed mass demonstrations before. In 2005, demonstrations (and counter-demonstrations) took place in Beirut following the assassination of former prime minister Rafiq al-Hariri, which helped lead to the withdrawal of the Syrian army from Lebanon after a 29-year presence. In 2015, smaller demonstrations also took place in the capital, targeting the political elite, following a garbage crisis in which waste filled the streets of the country.
The difference today is that the protests are not only centered in Beirut. People from the all parts of the country have participated to reject the sectarian political class. This decentralized and spontaneous aspect of the protests has so far proven difficult to suppress.
"I have been living in Zouq all my life," says Michele. "Three minutes away from the highway." Zouq Mosbeh is a predominantly Christian town in the Kisirwan district of Mount Lebanon that is located a few kilometers north of Beirut. During the past two weeks of protests, protesters occupied the highway connecting northern Lebanon to the capital. "I was mainly [active] in Zouq, and I was happy to be there! It was a peaceful atmosphere and the feeling was amazing."
Nour, a 27-year-old activist from the southern city of Tyre who had participated in the 2015 Beirut protests, says people have to be careful about what they say in southern Lebanon. In a region primarily dominated by Hezbollah and Parliament Speaker Nabih Berri's Amal Movement, protesters in Tyre have chosen to focus on their demands in order to avoid a direct confrontation with the two parties, after early outbursts that had targeted both. "Our priority right now is the formation of an independent government of experts capable of navigating the difficult economic situation that Lebanon is in, and holding early parliamentary elections," says Nour. If activists like Nour do not get their way, they will continue to occupy the streets.
Indeed, this is what happened on November 4, when after a few days of respite protesters again blocked roads throughout the country, angry with what they considered stalling by the political elite. By then, Lebanon's president, Michel Aoun, had yet to schedule consultations to name a new prime minister, even though time is of the essence given the seriousness of the economic crisis. However, the president's party was able to organize a counter-demonstration near the presidential palace on Sunday.
Maria, a 23-year-old architecture student at Notre Dame University, who has been participating in the protests in Beirut, says that the streets are the tool. "We will follow up on every decision and clearly state our disagreement, if any, through demonstrations."
In the northern city of Tripoli, Lebanon's second largest, the protests at Nour Square never stopped. One of the buildings facing the square is colored like a Lebanese flag with a banner that reads: "We will continue [in order] to bring down the president and parliament." Formerly considered a stronghold of the Sunni caretaker prime minister, Sa'd al-Hariri, Tripoli has captivated Lebanon and the world with its creative chants, light shows, and even a DJ.
'Obeida, a 29-year-old community organizer in Tripoli says people will not stop because they have "reached the brink." He adds that "there is a lot of pain in the city. All that people are asking for are basic rights and services." For 'Obeida and many like him in Tripoli, "It doesn't matter who the faces in the new government are as much as their intentions." Young people like 'Obeida, Michele, Nour, and Maria seem to agree on the following: They oppose reproducing the same political class in the new government.
"In order for us to move forward, this political class must admit that it has made a mistake," 'Obeida says. "People will not go home without fulfilling their demands for a dignified life. Even if they held elections [in the future] and new people are elected who did not meet these demands, people will take to the streets again."
An interim independent government may face many difficulties in navigating a political landscape entrenched with civil servants who are faithful to the old elite. What is clear, however, is that demonstrators will no longer accept slogans without tangible achievements. Previous mass demonstrations in Lebanon either failed or were ultimately monopolized by traditional sectarian politicians. In 2019, the popular movement has thus far rejected electing leaders to represent it. Its demands are clear, so no leaders are required. In Lebanon today, it seems like each person who has gone into the streets feels personally responsible for the success of the protest movement, and will not back down until its demands are met.
Iran and the Specter of Political Change in the Middle East
New York Times/November 06/2019
The civic revolts raging in Iraq and Lebanon are perceived by the Iranian Islamic regime as an existential threat which questions not only its regional power politics but internal rickety equilibriums. It looks at them along geopolitical and ideological continuums which tendentially undermine Iranian security and the regime's legitimacy. The impact of these events is carefully evaluated, especially at a time when Iran has a hard time dealing with American sanctions, eroding influence in Yemen after the latest agreement between the challenged central government in San'a and the Southern secessionist movement, and it's circumscribed role in Syria. The contestation of the Iraqi and Lebanese pillars of Iranian power politics are once again putting at stake its power projections, at a time when the partial withdrawal of the US from North Eastern Syria seemed to pave the way for a new tidal wave of Iranian expansionism. What is mostly worrisome is the demise of the ideological pillars of its conventional power politics for the sake of civic oriented internal political reformism.
None of the ideological leitmotivs of Iranian power politics seem to matter or to structure the political agendas of reformist political movements in Iraq and Lebanon. This blatant political apathy towards Iranian power politics intersects with the prevailing political mood within the Iranian society itself, where the priorities of internal political reforms seem totally dismissive of the regime's power politics, hollow ideological rhetorics and debased political narrative. The resumption of uranium enrichment and its military innuendos, the call for ideological radicalization and repressive politics are part of the conventional repertoire instrumentalized by the Iranian regime when coerced to deliver on major political issues, be it internally or externally. The Iranian regime apprehends international political normalization and its incidence on internal liberalization and equates it with the demise of the Islamic Revolution narrative. The deliberate sabotaging of normalization courses, political waffling and duplicity are part of its survival kit, pervasive sense of insecurity and enduring bet on complicating scenarios and strategic imponderables.
Nonetheless, what the Islamic regime seems to miss is the substantive changes in societal and political cultures, and the dominant tropes of the contemporary Zeitgeist and its impact on political dynamics. The civic rebellions, in both Iraq and Lebanon, are quite emblematic of the inter-generational divides that cannot be harnessed to the customary power games which prevail in the region: the questioning of power holders, oligarchic corruption, absence of public accountability, State violence, gender discrimination, environmental depredation, lifestyle liberalization, are not part of the usual political agenda and its basic normative framing. Hence, the Iranian regime seems to pursue its course on the very basis of its "regime of truth ", ideological blinkers, standard power politics, and ability to subvert social and political contestation. The contestation movements are bound to pursue their courses between the interstices of an imploded regional order, the collapse of normative consensuses and the hazards of colliding power politics.
Protests in Iraq, Lebanon Reveal a Long-Simmering Anger at Iran
Associated Press/Naharnet/November 06/2019
The shoes are coming off again in Iraq.
In years past, Iraqis have beaten their shoes against portraits of Saddam Hussein in a sign of anger and insult. In 2008, an Iraqi journalist threw his shoes at a ducking President George W. Bush during a news conference to vent his outrage at the U.S.-led invasion.
Now protesters in Baghdad's Tahrir Square are using their shoes again — slapping them against banners depicting Ayatollah Ali Khamenei, Iran's supreme leader.
More violent demonstrations of their fury have erupted in southern Iraq, where protesters have torched the headquarters of parties and militias linked to Iran and thrown firebombs at an Iranian Consulate.
The anti-government protests that have convulsed Iraq in the past month are fueled by economic grievances and are mainly directed at Iraq's own political leaders. But they have also exposed long-simmering resentment at Iran's influence in the country, with protesters targeting Shiite political parties and militias with close ties to Tehran.
The uprising in Iraq, and similar anti-government protests underway in Lebanon, pose a threat to key Iranian allies at a time when Tehran is under mounting pressure from U.S. sanctions. "There's a lack of respect. They act like they are the sons of this country and we are beneath them," said Hassanein Ali, 35, who is from the Shiite holy city of Karbala but came to Baghdad to protest. "I feel like the Iranian Embassy controls the government and they are the ones repressing the demonstrators. I want Iran to leave."That the protesters are mainly from Shiite areas undermines Iran's claim to be a champion of Shiites, who are a majority in Iraq and Iran but a frequently oppressed minority in the wider Muslim world. "This has embarrassed Shiite leaders close to Iran," said Wathiq al-Hashimi, a Baghdad-based analyst. "After these demonstrations, Iran may lose Iraq by losing the Shiite street."
In Tahrir Square, protesters have brandished crossed-out pictures of Khamenei and Gen. Qassim Soleimani, the architect of Iran's regional military interventions who has helped direct the response to the rallies. Demonstrators have beaten the posters with their shoes in a replay of scenes from the ouster of Saddam 16 years ago. As in many cultures, shoes are regarded as inherently dirty in Arab countries. Last week in Baghdad, a version of the Iranian flag was painted on the pavement with a swastika on it so protesters could walk on the image.
On Sunday night in Karbala, protesters climbed the walls of the Iranian Consulate by the light of burning tires as the crowd chanted "The people want the fall of the regime," one of the main slogans from the 2011 Arab Spring. Security forces dispersed the protest, killing at least three people and wounding nearly 20. The demonstration came less than a week after masked men suspected of links to the security forces opened fire on a demonstration in Karbala, killing at least 18 people.
BLAMING IRAN
Many protesters blame Iran and its allies for deadly violence in the southern city of Basra last year and during a wave of protests in early October, in which Iraqi security forces killed nearly 150 people in less than a week, with snipers shooting protesters in the head and chest. The spontaneous protests resumed on Oct. 25 and have only grown in recent days, with tens of thousands of people packing central Baghdad and holding rallies in cities across the Shiite south. The protesters have blocked roads and ports and have clashed with security forces on bridges leading to Baghdad's Green Zone, the seat of power. More than 110 people have been killed since the demonstrations resumed. But the grievances go way back.
Iran, which fought a devastating war with Iraq in the 1980s, emerged as a major power broker after the American invasion, supporting Shiite Islamist parties and militias that have dominated the country since then. It also supports many of the militias that mobilized in 2014 to battle the Islamic State group, gaining outsized influence as they fought along with security forces and U.S. troops to defeat the extremists. Those militias, known as the Popular Mobilization Forces, have since grown into a powerful political faction with the second-most seats in parliament. "People make a direct connection between the failure and the corruption of the Shia political establishment, both politicians and some clerics, and the Iranian interference in Iraqi affairs," said Maria Fantappie, an expert on Iraq with the Brussels-based Crisis Group, a global think tank. There has been a "drastic change" in the perception of the Popular Mobilization Forces, with many protesters viewing them as an instrument of repression, she said. A broader crackdown on the protests "would backfire on them in a massive way."
WAITING IT OUT
Lebanon also has seen huge demonstrations in recent weeks against its ruling elite and government, which is dominated by allies of the Iran-backed Hizbullah militant group. They included, for the first time, protests in Shiite-majority communities seen as Hizbullah strongholds. But there the response has been different. With the exception of a brief and nonlethal attack on the main protest site in Beirut last week by supporters of Hizbullah and the Shiite Amal party, the militant group has refrained from confronting protesters, and Lebanese security forces have acted with restraint. Hizbullah and its allies have expressed sympathy for the protesters' demands and have called for the quick formation of a new government following the resignation of Prime Minister Saad Hariri last week. But they have also cast aspersions on the protesters, alleging that the U.S. and other Western powers are manipulating them to try to drag the country back into civil war. Iran's allies in Iraq appear to have adopted a similar response. Iraqi President Barham Salih, a member of a Kurdish party close to Iran, said he will approve early elections once a new electoral law is enacted. Prime Minister Adel Abdul-Mahdi, another veteran politician, has expressed support for the protesters but urged them to reopen roads so life can get back to normal. Qais al-Khazali, the leader of one of Iraq's most powerful Iranian-backed Shiite militias, said this week that the U.S., Israel, Arab Gulf nations and unspecified local officials are working to "incite strife and chaos."
The Trump administration, which has expressed support for the protests in Iraq, could inadvertently aid that narrative by linking them to its own efforts to curb Iran's influence. That could provoke a similar backlash against the U.S., which still has thousands of troops in Iraq and is also widely seen as having meddled in the country's affairs. Political leaders in Iraq and Lebanon have yet to offer concrete proposals to meet protesters' demands. The process of forming a new government in either country would take months, and without fundamental change would leave the same political factions in power.
In the meantime, Iran has sought to keep its alliances intact. Soleimani traveled to Najaf over the weekend to meet with top Shiite clerics, according to three Shiite political officials who spoke on condition of anonymity to discuss the talks. Iran's allies appear to be betting that as the weeks and months go by, the public will grow frustrated at the road closures and other disruptions to daily life, and that the protests will gradually fizzle out. There are already signs of frustration. Saddam Mohsen, a Baghdad resident, said the closure of three central bridges after clashes between protesters and security forces has worsened the city's already terrible traffic, causing "huge problems." "Shutting down three bridges means shutting down half of Baghdad," he said.