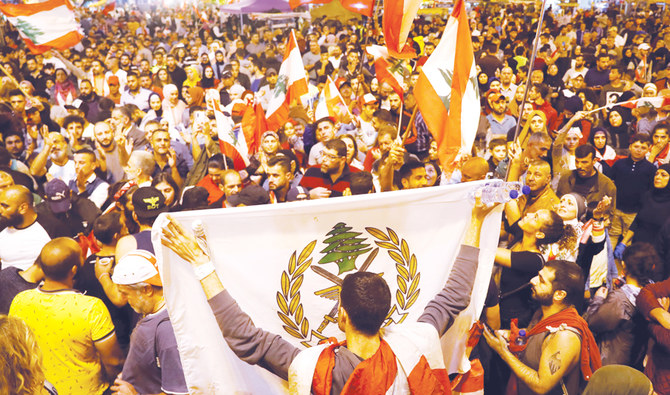 A Bundle Of English Reports, News and Editorials For November 02-03/2019 Addressing the On Going Mass Demonstrations & Sit In-ins In Iranian Occupied Lebanon in its 17th Day
Compiled By: Elias Bejjani
November 02-03/2019
Titles For The Latest English LCCC Lebanese & Lebanese Related News published on November 02-03/2019
Western Powers Call for Speedy Formation of Lebanese Govt. of Technocrats
Lebanon's Banks See No 'Extraordinary Movement' of Money on Reopening
Lebanon: Protesters Pressure Political Parties to Speed up Cabinet Formation
Report: PM Could Be Named Tuesday, Stakes High for 14-Member Cabinet
Sfeir Says Banks See No Unusual Movement of Funds after Protests
Fitch: Changing Lebanon's Dollar Peg Would Be Painful, But Benefits
Police Arrest Man for Making Threats to Bomb Bank
Protesters Rally near Baabda Palace, Several Hurt in Sidon Scuffle
Lebanon president seeks to solve 'complications' before new PM consultations
President Michel Aoun has not yet set a date to hold a formal consultations to Name A New PM
The Latest English LCCC Lebanese & Lebanese Related News published on November 02-03/2019
Thabet Thabet Is Canadian Lebanese Patriot Held Hostage In Occupied Lebanon
الحرية للمخطوف في لبنان الكندي اللبناني تابت تابت
Elias Bejjani/November 02/2019
http://eliasbejjaninews.com/archives/80128/elias-bejjani-thabet-thabet-is-canadian-lebanese-patriot-held-hostage-in-occupied-lebanon/
Mr. Tahbet Thabet is a Canadian – Lebanese citizen and a freedom peaceful advocate and activist.
Mr. Thabet was arbitrarily and unlawfully was arrested at the Lebanese Beirut airport few days ago while he was trying to enter Lebanon in a bid to visit his parents.
Up till today no one know where he is held, or why he was arrested and according to what charges. Based on its oppressive record the Lebanese authorities might fabricate a case of treason against him, as they do with many of the Lebanese Diaspora freedom advocates and activists.
We learned from unconfirmed resources that the Lebanese military authorities are not allowing him to see a lawyer or even meet with any visitor.
We call on the Canadian government and the Canadian embassy in Lebanon to follow up on Mr. Thabet's case who is actually a hostage, no more no less.
We strongly believe that the Canadian Government, and the Canadian embassy in Lebanon both by law carry a legal and ethical obligation to ensure by all means that Mr. Thabet is not tortured and that he is set free and returned safely to Canada to be with his family.
Yes, Mr. Thabet has been very active on all the social media facilities in advocating for a free and independent Lebanon, and at the same criticizing and opposing the puppet subservient Lebanese authorises and officials. But he did not break any Canadian law and simply he was practising his own holy right in voicing his free and patriotic opinion in a very peaceful mean.
Meanwhile, we call on each and every free and patriotic Lebanese in the Iranian occupied Lebanon, as well in all Diaspora countries to consider Thabet's case as their own. Yes as their own because each free and patriotic Diaspora Lebanese might confront the same hostage fate and be taken hostage when ever he or she decides to visit their home land at any time.
Once again Mr. Thabet is a genuine patriot and an active advocate for a free Lebanon.
It is worth mentioning that Mr. Thabet and before his immigrating to Canada has served in the Lebanese army as a Lebanese soldier.
We, call also on all the human rights' organization, in Lebanon and world-wide to adopt Mr. Thabet's case and work on freeing him as soon as possible.
While waiting for the next crisis or next war, is regretting being born in Lebanon.
Roger Bejjani/Face Book/November 02/2019
47 days after I turned 18, the war started in Lebanon between on the one hand the paramilitary Lebanese groups predominantly Christian and on the other hand the PLO/other paramilitary groups predominantly Muslim. The latter insisted on burning Lebanon for the service of the Palestinian and pan-Arab cause.
44 years later, and after going through all sorts of hell during those 44 years, we are @ the mercy of a terrorist organization that names Presidents, PMs, defines the foreign policy through few stooges and represents a permanent clear and present danger that threatens the livelihood of what's left of this conglomerate of retarded and retrograded sects.
Not a single day of normal life in this country that I learned to hate.
The same shallow people who considered the young men and women of 1975 as gangsters (ze3ran), did applaud the election of Bachir, avoid today talking about Hezbollah and have lived recently the illusion of having a "revolution" against "corruption".
The insurmontable problem is that there is nothing that can be done. Nothing. I don't know who's more reliable: the demonstrators or the governors.
Even splitting the country in 2 is impossible. Not on sectarian base but rather between secular peaceful haven and a resistance black hell hole is practically not doable.
The only concrete thing that is left for me at age 62, while waiting for the next crisis or next war, is regretting being born in Lebanon.
Our only chance is either:
(a) a successful uprise of the Iranian people against the Mollahs. Difficult task with the revolutionary guard and the Bassijs.
(b) a war that would wipe out Iranian and/or Hezbollah capabilities.
Peaceful demonstrations are cute and lovely but will not lead to the Lebanon we want, even if corruption is wiped out and all proven guilty of such are jailed. The country will never witness growth and stability and a secular peaceful state will remain a dream with Hezbollah.
The demographic analysis of the October popular uprise
Roger Bejjani/Face Book/November 02/2019
The demographic analysis of the October popular uprise can be defined as follows:
1. A core group of communist hard liners, responsible of igniting the streets ( and responsible in killing 2 Syrian poor workers in their sleep the first night and destroying properties). Those do not represent even 1% of the total crowd.
2. Opportunistic party: Sab3a that tried to ride the wave. Probably another 1%.
3. Intellectuals (the best chunk of the protestors) with free minds and great ideas. Less than 1%.
4. Some uncommissioned parties' members or parties' sympathizers. Maybe 2%.
5. University students who want to finish with the sectarian corrupt anti- state building system (5%).
6. A certain bourgeoisie that firmly and truly believe that we need to change the way this country is governed (10%).
7. And 75% of the needy (genuinely) but quite ignorant people.
Whereas the non participating crowd were:
Amal, Hezbollah, PSP, PSNS, Aounist, Mustaqbal and most of the LF and Kataeb crowds (partisans and sympathizers).
The majority of Shi'a, Sunni, Druze and Christians did not participate in the protests.
Western Powers Call for Speedy Formation of Lebanese Govt. of Technocrats
Beirut – Khalil Fleihan/Saturday, 2 November, 2019
Major powers have displayed great interest in the popular protests that swept Lebanon since October 17 and which led to Prime Minister Saad Hariri's resignation on Tuesday. The foreign ministers of the United States, France, Germany and Italy have called on Lebanon to quickly form a new government of technocrats, free of any political or party representatives that were present in the resigned cabinet, said western ambassadors, according to a diplomatic source. President Michel Aoun and other political parties and movements have accepted this demand, the western diplomat told Asharq Al-Awsat. Despite Hariri's resignation, the people took to the streets on Wednesday to demand Aoun to accept his resignation and criticize him for failing to call for binding parliamentary consultations required for naming the next prime minister. The ambassadors and protesters were not convinced by some justifications that were leaked by sources from the Baabda presidential palace to explain the delay. Consultations must normally kick off the day after a premier steps down. Baabda sources had said Aoun did not set the date for consultations because he was surprised by Hariri's decision to quit and which he was not informed of. They also said that several heads of parliamentary blocs were traveling abroad. They also cited the numerous roads that were blocked by protesters and which hampered the travel of lawmakers, which forced the delay of the consultations. The ambassadors hoped that the process of political change would kick off in Lebanon without delay. The sources warned that the people should not be underestimated and that they would be ready to return to the streets in droves to press their demands, in spite of the rain and riot police that have recently prevented them from blocking roads.
Lebanon's Banks See No 'Extraordinary Movement' of Money on Reopening
Asharq Al-Awsat/Saturday, 2 November, 2019
Lebanon's banks did not see "any extraordinary movement" of money on Friday or Saturday, the first two days they reopened to the public after a two-week closure due to nationwide protests, the head of the banking association said on Saturday. "The reaction was almost the way we expected and anticipated. However, people were asking a lot of questions and we provided as much assurances as possible," Salim Sfeir, head of the Association of Banks in Lebanon, told Reuters by email. Central bank Governor Riad Salameh said the reopening of banks "in general … did not cause any disturbance at any bank". "This is important given the long period of shut down and the events our country went through," he told Reuters in written comments.Analysts and bankers had cited widespread concern about a rush by depositors to withdraw their savings or transfer them abroad when the banks reopened. The nationwide protests that erupted on October 17  tipped Lebanon into political turmoil as it grapples with the worst economic crisis since the 1975-90 civil war. The uprisings led Saad Hariri to quit as prime minister this week. "We are trying to counter rumors and avoid panic in order to prevent any unnecessary and unjustified withdrawals," Sfeir said. When banks opened their doors on Friday, no formal capital controls were imposed, but customers encountered new curbs on transfers abroad and withdrawals from US dollar accounts, bankers and customers said. "No formal capital controls are considered," Salameh said on Saturday, adding that such a move would require a vote in parliament. "The banks are professionally handling [the situation] and the central bank is backing them," he said. A banking source said branch operations so far had been "better than expected".Amid rain, protest activity was low on Saturday, but there were calls on social media for gatherings later in the day.
Lebanon: Protesters Pressure Political Parties to Speed up Cabinet Formation
Beirut – Nazeer Rida/Asharq Al-Awsat/Saturday, 2 November, 2019
Sporadic protests and ongoing street tension across Lebanon have put additional pressure on political parties to initiate contacts aimed at forming a "salvation government" capable of listening to the people's demands following the resignation of Prime Minister Saad Hariri Sources told Asharq Al-Awsat on Friday that most parties were pushing for the formation of a smaller cabinet but have not yet agreed on the Sunni figure who will head it. The sources said all the parties agree that the next cabinet should be different from the one headed by Hariri, who resigned 13 days after mass protests gripped the country.
After clinching their first victory in bringing the government down, protesters are now asking for swift measures to form the new cabinet, resorting to road closures despite the Lebanese army's repeated attempts to open major highways. Clashes with the army in Sidon left one person injured when protesters blocked the road near the southern city's central bank branch. In Beirut, some protesters sat on the ground in Mar Elias street, while others stormed the headquarters of the Association of Banks in Lebanon in the city center to protest new banking policies. A group of protesters also organized a demonstration near the Presidential Palace in Baabda, giving political parties a two-week deadline to form a new government. The ongoing protests pushed several parties to announce their vision for the next cabinet. Lebanese Forces chief Samir Geagea called for a "salvation government," formed of independents and experts. Hezbollah Secretary General Hassan Nasrallah said that the new government should be formed as soon as possible and should listen to the demands of the people. In his televised speech, Nasrallah stressed that the cabinet should also work to regain the people's confidence and be transparent.
Report: PM Could Be Named Tuesday, Stakes High for 14-Member Cabinet
Naharnet/November 02/2019
Caretaker Prime Minister Saad Hariri will likely be named to form a new government amid reports saying the size of the government could be reduced to 14 ministers from the original 30, al-Liwaa daily reported on Saturday. An unnamed source told the daily that the ongoing consultations between political parties have reportedly "agreed" to reassign Hariri to form a new government, and that the decree could be issued on "Tuesday." They said that discussions weighed the possibility of lining-up a "14-member cabinet, half of them technocrats and half politicians."The source expected the "designation journey to take time due to the current circumstances and pressures."

Sfeir Says Banks See No Unusual Movement of Funds after Protests
Naharnet/November 02/2019
Chairman of the Association of Banks in Lebanon Salim Sfeir assured on Saturday that Lebanese banks have not seen "any unusual or extraordinary movements" of funds on Friday and Saturday after a two-week closure due to protests across the country, media reports said. Sfeir said the banks have reopened to the public and the reaction of people was almost "expected and anticipated." He added that banks were keen on providing assurances to the people. Lebanon banks reopened for the first time in two weeks Friday as the country began to return to normal following mass demonstrations for radical political change. There has been widespread concern that the reopening of the banks will be accompanied by a mass withdrawal of deposits and transfer of funds abroad. In addition to fear of a devaluation of the Lebanese pound but the central bank said the currency was still pegged to the greenback at 1,507 pounds to the dollar.
Fitch: Changing Lebanon's Dollar Peg Would Be Painful, But Benefits
Reuters/November 02/2019
Changing Lebanon's currency peg to the dollar would be a painful move that would see the country's pound weaken sharply though it could also reap long-term benefits, ratings agency Fitch's Director, Sovereigns Toby Iles said. The 22-year-old currency peg has come under increasing scrutiny as the country grapples with its worst economic crisis in decades amid widespread protests that toppled the coalition government of Saad al-Hariri. "If you were to change the peg, it amounts to a repricing of the Lebanese economy …and given the imbalances that one sees in Lebanon, such as the current account deficit, it would result in a much weaker currency," Iles told Reuters. "The near-term costs of coming off the peg would be painful, even if an adjustment could bring long-term benefits." A number of countries have unshackled currencies in recent years to allow economies to adjust to large current account deficits and other imbalances. The central bank has repeatedly ruled out a break in the peg which fixes the pound at 1,507.5 to the dollar. But with black market exchange rates indicating a discount of more than 20% in recent days, observers say a double-digit devaluation has become increasingly likely.
The possible imposition of capital controls as banks reopened on Friday following a two-week closure posed a "big question", said Iles. "Even if it could help stem outflows in the near term, Lebanon needs inflows, and failure to get the inflows would mean a huge readjustment of the economy in a very short period of time, and a massive recession," he said. "And how would that play into political dynamics?" The central bank promised not to introduce controls when banks re-opened. While no formal curbs were imposed, banks told customers they could not transfer funds abroad unless for specific reasons such as education, health or family support. Customers also faced limits on U.S. dollar account withdrawals. With 75% of deposits denominated in dollars, possible large withdrawals could hit FX reserves as banks face a big mismatch in FX liabilities, or short-term deposits, and FX assets, or dollars parked at the central bank which – apart from reserve requirements – had longer maturities, said Iles. "Would it allow banks to access their U.S. dollar deposits at the central bank ahead of maturity to make dollars available? If it did that, then any bank run on U.S. dollar deposits would feed through on lower FX reserves, and that would be kind of a self-reinforcing cycle."
Police Arrest Man for Making Threats to Bomb Bank
Naharnet/November 02/2019
Police on Saturday arrested a man for making threats to bomb a bank in the southern city of Tyre. Early on Saturday, the security forces cordoned off MEAB bank at the Jumblat roundabout in the city after finding a paper with threats to bomb the bank, the National News Agency reported.
Security Forces ran investigations and were able to arrest the culprit. The suspect, Lebanese, admitted his motives were on "personal backgrounds."
Protesters Rally near Baabda Palace, Several Hurt in Sidon Scuffle
Naharnet/November 02/2019
Around 30 protesters on Friday staged a symbolic rally near the presidential palace in Baabda, demanding "the speeding up of the (binding) parliamentary consultations" necessary to form a new government. "Consultations Now!" read the banners that they carried. In a statement recited at the sit-in, the protesters said the new government should comprise competent figures from outside the political class, warning that the cabinet formation process should not take more than two weeks. Another group of protesters meanwhile rallied outside al-Helou barracks in Corniche al-Mazraa to demand the release of an activist who was held in the morning in connection with the storming of the building of the Association of Banks in Lebanon in downtown Beirut. All others activists held over the move had been released earlier in the day. The protesters later left the area after being told that the activist will be released later in the day. They had blocked the road outside the barracks in both directions. In the southern city of Sidon, five protesters and two soldiers were meanwhile injured as the army intervened to reopen the blocked Elia roundabout, MTV said. Lebanon's banks reopened for the first time in two weeks Friday as the country began to return to normal following mass demonstrations for radical political change. The unprecedented popular push to remove a political class seen as corrupt, incompetent and sectarian, had kept the country on lockdown since October 17. On Tuesday, Prime Minister Saad Hariri submitted his government's resignation in response to pressure from the street, despite warnings from some of his senior coalition partners against such a move. Hizbullah leader Sayyed Hassan Nasrallah on Friday said that his party did not back the government's resignation.
Instead, it would have preferred quick reforms combatting corruption, Nasrallah said in a televised speech.
He called for a swift replacement, warning against the chaos caused by a void in government, and urged dialogue between parliament and representatives of the protest movement. President Michel Aoun on Thursday said ministers in the next government should be picked for their skills, not their political affiliation, appearing to endorse demonstrators' demands for a government of technocrats. Aoun has asked Hariri's government to stay on in a caretaker capacity until a new one can be formed, but Lebanon has entered a phase of acute political uncertainty, even by its own dysfunctional standards. With a power-sharing system organized along communal and sectarian lines, the allocation of ministerial posts can typically take months, a delay Lebanon's donors say the debt-saddled country can ill afford.
Lebanon president seeks to solve 'complications' before new PM consultations
AFP, Tripoli, Lebanon/Sunday, 3 November 2019
Thousands of Lebanese flocked together in Tripoli on Saturday, an AFP reporter said, to keep a protest movement alive in a northern city dubbed "the bride of the revolution," Despite its reputation for conservatism, impoverished Tripoli has emerged as a festive nerve center of anti-graft demonstrations across Lebanon since October 17. The movement has lost momentum in the capital since the government resigned this week, but in the Sunni-majority city of Tripoli late Saturday it was still going strong. In the main square, protesters waved Lebanese flags and held aloft mobile phones as torches, before bellowing out the national anthem in unison, the reporter said. "Everyone means everyone," one poster read, reiterating a common slogan calling for all political leaders from across the sectarian spectrum to step down. Many people had journeyed from other parts of the country to join in. Ragheed Chehayeb, 38, said he had driven in from the central town of Aley. "I came to Tripoli to stand by their side because they're the only ones continuing the revolution," he said. Leila Fadl, 50, said she had travelled from the Shiite town of Nabatiyeh south of Beirut to Tripoli to show her support. "We feel the demands are the same, the suffering is the same," she said. In Tripoli, more than half live at or below the poverty line and 26 percent suffer extreme poverty, a UN study found in 2015. On Tuesday embattled Prime Minister Saad Hariri announced his cabinet would step down. But it is still unclear what a new government would look like and if it would meet protesters' demands that it include independent experts. Roads and banks have reopened after nearly two weeks of nationwide paralysis. Fahmy Karame, 49, called for a "rapid solution to the economic crisis." "We're waiting for a government of technocrats," he said. In the Lebanese capital, hundreds protested on Saturday evening after a day of rain. "Down with the rule of the central bank," they shouted at the top of their lungs, clapping their hands near the institution's headquarters.Economic growth in Lebanon has stalled in recent years in the wake of repeated political crises, compounded by an eight-year civil war in neighboring Syria.

President Michel Aoun has not yet set a date to hold a formal consultations to Name A New PM
Reuters, Beirut/Saturday, 2 November 2019
Lebanon's president said on Saturday he will soon set a date for formal consultations with lawmakers to pick a new prime minister following Saad al-Hariri's resignation this week, but is working to resolve some complications first. President Michel Aoun is obliged to hold a formal period of consultations with members of parliament and designate the figure with the most support as the new prime minister who will be tasked with forming a government. Aoun has not yet set a date for those consultations to begin, but said he had been making the "necessary calls" to lay the ground for them to start.
"The challenges in front of the future government require a rapid but not hasty approach to the designation process, because rushing in such cases can have harmful consequences," the presidency media office said in a statement. The statement said Aoun needed to resolve some complications but did not elaborate. Prime Minister Hariri resigned on Tuesday after nationwide anti-government protests. The protests have been less intense since he resigned, but demonstrators are still on the streets, and one of their main demands is for the rapid formation of a new government led by technocrats to carry out badly needed economic reforms. The nationwide protests that erupted on October 17 tipped Lebanon into political turmoil as it grapples with the worst economic crisis since the 1975-90 civil war. The uprisings caused banks to close for two weeks on security concerns. Analysts and bankers had cited widespread concern about a rush by depositors to withdraw their savings or transfer them abroad when the banks reopened. No formal capital controls were imposed when banks opened their doors on Friday, but customers encountered new curbs on transfers abroad and withdrawals from US dollar accounts, bankers and customers said. The head of Lebanon's banking association said banks did not see "any extraordinary movement" of money on Friday or Saturday. Central bank Governor Riad Salameh said the reopening of banks "in general … did not cause any disturbance at any bank".
Titles For The Latest Lebanese LCCC English analysis & editorials from miscellaneous sources published on November 02-03/2019
Thabet Thabet Is Canadian Lebanese Patriot Held Hostage In Occupied Lebanon/Elias Bejjani/November 02/2019
While waiting for the next crisis or next war, is regretting being born in Lebanon./Roger Bejjani/Face Book/November 02/2019
The demographic analysis of the October popular uprise/Roger Bejjani/Face Book/November 02/2019
Lebanese protesters plan rally for 'salvation' government/Nagia Houssari/Arab News/2019
Protesters in Iraq and Lebanon are shunning Iran's influence/The National/November 02/2019
With Lebanon making fragile progress, now is the wrong time to pull US assistance/Jeffrey Feltman/brookings/November 02/2019
White House Freezes Military Aid to Lebanon, Against Wishes of Congress, State Dept. and Pentagon/Edward Wong, Vivian Yee and Michael Crowley/The New York Times/November 02/2019
Lebanon's government has fallen: but will anything change?/The National/November 02/2019
From Iraq to Lebanon, Iran's expansionist project is under siege/Raghida Dergham/The National/November 02/2019
Why the key to Lebanon's future may lie in its past/Dania Koleilat Khatib/Arab News/November 02/2019
Lebanese with special needs revolt/Maysaa Ajjan/Annahar/November 02/2019
The Latest LCCC English analysis & editorials from miscellaneous sources published on November 02-03/2019
Lebanese protesters plan rally for 'salvation' government
Nagia Houssari/Arab News/2019
Future Movement warns 'coexistence between Hariri and Bassil no longer possible'
BEIRUT: Protesters in Lebanon are planning mass demonstrations on Sunday in Riad Al-Solh and Martyrs' Square in the heart of Beirut to further their demands for political reform in the country. Zeina Al-Helou, a public affairs analyst, told Arab News that "the call to bring down the government has been met, but there are other demands we want to achieve." Protesters are now focused on forming a government from outside the ruling political groups, she said. "We did not topple Saad Hariri personally, but we toppled a government that includes Hezbollah, the Free Patriotic Movement and other political components, because their political practice over the years brought us to the situation we are in," she added. Protests across the country eased on Saturday, the 17th day of unrest. Meanwhile, supporters of the Amal Movement staged a counter-protest near the home of Parliamentary Speaker Nabih Berri following a rumor on social media that protesters would rally there on Saturday to call for his resignation. Al-Helou said that although the social media rumor was false, "protesters' enthusiasm has not cooled."
"We are counting on people to join the central rally on Sunday. The protests are continuing," she said.
"Protesters are in one valley and the political forces in power are in another," she said.
Al-Helou said that the Lebanese authorities "are all betting on procrastination and negotiating their shares. They do not know that the people have something else in mind. "It is not our goal to bring in a government that follows the same approach and style. This is not what is required. People are more aware than the authorities and their demand is a salvation government with specific powers to reform the judiciary, adopt an electoral law, hold early elections and set laws to prevent collapse. It is not enough to have a technocrat government; it must understand and feel the people's pain. "We will spare no effort to use the street as a means of pressure," she added. Lebanon's presidency has yet to issue a schedule of parliamentary consultations to appoint a replacement for Hariri, who resigned four days ago.
The protesters are in one valley and the political forces in power are in another. The Presidential Press Office said on Saturday that President Michel Aoun has been making the necessary contacts, "but the current situation in the country requires a calm handling."
"Expediting consultations in such cases can have harmful repercussions," the presidency said. Meanwhile, a leading figure in the Future Movement, Mustafa Alloush, said that communication "is no longer possible between Prime Minister Hariri and the head of the Free Patriotic Movement, Gibran Bassil, and the past experience between the two men made the coexistence between them intolerable after the dictates became boundless."
"Bassil is a person who wants everything in the state. Coexistence with him is impossible," Alloush said. "The sovereign government demanded by Hezbollah leader Hassan Nasrallah is a government that maintains the same balance of the outgoing government, and Hezbollah refuses to change the current structure," Alloush said. "The structure of the current system is no longer useful today and the opposition must be a real force of pressure. We refuse to be in a government ruled by Gibran Bassil."Supporters of the Free Patriotic Movement are due to hold a protest near the presidential palace on Sunday.
Protesters in Iraq and Lebanon are shunning Iran's influence
The National/November 02/2019
Tehran is no longer as powerful as it used to be, it is scrambling to keep its stranglehold on the two countries as the popularity of its proxies wanes
This past week has seen unprecedented and seismic upheaval across the region as Lebanese and Iraqi citizens of all sects have mobilised in their respective countries to demand better living conditions, the fall of a corrupt and sectarian ruling elite, and an end to foreign interference in their nations' affairs.
In Iraq, protesters have been gathering for the past month to call for an overhaul of deeply entrenched flaws in the ruling class, yet their legitimate demands have been met with bullets and teargas by authorities and Iran-backed militias. The backlash has not stopped people from demonstrating and on Friday, Iraq saw its largest protests since the fall of Saddam Hussein, with thousands gathering in central Baghdad. At least 250 people have been killed in the past few months. In Lebanon, the protest movement that has seen more than one million pouring onto the street have yet to dissipate, even after prime minister Saad Hariri and his government stepped down last week.
Faced with an impasse, Iraqi president Barham Salih accepted prime minister Adel Abdul Mahdi's resignation on condition it did not create a "constitutional vacuum". But just as Mr Hariri's resignation did not resolve Lebanon's woes, Mr Abdul Mahdi stepping down will not bring an end to Iraq's crises. An overhaul of the sectarian-based political systems in Iraq and Lebanon is needed to weaken Iran's grip on the two nations, which has contributed to the rise of clientelism and deep internal divisions that have led to today's stalemate. But Tehran will not give up its scramble for power that easily.
On Wednesday, Qassem Soleimani, the head of the Islamic Revolutionary Guards Corps, went to Baghdad in a bid to stop Mr Abdul Mahdi's resignation. This was not his first visit to Iraq since the uprising began on October 1. The day after protests erupted, Mr Soleimani headed a meeting with top Iraqi security officials in Baghdad, eclipsing the prime minister's authority. The day after his visit, more than 100 people were killed at the hands of unidentified snipers and members of Iran-backed militias. The issue of militias is one that has brought troubles to Iraq for years, and today are under the banner of the Popular Mobilisation Forces (PMF). Although they were meant to be integrated into the Iraqi military after helping defeat ISIS and supposedly answerable to the prime minister, the 40 factions that make up the PMF have varying political allegiances and often act without accountability or authority. In September, the PMF even announced it would be launching its own airforce, separate to Iraqi defence forces. Tehran is anxious to keep wielding influence via such proxies – no matter the cost to Iraqi lives or sovereignty.
In Iraq and Lebanon, citizens are waking up to the reality that sectarianism only divides nations, giving foreign powers such as Iran a chance to interfere
Although Mr Soleimani's presence in Baghdad signals Iran's meddling is as brazen as ever, the fact the IRGC chief has felt the need to visit Iraq several times since the start of protests shows that Tehran is no longer as powerful as it used to be. It is scrambling to keep its stranglehold on the country as the popularity of its proxies wanes across the region. There is no better proof of this decline than the fact that Hezbollah's elusive leader Hassan Nasrallah, who seldom makes public statements, has appeared in three televised speeches in two weeks since the start of Lebanon's protests. Iran and its proxies are clutching at straws as their power is seriously challenged.
In both Iraq and Lebanon, citizens are waking up to the reality that sectarianism only divides nations, giving foreign powers such as Iran a chance to interfere with their sovereignty. Iran had sought to portray itself as a defender of Shiites, cashing in on sectarian divisions to finance armed proxies that terrorise ordinary civilians. But Iraq's protests first broke out in the country's Shiite-majority south, a sign that people in the community are tired of being manipulated by Tehran – a regime that claims to protect them but has not held back from spilling Iraqi blood in Karbala and Baghdad.
But protesters refuse to be intimidated. Despite the soaring death toll, they are taking to the streets of Iraq in even larger numbers and have attacked Iran's proxy militias directly. Last week, they marched on the headquarters of Asaib Ahl Al Haq, a PMF militia, in Nasiriyah and were met with gunfire. In the southern city of Diwaniyah, 12 demonstrators were killed when the headquarters of the Badr Organisation, another PMF unit, was set alight.
The fact demonstrators are ready to give their lives to fight back against militias shows the extent of their rejection of these forces. These proxies have effectively stolen their right to self-determination and prevented a country with a wealth of oil, history and religious sites of significance for Sunnis and Shiites alike, from flourishing and providing its citizens with a decent living. Iraqis want a sovereign nation, one that prioritises their rights and needs above those of any other country. After decades of hardships, it is high time for Iraq's leaders to heed these demands and stop the bloodshed.
With Lebanon making fragile progress, now is the wrong time to pull US assistance
جيفري فيلتمن ينتقد الإدارة الأميركية لتجميدها مساعدة للبنان بقيمة 105 مليون دولار في ظل وضع لبنان الحالي العش
Jeffrey Feltman/brookings/November 02/2019
http://eliasbejjaninews.com/archives/80119/%d8%ac%d9%8a%d9%81%d8%b1%d9%8a-%d9%81%d9%8a%d9%84%d8%aa%d9%85%d9%86-%d9%8a%d9%86%d8%aa%d9%82%d8%af-%d8%a7%d9%84%d8%a5%d8%af%d8%a7%d8%b1%d8%a9-%d8%a7%d9%84%d8%a3%d9%85%d9%8a%d8%b1%d9%83%d9%8a%d8%a9/
Lebanon's protesters show that the once-unthinkable may now be plausible. The proxies of Iran and Syria in Lebanon, after years of solidarity, show tentative signs of diverging. With even Shia protesters on the street, and with Hezbollah Secretary-General Hassan Nasrallah's calls to disperse unheeded, Hezbollah's façade of invincibility is showing cracks. The Lebanese army and security forces have responded with admirable courage, restraint, and independence in defying calls by Hezbollah leaders and private pleas from the presidential palace to clear the streets. In contrast with unprecedented and overt criticism of Hezbollah, public support for the Lebanese Armed Forces (LAF) is soaring.
These trends, while nascent and fragile, are promising and very much in U.S. interests. Yet rather than reinforcing them, the White House, in an astonishingly ill-timed decision, suspended $105 million in U.S. security assistance to the very institutions that have defied Hezbollah's demands to end the protests. The Trump administration's move gives both Damascus and Tehran the gift of a unifying message to the Lebanese about America's unreliability as a partner. It also undercuts the argument that the LAF — with improving capabilities thanks primarily to U.S. support — provides better and more professional security for Lebanon than Hezbollah's rockets, which only create dangers rather than provide genuine protection. (Those who argue that the LAF is mere cover for, or an enabler of, Hezbollah underestimate the increasing annoyance of LAF officers, who know how much the LAF's capacities have grown thanks to the United States, with Hezbollah's arrogance and constant belittling of the army. LAF pride and capabilities, both linked to years of sustained U.S. support, endanger Hezbollah's "resistance" narrative.)
These trends, while nascent and fragile, are promising and very much in U.S. interests. Yet rather than reinforcing them, the White House [issued] an astonishingly ill-timed decision.
For years, Iranian and Syrian interests and tactics in Lebanon have largely coincided: They seek to discredit and divide the so-called "March 14" movement that emerged against Damascus and Tehran in the aftermath of the murder of former Prime Minister Rafiq Hariri in 2005; "resist" U.S. and French efforts to bolster's Lebanon's sovereignty and independence; and use Lebanon to threaten Israel.
Meanwhile, Hezbollah has expanded its influence in, and in some cases control over, Lebanon's domestic institutions via its 2006 memorandum of understanding with the Free Patriotic Movement (FPM), a Christian party. The FPM gave Hezbollah, an Iranian-supported Shia terrorist group, the veneer of national, cross-sectarian political legitimacy it previously lacked. Hezbollah returned the favor by backing FPM founder Michel Aoun for president three years ago. Since 2006, Aoun and his son-in-law, Foreign Minister Gebran Bassile, have been reliable fronts for Hezbollah's and thus Iran's interests in Lebanon. Until recently, Aoun and Bassile probably saw no contradiction between their alliance with Hezbollah/Iran and Damascus' interests in Lebanon.
The current demonstrations have the potential to shake the foundations of both the Iranian-Syrian solidarity in Lebanon and the Hezbollah-FPM relationship. Nasrallah has used speeches filled with innuendos and thugs on motorcycles in what so far have been unsuccessful attempts to undercut the demonstrations and prevent the Saad Hariri government from resigning. By contrast, some of Syria's traditional allies in Lebanon, including Bashar al-Assad's childhood friend Sleiman Franjieh, have remained conspicuously silent or even sent relatives to join the demonstrations. The notorious former security chief Jamil as-Sayyid, one of the enforcers of Syria's pre-2005 control over Lebanon, has issued statements sympathizing with the anti-corruption and/or anti-establishment demands of the protesters.
Moreover, Lebanese political activists detected significance in the absence of a bilateral meeting between Aoun or Bassile and the Syrian delegation on the margins of this year's U.N. General Assembly. In another reported example of how Aoun and Bassile are thought to be viewed in Damascus, no high-level Syrian official attended Aoun's U.N. General Assembly address. The value of Hezbollah's FPM-provided Christian veneer has declined precipitously, with Bassile now a favorite target of the protesters as a symbol of everything that ails Lebanon.
Iran and Syria may be starting to eye each other with suspicion in Lebanon; it would not be the first time that regional actors used Lebanon as the theater for their competition. Two Lebanese politicians speculated about a connection to what is happening in the Alawite regions of Syria, where Bashar al-Assad may view Iranian influence and Shia proselytizing as a threat to his secular, Alawite base. Assad, who would have considered Hezbollah a junior partner during the pre-2005 Syrian occupation of Lebanon, may also resent the current strength and presence of Hezbollah in Syria: Who's the junior partner now? How much control can Assad exert over Hezbollah inside Syria? Given that Assad still needs Iran's and Hezbollah's help in Syria, he can, according to this theory, use Lebanon to send a message.
One can imagine that, if Michel Aoun's ill health led to a presidential vacancy now, any Syrian-Iranian divergence would surface more visibly, with Hezbollah (and Iran) backing Bassile and Damascus wanting to restore its primacy in Lebanon via someone like Franjieh. The presumed candidacy of Lebanese Army Commander Joseph Aoun, with his enhanced credibility for independence, would be more aligned with the sentiments of the street. But the Lebanese president is elected by parliament, not the people. While the current Lebanese parliament reflects the very establishment that the protesters wish to topple, one hopes that the members of parliament will think about protesters' views if they are put in a position as to whether to choose between Damascus, Tehran, or their own Lebanese constituents.
As inspiring as the current demonstrations are, it is hard to be optimistic when no leaders with broad cross-sectarian credibility are emerging to constructively channel the energy of the streets. The worrying economic and financial situation adds additional strains. Still, the potential for positive change exists in a way that a few weeks ago was unimaginable. We should not want to make it easier for the pro-Syrian and pro-Iranian forces to overcome any differences and prevail in the end over the protesters.
There's an argument for the United States maintaining a low profile, to undercut Nasrallah's predictable arguments about a U.S. conspiracy, and a guiding principle should always be "do no harm" when trends emerge that are clearly in U.S. interests. Instead, the White House suspension of security assistance at this of all times, gives Damascus' and Tehran's Lebanese allies a message around which to re-unite: that the United States is an unreliable partner and that the LAF will not get needed assistance, meaning Hezbollah's arsenal remains essential to Lebanon's security. American officials who are seeking to promote U.S. interests in Lebanon face a strange set of bedfellows — Iran, Syria, Hezbollah, and apparently the White House — and face the difficult task of pushing back against all four.
*Jeffrey Feltman/John C. Whitehead Visiting Fellow in International Diplomacy – Foreign Policy
https://www.brookings.edu/blog/order-from-chaos/2019/11/01/with-lebanon-making-fragile-progress-now-is-the-wrong-time-to-pull-u-s-assistance/
White House Freezes Military Aid to Lebanon, Against Wishes of Congress, State Dept. and Pentagon
نيويورك تيمز: البيت الأبيض يجمد مساعدة للبنان بقيمة 105 مليون دولار متخطياً رغبات الكونغرس ووزارة الخارجية ووزارة الدفاع
Edward Wong, Vivian Yee and Michael Crowley/The New York Times/November 02/2019
http://eliasbejjaninews.com/archives/80110/%d8%a7%d9%84%d8%a8%d9%8a%d8%aa-%d8%a7%d9%84%d8%a3%d8%a8%d9%8a%d8%b6-%d9%8a%d8%ac%d9%85%d8%af-%d9%85%d8%b3%d8%a7%d8%b9%d8%af%d8%a9-%d9%84%d9%84%d8%a8%d9%86%d8%a7%d9%86-%d8%a8%d9%82%d9%8a%d9%85%d8%a9-10/
The indefinite hold halts a $105 million package that the State Department and Congress had approved. Analysts say the winners could be Iran, Russia, the Islamic State and Al Qaeda.
WASHINGTON — The Trump administration has frozen all military aid to the Lebanese army, including a package worth $105 million that both the State Department and Congress approved in September, congressional officials said Friday.
The halt to American funding of the Lebanese Armed Forces, an important multisectarian group, comes at a critical time for Lebanon, as officials are grappling with the country's largest street protests since its independence in 1943 and a change in leadership forced by the demonstrations. A freeze on the assistance could give Iran and Russia an opening to exert greater influence over the Lebanese military, analysts say, and perhaps even allow the Islamic State and Al Qaeda to gain greater footholds in the country.
The delivery of military aid, especially in cases that involve White House intervention, has become a delicate and divisive issue in Washington. Congressional committees are overseeing an impeachment inquiry into whether President Trump held up $391 million in military aid to Ukraine in an effort to coerce Ukrainian leaders to do political favors for him. Though the president has denied it, senior administration officials have testified that there was indeed a quid pro quo, and the top American diplomat in Ukraine said he sent a cable telling Secretary of State Mike Pompeo that it was "folly" to withhold the aid.
The Pentagon and State Department pressed for the aid for the Lebanese Armed Forces, congressional aides said, and officials in both departments say the military organization is an important bulwark against extremist elements and armed factions of Hezbollah, the Iran-backed Shiite group that has political and military wings.
But officials on the national security staff at the White House recently asked the Office of Management and Budget to freeze all aid to the Lebanese military, two congressional officials said Friday. Officials at the State Department and Pentagon only learned of the halt in recent days. It is unclear if anyone has told the Lebanese government of the freeze.
The State Department referred questions about the freeze to the budget office, which did not have immediate comment, and the Defense Department referred questions to the White House, where officials declined to comment.
On Friday afternoon, Nathan A. Sales, the State Department's top counterterrorism official, said, when asked about the freeze, that the Lebanese military was an important counterweight to Hezbollah, though he did not address the aid freeze itself.
"We see Hezbollah as a terrorist organization," he said, "and that is why we have worked over the years, over many years, to strengthen the institutions of the Lebanese state, such as the Lebanese Armed Forces, to ensure that there is no felt need in Lebanon to rely on any purported services that Lebanon might receive from Hezbollah. That has been our policy and that remains our policy."
Congressional aides got confirmation of the freeze on Thursday, and Reuters reported it. Congressional officials were surprised, since State Department officials notified Congress on Sept. 5 that the United States was moving ahead with a $105 million package of aid to the Lebanese military. The package is known as foreign military financing, which is major aid that is usually managed by the Defense Security Cooperation Agency, part of the Defense Department.
Mr. Trump has broadly criticized how the United States distributes foreign aid, and some conservative Middle East policy analysts have argued that aid to the Lebanese military could end up helping Hezbollah.
One congressional official said it was troubling that the White House had ordered the action against the recommendations of both the State and Defense Departments. The official said that the United States closely monitors how the aid is used, and that any fear that the money could fall into the hands of Hezbollah is a myth.
In December, Jim Mattis, who was defense secretary at the time, described the Lebanese Army Forces as "legitimate" and a partner of the American military. "They are helping to keep the situation stable right now," he said, speaking of a flare-up in tensions between Hezbollah and Israel, two longtime enemies.
Other top American officials have given similar assessments. David Schenker, the State Department's new assistant secretary of near eastern affairs, argued in an August 2017 paper that, although the Lebanese military had been "colluding" with Hezbollah, it had helped stabilize the country and repel militant Sunni influence. Earlier that year, General Joseph L. Votel, then the leader of United States Central Command, told the Senate Armed Services Committee that the Lebanese army had "demonstrated tremendous return on investment in recent years," and that Washington should consider increasing its support.
Analysts said Friday that the United States was acting against its own goals by withdrawing the aid, especially at a time when Lebanese protesters are also questioning why the United States has stood by Lebanon's government, which they oppose. Severing ties with the Lebanese army could create an opening for other sources of money, notably Iran or Russia, whose power in neighboring Syria has increased since Mr. Trump withdrew American troops last month from the Syria-Turkey border region.
"We still have U.S. interests in the region, and losing our toehold there — no matter how slim it may be now — will prevent us, in the future, from steering things in a better way for us and for Lebanon," said David Daoud, a Hezbollah analyst at United Against Nuclear Iran, which advocates tougher United States policies on Iran.
"Does that mean we should be O.K. with what the L.A.F. is doing now?" he added. "Absolutely not. There should be more accountability, there should be a little bit more tough love, but to cut off the aid would be, I think, counterproductive for our interests."
In recent years, though, some prominent conservatives in Washington — particularly those who view contesting Iranian influence as a central goal — have called for decreasing military aid to Lebanon's army. In 2017, Elliott Abrams, a Middle East policy official under President George W. Bush, testified before the House of Representatives that Lebanon's army "is increasingly intertwined with Hezbollah."
"If we have tried to make the L.A.F. a counterbalance to Hezbollah, we have failed," said Mr. Abrams, who has since become Mr. Trump's special representative for Venezuela. "Perhaps things would be even worse today without our aid and our efforts, but that is a proposition that should be examined and tested."
In June, several Republicans in Congress, led by Senator Ted Cruz of Texas, introduced a measure called the Countering Hezbollah in Lebanon's Military Act, which would withhold 20 percent of American military assistance to the country unless the president can certify that the Lebanese military is taking "necessary steps to end Hezbollah and Iran's influence over the L.A.F.," as Mr. Cruz put it in a June statement.
Top Israeli officials share that alarm about the influence, but are also anxious that aid cuts to a key Lebanese government institution could exacerbate Lebanon's growing political instability. Israel has, however, asked the United States and European nations to condition aid to Lebanon on Hezbollah's missile factory shutdown.
The Lebanese Armed Forces is one of the few institutions in the country that enjoys broad popularity across all religious and political divides, in part because it employs people from all of Lebanon's 18 officially recognized religious groups — including Shiite Muslims, who make up Hezbollah's base.
Many Lebanese have relatives or friends in the army. Despite sporadic scuffles between security forces and protesters during Lebanon's ongoing anti-government demonstrations, support for the army has not wavered. Protesters have chanted pro-army slogans, waved the army's flag alongside the Lebanese flag and even handed roses to soldiers at roadblocks.
The United States provided more than $2.29 billion in military assistance to Lebanon between 2005 and 2019. The American ambassador to Lebanon, Elizabeth H. Richard, is a strong supporter of security aid to the army, viewing it as one way the United States can create good will. As recently as August, she congratulated the Lebanese army while viewing a military exercise, saying, "We are firm believers in this army and I hope every Lebanese believes in this army, as well."
Like the Lebanese government and the Lebanese themselves, the army appears to treat Hezbollah, which has representation in parliament and in ministries, as a fact of life. It occasionally coordinates with Hezbollah, as it did in August, when Hezbollah claimed it had shot down two Israeli drones south of Beirut. After doing a preliminary investigation, Hezbollah turned the information over to the army.
Edward Wong and Michael Crowley reported from Washington, and Vivian Yee from Beirut. Thomas Gibbons-Neff contributed reporting from Kabul, Afghanistan. Isabel Kershner contributed reporting from Jerusalem.
Lebanon's Prime Minister, Saad Hariri, Steps Down in Face of ProtestsOct. 29, 2019
Edward Wong has been a diplomatic and international correspondent for The Times for more than 20 years, 13 of those in Iraq and China. He received a Livingston Award for his Iraq War coverage and was on a team of Pulitzer Prize finalists. He has been a Nieman Fellow at Harvard and a Ferris Professor of Journalism at Princeton. @ewong
Vivian Yee is an international correspondent covering the Middle East. She is based in Beirut. Previously, she wrote about immigration policy and immigrants in the United States during the Trump administration and reported on New York politics. @VivianHYee
*Michael Crowley is a White House correspondent, covering President Trump's foreign policy. He joined The Times in 2019 from Politico, where he was the White House and national security editor, and a foreign affairs correspondent. @michaelcrowley
Lebanon's government has fallen: but will anything change?
The National/November 02/2019
Saad Hariri has resigned, but people on the streets are not rising up against one man, they are demanding the fall of an entire system
"We have reached a dead end." So said a shell-shocked Saad Hariri, standing in front of a portrait of his late father Rafic, as he announced the resignation of the entire Lebanese government.
As crowds cheered in the street and waved flags, the sombre prime minister admitted: "No one is bigger than this country."
The announcement follows an extraordinary fortnight in Lebanon. For 13 days, more than one million Lebanese people have taken to the streets, demanding the fall of the government and rising up against sectarian-based politics, widespread corruption, unemployment and poor access to basic services. That they have achieved their aim in such a short time might give them cause for celebration tonight but tomorrow, the sobering thought of what might replace the outgoing government will undoubtedly strike home. It is critical that those elements who already seek to sow divides among the Lebanese, such as Hezbollah, are not able to exploit this power vacuum. This is a precarious moment and it is vital whoever is responsible for taking the country forward seeks to establish stability and security quickly.
In truth, Mr Hariri was stuck between a rock and a hard place. Blamed for many of Lebanon's failures, the clock was ticking on his time in power – but the fall of the government with him was an unexpected consequence of a great swelling of discontent over years of incompetence and inefficiency. Mr Hariri tried to quell public disquiet by announcing a host of sweeping government reforms eight days ago – but it was too little too late. A proposed cabinet shuffle also failed to stay the tide of resentment. The powerful Hezbollah and its Free Patriotic Movement ally refused to accept a change of leadership that might have de-escalated the situation. As a result, more than a million people took to the streets at the height of the demonstrations. Given these circumstances, Mr Hariri had little choice but to resign.
Now that he has quit, Lebanon is running out of time to find a consensus that will end the current crisis. If parliament cannot agree on a new prime minister, Mr Hariri might need to remain in power as head of a caretaker government. This could be a lengthy process taking years. For instance, before president Michel Aoun took up his role, the country was left without a head of state for two years. But even if parliament agrees on another prime minister, there is no guarantee that protesters will be satisfied with the new nominee.
It is critical that those elements who already seek to sow divides among the Lebanese, such as Hezbollah, are not able to exploit this power vacuum
Nor does the government's resignation resolve the country's woes. People on the streets are not rising up against one man, they are demanding the fall of an entire system based on corrupt sectarian politics. Mr Hariri was simply the face of this system, and he was not even one of its worst offenders. He is, in fact, one of the rare political leaders in the country without blood on his hands. Many of Lebanon's top officials today are warlords turned politicians, including Mr Aoun and parliamentary speaker Nabih Berri.
However, Mr Hariri's rise to power is indicative of many of the flaws of Lebanon's political system. He was a businessman for most of his life and only became a political figure in 2005 when he took on the leadership of the Future Movement after the assassination of his father, who was prime minister at the time. He has since been Lebanon's prime minister twice, leading two unity governments. This tradition of political dynasties is one of the causes of opprobrium from protesters but Mr Hariri's case is in no way unique. Mr Aoun's son-in-law Gebran Bassil, who is also foreign minister and leader of the Free Patriotic Movement, has been vying for the presidency for years. Meanwhile, Druze leader Walid Jumblatt announced two years ago that his son Taymour will be his political successor.
His son's legacy will be one of a plethora of political impasses that propelled him into the position of mediator. Lebanon does not have a two-party system. It is instead governed by a number of parties, none of which have a majority in parliament on their own. The country's political system relies instead on coalitions between these factions and sectarian-based groups to be able to function. Despite these difficulties, Mr Hariri often managed to find compromises to get political leaders to resolve their differences. One of his biggest challenges was Hezbollah's rising influence in the country, which his party has been unable to counter. Backed into a corner, he has led a unity government since 2016 in which the terrorist group wielded far too much power and left little room for sensible voices to be heard. With him gone, there is a chance that Hezbollah will take advantage and attempt to find a pro-Iranian replacement for Mr Hariri. This prospect is likely to anger protesters even more but the terror group has not shied away from using violence to intimidate those who oppose it and has already started targeting protesters. A government in which Hezbollah plays an even more powerful role must be avoided at all costs. Mr Hariri's resignation might be a victory for the protest movement but for now, it is a cosmetic change only. A great mountain of tasks lies ahead of Lebanon's future leader to put an end to the country's problems.
From Iraq to Lebanon, Iran's expansionist project is under siege
Raghida Dergham/The National/November 02/2019
Tehran's leaders are in a state of panic – but the country has only itself to blame for this crisis
Iran's projects in Iraq, Lebanon, Syria and Yemen are coming under siege to such an extent that its leaders are in a state of panic. In Syria, the Iranian project has been set back by a Russian-approved US-Turkish deal, effectively blocking the strategic causeway Tehran was planning to complete its crescent of power, stretching all the way from Tehran to the Mediterranean via Iraq, Syria and Lebanon. In Iraq, there is a Shiite backlash against Iran's excessive meddling in Iraq, to the point that protesters are chanting: "Iran get out", despite a violent backlash from the IRGC-backed Popular Mobilisation Forces, who have fired live ammunition at protesters in Karbala, the consecrated heartland of Shiite religious doctrine.
In Lebanon, fear of Hezbollah has collapsed along with the unity government of accord it forms part of and Hezbollah chief Hassan Nasrallah is reduced to pointing the finger of blame. In Yemen, Iran's expansionist project is facing a setback as the Saudi-Emirati exit strategy from the war is bearing fruit, giving Houthis a new path of belonging to a federalised Yemen, instead of looking towards Iran and its attempts at warmongering, with funds dwindling under US sanctions.
It is not clear what Iran will do under these circumstances but it faces some hard choices, especially if it insists on refusing to adjust and reform the regime's expansionist logic. Perhaps the only thing Iran's leaders can do now is to bet on US President Donald Trump not getting re-elected. This is now a distinct possibility. Mr Trump's mercurial decision-making and disregard for US constitutional norms is wearing thin among Americans. However, even if Mr Trump is not re-elected, the US military and civilian establishment is pursuing a clear Iran policy based on military deterrence and maximum pressure through sanctions. This policy, which simultaneously seeks to avoid direct war with Iran, will remain in place unless Tehran or one of its proxies attacks US troops in the Middle East, triggering a military response, or exits the nuclear non-proliferation treaty, triggering an escalation in sanctions. This is a US doctrine, however, not Mr Trump's.
General Kenneth McKenzie Jr, head of US Central Command (Centcom), last week addressed a conference held by the National Council for US-Arab relations. He said Iran remains a priority, but less so than China and Russia, in US strategic planning. He warned against false interpretations regarding the deployment and withdrawal of US troops in the Middle East and the Gulf, saying Iran continues to be monitored. And he spoke of deterrence "without provocation" as an important challenge to US calculations regarding Iran.
This means that the plans of some Iranian leaders attempting to lure the US into a military strike against Tehran have failed. Iran has only itself to blame for its crisis. Thanks to its regional expansionism, proxy warfare in sovereign countries and belligerent policies, it finds itself today besieged and heavily sanctioned, along with its extraterritorial militias. The Iranian regime's logic is fundamentally flawed and unsuited to this time of a new, conscious generation.
This Generation Z is forging its future in Lebanon, away from Hezbollah's dominion. They have been joined by the millennials, alongside their parents, the baby boomers. All have taken to the streets and are standing up to provocation. So far, they have thwarted the schemes of the corrupt class, who had, until now, been well versed in containing and frustrating such uprisings.
The young generation in Lebanon as well as in Iraq stand for victory against fear and blind obedience. They have risen up against corruption in their countries and against a political class that foolishly thought their power was permission to be greedy and venal. But this generation is also rising up against the 40-year-old presumption of the Iranian regime that it can dominate Arab youth through sectarianism, intimidation, oppression and Iranian-backed militias.
The young generation in Lebanon as well as in Iraq stand for victory against fear and blind obedience. They have risen up against corruption in their countries and against a political class that foolishly thought their power was permission to be greedy and venal
Hezbollah will not disappear tomorrow because of the uprising. Iraq's Popular Mobilisation Forces will not agree to merge wholly with the Iraqi army after Iran prevented it from doing so. But these forces have been greatly weakened. They are facing the wrath of the same people they assumed would be their followers by default. The PMF will pay a heavy price for firing at Iraqi Shiite Muslims opposed to the militia's allegiance to Iran, and for inviting the Islamic Revolutionary Guard Corps to help suppress the protests with force. Iraq's revolutionaries are demanding an end to Iranian meddling in Iraqi affairs and its neighbour's domination over its fate.
Lebanon's revolutionaries, meanwhile, want Hezbollah to stop declaring its allegiance to the Iranian regime as its first priority. Theirs is not the country of the Iranian regime and never will be because its political structure and demographic composition cannot allow such deviation from its civil trajectory. The protesters demanded and succeeded in toppling the government of accord that Hezbollah had formed with Saad Hariri, the prime minister who resigned last week, and Michel Aoun, the president who installed his demagogical and provocative son-in-law Gebran Bassil as his viceroy.
Hezbollah might resort to spilling blood if the uprising against corruption and the ruling class continues. It might decide that a victorious revolution could mean removing it from power and ending its domination of Lebanon as well as its central position in the Iranian regional project.
But what would the Lebanese army do if a decision is taken to deploy loyalist thugs and turn the arenas of peaceful protests into a battlefront? Will the military stay on the fence or will it stand with the people?
So far, army chief General Joseph Aoun is reassured by his forces' cohesion and conduct. There is no fear of the army splitting. Rather, it is Hezbollah's ranks that could split. So far, the army has not begun repressing protests, which would be a fateful and costly decision. In this context, Mr Trump's decision to withhold $105 million in military assistance to Lebanon should be seen as a warning against making wrong decisions.
The nations concerned for Lebanon are not rushing to rescue it from collapse as long as the beleaguered administration remains in power. They want the desired change to take place immediately, beginning with the formation of a technocratic government, without the usual deals. Mr Hariri's resignation is the first step, but it must not be the only step. All parties poised to rescue Lebanon economically are ready to step in, as soon as they received a signal of intention to form a technocratic government, enact laws to punish corruption and hold new, fair and just elections.
Mr Hariri's resignation was important because it met a basic demand of the revolution. However, it triggered concern in the Sunni community, which is worried the political class will settle for his resignation in return for guaranteeing his safety and perhaps returning him to head a technocratic government.
His stepping down did weaken the Hezbollah-Aoun alliance, a major achievement that must be built upon. This is a revolutionary trajectory, not just a one-off, and must be seen through to its conclusion.
Why the key to Lebanon's future may lie in its past
Dania Koleilat Khatib/Arab News/November 02/2019
As popular discontent grows with the current corrupt and sectarian political elite in Lebanon, I cannot but think of Fuad Chehab, who was president from 1958 until 1964. Chehab brought stability to the country and built its institutions. He would have been so happy to see the Lebanese reject sectarian leaders and the "Fromagistes," or the cheese eaters, as he used to call corrupt politicians.
Chehab became commander of the Lebanese army in 1945, and twice refused requests for his forces to intervene in uprisings against President Bechara El-Khoury. In 1952, El-Khoury asked him to lead the country in a transitional period leading to the election of a new president by the parliament. Chehab did so for four days, until Camille Chamoun was elected to succeed El-Khoury.
What is most impressive about Chehab is that he was a military leader who rejected military coups at a time when they were the norm elsewhere. In Egypt and Iraq, military officers rose up and deposed royal regimes, but Chehab, more than any other general, was determined to preserve democracy, the constitution and the rule of law. In 1958, with protests again rocking the country, President Chamoun called for American help and US Marines landed in Beirut. Following this episode of high tension and foreign intervention, Chabab became president. His period in office was noted for prosperity, stability and security, which kept Lebanon shielded from foreign interference.
Saad Hariri's resignation as prime minister last week did not prevent people from protesting. Some signalled that, as a goodwill gesture before the formation of a new government, the protesters should open the roads they had blocked. However, the issue is more than a change of government; it is about a change of reality, a change of a system that is built on corruption, clientelism and sectarianism.
Hariri has said he would be willing to return to office if he could form a government of technocrats, but a government of technocrats cannot carry out the necessary serious and drastic reforms as long as it is hostage to the corrupt political elites — the fromagistes, as Chehab called them. Lebanon's "hirak," the popular protest movement, has resulted in the emergence of different indigenous groups who gathered on regional, occupational and gender bases. They are putting forward demands for social and economic change, but their structure is very fluid. These small movements need maturity. If they are now put in the spotlight, they might clash. It is better to allow them the space to develop and to work on the maturity of their local and national agenda, and this is not possible when the fromagistes control power. Lebanon not only needs a person to take the country into a difficult transition, it also needs to revive the spirit of Chehabism. The new Chehabism will bind the different Lebanese across the different sects. Only a spirit that is based on the national identity and on institution building can take the country forward.
Saad Hariri's resignation as prime minister last week did not prevent people from protesting.
At the end of his period in office, Chehab had a very pessimistic view of Lebanon — indeed after only two years he had offered to resign. He believed Lebanon was not ready to get over sectarianism. He also predicted that the Lebanese would clash with each other. He knew Lebanon was a fertile land for foreign interference.
Chebab refused to permit a change in the constitution to allow him to serve a second consecutive term as president, and he was succeeded in 1964 by Charles Helou. The election of Suleiman Frangieh in 1970 marked the end of the Chehab era. He purged Chebab officers, dismantled the security services and made the country more vulnerable to foreign intelligence activities. Frangieh lost the balance Chehab had created and preserved between Lebanon's sovereignty and its role as a member of the Arab family of nations. Later presidents could not restore this balance, nor could they retain the independence of state institutions from the different sectarian political parties. Chebab's biographer Nicolas Nassif wrote that the former president burned all his papers; he did not want anything he had written to justify his rule, and preferred to leave that task for history.
Today's Lebanese leaders are totally unaware of the metamorphosis the Lebanese people are undergoing. They think they still have a chance, when they don't. They cannot see that their narrative is dead. They are making promises; to remove secrecy from their bank accounts; to bring to justice those who embezzled money; to decrease the fiscal deficit — promises, promises, promises that cannot be fulfilled, because to do so would be to expose their own corruption and vile sectarianism.
To mark the completion of the first half of his presidency, Michel Aoun made a speech last week in which he promised to change Lebanon into a civil state. But how can someone who campaigned on a sectarian agenda, and used as a narrative "Christian rights" versus the rights of other denominations, work toward a civil state? There is a huge disconnect here
Now there are talks about consultations among the different "political parties" to create a new government, but these political leaders don't understand that they belong to a bygone era. Their audience is eroding. They no longer have any popular legitimacy. Lebanon wants a new national leadership that will build institutions and conduct serious economic social and political reforms. Today, the Lebanese are mature enough to embrace the spirit of Fuad Chehab and a new Chehabism.
*Dr. Dania Koleilat Khatib is a specialist in US-Arab relations with a focus on lobbying. She holds a PhD in politics from the University of Exeter and is an affiliated scholar with the Issam Fares Institute for Public Policy and International Affairs at the American University of Beirut.
Lebanese with special needs revolt
Maysaa Ajjan/Annahar/November 02/2019
BEIRUT: When Faten Merashly decided to take her 17 year old son Mahmoud Hijazi, who suffers from autism, to the second day of the protests in Riad El Solh, she didn't know what to expect.
"It was Mahmoud's idea that we go down and join the protesters," Merashly told Annahar. "One night before he went to bed, he told me that he wanted to join the protests the next day."
After carefully explaining to her son the concept of a protest and a revolution, Merashly brought two pieces of cardboard and began writing slogans on them, demanding the rights of autistic children to free therapy sessions and to inclusive schools, two causes that are dear to her heart.
"As the mother of an autistic child, you quickly learn that people with special needs are a forgotten segment of the population," she told Annahar. "They have no rights to any free service- it's just ink on paper, what they tell you about their rights."
Merashly and her son were able to garner support from most if not all the protesters who joined them in their cause and took pictures with Mahmoud. "
I was so proud of Mahmoud for standing up for his rights and for remaining calm amidst the noise," Merashly said. "Everyone was so friendly and understanding and compassionate to his case. Moreover, a lot of people who follow my Facebook page asked me to be a voice for them as they or a family member also have special needs."
Merashly, who is still participating in protests to this day with her son, was not the only one protesting for the rights of people with special needs.
Sylvana Lakkis, President of the Lebanese union of people with physical disability, who is herself bound to a wheelchair, was among the many who turned up to protest.
"We have released a statement at the union stating that we have the same demands as the protesters," Lakkis told Annahar. "Even though we are marginalized, we are still part of this country, and we can see that getting to our rights can not happen without repairs and peace."
Annahar spoke to Ibrahim Abdallah, an activist and a member of the National Council on Disability, who explained that many people with special needs protested in Tyre, Tripoli, and Downtown Beirut. He also spoke of the history of the Lebanese laws on disabilities.
"In May 2000, the Lebanese Parliament approved a new legislation, Law No. 220, which "secured" the basic rights for the disabled, such as the right to education, employment, healthcare and nurturing environment," he said. "But effectively, it was only ink on paper."
"We are now demanding for the Convention on the Rights of Persons with Disabilities which was issued by UNICEF in 2006. It was signed but not ratified by Lebanese law," he added.
Abdallah ended his talk by saying that people with special needs can play a valuable role in society if their needs are met and if they are given the right training. "We are a marginalized group, and we will continue to participate actively in protests to ask for our basic human rights that we have been deprived of for too long," he said.