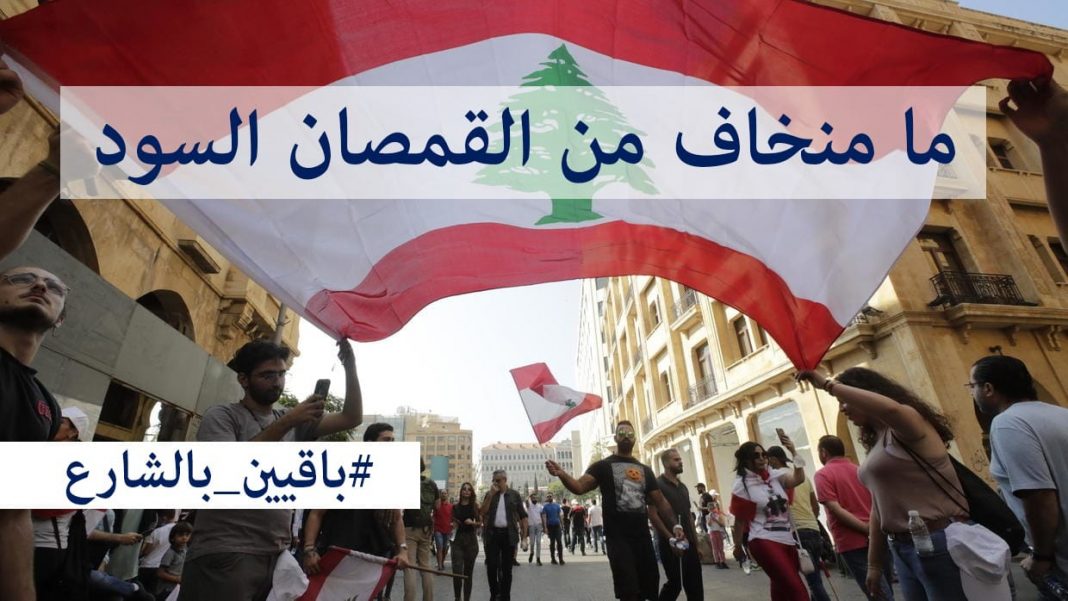 A Bundle Of Lebanese English Reports, News and Editorials For October 29-30/2019 Addressing PM, Hariri Resignation, the Mass Demonstrations & Sit In-ins In Iranian Occupied Lebanon
Compiled By: Elias Bejjani
October 29-30/2019
Titles For The Latest English LCCC Lebanese & Lebanese Related News published on October 29-30/2019
Mr Tabet Tabet a Canadian Lebanese citizen Was Arbitrarily Arrsted In Occupied Lebanon
US's Pompeo calls for new, efficient government in Lebanon
Lebanese PM Hariri resigns after weeks of protests
Men attack protest camp in central Beirut: Al Arabiya's correspondents
Lebanon's Aoun will not request caretaker cabinet: Source
Hariri 'Relieved' after Resignation as Mufti Calls It a 'Positive Shock'
What's Next after Hariri's Resignation
U.N. Urges Fast Govt. Formation and Restraint in Lebanon
Paris Says Hariri's Resignation Makes Crisis 'Even More Serious'
German FM hopes resignation of Lebanese PM will not undermine stability
Former Lebanese minister Rifi says Hezbollah lost 'government of guardianship'
Geagea Lauds Hariri's Move, Urges Independent 'Govt. of Experts'
Lebanon: Politicians Seek to Face Economic Risks, Adopt Anti-Corruption Laws
Al-Hassan Says PM Resignation Prevented Strife, Supporters Urged Not to Protest
Hezbollah, Amal Supporters Wreck Protest Camp in Beirut
The Grievances Underlying Lebanon's Protests
The Two Weeks of Protests that Pushed Hariri to Quit
Hariri, Lebanon's In-and-Out Prime Minister
Lebanon since Rafik Hariri's 2005 Assassination
The Latest English LCCC Lebanese & Lebanese Related News published on October 29-30/2019
Mr Tabet Tabet a Canadian Lebanese citizen Was Arbitrarily Arrsted In Occupied Lebanon
October 29-30/2019
Petition to Canadian Government/
Mr Tabet Tabet a Canadian citizen with a lebanese background, expressed for years his opinion on the lebanese government's corrupted regime on social media as well as shared his dream for a future democratic Lebanon in which corruption has no place and encourages the leadership of the educated youth to rule the country.
He criticized the FPM (Free Patriotic Movement) and its politicians as well as pointed out their corrupted activities.
Mr Tabet got lots of threats from powerful Lebanese personals over the years including Hezbollah organization supporters and especially their first allies in the lebanese government's FPM politicians who are dominating the government by a majority.
Mr Tabet was finally arrested at Beirut Airport by getting manipulated by his own lawyer, who convinced him that it was safe to visit Lebanon so he could see his family.
Mr Tabet isn't able to contact the Canadian embassy and is not allowed to make phone calls.
We ask the Canadian authority to contact the Lebanese Government in order to free this exemplary Canadian citizen.
Mr Tabet has never taken part in any political organisation and served for years in the Lebanese Official Army.
US's Pompeo calls for new, efficient government in Lebanon
Reuters/Wednesday, 30 October 2019
US Secretary of State Mike Pompeo on Tuesday urged Lebanon's political leaders to help form a new government responsive to the needs of its people after Saad Hariri resigned as prime minister after huge protests against the ruling elite. "The United States calls on Lebanon's political leaders to urgently facilitate the formation of a new government that can build a stable, prosperous, and secure Lebanon that is responsive to the needs of its citizens," Pompeo said in a statement. Hariri announced his resignation on Tuesday, bowing to nearly two weeks of unprecedented nationwide protests against corruption and sectarianism. "The peaceful demonstrations and expressions of national unity over the last 13 days have sent a clear message. The Lebanese people want an efficient and effective government, economic reform, and an end to endemic corruption," Pompeo said. "Any violence or provocative actions must stop, and we call upon Lebanon's army and security services to continue to ensure the rights and safety of the protesters," he added. Lebanon's political leaders have appeared shell-shocked, trying simultaneously to express sympathy for the protest movement while warning of turmoil in the case of a power vacuum. It has often taken months for Lebanon's fractious political leaders to agree on a government line-up, a scenario Lebanon's backers say the country can ill afford.
Lebanese PM Resigns after Two Weeks of Protests
Asharq Al-Awsat/Tuesday, 29 October, 2019
Lebanese Prime Minister Saad Hariri submitted his resignation on Tuesday, succumbing to nearly two weeks of unprecedented nationwide protests against corruption and sectarianism. Hariri's express and somber televised address was met by cheers from crowds of protesters who have remained mobilized since October 17, crippling the country to press their demands."It has become necessary for us to make a great shock to fix the crisis. I am going to the Baabda Palace to submit the government's resignation," said Hariri, who had already stepped down twice from the same post.He said his decision comes "in response to the will of many Lebanese who took to the streets to demand change" in protests he called "historic".The move — which marks the most significant win by demonstrators yet — will restart the complicated task of parliament forming a new government if it is accepted by the president. President Michel Aoun, a political ally of Hezbollah, could now either accept Hariri's resignation and begin consultations toward forming a new government, or ask him to rethink. It took nine months to form the Hariri coalition cabinet that took office in January.The resignation came after days of apparently unfruitful efforts to reshuffle posts among Hariri's uneasy coalition partners and also as tension mounted on the ground between protesters and security forces bent on re-opening the country for business. In his speech on Tuesday, he said he had reached a deadlock, urging the political class to protect the country.
Sami Nader, director of Levant Institute for Strategic Affairs, said "Hariri is opening the door to a solution because the resignation is the only way for a decent exit from the current crisis." France, one of Hariri's top allies and Lebanon's key partner in a crucial $11-billion aid plan, voiced its fears that the resignation would "make the crisis even more serious". Germany hoped the resignation will not undermine Lebanon's stability, Foreign Minister Heiko Maas said on Tuesday. "The further development in Lebanon is for us and for the whole region of decisive importance. We hope possible future protests will be peaceful," Maas told reporters after meeting his Egyptian counterpart Sameh Shoukry in Cairo. "We don't need a political vacuum (in Lebanon)," he added. A nationwide cross-sectarian protest movement has gripped Lebanon for almost two weeks, calling for an overhaul of a political class viewed as incompetent and corrupt. Banks and schools have remained closed and the normally congested main arteries in Beirut blocked by protesters, despite the government's adoption of an emergency economic rescue plan last week.
Banks and schools will remain closed on Wednesday.
'Not enough'
After Hariri's announcement, protestors across the country erupted in applause. Hundreds gathered in the northern city of Tripoli, as well as the southern city of Sidon, from where his family hails. In Tripoli — home to festive protest raves — large crowds gathered in the main al-Nour square waving the Lebanese flag. "This resignation is welcome but it is not enough. It is only one part of a larger list of demands," said Tima Samir, a 35-year-old mother of two. "We want the entire system to change and well stay on the streets until all our demands are met," he said according to AFP. In Sidon's central square, people sang and danced, as stores gave away free sweets.
Ahed Madi, a demonstrator, said the festive scenes in the city were especially "symbolic.""Saad Hariri is from this city and this city has always embraced him. But today, the people want change," he told AFP. Protesters have insisted on a complete overhaul of the country's sectarian-based governance and celebrated the emergence of a national civic identity. Tens of thousands of people joined hands across the country on Sunday, from Tripoli in the north, to Tyre in the south, to symbolize a newfound national unity. The protests had been relatively incident-free, despite tensions with the armed forces and attempts by party loyalists to stage counter-demonstrations. But prior to Hariri's speech on Tuesday, dozens of rioters descended on a rally site near the government headquarters, where they attacked protesters, torched tents, and tore down banners calling for "revolution", said an AFP correspondent in the area. The counter-protesters chanted slogans hailing the leaders of Hezbollah chief Hassan Nasrallah and Amal head and parliament Speaker Nabih Berri as they pushed roadblocks aside and provoked protesters.
Men attack protest camp in central Beirut: Al Arabiya's correspondents
Nadia al-Faour, Special to Al Arabiya EnglishTuesday, 29 October 2019
Men in black shirts reported to be supporters of Hezbollah and Amal have attacked and burned tents in downtown Beirut, as Prime Minister Saad Hariri is set to deliver a speech in which he is rumoured to resign at 4:00 p.m. Beirut time (5:00 p.m. Dubai time) on Tuesday.
Al Arabiya's correspondents reported seeing groups of men reported to be Hezbollah and Amal supporters attacking and trashing tents which had been put up by protesters in downtown Beirut. Lebanese security forces fired tear gas in central Beirut as the purported Hezbollah and Amal supporters attacked protesters, according to an Al Arabiya correspondent. Photographs taken by Al Arabiya staff showed tents trampled under foot and broken. Some protesters had been occupying areas of central Beirut, including Martyr's Square, with tents. Other tents were set up by civil society organizations and charities. Protests in Lebanon began on October 17 and have since gripped the entire country. The attacks on tents in central Beirut come as Prime Minister Saad Hariri is expected to announce his resignation in response to the protests. Hariri is a rival of the Shia political organizations Amal and Iranian-backed Hezbollah. However, Amal and Hezbollah have a stake in the current government, and their leaders have called on their followers to restrain from joining the protests.
Lebanon's Aoun will not request caretaker cabinet: Source
Reuters, Beirut/Tuesday, 29 October 2019
Lebanese President Michel Aoun is studying Prime Minister Saad Hariri's resignation letter and will not issue a request for the cabinet to take on a caretaker role on Tuesday, a source in the presidency said. Hariri submitted his resignation on Tuesday, declaring he had hit a "dead end" in trying to resolve the country's crisis amid an unprecedented wave of protests against Lebanon's ruling elite.
Hariri 'Relieved' after Resignation as Mufti Calls It a 'Positive Shock'
Naharnet/October 29/2019
As soon as Prime Minister Saad Hariri announced his resignation, popular delegations, dignitaries, clerics, former prime ministers, incumbent ministers and al-Mustaqbal Movement MPs from different areas flocked to the Center House to express their support for his decision to resign. The visitors included former PMs Tamam Salam and Fouad Saniora, Grand Mufti Sheikh Abdul Latif Daryan and the ministers Raya al-Hassan, Mohammed Choucair, Adel Afiouni and Jamal Jarrah. Hariri told his visitors: "I just want to say: May God protect Lebanon and we hope to get out of this impasse and we hope that the country will be fine."He said he was relieved because the resignation was in response to what the people wants, and said: "We will all stay together."
Mufti Daryan expressed his solidarity with Hariri's stance. He said: "Premier Hariri's resignation puts all officials before their historical and national responsibilities to preserve Lebanon's stability and security, the dignity of the Lebanese people and their decent living."He added: "The resignation of Prime Minister Hariri represents a positive shock to all the officials and the Lebanese to agree on solutions that take the country out of the deadlocks and crises from which the Lebanese suffer."

What's Next after Hariri's Resignation
Associated Press/Naharnet/October 29/2019
The resignation of Prime Minister Saad Hariri on Tuesday meets a key demand of Lebanon's anti-government protesters but will also plunge the country into even greater uncertainty, with no clear path to resolving its growing economic and political crisis.
THE BACKGROUND
The political settlement that ended Lebanon's 1975-1990 civil war distributes power and top offices among the country's Shiites, Sunnis and Christians. The complex sectarian system has mostly kept the peace, but it has made major decisions extremely difficult and contributed to long periods of political gridlock. The Western-backed Hariri had served in a national unity government dominated by rival factions allied with the militant Hizbullah group, whose supporters attacked the main protest camp in central Beirut on Tuesday. He had proposed the creation of an emergency Cabinet made up of a small group of technocrats to steer the country toward necessary reforms, but his governing partners refused. A point of dispute emerged over Foreign Minister Jebran Bassil, the son-in-law of President Michel Aoun. The protesters have trained much of their vitriol on the two men, who are allied with Hizbullah, but Aoun has reportedly insisted on remaining in office and keeping Bassil in his post. Hizbullah, which has three ministers in the government, has stuck by its allies and was opposed to Hariri's decision to resign.
WHAT HAPPENS NEXT
If he accepts his resignation, Aoun will task the now-resigned government to continue in a caretaker capacity. Under the constitution, he then has to hold binding consultations with the heads of parliamentary blocs to ask them for their choice of a new prime minister. He could then appoint Hariri or another individual from the Sunni community to form a government. In Lebanon's system, the presidency is reserved for a Christian, the prime minister is Sunni and the parliament speaker is Shiite. Aoun has the right in principle to reject Hariri's resignation, but he could then refuse to call for Cabinet meetings.
The process of forming a new Lebanese government typically takes several months. It took Lebanon's factions 2 ½ years to agree on the current president, and it took nine months to form Hariri's now-embattled government.
This time, however, the country is in the grip of a severe economic crisis that has only worsened since the protests began, with banks, schools and businesses having been closed for two weeks.
ROCKY PATH AHEAD
Political tensions also are rising after Tuesday's clashes.
"In this context, it is incredibly difficult to see them agreeing on any one new name," said Maha Yahya, director of the Carnegie Middle East Center.
That would leave Hariri in place as head of a caretaker government.
"His capacity to address the economic crisis and possible economic and financial collapse will be curtailed even more," Yahya said. "A devaluation of the Lebanese pound will likely lead to even more social unrest and turbulence on the street." The protesters have adamantly rejected the entire political class, calling for overthrow of the postwar regime. Acquiescing to those demands would essentially require those who have led the country for three decades to legislate themselves out of existence. The leaders reject that.
U.N. Urges Fast Govt. Formation and Restraint in Lebanon
Naharnet/October 29/2019
U.N. Special Coordinator for Lebanon Jan Kubis on Tuesday urged Lebanese authorities to "act decisively and quickly to form, within the constitutional norms, a new government responding to the aspiration of the people" in the wake of Prime Minister Saad Hariri's resignation.
In a statement, he said the new government should be able to gain the Lebanese people's confidence, to provide security, law and order, and to pursue and implement "deep reforms and changes, to stop the economic decline and put the country on the track of recovery, sustainable development, inclusive growth, and stability, preserving the unity of Lebanon and its people.""In the meantime, he urges the authorities to preserve the stability of the state and its institutions and to ensure their smooth functioning," a statement issued by Kubis' office said.
"He calls upon all leaders, and political forces to refrain from rhetoric and action that could inflame tensions and incite confrontation and violence, to all Lebanese people to maintain calm and show restraint," the statement added.
The Special Coordinator also urged the legitimate security forces to "maintain law, order, and security, to take action against those that instigate violence, regardless of their party affiliation and to protect demonstrating civilians that need to maintain the peaceful character of their protests."
"He reminds the political parties that they bear the full responsibility for the behavior and action of their supporters and for controlling them, especially if they provoke clashes with peaceful protesters or security forces," the statement added. "The U.N. remains committed to supporting Lebanon, its political independence, stability, security, unity, and territorial integrity," it said.
By resigning, Hariri bowed to one of the central demands of anti-government demonstrators. The resignation came shortly after baton-wielding Hizbullah and AMAL Movement supporters rampaged through the main protest camp in downtown Beirut, torching tents, smashing plastic chairs and chasing away protesters. The demonstrators later returned to the camp in time to hear the news that Hariri said he was stepping down after hitting a "dead end" in trying to resolve the crisis, which has paralyzed the country for nearly two weeks. The protesters erupted in cheers at the news.
The Beirut rampage marked a violent turning point in Lebanon's protests, which have called for the resignation of the government and the overthrow of the political class that has dominated the country since the 1975-1990 civil war. The government is dominated by factions allied with Hizbullah, the most powerful armed group in the country. Hariri had reluctantly worked with those factions as part of a national unity government that had failed to address an increasingly severe economic and fiscal crisis. "I tried all this time to find an exit and listen to the voice of the people and protect the country from the security and economic dangers," Hariri said. "Today, to be honest with you, I have hit a dead end, and it is time for a big shock to confront the crisis."Hariri's resignation fulfills a key demand of the protesters but plunges the country into even greater uncertainty, with no clear path toward the fundamental political change they are demanding. The economy, which was in the grip of a major fiscal crisis even before the protests began, is now at risk of collapsing, with banks, schools and many businesses having been closed for two weeks.A proposed tax on the WhatsApp messenger service ignited protests Oct. 17, sending hundreds of thousands of people into the streets in the largest demonstrations in more than a decade. The protests soon widened into calls for the overthrow of the political elites who have ruled the country since the 1975-1990 civil war.

Paris Says Hariri's Resignation Makes Crisis 'Even More Serious'
Agence France Presse/Naharnet/October 29/2019
The resignation of Lebanon's government in response to nearly two weeks of countrywide protests has made the crisis there "even more serious," France's foreign minister said Tuesday."Prime Minister (Saad) Hariri has just resigned, which makes the crisis even more serious," Jean-Yves Le Drian told parliament in Paris, and urged the authorities in Lebanon "to do everything they can to guarantee the stability of the institutions and the unity of Lebanon." Hariri earlier announced he was submitting the resignation of his government, bowing to rising public pressure. His televised statement was met with cheers from crowds of protesters demanding change. Le Drian said a condition for stability in any country "is a willingness to listen to the voice and demands of the population." "Lebanon needs a commitment from all political leaders to look within themselves and make sure there is a strong response to the population," said the minister, offering France's help. A nationwide protest movement has gripped Lebanon for almost two weeks, calling for an overhaul of a political class viewed as incompetent and corrupt.
German FM hopes resignation of Lebanese PM will not undermine stability
Reuters, Cairo/Wednesday, 30 October 2019
Germany hopes the resignation of Lebanese Prime Minister Saad Hariri will not undermine the country's stability, Foreign Minister Heiko Maas said on Tuesday. "The further development in Lebanon is for us and for the whole region of decisive importance. We hope possible future protests will be peaceful," Maas told reporters after meeting his Egyptian counterpart Sameh Shoukry in Cairo. "We don't need a political vacuum (in Lebanon)," he added.
Former Lebanese minister Rifi says Hezbollah lost 'government of guardianship'
Staff writer, Al Arabiya English/Tuesday, 29 October 2019
Former Lebanese Justice Minister Ashraf Rifi commended Lebanese Prime Minister Saad Hariri after resigning from his position as head of government, while adding that Hezbollah has lost a government that "was dedicated to guardianship and corruption." "Hariri has won himself and his people and Hezbollah has lost a government dedicated to guardianship and corruption which it tried to maintain through violence and black shirts," Rifi said in a tweet on Tuesday after Hariri resigned on live television. Rifi was referencing an incident earlier in the day when men in black shirts reported to be supporters of Hezbollah and Amal attacked and burned tents of protesters gathered in downtown Beirut.He added in a series of tweets that he stands behind the uprising of the Lebanese people in their "difficult struggle." "This settlement has fallen and this term has plunged Lebanon into disaster," Rifi said in a tweet pointing to the current government of President Michel Aoun.

Geagea Lauds Hariri's Move, Urges Independent 'Govt. of Experts'
Naharnet/October 29/2019
Lebanese Forces leader Samir Geagea lauded Prime Minister Saad Hariri's resignation on Tuesday, saying it came "in response to the massive popular demand.""What's important now is to go to the second step, which is essential and truly needed in order to overcome our current crisis," Geagea said.
The second step should be "the formation of a new government of experts, who should be known for their integrity and success, and most importantly totally independent from the political forces," Geagea added. He also called on security agencies to "preserve the safety of demonstrators across Lebanon after the ugly attacks they came under today in central Beirut," referring to an attack by supporters of Hizbullah and the AMAL Movement on the main protest site in downtown Beirut and on protesters on the Ring highway.
Lebanon: Politicians Seek to Face Economic Risks, Adopt Anti-Corruption Laws
Beirut /Asharq Al-Awsat/Tuesday, 29 October, 2019
The political movement resumed part of its activity after 12 days of protests that paralyzed Lebanon. Parliamentary blocs and ministers moved in more than one direction to activate anti-corruption legislation and other ministerial issues related to financial and economic files, amid information that the crisis could be long. In Ain Al-Tineh, Speaker Nabih Berri received a delegation from the Strong Lebanon parliamentary bloc, whose secretary, MP Ibrahim Kanaan, said that the aim of the visit was to discuss urgent matters within the framework of parliamentary work. He reiterated the need to adopt legislative proposals the bloc had previously presented, related to anti-corruption, accountability and recovery of looted wealth. Kanaan said that Berri would "activate the work and ask the parliamentary committees to start studying all proposals and the 2020 draft budget, without any delay."
Parliamentary sources quoted by LBCI channel said the government was "responsible for referring the draft laws that they want to pass to the House of Representatives." The same sources said that the adoption of some bills could not be done overnight, as they needed to be discussed in the relevant parliamentary committees. The sources did not rule out the convening of parliament in a regular session scheduled for November 5. In Baabda, MP Edgard Traboulsi announced in a statement that he had visited President Michel Aoun and conveyed to him "citizens' complaints about the closure of public roads and the insults they face at checkpoints, which remind them of militia days." He called on "the political authority and security forces to assume their responsibilities by opening roads and ensuring freedom of movement and protection of citizens."'
Al-Hassan Says PM Resignation Prevented Strife, Supporters Urged Not to Protest
Naharnet/October 29/2019
Interior Minister Raya al-Hassan on Tuesday said that Prime Minister Saad Hariri's resignation was necessary to prevent "civil strife" in the country. "PM Saad Hariri's resignation was necessary to prevent a descent into civil strife," al-Hassan tweeted, noting that the risk of violence had been manifested in the attacks on protesters in central Beirut which occurred shortly before Hariri's announcement. Al-Mustaqbal Movement meanwhile issued a statement urging its supporters to refrain from staging street protests over Hariri's resignation, after they blocked several roads in the capital and northern Lebanon and in the Naameh area south of Beirut.
Hezbollah, Amal Supporters Wreck Protest Camp in Beirut
Asharq Al-Awsat/Tuesday, 29 October, 2019
Supporters of the Hezbollah and Amal movements fought with protesters at a roadblock on a main road in Beirut on Tuesday, pulling down their tents and leading police to step in. The men were chanting in support of Hezbollah leader Hassan Nasrallah and parliament Speaker Nabih Berri, head of Amal.
The incident started when the men pushed their way into the protest camp set up by demonstrators on the Ring Bridge in central Beirut, trying to make them open the road. They then made their way to the nearby Martyrs' Square – the main camp of protesters who had taken to the streets since October 17.
The men, many of them wielding batons, rampaged through the camp, torching tents, smashing plastic chairs and chasing away protesters. The rampage marked a violent turning point in Lebanon's protests, which have called for the resignation of the government and the overthrow of the political class that has dominated the country since its 1975-1990 civil war. The men who attacked the protesters initially presented themselves as disgruntled residents, frustrated that the protests have paralyzed the country. But later they could be heard making pro-Hezbollah and Amal chants.
The counter-protesters lashed out at reporters covering the melee, kicking some of them and reaching for their cameras. It was unclear how many people were wounded. Fights broke out among some counter-protesters and security forces could be seen beating some people with batons.
Security forces later fired tear gas to disperse them, but only after they had destroyed and set fire to several tents. The protests have thus far been largely peaceful, with only occasional minor scuffles with security forces trying to open the roads. Hezbollah supporters had clashed with protesters and security forces in the nearby Riad al-Solh Square last week. People from all sects and walks of life have flooded the streets for 13 days, furious at a sectarian ruling elite they accuse of plundering state resources for personal gain.
They are demanding the resignation of the government and the ruling elite. Later Wednesday, Prime Minister Saad Hariri submitted his resignation to President Michel Aoun. Protesters have resorted to blocking roads throughout the capital and other major arteries in the country to press their demands.
The Grievances Underlying Lebanon's Protests
Agence France Presse/Naharnet/October 29/2019
An unprecedented protest movement has gripped Lebanon for almost two weeks, demanding an overhaul of a political class viewed as incompetent and corrupt. An announced tax on calls made through free phone applications sparked the demonstrations, but that was just the latest in a long list of economic grievances that have spurred exasperated Lebanese to protest.
Here are some of them:
– Poor services –
Residents in Lebanon complain of unmaintained roads and inadequate public transport, as well as endless power cuts. Most Lebanese pay two bills for their power — the first to an ailing state electricity company, and the second to expensive private generators for the three to 12 hours each day when mains supply cuts out. Consultancy firm McKinsey ranked the country's electricity supply fourth from bottom in the world, following Haiti, Nigeria and Yemen, in a report covering 2017 and 2018. Reforms to the electricity sector have not been implemented since the end of the 1975-1990 civil war. A new electricity plan was approved in March but has not been implemented. Many say they are fed up with paying the state for intermittent tap water they describe as undrinkable. Most also pay for drinking water and private tankers to deliver water when pipes run dry.
– Poverty and unemployment –
More than 25 percent of Lebanon lives in poverty, the World Bank says.
Unemployment stood at 10 percent in 2012, according to official figures, though many claim the real number is higher.
It estimated that 200,000 Lebanese have been pushed into poverty as a result of the eight-year civil war in neighboring Syria.
An additional 250,000 to 300,000 Lebanese citizens are estimated to have become unemployed, most of them unskilled young people.
In the northern city of Tripoli, which has emerged as a nerve center of the protests, 57 percent of the population live at or below the poverty line, according to a 2015 study by the United Nations.
More than a quarter of the city's residents suffer extreme poverty, it said.
– Inequality –
Inequality has been a major rallying call of the protesters.
The top one percent of the population make nearly 25 percent of national income while the bottom 50 percent make little more than 10 percent, according to the World Inequality Database.
– Corruption –
Lebanon ranked 138th out of 175 countries in Transparency International's 2018 corruption index, with different sectarian leaders accused of running demi-fiefdoms.
– Dollar shortage –
In recent weeks it has become difficult to withdraw dollars from ATMs, despite the Lebanese pound being pegged to the greenback. Unofficial money exchangers have been selling dollars for far above the fixed rate of 1,500 pounds.
– Stalling growth –
Growth in Lebanon has plummeted in the wake of endless political deadlock in recent years, compounded by the 2011 breakout of civil war in neighboring Syria. It stood at around 0.2 percent in 2018, far below growth of more than 10 percent in 2009. It is expected to remain stagnant this year, according to the International Monetary Fund.
– Colossal debt –
Economists are deeply concerned by the country's crippling debt of $86 billion.
This equates to roughly 150 percent of gross domestic product, one of the highest rates worldwide. Eighty percent of that debt is owed to Lebanon's central bank and local banks.
– Deficit –
Lebanon adopted its first budget in 12 years last year.
But by the end of 2018, it had failed to make good on a promise to donors to reduce its budget deficit, which reached a record $6.2 billion — over 11 percent of GDP. This year's budget, adopted seven months late, aims to reduce the deficit to 7.6 percent of GDP.Saad Hariri, who resigned as prime minister Tuesday, promised last week after days of protests to reduce it to 0.6 of GDP under the 2020 budget. Economists said this was unrealistic.
– Blocked aid –
In July, parliament passed an austerity budget as part of conditions to unlock $11 billion in aid pledged at a conference in Paris last year.
But with no real progress made on reforms since, the financial aid has been held up.Lebanon has received only part of the aid promised at several previous conferences, after it failed to honor its promises to bring about substantial economic change.

The Two Weeks of Protests that Pushed Hariri to Quit
Associated Press/Naharnet/October 29/2019
Lebanon has been gripped by unprecedented anti-government and anti-austerity protests for nearly two weeks, pushing Prime Minister Saad Hariri to announce sweeping economic reforms then offer to resign on Tuesday.
Here is a recap:
– Apps tax anger –
Demonstrations erupt on October 17, just hours after the government announces a tax on calls made via messaging services like WhatsApp. Thousands take to the streets in the capital Beirut and the cities of Sidon and Tripoli, some chanting "the people demand the fall of the regime".
There are clashes near government headquarters in Beirut, as demonstrators try to storm the building. Security forces say around 40 of their members are wounded. They fire tear gas to try to disperse crowds. Hundreds of protestors also block major highways and set refuse bins and tires alight. The government scraps the messaging app tax later the same day.
– Demos grow –
On October 18, thousands of demonstrators from a broad spectrum of sects and political affiliations bring the capital to standstill. They demand an overhaul of the political system, citing grievances from austerity measures to poor infrastructure. Hariri gives his coalition government partners three days to support a reform drive. Security forces reopen some highways and fire tear gas and water cannons to disperse a huge crowd in Beirut's central Riad al-Solh Square, a main rallying point. Security forces say 70 protesters are arrested.
The demonstrations swell over the following days, with major gatherings also in second city Tripoli and other locations across the country.
– Reforms announced –
On October 19, the Lebanese Forces party pulls its four ministers from the cabinet. On October 21, Hariri announces his government has approved a raft of economic reforms, including halving salaries of lawmakers and ministers.
But the protests continue, with demonstrators dismissing the new measures as insufficient and a desperate move by the political class to save their jobs.
– Hizbullah calls in supporters –
On October 25, the head of the powerful Shiite movement Hizbullah, which with its allies holds the majority in parliament, tells his supporters to not take part in the protests. "We do not support the resignation of the government," Sayyed Hassan Nasrallah says. On October 26, loyalists of Hizbullah and the AMAL Movement mobilize counter-demonstrations across the country, sparking scuffles with demonstrators.
Their ally the Free Patriotic Movement also stages separate smaller rallies supporting its founder, President Michel Aoun. But Hizbullah faces pressure, with protests breaking out in some of its strongholds, an unprecedented development in the politically fractured country. Also on October 26, at least six civilians are reportedly wounded when soldiers confront protestors trying to block a road near Tripoli.
The following day, tens of thousands of protesters form a 170-kilometer (105-mile) chain across the country to symbolize national unity.
– Resignation –
On October 29, dozens of counter-demonstrators descend on Riad al-Solh Square and attack anti-government protesters, torching tents and tearing down banners that call for "revolution". Less than an hour later, Hariri announces in a televised address that he will submit his and his cabinet's resignation to Aoun later in the evening.
Hariri, Lebanon's In-and-Out Prime Minister
Agence France Presse/Naharnet/October 29/2019
Saad Hariri, who stepped down Tuesday as Lebanon's premier for a third time, was propelled into politics by his billionaire father's assassination but has struggled to stamp the same authority on his fractious country. The announcement followed almost two weeks of unprecedented cross-sectarian protests demanding an overhaul of Lebanon's entire political system.The 49-year-old, who sports trademark slicked-back hair and a closely cropped beard, was thrust onto the political stage after his father Rafik, himself an ex-premier, was assassinated in a February 2005 car bomb attack.
But he has struggled to fill his father's shoes, grappling in the latest crisis to address nationwide protests demanding the removal of a political elite viewed as incompetent and corrupt. Hariri has cast himself as a champion of economic reform held hostage by unwilling coalition partners, but protesters have categorized him as a product of Lebanon's hereditary politics. His image was further tarnished last month when reports surfaced that he had sent $16 million dollars to a South African model, even as his family business' employees were being laid off or unpaid. After several days of protests, the embattled premier last week announced a string of economic reforms, but the plans have failed to quell anger in the streets. Hariri's face has appeared on flyers calling for him to "Leave!".
Second resignation
Hariri sent shockwaves across the region in 2017 by resigning from office while in Saudi Arabia and accusing the Iran-backed movement Hizbullah of destabilizing the region. The announcement triggered a flurry of international interventions that eventually saw Hariri return to his post, adopting a more conciliatory tone towards the group which he blames for his father's killing. He has had little success in reining in Hizbullah, the only faction to have retained its arsenal after Lebanon's 1975-1990 civil war. Hariri's al-Mustaqbal Movement lost a third of its seats in parliamentary elections last year, when Lebanon held its first legislative election in nine years and voters reinforced Hizbullah's parliamentary weight.
It then took him more than eight months to form a government, which has now been in office less than a year. Hariri launched his political career at the urging of his family, after his father's death. He left his post in Saudi Arabia running the Oger firm that was the basis of his family's business empire.
Back in Beirut, Saad played a key role in mass demonstrations that culminated in the end of a 30-year Syrian military presence in Lebanon. His political career has been something of a rollercoaster, beginning with his August 2007 formation of the al-Mustaqbal Movement. Hariri is regarded as de facto leader of Lebanon's Sunni Muslim community, although critics deride him as a political novice with at times hesitant classical Arabic.
Beirut bike rides
Hariri is generally soft-spoken in his public pronouncements, eschewing the table-thumping style preferred by some of his political rivals.
His close friends say he enjoys cooking and exercising, and would make appearances at Beirut bike rides and the city's annual marathon. Hariri began his first term as prime minister in November 2009, forming a unity government with Hizbullah and its allies after marathon negotiations. But confrontations with the group had begun six months earlier, when Hizbullah seized parts of Beirut after street battles with al-Mustaqbal Movement supporters. Hariri stayed on as prime minister until January 2011 when Hizbullah and its allies abruptly withdrew their ministers from the cabinet. His first government collapsed while he was meeting with then-U.S. president Barack Obama in Washington. The deposed premier stayed in self-imposed exile in France and Saudi Arabia for several years, citing "security" concerns.
But in 2016, he decided to back a presidential bid by Hizbullah ally Michel Aoun.
The move ended more than two years of political stalemate and saw Hariri return to head a unity government that again included Hizbullah. Saudi Arabia has long accused Iran and Hizbullah of effectively holding Lebanon hostage. Hariri has Saudi citizenship and has tirelessly praised the kingdom, but the changing of the guard in the Gulf state appears to have left him with fewer allies.His wife Lama Bashir-Azm, who is of Syrian origin, and their three children live in Saudi Arabia, where they have remained during his terms as prime minister.
Lebanon since Rafik Hariri's 2005 Assassination
Agence France Presse/Naharnet/October 29/2019
Lebanon's former prime minister Rafik Hariri was assassinated in 2005, his son Saad coming to power in 2009 in a turbulent period for the politically fractured country. After Saad Hariri offered to resign Tuesday following nearly two weeks of demonstrations, here is an overview of developments since 2005.
Assassination –
A massive suicide bomb tears through Rafik Hariri's armored convoy on the Beirut seafront in February 2005, killing him and 22 other people. Opposition leaders blame Syria but Damascus denies any role. Lebanon's powerful Iran-backed movement Hizbullah is also heavily suspected. Amid a groundswell of protests, Syrian troops quit Lebanon on April 26 after a 29-year deployment which had peaked at 40,000 troops.
Hizbullah vs Israel
In July 2006, Hizbullah captures two Israeli soldiers, leading to a 34-day war with Israel that costs nearly 1,400 lives, including 1,200 Lebanese. Israeli troops withdraw from southern Lebanon in October and the Lebanese Army — aided by a U.N. force — deploys into the border region after a 40-year absence.
Hizbullah in government
In May 2008, clashes between Hizbullah-led militants and government supporters in Beirut and other regions leave nearly 100 dead in one week.
After talks to avoid renewed civil war, Lebanon in July 2008 forms a 30-member national unity government in which Hizbullah and its allies have 11 seats, giving them veto power. In June 2009, an anti-Syrian alliance led by Saad Hariri wins legislative elections and he is appointed prime minister.
After months of stalemate with the Hizbullah-led camp, he is only able to form a government in November. In January 2011, Hizbullah and its allies force the collapse of the unity government. In June, a new Hizbullah-dominated government is formed.
Enters the Syria war
In April 2013, Hizbullah says its fighters have intervened in the war in Syria on the side of President Bashar al-Assad. It goes on to send thousands of fighters into the conflict, with military and financial aid from Shiite power Iran.
Hariri resigns, backtracks –
In October 2016, Hizbullah-backed former general Michel Aoun becomes president, ending a 29-month political vacuum caused by disagreement in the deeply divided parliament.
Saad Hariri is reappointed prime minister.
In November 2017, Hariri announces from Saudi Arabia that he is resigning, citing the grip of Iran and its ally Hizbullah on Lebanon, and threats to his life. Tensions soar between Lebanon and Saudi Arabia, which is suspected of having forced the resignation. France intervenes and Hariri withdraws his resignation.
– Hizbullah and allies win elections –
In May 2018, Hizbullah and its allies dominate the first legislative elections since 2009. Hariri's al-Mustaqbal Movement loses a third of its seats but he is designated premier for a third term.Negotiations to form a new government drag on to late January 2019, Hariri blaming Hizbullah.
– Austerity, protests –
In May 2019, hundreds of retired security personnel protesting over feared pension cuts try to storm the government's headquarters.
In July, parliament passes an austerity budget aimed at rescuing the economy, which is crumbling under massive debt. In September, hundreds of people protest in Beirut over the deteriorating economy and increasingly difficult living conditions. October 17 sees the start of two weeks of unprecedented street protests against issues from austerity measures to poor infrastructure. On October 29, Hariri announces he is submitting the resignation of his government.