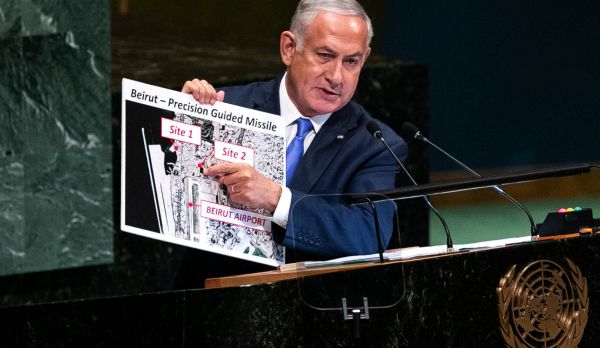 Analysis/Recent Attacks on Iranian Targets Are Good for the Israeli Soul – and Not Much Else




زيفي بارئيل/هآرتس: الهجمات الأخيرة على الأهداف الإيرانية هي جيدة للروحية الإسرائيلية وليس أكثر




Zvi Bar'el/Haaretz/September 03/2019
Analysis/Lebanon Crisis Provides Brief Respite From Netanyahu's Increasingly Deranged Election Campaign.




كيمي شاليف/هآرتس: أزمة لبنان توفر فترة استراحة قصيرة من حملة نتنياهو الانتخابية المتزايدة بالإضطراب 




Chemi Shalev/Haaretz/September 03/2019
The prime minister's delusional tirade against concocted enemies is scary if contrived – and terrifying if genuine.
The meticulously stage-managed Hezbollah retaliation against Israel on Sunday brought both good news and bad news. The good news is that a potentially destructive military escalation on Israel's northern border was averted. The bad news is that the all-clear signal in the north – which may only be temporary – frees Netanyahu to return to his increasingly and dangerously demented election campaign.
Not that electioneering was totally absent from the Lebanon flare-up, at least in its closing lines. An elaborate and somewhat bizarre Israeli ruse meant to feign casualties so that Nasrallah could declare "mission accomplished!" was undermined by overeager cabinet minister Yoav Galant who blurted out the truth.
Benjamin Netanyahu then upped the ante by gloating over Hezbollah's failure to leave "even a scratch" on any Israeli soldier, seemingly goading Nasrallah not to make do with Sunday's attack. Netanyahu was roundly criticized for once again straying from Israel's previous policy of "ambiguity" concerning its military operations, including the attacks on Iranian militias in Iraq and on a Hezbollah plant in Beirut, for purely political reasons.
Nonetheless, Netanyahu and the army chiefs deserve credit for containing a fierce and potentially devastating confrontation with Hezbollah, sustaining manageable damage in return for Israel's recent drone attack on the Beirut plant developing precision-guidance for Hezbollah's formidable missile arsenal. Netanyahu's deft handling of the situation, however, stood in sharp contrast to his increasingly unhinged election campaign.
To crib from Robert Louis Stevenson, it seems that while Dr. Benjamin Jekyll continues to manage Israel's affairs of state, Mr. Bibi Hyde has taken over the Likud's election campaign.
Dr. Jekyll is the responsible statesman who has generally garnered positive reviews for his careful management of Israel's ongoing war against Iran and its proxies in Lebanon, Syria and even Iraq. Mr. Hyde, on the other hand, is the divisive demagogue whose incitement against the media and legal system is escalating while his grip on reality seems to loosen.
Dr. Jekyll is the responsible statesman who has generally garnered positive reviews for his careful management of Israel's ongoing war against Iran and its proxies in Lebanon, Syria and even Iraq. Mr. Hyde, on the other hand, is the divisive demagogue whose incitement against the media and legal system is escalating while his grip on reality seems to loosen.
In a transparent effort to harm Channel 12, Netanyahu picked on the new HBO series "Our Boys", which recounts the brutal murder of Palestinian teen Mohammed Abu-Khdeir by Jewish zealots seeking revenge for the kidnapping of three Israeli soldiers in July 2014. The Israeli-American miniseries – hitherto lauded for its sensitive depiction of the apprehension of the perpetrators by the Shin Bet and widely seen as another feather in the cap of Israel's internationally successful television industry – was described by Netanyahu as "anti-Semitic," no less. The prime minister called on his minions to boycott Channel 12 in return.
But Netanyahu went full blast bonkers when he seemed to be contemplating a nightly Facebook appearance, which he dubbed "The Truth Newscast" without so much as a wink to George Orwell. His "truth", Netanyahu said, would compete with what he described as Channel 12's "Gantz-TV", despite the fact that the station's interviews with the Kahol Lavan leader and obsessive reporting about discord in its ranks have inflicted more damage on his challenger than all other news outlets combined.
But you have to see and hear the entire post to grasp the full measure of Netanyahu's dangerous dementia. His appearance is riveting and appalling at the same time, rendering a Trumpian harangue, albeit one delivered by a far more cunning and accomplished performer. Netanyahu fully lives up to his reputation as a charismatic TV personality second to none but exceeds his own high standards as a truth-bending, fear-mongering, hate-spreading rabble-rouser who can brainwash his followers to his heart's content.
Notwithstanding the mountains of damning evidence publicized by Attorney General Avihai Mendelblit in his March declaration of intent to indict him on charges of corruption, Netanyahu has consistently and vociferously denied any wrongdoing. Consistent with his denial, he has depicted press leaks of hitherto unpublicized testimonies of witnesses against him as "fake news," "a witch hunt" and now "a terror attack against democracy." But his onslaughts have never been as focused, ominous, potentially lethal or detached from reality as his latest volley.
The more comforting assessment of the prime minister's blitzkrieg against the media and its supposed lackeys in the legal system – along with the little that remains of Israel's checks and balances – is that this is vintage Netanyahu, albeit on steroids. After all, Netanyahu's election campaigns are renowned for their fabrications and incitement – from Yitzhak Rabin selling Israeli security to Yasser Arafat to the cynically concocted 2015 cry of "Arabs flocking to polls." His 2019 bogeyman is the media, which Netanyahu's fans, primed by their leader, have come to denigrate and despise.
By this account, Netanyahu's most recent dive into the cesspool in which he thrives is a calculated campaign ploy aimed at diverting attention from his alleged corruption while firing up his base against a purported wide-ranging "plot" to depose him. If his propaganda seems more desperate than ever it is only because Netanyahu is literally fighting for his own personal freedom and is increasingly apprehensive about losing the battle. Netanyahu is convinced that his one-time protégé and former defense minister Avigdor Lieberman is gunning for his head and is thus getting increasingly frenzied due to Lieberman's growing strength in the polls.
The far scarier scenario has Netanyahu succumbing to his well-documented paranoia and persecution complex, amplified ten times over by his wife Sara and son Yair, pushing him to embrace the delusional figments of his own imagination. He described Channel 12, for example, as a stifling monopoly, despite the existence of two mainstream competitors – both of which Netanyahu tried to dismantle – as well as a burgeoning stable of television, radio and print outlets that are unabashedly pro-Netanyahu.
Netanyahu's performance on Saturday night may have been so completely compelling, therefore, not because it featured Israel's consummate political actor but because his appearance was no act at all. Netanyahu may actually see himself now as a latter-day Alfred Dreyfus, a Jewish martyr about to be felled by a sinister cabal comprised of leftist defeatists and cosmopolitan anti-Semites. His distraught reactions to press reports about his alleged corruption are getting loonier because Netanyahu himself is going berserk at the hands of the demons he invented all by himself.
The short-term danger is that Netanyahu's dementia, feigned or genuine, will inflame the election campaign, inspire fear and loathing and possibly provoke violence against those "plotting" against him. The long-term and far more sinister danger is that if and when he wins the September 17 election, Netanyahu won't discard his persecuted victim mentality, as many expect, but take it with him, fully-loaded, to his fifth straight term in office.
Netanyahu will then unleash all his pent-up fury and lust for revenge on freedom of speech, civil liberties and rule of law until he has felled what increasingly seems like his greatest adversary – Israeli democracy itself.
Analysis/Recent Attacks on Iranian Targets Are Good for the Israeli Soul – and Not Much Else




زيفي بارئيل/هآرتس: الهجمات الأخيرة على الأهداف الإيرانية هي جيدة للروحية الإسرائيلية وليس أكثر




Zvi Bar'el/Haaretz/September 03/2019
Though Israel's Military Intelligence has outstanding ability to gather information ahead of an operation, it can't say what diplomatic and strategic outcomes would follow.
The satellite that Iran planned to launch into space on Thursday ended its life with a big explosion. This isn't the first time Iran has failed to send a satellite beyond Earth's atmosphere. On the two previous occasions, in January and February, the tests ended similarly. One was reported by Iran, the second was concealed from the media.
But the interesting point in this whole affair is related to the president of the United States, who hastened to deny that his country was involved in the explosion. Did anyone ask him? Blame him? Until Donald Trump's tweet, Iran apparently did not intend to report the failure, and its leadership did not point an accusing finger in any direction. Trump didn't make do with a denial – he posted the picture of the exploded space center, apparently from an intelligence briefing he'd received that morning.
In doing so did the president want to hint that the United States not only knows about the failed test, but also plans to prevent the continuation of the tests because it suspects they are designed to improve Iran's ability to launch ballistic missiles? Did Trump violate the intelligence confidentiality imposed on the briefings he receives? And is this perhaps a new tactic, shared by the United States and Israel, in which publications about foiling Iranian plans and striking at Iranian targets are part of the system of deterrence against Iran?
Israel preceded Washington by publicizing not only the details of the operation in which it attacked an Iranian squad that intended to launch explosives-laden drones into its territory – it also added many details about the location of the launching site, the direct involvement of Qassam Soleimani, who plans Iran's operations outside the country, and about the nature and capabilities of the drones.
The amazement at the precise intelligence possessed by Israel and the United States regarding Iran's plans is justified. It's clear that they are capable of penetrating deep into Iranian military units and acquiring information. Ostensibly, this turns Military Intelligence into the most significant agency in making the decisions likely to influence diplomatic and strategic developments in the region. But that's an erroneous conclusion.
Foiling the launch of an Iranian satellite, destroying a special explosives-mixing machine in Lebanon, the mysterious bombing of a missile base in Iraq, or the destruction of a building designed for launching drones against Israel are similar on the tactical level – despite the major logistical differences – to striking at targets in the Gaza Strip. You can assassinate a Hamas commander, destroy civilian infrastructure or hit missile launchers, but those acts won't solve the root problems that create these military operations.
That's because while MI has outstanding ability to gather information in advance of an operation, it cannot present the map of diplomatic and strategic outcomes that could follow.
The result is that Israel doesn't know how Hezbollah will react to the destruction of the mixing machine in Lebanon and cannot anticipate how Hamas will react to attacks in the Strip – and above all, neither Israel nor the United States has the ability to assess the extent to which striking at select Iranian targets will change Iran's policy in Syria or Iraq or on negotiations with the United States.
The world knows about Iran's decisions only after they are made. Despite the tactical successes, the West lacks tools to assess the decision-making processes and the influence mechanisms in the country.
For example, Qassem Soleimani is considered the planning and operational head of Iranian activity outside the country, and therefore the person who also heads the Iranian influence networks in Iraq, Yemen, Lebanon and Syria. But this convenient definition, which presents Soleimani as a supreme target, ignores the large group of influential people, headed by the Iranian President Hassan Rohani, the speaker of Parliament, the clerics close to Ayatollah Ali Khamenei, close advisers, his son, the new commander of the army et al. Each of them has a certain status regarding the decisions about Iran's response to strikes attributed to Israel.
Khamenei himself has so far refrained from declaring publicly how Israel should be treated. He is the final decision maker, but his decisions are not arbitrary. There is no question that Iran understands messages, but it doesn't see them as a diktat, and it translates them based on its internal needs, including political needs, and not necessarily based on the intention of their dispatchers. That means the assumption that precise attacks against Iranian sites or key people are likely to act as a message that will influence its policy does not have much to support it.
The tactical military dialogue that Israel is conducting with Iran, in the hope it will delay dramatic steps – such as Trump's intention to conduct direct negotiations with Iran, or the French mediation toward a meeting between the two leaders – cannot guarantee such an outcome. On the other hand, it looks as though the harsh sanctions imposed by the United States against Iran did not lead to its surrender, but rather to a guarded willingness to conduct negotiations with the great power that is wooing it.
If conditions ripen for such negotiations, the Israeli attacks will not carry any weight in shaping their content, but they are apparently good for the Israeli soul, especially in an election period.