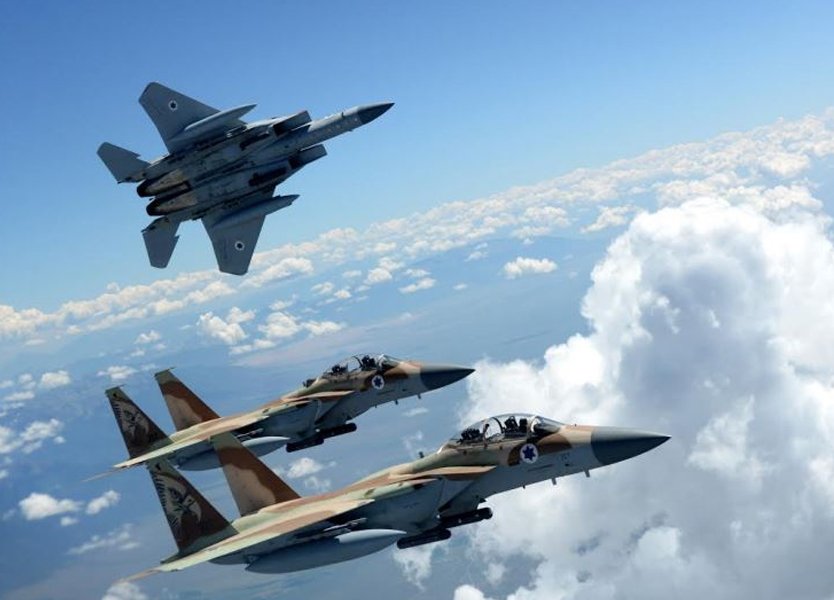 Damascus: Israeli air/naval forces hit 10 Syrian, Iranian, Hizballah targets




DEBKAfile/July 01/2019
Israel Strikes Iranian Targets in Syria, Report Says; 16 Killed, 21 Wounded
Reuters and Jack Khoury/Haaretz/July 01/2019
Missile Fired by Syrian Air Defenses Crashes in Cyprus




Asharq Al-Awsat/Monday, 01 July, 2019
Analysis/Alleged Israeli Strike in Syria Hit Advanced Iranian Weapons Supply Headed for Hezbollah
عاموس هاريل/هآرتس: الضربات الإسرائيلية استهدفت تعزيزات أسلحة إيرانية متطورة كانت بطريقها إلى حزب الله
Amos Harel/Haaretz/July 01/2019
Russia's national security adviser stressed Moscow's alliance with Tehran in Israel visit, but Russia not working to thwart Israeli strikes in Syria ? Iran's nuclear deal breach pushes U.S. to the table, but Trump has yet to take the bait
Based on Arab media reports, the bombing of Syrian and Iranian targets outside the cities of Damascus and Homs late Sunday night was one of the largest attacks attributed to Israel in recent years. Its timing was intriguing, too – a few days after the summit in Jerusalem of national security advisers from the United States, Russia and Israel, and at a time when the United States and Iran are still facing off against each other in the Persian Gulf.
On Monday there were reports that Iran had carried out its threat, enriching its uranium stockpile past the 300-kilogram limit set under the international nuclear agreement, for the first time.
Journalists in Damascus relate that various sites associated with Iran in proximity to Beirut were also bombed overnight, as was a weapons depot near the Lebanese border, in Syria. The distribution of the sites attacked could attest to the real goal – hitting what is apparently a logistical chain that supplies advanced weapons to Hezbollah, linking Iran to Lebanon via Syria.
The number of casualties reported so far is unusual: nine fighters, most of them foreign, and six Syrian civilians. Civilian deaths resulting from Israeli air raids on Syria are quite rare.
The official announcement published after the trilateral Jerusalem summit last week was very short on details. At the joint press conference, Russia's national security adviser, Nikolai Patrushev, even mentioned the alliance between Russia and Iran in Syria. But Russia is clearly taking no active steps to curtail Israel's assaults on Iranian targets in Syria.
The S-300 surface-to-air missile system, which the Russians say they delivered to the Syrian Army after their Ilyushin aircraft was accidentally shot down in September, didn't operate this time either. The Syrians fired a massive barrage of older S-200 missiles in response to this latest aerial attack; one fell on the Turkish part of Cyprus by mistake. As in the Ilyushin incident, this time too, the Syrians seem to be firing weapons rather hysterically without considering possible ramifications.
Even though this is an election period in Israel, in contrast to previous attacks, this time local officials did not immediately begin to drop broad hints about Israel's possible involvement. Speaking at the Herzliya Conference on Monday, Mossad chief Yossi Cohen talked about the situation in the north, in general.
"We have no interest in fighting with Syria," Cohen said. "But we won't accept Iran's entrenchment against us in Syria, or Syria's role as a logistical base for transporting weaponry to Lebanon."
He added that in his opinion, Israel's activity in Syria will ultimately prompt Iran to decide that it doesn't pay to operate there. Cohen, who devoted much of his speech to the Iranian threat to Israel, mentioned Tehran's intention of exceeding the permissible limit for enriched uranium under the 2015 agreement with the six world powers – from which the United States withdrew last May. And indeed, an hour later, it was reported that Iran had, for the first time, passed that mark.
In the background, tensions with the Americans in the Persian Gulf continue. Following recent attacks on oil tankers, rigs and airfields for which Tehran has been blamed, an expensive American surveillance drone was shot down in the Gulf on June 20. Iran claimed the drone had penetrated its airspace. Trump reconsidered his initial response to the incident and canceled a punitive American attack which, he claimed, could have cost 150 lives – but also announced more economic sanctions against Tehran.
While no further incidents have been reported in the interim, the Iranians are exerting pressure by violating the nuclear accord. Their purpose seems to be to bring the Americans back to the negotiating table, perhaps in the hope of easing the sanctions. So far Trump hasn't taken the bait. On the contrary, he is signaling a crackdown.
Sooner or later the parties will have to resume their direct talks but right now they're at the stage of issuing threats. It's quite obvious that neither wants a direct military conflict, but as has been said before: The regional situation is so complex that one cannot be sure that the Americans and Iranians will have the good sense not to get to that point.
Damascus: Israeli air/naval forces hit 10 Syrian, Iranian, Hizballah targets




DEBKAfile/July 01/2019


One of Israel's largest attacks is reported by Syrian sources to have swept across 10 targets across the country early Monday, July 1. They included Damascus Mezza military airport; Iranian and Hizballah military facilities at Al Kiswa south of Damascus; the base of the Syrian 1st Division; the Syrian military "research" institute at Jumriyah; military facilities at Siniya; and a chain of Hizballah bases in the Qalamoun Mts straddling the Syrian -Lebanese frontier, as well as bases in the Homs district. The attacks were said to have been conducted by Israeli jets from Lebanese air space and naval vessels. Syrian sources reported that four people were killed in the attack and its air defense systems intercepted some of the incoming Israeli missiles. They described powerful explosions and huge fires at Iranian Revolutionary Guards and Hizballah bases in the Qalamoun Mts and ambulances streaming to the scene. DEBKAfile's military sources add that Israel delayed this latest round of attacks on Iranian and Hizballah positions in Syria to give US and Russian diplomacy a chance to reach understandings on the Syria situation. When their effort ran into the ground last week, the Israeli military was ordered to go forward. A large-scale operation became urgent when Iran and Hizballah were discovered to be preparing to embark on an operation against Israel, as part of Tehran's campaign against US Middle East allies in retaliation for the Trump administration's sanctions. Israel's wide-ranging strikes on the 1st of July aimed at preempting that Iranian-Hizballah operation before it got off the ground.
Israel Strikes Iranian Targets in Syria, Report Says; 16 Killed, 21 Wounded
Reuters and Jack Khoury/Haaretz/July 01/2019
Syrian air defenses responded to attacks on Homs and Damascus outskirts launched from Lebanese air space, Syrian state media says ■ Anti-aircraft missile fired at assailants hits Turkish Cypriot mountainside, causing no casualties.
Sixteen people including a baby were killed and 21 were wounded by an Israeli attack on multiple Syrian and Iranian targets on the outskirts of Damascus and Homs, Syrian state-run al-Ikhbariya broadcaster reported, citing its correspondent.
Israeli warplanes fired missiles at Syria that targeted Syrian military positions in Homs and Sahnaya, south of Damascus, the Syrian military said on Monday. Meanwhile, Turkish-held Cyprus said a Syrian anti-aircraft missile that was fired at Israeli jets landed north of Nicosia. No casualties were reported.
"The first assessment is that a Russian-made missile, part of the air defense system, which was part of the air defense system that took place last night in the face of an air strike against Syria, completed its range and fell into our country after it missed," Turkish Cypriot Foreign Minister Kudret Ozersay said in a social media post.
The object hit a mountainside north of the capital Nicosia. Syrian air defenses confronted the attack, which was launched from Lebanese airspace, the Syrian defense ministry said in a brief report on its Telegram feed. The Syrian Observatory for Human Rights said 16 people were killed, among them three children and ten Iranian militias and Hezbollah members. The observatory added that the Israeli Navy also took part in the strike, targeting ten Hezbollah bases, including compounds that were used by Iran's Revolutionary Guards. SANA said the dead included a baby and that other children were among the wounded in Sahnaya. It was unclear whether the civilians were killed in the strike or in the resulting blasts. Social media pages affiliated with the Assad regime have been sharing posts saying a man named Anas Albiat and his wife Rama Arnaout. along with their infant son, were killed in the strike. According to the observatory, among the sites hit were Revolutionary Guards' compounds south of Damascus, a strategic research center northwest of Damascus, Hezbollah facilities near the Syrian-Lebanese border, where large fires were reported after several arms depots were hit. In addition, a research center in Homs was reportedly struck, in addition to an airbase south of Homs that serves Iranian and Hezbollah forces. The Israeli army has yet to comment on the incident. Syrian state TV station al-Ikhbariya, citing its correspondent, said the pressure of explosions over Damascus had caused damage to some homes in Sahnaya, south of the capital, breaking glass and slightly injuring a number of people.
State news agency SANA cited its correspondent as saying Syrian air defenses had brought down a number of the missiles. In recent years, Israel has carried out hundreds of strikes in Syria that it says have targeted its regional arch foe, Iran, and the Lebanese Hezbollah group, which it calls the biggest threat to its borders. Iran and Hezbollah are fighting on the side of President Bashar Assad in the Syrian war, and Israel says they are trying to turn Syria into a new front against Israelis. On June 12, SANA reported that Syrian Air Defenses thwarted an Israeli attack on Tal al-Hara in southern Syria and shot down a number of missiles. Located in Daraa Governorate, Tal al-Hara is considered as a strategic hill overlooking the Israeli-controlled Golan Heights. The missile attack resulted only in damage and Israel then conducted an "electronic war" in which radars were subjected to interference, SANA added.
Hours after the incident, Prime Minister Benjamin Netanyahu issued a message saying that Israel responds "decisively and forcibly to any attack against us," yet did not claim responsibility for the alleged attack. Earlier in June, Syrian state media said Israeli missiles were fired toward a Syrian military base in Homs, a day after Israel confirmed it had struck Syrian targets on Saturday in retaliation for rocket fire toward the Golan Heights.
Missile Fired by Syrian Air Defenses Crashes in Cyprus




Asharq Al-Awsat/Monday, 01 July, 2019


A missile, fired by the Syrian regime's air defenses, is believed to have crashed on a mountainside in Cyprus, officials said.
The errant missile struck early Monday, skimming Nicosia and crashing in the region of Tashkent, also known as Vouno, some 20 kms (12 miles) northeast of the capital, with the impact setting hills ablaze and heard for miles around. There were no casualties.
There were no casualties. An Israeli air strike was underway against Syria at the time. Syrian state media said the Syrian air defenses had fired in response to the Israeli attack. "The first assessment is that a Russian-made missile … which was part of the air defense system that took place last night in the face of an air strike against Syria, completed its range and fell into our country after it missed," Turkish Cypriot Foreign Minister Kudret Ozersay said in a post on Facebook. He said the explosion was thought to have occurred before impact because there were no craters. "The pieces that fell to several different points prove that the missile exploded in the air before it crashed," he said. Cyprus lies west of Syria. Israeli warplanes fired missiles targeting Syrian military positions in Homs – around 310 kilometers (193 miles) from Nicosia – and the Damascus outskirts overnight. The attack killed nine mostly foreign pro-regime fighters and six civilians, including three children, the Britain-based Syrian Observatory for Human Rights said Monday. An Israeli military spokeswoman declined to comment on the reports. The freak incident would be the first time that Cyprus has been caught in the crosshairs of military operations in the Middle East despite its proximity to the region. A Greek Cypriot military analyst, Andreas Pentaras, said the debris suggested it was a Russian-made S-200 missile, which can have a range of up to 400 kilometers. "An assessment from the pictures made public shows the base of its wings. It has Russian writing on it, so it suggests it is Russian made. Syria uses Russian-made missiles, so a not-so-safe assessment would be it was .. an S-200 (missile)," Pentaras, a retired army general, told Sigma TV in Cyprus. Jamming technology could have diverted the missile, he said. Another analyst said that, should the missile hypothesis prove to be correct, it could have been faulty. "Right now we can't be absolute but from the pictures and the inscriptions it appears to be an S-200," analyst Zenonas Tziarras of the Geopolitical Cyprus think-tank told Reuters.Those missiles were designed to explode in mid-air if they don't hit a target, he said. Residents told Cypriot media they saw a light in the sky then three loud explosions were heard for miles around. Tashkent is a small village in the foothills of a mountain range rimming northern Cyprus. Authorities evacuated some homes.