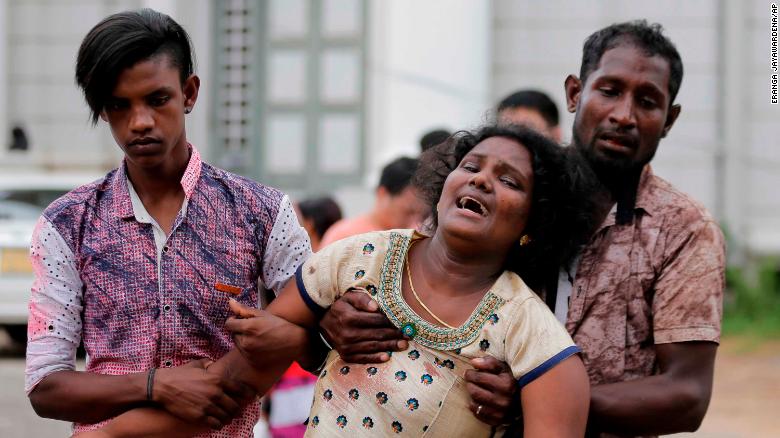 Our Prayers Go For The Hundreds That Were killed Or Injured in Sri Lank Today Because Of Their Christian Faith


Elias Bejjani/April 21/19
"I have told you this so that you might have peace in me. In the world you will have trouble, but take courage, I have conquered the world." (John 16-33)
The shocking and tragic news from Sri Lanka this morning left the whole world in anger, sorrow, panic and fear.
Our voices join in condemning the horrific attacks on Christians as they were celebrating their holiest day, Easter Sunday, and our hearts and our prayers goes to all those who were injured or killed.
The least ethical and human obligation that any peace loving person would do today, is to strongly condemn the barbaric, savage and fundamentalist assault that targeted five churches and three hotels in Sri Lanka.
Most of the victims were observing and celebrating The Easter Sunday, the most important day on the Christian Church calendar.
The vicious attack killed more than 230 innocent parishioners among them citizens from numerous countries, and injured at least 500 others, many of them are in a critical condition.
The coward and evil assailants attacked civil and peaceful parishioners while they were worshiping and praying. This vicious assault reaches the realm of a series of similar previous and ongoing fanatic attacks against Christians and their churches in many other countries.
This phenomenon of anti-human rights' practices is widely encouraged, nurtured and cultivated through education of hatred, fundamentalism, rejection of the other and ignorance in many third world countries.
What is unfortunate, pitiful and sad is that the governments of many middle east and African countries adopt such practices while the free world keeps a blind eye or in the best scenario limits its condemnation to mere rhetoric levels.
The horrible and barbaric crime of today is strongly denounced. The Free World has an obligation to protect Christians as well as all African and Middle East minorities.
We, call on the free world countries, the United Nations, the Vatican and on all the Human Rights' organizations to be loud in their public stances of condemnation and to develop a world wide plan and strategy to protect the Middle East Christians as well as all other minorities.
Our deepest sympathies are extended to the families and friends of those killed today, and all wishes for a speedy recovery to all the injured.
May the souls of all those innocent victims that were killed today rest in peace.
Background
At least 207 people were killed and hundreds more wounded in a series of bomb blasts that hit luxury hotels and churches across Sri Lanka on Easter Sunday,
Sugam Pokharel, Euan McKirdy and Tara John,

(CNN)/April 21, 2019/ At least 207 people were killed and hundreds more wounded in a series of bomb blasts that hit luxury hotels and churches across Sri Lanka on Easter Sunday, leaving the entire country in a state of lock-down. The first wave of attacks struck at the heart of the country's minority Christian community during busy Easter services at churches in the cities of Colombo, Negombo and Batticaloa on Sunday morning. Additional blasts ripped through three high-end hotels, the Shangri La, Cinnamon Grand and Kingsbury, all in capital city Colombo. The violence punctured a decade of relative peace in the country following the end of its civil war in 2009 — where attacks were common during the 25-year struggle. Sri Lanka has since turned itself into a popular tourist destination, winning the title of best place in the world to visit in 2019 by travel guide publisher Lonely Planet. "These are certainly acts of terror," the High Commissioner of Sri Lanka to the UK Manisha Gunasekera told CNN on Sunday, suggesting that suicide bombings had been "carried out." "This is an attack against the whole of Sri Lanka because Sri Lanka is [a] multi-ethnic, multi-religious and multi-cultural country and the whole country comes together in celebration of Easter Sunday."In a statement, the Shangri-La hotel in Colombo said that the hotel's Table One cafe was hit just after 9 a.m local time. The hotel is popular with foreign tourists and the country's business community. On Sunday afternoon, the seventh and eighth blast occurred at a hotel in front of the Dehiwala Zoo in Dehiwala-Mount Lavinia and at a private house in Mahawila Gardens, in Dematagoda, during a raid in connection with the attacks, officials said.
Here's the full list of blast sites reported so far:
•St. Anthony's Shrine, Colombo
•St. Sebastian's Church, Negombo
•Zion Church, Batticaloa
•Cinnamon Grand, Colombo
•Shangri-La Hotel, Colombo
•The Kingsbury Hotel, Colombo
•Near Dehiwala Zoo in Dehiwala-Mount Lavinia
•A house in Mahawila Gardens, Dematagoda
Sri Lanka's Minister of Economic Reforms and Public Distribution Harsha de Silva said on Twitter that "close to 30 foreigners" were killed on Sunday. In the capital, Colombo, at least 20 foreigners were among the dead, according to hospital Director General Anil Jasinghe. Hospitals have opened their doors to scores of victims.
Three Indians, two Turkish nationals, and two Chinese citizens were identified as deceased among the hundreds who died, according to Sri Lanka's Foreign Ministry in a statement seen by CNN. Five British citizens, including two dual US-UK nationals, were also killed in the bombings, the statement said.
The UK Foreign Office has not yet confirmed the deaths, but British High Commissioner to Sri Lanka, James Dauris, said some British citizens were also "caught in the blast." Seven people are under arrest following the attacks, De Silva wrote after an emergency meeting with defense officials.
There was however no immediate claim of responsibility. Sri Lankan security officials said police and security services immediately rushed to all affected areas and sealed off the churches and hotels. Social media sites, including Facebook and Instagram, were blocked by the government while investigations were taking place.
Easter events
The explosions blew out the tiled roofs of churches and hotel windows, killing Sunday worshipers and hotel guests in the process. Images and footage seen by CNN showed bloodied pews, broken glass, and plumes of smoke. Father Edmond Tillekeratne, social communications director for the Archdiocese of Colombo, spoke to CNN from St. Sebastian's Church, one of the locations targeted. He said that the blast took place after Easter Mass, and there were about 30 bodies lying in the area of the church. Tillekeratne said three priests had been celebrating the mass at the time of the blast. Two of them were badly injured by flying glass and debris, and one was only lightly injured because he was behind the altar. He estimated that more than a thousand people had come to the church for Easter Sunday "because it is a special day." Many came from villages, he added.
He described the ground as covered in rubble and shattered glass. "You can see pieces of flesh thrown all over the walls and on the sanctuary and even outside of the church," he added.
Sri Lanka attacks death toll rises to 290, about 500 wounded
Reurers/April 22/19
Three Sri Lankan churches and three hotels were hit by explosions on Easter Sunday, wounding hundreds of people, police sources said.
Sri Lankan military officials stand guard in front of the St. Anthony's Shrine, Kochchikade church after an explosion in Colombo, Sri Lanka . (photo credit: DINUKA LIYANAWATTE/REUTERS)
COLOMBO, Sri Lanka – The death toll from attacks on churches and luxury hotels across Sri Lanka rose significantly to 290, and about 500 people were also wounded, police said on Monday.
Bomb blasts ripped through churches and luxury hotels in Sri Lanka on Easter Sunday, the first major attack on the Indian Ocean island since the end of a civil war 10 years ago.
Thirteen people were arrested and three police officers were killed during a security forces raid on a house in the Sri Lankan capital Colombo several hours after the attacks, many of which officials said were suicide bomb explosions.
The government declared a curfew in Colombo and blocked access to social media and messaging sites, including Facebook and WhatsApp. It is unclear when the curfew will be lifted.
The US Role in the Worlds Worst Humanitarian Crisis
Three churches in various parts of the country and four hotels in Colombo were hit. At least 27 of the dead were foreigners, including five British people, two of whom had dual US citizenship, and three Indians, according to officials in those countries.
Also among the fatalities were three people from Denmark, two from Turkey, and one from Portugal, officials said. There were also Chinese and Dutch among the dead, according to media reports. No Israelis were among those killed.
US Secretary of State Mike Pompeo said US nationals were among those killed, but did not give details.
There are 25 unidentified bodies, believed to be of foreigners, at the Colombo Judicial Medical Officer's mortuary, according to Sri Lanka's Foreign Ministry.
There were no immediate claims of responsibility for the attacks in a country which was at war for decades with Tamil separatists until 2009, a time when bomb blasts in the capital were common.
Prime Minister Ranil Wickremesinghe acknowledged that the government had some "prior information of the attack," though ministers were not told.
He said there wasn't an adequate response and there needed to be an inquiry into how the information was used.
He also said the government needs to look at the international links of a local terrorist group.
Agence France-Presse reported that it had seen documents showing that Sri Lanka's police chief Pujuth Jayasundara issued an intelligence alert to top officers 10 days ago, warning that suicide bombers planned to hit "prominent churches." He cited a foreign intelligence service as reporting that a little-known Islamist group was planning attacks.
A Sri Lanka police spokesman said he was not aware of the intelligence report.
Local Christian groups have said they faced increasing intimidation from some extremist Buddhist monks in recent years. Last year, there were clashes between the majority Sinhalese Buddhist community and minority Muslims, with some hard line Buddhist groups accusing Muslims of forcing people to convert to Islam.
Dozens were killed in one of the blasts at St. Sebastian's Gothic-style Catholic church in Katuwapitiya, north of Colombo. Gunasekera said the police suspected a suicide attack there. Pictures from the site showed bodies on the ground, blood on the church pews and a destroyed roof.
Local media reported 25 people were also killed in an attack on an evangelical church in Batticaloa in Eastern Province.
The hotels hit in Colombo were the Shangri-La, the Kingsbury, the Cinnamon Grand and the Tropical Inn near the national zoo. There was no word on casualties in the hotels, but a witness told local TV he saw some body parts, including a severed head, lying on the ground beside the Tropical Inn.
The first six explosions were all reported within a short period in the morning just as church services were starting.
One of the explosions was at St. Anthony's Shrine, a Catholic church in Kochcikade, Colombo, a tourist landmark.
The explosion at the Tropical Inn happened later and there was an eighth explosion at a house in Colombo. Police and media said that three officers were killed and seven people detained during a raid on this location.
"I strongly condemn the cowardly attacks on our people today. I call upon all Sri Lankans during this tragic time to remain united and strong," said the prime minister in a Tweet.
"Please avoid propagating unverified reports and speculation. The government is taking immediate steps to contain this situation."
President Maithripala Sirisena said he had ordered the police special task force and military to investigate who was behind the attacks and their agenda.
The military was deployed, a military spokesman said, and security stepped up at Colombo's international airport.
Last year, there were 86 verified incidents of discrimination, threats and violence against Christians, according to the National Christian Evangelical Alliance of Sri Lanka (NCEASL), which represents more than 200 churches and other Christian organizations.
This year, the NCEASL recorded 26 such incidents, including one in which Buddhist monks allegedly attempted to disrupt a Sunday worship service, with the last one reported on March 25.
Out of Sri Lanka's total population of around 22 million, 70% are Buddhist, 12.6% Hindu, 9.7% Muslim and 7.6% Christian, according to the country's 2012 census.
The heads of major governments condemned the attacks.
US President Donald Trump said America offered "heartfelt condolences" to the Sri Lankan people and stood ready to help, Indian Prime Minister Narendra Modi said there was "no place for such barbarism in our region," and Turkish President Tayyip Erdogan said the bombings were "an assault on all of humanity."
Modi told voters that they needed to elect him to a second term as only he can beat the "terrorists" threatening India. "Should terrorism be finished or not?," he asked an election rally in the western state of Rajasthan. "Who can do this? Can you think of any name aside from Modi? Can anybody else do this?"
Pope Francis, addressing tens of thousands of people in St. Peter's Square to hear his Easter Sunday message: "I wish to express my affectionate closeness to the Christian community, hit while it was gathered in prayer, and to all the victims of such cruel violence."
Christians celebrate the resurrection of Jesus on Easter Sunday after his death by crucifixion on Friday.
Prime Minister Jacinda Ardern of New Zealand, where a gunman shot 50 people dead in two mosques last month, said in a statement: "Collectively we must find the will and the answers to end such violence."
ارتفاع حصيلة تفجيرات سريلانكا إلى 290 قتيلاً… وفرض حظر التجوّل ليلاً وتفكيك عبوة ناسفة قرب مطار كولومبو واعتقال 13 مشتبهاً بهم


كولومبو: «الشرق الأوسط أونلاين»22 نيسان/2019/أعلنت الشرطة السريلانكية، اليوم (الاثنين)، أنّ حصيلة التفجيرات التي استهدفت في أحد الفصح فنادق فخمة وكنائس في أنحاء مختلفة من البلاد، ارتفعت إلى 290 قتيلاً وأكثر من 500 جريح، وذلك بعد إعلانها تفكيك عبوة ناسفة يدوية الصنع تم العثور عليها في وقت متأخر من ليل الأحد قرب مطار كولومبو الدولي. وقال مصدر في الشرطة لوكالة الصحافة الفرنسية، إنّ العبوة الناسفة "منزلية الصنع" وقد تم العثور عليها على طريق مؤدية إلى محطة الركاب الرئيسية في المطار الذي واصل عمله في ظلّ إجراءات أمنية مشدّدة. وبحسب المتحدث باسم سلاح الجوّ الكابتن جيهان سينيفيرانتي، فإنّ السلطات تعتقد أنّ العبوة الناسفة صنعت محليّاً. كما أعلنت السلطات السريلانكية، أنّ الشرطة اعتقلت 13 رجلاً لتورّطهم بالتفجيرات الدامية التي استهدفت فنادق وكنائس في أحد الفصح وأوقعت أكثر من 200 قتيل و450 جريحاً. ولم تدل السلطات بأي تفاصيل تتعلّق بالموقوفين.وفي أجواء التوتر المستمر، أعادت السلطات فرض منع التجول ليل الإثنين الثلاثاء خشية حصول اعتداءات جديدة.
مئات القتلى والجرحى بسلسلة اعتداءات استهدفت كنائس وفنادق بسريلانكا




اعتقال 8 من المشتبه بهم في الهجوم الأعنف منذ نهاية الحرب الأهلية


كولومبو: «الشرق الأوسط»
22 نيسان/2019
قتل 207 أشخاص على الأقل، وجُرح أكثر من 450، بينهم 35 أجنبياً، أمس، في 8 اعتداءات استهدفت فنادق وكنائس، حيث أقيمت قداديس بمناسبة عيد الفصح في سريلانكا، مما أثار إدانات شتى عبر العالم.
وأوقف 8 أشخاص على صلة بالتفجيرات، وفق ما أعلنه رئيس الوزراء رانيل ويكريميسينغي الذي قال في كلمة عبر التلفزيون أمس: «حتى الآن، الأسماء التي لدينا محلية، لكن المحققين يسعون إلى معرفة ما إذا كانت لديهم (علاقات مع الخارج)»، من دون إعطاء تفاصيل إضافية. وقبل ساعات من ذلك، قال الناطق باسم الشرطة إنه «لا يمكن أن نؤكد أنها هجمات انتحارية»، وفق وكالة الصحافة الفرنسية.
ومباشرة بعد الاعتداءات الإرهابية، أعلنت السلطات السريلانكية منعاً للتجول، وتعطيل شبكات التواصل الاجتماعي لمنع نشر «أنباء غير صحيحة وكاذبة» بعد التفجيرات. وهذه الاعتداءات التي لم تعلن أي جهة مسؤوليتها عنها حتى وقت كتابة هذه السطور، هي الأعنف في البلاد منذ انتهاء الحرب الأهلية قبل 10 سنوات.
وفي تسجيل فيديو في واحدة من الكنائس التي استهدفت، يظهر كثير من الجثث، بينما يغطي الأرض حطام وبقع دماء. وأدى الانفجار إلى انهيار أجزاء من السقف. ووقعت 8 انفجارات في هذه الجزيرة التي تعد وجهة مهمة للسياح الأجانب، 6 منها في الصباح، وانفجاران بعد الظهر.
وأدان رئيس الوزراء السريلانكي رانيل ويكريميسينغي «الهجمات الجبانة»، ودعا البلاد إلى «الوحدة»، فيما دعا أسقف كولومبو من جهته إلى معاقبة المسؤولين عن الهجمات «بلا شفقة». وقال الأسقف مالكولم رانجيت: «أريد أن أطلب من الحكومة أن تجري تحقيقاً متيناً موضوعياً لتحديد من هو المسؤول عن هذا العمل، ومعاقبتهم بلا شفقة، لأن الحيوانات فقط يمكن أن تتصرف بهذا الشكل».
وسارعت دول العالم إلى إدانة الهجوم الدامي، وأصدرت دعوات إلى التسامح والحرية الدينية، وتعزيز جهود مكافحة الإرهاب. وبدوره، عبّر البابا فرنسيس عن «حزنه» بعد الاعتداءات، مؤكداً أنه «قريب من كل ضحايا هذا العنف الوحشي». وقال في رسالة إلى الحشود، بعد كلمته إلى المدينة والعالم: «علمت بحزن بهذه الاعتداءات الخطيرة التي حملت اليوم بالتحديد، يوم عيد الفصح، الحزن والألم إلى كثير من الكنائس وأماكن التجمعات في سريلانكا»، وأضاف: «أريد أن أعبر عن تعاطفي مع المسيحيين الذين أصيبوا بينما كانوا يتأملون ويصلون، وكل ضحايا مثل هذا العنف الوحشي».
وفي كولومبو، استهدفت التفجيرات 3 فنادق فخمة مطلة على البحر وكنيسة، مما أدى إلى مقتل 64 شخصاً على الأقل، وفق ما ذكره مصدر في الشرطة. وفي بلدة نيغومبو، الواقعة في شمال كولومبو، قتل 67 شخصاً في كنيسة سان سيباستيان، و25 آخرون في كنيسة باتيكالوا، المدينة الواقعة بشرق البلاد، بحسب المصدر.
وبعد ساعات، وقع انفجاران آخران في ضاحيتي ديهيوالا، حيث قتل شخصان على الأقل في انفجار في فندق رابع، وفي أوروغوداواتا، حيث قام انتحاري بتفجير نفسه، مما أدى إلى مقتل 3 شرطيين خلال عملية بحث في منزل. وبين القتلى 35 أجنبياً على الأقل، من الجنسيات البرتغالية والبريطانية والأميركية والدنماركية والتركية والهندية، وفق تقارير.
وسقط في الهجمات «عدة أميركيين»، إذ قال وزير الخارجية الأميركي مايك بومبيو إن «عدة مواطنين أميركيين كانوا من بين القتلى»، كما نقلت عنه وكالة «رويترز». وفي كوبنهاغن، قالت وزارة الخارجية الدنماركية إن ثلاثة مواطنين دنماركيين كانوا من بين قتلى التفجيرات في سريلانكا.
فيما ذكرت وكالة «برس أسوسييشن» البريطانية نقلاً عن وزارة الخارجية السريلانكية، إن ثلاثة بريطانيين وشخصين يحملان الجنسيتين الأميركية والبريطانية كانوا كذلك بين الضحايا.
من جانبه، أعلن عبد الناصر الحارثي، سفير السعودية لدى سريلانكا، أن مواطنين سعوديين من ضمن المفقودين في التفجيرات، مبيناً أن السفارة قامت على الفور بتشكيل فرق للبحث عنهما في الفنادق المستهدفة، شملت كذلك المستشفيات، بالتعاون مع السلطات السريلانكية، مضيفاً أن سفارة بلاده تعمل بالتنسيق مع السلطات السريلانكية في تحديد الهويات للمصابين. وذكر السفير الحارثي أن مضيفة تعمل لدى الخطوط الجوية السعودية تعرضت لإصابة طفيفة خلال وجودها في فندق «سينامون غراند»، وأنها غادرت المستشفى بعد علاجها من إصابتها.
وكان قائد الشرطة الوطنية، بوجوث جاياسوندارا، قد حذّر قبل 10 أيام من أن حركة تدعى «جماعة التوحيد الوطني» تخطط «لهجمات انتحارية على كنائس مهمة، وعلى المفوضية العليا الهندية». وكانت هذه الجماعة قد عُرفت العام الماضي بسبب أعمال تخريب طالت تماثيل بوذية. وقال وزير المال مانغالا ساماراويرا، في تغريدة على «تويتر»، إن الهجمات تبدو «محاولة منسقة لإحداث القتل والفوضى».
ووقعت الهجمات الأولى التي أعلن عنها في كنيسة القديس أنطونيوس في كولومبو، وفي كنيسة نيغومبو. وكتبت كنيسة سان سيباستيان، في نيغومبو، على صفحتها على «فيسبوك»: «اعتداء على كنيستنا، نرجوكم أن تساعدونا. ندعوكم إلى المجيء لمساعدتنا، إذا كان أفراد من عائلتكم هنا».
وفي فندق «سينمامون غراند» الفخم، فجّر انتحاري نفسه بين نزلاء كانوا مصطفين لدخول مطعم في المبنى في عيد الفصح. وقال موظف لوكالة الصحافة الفرنسية إن الانتحاري «ذهب إلى أول الصف، وقام بتفجير نفسه».
وأضاف أن «بين الذين قتلوا على الفور مديراً (في الفندق) كان يستقبل الزبائن»، ووصف الوضع بأنه «فوضى كاملة»، بينما ذكر مسؤولون آخرون في الفندق أن الانتحاري مواطن سريلانكي استأجر غرفة منذ أول من أمس (السبت). وفي فندق شانغري-لا القريب، كانت الأضرار كبيرة في مطعم في الطابق الثاني، فقد كسر زجاج نوافذه، بينما تدلت أسلاك الكهرباء من سقفه، كما ذكرت الوكالة الفرنسية.
ومن جهته، كتب وزير الإصلاحات الاقتصادية هارشا دي سيلفا، في تغريدة: «اجتماع طارئ خلال دقائق، وعمليات الإنقاذ جارية». وتحدث عن «مشاهد رعب» في كنيسة القديس أنطونيوس وفندقين استهدفا وقام بتفقدهما. وكتب على «تويتر»: «رأيت أشلاء مبعثرة في كل مكان»، مشيراً إلى سقوط «كثير من الضحايا، بينهم أجانب». وناشد المواطنين: «أرجوكم، حافظوا على هدوئكم، وابقوا في الداخل».
وتضمّ سريلانكا، ذات الغالبية البوذية، أقلية كاثوليكية من 1.2 مليون شخص، من أصل عدد إجمالي للسكان يصل إلى 21 مليون نسمة. ويشكل البوذيون 70 في المائة من سكان سريلانكا، إلى جانب 12 في المائة من الهندوس، و10 في المائة من المسلمين، و7 في المائة من المسيحيين.
ويعتبر الكاثوليك بمثابة قوة موحدة في هذا البلد، إذ يتوزعون بين التاميل والغالبية السنهالية، غير أن بعض المسيحيين يواجهون عداء لدعمهم تحقيقات خارجية حول الجرائم التي ارتكبها الجيش السريلانكي بحق التاميل خلال الحرب الأهلية التي انتهت عام 2009. وأوقع النزاع الذي استمر بين 1972 و2009 ما بين 80 ألفاً ومائة ألف قتيل، حسب الأمم المتحدة.