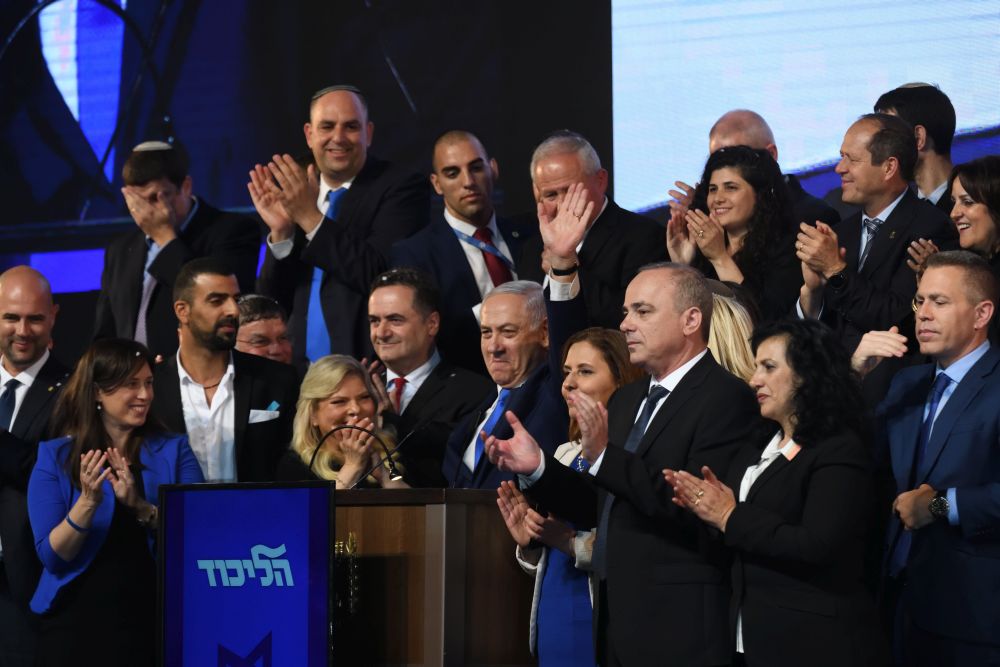 Netanyahu's short-lived victory
سيما كدمون/يديعوت أحرونوت/فوز قصير الأجل لنتنياهو
Sima Kadmon/Ynetnews/April 10/19
After tight race, Netanyahu to lead rightist bloc to center stage for a long haul




موقع دبيكا/بعد منافسة انتخابية شديدو ، نجح نتنياهو وهو سيقود كتلة يمينية لفترة طويلة


Debka File/April 10/19
Blue-Right party leader Benny Gantz commented on Wednesday, April 10: "The skies are bleak, but this is not yet final." This comment was a far cry from the joyous victory celebration he celebrated the night before as "Israel's next prime minister" amid hugs and linked arms with his three partners, Yair Lapid, Moshe Ya'alon and Gaby Ashkenazi.
Blue-White, which tied with Likud at 35 seats apiece, still appeas to believe that the government coalition, for which Binyamin Netanyahu can count on a majority of 65 right-wing and religious support (according to 97.3pc of the vote), will be a flash in the pan. Its leaders are sure of Netanyahu being trampled under the wheels of the three bribery cases pending against him. They are deluding themselves. Netanyahu has stated that his next administration will be long-lasing. He is relying on the law which holds any citizen innocent until ruled guilty by a court of law. Due process in his case still has a way to go. In July, the Attorney General holds a hearing for his defense arguments against indictment.
But can he carry on his onerous duties as prime minister – and possibly also defense minister – while weighed down by a court battle if the cases against him get that far? Netanyahu answered that question implicitly by the campaign he waged against a fierce legal, political, personal and media blitz against him and his family, month after month, at the end of which he was able to expand his Likud's Knesset representation from 27 to 35 seats. His government will therefore have all the makings of a long-term, stable administration, which together with its coalition partners will have more freedom of maneuver than the outgoing Netanyahu cabinet.
One of its targets will be the High Court's role at the head of a judicial system. Likud and its partners hold that the judges encroach too far on government and parliamentary prerogatives. Ayelet Shaked who, as outgoing justice minister, oversaw the introduction of the first conservative judges, will see her work continued by a successor, since the New Right which she founded with Education Minister Naftali Bennett has fallen short of the threshold for entering the Knesset, unless the last 3pc including the uncounted military vote comes to their rescue.
Netanyahu may not be too bothered by his lowered international image as a result of his partnership with right wing and religious elements, since similar trends are prevalent in many other democracies. However, the exact nature of Netanyahu's fourth consecutive, and fifth overall government will emerge when Likud and its junior partners finish horse trading for portfolios and benefits.
In his victory speech, Netanyahu called the right-wing parties his "natural partners," but pledged to be "the prime minister of all the citizens of Israel." He will be encouraged to modify some of his partners' extreme demands by President Donald Trump, who has shown his support for Netanyahu by the recognition of Jerusalem as Israel's capital and the Golan as sovereign Israeli territory as well as other gestures.
Netanyahu's short-lived victory
سيما كدمون/يديعوت أحرونوت/فوز قصير الأجل لنتنياهو
Sima Kadmon/Ynetnews/April 10/10
Analysis: The prime minister might have secured a fifth term, but it appears he will not be able to put together a coalition sufficiently obsequious to pass legislation to shield him from his legal woes.
As soon as the exit polls were released on Tuesday night, Benjamin Netanyahu was quick to announce a Likud victory. A win it may have been, a victory it is not.
Certainly it was no victory for the person who bragged about winning a number of seats significantly greater than that of his rival. His second objective – his pick of coalition partners – did not materialize either.
As it appears at the time of writing, Netanyahu does not have an indictment-proof coalition. Even when he does form the next government, he will not receive the greatest prize – coalition partners who will help him enact legislation to shield him from the long arm of the law.
Moshe Kahlon and Avigdor Lieberman, whose parties apparently passed the threshold by the skin of their teeth, and Naftali Bennett, who is still waiting to see whether his new New Right party has even made it into the Knesset, had already pledged that even if the legislation against prosecuting a sitting prime minister passes, it will not be implemented retroactively.
We do not agree with personalized legislation, Kahlon promised again and again, referring to the so-called French law. So if Netanyahu called early elections in an effort to escape prosecution for his alleged bribery, fraud and breach of trust, he failed in his mission.
On the other hand, Ganz's achievement is certainly impressive. For a party that was established less than two months ago to pull in the same number of seats as the ruling party is a success that cannot be overstated. It turns out that the Likud's campaign of lies and slander against Gantz failed completely.
A large section of the public found the former chief of staff worthy of being prime minister. And even if the election results clearly show that the nation has moved to the right, the support for Netanyahu is weaker than expected.
Both big parties claimed victory on Tuesday night. Both are right. The difference is that even if Netanyahu does form the next government, it will be a short-lived victory. In six or seven months, Netanyahu will face his fate in court. Despite his attempts to turn himself and the Likud into an indivisible entity, he will find himself sitting alone on the defendant's bench.
The speed with which Likud ministers will cast Netanyahu aside will surprise us still. The silence of the lambs that we have seen in recent years when it comes to their leader, who is steeped in corruption from his toenails to the tips of his hair, will ultimately end very vocally. It is quite possible that in this term, the Likud, sans Netanyahu, will find themselves in a unity government with Benny Gantz and his crew of Yair Lapid, Moshe Ya'alon and Gabi Ashkenazi.
But despite the good showing by the Blue and White Party, the leftist camp has nothing to be happy about. The Labor Party suffered a severe blow on Tuesday. If it in recent weeks it seemed to have been making gains, both because of its impressive list of candidates and because of a high-quality campaign, on Tuesday it turned out that the strategy adopted by Ganz's party had worked.
The desire to replace Netanyahu at any price has caused many who previously voted for Labor to lend their support to Blue and White. They will have done so with a heavy heart, however, for it is no simple thing to go from an ideological vote to a strategic vote. But the one who has paid the price is party leader Avi Gabbay. Labor MK and former party secretary general Eitan Cabel has already dealt the first blow, blaming Gabbay for the dismal electoral performance.
It's impossible not to appreciate Gabbay's courageous appearance before party members on Tuesday night, to thank his faction and the activists and to admit failure. It seems to me that in the course of this campaign, both the public and Labor members learned to appreciate the man whose life they had made miserable for a year and a half.
Either way, the collapse of the Labor Party will make it very difficult for Gantz to form a government. Even Blue and White, whose leaders committed not to sit in any Netanyahu government, knows this. In his speech on Tuesday night, Gantz spoke as if he were the next prime minister. This can be attributed to his inexperience.
Another party that was hit hard was the New Right. Even if when every single vote is counted it has actually managed to pass the threshold, its leaders' plans were definitely shelved. Naftali Bennett will not be the next defense minister, and not will Ayelet Shaked get to implement her overhaul of the courts. And surely that would have made Mrs. Netanyahu happy enough to crack open a bottle of her favorite pink champagne.