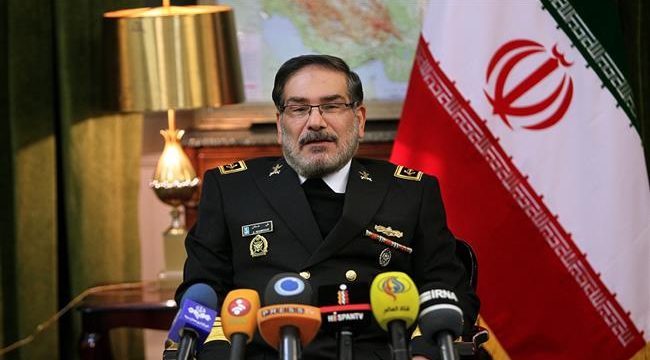 Iran lays out 16-point war plan for the supreme goal of toppling Netanyahu




موقع ديبكا: خطة إيرانية من 16 بند هدفها الأساسي اسقاط نتنياهو


DEBKAfile/February 24/19
Iran's National Security Adviser Ali Shamkhani Saturday, Feb. 23, unveiled a plan to overthrow the prime minister Binyamin Netanyahu by a full-scale war from Syria and other "resistance fronts." Tehran's overt intervention in Israel's April 9 election named the Israeli prime minister's removal as the strategic goal of the "resistance axis."
A day earlier, a senior IRGC general Brig. Gen. Amir Ali Hajizadeh claimed that Iran had hacked and seized control of half a dozen US drones over Syria and Iraq.
DEBKAfile highlights the salient elements of Shamkhani's war plan as laid out in his interview with the Tasnim news agency:
Iran, Russia and Hizballah have "upgraded their deterrent power of resistance in Syria."
Israel's government military and intelligence l\officials "are well aware of this" although not the general public.
This upgrade will soon be apparent. DEBKAfile: He is seems to be referring to the impending deployment in Syria and possibly Lebanon of Iranian Bavar-373 air defense systems which are a replica of the Russian S-300s. Our sources reported on Feb. 11 that Iran was planning to deliver armed drones to Syria, which Gen. Hajizadeh was apparently suggesting.
Iran is ready to counter Israeli operations in Iraq too.
The Netanyahu government has threatened in the past to extend its military operations into Iraq, if Tehran uses local pro-Iranian Shiite militias to shoot missiles into Israel.
Shamkhani attempted to turn the situation on its head when he asserted that if Netanyahu goes to war on multiple "resistance axis" fronts – Gaza, Lebanon, Syria and Iraq – "he will end his shaky political life in the run-up to the elections." The truth is that ending Netanyahu's political life is Tehran's overriding goal and it is ready to go to war to achieve it.
The points Shamkhani made in his interview with Tasnim are summed up here:
1-The lawful presence in Syria is the "basic principle" of the Islamic Republic.
2-Iran will stay in Syria as long as its presence is required by the legitimate Syrian government.
3-Israeli attacks serve the interests of terrorists.
4-"The Zionist regime crossed the red line by targeting the forces of Iran and the resistance front in a series of strikes in Syria."
5-"Accordingly, we responded to the Israeli attack on T-4 [airbase in Syria] and dealt a heavy blow to them [the Zionists].
6-DEBKAfile recalls that Iran retaliated for Israel's T-4 attack on April 10, 2018 on May 10 with a 32-rocket barrage against Israel from southeastern Syria. None reach their targets. They either blew up over Syria or were intercepted in midair before landing.
7-We have made arrangements to protect our red line in the area of human casualties caused by any act of aggression or invasion."
Plans to prevent human casualties from Israel attacks have been devised "in cooperation with the Syrian army and the set of allies in that country."
This is a reference to the Russian and Hizballah forces which have worked with Iran to spread the newly "upgraded deterrent" shield over Syria.
8-"We will soon witness a major upheaval in upgrading the deterrent power of resistance in Syria."
9-"I believe that the Zionist regime's officials, particularly their military and intelligence officials, are well aware of this,"
10-"The method for tackling the Zionist regime's attacks on Syria and the axis of resistance in 2019 will be significantly different from the combat methods in the past."
11-"The Zionist regime will not seek a war in Syria's northern fronts because it is too weak in that region." Iran has considered a "prevention scenario" in several stages according to developments.
12-"If Netanyahu gets entangled in several fronts simultaneously, he will definitely end his shaky political life in the run-up to the elections. I don't think that he would be so silly."
13- Israeli attacks have "failed to block the achievement of the axis of resistant's purposes in Syria."
14-"We have accomplished more than 90 percent of our objectives. Israel's punitive strikes [on Syria] have had no strategic impact and the resistance continued to press ahead with its activities."
15-"The axis of resistance's great success debunks the Israeli regime's false claims of its intelligence capabilities in Syria."